Doug and Tammie Baughman, organizers of the Midwest Truck Camper Group, sent in the following report and photos from the Midwest Truck Camper Rally in Missouri.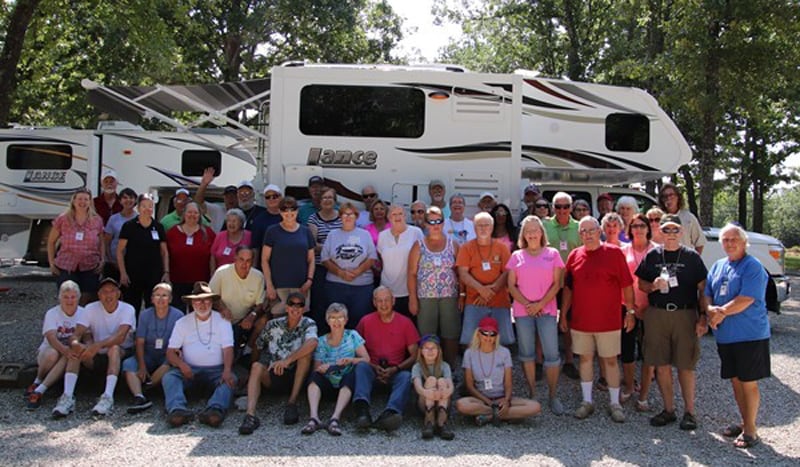 "The majority of the group arrived on Monday, July 9th and the rest arrived mid-afternoon on Tuesday, July 10th. That evening we had potluck appetizers. During the potluck, Doug went over the rally itinerary.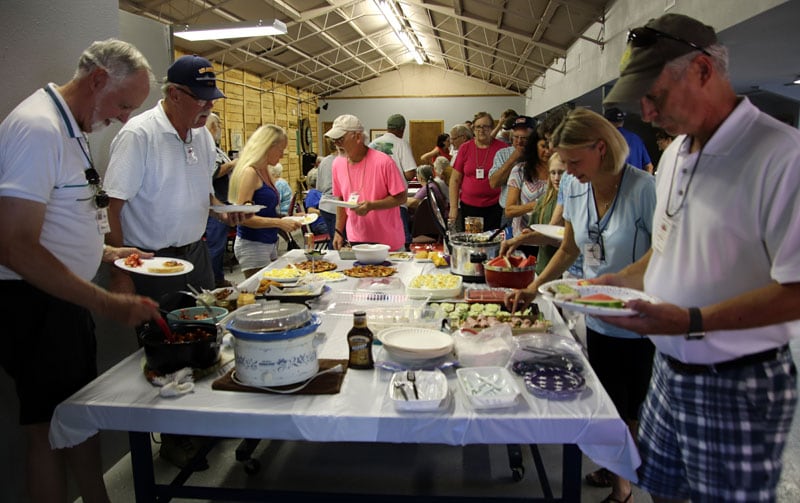 There was a truck camper open house on Wednesday. Some folks went into town to checkout the antique shops. For supper we had a Mexican potluck. Then a few of us played games.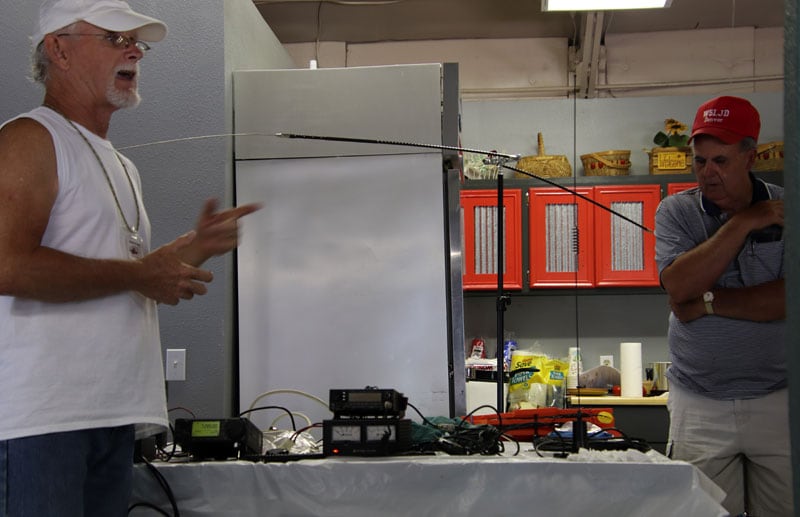 Thursday morning we had a well attended Ham radio seminar presented by two attendees. Then a few campers caravanned to see the local water grinding mills.
On Thursday evening one of our members smoked chicken for dinner. The chicken was delicious and we thanked him for volunteering to cook for the group.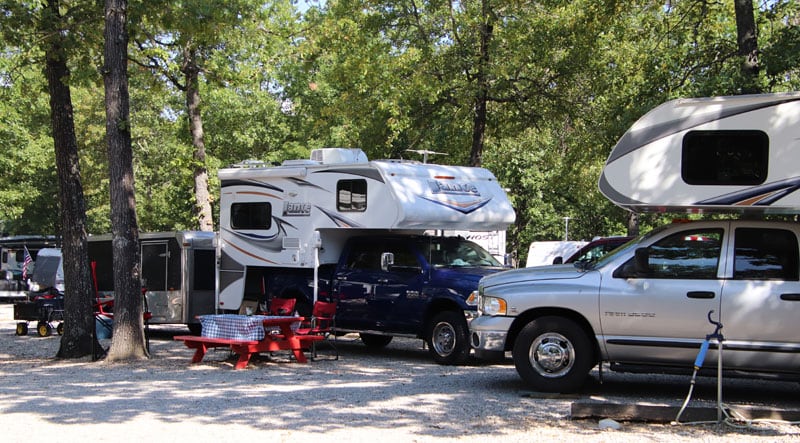 For Friday morning we had two more seminars. JD Overstreet and Sky Med gave presentations. Sky Med provided us sack lunches. The potluck that evening was loaded baked potatoes. Then we had the raffle. Thank you to all the companies that gave seminars and supported our rally with raffle prizes.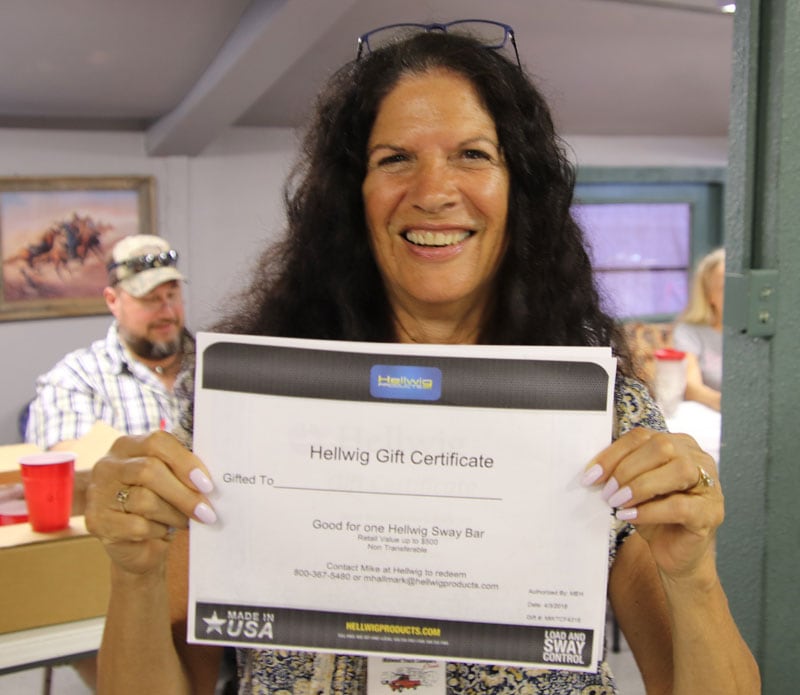 On Saturday, a small group met early in the clubhouse to mix homemade ice cream ingredients. Then we did a group photo before a couple rigs left to head home.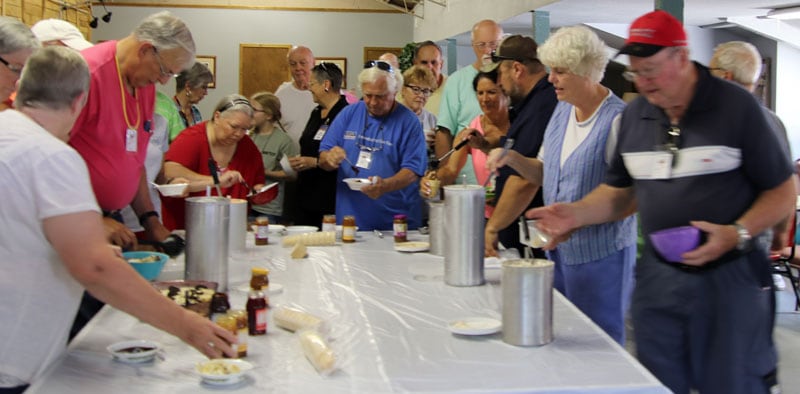 Around noon we had several volunteers to help make the ice cream. Then we all enjoyed the many flavors we had including Vanilla, Rocky Road, Orange Sherbet, Strawberry and Banana. We ate early since the majority of the group was going to enjoy BBQ food at the Picking Parlor that evening.
During the week we had a group of musicians practicing to play at the Picking Parlor. It was open to locals and anyone who wanted to play. Saturday evening some enjoyed hamburgers, racks of ribs, and pulled pork sandwiches. Everything was good. Then the local musicians started to play their music for almost an hour.
Our music group, who decided to call themselves the MWTCF Rebels, took the stage and played the four songs they had practiced. After they played, some went back to play more games and the rest headed off to bed.
Sunday morning was the departure breakfast; biscuits and gravy, grilled spiral ham, scrambled eggs, and some leftover potatoes from Friday evening's meal. A few others brought items for the meal as well.
We all said our "goodbyes" and "see you down the roads", and departed, We enjoyed the rally and had a good time. We look forward to our next rally when we get to see everyone again.
A special thank you to all those friends we call family. This was our fifth anniversary. It has been a special adventure getting to know all of the wonderful people."