Two good friends have a friendly feud over the pros and cons of gas versus diesel pickups.  This face-to-face battle is fully-fueled and no-holds-barred.  If you think you know who's going to win, think again.
Above: Click the video above to watch Truck Rumble: A Gas Versus Diesel Throwdown.  If it does not play, click here to watch it and comment on YouTube.
A Tank Battle Gets Off Track
What would happen if two guys fiercely debated, point for point, the pros and cons of gas versus diesel trucks?  What if both fellas were prepared for this confrontation – not only to boast the benefits of their chosen fuel type, but also to shoot down the positives of the other?
A straight-shootin' gas versus diesel duel!
That was the final vision for this short film – two guys have a gas versus diesel throwdown – but it didn't exactly start that way.  It was originally going to be tank battle, with actual tanks.
Several weeks before the world descended into lockdowns and stay-at-home orders, we met a dozen or so fellow truck campers at Renninger's Antique Center in Mount Dora, Florida for the annual World War II Military Vehicle Show.
The event includes five fully operational tanks rolling and firing their machine guns and main cannons.  For anyone who enjoys history or just the sheer spectacle of fully-operational WWII tanks tearing up the ground and shooting, it's a stunning weekend of reenactments.
And that's where the original idea came from – a "tank" battle.  We would interview the attending truck camper owners about why they preferred gas or diesel trucks, and intercut real tanks in action.  I was even thinking of making the video black and white and going for the old war movie look.
Alas, on the day of the shoot there were some technical issues with my camera and logistical conflicts with the shots I needed to get.  Time to pivot.
The Bee Barn
I had written a script for the tank battle and remained excited about the concept, so we adapted it.  About two weeks after the World War II reenactment, Angela found The Bee Barn in Zolfo Springs.  With attractive grounds and a set-worthy building exterior and store, it was the perfect out-of-the-way location for our video shoot.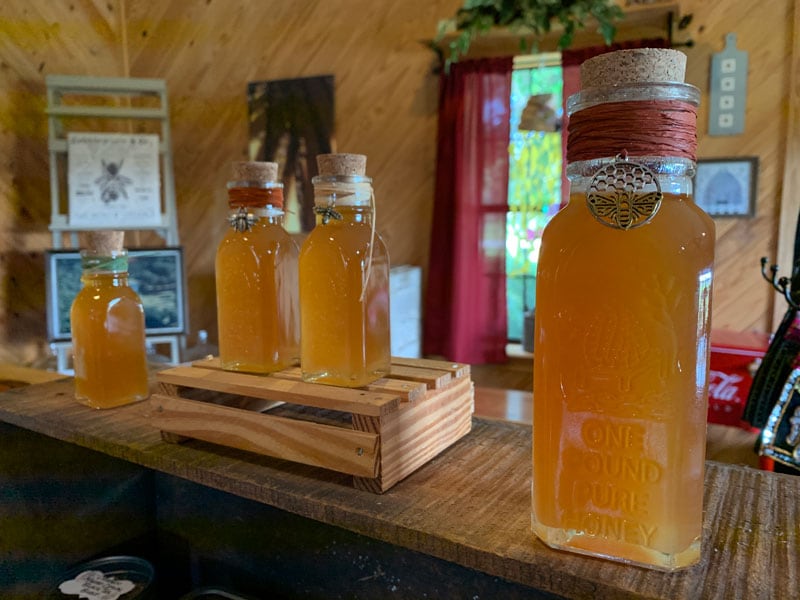 Above: Honey products on display at The Bee Barn.  The windows in the background are featured in the film.
We stopped by The Bee Barn and asked permission to use their facility for our film.  They immediately agreed and were exceptionally accommodating to our schedule.
Then we enlisted Rob and Jenney Gallerane and Ray and Brenda Fair as our actors.  Rob and Jenney have a diesel truck making Rob our "diesel" guy.  Ray and Brenda have a gas truck, so he became our "gas" guy.  With the location and actors secured, we were back on track.
A Three Day Shoot
Believe it or not, this was our longest and most complicated video production yet.  We literally had to go to The Bee Barn on three separate days to work around various schedules and requirements.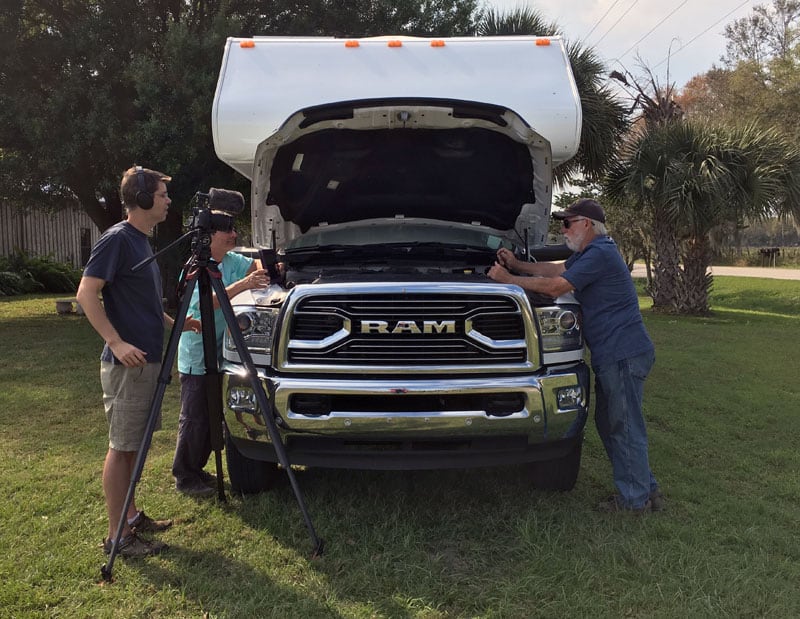 For example, to avoid Rob and Jenney having to break camp and tow their trailer over just for the shoot, we shot the arrival of their rig on the day they left the campground.  That way they only needed to break camp once.
Another day was needed because the day-time shoot ran a bit long, we lost daylight, and The Bee Barn closed for the evening.  Thankfully, everyone rolled with the changes.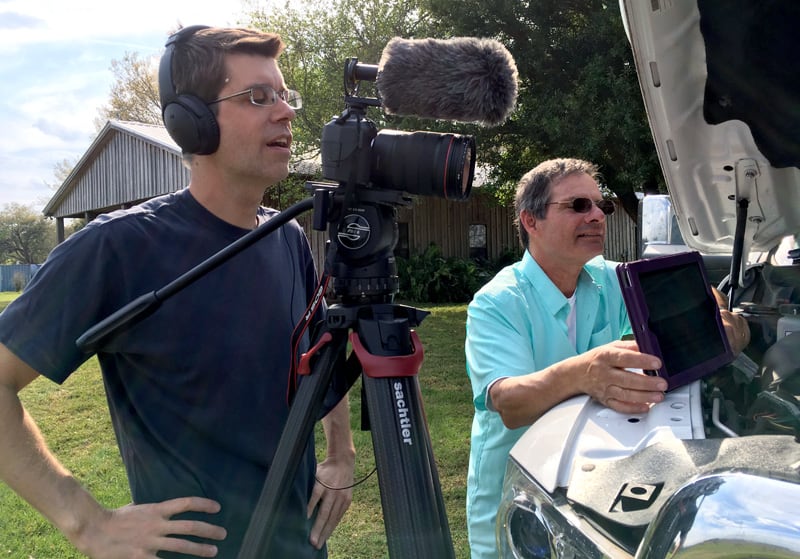 On the first day, we shot parts of the exterior arrival, greeting, and the actual gas versus diesel duel across the truck's hood.  The second day we shot the ladies discovering the arguing husbands through the window.  On the third day we shot the arrival of the Ford truck camper and Rob and Jenney getting out of their vehicle.  Lucky for us, the weather was essentially identical on all three days.
Who Won The Gas vs Diesel Throw Down?
Everything Ray and Rob said is based on things we have heard many times at various truck camper rallies and gatherings with passionate truck owners.  It's usually one-sided – diesel guys giving gas guys guff – but not always.  We got a heavy dose ourselves when we bought our current gas truck after our car accident in mid-2018.  The film may be fiction, but it's the real deal.
So who wins this debate?  That will likely be decided by the bias of the viewer, but I am hopeful that it gets both sides to appreciate the choice a little better.  There are some definite advantages to both engine choices and fuel types, but it's getting more and more balanced with every engine iteration.
In five years we'll be debating electric trucks.  I can see it now, "You lookin' for an internal combustion engine versus battery electric throw down?"  "Bring it Watt Jockey!"  "You asked for it ICE-Timer!"  It could get ugly.
Lots of People To Thank
Rob and Jenney Gallerane were just awesome.  First, they nailed their voice over at the very beginning of the film – in one take!  Of course I had them do it again, but they were complete naturals from the start.
Rob and Jenney were also very gracious to bring their truck camper rig over to The Bee Barn before setting out.  I kept asking them, "Could we do this?" and, "Would it be possible if we do that?" and they said, "Yes, we can!"  Thank you, Rob and Jenney!
Ray and Brenda are long-time truck camping friends.  I had promised and promised they would be in a video.  In fact, Ray had a starring part in The Odyssey that got cut during production.
When the Gas Versus Diesel concept finally came into focus, I think it was a bit more than Ray had anticipated.  Of course, he stepped right up and had some of the funniest scenes.  When Ray is rubbing his thumb and fingers at Rob – ribbing him about the increased cost of his diesel engine – that gets a laugh every time!  And Brenda's, "Oh husbands" was just perfect.  Thank you, Ray and Brenda!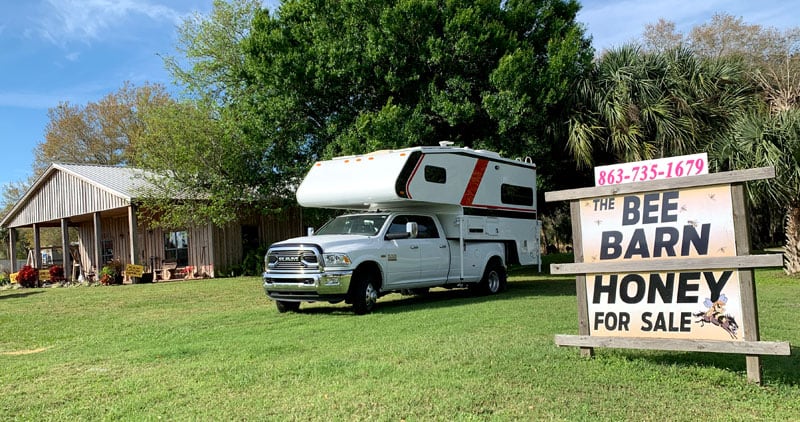 A very special thanks is owed to The Bee Barn of Zolfo Springs, Florida.  If you're ever in the area, stop in and buy some local honey.
It goes without saying that this video would not have happened without Angela.  She found The Bee Barn, coordinated the script on set, and put up with my endless attempts to make myself and everyone around me miserable when making these films.  Let's just say the director can be a real piece of work.  I like him just fine, but I may be biased.  Thank you, Angela!