Introducing one of the lightest weight, half-ton compatible, hard side truck campers on the planet, and a radically innovative new manufacturing and business model for the truck camper marketplace.  Meet Cave Campers.

The first time we spoke to Larry Peterson, CEO of Cave Campers, we didn't quite understand what he was presenting to us.  His truck camper concept, manufacturing plan and business model were completely different than anything we had seen in the truck camper industry.
What's so different?  In a word, everything.  Where other truck camper manufacturers have a factory, Cave Campers domestically outsources 100-percent of their manufacturing and assembly.  Cave Campers is available to handle customer service and warranty claims, but is otherwise not directly involved in the construction of their units.
Their material and construction approach is also a radical departure from RV norms.  Cave Campers are constructed with bonded fiberglass panels with a honeycomb polymer core.  Sourced from a composite panel manufacturer in Illinois, these 100-percent composite panels are designed to push the strength-to-weight ratio and insulation properties far beyond what's currently possible with traditional RV frame and lamination construction.
Once the panels are competed, they are shipped to a Cave Camper selected assembly facility in Texas.  When the camper shells are completed, the units are up-fitted with Rieco-Titan camper jacks, double-pane acrylic windows, heavy duty insulated doors, and LED interior lights.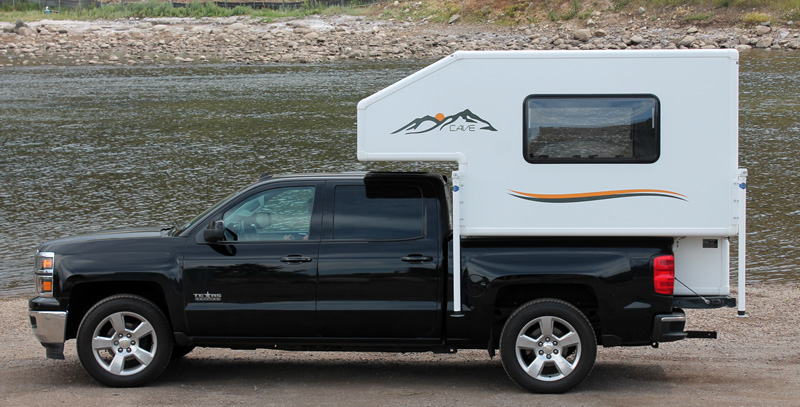 The result is an 800-pound, all-composite, half-ton ready truck camper; wood-free, rot-free, and rust-free.  After the camper passes quality control, it's either picked up by the customer, or shipped directly to them.  Cave Campers only sells direct.
To find out more about this new company – and dig deeper into their unique manufacturing approach, material selections, and overall design – we talked to Larry and Dylan Peterson, Co-Founders of Cave Campers.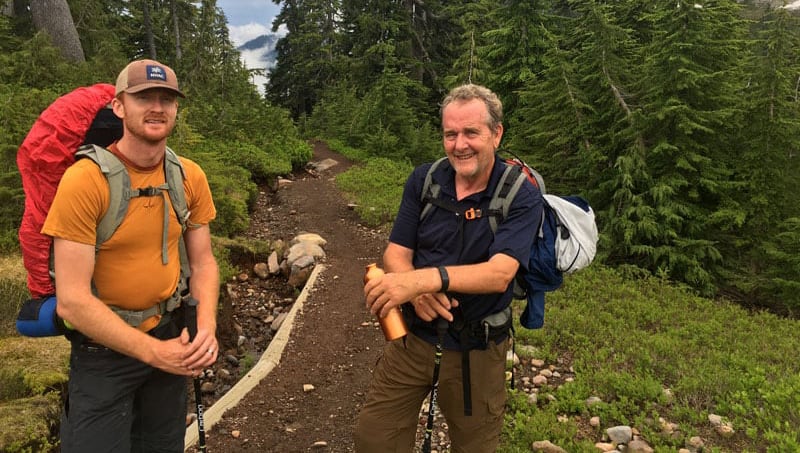 Above: Dylan and Larry Peterson, Co-Founders of Cave Campers
Tell us a little about your professional backgrounds and why you're starting Cave Campers.
Dylan: As an Electrical Engineer, I have always worked in tech. In the mid-2000s I founded my own start-up in the travel industry, and have since worked with several other tech start-ups. For the past several years I have worked at Amazon Web Services.
My personal life is devoted to my family and the outdoors. Until recently I lived in Seattle, Washington and enjoyed a long list of hobbies; rock climbing, mountaineering, elk hunting, skiing, and fishing for crab and salmon – to name a few.
I've always enjoyed outdoor activities whether it's climbing Mount Rainier or camping with my kids. We are now in Boulder, Colorado, a decision that was largely made to get more access to the great outdoors.
Larry: I'm also an Electrical Engineer by trade. I like to build things, no matter what it is. I was primarily a gas industry project engineer, but I also worked with software, hardware, industrial projects, and large industrial equipment.
For hobbies, I enjoy camping, hunting and fishing. I eventually reached a point where I didn't want to camp on the ground anymore. I thought about traditional truck campers, but they are too heavy for the half-ton trucks I prefer.
That's when I talked to Dylan about the idea of a smaller and lighter truck camper. That evolved into a 100-percent composite design, and an exciting engineering project.
"We build them with the durability of a YETI cooler and the timeless design and appeal of a Boston Whaler boat."