Introducing one of the lightest weight, half-ton compatible, hard side truck campers on the planet, and a radically innovative new manufacturing and business model for the truck camper marketplace.  Meet Cave Campers.

The first time we spoke to Larry Peterson, CEO of Cave Campers, we didn't quite understand what he was presenting to us.  His truck camper concept, manufacturing plan and business model were completely different than anything we had seen in the truck camper industry.
What's so different?  In a word, everything.  Where other truck camper manufacturers have a factory, Cave Campers domestically outsources 100-percent of their manufacturing and assembly.  Cave Campers is available to handle customer service and warranty claims, but is otherwise not directly involved in the construction of their units.
Their material and construction approach is also a radical departure from RV norms.  Cave Campers are constructed with bonded fiberglass panels with a honeycomb polymer core.  Sourced from a composite panel manufacturer in Illinois, these 100-percent composite panels are designed to push the strength-to-weight ratio and insulation properties far beyond what's currently possible with traditional RV frame and lamination construction.
Once the panels are competed, they are shipped to a Cave Camper selected assembly facility in Texas.  When the camper shells are completed, the units are up-fitted with Rieco-Titan camper jacks, double-pane acrylic windows, heavy duty insulated doors, and LED interior lights.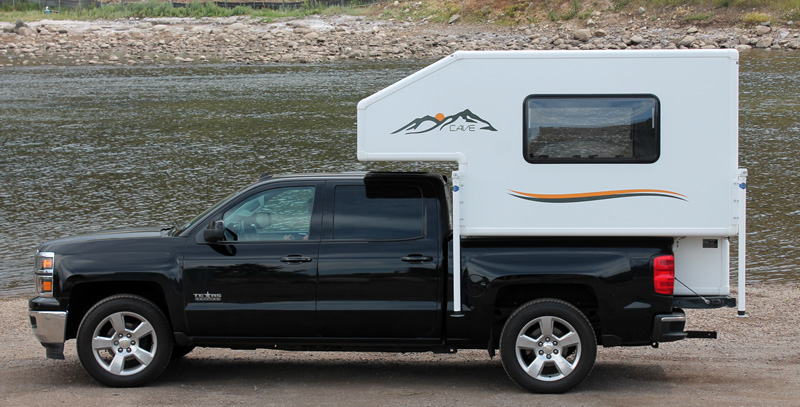 The result is an 800-pound, all-composite, half-ton ready truck camper; wood-free, rot-free, and rust-free.  After the camper passes quality control, it's either picked up by the customer, or shipped directly to them.  Cave Campers only sells direct.
To find out more about this new company – and dig deeper into their unique manufacturing approach, material selections, and overall design – we talked to Larry and Dylan Peterson, Co-Founders of Cave Campers.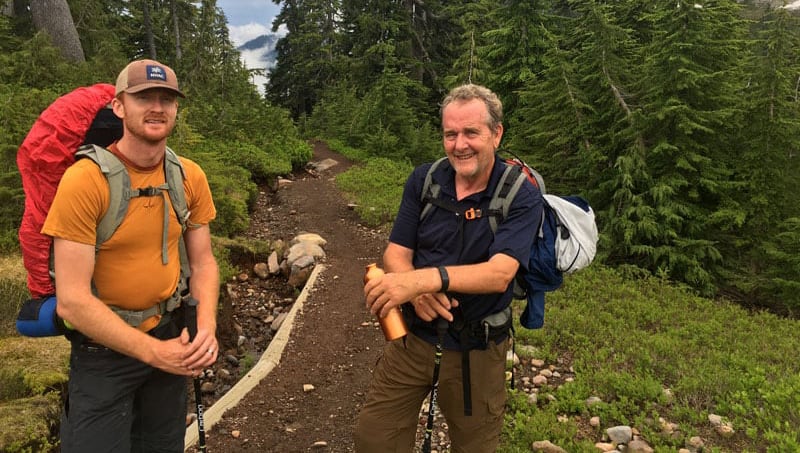 Above: Dylan and Larry Peterson, Co-Founders of Cave Campers
Tell us a little about your professional backgrounds and why you're starting Cave Campers.
Dylan: As an Electrical Engineer, I have always worked in tech. In the mid-2000s I founded my own start-up in the travel industry, and have since worked with several other tech start-ups. For the past several years I have worked at Amazon Web Services.
My personal life is devoted to my family and the outdoors. Until recently I lived in Seattle, Washington and enjoyed a long list of hobbies; rock climbing, mountaineering, elk hunting, skiing, and fishing for crab and salmon – to name a few.
I've always enjoyed outdoor activities whether it's climbing Mount Rainier or camping with my kids. We are now in Boulder, Colorado, a decision that was largely made to get more access to the great outdoors.
Larry: I'm also an Electrical Engineer by trade. I like to build things, no matter what it is. I was primarily a gas industry project engineer, but I also worked with software, hardware, industrial projects, and large industrial equipment.
For hobbies, I enjoy camping, hunting and fishing. I eventually reached a point where I didn't want to camp on the ground anymore. I thought about traditional truck campers, but they are too heavy for the half-ton trucks I prefer.
That's when I talked to Dylan about the idea of a smaller and lighter truck camper. That evolved into a 100-percent composite design, and an exciting engineering project.
"We build them with the durability of a YETI cooler and the timeless design and appeal of a Boston Whaler boat."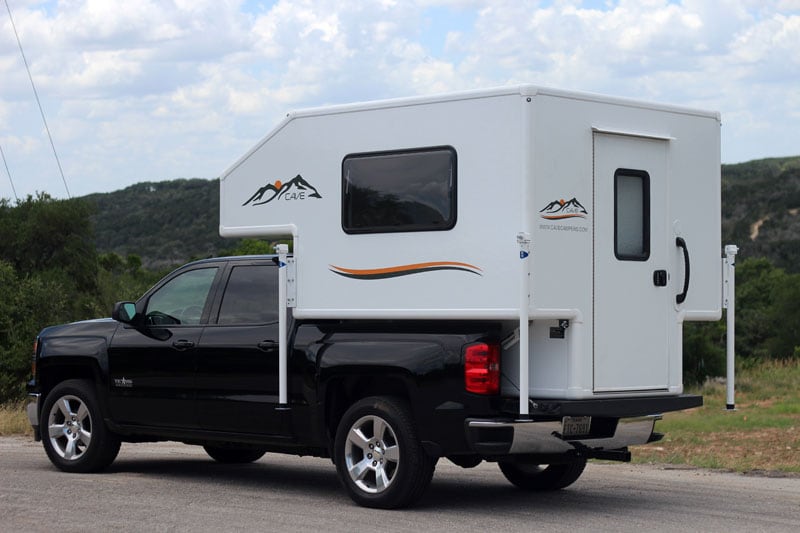 It's a big step to go from a product idea to a manufacturing business. What led you to start Cave Campers?
Dylan: We both wanted to spend more time enjoying the outdoor activities we're passionate about. I specifically wanted to maximize my time outdoors. The Cave Camper company and product aligns with my outdoor interests and hobbies.
Before launching Cave Campers, my family went tent camping. Tents are extremely portable and keep you out of the elements, but they have significant downsides. At the top of my list, tents are not comfortable in cold and inclement weather. That's very limiting in the Northwest. A Cave Camper solves that problem.

Larry: We believe there's a huge gap between tent camping and large RVs. Tent campers don't necessarily want a big camper, big truck, or a lot of amenities. They just want a warm, dry, and highly durable shelter that doesn't require any set-up. For these folks, freezing in a tent doesn't cut it anymore. They want a solid and comfortable shelter.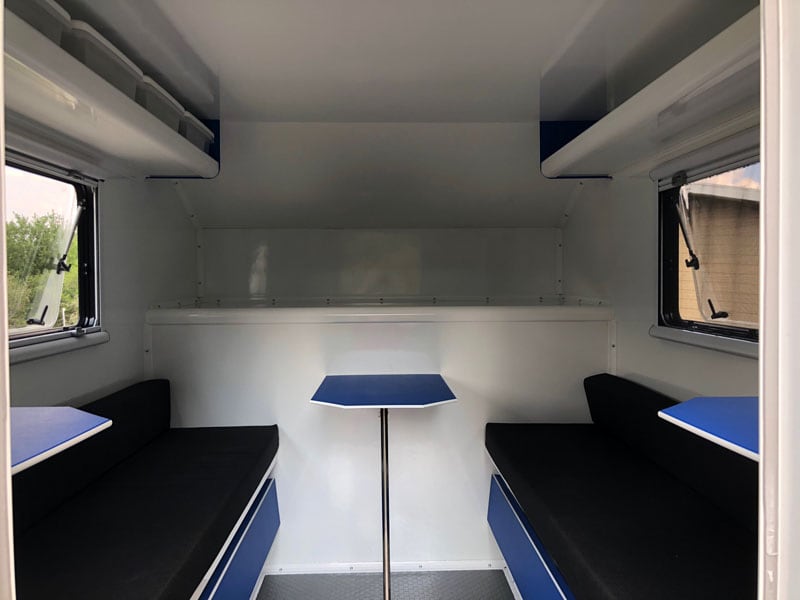 Cave Campers are light enough to payload match just about any half-ton truck. We build them with the durability of a YETI cooler and the timeless design and appeal of a Boston Whaler boat.
Dylan: Like YETI coolers, Cave Campers are overbuilt and extremely durable. From our state-of-the-art building materials, to our minimalist design approach, we take no shortcuts to quality. Our goal with Cave Campers is to maximize your time outdoors.
In traditionally constructed RVs, every pipe, valve, wire, hinge, and component is something that can break. That break becomes a liability that takes away from your time outside. None of that will happen with a Cave Camper.
"Short of running it into a tree, a Cave Camper is nearly indestructible."
Larry: Simple is our product mantra. Like the aforementioned YETI cooler, a Cave Camper is essentially one solid composite box. Once assembled, it's a totally insulated and incredibly strong. You won't will feel any heat loss in the unit. There are no hot or cold spots like you have in aluminum or wood-framed units.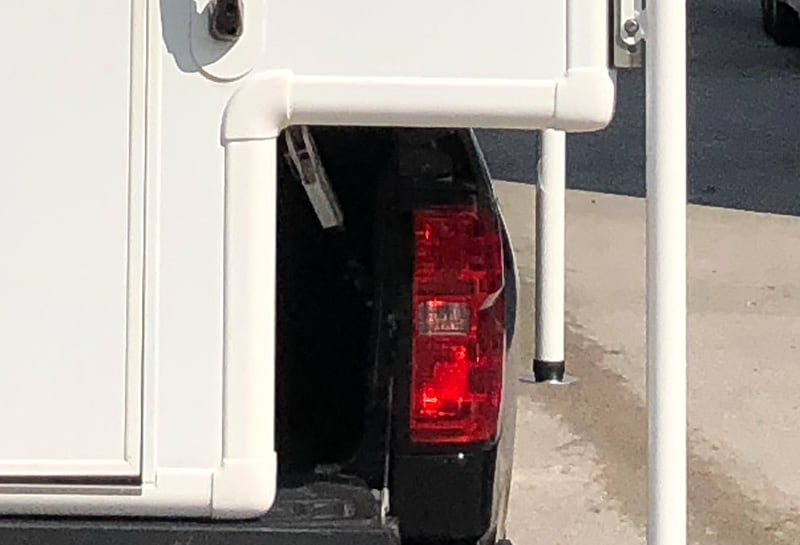 Dylan: As a 100-percent composite box, a Cave Camper will last for a very, very long time. The walls are 1.5-inch composite panels.
The edge connections are aluminum extrusions bonded with industrial epoxy, so there is no potential for leaks or panel separation.
You are never going to need a tarp for a Cave Camper. There is no wood to rot, and nothing to rust. You can literally spray the inside of the camper out with a garden hose. That's a huge benefit for beach camping and hunting. You can even drive a motorcycle in through the back doorway. Short of running it into a tree, a Cave Camper is nearly indestructible.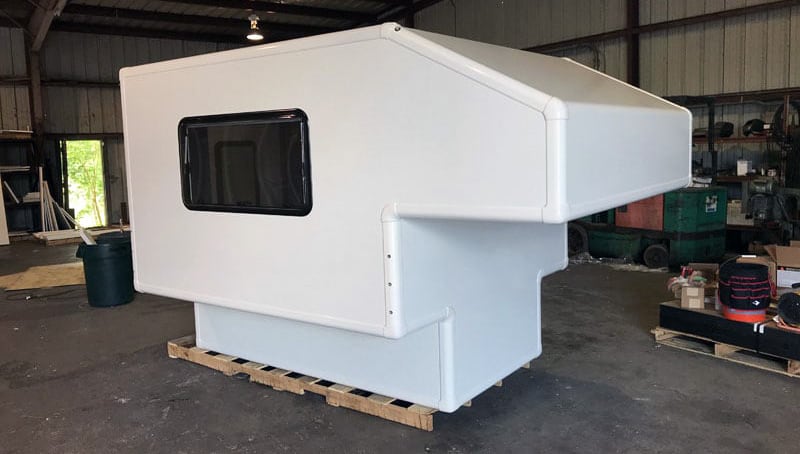 Another amazing benefit of the composite construction is light weight. A Cave Camper with every possible option and feature weighs under 800 pounds. Even after you load your gear, the Cave Camper is well within the payload capacity of the overwhelming majority of half-ton trucks.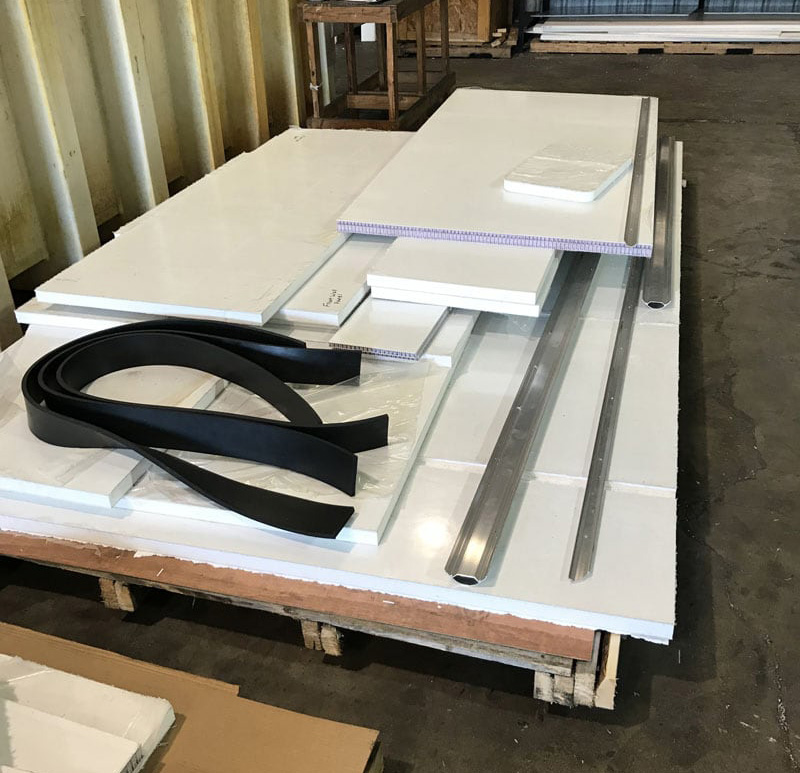 Where do you source your composite walls from?
Dylan: We purchase CNC-cut sheets of composite material from a composite panel supplier in Illinois. We separately purchase high-end aluminum extrusions, windows, and other components.
This manufacturing approach allows us to keep costs down while offering a level of material and build quality previously unavailable in the truck camper marketplace.
Larry: Our composite panel supplier makes very large things very quickly. They have state-of-the-art CNC routers that cut our six composite panels. Then the panels are shipped to Texas to be assembled.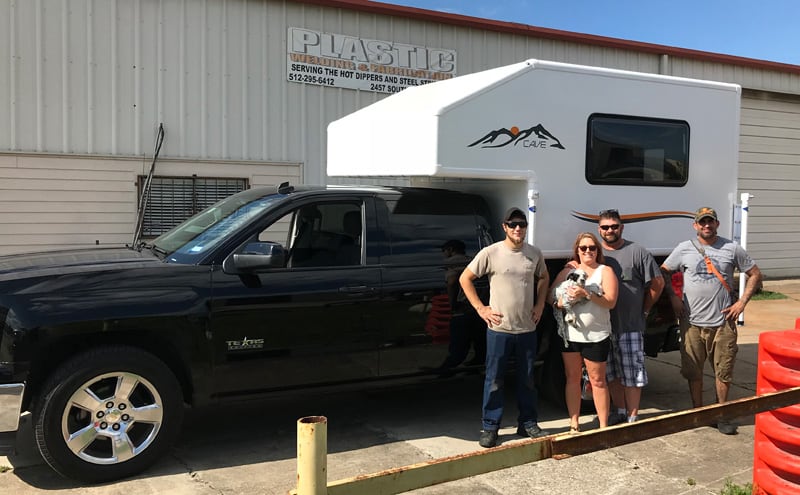 Cave Campers assembly approach is radically different than anything we have seen before in the truck camper marketplace. Can you tell us how Cave Campers are built?
Larry: Cave Campers are assembled by a plastic and composite tank manufacturer in Texas. They are located 15-minutes down the road from our headquarters in San Marcos. With their extensive experience fitting and assembling large scale plastic and composite products, the company is perfect to assemble Cave Campers.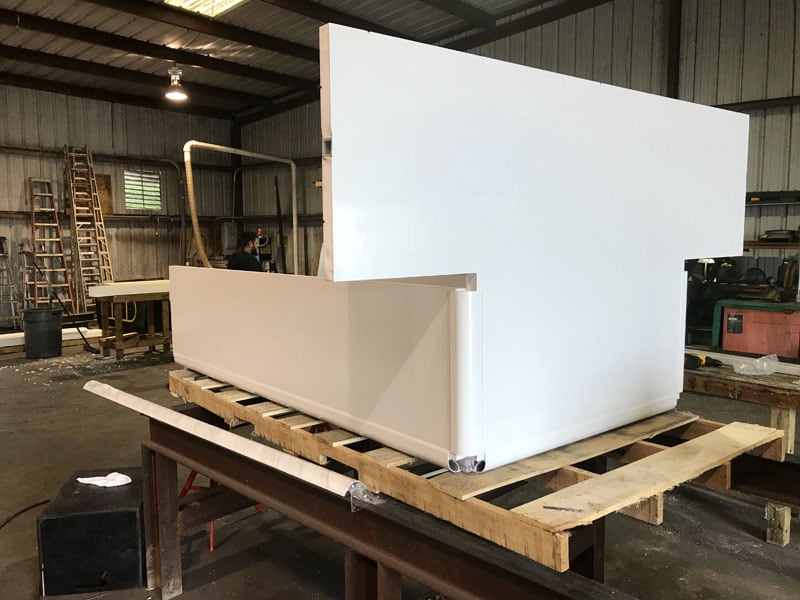 There is a 35-page step-by-step construction manual for the assembly team. There are far fewer pieces, connections, and joints than a traditional truck camper which is the basis for its durability. It also means less chances for mistakes in the manufacturing process.
"I think a Cave Camper would literally hold water if you closed it up."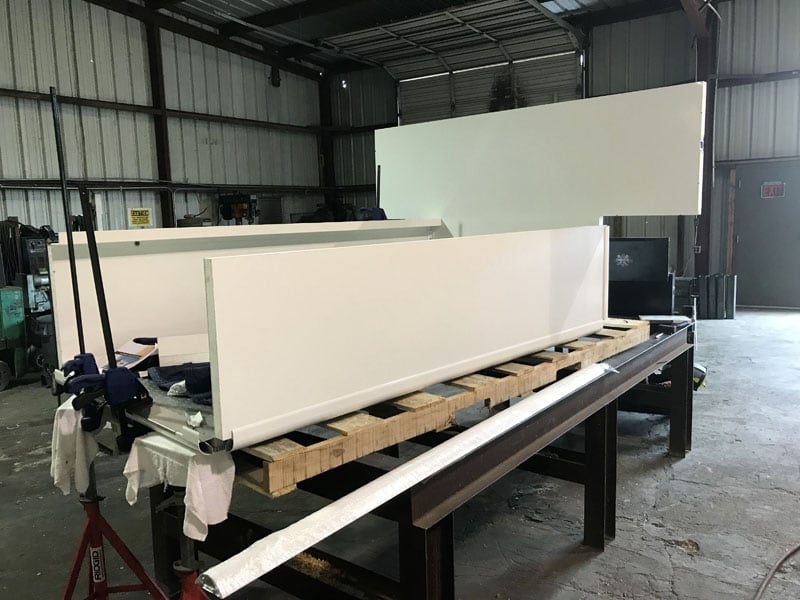 Are Cave Campers made in the USA?
Larry: Yes. The composite panels are made in Illinois and everything is assembled in Texas. Most of the components are sourced domestically or produced locally. For example, we have the aluminum extrusions powder coated locally.
How are Cave Campers sealed to keep out water and the elements?
Larry: The roof is one 14-foot panel. There are no holes in the roof of a Cave Camper. The extrusions are joined in the corner caps and will not leak. I think a Cave Camper would literally hold water if you closed it up.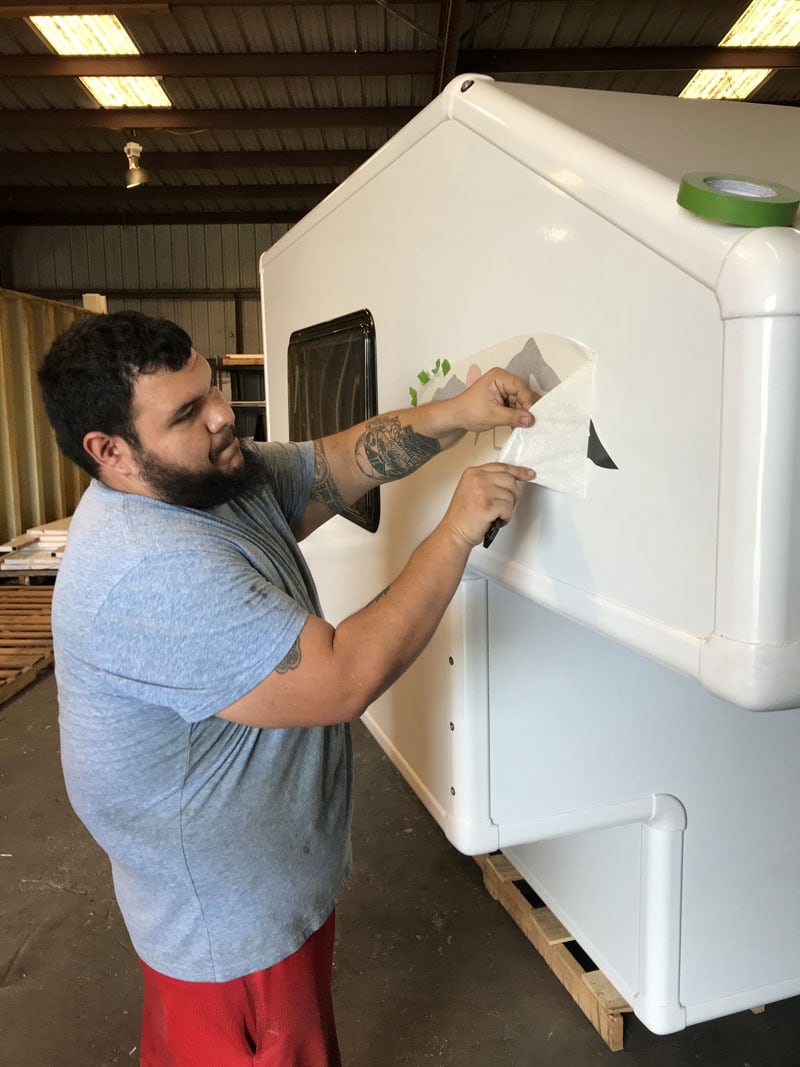 Please make a video of that! As a company that outsources your construction and assembly, how do you approach quality control?
Larry: Our manufacturing process starts with checking all of the pieces before assembly. We use that tried and true adage of, "measure twice and cut once".
Once assembled, two different people run down a checklist to confirm the final product meets our the high standards of our brand. Frankly, the years we put into coming up with a simple design makes this a short list and quality control has not been a problem.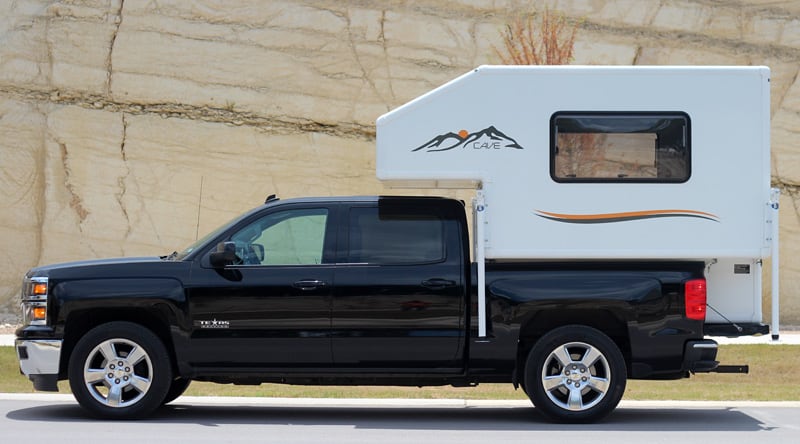 Larry, you took the first Cave Camper prototype across the United States. Tell us about that trip, and what you learned.
Larry: I loaded the first Cave Camper prototype onto my Chevy 1500 half-ton. The first thing I noticed was how little it affected the driving performance of the truck. I could feel the camper was loaded, but it didn't sway all over the place like traditional truck campers can. I sometimes forgot the Cave Camper was there, even on bumpy mountain roads.
"We also found that we could fit four people inside a Cave Camper."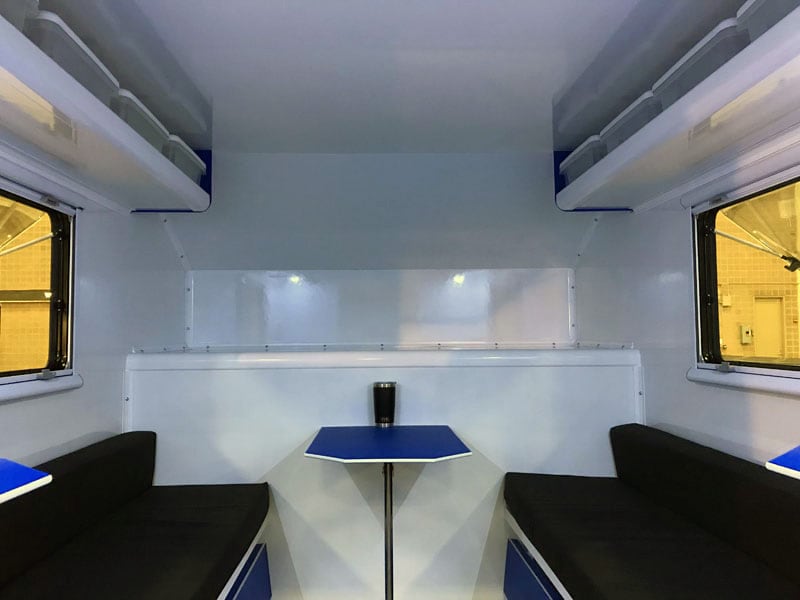 I never cared for the cramped experience of climbing into and sleeping in a traditional cabover. The 30-inch by 80-inch beds in the main living area of the Cave Camper were very comfortable.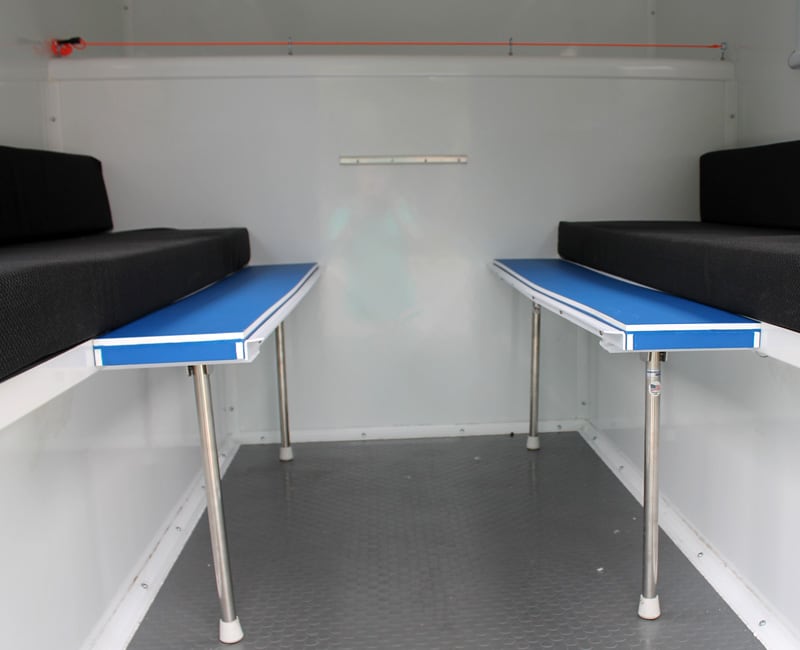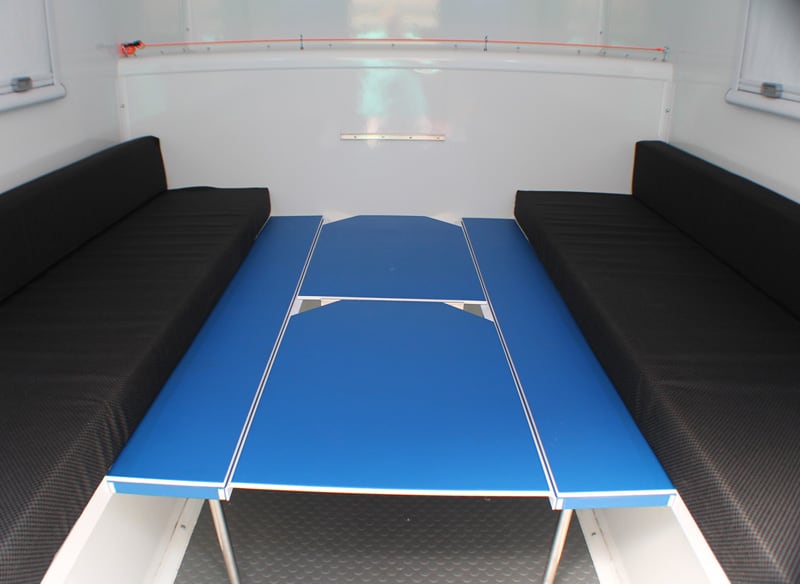 The only downside was that my wife and I were not together. Our production Cave Camper has the option to make a 60-inch by 80-inch queen bed.
You can re-arrange the cushion and table configuration to accommodate individuals sleeping separately or a couple in a queen sized bed.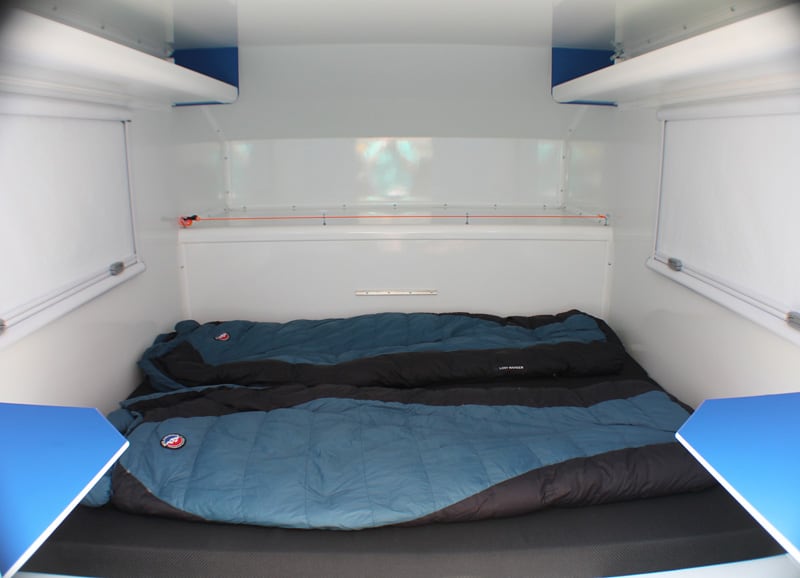 We also found that we could fit four people inside a Cave Camper – standing up and having a beer. We were not bumping into each other. The open floor space convinced me that we were on the right track with the Cave Camper design and concept.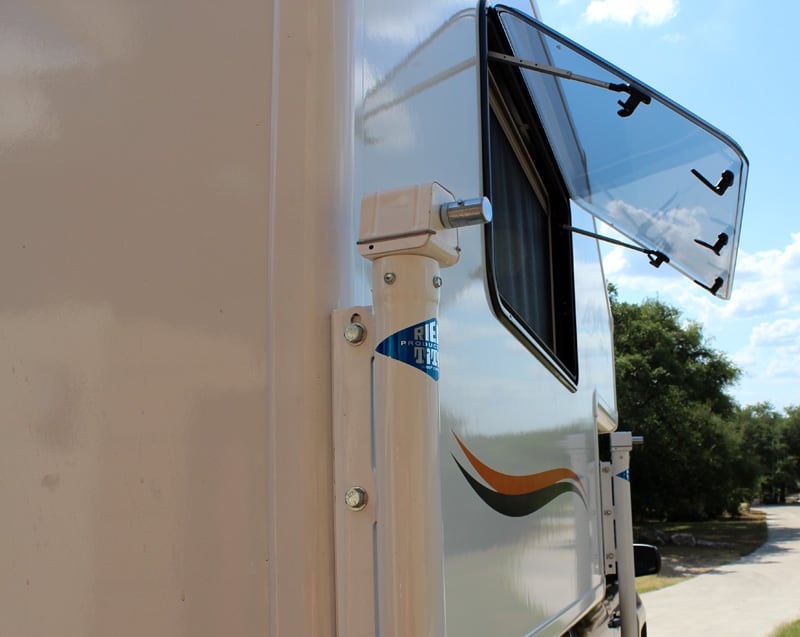 Was there anything other than a queen bed option that you wanted to change for the production version of the Cave Camper?
Larry: Yes. We changed the original prototype single-pane windows to thermal pane fold out acrylic windows – the lightest weight, best insulated windows available.
When it's raining or snowing, you can open the windows just a crack, or all the way for airflow without getting the camper's interior wet. They also feature built-in screens and blackout shades.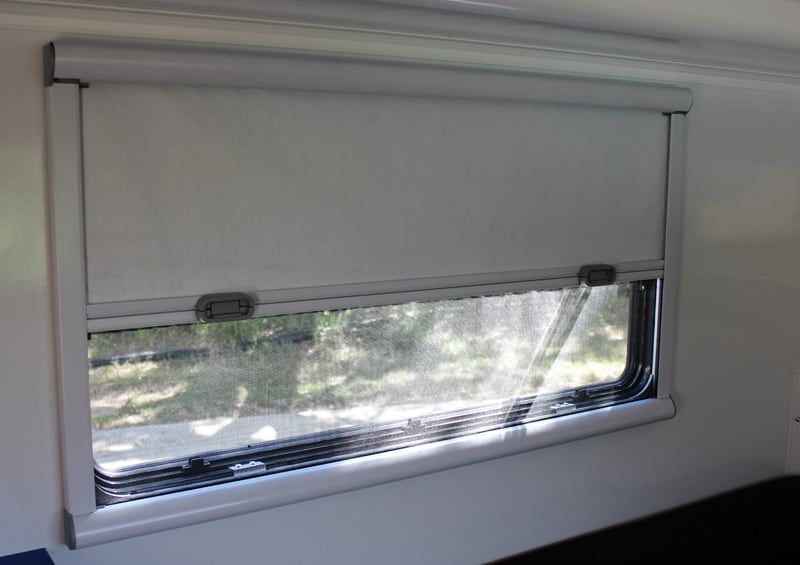 The thermal pane acrylic windows are quite expensive, but we spared no expense when selecting materials and components for Cave Campers.
We made a few other small changes throughout the camper. For example, the floor pattern was a highly-durable, cross-hatched, waterproof material, but it was quite uncomfortable in bare feet. Now we have a coined rubber flooring, which is extremely comfortable, just as durable, and waterproof.

Above: Cave Campers uses the same fabric used for Chevy Sierra seats
Another upgrade we made was to the cushion fabrics. We're now using a premium water resistant and fire retardant automotive fabric.
Last weekend four of us went camping in the mountains of Colorado. The rain poured, but we were quite dry and comfortable in our Cave Camper. We did manage to get some mud on the floor and on the seat cushions.
When we got back we went to a car wash bay and hosed off the outside and inside of the camper – including the seat cushions. I literally went inside the camper with the sprayer and watched the mud pour out of the entry door.
It's really liberating to not have to worry about dirt, sand, or grime getting inside your camper. Of course things are going to get dirty when you're playing outdoors! With my Cave Camper I don't have to stress about that.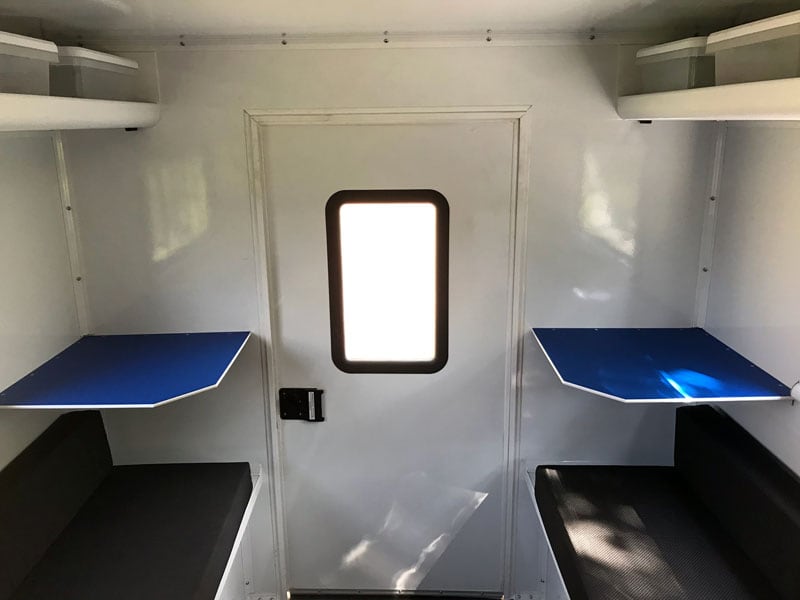 That's insane, and perhaps the easiest way to clean a truck camper we've heard of. Who are you targeting with the Cave Camper?
Dylan: Outdoor enthusiasts. Hunters who travel bumpy roads. Fisherman who tow boats. Nature and landscape photographers who don't want to worry about camper maintenance, or cleaning.
Skiers and snowboarders are good candidates for a Cave Camper because it's so well insulated. Plus it's small enough to park at a ski resort parking lot. They can even take their Cave Camper off-road for true backcountry skiing. Mountain bikers and rock climbers will also appreciate the durability and insulation qualities of a Cave Camper.
"Our camper is 800-pounds including jacks and every possible option."
How about the general truck camper marketplace?
Dylan: Cave Campers aren't going to appeal to folks who want to bring a version of home with them. You certainly can use a Cave Camper as an RV, or camp in one at a campground, but that's not our core focus.
I do think Cave Campers will appeal to the overland market. Overland folks are tinkerers. They are looking for solutions to get the most reliable and versatile gear possible as far off-road and off-grid as possible. A Cave Camper is the perfect platform for them to build what they want.
Essentially, a Cave Camper is an open canvas to attach solar panels, skis, motorcycles, bikes – or whatever outdoor hobbies, toys, or requirements you have. It's a minimalist, lightweight, and durable camper. You take it from there.
Do you offer any kind of customization?
Dylan: There is an option list, but we will not customize the dimensions of the shell. We might debut new models in the future, but we are not offering customization as it would impact the cost and quality control of the unit.
What options are available for a Cave Camper?
Dylan: At this time, we are offering LED lighting, Fantastic Fans, camper jacks, and tie-downs. The Cave Camper does not feature a kitchen, but we may introduce that option in the future.
For steps we use a trailer hitch extension or a Yeti cooler. We also offer steps to put on your truck's trailer hitch.
Again, the driving principle here is to maximize time outside. The majority of the time we want to cook outside so we simply grab our cook gear from the easy to access storage and setup outside. If the weather is not conducive to that we cook inside on the table. It works great. By not committing space to a permanent kitchen we gain an open interior space that's really pleasant.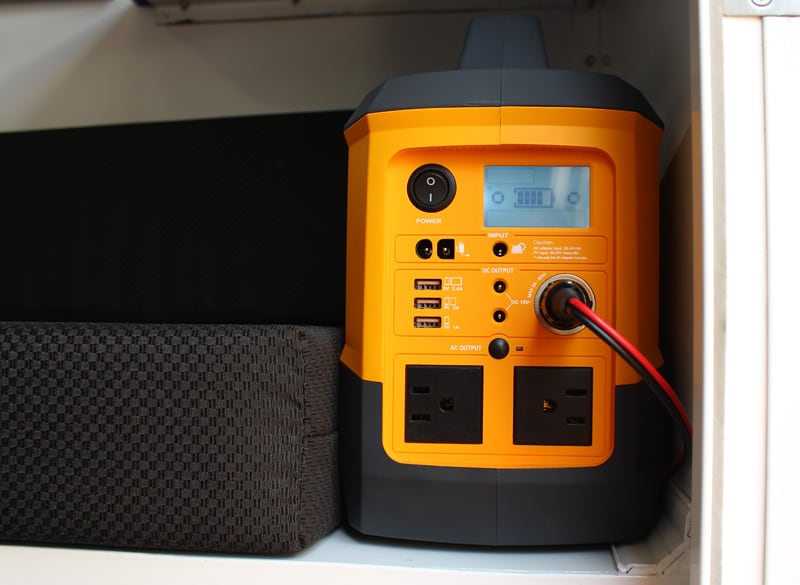 Larry: For power, we offer a 750 watt-hour lithium ion power pack with two 110-volt outlets, three USB outlets, and one 12-volt outlet for the camper. The best part about the power pack is that it's totally portable and can plug directly into a 36 vdc solar cell. You can take it outside and plug in your computer. It's a much better solution than a built-in battery since it has multiple purposes at home.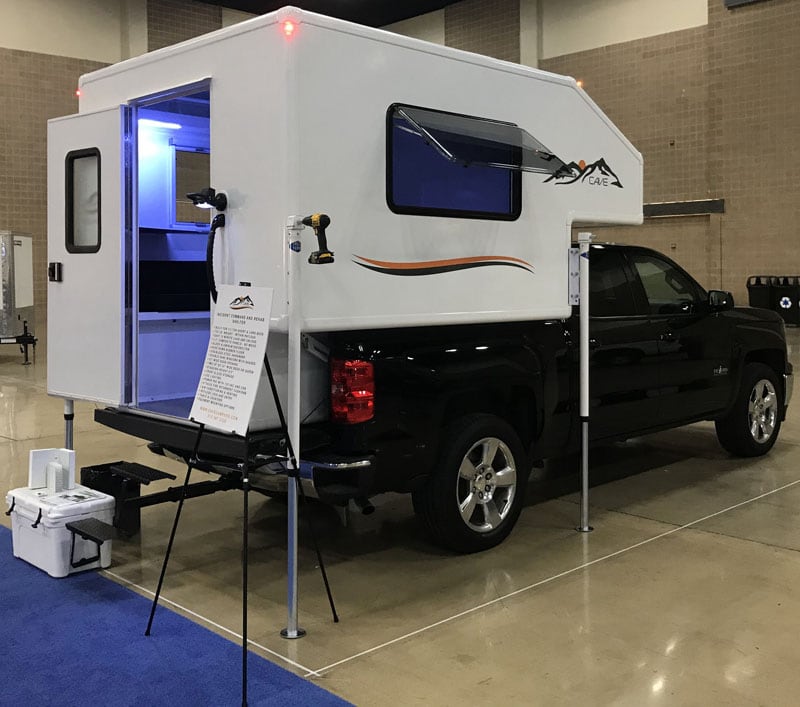 Last year we experimented with a GoalZero Yeti 400 lithium battery in our camper and found it to be extremely versatile. Where can someone see a Cave Camper?
Dylan: You can always contact us for the closet location of a Cave Camper. The Cave Camper featured in this article will be traveling across the United States this summer. If you want to see it, let us know and we'll try to meet up. You can also travel to Denver and see the one we have here. We also have one in Texas.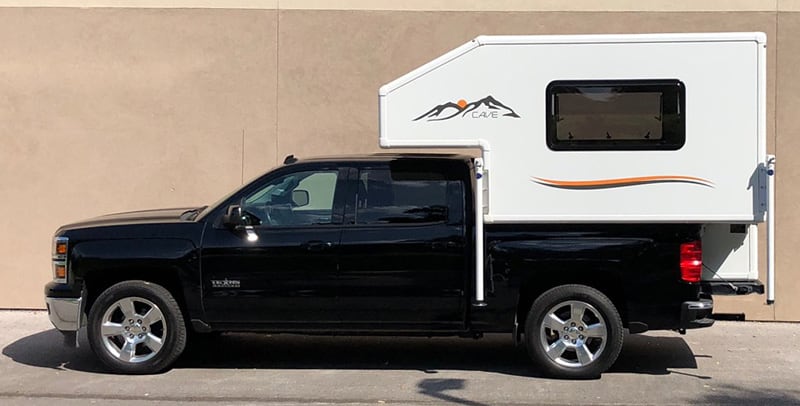 You have stated that a Cave Camper can payload match most half-ton trucks. That's quite a statement for a hard side camper. Can you quantify exactly what trucks are truly size and weight compatible with a Cave Camper?
Dylan: Cave Campers are designed for full-size trucks with 5.5-foot to 8-foot beds. They do not fit a Toyota Tacoma or similar mid-size trucks. A Cave Camper will fit all full-size half-ton, three-quarter-ton, and one-ton trucks with a 5.5-foot bed, or longer.
As for weight, there is a lot of misleading information out there about truck and camper matching. We recommend reading the truck and camper matching articles like the ones in Truck Camper Magazine.
That said, our camper is 800-pounds including jacks and every possible option. That's a dry weight and does not include your gear. However, even with added gear weight, we haven't heard of a half-ton truck that isn't a fantastic match for a Cave Camper.
Larry: With a 5.5-foot bed you can keep the tailgate on and have a one-inch lip. On a 6.5-foot bed you can put the tailgate down and put a case of beer on it. With an 8-foot bed you can actually put the tailgate up with 3-inches to spare.
What does a Cave Camper weigh, and how did you weigh it?
Larry: I took a fully loaded Cave Camper to the certified CAT scale in Longmont, Colorado.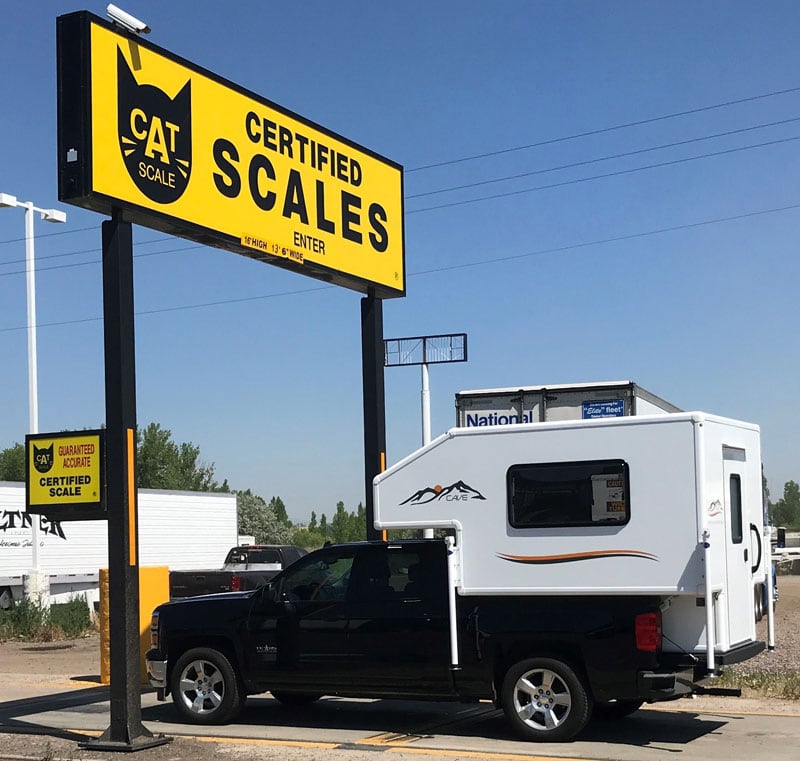 Then I demounted the camper and weighed the truck.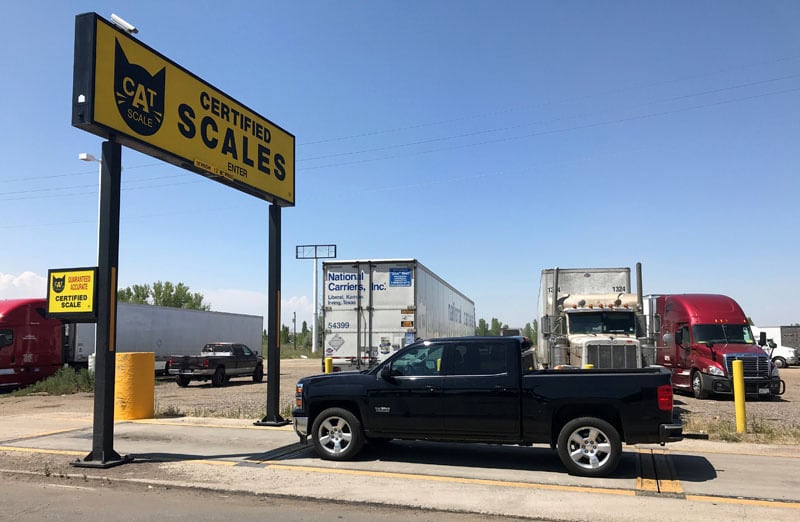 According to the CAT scale, the weight of the truck and camper together was 6,280 pounds.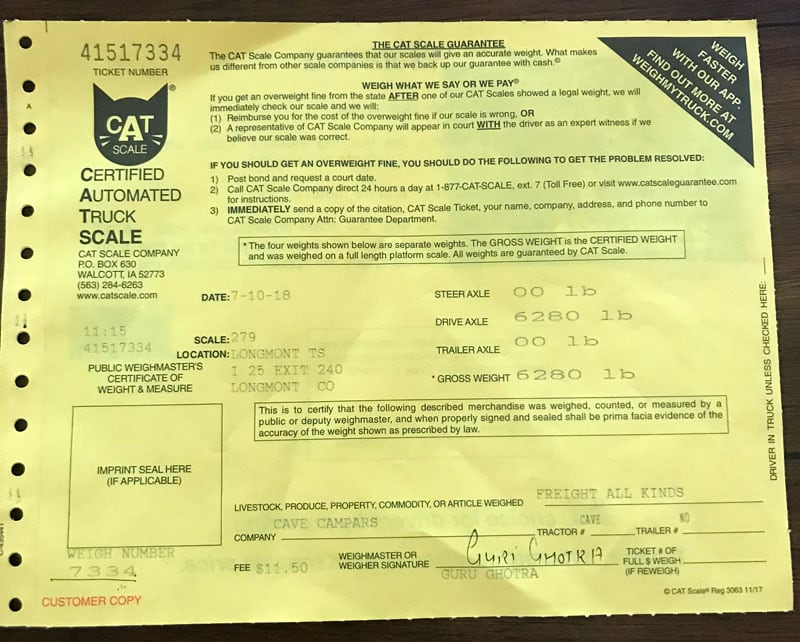 The truck by itself was 5,480 pounds.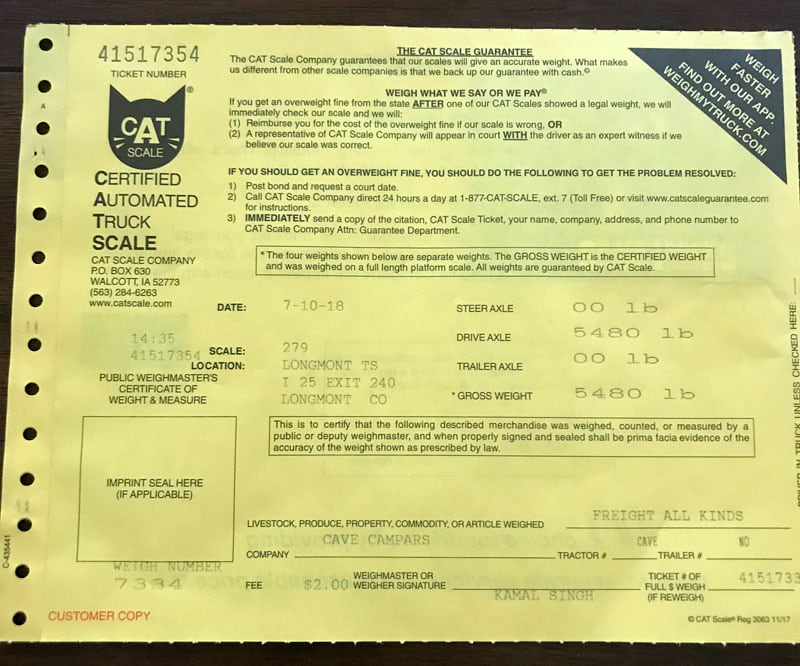 When you subtract the weight of the truck and camper together from the weight of the truck by itself, you get the weight of the fully-loaded Cave Camper; 800-pounds.
How do customers mount the camper to their truck – tie-downs and turnbuckles?
Larry: There are two ways to tie-down the camper. You can use a traditional tie-down and turnbuckle system, or an in-bed tie-down system we developed.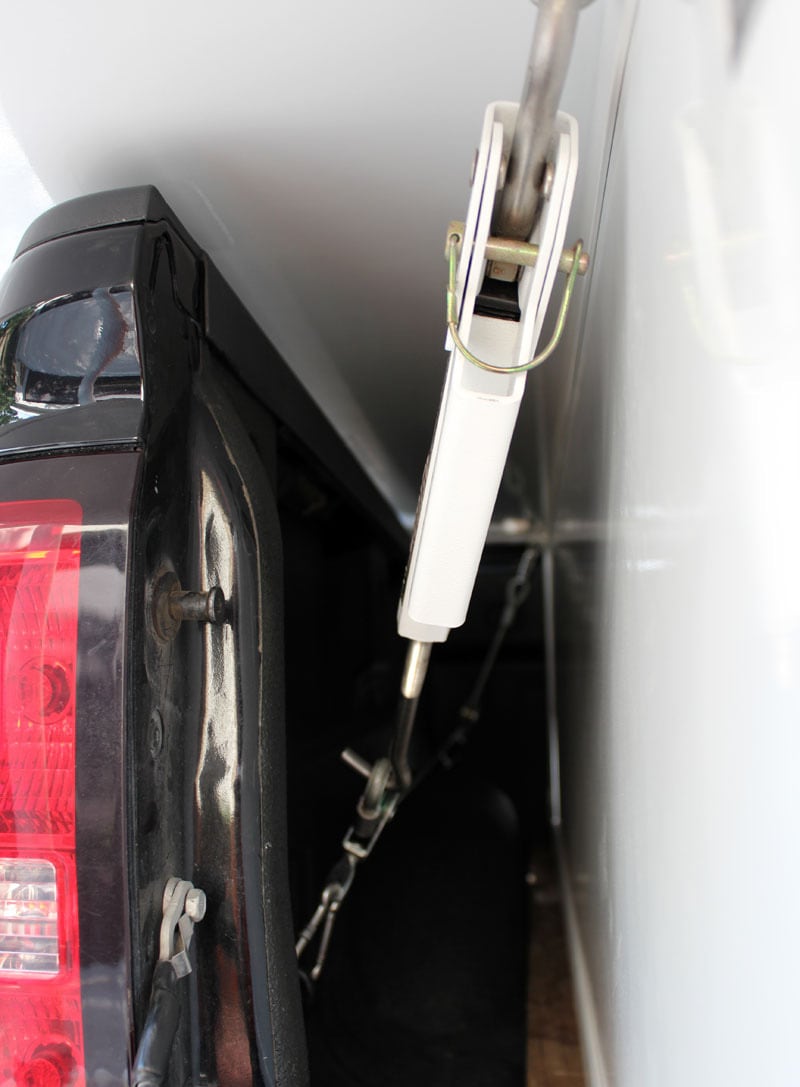 The camper in the photography uses Torklift turnbuckles in the bed. They connect to a cable and pulley and hook into the bed. It's up to the customer which approach they prefer.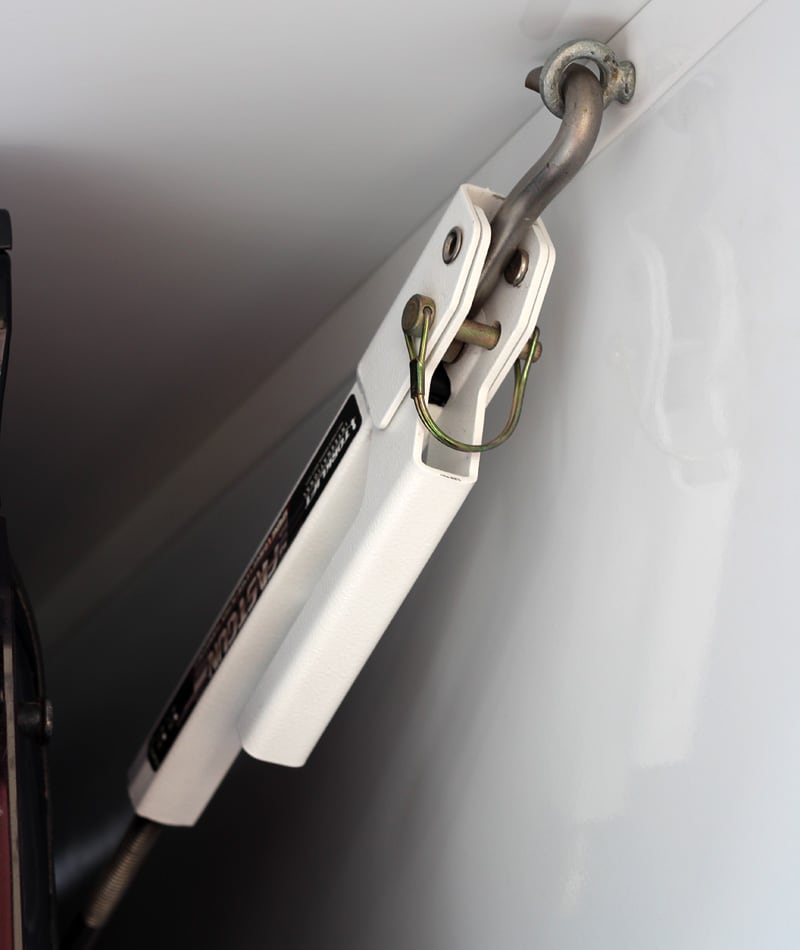 Dylan: Essentially we have a latch-down assembly that uses the interior truck hooks. You don't have to add extra frame-mounted tie-downs if you don't want to.
One advantage of this approach is that it's easier to take the camper on and off. This can be great for situations where you want to put the camper on and off each weekend or for those that want to do serious off-roading.
Are you marking the center of gravity on Cave Campers?
Larry: Yes, we have a center of gravity sticker. We rolled a round pipe under the camper and found the exact center of gravity. The center of gravity of a Cave Camper is 43-inches from the front wall.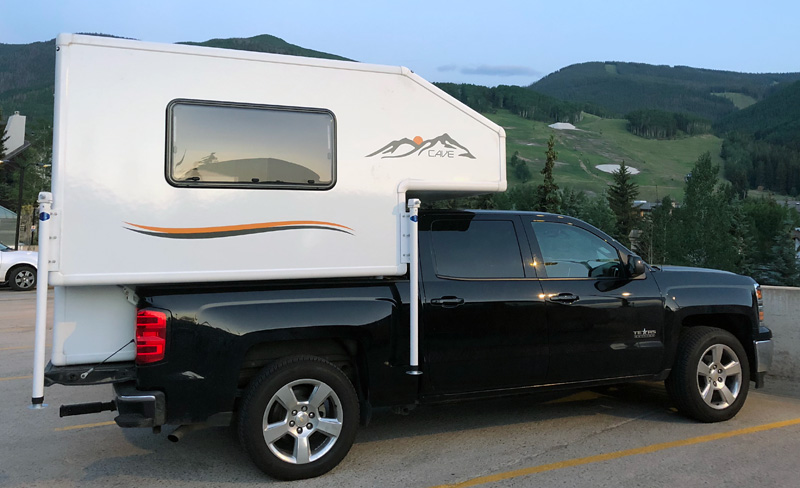 How does a potential customer go about ordering a Cave Camper?
Dylan: We have an order form on our website. Customers put down a 50-percent deposit and then pay the other half on delivery.
Larry: After the camper is built, you can come to Texas to pick it up or we can ship it directly to you. Shipping costs vary but we've seen these average around $1,000 for shipping across the country.
Cave Campers fit into a container and can be shipped all over the world. The first prototype was actually shipped to the Netherlands.
Are Cave Campers actually shipped directly to a customer's door?
Larry: It can be shipped to a local shipping company with a loading dock. We actually received the prototype at a local shipping company. It was very easy to pick it up there. There are likely multiple shippers within a few miles of most of the folks reading this article.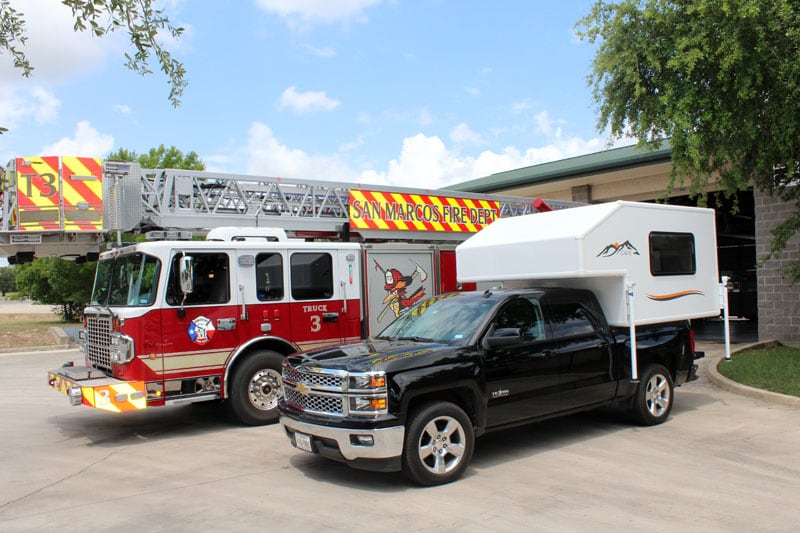 Once an order is placed by a customer, how long does it take to get a Cave Camper?
Larry: Approximately two months.
Can customers pick up their camper at Cave Campers in Texas?
Larry: Yes, you can come to our headquarters in Texas to pick up your camper. We would be more than happy to meet our customers and deliver their new Cave Campers.
"There are no pipes to break, no wood to rot, and no systems to fail."
What is the warranty for a Cave Camper?
Dylan: Cave Campers have a limited 5 year shell warranty for the first buyer.
If someone has a warranty claim with a Cave Camper – say in Florida – how do they get help?
Dylan: Depending on the nature of the claim, we would direct you to a local repair facility. For example, if a composite panel needed a repair, we would direct you to a fiberglass repair facility near you for the work.
You can also bring the Cave Camper back to us in Texas and we will work with our local fiberglass repair shop to get the repair completed. It's entirely up to the customer.
By design, there really isn't much that can go wrong on a Cave Camper. As I said earlier, there are no pipes to break, no wood to rot, and no systems to fail. That's how we ensure that you're out enjoying your outdoor experience, not worrying about a camper repair. Of course, if something does come up, we'll take care of you.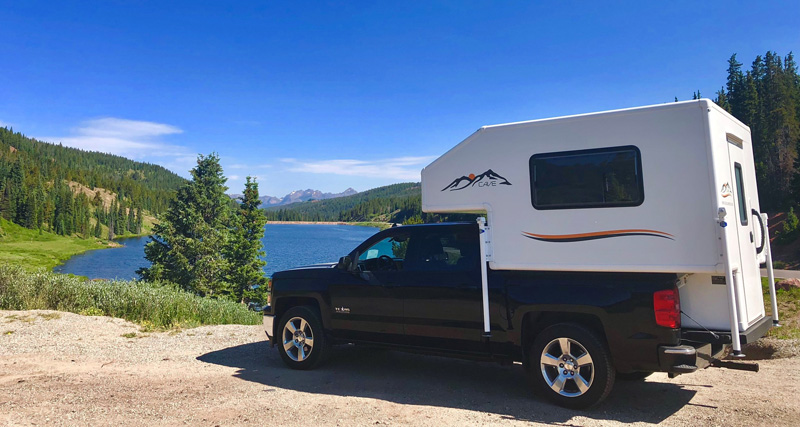 What is the price of a Cave Camper?
Dylan: A fully-loaded Cave Camper is $21,500. That includes everything shown in this article, including the lithium power pack and step system.
A basic version of the Cave Camper is $16,250. That includes the camper and the jacks. You can always purchase the basic Cave Camper and then add the options you want from our option list.
There are more economical camper options, but they don't offer anything near the build quality and durability of a Cave Camper. Our campers will last for a very, very long time – just like a YETI cooler.
When we asked about customization, you mentioned the possibility of additional Cave Camper models. Is there something in development?
Dylan: We have some ideas, but we want to get feedback from the Truck Camper Magazine community and customers first.
If we moved forward with a new model at this time it would be something for mid-size trucks like the Tacoma. We also might also consider something more fully featured; for example, a Cave Camper with a larger cabover and kitchen.
This is a very interesting product and business you are launching. Where do you see Cave Campers in five years?
Larry: In five years, Cave Campers will probably have an assembly plant in Denver, Colorado, and at least one more camper model. We're also talking with other markets outside of the outdoor recreation marketplace including emergency management and command centers for fire fighters. The potential for this product reaches well beyond the outdoor market.
Dylan: I also see multiple assembly locations. We are looking at Denver, Colorado since it is a hub of outdoor activity.
Are you interested in talking to dealers, or will Cave Campers stay a direct-only company?
Dylan: We are interested in talking to truck camper dealers, but that's not the direction we're looking right now. That said, I don't think you'll need to visit Denver or Texas in five years to see a Cave Camper.
Is there anything else you want folks to know about Cave Campers?
Larry: My truck has a 5.5-foot bed. You wouldn't think you could do a lot with that small space, but a Cave Camper is remarkably spacious and comfortable. Everyone who steps into a Cave Camper is surprised at how open it feels. We are looking forward to having more people see and experience a Cave Camper in person.
Dylan: With Cave Campers, we offer a uniquely durable, lightweight, and well insulated platform for hunters, fisherman, overlanders, and anyone who enjoys the great outdoors and outdoor activities. If you have a half-ton truck and want to maximize your time enjoying those activities – and not worrying about repairs – you're going to love Cave Campers.