Truck Camper Magazine visits the Five Star RV dealership in Henderson, Colorado and finds dozens of new and used campers waiting for a new home.  Adopt a camper today!

Jay Trunkonbolz, Owner of Five Star RV
Too often truck campers are sold by dealerships who stock one, two, or three campers on a lot with dozens of towables and motorhomes.  Unfortunately, this often means working with sales people and service technicians who are not truck camper experts.  With the potential complexities of configuring a satisfying and safe truck and camper rig, you need your truck camper dealer to be an expert.  Their truck camper knowledge and experience can save you months of research and point you to the right rig combination the first time potentially saving you thousands.
Jay Trunkenbolz, Owner of Five Star RV, is one such expert.  His dealership is dedicated to truck camper sales and service with dozens of new and used campers in inventory from many manufacturers.  The Five Star RV store is stocked with seemingly every component, part, and accessory possible for a truck camper.  Jay even runs a RV salvage yard where you can get those hard-to-find parts for older truck campers.  If it has something to do with truck campers, Jay and Five Star RV have it covered.
Five Star RV was hopping while we were there.  There were RVs getting serviced in the service bays, customers exploring the truck campers campers, and an ever present phone ringing.  We got a few words in with Jay during the day, but it wasn't until that evening that we finally got to sit down and talk.  Of course this is exactly what we hoped to see and were thrilled to see Five Star RV doing so well.
During the busy part of the day, we walked around the dealership and took pictures.  The first two photographs were taken from the roof of our camper and show the main building and the bulk of Five Star RV's camper inventory.  The third photograph shows our secret weapon for getting the attention of any industry leader.  Go get 'em Harley!
Five Star RV is loaded to the gills with new and used truck campers.  We counted twenty seven campers from Northern-Lite, Northstar, Eagle Cap, S&S, and Snowriver.  Five Star RV carries more truck camper brands than any dealer in the midwest making their dealership an excellent place to explore camper brands and models.
Before any camper is offered to the public at Five Star RV, it's put on a set of highly accurate portable scales and weighed.  The resulting weight is recorded by photographing the scale and then presented to the customer before purchase.
Jay Trunkenbolz and Five Star RV are to be commended for this level of dedication to their customer's safety.  In our opinion, every truck camper dealership and factory direct manufacturer should have a set of portable scales on hand and offer the weights of their campers on customer demand.
With all of the options that are added at the camper factories and by the dealerships, it's often not possible for the truck camper manufacturers to consistently report accurate dry weights for individual units.  The only way to know what the camper you're looking at truly weighs is to weigh it.  Long before portable scales were even available, Jay was taking every camper to a nearby certified scale and paying for weight tickets to show to his customers.  Now with the portable scale, camper weights can be quickly and accurately measured on site.
We asked Jay to show us a few examples of the camper weights for the campers he had in inventory.  After the campers are weighed and the scale is photographed, Jay prints the photographs and puts the prints into a folder for each camper.
Jay showed us an Eagle Cap 1160 at 3,616 pounds, a Northern Lite 9.5 Special Edition at 2,729 pounds, and a Northstar TC650 at 1,522 pounds.  These are the accurate dry weights with options for these specific campers at this specific dealership.  For anyone shopping for a new camper, this type of accurate and specific information is invaluable.
Five Star RV was one of the first dealerships to become Torklift Certified.  As a Torklift Certified dealer, Five Star RV has completed Torklift's product and service training and carries the full line of Torklift products.  You can learn more about the Torklift Certified program by reading our article, "The Torklift Certified Program".
The above photographs show the Torklift Certified certificate hanging on Five Star RV's wall, the Five Star RV warehouse loaded with Torklift merchandise, and the the Torklift Certified logo on Five Star RV's front door.  You might also notice the stern warning that all dogs must be kept on a leash.  Good thing we don't have a dog.
Five Star RV has a well stocked shop full of just about anything you could ever need for a truck camper.  To find out more about Five Star RV's shop, we woke up Harley and put him to work.  Once again, Harley failed to turn in a written report, but he did come back with these photographs of himself walking through the store.  As you can see, he found the Happijac tie-down systems, Torklift products, and black tank chemicals.  Nice work Harley.  You've earned your food and litter for another month.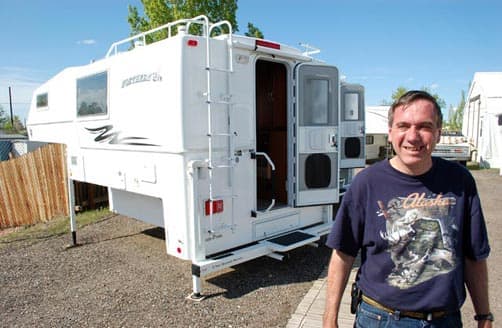 During our visit, Tony and Margaret Woodville from Texas flew up to see the Northern Lite Special Edition campers Five Star RV had on display.  Tony was full of questions and put our knowledge of Northern Lite campers to the test.  By the end of the day, they had talked with Jay and become Northern Lite 9-6Q Classic SE owners.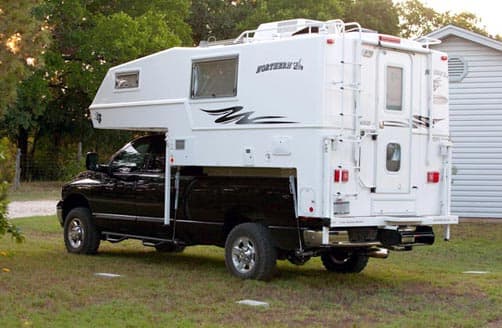 A few weeks later, Tony emailed us a photograph of his brand new Northern Lite in his driveway.  Congratulations Tony and Margaret!  You're going to have a blast!
Once again, we were really impressed with Jay's camper weight practices.  Now with a portable scale, he's taking the responsibility a dealer has for the safety of his customers to the next level.  Just up the street, Hallmark RV was using the same exact ComputerScales system that Jay's using at Five Star RV.  If you want to see what a camper weighs at Five Star RV or Hallmark, they'll show you or weigh it for you right then and there.  This begs the question, "If they can do this in Denver, what can't we do this nation and industry wide?"
We've also seen the Intercomp SW500 E-Z portable scale systems at manufacturers and dealers.  Both the ComputerScales and Intercomp portable scale systems are incredibly accurate, affordable, portable, and have plenty of weight capacity for truck campers.  They seem purpose made to forever answer the question, "What does this camper really weigh?"  There's no reason in the world why these scales can't be available anywhere a customer is purchasing a truck camper.  In the mean time, Five Star RV continues to be a leader and dealer model for this practice.
As we said in our introduction, you want to buy from a truck camper expert when you purchase a truck camper.  There's no doubt that Jay Trunkenbolz and the Five Star RV team are truck camper experts.  If you're anywhere near Denver, Five Star RV should be on your very short list.
For more information about Five Star RV, visit their website at www.fivestarrv.com.