As a custom ordered and built camper, performing an analysis of the Phoenix Mini Max specifications is an interesting challenge.  After all, the weight, floor length, overall length, width, interior height, exterior height, and center of gravity could all vary depending on the truck the customer wants to fit.
Specifications
Dry Weight
1,209.9 pounds
Wet Weight*
2,035 pounds
Floor Length
72.5″
Overall Length
12'0″
Width
85″
Interior Height
6'3" top up
54″ top down
Exterior Height
53″ top down
Center of Gravity
18″
Truck Type
Short Bed –
Mid-Size or Full-Size
To keep things simple, I will focus on the Mini Max under review.  Please keep in mind that this analysis represents one Mini Max build, and is not indicative of all Mini Max truck campers.  Your Mini Max may vary.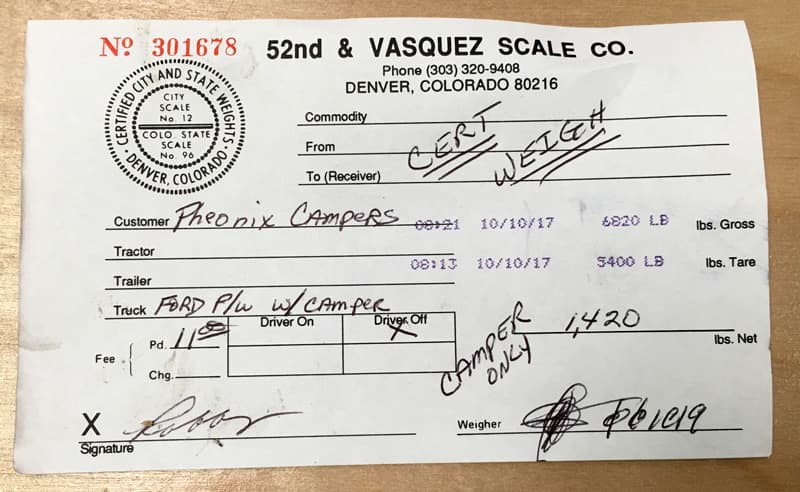 For the Phoenix Mini Max debut, Robby took the camper to a local certified truck scale and weighed it.  Since we reviewed the exact same camper featured in the debut, we can verify the stated weight of this Mini Max is accurate.
The 1,420 pound weight of the camper includes full water (125.1 pounds), full propane (20 pounds), and a battery (65 pounds).  To get a true dry weight of this Mini Max, we need to subtract the water, propane, and battery weight.  That brings the dry weight to 1,209.9 pounds.  We use this dry weight for the wet weight calculation.
As a magazine, we want to encourage Phoenix Campers to invest in a set of Intercomp racing scales for accurate on-site weights.  We have personally tested dozens of Intercomp systems at truck camper manufacturer and dealer locations over the years.  At under $1,000, the Intercomp SW-500 (wired) system is something of a truck camper industry standard.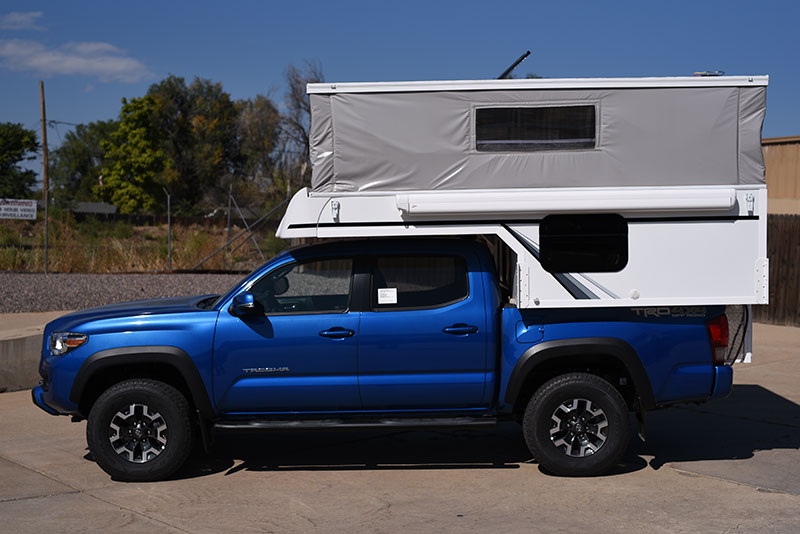 The length, width, and height specifications of the Mini Max are what sets it apart.  To have a wet bath, kitchen, 6.5-foot full-booth dinette/bed, and queen-sized bed in a pop-up camper with a 72.5-inch floor length is remarkable.  To the best of our knowledge, the Mini Max is the shortest and narrowest fully self-contained pop-up camper to have all of these features.
Phoenix reports the center of gravity for the Mini Max at 18-inches from the front wall.  That is a remarkably short center of gravity.  It will be well in front of the rear wheels on all trucks.
While this is a spectacular center of gravity location when the Mini Max is loaded on a truck, it may be too far forward for cabover use when the camper is off the truck.  I would welcome Phoenix Campers to address this concern in a Manufacturer's Response.
PREVIOUS – Bedroom  |  VERDICT – Pros and Cons  |  NEXT – Mini Max Capacities