After publishing Truck Camper Magazine for over nearly 12 years, it was wonderful to finally get the opportunity to review a Phoenix Camper.  "What took so long?" you ask.  Well, Phoenix campers are custom built and usually get picked up by their owners almost immediately after completion.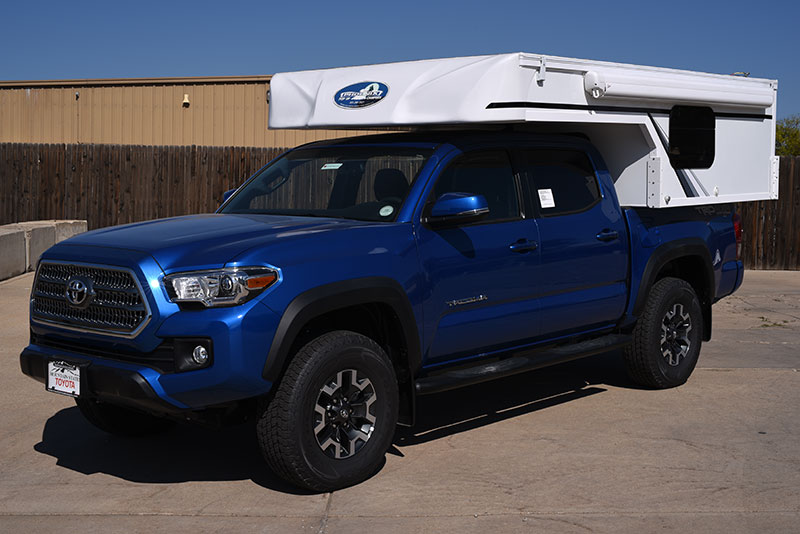 Furthermore, as custom units, many Phoenix Camper builds don't make sense for a review that targets the entire readership of Truck Camper Magazine.  Getting access to a finished Phoenix that made sense to review has proved to be quite challenging, until now.
The Verdict
Having spent some time with the Mini Max, one thing is clear.  The Mini Max is another bold and remarkable achievement for Robby Rowe and Phoenix Campers.  By all measures, it's the smallest fully featured and fully self-contained pop-up truck camper on the planet.  If you want the most pop-up camper utility and features in the most compact space, the Mini Max is it.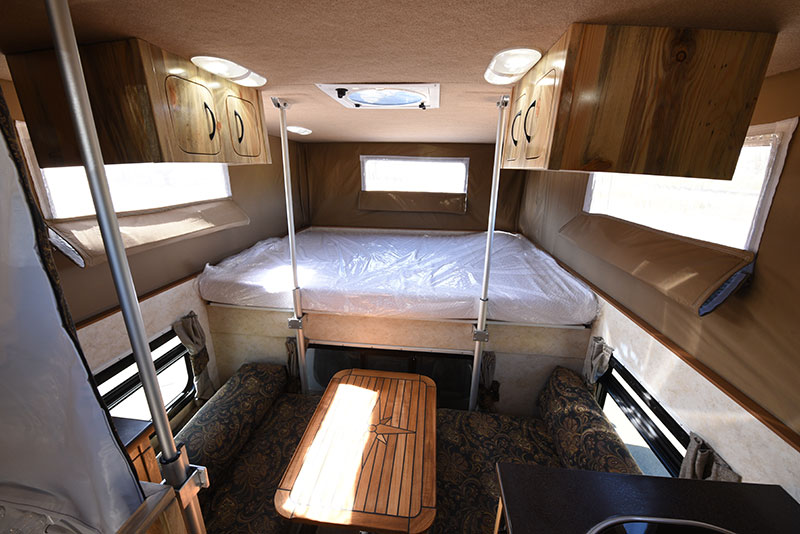 Perhaps my favorite thing about the Mini Max is the fact that it can be ordered for any truck size and payload weight.  This means you can call up Phoenix Campers and say, "Yeah, hi. I'd like a Phoenix Mini Max for a 2018 Ram 2500 short bed.  Can you make that under 2,100 pounds wet and loaded?  Thanks!"  Try that with a production line manufacturer and you'll be speaking to a dial tone.
There are two trade-offs to custom manufacturing that must be aired; build tolerance, and price.  Where Phoenix campers are beautifully built by experienced craftsmen who deeply care about their work, they are not CNC perfect.  That's the trade-off of total creative freedom.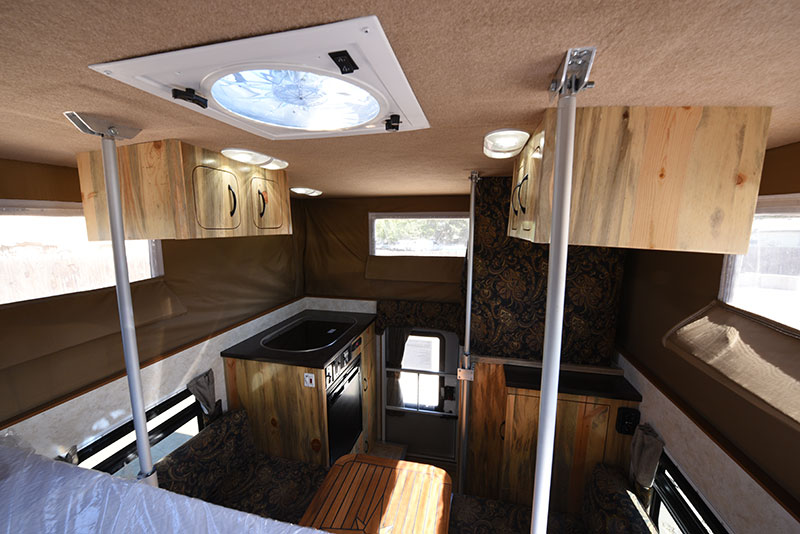 The second trade-off is also related to custom manufacturing.  At $37,000, the Mini Max is priced as a premium, custom-made, pop-up truck camper – exactly what it is.  Since every camper is custom ordered, there are few opportunities for Phoenix to take advantage of economies of scale, automation, or outsourcing; all strategies employed to significant effect by the greater RV industry.
While the Mini Max may not be a bargain, there is very little that directly competes with it, and nothing self-contained with identical features at anywhere near its size.  The Mini Max is unique.  It's custom built to be unique, right down to the exact truck dimensions, counter top material, and fabrics you want.
A full-booth dinette in a short bed mid-size camper?  Almost impossible!  A wet bath with cassette toilet and shower?  Practically unthinkable!  A kitchen with sink, two propane burners, and a refrigerator/freezer?  Inconceivable!  And yet, here it is.  Boom!  Truck camper magician Robby Rowe strikes again.  Well done Phoenix.
Pros
Fully-self contained and extensively featured for a small pop-up camper
Can be ordered to fit a customer's truck bed size and payload requirements
All-electric, push-button roof lift mechanism standard
Lift-up under bed storage is huge, and augments limited storage elsewhere
Gorgeous and uniquely designed custom cabinetry all built in-house
Standard 1.9 cubic foot Dometic CRX 65 compressor refrigerator
Cons
At $37,000, the Mini Max is premium-priced custom pop-up truck camper
Extensive standard feature set and high-end materials add considerable weight
Metal lift-up basement door edges need to be de-sharpened
12-volt, USB and 110-volt outlets are limited throughout unit, but kitchen offers all three
Roof lift mechanism bars are mid-ship and obstruct the cabover transition
Low entry door may take time to get used to
Model Information
2018 Phoenix Mini Max
MSRP: $37,000
Warranty: One year bumper-to-bumper. Two year on lift mechanism, liner, and frame. Individual appliances have their own warranties.
Phoenix Pop-Up Campers
Phone: 303-286-3921
Request A Phoenix Mini-Max Brochure
Web: phoenixpopup.com
RETURN TO – The Complete Phoenix Mini Max Review
Quality, Customer Service, and Long-Term Reliability
Truck Camper Magazine inspects all reviewed truck campers for design, material, and quality issues and reports what we find.  However, since Truck Camper Magazine reviews only brand new truck campers, our reviews do not address long-term quality, customer service, or reliability.
To learn about a brand's long-term quality, customer service, and reliability, Truck Camper Magazine recommends talking directly with truck camper owners at truck camper rallies and online via truck camper forums and truck camper owners groups.
Please be sure to balance your gathered feedback across multiple sources including direct correspondence with the truck camper manufacturers and your closest truck camper dealers.  If you are new to truck campers, start in the Newbie Corner.