The Phoenix Mini Max utilizes an all-electric, push-button, actuator lift system to automatically raise and lower the pop-up roof.  In the following photograph you see one of the electric motors for the lift mechanism.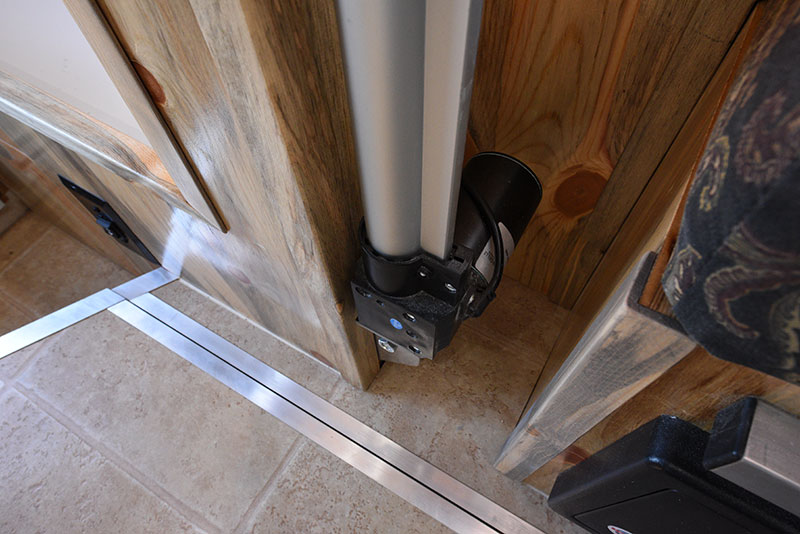 We can confirm that the lift system is relatively fast.  We were able to lift or lower the Mini Max roof in under 90-seconds.  That's about the same amount of time some larger slide-outs take to open and close.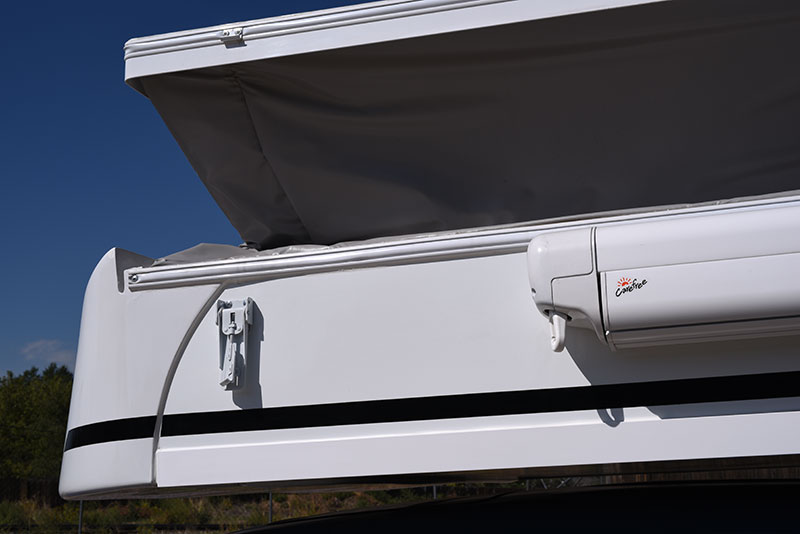 Being able to lift and lower the roof with the push of a button was convenient and easy.  Just make sure you remember to release the roof latches first or you could damage your camper.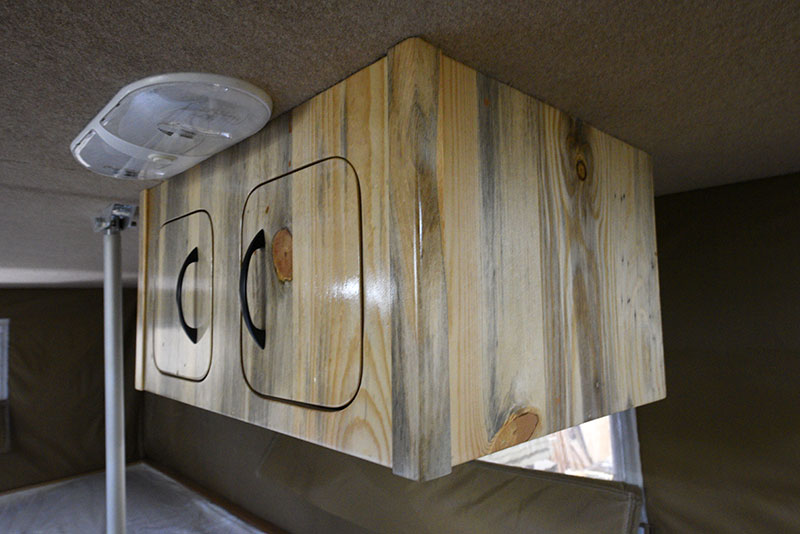 The Mini Max features two upper cabinets, shown here in the aforementioned Beetle Kill Pine.  These are small cabinets, but would be perfect for smaller items that you want to access all the time.
Just off the top of my head, we might keep coffee, coffee mugs, and our french press in one cabinet.  Fast and easy morning access to these items is something of a priority in our camper.  How else do you think all of these articles get written?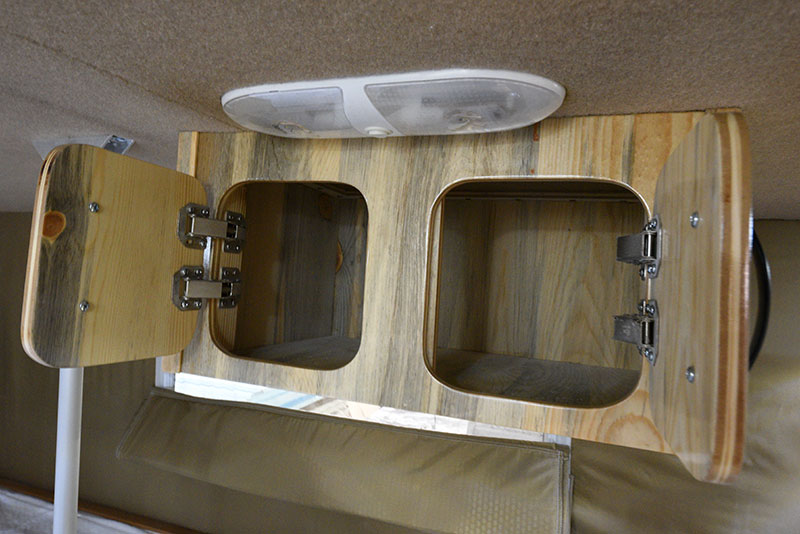 All of Phoenix's cabinetry is hand made in-house.  From the Mini Max announcement, we learned that Robby, "…hand draw(s) the cabinet doors and drawers with a straight edge and stencil" and then, "…carefully cut(s) the holes with a jig saw" and, "…sand(s) on it forever until it looks right."
In case you're wondering, nobody in the truck camper marketplace puts that level of custom craftsmanship into their cabinetry.  Other companies may have equally attractive cabinetry, but only Robby and the Phoenix team draws each cabinet out and custom builds them one at a time.  Insane?  Maybe.  Beautiful?  Absolutely.
On balance, the all-practical and no-fun side of me wants the cabinet doors and cabinetry openings to be much bigger.  These are small cabinets.  Give us the largest possible opening.  You know, mini max it.
Sleeping For Three Adults
I can hardly believe I'm going to write this, but it's possible for three adults to sleep comfortably in the Mini Max; two in the cabover, and one in the dinette made into a bed.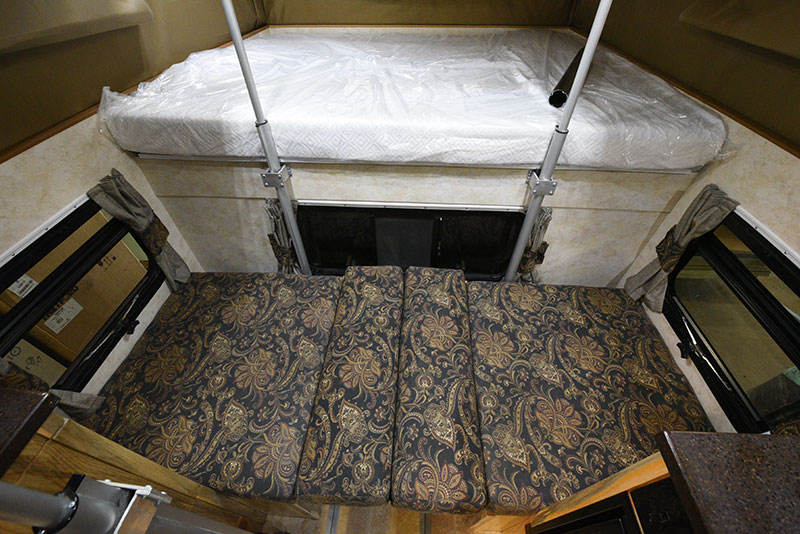 That's a lot of folks sleeping in a small space, so no snoring, and certainly no pork and bean dinners.  Safety first people.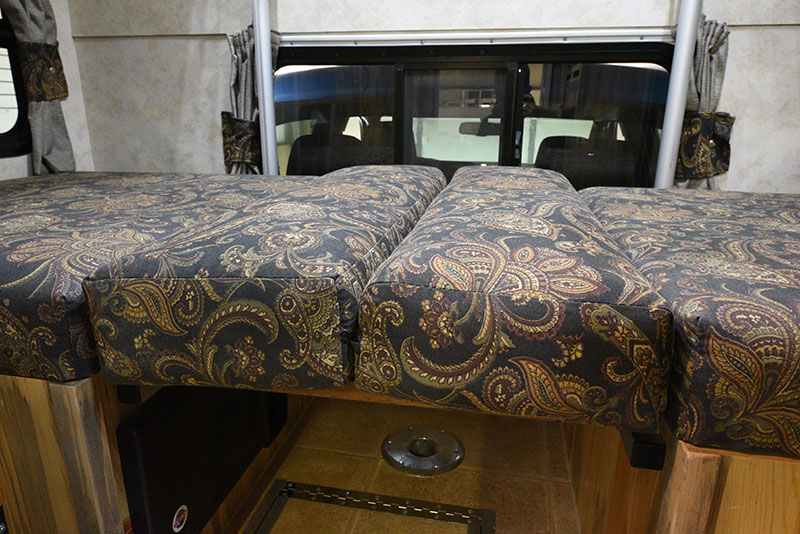 This may later be filed under user error, but the dinette cushions did not lay entirely flat when I made the dinette bed.  Phoenix Campers is welcome to reveal what I did wrong in a Manufacturer's Response, but it appears that dinette table pushes the somewhat thicker back cushions up and uneven.  Maybe the dinette table lip could be lowered to make the cushions lay flat?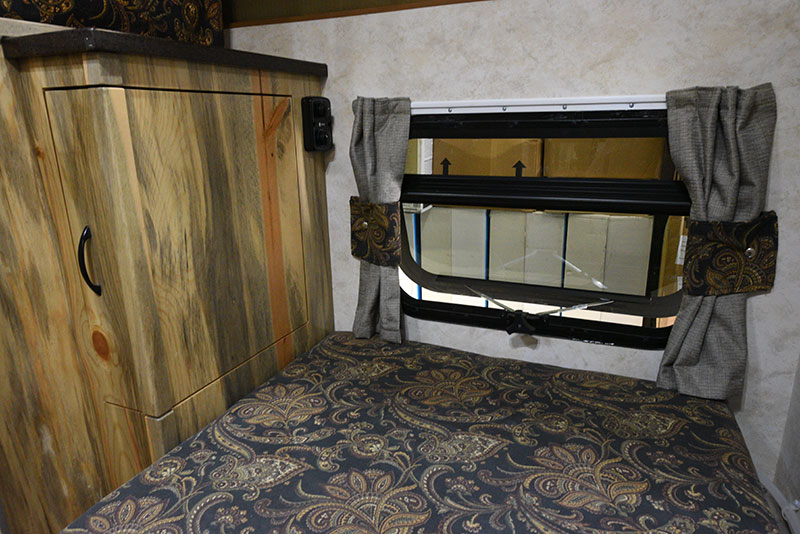 This photograph shows the passenger's side window open all the way for ventilation.  I like the way "frameless" windows look (especially from the exterior), and how they can remain open during a rain storm, but I wish they opened out further.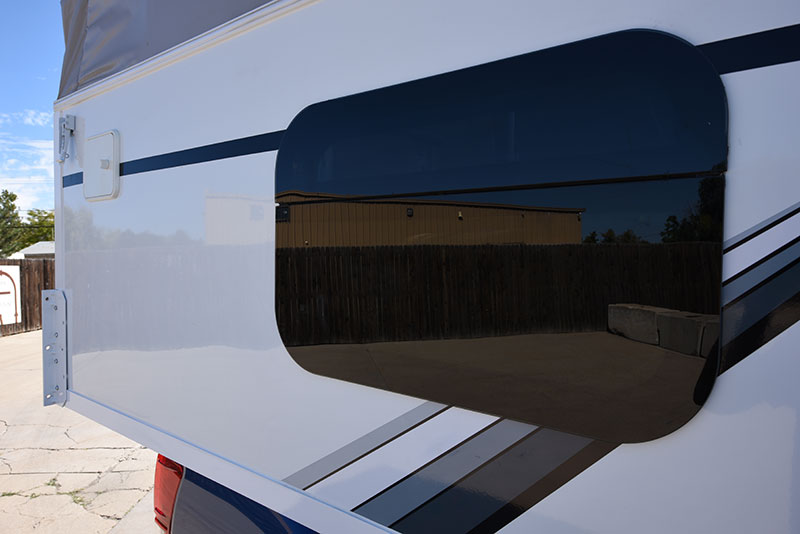 This limitation is not the fault of Phoenix Campers, but I might ask what other window options are available when placing an order.
A Unique L-Shape Cabinet
This is the most unique truck camper cabinet we've seen in a very long time.  Look at the four hinges holding the L-shape door.  It's like a horizontal Gull Wing.  Perhaps Robby was inspired by a Mercedes-Benz 300SL, DeLorean, or – for a more modern example – the rear doors of a Tesla Model X.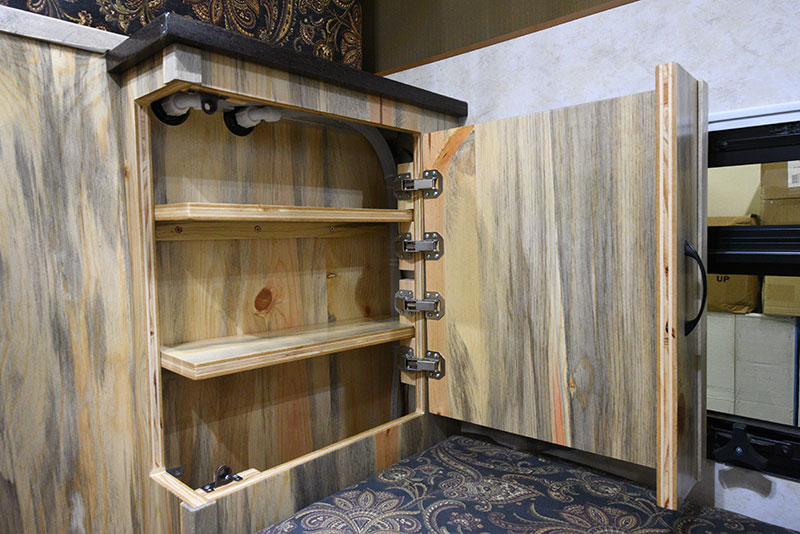 Look at the two shelves and lower well.  Once again, I have no idea what this storage space would be used for (okay, maybe a spice rack), but it's just neat.  I love it!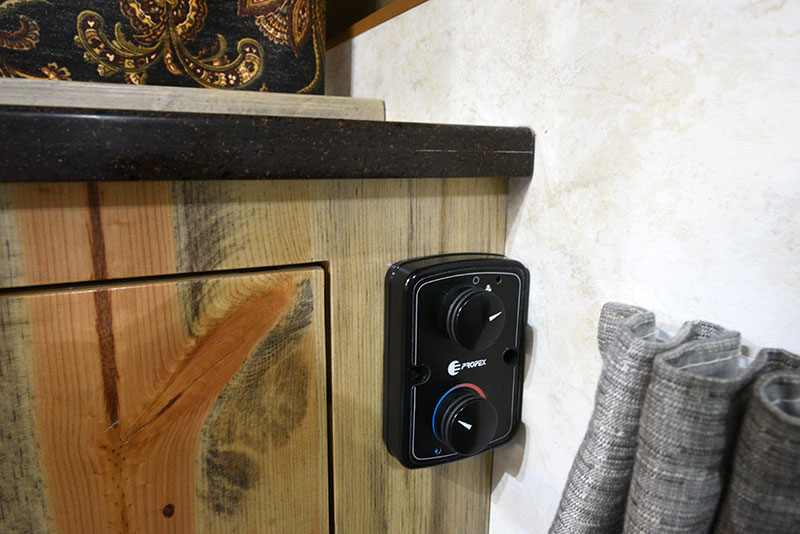 Evidence of Phoenix's unique and fiercely independent approach to truck camper design is just everywhere in the Mini Max.  For another example, take the ProPex HS2000 propane furnace.
ProPex's thermostatically controlled propane heaters were used in Volkswagen Vanagons for years and present a compact and fuel efficient solution for heating a small camper.  Rated at 6,500 BTU of heat output, the 12-volt HS2000 consumes 1.9 amps of continuous current.
We have not camped with a ProPex heating system, but Robby has been installing them in Phoenix Campers for years.  Based on ProPex's positive reputation with VW bus enthusiasts, they must be doing something right.
Marine Style Teak Table
The marine-style teak wood table in the Mini Max is a stunning focal point.  It's literally the first thing most folks will notice when they want into the unit, and this table doesn't disappoint in person.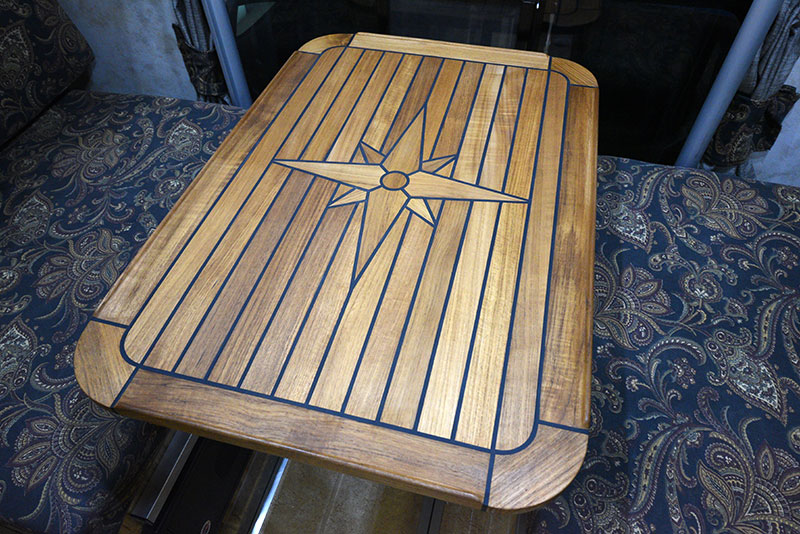 Robby told us they do not make this table in-house, nor is it inexpensive, but he had to have it in the Mini Max.  I can see why.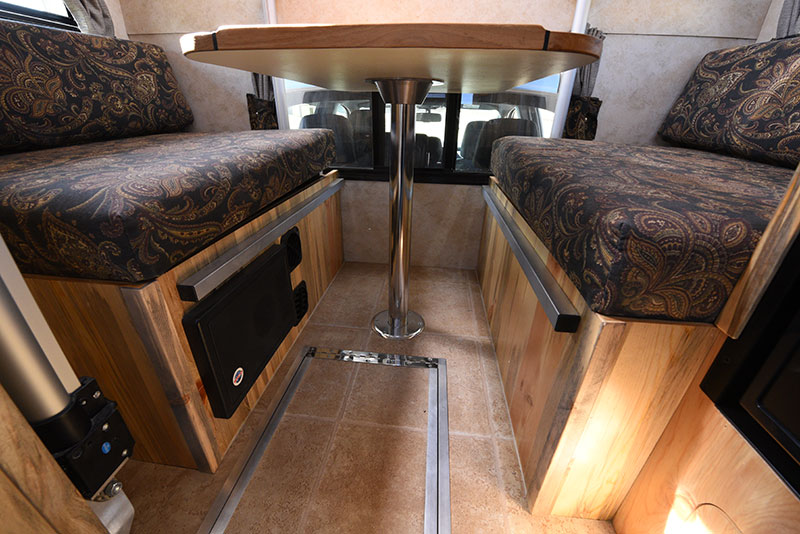 The single post table leg removes easily to turn the dinette into a bed, and maximizes the available leg room.  I always want table legs to be more firmly supported than a single post can provide, but this table was larger and more stable than I would have ever expected in the Mini Max.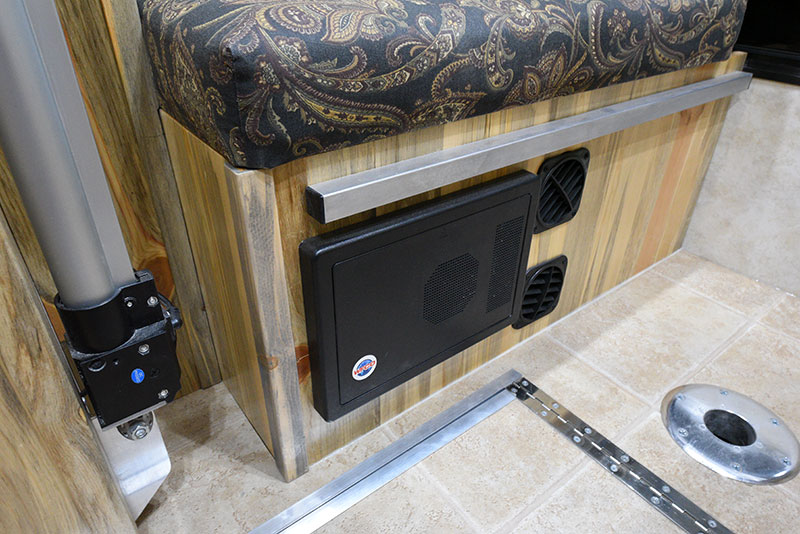 The lower face of the driver's side dinette features the fuse panel and converter, and two heat vents from the ProPex system (shown) below.  This is a good location for the fuse panel as fuses never fail to blow when you're in the middle of nowhere, in a rain storm, at night.
Note to self; always have extra RV fuses easy to access and ready to go.  Note to self two; always check the fuse box for any electrical problem first.  Chances are the problem is there.
The heating vent location might singe a few leg hairs (do you smell something?), but I don't know how Phoenix could do better with the location.  Mid-ship and low makes a lot of sense for heating vents in a small camper.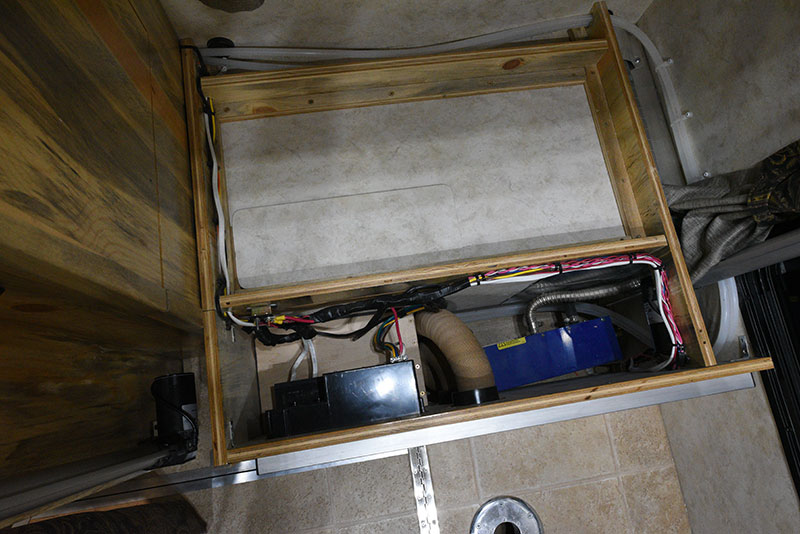 Under the driver's side dinette seat (left to right) is the back of the fuse panel and converter, and the ProPex HS2000 heating unit.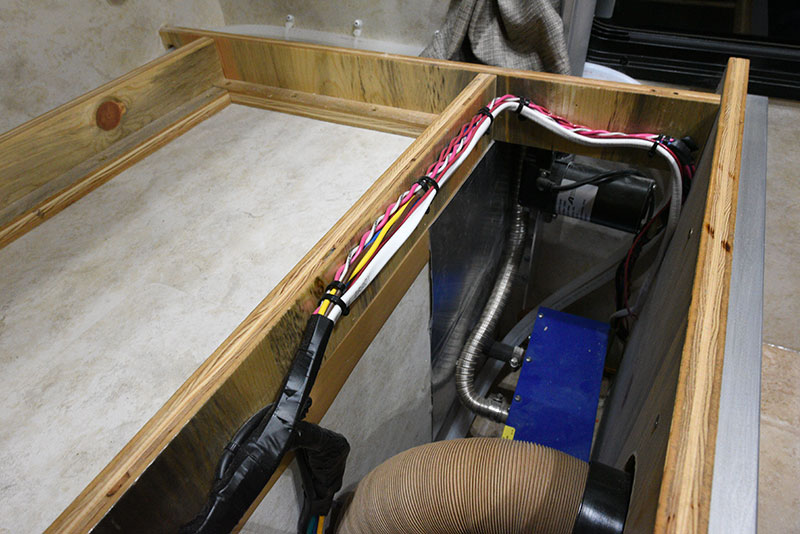 Wherever we encountered electrical wiring and/or installations, wires were taped, fastened together, and secured. Overall the work is more custom and hand made than what we see from production manufacturers, but that's exactly what this wiring (and everything else in a Phoenix Camper) is; custom and hand made.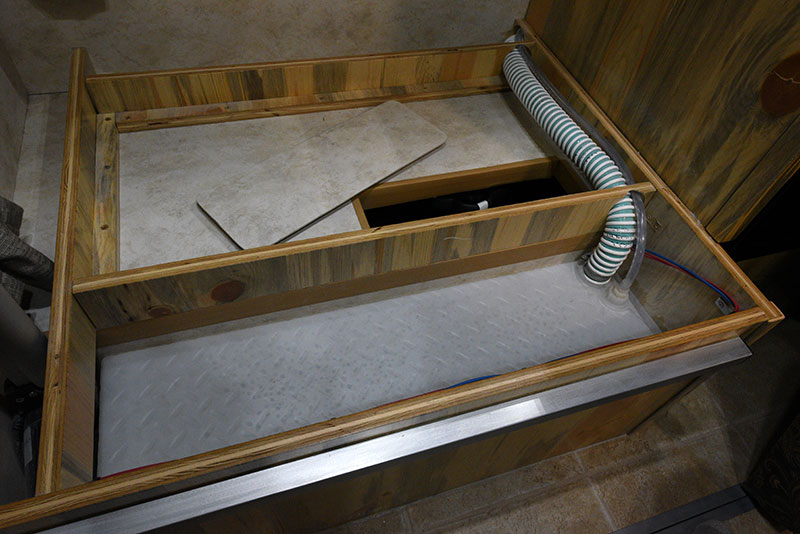 Under the passenger's side dinette seat is the 15-gallon fresh tank (foreground), a storage area (background), and a maintenance access panel.  These under seat storage areas might be a bit inconvenient to access day-to-day, but would be great for maps, books, and other flat items.
PREVIOUS – Bathroom  |  VERDICT – Pros and Cons  |  NEXT – Cabover Bedroom