31 readers explain why they go truck camping winterized.  Grab your snow shoes and pull that camper out of hibernation.  And forget about campground reservations.  Nobody's there!

There was some rigorous debate at TCM HQ about the validity of this week's Question of the Week.  After all, a lot of folks go camping in the winter and use their plumbing systems.  That's what propane heaters, heated basements, and insulation are for, right?
Well, not always.  If it gets cold enough, propane heating systems can have a hard time keeping up.  Even if they do, you will burn a lot of propane and battery power to keep the furnace fan running.  That's not an issue if you're plugged in, but what if you're camping at a ski resort parking lot, or in the middle of frigid nowhere?
The simple solution is to winterize.  That eliminates the risk of the plumbing freezing, and frees you up to camp in the coldest temperatures you can stand.  Just make sure your truck will start in the morning!
This week's Question of the Week was, "Have you ever gone truck camping winterized?"
"I winterize in late August or early September, and then hunt in Wyoming's high country later in September. I have been snowed in on occasion, even in early September.
Winter comes early at 9,000-feet. I learned this lesson after having damage to my camper when temperatures dropped to 10-degrees the first week of September.
I carry plenty of water in 5-gallon jugs, have solar to keep the batteries charged, and use a heater very sparingly. It's not the best camping, but it is certainly doable." – Pat Eastes, 2005 Chevy, 2013 Lance 865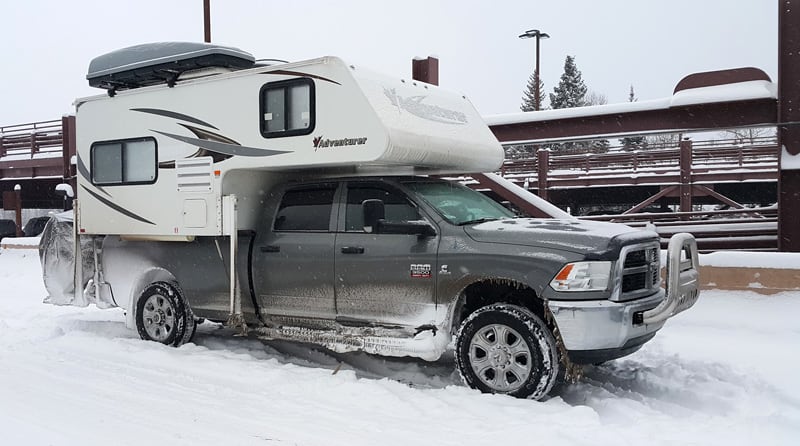 "During the winter of 2018, I traveled around the Rockies using the camper to take advantage of my Mountain Collective ski pass. Temperatures and conditions varied throughout my travels.
I left Sedona, Arizona in a snowstorm and continued all the way to Telluride, Colorado in the storm. When I reached Telluride, most of the rig was encased in snow and ice and temperatures had dropped into the single digits.
To prepare for my winter travels, I installed SharkBite shut-off valves to separate the rear toilet and the outside shower lines from the rest of the water lines. I fill them with antifreeze. Now I can either keep the kitchen sink and water heater on or easily drain them and winterize the entire camper quite easily." – Kris Rod, 2012 Ram 3500, 2011 Adventurer 80W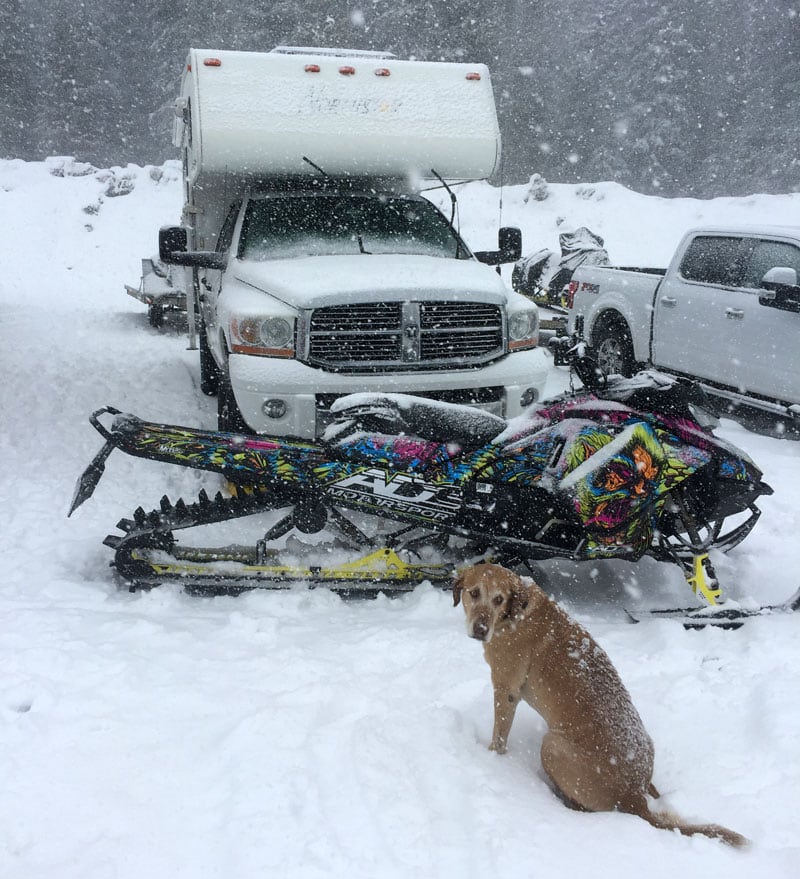 "We go camping more often in winter than summer to go skiing, ice fishing, and sledding. We bring fresh water in jugs. The camper is winterized so meals are pre-made and reheated, or by boiling water. That kind of grey water is easy to dispose of. We use RV antifreeze in the cassette toilet flush tank so there's no problem dumping." – Pete Horneck, 2006 Dodge Ram 2500, 2011 Northstar Laredo
"Living in Colorado, we camp winterized all the time. We ride ATVs in the cold and snow and camp at our land in the mountains just to enjoy the peace and quiet of the winter months.
We carry bottles of water to use for cooking, drinking, and flushing. We do use the holding tanks for black water because our Lance heats the tanks. Extra antifreeze is added to the black tank just to be sure. We dump at our house as soon as we return." – Eric Beatty, 1996 Ford F350, Lance 1181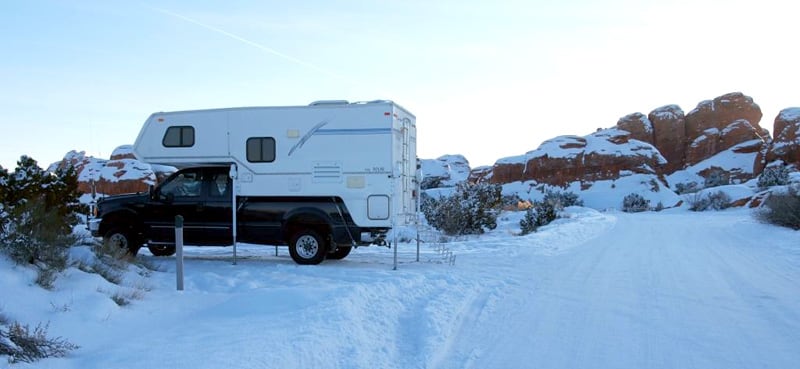 "First and foremost, we try to leave Stanley, Idaho, which is usually the coldest spot in the Lower 48, on a day when it is slightly warm. Today is a warm day at -10 Fahrenheit. Any colder than that and it is pretty undesirable to pack the camper.
We start preparing by putting a radiant heater in the camper the day before we pack. That takes the chill off; as in everything in the camper is frozen. If it happens to be in the -20 range, we will turn the furnace on during the first 25-miles of travel until we get out of the Sawtooth Valley ice box.
We put a gallon of RV antifreeze in the black tank and a half gallon in the grey tank. We minimize the flush water we pour into the toilet and barely use the grey tank. We carry our fresh water. We love winter." – Gary Gadwa, 2012 Ford F-350, 2010 Eagle Cap 950
"In the chilly February of 2018, I drove from Massachusetts all the way to Billings, Montana to pick up my new Arctic Fox 865. Although I was excited to upgrade to a real four-season rig, both the dealer and Northwood Manufacturing warned me against de-winterizing it until I got it home. Why? It was -25 degrees Fahrenheit outside!
That's just too cold for even the best basement model to keep the pipes safe, especially while plowing through that cold air at 65 miles per hour. So I was forced sleep and eat in it for the three day return trip without water.
You know what? It was no big deal! I discovered the miracle of truck stops and their very nice $12 showers. Parking in front, I was only a few steps from their 24-hour restrooms. I slept, cooked, and ate meals in the camper. I would recommend winterized camping for three-season unit owners!" – Reed Prior, 2017 Ram 3500, 2017 Arctic Fox 865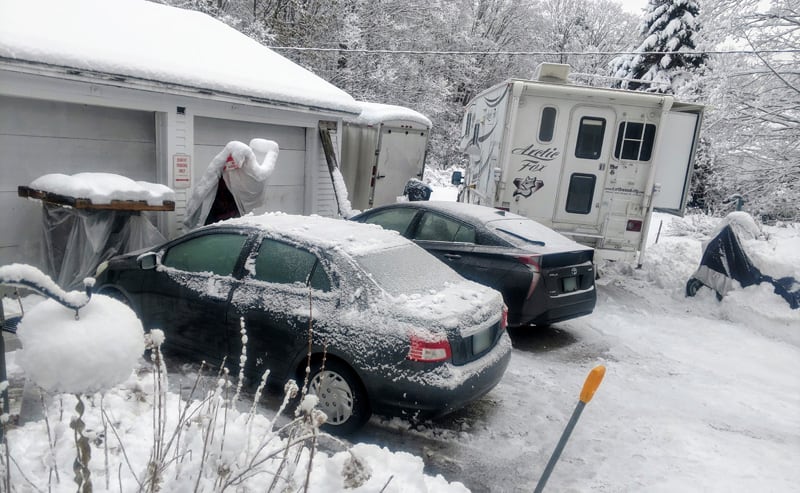 "We occasionally go out with our truck camper in the winter. When we do, we always leave it winterized. Others keep the heat at 70-degrees Fahrenheit or warmer in order to prevent freeze-ups. We can't stand being that warm! It's also using a lot of energy that we just don't need to waste. We keep the heat in the camper at 45-degrees Fahrenheit and we are fine.
We did note a problem with this approach recently that is worth sharing. We were Moochdocking at my brother's for Thanksgiving (see our picture) and used his shore power. With the frigid temperatures outside and the interior at 45-degrees Fahrenheit, the refrigerator didn't really need to run.
The problem is that the freezer doesn't have its own thermostat and wasn't being cooled. It's temperature rose well above freezing and the contents thawed. I've yet to figure out a fix for this problem." – Brett Binns, 2014 Ford F-350, 2014 Arctic Fox 1150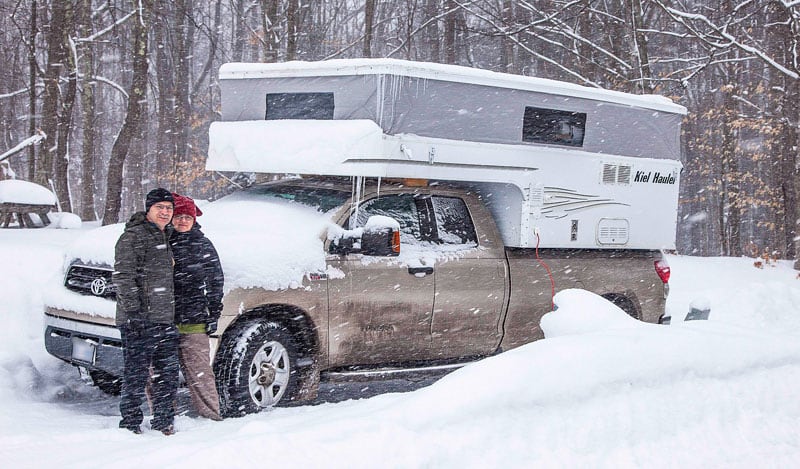 "It's a point of pride for us to camp at least one weekend a month year-round. At least four to five months of the year we're camping with the camper winterized. We love to snowshoe.
Fortunately, we were smart enough to have a cassette toilet rather than a black water tank. It has a separate fresh tank for the cassette. It doesn't feed from the camper's water tank. Fill it up with RV anti-freeze and you're fine.
We bring along enough fresh water for cooking, drinking, and brushing teeth. We use paper plates and plastic utensils so we don't have to do dishes. Then we wash any pots and pans when we get home. We also try to put as little water down the sink drain as possible." – Jennifer Kiel, 2017 Ford F-350, 2012 Phoenix Custom Camper
"Back when we owned a three-season camper, I camped winterized often. Deer hunting season in North Dakota during November often put me in cold weather. Water was in 3 to 5-gallon containers with pour spigots, and a porta-potty served as the toilet. It was less convenient, but much better than thawing dump valves or even tanks. Dishes were all paper." – Philip Tron, 2009 Chevy 3500, 2012 Lance 1050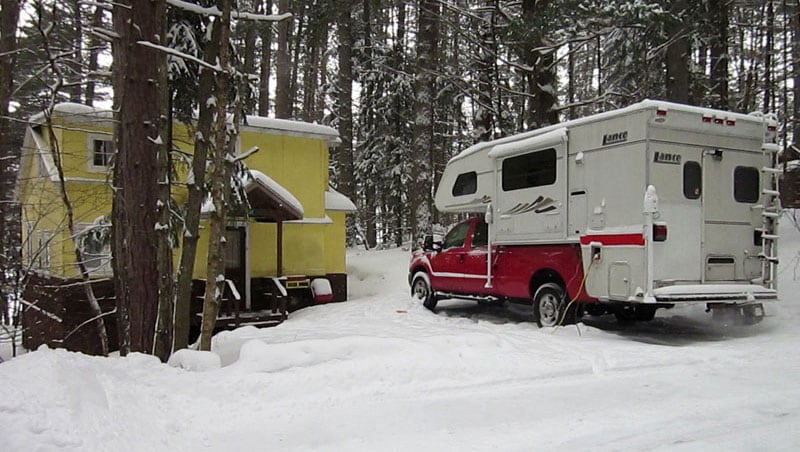 "Yes, I have camped winterized. If one wants to go out in the winter, there is not much choice. I do not feel inconvenienced much because I store three 2-gallon kegs of water in my shower and a smaller hand-size bottle at the kitchen sink that I refill as necessary.
I am going to Texas for three-weeks this winter and, while it will be warm there, it will be cold here when I leave. The question is, do I camp winterized the entire time or do I fill water when I get south and winterize again on the way back?" – Fred Patterson, 2013 Ford F350, 2002 Lance 1161
"We don't want to limit our travel time to just the summer. For many places, freezing temperatures can occur several months a year. We've even been below freezing at some elevations in July.
On some trips it warms up above freezing during the day and we can use water, but then we unhook the hose, drain the lines and add a little antifreeze for the night. It doesn't take long. Many places are much more pleasant in the winter because there is no summer heat and the crowds are nearly always gone." – Connie Westbrook, 2002 Chevy 3500, 1997 Lance Squire 5000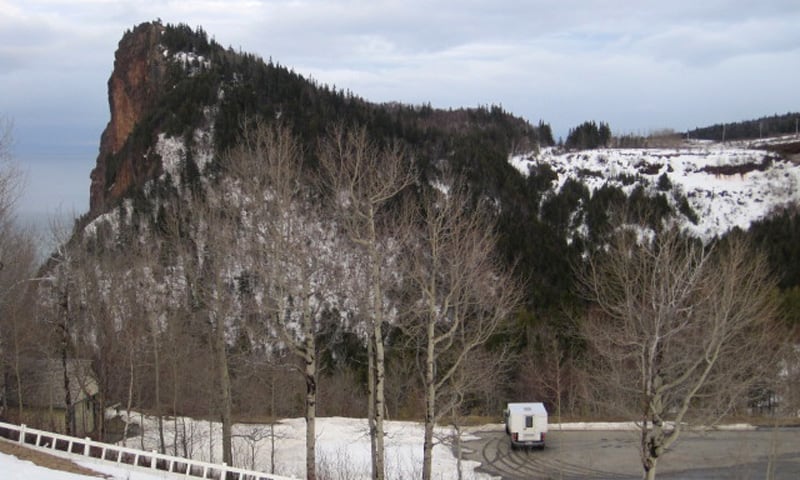 "Winterizing our camper only involves operating the water pump with RV antifreeze. Keeping warm hasn't been too difficult thanks to its small size and 1.5-inch Owens Corning CodeBoard insulation throughout. Adding insulation over the windows overnight also helps retain heat until morning when we turn up the Atwood thermostat to the desired temperature.
We've only camped down to zero degrees Fahrenheit. To get the camper warmed up while driving, we installed a small fan in the truck's rear window in order to blow the warm dry air from the cab into the camper. This allows us to venture farther away and explore new trails on snowshoes." – Mario P., 2006 Tacoma, homemade camper
"I bought a Travel Lite 690FD to skip out on the shower and potty. We use jugs of water, and it all works very well so long as you can make it through the long night with the 12-volt fan on the furnace (if we are dry camping).
In the past I have rented several campers for winter adventures and it makes for a great experience. While I can be a summer late night owl, winter means playing cards and eating dinner by 6:00pm. Then, I'm up with the sun the next day." – Chad Riggs, 2018 Travel Lite 690FD
"We have camped winterized many times while visiting family up north in the winter. We park in their driveway and hookup to electricity. So we had electric heat, the refrigerator on electric, and we can cook.
We carried a jug of water for grooming and eating, which was easily refilled in the house. I put some antifreeze in the toilet and flushed, using water from a jug.
It was cozy warm and not that inconvenient. Of course, we could go in the house and visit as well. It's not like being alone in a campsite." – Shelley Pike, 2009 Ford F350, 2006 Lance 960 Sportster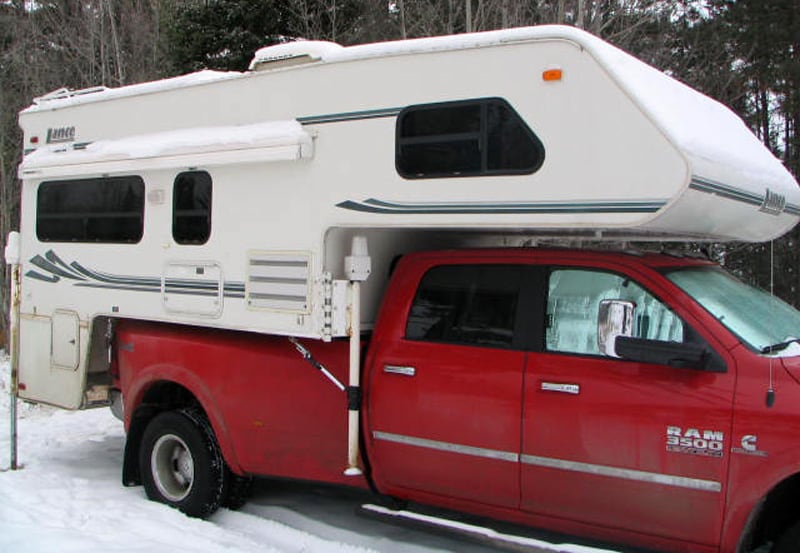 "My coldest time in the truck camper while winterized was the first week of November, 2004. It was for two nights while deer hunting in northeast Minnesota on the Echo Trail. I was boondocking in a US Forest Service gravel pit. Opening morning at 6:00am it was -27 degrees with no wind. The next morning at 6:00am it was much warmer at -24 degrees and calm again. The highs both days were -14.
My daughter and I both got a deer on those cold days. The camper stayed warm with the furnace running 10-minutes on and 10-minutes off with a thermostat at night. The refrigerator and generator worked fine.
I used a 100-pound propane tank and used 70-percent of it. A 5-gallon water jug was used for sinks, the toilet, and holding tanks. It was no problem.
For the 2018 deer season, the lowest temperature was -8, and three years ago it was -15. Both years I used the camper's systems with no freeze ups. I only use the camper for hunting and ice fishing." – Mike Triska, 2018 Ram 3500, 2000 Lance 1130
"My camper is permanently winterized! I ordered it without water systems so I wouldn't have to worry about freezing. I live in a cold place and my favorite seasons to get out are spring and fall. Sub-freezing camping sometimes happens.
I have a propane heater that keeps the camper warm, a cooktop to boil water and a porta-potti. Personal hygiene mostly involves pouring a kettle of hot water into my bathroom dishpan and washing with a face cloth. As far as I know I manage to remain nice-to-be-near.
I have a solar shower for warm weather and, on the road, I've sometimes showered at truck stops. Hot springs are a treat.
I'm an old tent camper who upgraded to a truck camper, so although some might consider this setup primitive, it's the height of luxury for me." – Christine Dyer, 2012 Chevy Silverado 1500, 2016 Four Wheel Camper Hawk shell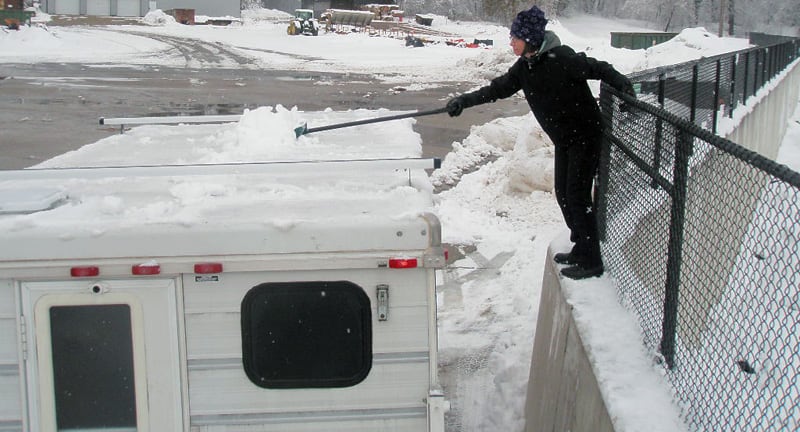 "Our inaugural trip with the used camper was in northern Wisconsin in early March. I almost gave myself a concussion when the pop-up came screaming down under the overnight snow load. It required four-wheel drive low to exit the plowed campground. We needed to find a high wall to shovel it off.
We do quite a bit of winterized camping in the Upper Peninsula of Michigan, Northern Michigan and Wisconsin. There are no bugs or crowds and we stay plenty warm once we discovered foil covered bubble insulation.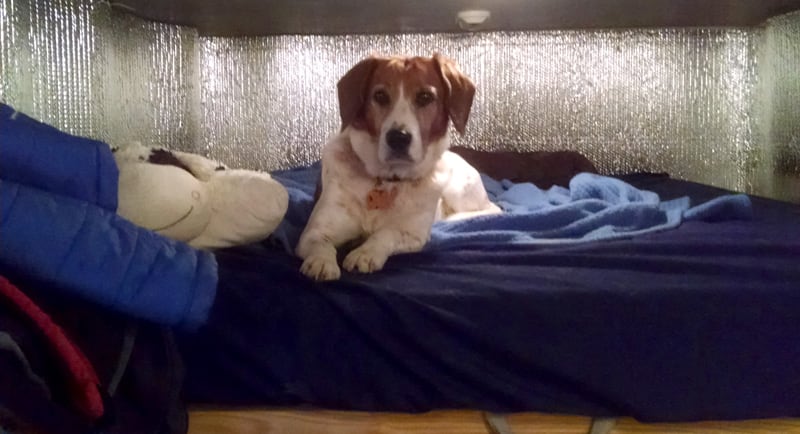 One morning south of Duluth, our coffee turned cold very quickly during our morning dog walk. We discovered upon the return to the camper it was 0-degrees Fahrenheit, and we hadn't noticed it the night before. Some state parks have plowed sites and even the heated bathroom/showers were open at Thanksgiving in Traverse City." – Roger Woods, 2009 GMC 2500 HD, 1999 Northstar TC800
"I just did this for Overland Expo East. I didn't even turn the propane back on. I used a cooler, an electric heater, a few gallon jugs of water and a cassette toilet. The cassette toilet made it incredibly easy. I filled the flush water reservoir with windshield wiper fluid and had no problems with anything except the mud at the Expo." – Howard Bisco, 2015 Ford F-250, 2014 Palomino HS-6601
"For about ten years, my son and I, with two to four of his friends, used the camper for ski trips to White Pass or Bachelor ski areas. We camped in the ski area's parking lot. We had no running water, but plenty of heat and food, a reliable gasoline generator, and a deep desire to be at the ski areas first thing in the morning without driving for several hours.
Temperatures would be from the mid-20s to well below zero depending on the day. We stored skis in the camper when traveling and outside in the snow bank at night.
Use of the ski lodge's restroom facilities was critical so we planned our evenings around getting over to the lodge before they closed up for the night. Everyone had a great time and we were always near the head of the line in the morning for the first run." – Dave Riddle, 2015 Chevrolet 3500 HD, 2017 Host Mammoth
"Back when I was way younger and between occupations, I told a friend I would help him harvest some lumber. In December in northern Michigan in 3-feet of snow, I set up camp and started cutting.
At 10-degrees I knew going to the outhouse was going to get old and tired. A bucket fit those 13-gallon kitchen bags well and, with a seat in place, I could deal with the calls of nature while in propane-heated comfort. Then I could seal the bucket up and dispose of it in the appropriate manner. It was very "civilized" indeed.
Once that part was figured out, the rest was just camping in cold weather. I spent almost a month on that adventure, only going home on weekends to clean up and start over again the next week." – Gary Theunick, 1985 Chevy 3500, Caribou from long ago is long departed
"We like to go snowmobiling in northern Minnesota and Wisconsin. We installed DD-foam into the overhead vents to eliminate condensate dripping. We hung heavy duty lined curtains on the walls for insulation. We use Blue windshield washer solvent in the toilet that's good to -35 degrees Fahrenheit. The temperatures we prefer are 10 to 30-degrees, but we have gone out in -30 (overnight low).
The only issue that we had is that we leave the tailgate on the truck so that we have a porch. When we get 8 to 12-inches of snow, it is sometimes hard to get the door open and very slippery.
We have been doing this since 1976 with other trucks and campers. We are 71 years old and, with what we have been through, my wife and I have some ideas of what to expect. Looking forward to another riding season." – Rag Bag, 2003 Chevrolet 1500, 1990 Sportsman 8F SD
"We camp in cold weather while winterized on a regular basis. We live in Durango, Colorado, and the areas we like to camp in Colorado and Utah necessitate the camper being winterized for almost 6-months of the year.
Our Laredo has a cassette toilet, which we absolutely love. During those colder 6-months, we fill it with 35-below windshield washer fluid and it works perfectly.
Two 5-gallon jugs of water transported in the truck are adequate for most of our trips, and we then transfer water to a 2-gallon container and put it by the kitchen sink for use in the camper." – Jerry Harms, 2009 Ford F-250, 2016 Northstar Laredo
"When we bought our camper, it was September in Alaska and the camper was already winterized. We could not wait for spring, so we decided to take it to Seward for a weekend in October.
The weather was cold but not unbearable. There were no crowds at the public campground in town. The bathroom was warm and had a shower. The hardest part of the weekend was the freezing rain and icy roads on the way home to Wasilla.
We had a great weekend. Since then we have camped in plenty of winter weather, winterized or not." – Larry Newell, 2009 GMC 2500, 2014 Wolf Creek 850
"There is no problem camping in a winterized camper. We use campground bathrooms, a porta-potti, a gallon of water in the sink for washing hands, and a gallon of drinking water. " – Margaret Smith, 2004 Dodge 3500, 2011 Lance 950
"I'm a newbie to the truck camping world, and couldn't be more thrilled with the adventure and exploration my new camper affords me.
In the approximately 6-months I've had my camper, I've used it for four camping trips lasting approximately 6-days each. My most recent trip was skiing in Colorado with the camper winterized.
I anticipate always using my camper in the winterized mode from approximately November to April when I'm in Colorado, Wyoming, and Utah for skiing trips. For me, it just seems easier to keep it winterized during those months, unless I make an extended trip south to Arizona, Texas, or California.
Since I'm a one-man show, it's easy for me to always plan ahead for places to shower and use the bathroom, such as athletic clubs and public restrooms. I have several gallons of water for things like brushing my teeth or brewing coffee." – KC Ingraham, 2018 F350, 2016 Lance 850
"We went to the Kalispell, Montana area totally winterized. The refrigerator was turned on and powered via propane. We have an Olympia Wave 3 catalytic heater, so no power is required, and were quite comfortable. We plan on going out again in the new year." – Alan Bryant, 2002 Ford F250, 1996 S&S camper
"Our first camper was a late 60s model that had no plumbing or toilet, but it did have a sink. We basically camped winterized during all seasons. Bird baths were fine, and a coffee can with a lid sufficed for peeing at night. We sure used a lot less water in those days!
We eventually upgraded to a camper with a toilet. At the time we thought it a waste of space, but running water and a furnace were pretty sweet.
Today we have a 10.5-foot four-season model, with a slide and heated basement, and all the amenities. As we have gotten older, we have come to appreciate the extra comforts and conveniences. If I knew then what I know now." – Kevin Mooney, 2014 Ford F350, 2006 Okanagan 10.6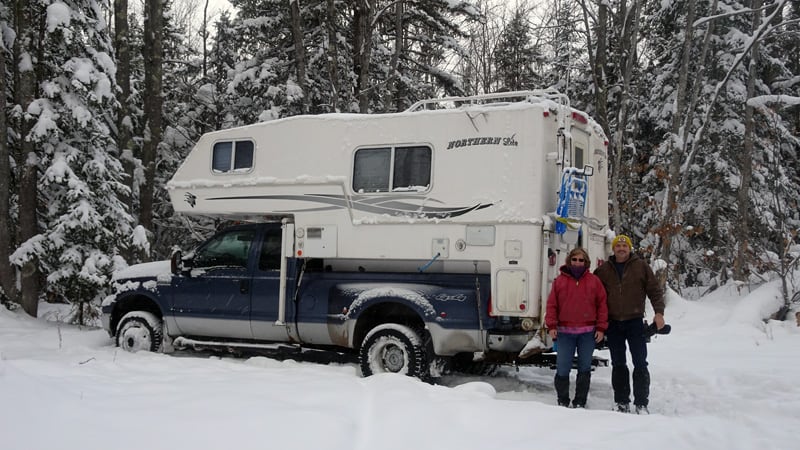 "We paid for plumbing and, gosh darn it, we're gonna use it." – Bruce Scott, Winter Camping Tips, 2006 Ford F-350, 2005 Northern Lite 10-2000CD
"Yes, I've camped a few times in my winterized camper, primarily locally here in North Carolina at some of the state parks. They have mainly just been some long weekend trips. As far as showering, I usually just rough it. I will take advantage of park facilities, if they are available. If not, I'll do the hand washing and tooth brushing chores with a water jug.
I still use the sink and grey tank (that's not heated) with added RV antifreeze. I try to keep dirty dishes to a minimum by cooking on the grill (weather permitting), cooking in tin cans, and using paper plates/plastic utensils, etc.
As far as using the toilet, it's not a problem at all with the Thetford cassette. Windshield washer fluid is added to its own water supply tank, and I flush as usual. I wish more manufacturers offered a cassette toilet!" – Keith Deal, 2007 Chevy Silverado 3500, 2008 Northstar 850SC
"I left Ontario in September to head west traveling on two lane secondary roads. When I found that my old tank leaked, I got a hard 7-gallon tank. It was tall and thin to fit in my bathroom.
On overnight stops at trail heads, town park entrances, boat ramps, and church yards, my routine was simple. I filled two plastic pitchers with water; one for the bathroom and one in the kitchen. I used truck stops for showers and potable water. They were all clean and cheap.
Half way west, the temperatures dropped to -8 Celsius overnight. So I winterized the system, switching to using antifreeze to flush with. Honestly it all worked easily.
When I buy my new truck camper, I plan to get a smaller tank. I will lose nothing, and it will lessen the load. I even traveled for weeks with a friend with no issues." – Michele McLeod, 2013 Ford F150, 2000 Travel Hawk 9.5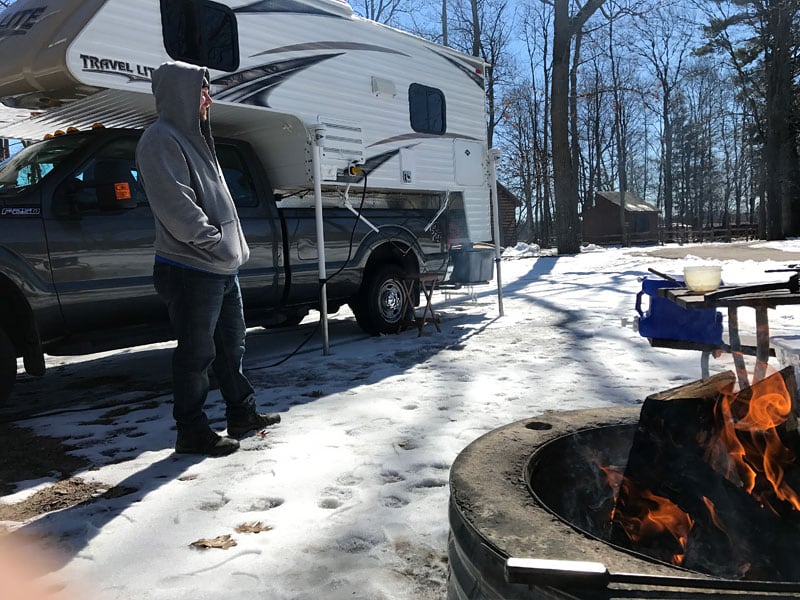 "We have a fifth wheel. We keep it 5-miles from our house for the summer season.  We use our truck camper for weekend runs within a couple hours of home to explore Northern Michigan. We have camped in state parks with temperatures in the upper teens using water from the tank and we've not had a problem. Although, I did get nervous.
We also go winterized and use water jugs and put RV antifreeze down the drains. Michigan summers are too short to limit camping to just that time, plus you can have your pick of the sites in the winter! Here's a picture with my son in front of the rig at Mitchell State Park in Cadillac, Michigan." – Dave Wolbers, 2017 Travel Lite
"I traveled with my son going from Wisconsin to Alaska in late October 2011. We went all the way to Prudhoe Bay, sleeping in the back of a pickup with a topper shell.
So I guess my answer could be, yes, we camp winterized – sort of. We slept in the bed of the pickup as far north as Coldfoot. That is on the Dalton Highway and it was probably about 5-degrees above zero.
We rented a room in Prudhoe Bay, a real luxury, but it was probably about 10-degrees below zero. I would do this trip it again, but with insulated L.L. Bean boots, Woolrich Malone wool pants, and a 40-degree below zero sleeping bag. Showers were available at local YWCAs or in a laundromat near the University of Alaska Fairbanks.
Today, I would go in my Northstar truck camper. The cassette toilet is a real plus." – Firman Schiebout, 2017 Ford F-350, 2013 Northstar Igloo U 9.5
The following responses did not indicate whether or not they camp winterized.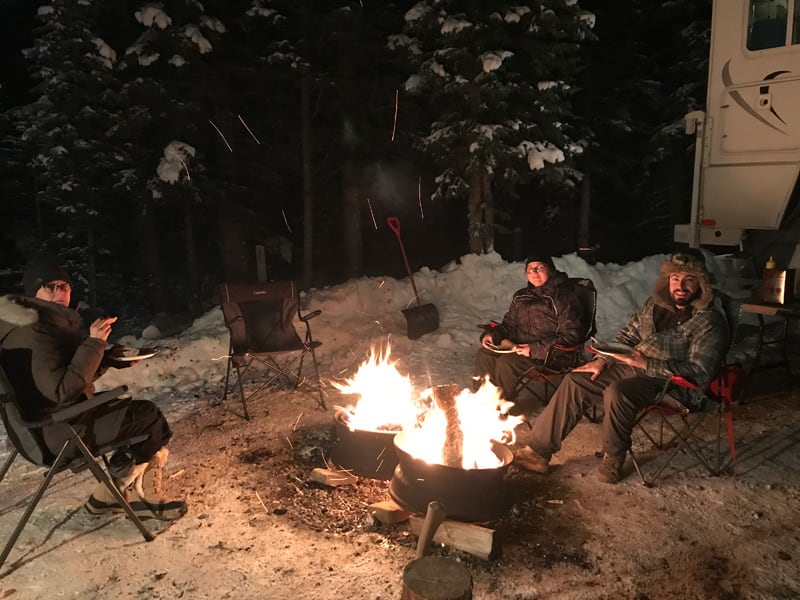 "My wife and I prefer to camp in the winter. We have multiple trips completed so far. Our winter trips are normally in the Canadian Rockies at locations like Banff and Panther River Lodge. Our favorite is Abraham Lake in Alberta, which has free camping.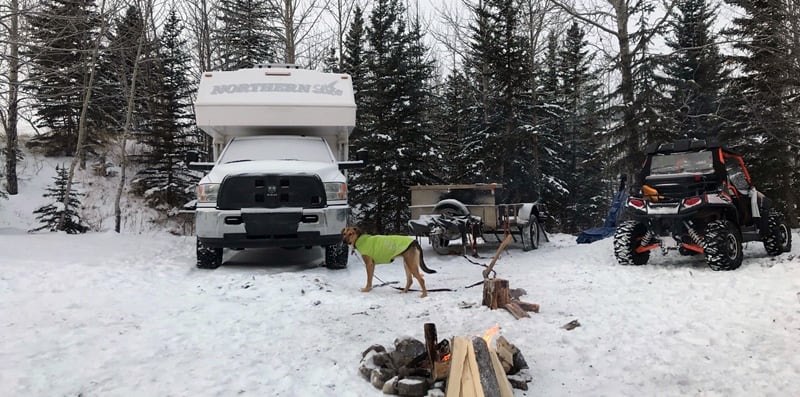 Last Christmas we stayed with our friend for two weeks at Abraham Lake and Panther River Lodge on record cold days where it was -30 degrees Celsius. We were never cold. Our campers were amazing and the fires we had kept us nice and warm." – Garry Wood, 2015 Ram 3500, 2016 Northern Lite 8-11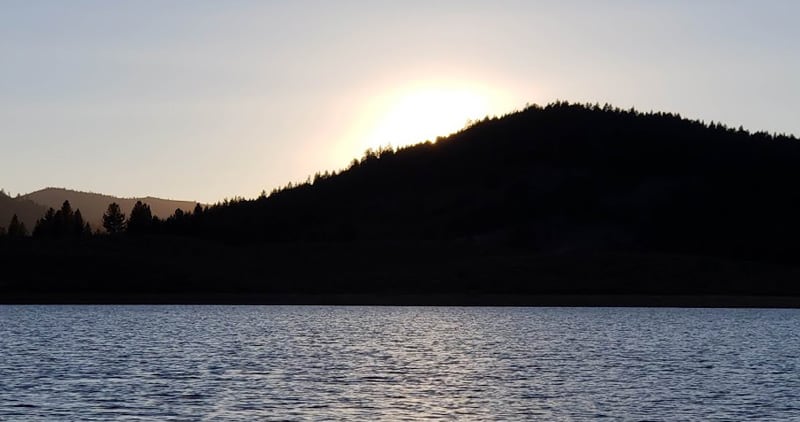 "Northern California fishing in single digits catching 24-inch rainbow trout was the experience of my life. Just the piece and quiet of having the area all alone for three days is soon to be my favorite way to travel this winter. The sun and the snow glistening across the lake (still not frozen) produced the ambiance of time travel. Being able to stay warm without a tent is the only way to travel." – Wilbert Hinkle, 2001 Dodge Ram 3500, Palomino 1500 backpack
"Camping in Canada in the fall was a nice place to be for a week. It all started out okay. Then the rain came and the next thing we knew we had 10-inches of snow. At 10 to 15-degrees Fahrenheit, I stayed for three days until I could get out. Then, I went to Mississippi." – Jesse Black, 2015 Chevy 3500, 2010 Lance 1055
"My rig is used as much in the winter as the other seasons. It provides a place for sled dog races at John Beargrease, Apostle Islands, and Wolf Track. Recreational trips have included weekends and vacations at 30 to 45-below. I carry water, RV antifreeze, and mind the propane. I insulated the compartment door so that heat leaking from interior can keep bottles warm supplying gas." – Len Lewis, 2003 Ford F-350, 2003 Lance 1130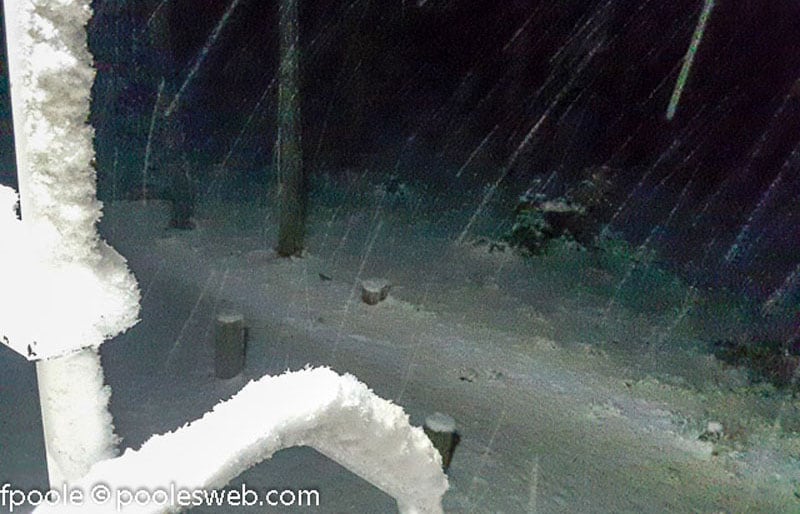 "Accidentally, I've been caught several times in the snow for several days, but it's no big deal inside the camper. I didn't take any precautions and nothing broke, well that I can see anyway. The lowest temperature was only 14-degrees Fahrenheit, so not really c-c-cold. It's nice because other campers tend to move out or stay away, so it does have it's positives. Plus, it's Ma Nature's natural cooler. It works well." – Frank Poole, 2016 Ram 5500, 2016 Arctic Fox 990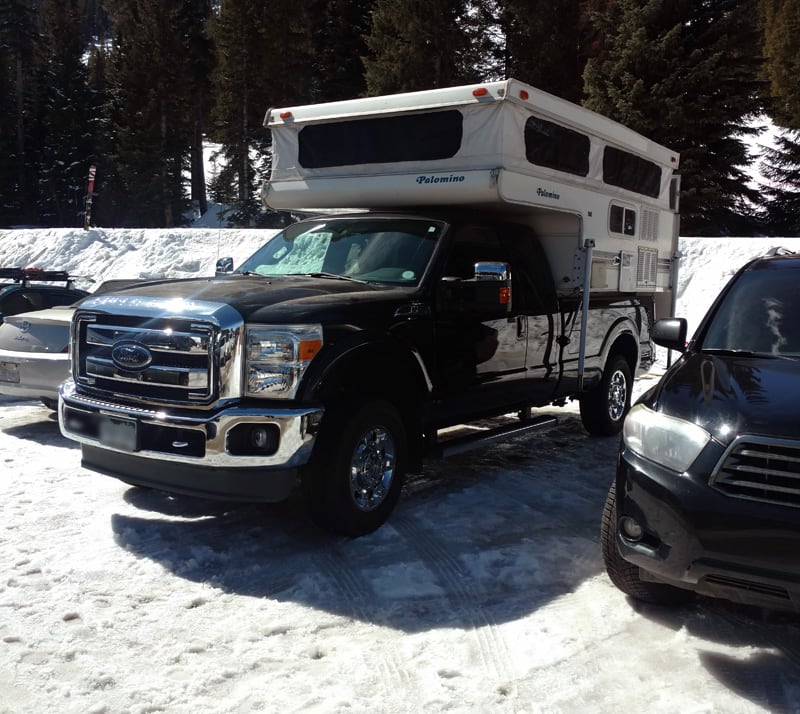 "My daughter and I went skamping (skiing and camping) at Winter Park, Colorado last March. We drove up from Denver the night before and camped in the parking lot.
We were very comfortable even though the overnight temps dipped down to the low teens. The only bad part was the snow cats running past the camper at 5:00am. Otherwise, we had a great time. Other skiers going by during our lunch break were very envious." – Mark Vecchiarelli, 2012 Ford F-250, 2000 Palomino Bronco
"My band was on tour in the Midwest. We encountered a blizzard and a wicked cold front. We have homemade panels to insulate and, when we took them down, the frozen condensation wouldn't allow us to collapse the camper!
After panicking about getting to the gig, we left the furnace running and the panels down turning the frozen condensation back into water. It was kind of messy, but we made the gig on time!
Obviously we didn't learn much, as I'm, once again, heading to a gig this Saturday, December 8. Then, I go to two more for New Years. I just have to allow for defrost time, and some extra towels for the spring thaw!" – Steve Witzigman, 2007 Chevy 3500, 1998 Palomino Bronco 1500
PIC
"Many times we have taken off to camp in Wisconsin when the forecast has no mention of snow and have woken to find several inches of that cold white stuff. We just start a fire in the fire pit, and climb back inside the toasty warm camper to enjoy the fire with a hot cup of coffee or cocoa!" – The Wandering Werners, 2012 Ram 3500, 2005 Lance 981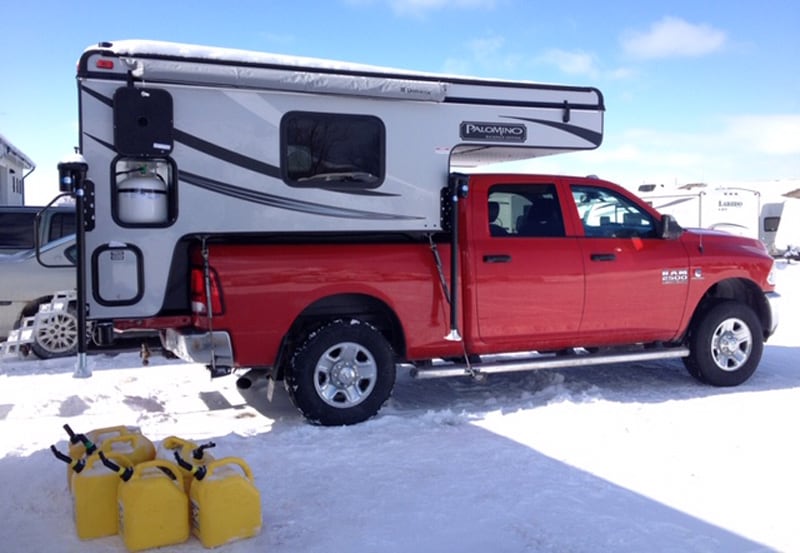 "We traveled from Buffalo, New York to Florida in January 2017. It was 10-degrees for two days. The camper stayed at 65-degrees running small electric space heater overnight in rest areas and Walmarts using a Honda generator, even with the soft top extended. We use an electric blanket sometimes which takes minimal generator capacity." – Pete Connelly, 2015 Ram 2500, 2015 Palomino pop-up
"I spend a weekend at a retreat using my camper as the bedroom twice in two years. The first year I didn't have electrical hookup, so I had to run my truck for an hour before bedtime to top up the battery. It was still better than sleeping on a lumpy mattress left over from a camp.
The second year, I plugged into an outlet next to a Coke machine and used my electric heater on 750-watts along with the camper's furnace. That was a toasty night. I almost missed breakfast the next morning.
The added benefit of having the camper on the truck was the great traction on the New Hampshire roads." – Allen Schott, 2002 Dodge Dakota, 2006 Sunlite 690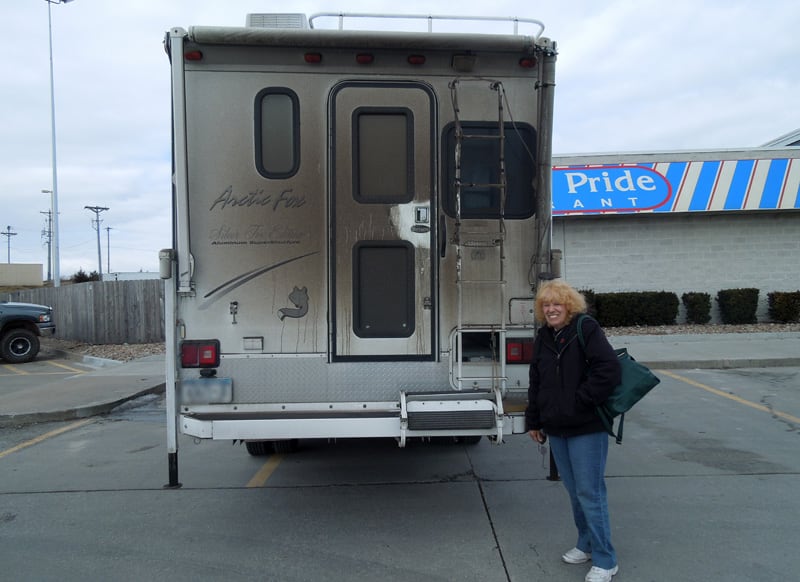 "Every winter we leave after Christmas dinner with the folks. We hit snow and freezing rain and go west on Route 76 out of New York City to Interstate 70. It is usually 5 to 15-degrees all the way to St. Louis.
We only went to a motel once in Wheeling, West Virginia. The flakes were so big and heavy that it tore off the front side filon at the nose; a blinding snowstorm.
Our generator was needed once because the propane heater would not run. We used a small ceramic electric heater and it was fine. We stopped in the usual boondocking spots and were on the road bright and early each morning.
I was more concerned about the Ram diesel starting after a real cold night then the comfort in the camper. It was a fun adventure. The photo was in Vail, Colorado on 70. As you can see, the camper needs a wash." – David Weinstein, Ram 3500, Arctic Fox 1150
"We recently attended the 2018 Expo East mudfest. In addition to fairly heavy rain, the temperatures got down to 26 one night and then 21 the following night. Our Hallmark handled the situation just fine and we still had running water.
The only thing that froze was the outdoor drain spigot for fresh water, but that soon thawed when we turned on the propane heater (we left the heater off the first night).
Based on this experience, we recently changed out our thermostat to digital. This allows us to run the furnace on a lower setting than the 50-degree setting on the stock analog thermostat (we like to sleep in cooler temperatures). Our RV Superbag did a great job of keeping us warm." – Eddie Fort, 2016 Ford F-350, 2016 Hallmark Everest