31 readers explain why they go truck camping winterized.  Grab your snow shoes and pull that camper out of hibernation.  And forget about campground reservations.  Nobody's there!

There was some rigorous debate at TCM HQ about the validity of this week's Question of the Week.  After all, a lot of folks go camping in the winter and use their plumbing systems.  That's what propane heaters, heated basements, and insulation are for, right?
Well, not always.  If it gets cold enough, propane heating systems can have a hard time keeping up.  Even if they do, you will burn a lot of propane and battery power to keep the furnace fan running.  That's not an issue if you're plugged in, but what if you're camping at a ski resort parking lot, or in the middle of frigid nowhere?
The simple solution is to winterize.  That eliminates the risk of the plumbing freezing, and frees you up to camp in the coldest temperatures you can stand.  Just make sure your truck will start in the morning!
This week's Question of the Week was, "Have you ever gone truck camping winterized?"
"I winterize in late August or early September, and then hunt in Wyoming's high country later in September. I have been snowed in on occasion, even in early September.
Winter comes early at 9,000-feet. I learned this lesson after having damage to my camper when temperatures dropped to 10-degrees the first week of September.
I carry plenty of water in 5-gallon jugs, have solar to keep the batteries charged, and use a heater very sparingly. It's not the best camping, but it is certainly doable." – Pat Eastes, 2005 Chevy, 2013 Lance 865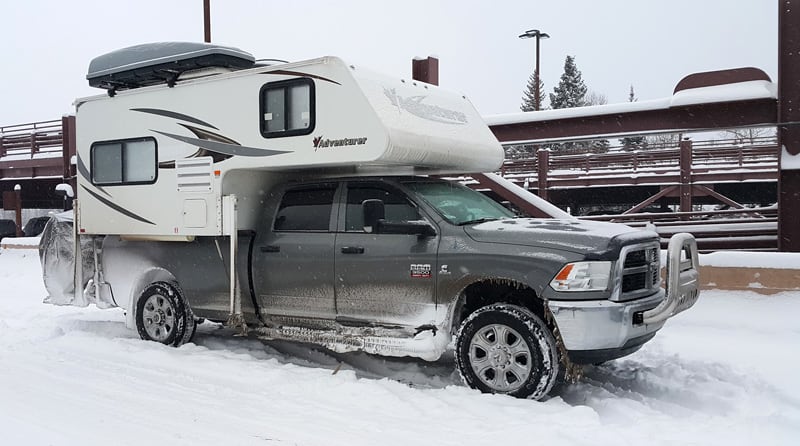 "During the winter of 2018, I traveled around the Rockies using the camper to take advantage of my Mountain Collective ski pass. Temperatures and conditions varied throughout my travels.
I left Sedona, Arizona in a snowstorm and continued all the way to Telluride, Colorado in the storm. When I reached Telluride, most of the rig was encased in snow and ice and temperatures had dropped into the single digits.
To prepare for my winter travels, I installed SharkBite shut-off valves to separate the rear toilet and the outside shower lines from the rest of the water lines. I fill them with antifreeze. Now I can either keep the kitchen sink and water heater on or easily drain them and winterize the entire camper quite easily." – Kris Rod, 2012 Ram 3500, 2011 Adventurer 80W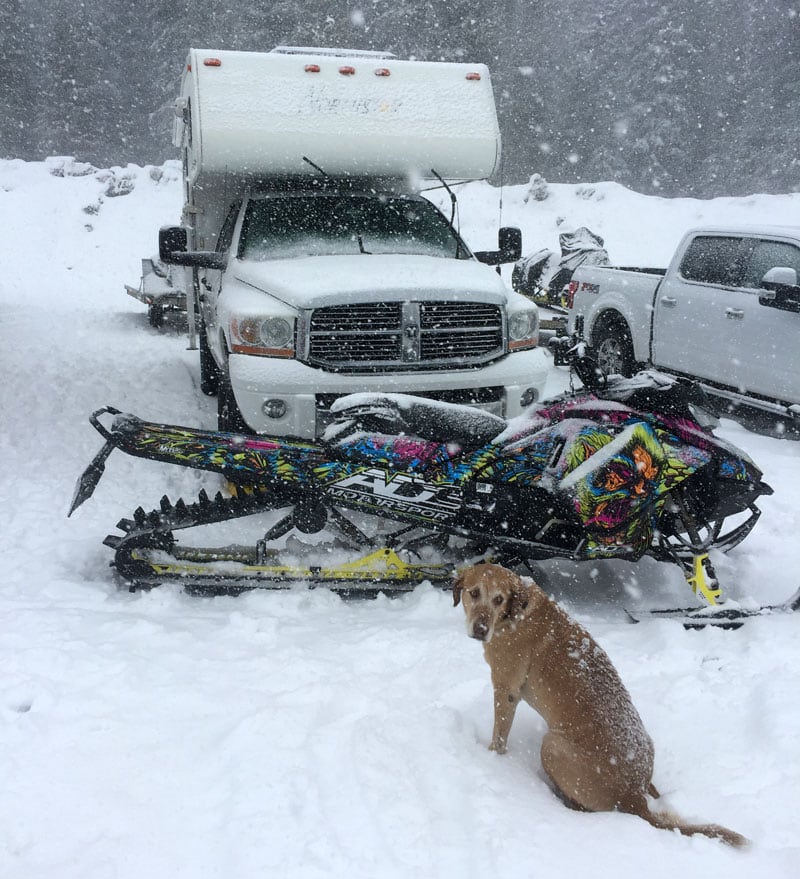 "We go camping more often in winter than summer to go skiing, ice fishing, and sledding. We bring fresh water in jugs. The camper is winterized so meals are pre-made and reheated, or by boiling water. That kind of grey water is easy to dispose of. We use RV antifreeze in the cassette toilet flush tank so there's no problem dumping." – Pete Horneck, 2006 Dodge Ram 2500, 2011 Northstar Laredo
"Living in Colorado, we camp winterized all the time. We ride ATVs in the cold and snow and camp at our land in the mountains just to enjoy the peace and quiet of the winter months.
We carry bottles of water to use for cooking, drinking, and flushing. We do use the holding tanks for black water because our Lance heats the tanks. Extra antifreeze is added to the black tank just to be sure. We dump at our house as soon as we return." – Eric Beatty, 1996 Ford F350, Lance 1181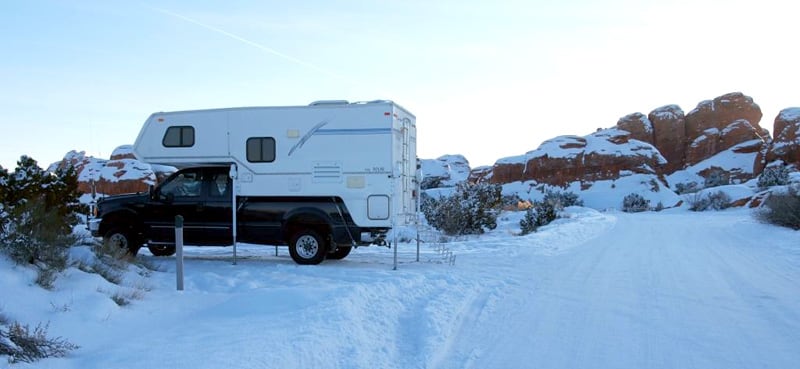 "First and foremost, we try to leave Stanley, Idaho, which is usually the coldest spot in the Lower 48, on a day when it is slightly warm. Today is a warm day at -10 Fahrenheit. Any colder than that and it is pretty undesirable to pack the camper.
We start preparing by putting a radiant heater in the camper the day before we pack. That takes the chill off; as in everything in the camper is frozen. If it happens to be in the -20 range, we will turn the furnace on during the first 25-miles of travel until we get out of the Sawtooth Valley ice box.