Fellow truck campers showcase an incredible assortment of stored items and functionality gained from fully utilizing their truck bed and wheel well storage space.  Looking for more exterior storage?  Oh well!  Oh well!
This week's Question of the Week was, "How do you use your wheel well space while truck camping?"
"I have two 6-volt batteries with a quick disconnect in my wheel well area. These give 230 extra amps of battery power. I also added a #2 cable from the truck batteries to the bed batteries to be able to charge while driving. I fused both ends and added a 200-amp solenoid that is switched when I turn on the lights. I added guide blocks in the truck bed to protect the batteries and help center the camper.
I did have four jack stands, but they got jammed when unloading the camper one time. I have to find a better way to secure them." – Tim Zeh, 2005 Chevrolet 3500, 2007 Arctic Fox 1150
"In my wheel well area I keep muddy and extra shoes, Cokes, bags of potatoes, onions, and fruit." – Kenneth Wright, 2005 RAM 2500, 2011 Travel Lite 890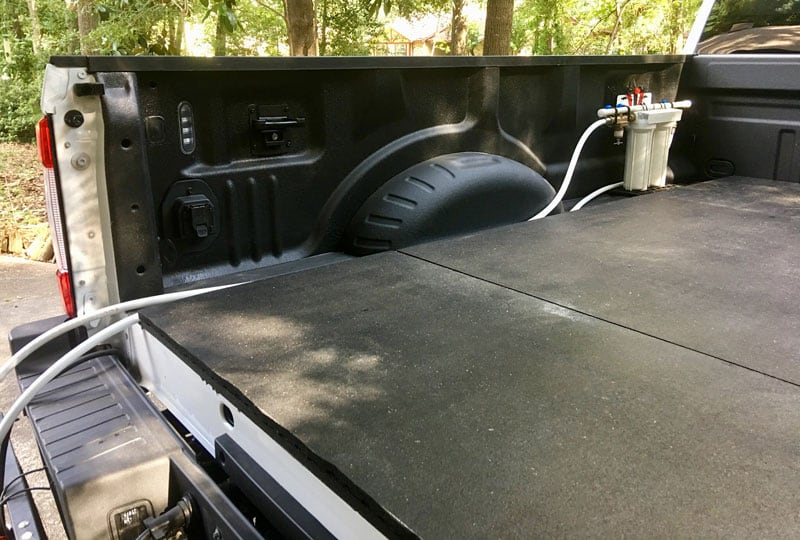 "We have a water regulator/filter set because we tired of unloading/loading the system each time we moved.
The criteria for this system was no (1) direct sunlight, (2) easy connecting to the water source and camper city connection, fresh fill, or water cans, (3) better security, (4) upright canisters, (5) easy removal of the canister/regulator for service or freeze prevention, and (6) installation location that freed up storage space.
The PVC tube on top of the canisters bracket is to help flexibly support the regulator. We travel on some rough roads.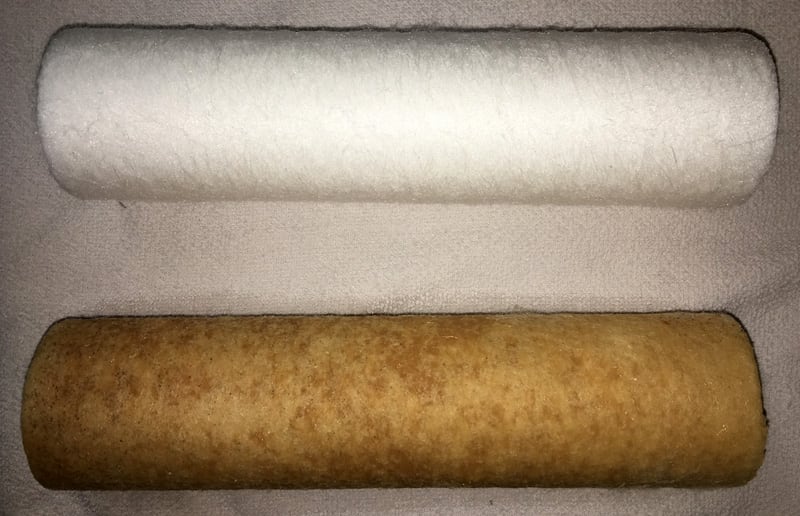 The first stage is 5-micron sediment. The second stage is KDF because we connect to water supplies in places with older water wells/pumping equipment and supply lines, and possibly questionable integrity.  We have seen all types of trash and interesting colors when we have flowed a water line to clear it out before we connect." – Bill and Kira Jones, 2017 Ford F-350, 2018 Northern Lite 9-6Q SE
"We have 5-gallons of extra fresh water when we dry camp for more than three days. We also pack two screw jacks and a 2×4 to stabilize the front of camper when it's off the truck." – Nancy Meiners, 2015 Ford F-350, 2016 Adventurer 116DS
"I put in two 6-volt batteries wired in series and then parallel to the two 12-volt batteries in the camper. The battery box is just above that wheel well so it was easy to drill a hole in the bottom of the battery box and run the cables up and to the existing batteries.
The 6-volts are very heavy, so it was nice to keep the weight down low. I put a 3/8-inch piece of plywood over the top of them and some foam above it. When the camper is lowered in place it holds the batteries firmly with no movement. That way they won't short out from the camper." – Frank and Lynn Niehus, 2007 Ford F-350, 2007 Arctic Fox 1150
"We store our fishing waders in the wheel well space." – David Warman, 2017 Ford F-350, 2012 Lance 850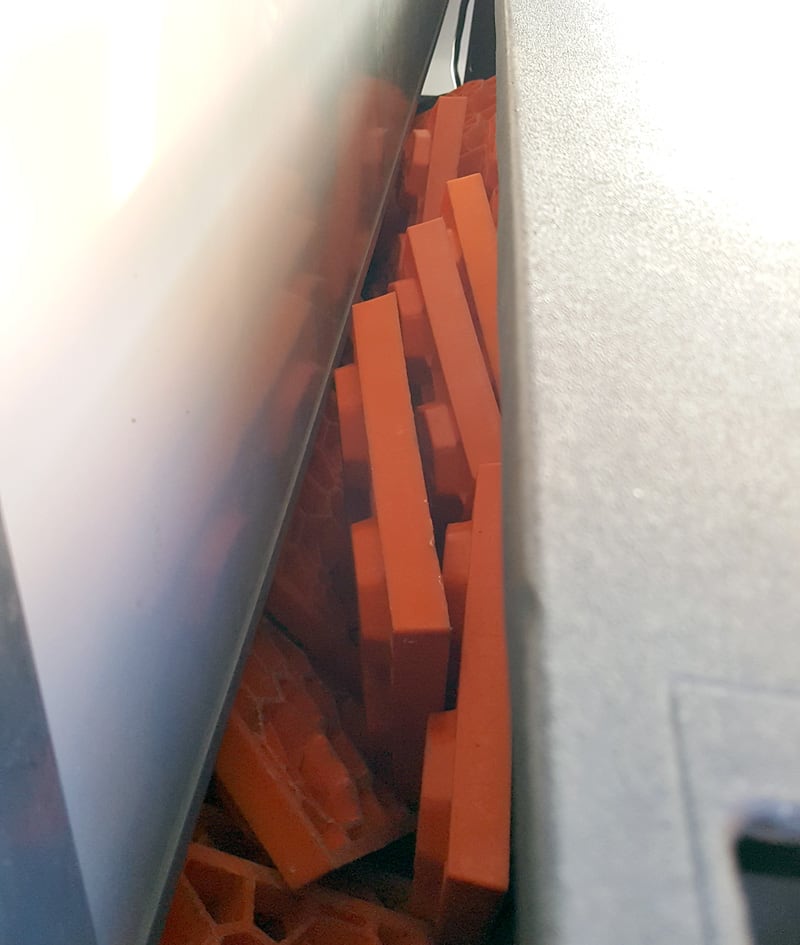 "Our camper sits high enough that we can reach into the wheel well area through the space between the bed rails and the camper's side. We drop our plastic leveling blocks in near the front. We slide our outside patio mat in over the wheel well area on one side and our door mat on the other." – Paul Neumann, 2013 RAM 3500, 2018 Cirrus 920
"We store two 25-foot water hoses on the driver's side and our ground mat rolled up on passenger's side. With our truck and camper combo, we have 5-inches of clearance above truck bed sides and the camper." – Gary Goyette, 2016 GMC 3500, 2011 Northern Lite 8-11 QC
"There are two 6-volt golf cart batteries, a 25-foot fresh water hose, inline water filter, 25-foot 30-amp extension cord, 30/50 and 30/15A adapters, and a 10-foot sewer extension circled on itself.
I also have two boxes; one with sewer connections, one with fresh water things like pressure reducer/gauge, flow meter, tees and back flow preventer. Pieces of 2x8s for leveling, a rubber mat for working outside, extra paper towel rolls, a bag of Walmart bags, cat food and litter.
There's still room to spare! I went from a 40-foot fifth wheel and I am still amazed at the storage room in our camper!" – Larry Beck, 2003 Chevy 2500HD, 1994 Lance 980
"Our Palomino pop-up does not have room for a second battery. Since we mostly go boondocking, we need one. So we ran battery wires outside to the passenger's side wheel well and put a second battery there.
In the driver's side wheel well we store the bulky power cord. It sits there out of sight and out of mind. We don't use it much but, when we want it, it's easy to get to." – Brian and Chris Hagen, 2004 RAM 2500, 2014 Palomino SS-1251
"I store our drinking water in the truck bed. I had two stainless-steel holders fabricated. I plug them in using Gardena quick-connect plumbing. I connect them when half-loaded and then complete my loading. I can then top-off using other plumbing connectors." – Helena Eaton, 2008 Isuzu D Tech, 1995 Bakkie-mate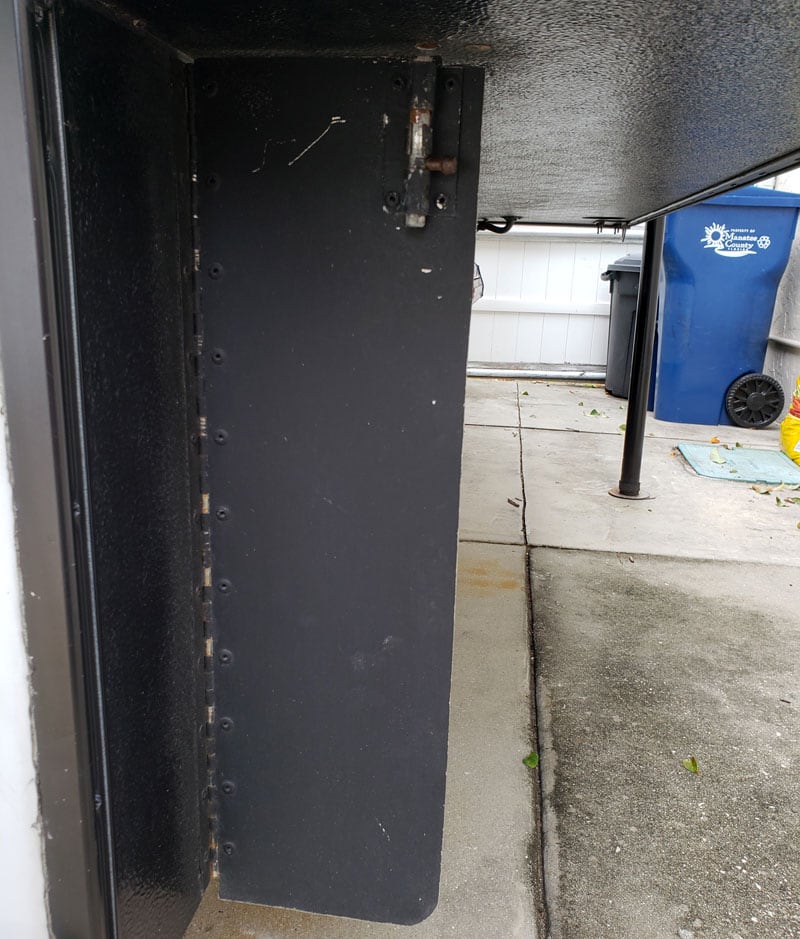 "I added aluminum wing doors to the camper with piano hinges. On the right side I added straps to hold a 6-foot ladder. I usually put in the tiki torch and a broom handle with the ladder. Behind the wheel well goes plywood, tire cribbing, a 6×9 camp rug, and the entry rug. All the dirty stuff stays out of the camper.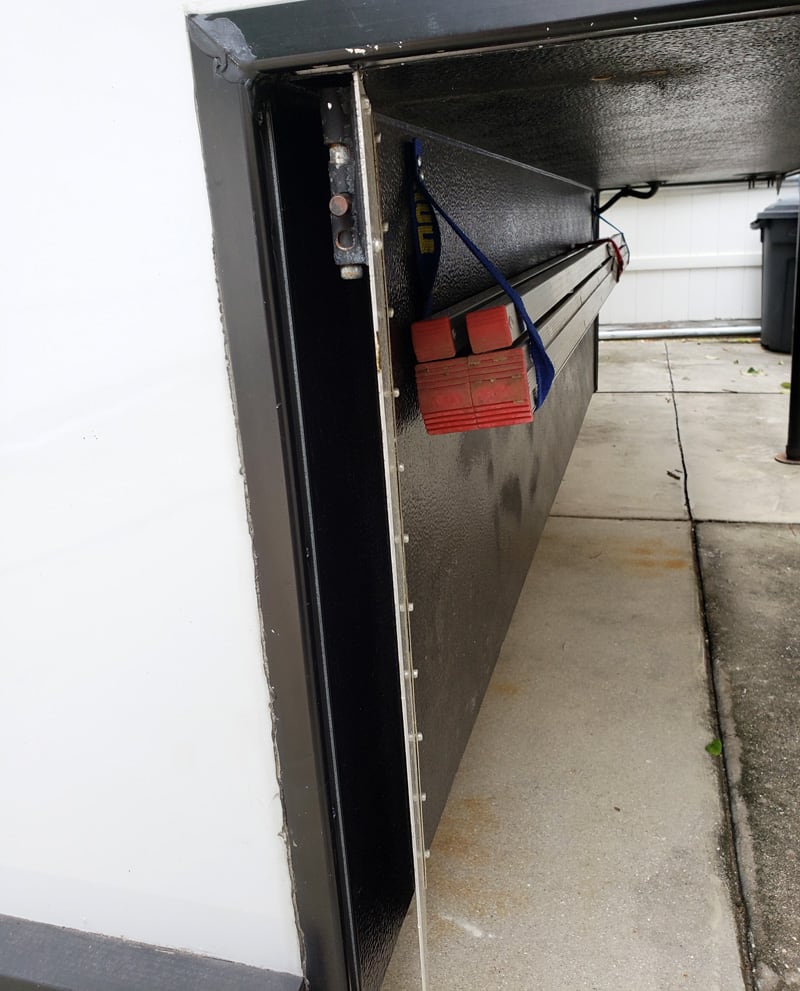 On the left side I have more tire cribbing, the 24-inch camp grate, the shore power cable, a collapsible gray water jug, and a camp chair. That's the stuff that gets grabbed first and goes in last. I can't reach the space forward of the wheel wells so that area is empty." – Kent Leboutillier, 2018 Ford F-250, 2015 Palomino SS-550
"This year we went all the way to Alaska. I had two 5-gallon fuel cans in the left front corner. There were two 2.5-gallon DEF containers and 2.5-gallon jug of Rotella T oil in the right front corner. A 2-gallon gasoline can (for Honda 2000 generator) and another half gallon of Rotella T oil was in the right rear corner.
On the left rear corner there were two one-gallon containers of the proper Mopar antifreeze for my Cummins engine. I had to raise the camper up about a foot to get the containers out. I raised it once to get the DEF out and a second time to get the oil out when the RAM dealer in Spokane, Washington didn't have the right oil." – Charlie and Linda Wade, 2016 RAM 3500, 2016 Northern Lite 10-2 EX CDSE
"We use our camper to get to far-off rivers where we canoe. The canoe trips are multi- day and often multi-week. There is a lot more gear to carry than if we were just taking a road trip in the camper.
The camper was first used on a 1995 Ford F-250 with a standard cab, so there was very little space in the cab or camper for our tent, tarp, sleeping pads, life jackets, cook stove, dehydrated food, first aid kit, waterproof camera boxes and specialized clothing.
We solved the problem by packing the gear loosely in various different sizes of vinyl river bags. The top of these bags is folded over on itself several times and then held closed by a clip that snaps the two sides together making a convenient handle. The bags are splash and rain resistant.
We could feed the bags through the door that opened into the wheel well and bend them around the corner to go either to the front or rear of the wheel well space.
Recognizing that the ones that went to the rear would be hard to recover, we attached parachute cord to the plastic handle formed by the clip. At the other end I tied a small wooden tag that named the bag contents. This made identifying the contents easy.
However, the rope often became fouled and the bags were then resistant to removal. Sometimes we had to remove most of the bags first before we could get to the one we needed.
We soon purchased a quad-cab with enough room to hold some of the gear in the cab and used the wheel wells only for smaller items. We have camped for 18-years and gone over 75,000 miles. In our Sunlite and our Hallmark pop-up we have become experts at lying on the camper's floor with a head-lamp on and an arm going through the small access doors.
In 2013 I mounted the Hallmark on a custom aluminum body that I designed and had built for me. I put lovely access doors to that wheel well space on the exterior of the body. Now our camping gear is organized and secure. Skis fit just fine.  I am a happy camper." – Ross McIntyre, Hallmark pop-up
"For campers with access from the inside, I've used the truck bed storage space for some food and other extras. Once we started using basement model campers, I've used those spaces for a pair of batteries that were hooked up to the camper and a charging system giving us four house batteries. The current camper is also a basement model, but the spaces are not being used at this time." – Dave Riddle, 2015 Chevrolet, 3500, 2017 Host Mammoth
"In my wheel well area I have fresh water and sewer backwash hoses, an extension cord, coaxial cable, tow chains, and generally anything that I may need, but may not need." – William Chiles, 2015 Ram 3500, 2013 Lance 1050S
"I use one driver's side front wheel well for two Group 27 batteries. I use the passenger's side rear wheel well for leveling blocks and a small toolbox. The front passenger's side is unaccessible right now.
I do have bed access from the inside of our camper. That's one reason we keep the old camper, which we love." – Darryl Monat, 1990 Dodge D350, 1989 Hideaway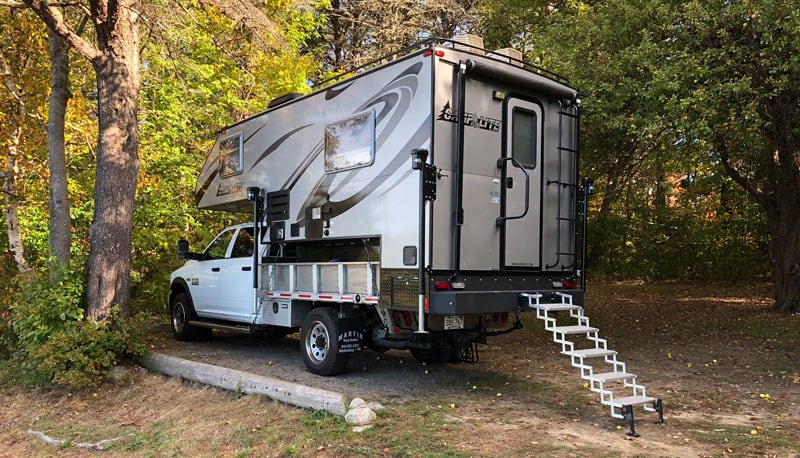 "I have a flatbed with removable sides. Everything from chairs, umbrella tent, firewood, stove fuel, jack blocks, shovel, High-Lift Jack, and bales of extra cash. We love the flatbed and would find it difficult to go back to a regular truck bed. The chassis cab lets you configure the Aisin transmission with the 6.4 HEMI. How can you go wrong?" – Tom C., 2016 RAM 3500, 2017 CampLite 10.0
"We love to cook in our dutch oven, so we carry charcoal in plastic gallon jugs, six gallon fresh water jugs, and plastic leveling ramps. We tried carrying laundry in a clothes bag, but it came open and we looked in the mirror to such a surprise." – Tom Elliott, 2007 RAM 2500, 2018 Adventurer 80RB
"I made a stand to set the front of the camper down when the camper is not on the truck. It breaks down into four parts and reassembles with three pins in under a minute.
On the other side I carry a hitch which I use to pull our car, our trailer, or other toys that I come across. It also breaks down into two pieces and pins together. It fits in the small space available." – Russell Berquam, 2014 Ford F-350, 2015 Arctic Fox 1140
"I don't have access to the wells from the inside, so I store the power cord and a 8×10 rug that rolls up small. Also, the grey water drain hose and the fresh water hose are stored there.
The bed of the truck is a little longer then the short bed camper so the space between the bed and the camper houses the 24-inch square carpet mats, small table, the black tank pump, and a few other small items." – Jeff Hagberg, 2002 Ford F-250, 2006 Travel Lite 800 SBX
"I had to raise my camper so it won't hit the cab. After raising the camper, there was room between the camper and the truck bed. That's where I store lawn chairs and a screened canopy." – Tom Williams, 2000 Ford F-350, 2001 Northstar Laredo SC
"First I must say that there is a six to seven inch gap between the bottom of camper sides and the top of the truck bed sides. I would have closed this in with a hinged panel, but I found that I like the extra visibility I get with my side mirrors.
On the passenger's side, I store a 3-inch inch drain hose, the hose caddy, elbow adapter, two water hoses, and the awning handle. On the driver's side is the main power cord, a plug adapter, and an extension cord." – Charles King, 2011 Silverado 1500, 2017 CampLite 6.8
"We have doors inside our camper to access each wheel well. On the driver's side, I store extra large extension cords and water hoses.
The passenger's side is harder to access because we made a storage box that doubles as a step up to the ledge to the upper bunk. The storage box has to be moved to open that door, but I can put extra leveling blocks and an 18-bottle case of beer there!" – Shelley Pike, 2009 Ford F-350, 2006 Lance 960
"I designed some equalizers to make sure the camper rides evenly on the truck and does not shift to one side or the other. That took up about 3-inches of floor space on the truck bed in the wheel well space.
On top of those on both sides I built some supports to put underneath the camper when the camper is unloaded at a campsite. I do not need those until the truck camper is taken off the truck.
I used to store tools in those areas until I bought a new and bigger Northstar. That camper has plenty of room without utilizing the wheel well area from the inside of the camper." – Wayne Erhart, 2002 RAM 2500, 2017 Northstar 950 SC
"Our Hallmark camper has a small door in the front driver's side that gives us access to that wheel well. We generally store our hiking shoes and boots in there. That way we aren't stepping on them. If they are wet or dirty, they are out of our living space. We can also reach the electrical plug through that little door." – Buzz and Sherri Merchlewitz, 2017 RAM 3500, 2015 Hallmark Ute
"In the wheel wheel area I keep a bottle jack, block of wood, bottled water, and sometimes firewood. I have also made some screens so that I can leave the doors open in the summer for additional ventilation. My camper has inside wheel well access." – Tom Torrice, 2012 Ford F-250, Wolf Creek 850
"How much stuff we bring depends on how long we are gone and where we go. Generally, one wheel well gets the plastic bags with all the dirty laundry and everyone's set of extra shoes. The other side stores our Viair pump, backpacks, hiking sticks, fishing poles, and tackle box. Sometimes it takes a bit of maneuvering on hands and knees to get stuff in and out through the little doors, but there is tons of usable space." – Esther David, 2014 RAM 3500, 2017 Northstar 12STC
"We have two inside access doors in our Lance. In the left front we keep one-gallon jugs of filtered water for making coffee and drinking. In the right rear I keep a five-quart jug of motor oil, fuel injector cleaner and conditioner. There is also an outside rug rolled up. Everything can get wet because that storage is not waterproof or dust proof." – Erwin Greven, 2002 Chevrolet 2500HD, 2002 Lance 921
"The following is always with us in our wheel well area; a tow/recovery strap, hydraulic bottle jack, a 10-foot section of garden hose for draining grey water, collapsable bucket, collapsable water jug, and a folding dog cot.
This list changes as conditions change. I could also pack tire chains, extra beer, a 4-pound propane cylinder, and charcoal for grilling." – Lou Buesseler, 2000 Ford F-250, 2016 Northstar TC850SC
"I have an old school camper. It has these little wheel well doors that let you store anything that will fit; bottled water, shoes, dog food, fishing gear, wet waders, etc.
Maybe they should go back to the old style, like my Lance 1030. No slides, 11-feet long, and it weights in at 3,312 pounds wet and loaded. I'm waiting." – William Palleschi, 2010 Ford F-350, 2005 Lance 1030
"I use the front driver's side and passenger's side truck bed wheel well space all the time. I have nice access with hinged doors from the inside of the camper. I have one more access door on passenger's side in the rear below the dinette, but rarely use that one.
We store boots, dog food, winch cables/pulleys, water bottles, and other cases of beverages, etc. My only concern is if it is freezing outside or – if we get excessive side rain/water splashing – water can enter between the truck bed rail top and the camper's sides. That's rare." – Cal Thompson, 2016 Ford F-350, 1996 Northland Polar
"Our Lance is a basement model, so there is no wheel well access from inside the unit. Our previous Cascade camper's waste tanks were outside the camper. We stored boots in the wheel wells. I miss that access." – Philip Tron, 2009 Chevy 3500, 2012 Lance 1050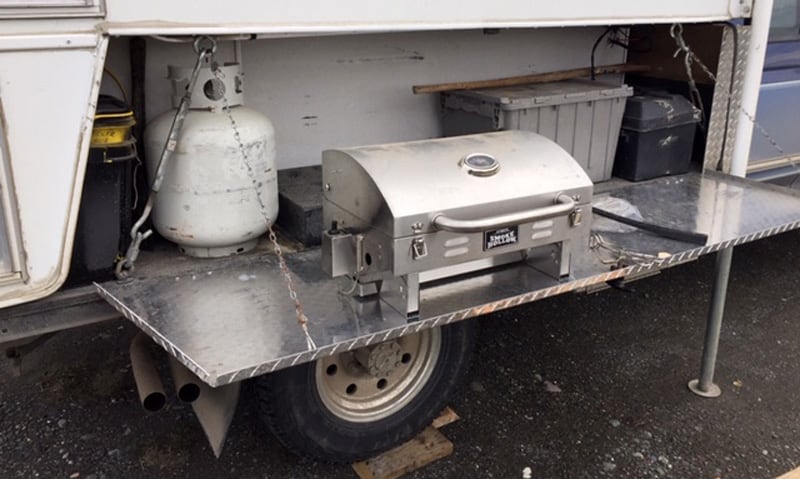 "I have a gas grill, extra oil, 2.5 gal gas for the generator, extra 20-pound LP tank, stinky slinky, two batteries, shovel, tire chains, firewood, wood saw, tent poles, hiking sticks, and other items too numerous to mention! I admit, I cheated by building a flatbed and making full width doors that fold down on both sides." – Dan Forry, 1996 Ford F-250, 2006 Palomino Bronco 1251
"My camper came without wheel well loading access doors. I notice many manufacturers are not installing them today. From my viewpoint, this is a bad idea.
The first modification I did was to add an access door to the driver's side of the bed space. I cannot put one on the other side because Palomino runs all the electrical in a wood box conduit under the dinette pedestal. Consequently, there is not enough room to add a door.
I went to Palomino in Colon, Michigan. They are about 60-miles from my house. I bought a matching door panel and hinges, and then went to Lowes and got a cam lock latch. I laid out the cutout in the knee wall and took a jig saw and cut it out. I had to trim out the hole with plastic trim and reinforce the hinge holes, but it came out fine.
The hard part was getting the opening square and parallel to the camper and allowing enough overlap so the door sealed the camper interior from the elements.  I added a closed cell self adhesive strip of weatherproofing tape to the backside of the door to seal it and the cam lock latch keeps the door tight against the knee wall cutout.
It was worth every bit of effort. We store our dirty laundry bag, my chainsaw, fuel containers for the chainsaw, and a generator there. My power cord for the camper plugs into my wheel well (front side on in the driver's side). That allows me to pull a gooseneck trailer for the farm when I'm not camping.  The door makes accessing that connection a piece of cake.
I think all campers should come with knee wall doors.  All that useable space is wasted without them and space is premium in any camper." – Daryl Davis, 1997 Ford F-350, 2015 Palomino SS-1500
"We have not used our wheel well space for storage with either truck camper. However, Mother Nature has decided it's a nice collection point for dead bugs, rocks and dirt." – Chuck and Jodie Ramsey, 2012 Chevy Silverado, 2019 Arctic Fox 990