Okay moles and trolls, here are two unexpected and incredible passion tours to share. If these don't inspire you to think differently about truck camping planning, nothing will.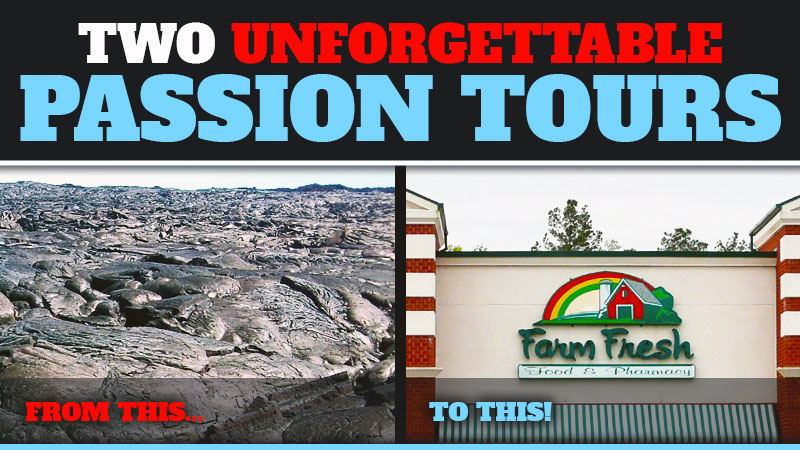 One of my all-time favorite 80's comedy films is 1985's Real Genius. Starring Val Kilmer as a brilliant student at Pacific Tech, the tight script bristles with sharp quick-witted humor. Watch this film while playing on your phone and the wisecracking will fly right over your head. Pay attention and you're in for a real treat.
A particular line from this classic hit me when only two entries were submitted to our Passion Tour request. Kilmer's character is exasperated that nobody wants to follow his intentionally absurd plans of endless distraction from school work and research, and says…
"Moles and trolls, moles and trolls, work, work, work, work, work. We never see the light of day. We plan this thing for weeks and all they want to do is study. I'm disgusted. I'm sorry but it's not like me, I'm depressed. There was what, no one at the mutant hamster races and we had one entry into the Madame Curie look-alike contest and he was disqualified later. Why do I bother?"
Angela and I worked for weeks – if not hours – on this Passion Tour idea. We thought fellow truck campers had gone on tour visiting places tied into their hobbies and interests and would want to share their experiences. I even made a trick graphic with a truck camper with baseballs for wheels to relay the idea – you know, maybe someone went on a baseball stadium tour? Nope. Two entries. Why do we bother?
All is not lost since the two entries we received are remarkable. Not only do they qualify, but they are so fun and far from of what we expected that they deserve a whole article devoted to them. Yes, we're disappointed. And no, you can't send your passion tour story in now. It's too late. That train has sailed. Unless you have a really good story and then – yeah, okay – go ahead and send it in.
Passion Tour 1: Supermarkets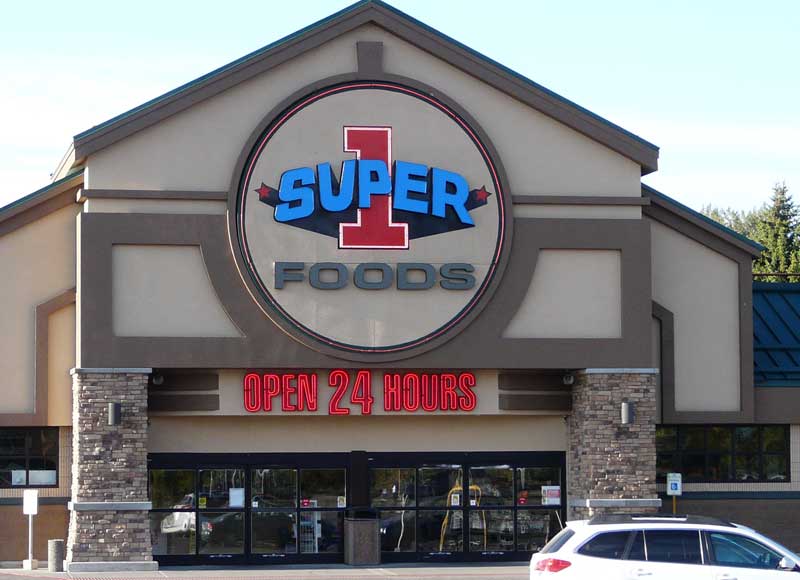 Above: Super 1 Foods in Kalispell, Montana
"From northeast Maine to San Diego, from Seattle to Miami – and a thousand towns in-between – you can find lookalike McDonald's, Burger Kings, Taco Bells, Walmarts, Home Depots, and beyond.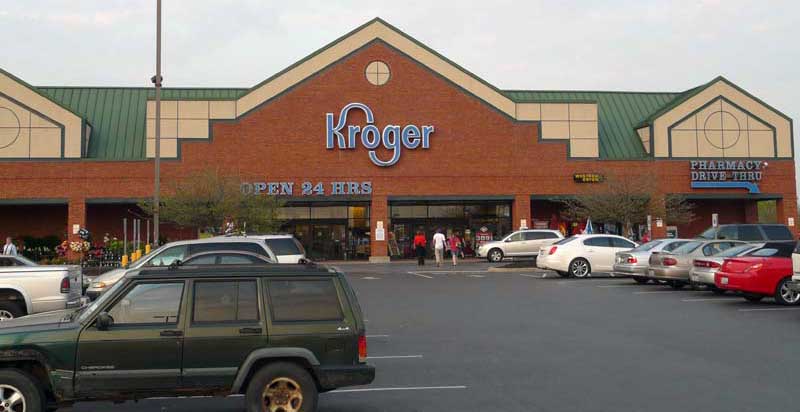 Above: Kroger Supermarkets, Elizabethtown, Kentucky
What's different? Supermarkets! Even A&P no longer stretches from the Atlantic to the Pacific.
Above: Bi-Lo in Franklin, North Carolina
My truck camping travel passion is taking pictures of the front of food markets. You will find Akins Harvest Foods in Quincy, Washington, Harris Teeter in North Carolina, and King Soopers in Colorado.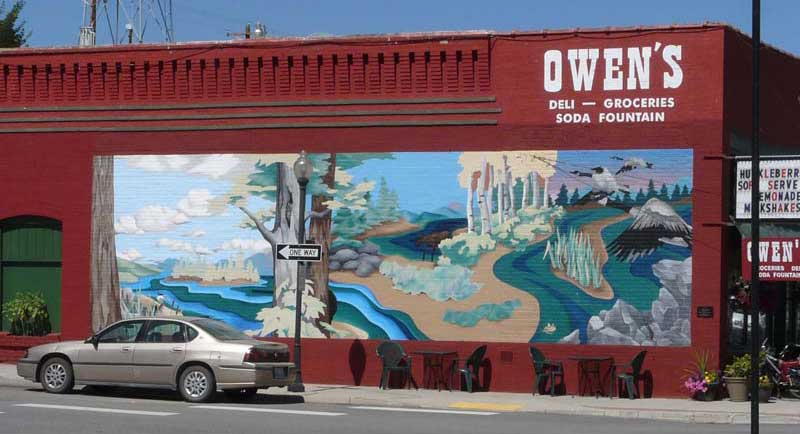 Above: Owens Deli Groceries in Newport, Washington
There's a beautiful mural on the side of Owen's Deli-Groceries in Newport, Washington, a Piggly Wiggly in Eatonton, Georgia, and Yoke's Fresh Market in Airway Heights, Washington.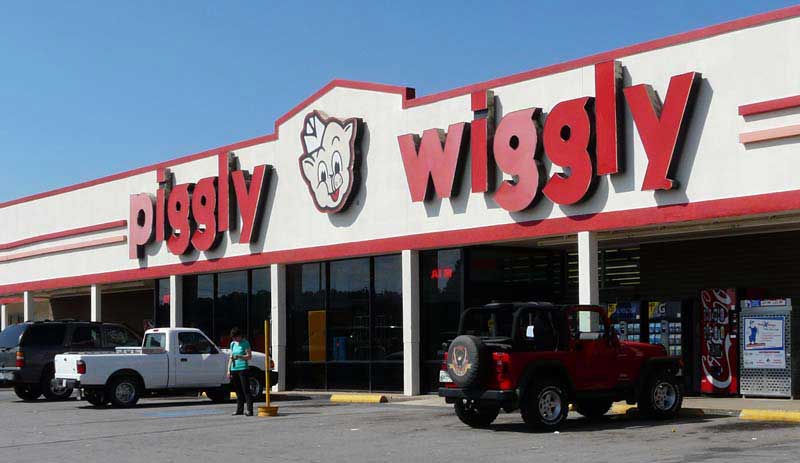 Above: Piggly Wiggly store in Ducktown, Tennessee
The supermarket tour increased my appreciation of life in small towns. Los Angeles, St. Louis, Chicago, New York are fine to visit for what they offer but, if you want to see the real America, buy something at places like Wagner's Supermarket in Arapahoe, Nebraska.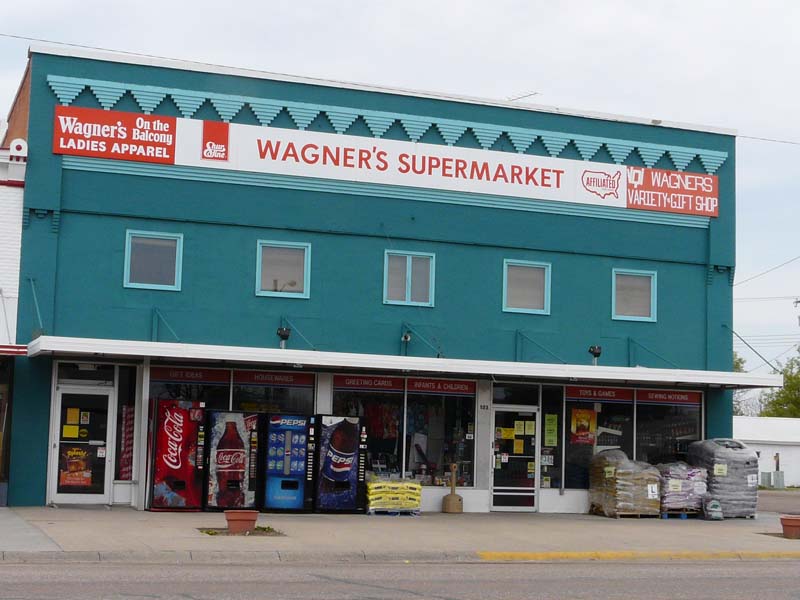 Above: Wagner's Supermarket in Arapahoe, Nebraska
Want to go on your own supermarket tour? Plan on taking backroads. I am always on the lookout for new food markets during my wanderings." – James Gartner, 2020 Ford Ranger, ARE Topper
Passion Tour 2: Motocross Trails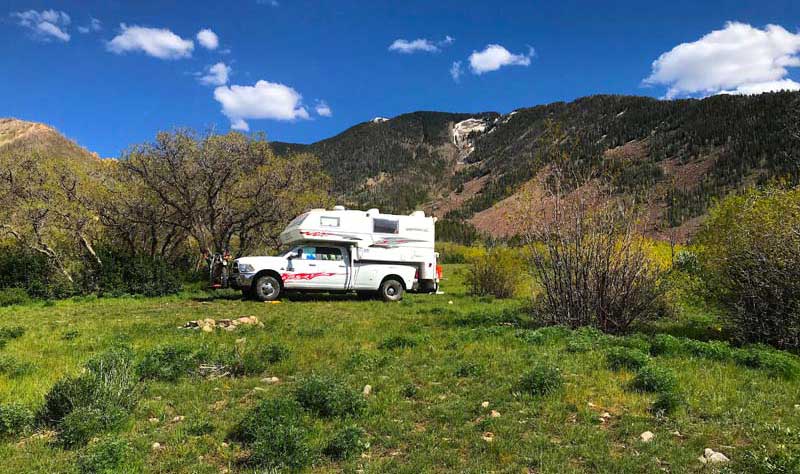 Above: Boondocking in the La Sal Mountains, Utah
"Being a motocross and extreme off-road rider and racer, and trail maker for the prestigious Mauna Kea 200 two-day extreme endurance motorcycle event, I always look for the most challenging areas to make trails and ride.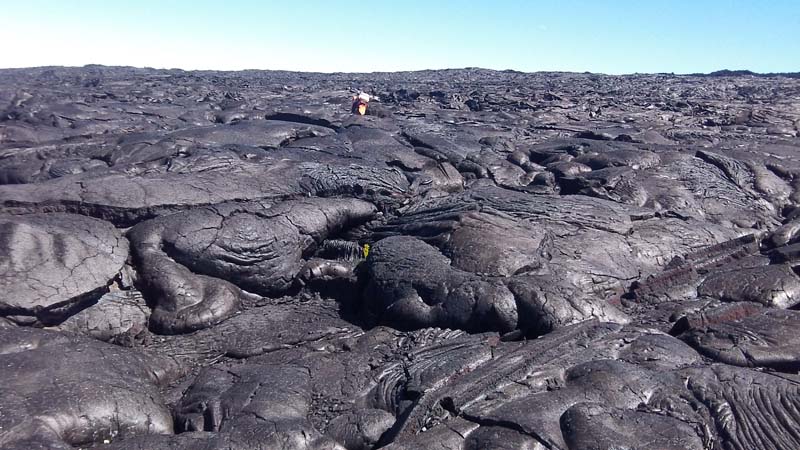 Above: Climbing the Mauna Loa Volcano at 11,000-feet elevation
I did this on the Big Island of Hawaii for 30 years until many of my riding areas got closed off due to land sections being sold or fenced off. I could no longer lace up 200 miles of rainforests, jungles, and lava flow trails for the Mauna Kea 200.
So, at 76 years old, I sold my Puna, Hawaii property and made Peoria, Arizona my home base mailing address. I bought a 2017 Ram 3500 dually and slid in a luxury Northern Lite 9-6 Special Edition camper with all the bells and whistles. My KTM motorcycle is mounted on the front bumper. I tour the USA full-time.
Above: Desert boondocking, Ely, Nevada
I started out in Arizona on my grand adventure going to Nevada, Utah, Wyoming, Montana, Idaho and Colorado. All of these states have OHV trails and challenging four-wheel drive mountain roads.
Now five years later, at 81-years old, I've managed to ride all the four-wheel drive off-road high elevation passes in Colorado.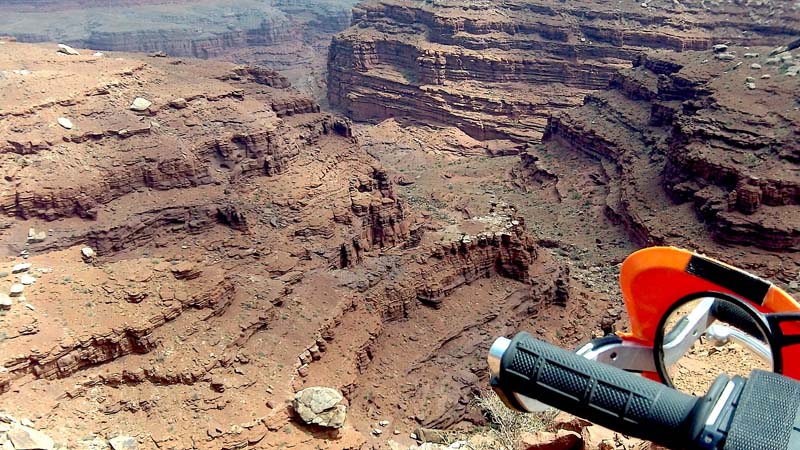 Above: White Rim Trail, Utah
Moab's Five Miles of Hell Trail was the most challenging. Moab's 110-mile white Rim Trail was the most scenic. Riding the Grand Canyon's North Rim backwood forest was intense with awesome views at every turn.
Riding 10 miles of the edges of Arizona's Marble Canyon with the Colorado River 1000 feet below was a take-it-as-it-comes ride. It was a challenge because of many chunky rocky hill climb sections and drop-offs.
Quartzite's deep sand rock and boulder-strewn Arroyos leading up into the mountains were quite a challenge also.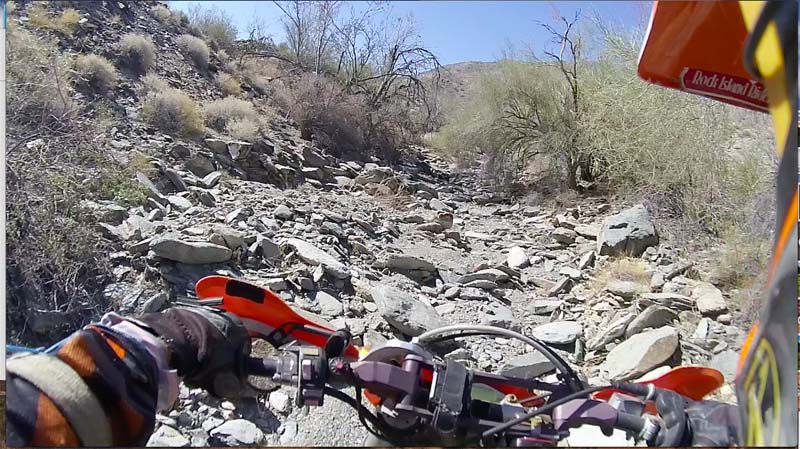 Above: Riding Quartzsite Arroyos
I have ridden Hawaii's super challenging nasty rough lava flows. So far, I have not found anywhere on the mainland that can beat what it takes to ride Hawaii's Big Island volcano a'a' (chunky and thick) and pahoehoe (smooth and ropy) lava flows. No one else would ride them. I had them all to myself. That's where I learned to take "no fear", and take it as it comes, no matter how nasty it is.
Here on the mainland, it's relatively easy for me just to head out on my own on any terrain cross-country and know there's not much that can stop me. I always ride solo because then I can go where I want without hearing someone holding me back whining about the seemingly unrideable conditions.
Wherever I go, I always try to stealth boondock camp way off four-wheel drive roads with an awesome view if possible. It's a rarity that I stay at a National Park and never at any RV parks. When I boondock, it's for weeks at a time so I can unload the motorcycle and go exploring. Sometimes I will stumble upon a nicer spot to move to.
If you want to do a full-time truck camper lifestyle, I recommend BLM boondocking with a motorcycle or e-bike to explore a vast area around your basecamp site. Don't be in an all-out rush on the busy highways to see the USA. Take your backroads time and you will find places that are more awesome than the expensive, run-of-the-mill, hard-to-find-a-parking-space tourist attractions littered with "NO! this" and "NO! that" signs.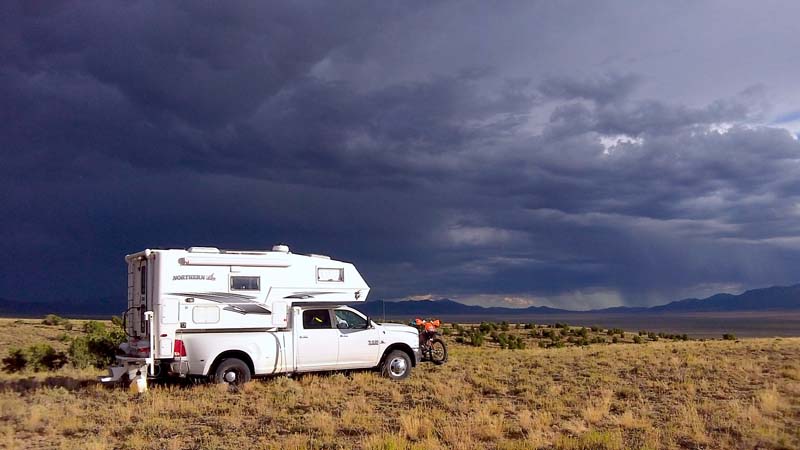 Above: Boondocking in Phony Springs, Nevada
I love my nomad take-any-dirt-road lifestyle just to see what's at the end of it. Then, I unload the KTM extending it more. If it gets too gnarly and unrideable, that's when the adventure starts.
Go fast, take chances. Go faster than the crash." – Gaston Belanger, 2017 Ram 3500, 2017 Northern Lite 9-6 Special Edition