As I worked on an article for an upcoming 2019 manufacturer update yesterday afternoon, Angela sat across the dinette saying, "Awww!", and then laughing, and then, "Oh sooooo cute!"  This seriously went on for the better part of an hour.
I wish I could report that she was reacting the devastatingly handsome husband before her, but that was not the case.  She was opening the responses and photographs from this week's Question of the Week, "How many people, including pets, have you camped with overnight in your truck camper?"
Some of the following stories are definitely laugh out loud funny.  Others are cautionary tales (or should that be tails?).  The lesson here is two fold; (a) truck campers can sleep upwards of five or six people with as many pets, and (b) that is definitely not a preferable situation – at least not long term.  Prepare to be awww-ed.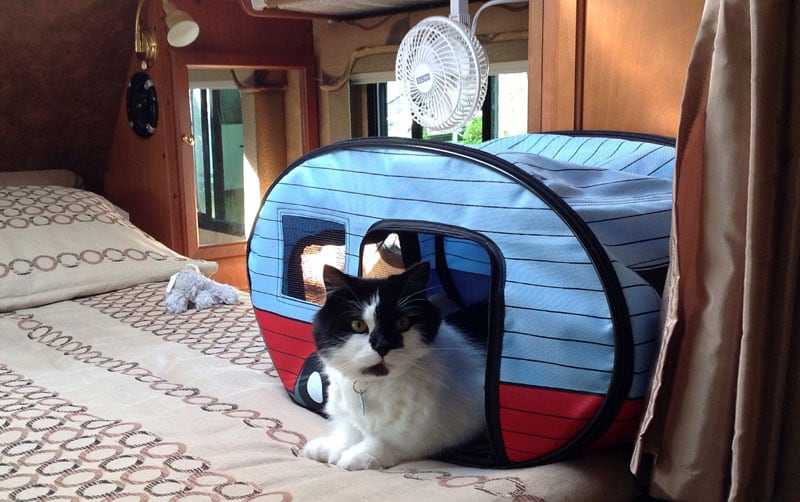 "Since 2012, my wife and I have been traveling about six months each year. We are from Montreal, Canada and are what you call snowbirds. We always travel with our cat, Mitaine, who is at home in our camper and in our truck when we are on the road.
Up until now, we have visited eastern Canada, California, Texas, Arizona, Utah, Florida and most of the US East Coast. This year, our destination is Puerto Vallarta in Mexico." – Michel and Renee Villeneuve, 2012 GMC 3500, 2012 Lance 1050S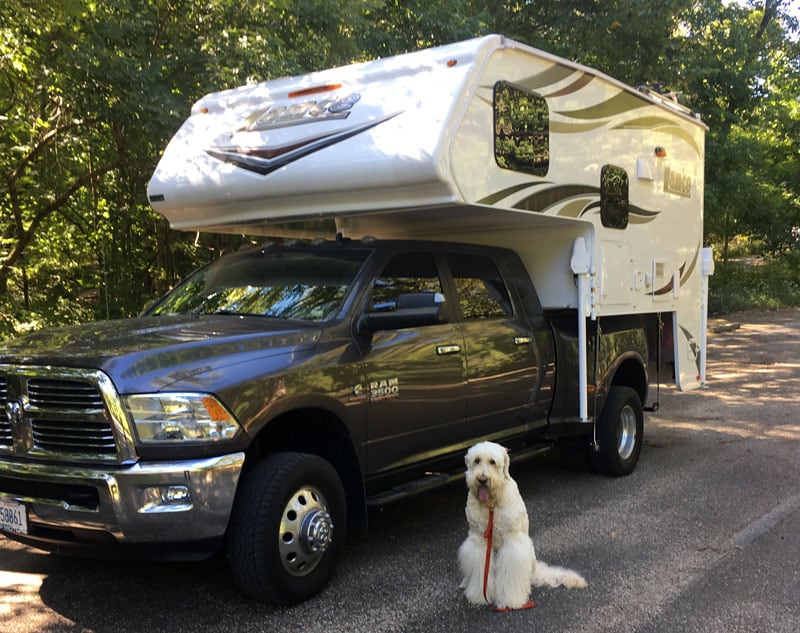 "It's two of us plus a very large Golden Doodle named Max. It has worked out pretty well, but he takes up most of the floor." – Jeff Barrett, 2015 Ram 3500, 2018 Lance 855s
"In our old Traveleeze camper (11-foot cab over) we had four adults, one ten year old, a 60-pound dog, and a dog crate. My wife, son, dog and I were on our way to Fairbanks three days before Thanksgiving. We got off the ferry in Haines, Alaska.
Just before we reached the Canadian border there were slide offs in front and behind us, so we could not go in either direction. It was about 9:30pm, snowing and cold. We took in two total strangers, fed them and gave them a place to sleep for the night. Our camper was a lot warmer than a car or pickup would have been.
Word to the wise; stay in Haines if you get there after sunset and it's snowing. It's much better to travel in daylight." – Dave Erickson, 2011 Ford F350, 2006 Arctic Fox 990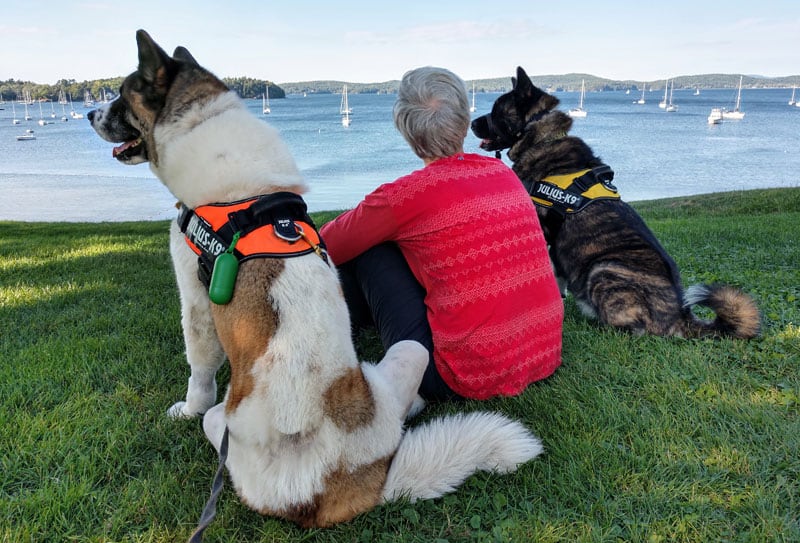 "My wife and I, along with our two Akita dogs, travel full-time in our Eagle Cap truck camper. The photo above is near our current site in Malletts Bay Campground in Colchester, Vermont." – Bruce Bowens, 2015 Ram 3500, 2017 Eagle Cap 1165
"We have a total of six people; two adults (wife and I), and our four children (ages 6 to 13). It's usually for a maximum of five days and typically for a weekend. Why? It is our preferred camping method. I always say it is much better then tenting!
We started of with a Bronco 1200 pop-up truck camper. At that time it was only two kids who were two and four years old. Then it progressed to an 2005 Adventurer 810WS and then a 2009 Lance 861. Now we have a 2016 Lance 1050S.
Truck campers are the best! They are compact, go anywhere and park anywhere. Plus, we always have a washroom which is great with young children, especially for beach excursions." – Dave Balcom, 2016 Ford F-350, 2016 Lance 1050S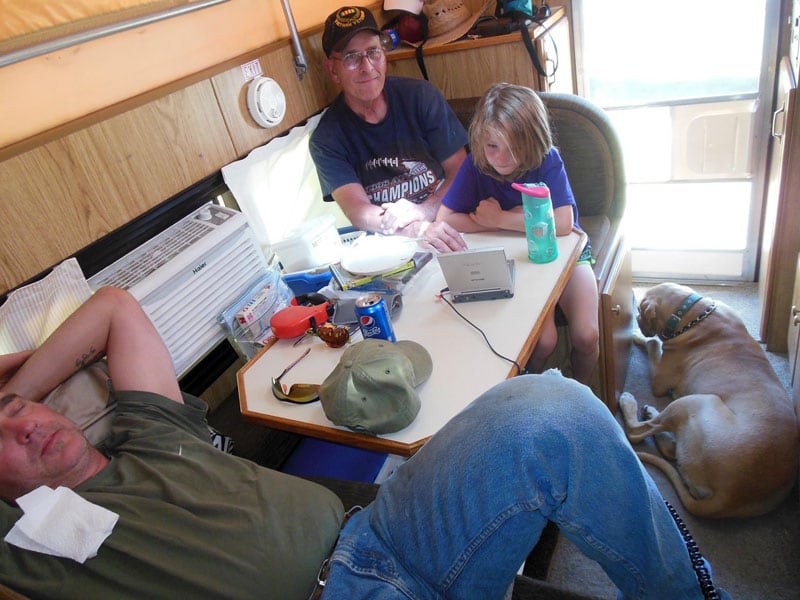 "Even though Les and I were originally the only people in our pop-up, soon the bugs and heat caused my son, granddaughter, and the 90-pound Mastidor to come knocking and beg to migrate into our 8-foot camper. They were set up and camping near us in their tent.
Above is a daytime picture of the impromptu gathering. It all went well even though it was a bit cramped. My camper sleeps four, two comfortably on the bed and two uncomfortably on the convertible eating area bed.
The dog didn't voice her opinion about sleeping on the floor. Ya gotta do what ya gotta do. I just kept telling myself, "This, too, will pass… It's only temporary." – Jan Hill, 2002 Chevy Silverado 2500, 1993 Litecraft pop-up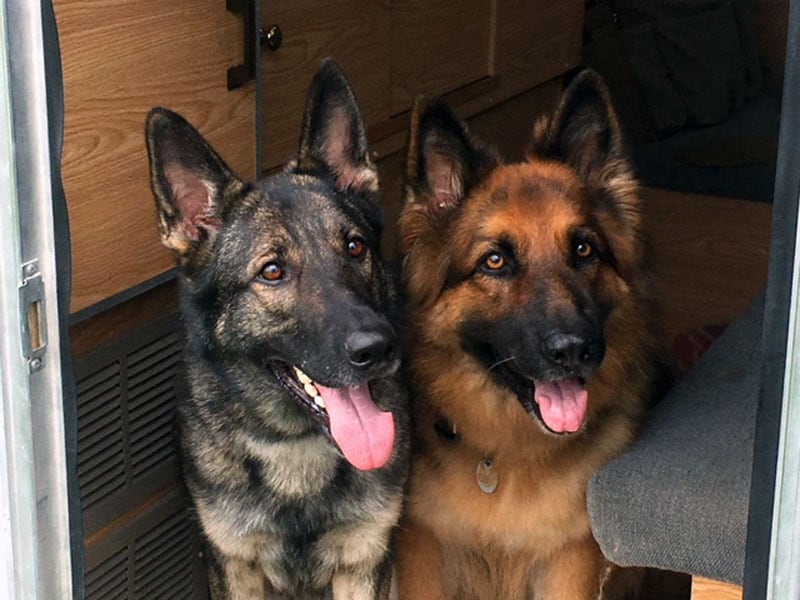 "During a family reunion of campers, there was a huge thunderstorm. I looked out the window and our two adult daughters, German Shepherd and Husky were running through the downpour and lightening to our camper.
We spent the night with four adults and three dogs, two of them being wet. We were all tired the next morning. We do routinely camp with our two GSD's (German Shepard-mix) and use the slide through window to the truck as their extra space." – Stacie Link, 2016 Ram 2500, 2001 Four Wheel Grandby
"We travel with four people and three dogs (two wieners and one German Shepard-mix). We have the roll-over sofa option so that helps. We leave the table outside unless we want to play a game.
The little dogs want to sit where we are so they make their own space between whoever is sitting on the sofa. The big dog jumps onto the cabover bed. Most of our time is spent hanging out outside so that keeps us somewhat sane." – Pam Conner, 2015 Ford F350, 2015 Arctic Fox 1150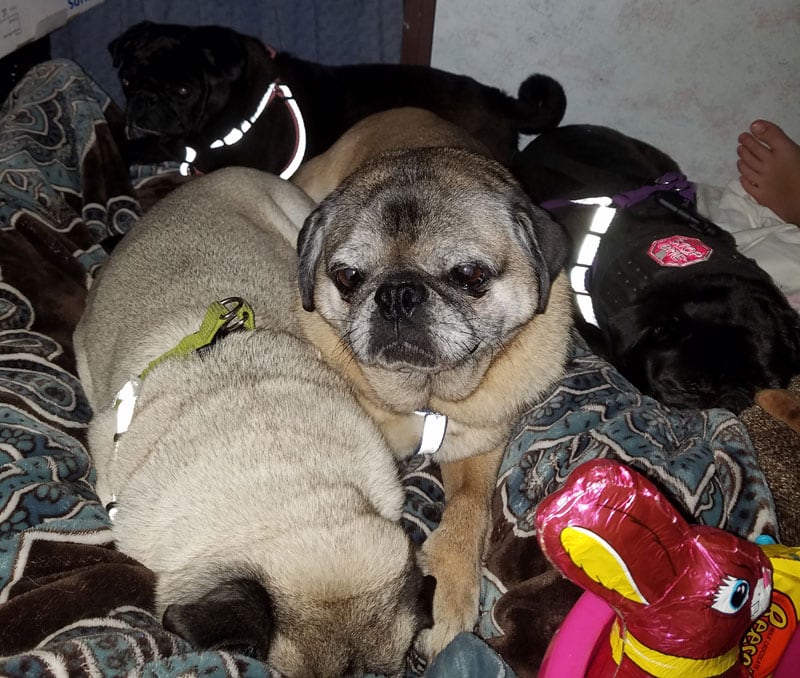 "We have two adults, one 8-year old granddaughter, and four pugs. This is our common camping combination. My husband is 6-feet tall and sleeps in the cabover queen bed. The granddaughter, four pugs and I sleep on the sofa.
I put a piece of plywood on an ice chest and put the back cushion down to widen the narrow seating area. My granddaughter sleeps against the wall, the pugs wherever they can find an open flat spot, and I balance on the outside edge.
Sometimes, I have to make the pugs wait up in the cabover as my granddaughter and I settle in our places. Then, they are invited down. Unfortunately, I don't have a better photo of our sleeping arrangement." – MarySue Miller, 2006, 1998 Shadow Cruiser 740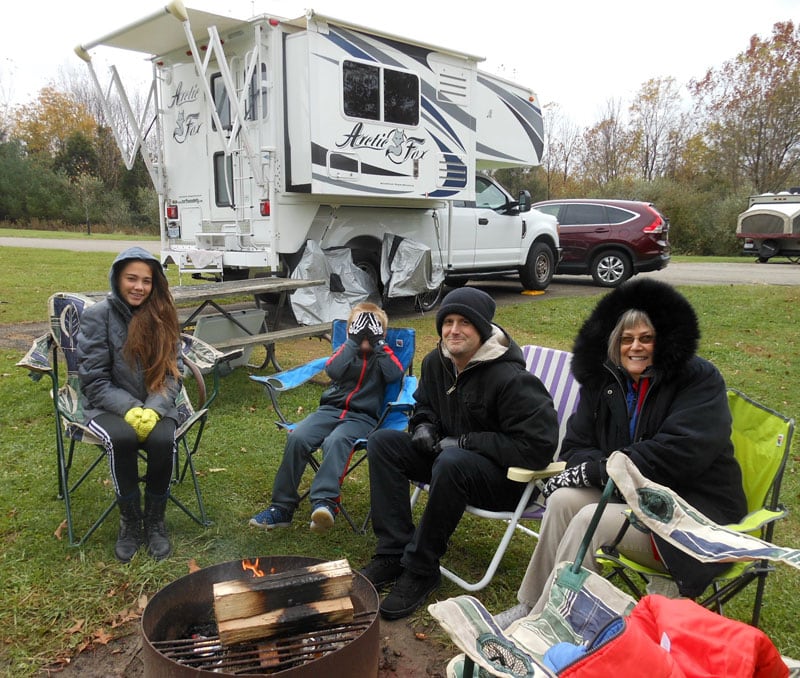 "Camping on Halloween a year ago, we happened to get below-freezing temperatures. So, the planned tent for daddy and 6-year old son/grandson got nixed. In they came to join us along with our 12-year old granddaughter. She slept in the bunk over the dinette, while daddy and son shared the dinette bed.
Everyone slept great except poor daddy who was nudged and prodded all night by his restless kid." – Ken Mercurio, 2017 Ford F-350, 2016 Arctic Fox 811
"We were given an older style camper that has lots of life left in it. We are a family of five; two teenage girls and a Weimaraner. We stay in the camper during the summer months when we go to swim meets.
The only time it becomes a problem is when it rains because there is not enough room for everyone to get ready at the same time. We love the freedom our camper provides us." – Michael and Teena Kloth, 2003 Ford F-350, 1980s Six Pac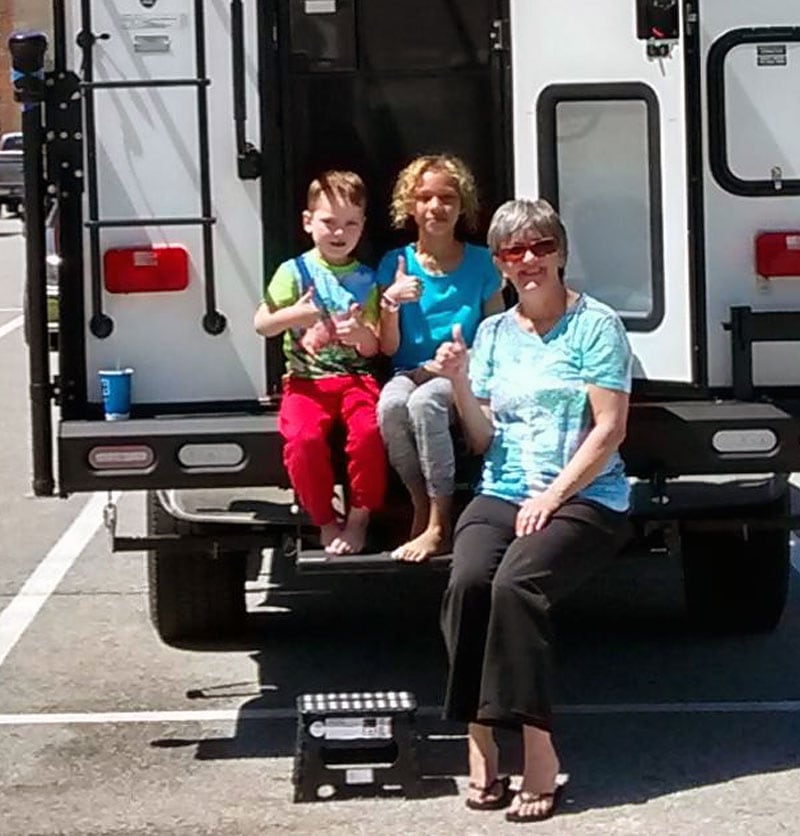 "We usually have five including three grandchildren. It's usually camping for a week or so. No one sleeps on the floor and it can get pretty stressful except by the fire, where it's usually only me and a couple of cold ones." – Howard Bisco, 2015 Ford F250, 2014 Palomino HS-6601
"My wife, Joyce, and I and our cat are our normal road configuration. We have added my brother, sister-in-law, grandson, and granddaughter one at a time for up to two weeks. With a regular cab truck, we are limited by truck seating more than camper capacity." – Mark Harrison, 2005 Dodge 2500, 2017 Northern Lite 10-2 EX CD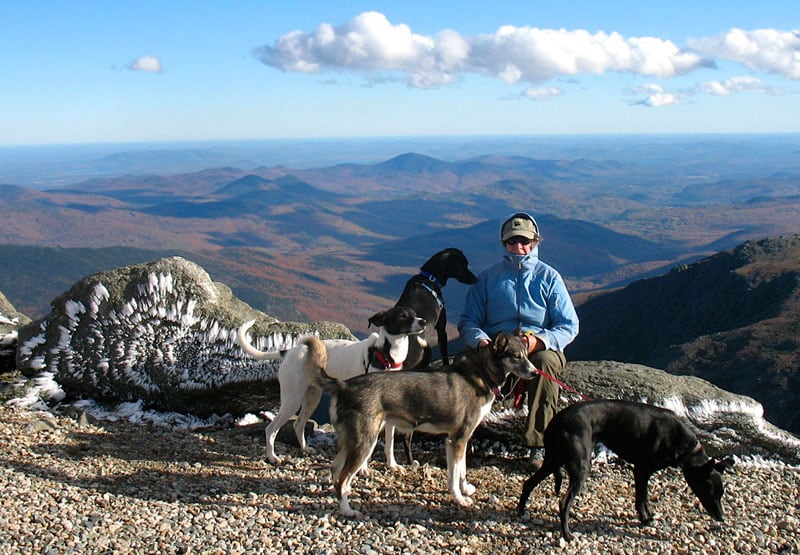 "I started with two dogs, and now there are four on my team. We travel to out of state mushing clinics, trade shows, and training camp outs. No need to travel in winter because I get up to 300-inches of snow locally. Wet conditions make it tougher to keep the grit outside." – Barb Hartman, 2015 Silverado 2500, 2006 Travel Lite 890SBRX
"Six members of a much bigger cultural dance group of 15-members wanted to go camping up near the Chilliwack River, British Columbia. It was a delightful day of hiking, dinners, and great discussions.
With the fire put out, there were five guys and the one lady who wanted to sleep on the roof. With only enough room inside the camper for four adults, one fellow slept on the truck's fold-down back bench. Everyone was comfortable for the lights out.
At 5:30am the next morning, the camper seemed to be swaying. I had forgot to set the jacks down. The lady was an early riser, wanted to see the beautiful sunrise. She decided to prepare for the day and was brushing her long hair, which caused the camper to sway, that definitely woke all the guys up." – Vic Smith, 1981 Ford F250, 1981 Vanguard 810SW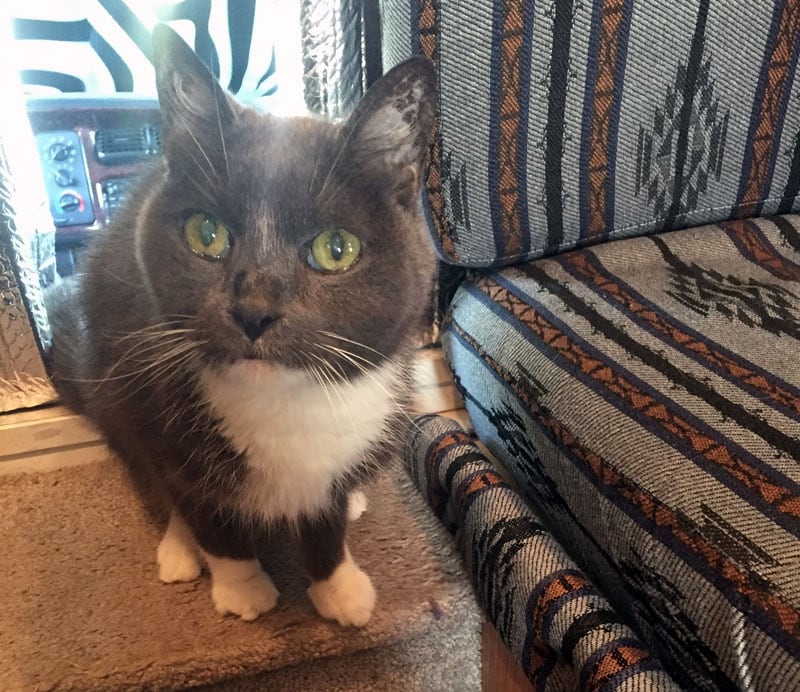 "In March of 2016, a friend that I had not seen in 28-years drove to my place in Arizona from extreme northern California. We did a cross-country trip with my cat to visit another friend I not seen in 28 to 30 years. From there we drove straight to Kentucky. We avoided the interstate as much as possible.
One of the highlights was The National Museum of the U.S. Air Force at Wright-Patterson Air Force Base near Dayton, Ohio. This was of particular interest to us since we served together in the Coast Guard and both were a part of aviation.
For the grand finale, I drove him out to my favorite location on the north rim of the Grand Canyon which shall remain undisclosed. He was blown away by the scenery." – Wanda Myers, 1999 Dodge Ram 2500, 2003 Hallmark Cuchara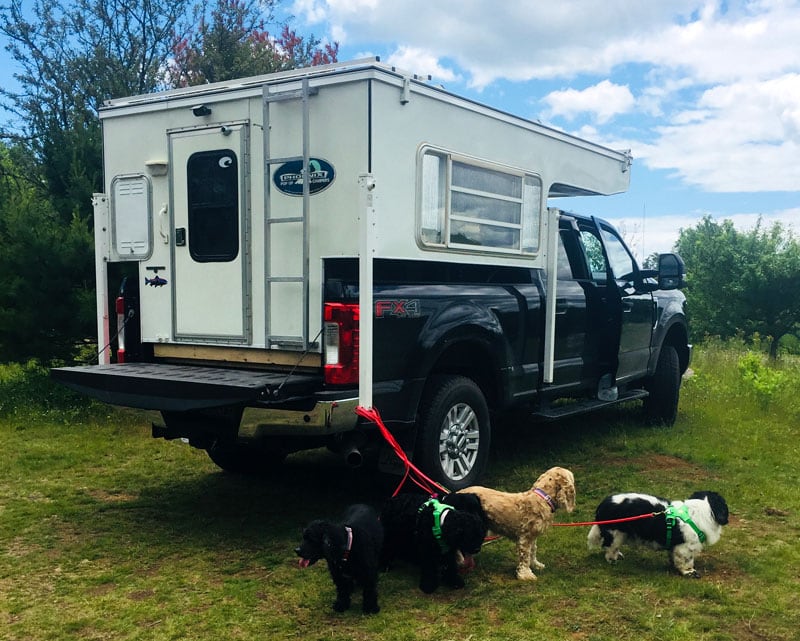 "Two humans and five dogs went from Vermont to Florida for two weeks. We also went from Vermont to Maine for five days. We've since upgraded to a Northstar since we now have a cat!" – Amy Merritt, 2017 Ford F350, 2007 Phoenix pop-up
"We have had our two grandsons, ages 8 1/2 and 11, plus two dogs stay in our camper. We went on a trip to Azouzetta Lake in the Rocky Mountains, Pine Pass, and British Columbia. It was a wonderful time to spend together in this amazing and natural setting. Everyone had a good time! It took some organizing with the extra pack sacks, toys, and equipment, but we managed without any issues.
Another time my daughter and her son stayed with us for four days. She has a lot of clothes. To avoid over stuffing our camper she put the suitcase in the truck. She just took out what she needed for the next day. Everyone was happy!
I always say to people who comment on the small space that we have the biggest living room outside. Our camper provides a place to sleep, cook, and eat. We use it to its potential." – Hilda Burbee, 2013 Adventurer 980 RDS
"It's two adults, one 25-pound dog and sometimes our ten year old grandson. We never want anymore than that. I had large campers and hated when we had any extra people." – Bonnie Bertel, 2015 Chevy 3500, 2016 Lance 1172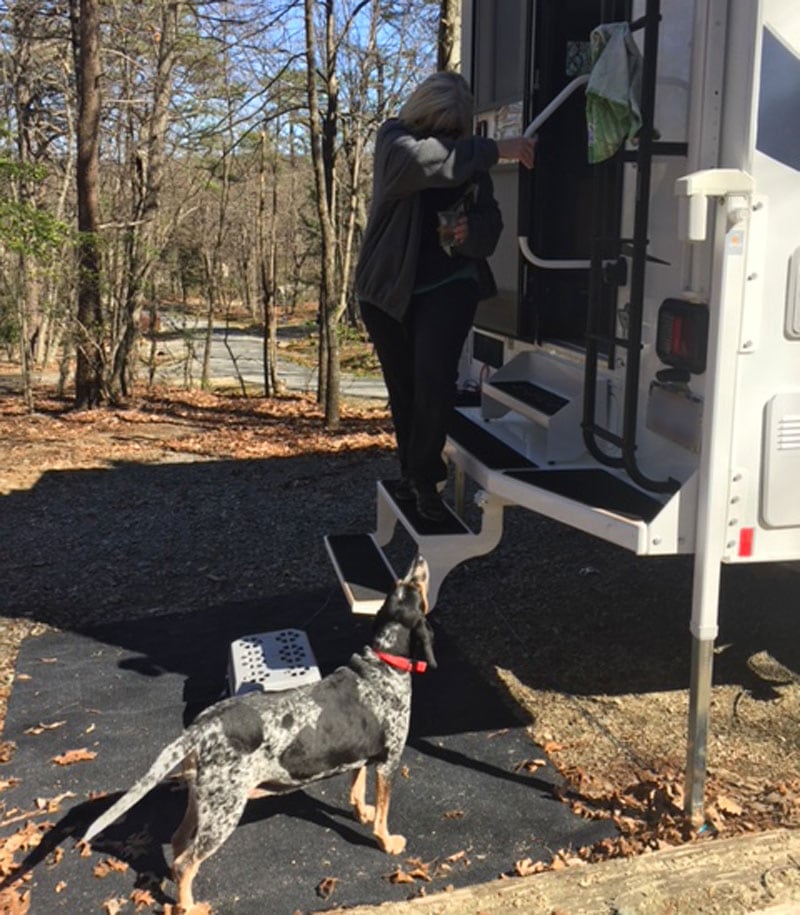 "My wife and I routinely camp with our Bluetick hound, Annie. Like any good dog, Annie would sleep at the dinette while we were in the California King in the overcab. That lasted two nights. Annie is now the first to claim a spot in the bed.
We've picked up our two older grandkids, 8 and 5, and all piled into the camper for up to two nights at a time. At that point I find that sleeping in the drop-down bunk provides much more comfort. Even a king bed is too small for four people and a dog.
We thought the kids would use the bunk but, when the older one teasingly threatened to squish his sister by raising the bunk, that was it for her. Whatever. It's now my refuge." – Randy Smith, 2017 Ram 3500, 2017 Adventurer 910DB
"In 1975, we were transferred by the Coast Guard to the Jersey Shore in the middle of summer. Dad bought an 8 -foot truck camper shortly before we moved and it was a good thing he did. We spent 60-days living in the camper in the station parking lot; two adults, two kids and the dog. Grandma even came to visit for a couple of weeks.
How did it go? It went okay. My brother and I had a ball and grandma thought it was the best vacation ever, but I noticed the camper got sold soon after we found a place to live. Too much of a good thing?
Since then, Dad has had three truck campers and I currently have a 1995 Coachmen Ranger, so I guess I wasn't scarred too deeply." – Don Wankel, 1996 Ram 3500, 1995 Coachmen Ranger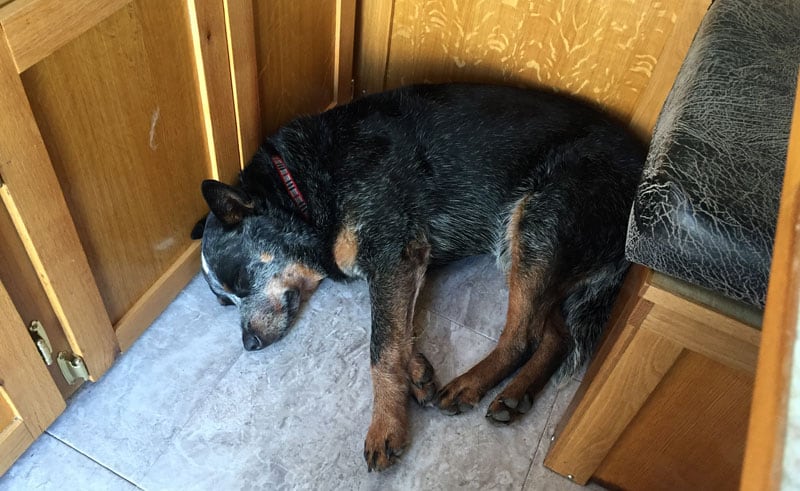 "There are only two people and one Blue Heeler in our Four Wheel Camper. We had two people and two black labs in the previous Four Wheel Camper. That was too much dog.
When we lost Sammy and Maude to old age, we looked for another active but smaller breed that fit into the camper better. Kiah, the Blue Heeler, has learned to stay at the front of the camper when I am cooking, but can lay next to the door otherwise. However, the best place for two people and a dog is outside.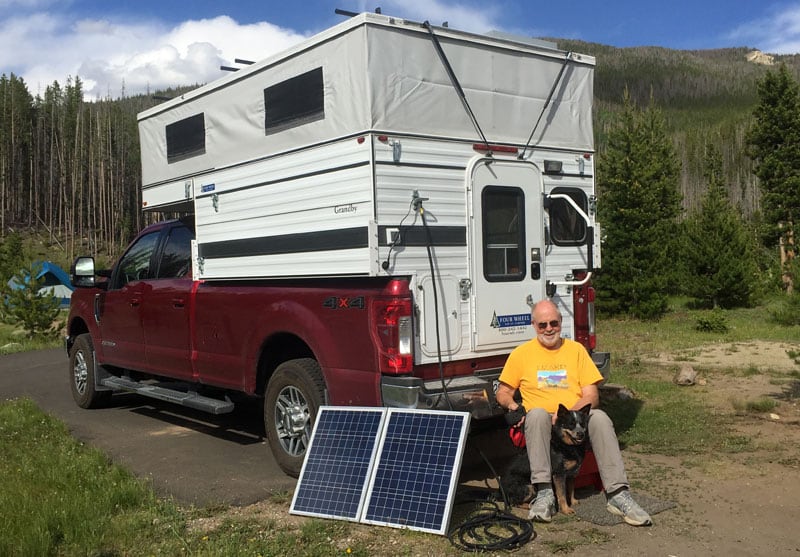 The real reason we have a truck camper that can go nearly anywhere." – Laurel and Howard Wilson, 2018 Ford F350, 2016 Four Wheel Granby Shell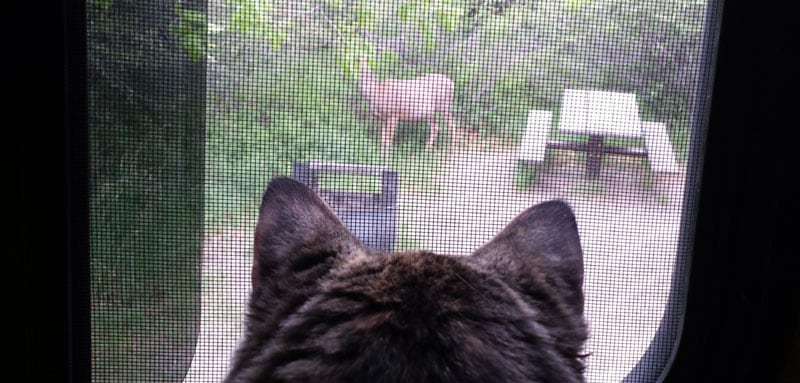 "Our cat, Derby, has traveled cross-country and all across Canada with us two times! She's a trooper. She sleeps as we travel along and has fun all night looking out the windows seeing things we don't see.
She loved the gulls and other birds as we beach camped. She was fascinated by the bears in Jasper. The above photo is of her checking out a Mule Deer in Black Canyon of the Gunnison." – Tony Polvino, 2016 Ford F-150, 2016 Travel Lite 770
"We have four adults and one small dog. No one was sleeping outside in bear country. It was a little cozy, but it worked out just fine." – Roy Oostdyk, 2007 Chevy 2500, 2004 Lance 920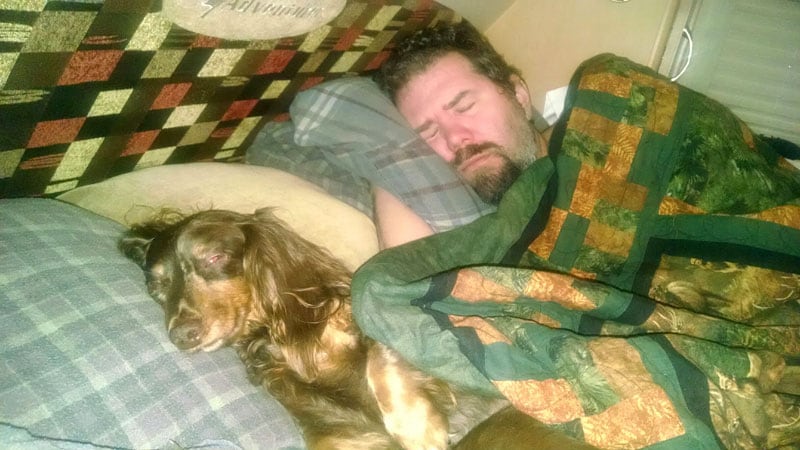 "Most of our travels are with two adults (some question who is the adult though), one preteen kid, and five dachshunds. Yes, five dachshunds!
Why? Well, that is just how we roll. The five dachshunds are all from rescues. The preteen came around the more usual way. We did not find him at a shelter or anything. So, yes we make it work and really, it is not a problem at all.
During colder months our son sleeps in the camper at the dinette table area. It makes into a plenty big enough sleeping area. When it is summer he usually sleeps in a tent next to the camper.
The dogs all sleep in the cabover. Anyone who has dachshunds knows that it is a, "good luck on getting them to not sleep in the bed" kind of deal. I have some funny stories." – Rich Bain, 2004 Dodge 3500, 2010 Adventurer 810WS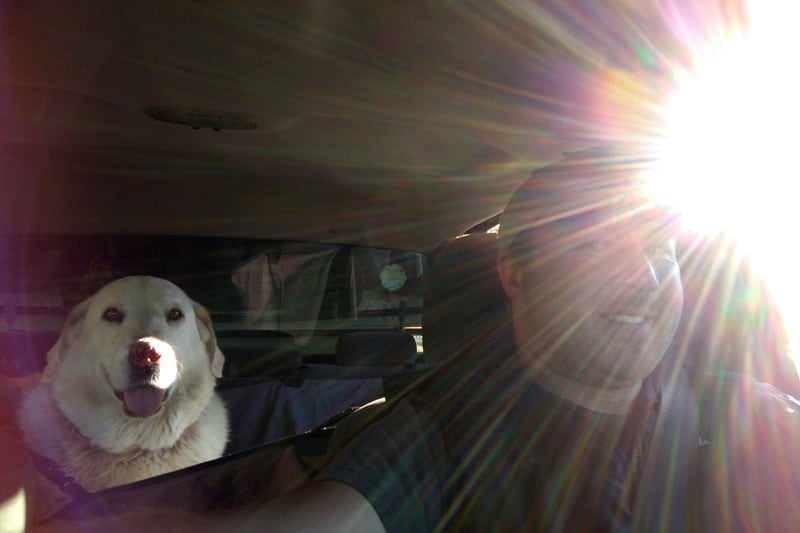 "I am a single guy, so usually it's just me and my dog. I have only had my Apex a few months. The last medic contract I worked was me and another medic who is 6'4". The weekend prior to that I took a friend and her daughter to the coast for a long weekend.
So far the maximum number of people I have had in it is three sleeping. And that does not even include the slide-out bunk or floor space! The dog is a Great Pyrenees that is 110-pounds. He loves when the camper is on the truck and gets right in the back seat." – Jordan Pawley, 2004 Chevy 2500, 2007 Outfitter Apex 8
"I don't remember the situation, but we had four or five adults and four or five dogs (two of them were Greyhounds) one night. It was a rough night with not much sleep." – Ron Williams, 1997 Ford F-250, 2003 Lance 1010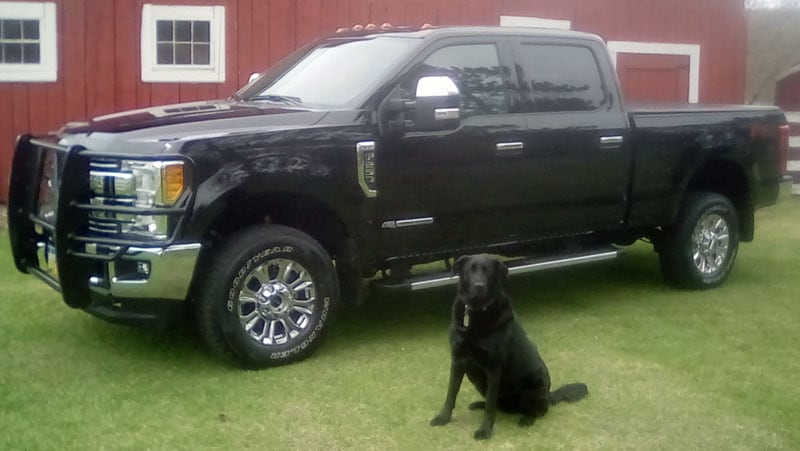 "It's just me, my wife, and our 105-pound black Lab, Piper. We camped from Northern Michigan to and from and all over Alaska. We never stayed in a campground. We love our SS-550." – Bryce Barnes, 2017 Ford F-250, 2017 Palomino SS-550
"We travel with two adults, two teenage (13 and 15) kids and two 50-pound Australian Shepards." – Eric Beatty, 1997 Ford F350, 2005 Lance 1181
"We camped cross-country in our camper shell (not camper) with three dogs. Two slept outside in crates and one was under the truck." – Cathie Leslie
"It's me and my father or me and my dog." – Glen Dougherty, 2015 Ford F350, 2016 Northern Lite 10.2 EX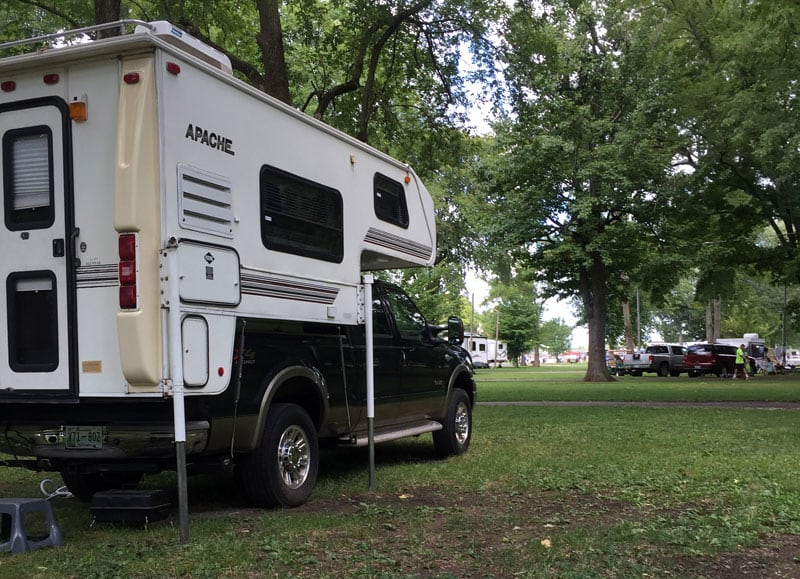 "We have two adults, two elementary aged children and an eighty pound pooch, so we are full! We have always made it work. During the day, we are usually outside, hiking, fishing, etc. We only go inside to prepare meals, cool off, change clothing or sleep. We try to stay busy throughout the day to ensure that no one is getting cabin fever.
We used the camper when our air conditioning unit went out of our home and it was 90 degrees upstairs. It was a lifesaver!
I'm planning on upgrading my truck and camper to a larger camper with slides. The extra room and a bunk would be amazing with our children (especially on those rainy, dreary days). I'll surely miss the ease of use with this 8.6 camper." – Richard Baumgardner, 2005 Ford F-350, 2002 Sun Valley Apache 8.6