As I worked on an article for an upcoming 2019 manufacturer update yesterday afternoon, Angela sat across the dinette saying, "Awww!", and then laughing, and then, "Oh sooooo cute!"  This seriously went on for the better part of an hour.
I wish I could report that she was reacting the devastatingly handsome husband before her, but that was not the case.  She was opening the responses and photographs from this week's Question of the Week, "How many people, including pets, have you camped with overnight in your truck camper?"
Some of the following stories are definitely laugh out loud funny.  Others are cautionary tales (or should that be tails?).  The lesson here is two fold; (a) truck campers can sleep upwards of five or six people with as many pets, and (b) that is definitely not a preferable situation – at least not long term.  Prepare to be awww-ed.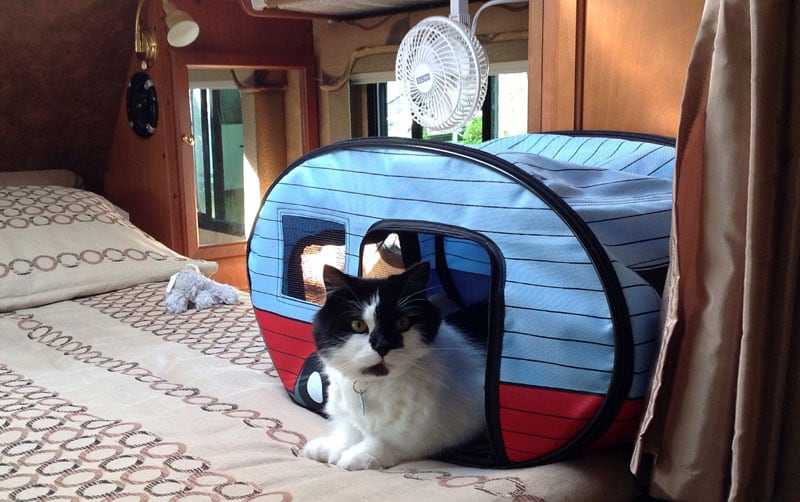 "Since 2012, my wife and I have been traveling about six months each year. We are from Montreal, Canada and are what you call snowbirds. We always travel with our cat, Mitaine, who is at home in our camper and in our truck when we are on the road.
Up until now, we have visited eastern Canada, California, Texas, Arizona, Utah, Florida and most of the US East Coast. This year, our destination is Puerto Vallarta in Mexico." – Michel and Renee Villeneuve, 2012 GMC 3500, 2012 Lance 1050S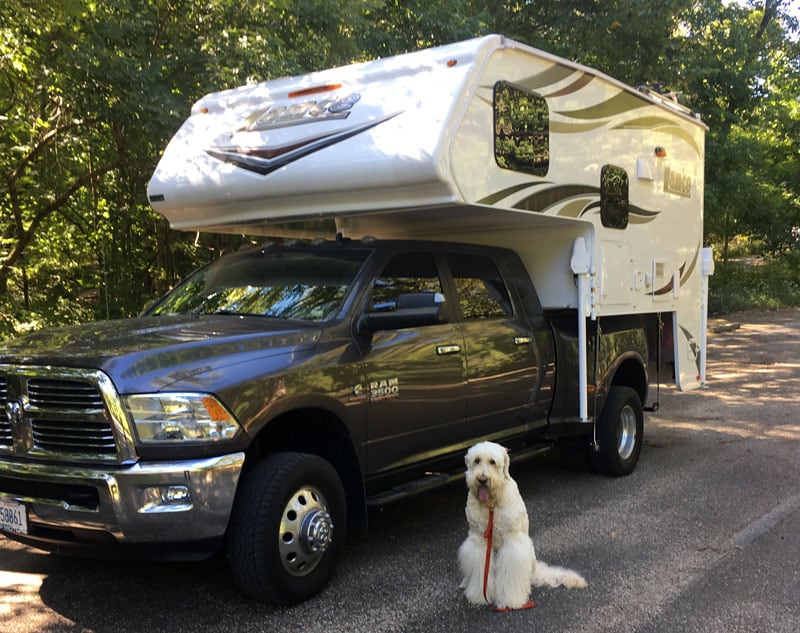 "It's two of us plus a very large Golden Doodle named Max. It has worked out pretty well, but he takes up most of the floor." – Jeff Barrett, 2015 Ram 3500, 2018 Lance 855s
"In our old Traveleeze camper (11-foot cab over) we had four adults, one ten year old, a 60-pound dog, and a dog crate. My wife, son, dog and I were on our way to Fairbanks three days before Thanksgiving. We got off the ferry in Haines, Alaska.
Just before we reached the Canadian border there were slide offs in front and behind us, so we could not go in either direction. It was about 9:30pm, snowing and cold. We took in two total strangers, fed them and gave them a place to sleep for the night. Our camper was a lot warmer than a car or pickup would have been.
Word to the wise; stay in Haines if you get there after sunset and it's snowing. It's much better to travel in daylight." – Dave Erickson, 2011 Ford F350, 2006 Arctic Fox 990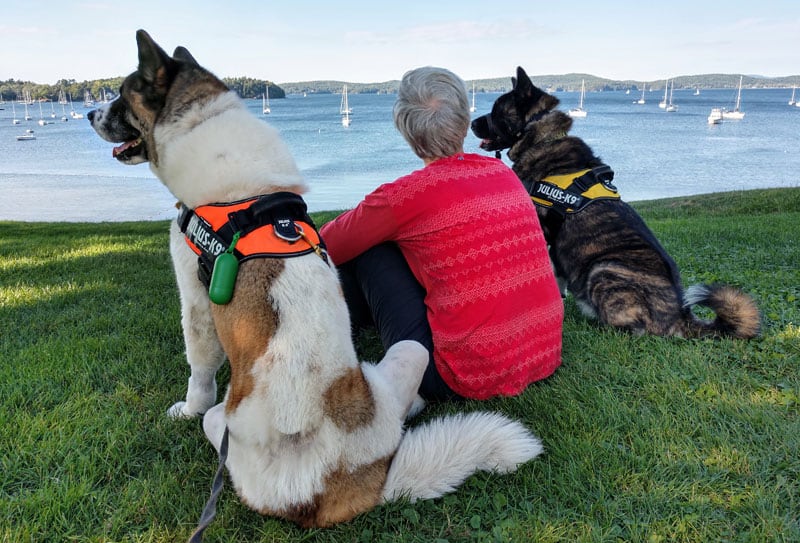 "My wife and I, along with our two Akita dogs, travel full-time in our Eagle Cap truck camper. The photo above is near our current site in Malletts Bay Campground in Colchester, Vermont." – Bruce Bowens, 2015 Ram 3500, 2017 Eagle Cap 1165
"We have a total of six people; two adults (wife and I), and our four children (ages 6 to 13). It's usually for a maximum of five days and typically for a weekend. Why? It is our preferred camping method. I always say it is much better then tenting!
We started of with a Bronco 1200 pop-up truck camper. At that time it was only two kids who were two and four years old. Then it progressed to an 2005 Adventurer 810WS and then a 2009 Lance 861. Now we have a 2016 Lance 1050S.
Truck campers are the best! They are compact, go anywhere and park anywhere. Plus, we always have a washroom which is great with young children, especially for beach excursions." – Dave Balcom, 2016 Ford F-350, 2016 Lance 1050S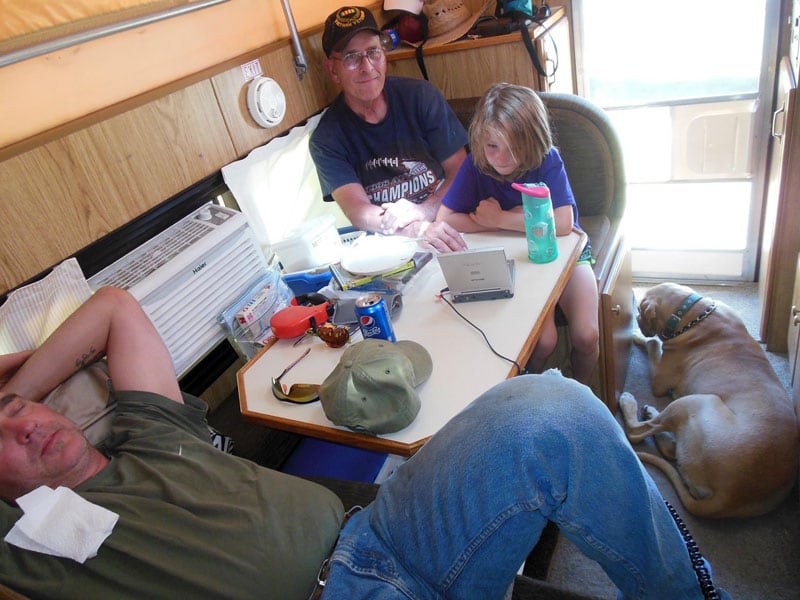 "Even though Les and I were originally the only people in our pop-up, soon the bugs and heat caused my son, granddaughter, and the 90-pound Mastidor to come knocking and beg to migrate into our 8-foot camper. They were set up and camping near us in their tent.
Above is a daytime picture of the impromptu gathering. It all went well even though it was a bit cramped. My camper sleeps four, two comfortably on the bed and two uncomfortably on the convertible eating area bed.
The dog didn't voice her opinion about sleeping on the floor. Ya gotta do what ya gotta do. I just kept telling myself, "This, too, will pass… It's only temporary." – Jan Hill, 2002 Chevy Silverado 2500, 1993 Litecraft pop-up