28 readers reveal exactly how they stay healthy on the road.  Here are their favorite healthy foods, portable exercise habits, and tips and tricks to keep healthy while truck camping.
Thank you to everyone who shared their personal diet and exercise routines.  Some folks might find that to be personal information, but what an amazing thing to share with our vibrant community.  If you inspire a few folks to eat better and get more active (including yours truly), they may not only go truck camping more, but live longer.  Thank you!
Angela and I definitely took notes from your suggestions.  I particularly like the idea of resistance bands.  They weigh very little, take up minimal space, and could be used inside the camper.  We also like the idea of always taking a hike after dinner.  Great ideas, folks!
This week's Question of the Week was, "How do you stay healthy on the road?"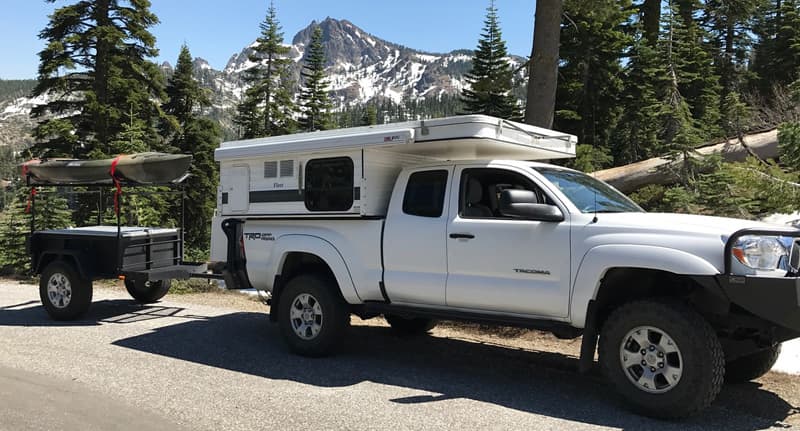 Above: This is one Mike's go to hiking and kayaking destinations in the Lost Sierra, Lakes Basin area in California.  They keep their mountain bikes and extra gear in the Morris Mule Trail Grade trailer.
"We haul a small Morris Mule trailer that's loaded up with a pair of lightweight kayaks and folding mountain bikes.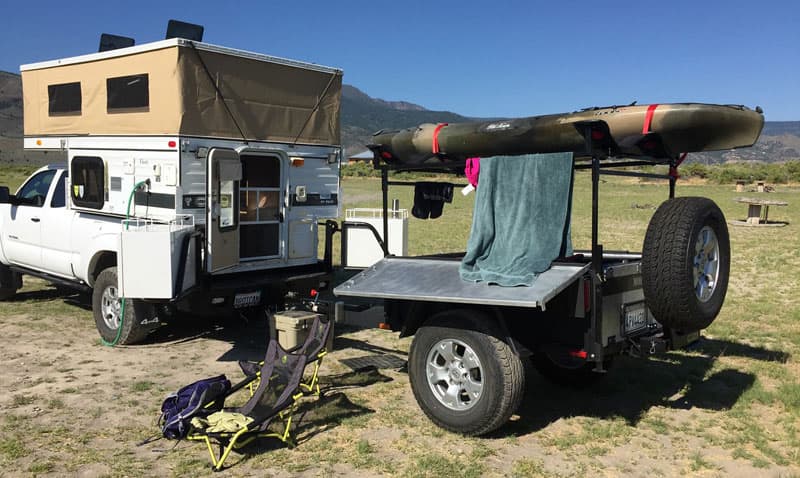 Above: Camping in the eastern Oregon "Outback" at Summer Lake Hot Springs.  It's a fantastic hiking, birding, soaking, yoga, floating and mountain biking destination!
Whenever we camp, we like to hit the trail or put them into the water to get our exercise.  We also have destinations in mind with hiking trails and walk regularly.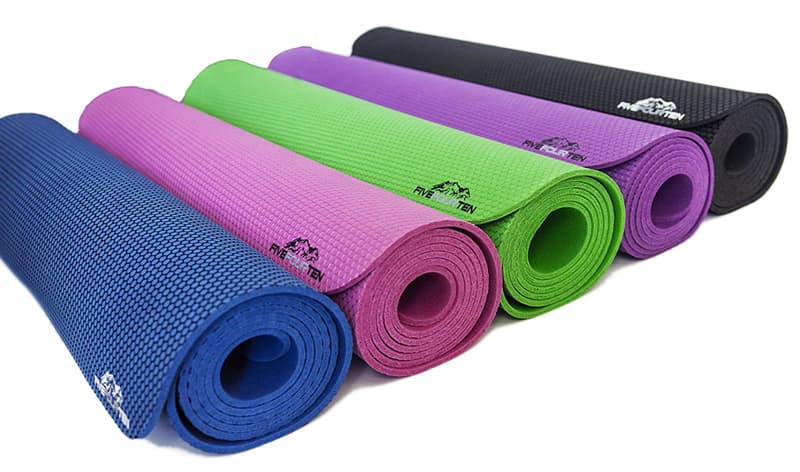 I like to limit driving to four hours or less a day leaving more time to play outdoors.  We always bring along yoga mats for stretching in scenic locations, visit hot springs to soak and relax, and eat fresh foods as much as possible." – Mike Hamilton, 2014 Toyota Tacoma, 2014 Four Wheel Camper Fleet
"We are in our late sixties and have some of the common maladies associated with pre-retirement desk jobs like some overweight, high blood pressure and pre-diabetic diagnoses.
We retired, got into truck camping, got a dog which requires walking, bought some trekking poles, and went on a mostly plant based diet of "beans and greens" with some low fat dairy, some egg whites and veggies, and a small serving of grilled chicken or salmon once a week each.
We hike, do yard work, and have joined Planet Fitness because there are so many of them available when we travel.  When there is no gym near the campground, we have bodyweight exercises that can be done with no equipment.
If there is a handy tree limb, that's a pull-up bar.  I (John) am even considering getting certified as a trainer and working with seniors as a specialty, part-time, of course.
The doctor has not mentioned the diabetes in a couple of years and has reduced the blood pressure medication.  Our weight is down to a more suitable level.  Oh, and we mostly fix our own meals on the road.  That's pretty much it!" – John and Terri Tully, 2014 Ram 3500, 2015 Lance 855S

"Dorothy and I are both 66, are Masters Swimmers, and swim regularly as part of our full-time truck camper lifestyle.
We are YMCA members and our membership is almost always honored across the country.  We use their fitness facilities and pools.  There are also Masters Swim teams in most larger communities and we often drop in for a workout.