28 readers reveal exactly how they stay healthy on the road.  Here are their favorite healthy foods, portable exercise habits, and tips and tricks to keep healthy while truck camping.
Thank you to everyone who shared their personal diet and exercise routines.  Some folks might find that to be personal information, but what an amazing thing to share with our vibrant community.  If you inspire a few folks to eat better and get more active (including yours truly), they may not only go truck camping more, but live longer.  Thank you!
Angela and I definitely took notes from your suggestions.  I particularly like the idea of resistance bands.  They weigh very little, take up minimal space, and could be used inside the camper.  We also like the idea of always taking a hike after dinner.  Great ideas, folks!
This week's Question of the Week was, "How do you stay healthy on the road?"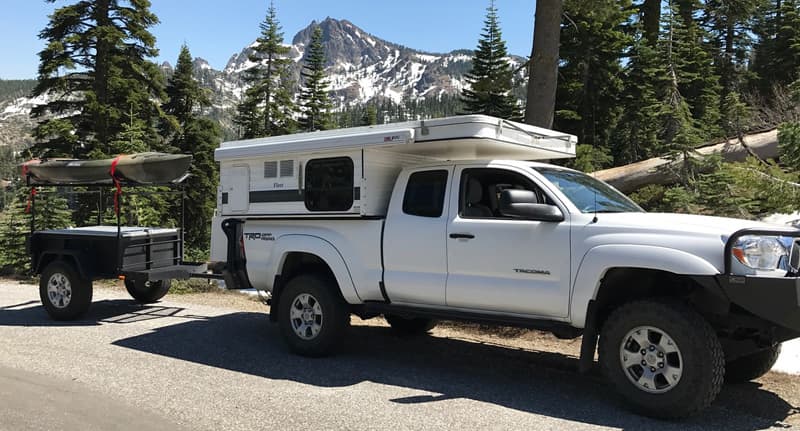 Above: This is one Mike's go to hiking and kayaking destinations in the Lost Sierra, Lakes Basin area in California.  They keep their mountain bikes and extra gear in the Morris Mule Trail Grade trailer.
"We haul a small Morris Mule trailer that's loaded up with a pair of lightweight kayaks and folding mountain bikes.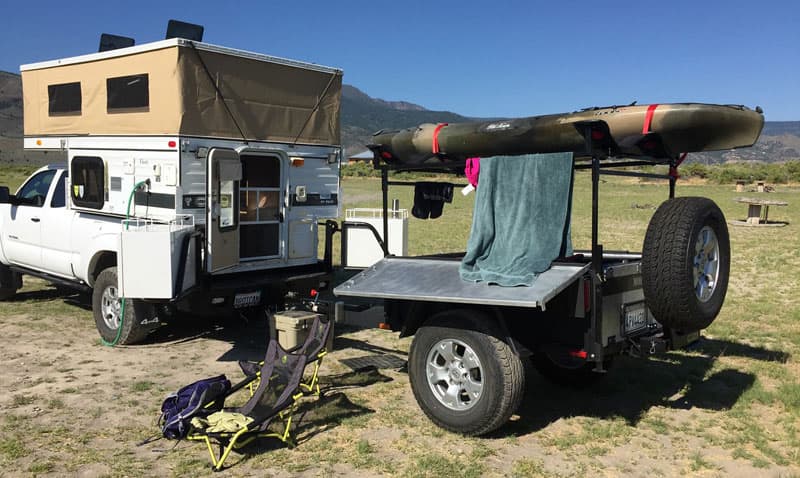 Above: Camping in the eastern Oregon "Outback" at Summer Lake Hot Springs.  It's a fantastic hiking, birding, soaking, yoga, floating and mountain biking destination!
Whenever we camp, we like to hit the trail or put them into the water to get our exercise.  We also have destinations in mind with hiking trails and walk regularly.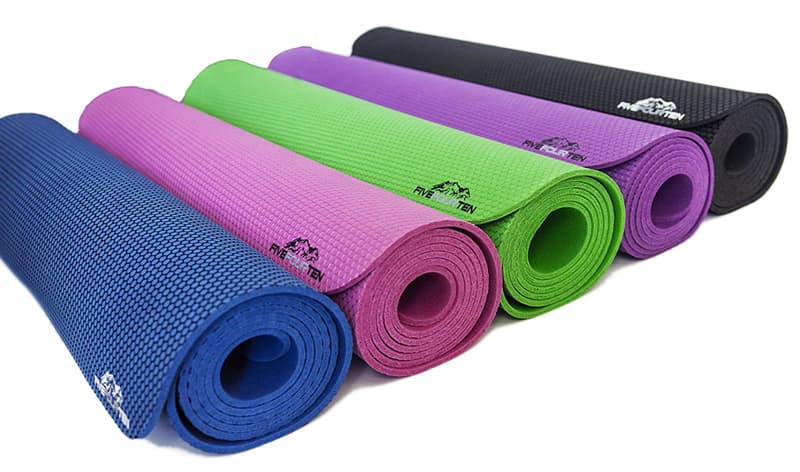 I like to limit driving to four hours or less a day leaving more time to play outdoors.  We always bring along yoga mats for stretching in scenic locations, visit hot springs to soak and relax, and eat fresh foods as much as possible." – Mike Hamilton, 2014 Toyota Tacoma, 2014 Four Wheel Camper Fleet
"We are in our late sixties and have some of the common maladies associated with pre-retirement desk jobs like some overweight, high blood pressure and pre-diabetic diagnoses.
We retired, got into truck camping, got a dog which requires walking, bought some trekking poles, and went on a mostly plant based diet of "beans and greens" with some low fat dairy, some egg whites and veggies, and a small serving of grilled chicken or salmon once a week each.
We hike, do yard work, and have joined Planet Fitness because there are so many of them available when we travel.  When there is no gym near the campground, we have bodyweight exercises that can be done with no equipment.
If there is a handy tree limb, that's a pull-up bar.  I (John) am even considering getting certified as a trainer and working with seniors as a specialty, part-time, of course.
The doctor has not mentioned the diabetes in a couple of years and has reduced the blood pressure medication.  Our weight is down to a more suitable level.  Oh, and we mostly fix our own meals on the road.  That's pretty much it!" – John and Terri Tully, 2014 Ram 3500, 2015 Lance 855S

"Dorothy and I are both 66, are Masters Swimmers, and swim regularly as part of our full-time truck camper lifestyle.
We are YMCA members and our membership is almost always honored across the country.  We use their fitness facilities and pools.  There are also Masters Swim teams in most larger communities and we often drop in for a workout.
We will sometimes compete while on the road.  This year we swam meets in Texas and Alabama.  We hope to swim some open water swims this summer and we will swim at campsites.
We also take our Trek bicycles along as well and our new Sea Eagle 385 inflatable double kayak.  The bicycles are carried either on our ladder rack or inside the camper.  Our inflatable is in the back seat area of our crew cab.  We also hike whenever we get the opportunity and our aging knees allow.
We try to eat well while on the road and frequent local farmers markets and farm stands whenever possible.  Our diet is fairly simple and we often freeze prepared meals in plastic zip-locks in our freezer (we got this tip from an article in TCM).
Breakfast and lunch are simple affairs of yogurt, granola, fruits, vegetables, cheese, hummus and other items that don't require cooking.  Dinners can be our prepared frozen meals, pasta, egg white omelets, salads with chicken and fish on top or eating out in a restaurant.  When we do eat out we try to pick healthy items on the menus.  We have found supermarkets that will steam fish for no extra charge." – Stephen Paushter, Ram 3500, Northstar 8.5 Arrow U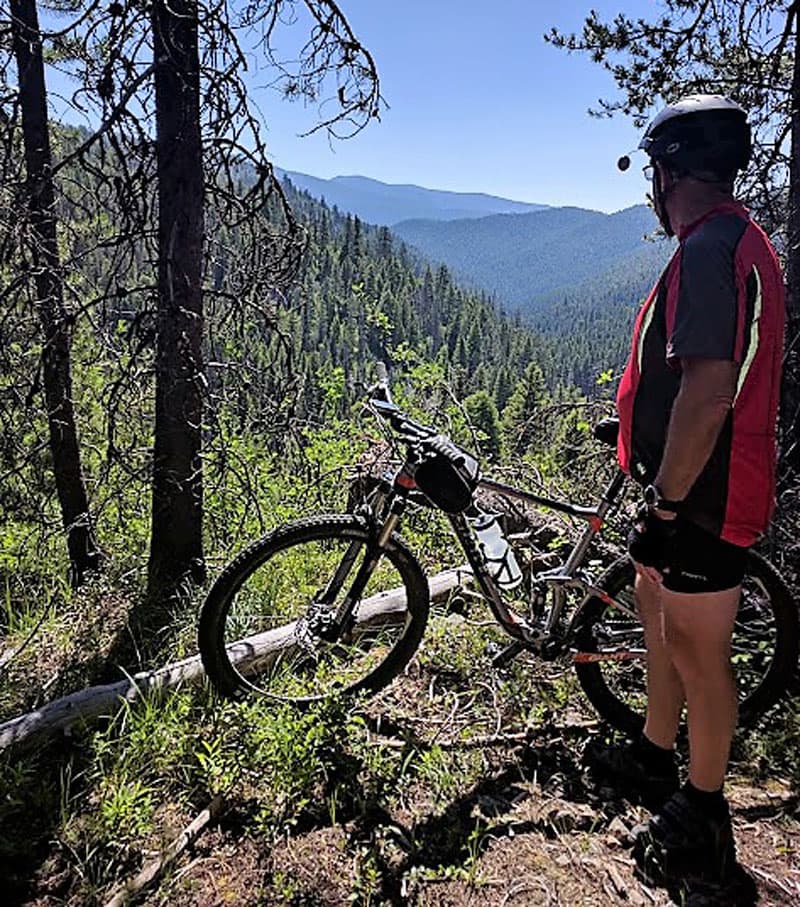 "Yes, we eat healthy on the road, much as we do at home.  With an oven, a microwave, and a refrigerator, we largely duplicate home cooking.
Eating out is problematic because we go gluten free as much as possible (my memory and concentration keeps improving year by year) and almost every restaurant wraps the majority of their food in wheat products.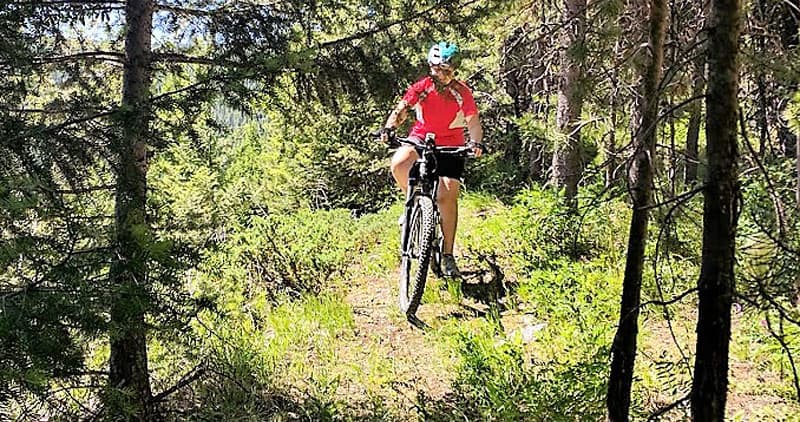 Much of our camping is using the camper for a staging platform for bicycling.  We have very good mountain bikes with tubeless tires which are at home in rugged terrain (our favorite) and quite good on pavement.
We can carry the bikes on a bike rack but, with our various activities, pulling a small box trailer for our gear is the usual mode.  Often there is an inflatable kayak in there as well.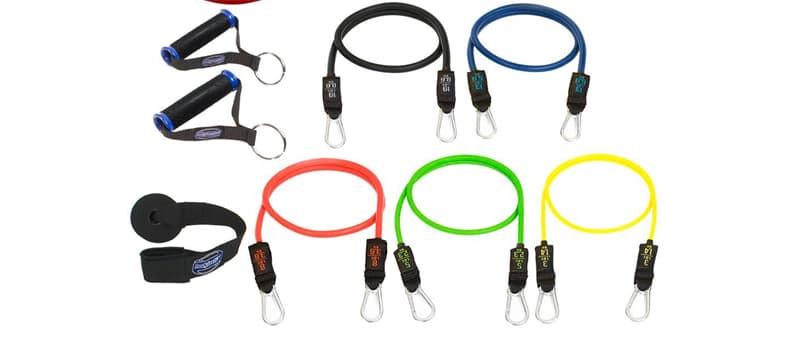 Then there are Bodylastics stretch cords for muscle exercise.  Oh yes, we also hike trails and go for extended vigorous walks.  Our opinion is that truck campers are not for lounging but for a place to get in out of bad weather, eat, clean up, and sleep." – Michael Turner, 2007 Ram 3500, 1988 Rebuilt Lance
"We do a big healthy grocery shopping trip before we leave.  Then, we plan what meals will be out of the camper, and how many will be eaten out.  We budget for eating out so that we can't get lazy and go over budget.  Then we make eating a good meal part of the daily routine.
Exercise comes in the form of public transit, walking, hiking, and carrying a 35 pound child and a backpack.   We also have arm routines and a locomotion movement routine to stay limber and athletic." – Erik Barnhill, 2014 Ram 1500, 2014 Palomino Bronco 1225
"Not that I am a health nut by any means, but I try to at least stick to the routine I have when at home.  I walk 30 to 40 minutes each morning.  I do find it a little more challenging while camping in the mountains compared to the flat land Florida where we live.
As far as diet is concerned, we still try to eat at least as healthy as at home with balanced meals and some fruit everyday.  We do hike many of the trails in the parks we go to as well." – Gary Hughes, 2005 Chevy Silverado 3500, 2015 Lance 1172
"Short answer: we eat healthy and exercise, most of the time.  I'm 69 and spent 44 years as a desk jockey.  When I retired I was 25 pounds overweight and in the obese category.  Now the gym is a regular part of my life.  The pounds are gone along with the terrible effects of trying to reach the top of a moderate trail in Capitol Reef.
I have enjoyed hikes in Joshua Tree National Park, Dripping Springs Mountain in New Mexico, the Great Basin up in Big Cottonwood Canyon, Utah at 8,000 feet, and others.  I enjoyed each of the journeys instead of having them being something to be dreaded and avoided.
On the road I use places on the camper for stretching out and doing modified exercises. We use exercise mats.  My wife likes to turn on her music and do her Zumba routines (usually when we're off-grid) and uses light dumbbells.
A brisk walk, preferably up hill, or some exercise to get the cardio going is routine when we're on the road.  We find the results calming and relaxing.  The rewards include being able to see sights that otherwise would not be physically accessible to us.
Breakfast usually is coffee and yogurt.  Sometimes we have cheesy eggs, chilies, salsa and toast.  Lunch is often a healthy sandwich.
Our dinner is lettuce, shredded cheese, topped with spicy vegetables.  Most of the ingredients are canned vegetables.  Shredded chicken, salsa and salad dressing (not a diet dressing) top it off.  Sometimes we add crushed salsa chips to the mix.
The routine is broken up with the occasional pizza, a frozen casserole, a frozen stir fry, or a healthy meal at a local restaurant.  There usually are cookies or ice cream for her and frozen 15 calorie popsicles for me available.  Our home diet is much the same with more exercise at the gym, but I always manage to lose weight on the road." – Skip Matthies, 2006 Ford F350, 2014 Arctic Fox 990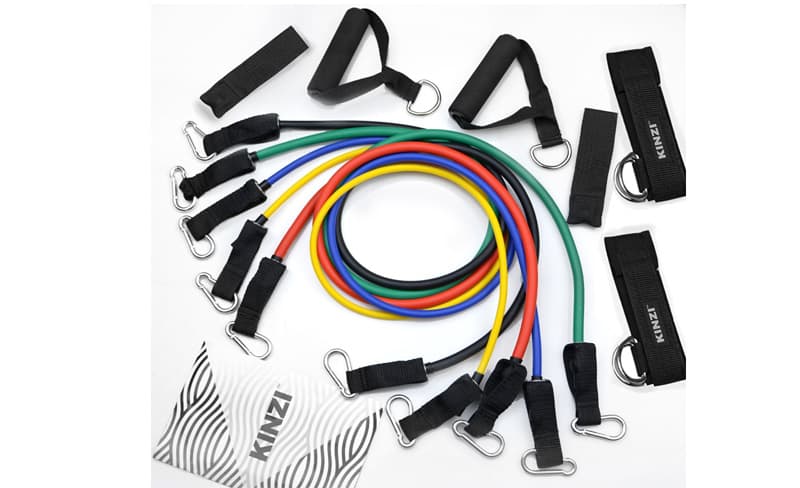 "I am just about to turn 61.  I consider my fitness age about twenty years younger than my birth age.  I have been cycling for the better part of forty years and I can still do 40 mile trips depending on the terrain.
My regimen is cycle one day and then a rest day.  I go on a hike the next day and then another rest day.  It's good to be flexible due to weather.
During this time I work out the upper body using resistance bands encompassing push and pull exercises.  The full routine takes about 45 minutes three to four times a week.  I've been doing this consistently for about two years.  The resistance bands are perfect for truck camper life.
Nutrition is an important factor for me being a vegetarian for 45 years.  Having no refrigeration, I rely on powdered egg whites which is a staple for protein.  I also use a veggie based protein powder as a supplement.  The rest is veggies, fruits, pasta, potatoes, beans and grains.  I only drink water.
The trick to doing all of this is consistency.  It can be done pretty much anywhere you go.  I dry camp full-time, so going to town and loading up on supplies is a must.  It also cuts down on the cost of food versus eating out.  Happy camping!" – Mike Hennon, 1972 Ford F250 Camper Special, 1991 Caribou 9.5
"I'm 60.  On my first six-month solo journey this past winter with four-and-a-half dogs (adopted a pup on way home) in the Southwest, I found great places where the dogs could be off leash and I could wander along with them.
Protracted rainy periods combined with leashed-only camping areas lead to a great deal of sedentary living.  I am busy with mentally active stuff, but that was misleading.  By the time I got home in April (I live in Yukon Territory, Canada) I discovered how badly out of shape I'd become when I discovered how tiring it was to get around in my 30 by 50 foot house!
So, I've made some lifestyle changes that I intend to carry forward to my next trip and in becoming a full-time RVer:
1. Avoid processed foods.
2. Moving towards a vegan diet, still using eggs and fish.
3. Using a bike and adult trike.  I have special spring-loaded devices to attach dog leash(es).
4. More familiarity with accessing BLM and national forest lands and Crown (Canada) lands where the dogs and I can move about freely without bothering anybody.
5. Giving up my tiny towed car for two or three-wheeled pedal power.
6. Have some lightweight exercise equipment that I can use it indoors or out.
Cheers!" – B. Lynne Harris, evil Class C eavesdropper, 1991 Ford Econoline 350
"Truck camping by nature is active and (like living in a remote cabin), it requires effort.
As for diet, my basic plan is for a one week stock-up.  I have fresh food for the first three days and then canned rations for the next three before going to town to resupply." – Chuck Cox, 2005 Ford F150, Ranger Rider Cap
"On our three month trip to Alaska in the spring of 2016, we didn't seem to do anything out of ordinary with diet or exercise.  But, we each lost 10 pounds.  The same thing happened this year when we spent the winter in The Southwest.  I have to attribute this to the beer and wine diet.  It works for us." – Gary Goyette, 2016 GMC 3500HD, 2011 Northern Lite 8-11 SE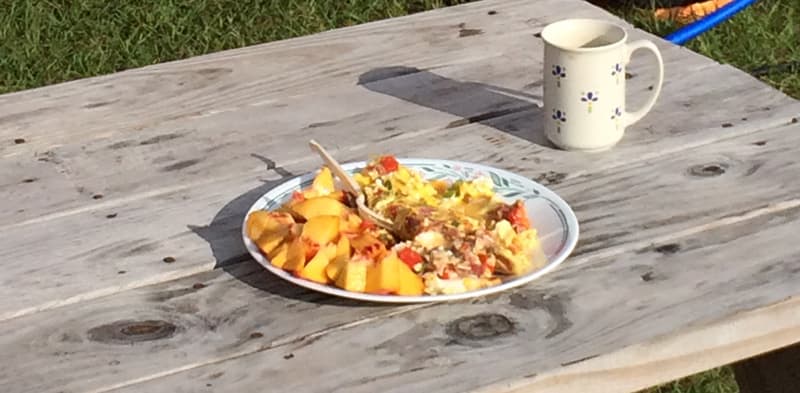 "We take frozen meat (cooked and not cooked), vegetables (fresh and frozen), and eggs.  We stay away from simple carbohydrates (potatoes, rice, bread, and all things wheat.  We basically follow the whole30.com plan as much as possible.  We should return home a pound lighter, and certainly would not expect to gain any weight.
We also take our bikes and usually find a time and a place to ride them." – Fred Patterson, 2013 Ford F350, 202 Lance 1161
"We will start with healthy eating, which seems to work more in the truck camper.  We don't stock much food so that we buy fresh fruits/veggies every three days.  They stay fresh and we eat them to ensure they don't go bad.
We pack whole wheat tortillas for sandwiches and eliminate breads.  For meat, we buy chicken, pork chops, fish and occasionally (to satisfy my beef craving), a steak or sausages.
We try to walk every evening after dinner.  We did that on our last long trip and it worked out really well.  We slept better and felt better.  We eat less fast food and, when we do eat at restaurants, it is a sit-down, take your time, healthy meal.  Also, we cut back on all the junk food snacks, chips, cookies, cakes, etc.  We do cheat sometimes, but mostly we eat healthy." – Mark Dyvig, 2001 Ford F250, 1969 Avion C-11
"It is easier to do stay healthy on the road than when we are at home.  We have no TV in the camper, therefore no snacks." – Rodolfo Tenorio, 2007 Lance 1181
"While traveling my wife and I use disinfectant wipes to clean our hands before we eat and after we handle the menu.  Experts say that is the most bacteria laden item in a restaurant.  Having digestive problems while traveling can take all the enjoyment out of traveling.  Many food items that are consumed are held in a person's hands.  After fueling the truck I wipe my hands off using hand wipes which are stored under the driver's seat.  This removes any fuel residue and cleans your hands since I usually snack while driving between fuel stops." – Gary Gade, 2011 Ford F350, 2014 Lance 1181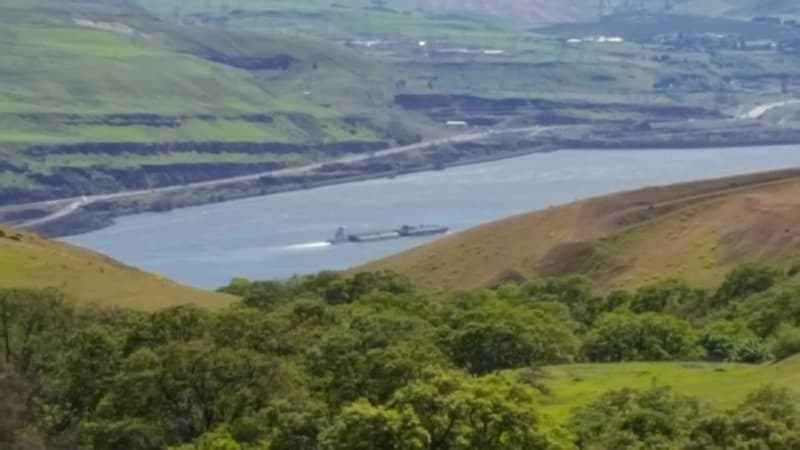 Above: Hiking around the Columbia River Gorge, Oregon
"When we truck camp, we routinely take trail hikes, go stream fishing, take walks around camp, and generally stay active with whatever means seems appropriate.
We bring the clothes, shoes, hydration/backpack, and walking staffs to support an active lifestyle.  We also eat most, if not all meals in camp.  This keeps the unhealthy foods to a minimum.
I don't recall a time when we've been somewhere we couldn't stay active.  In doing so, we experience some areas and sights that are only available by walking to those areas. That's the biggest reason for staying active – to enjoy the beauty that's off the beaten path." – Dave Riddle, Chevrolet 3500, 2017 Host Mammoth
"For exercise, I carry a small walkman (only the new rechargeable gadget is called an MP3 player) with 50 minutes of metered music.  I can march or walk (slow-fast and slow again) each day and not have to think about the pace.
Do you know how much a can or two of fruit weighs?  Or how about taking an empty milk jug that is marked with how much it weighs when filled with water to specific levels?  I've used several different items for hand weights in this fashion, both at home and on the road.
The eating healthy part is a little tougher but easier with the LP refrigerator (no more ice box).  Lettuce, tomatoes, celery, carrots and cheese work pretty well for lunches, but most of the rest of our meals are canned stuff.  You know, eating the hand weights.  I can't wait to see how everyone else does it.  Thanks for letting me share." – Charla Schapfel, 2008 Chevy Silverado, 2008 Lance Sportsman 915
"We walk as much as possible and hike in areas that have trails.  We also workout every other day with a bungee system in the camper." – Dave Barker, 2014 Ram 3500, 2017 Northstar Laredo SC
"This is an issue for me that I have to think about constantly now.  I had gastric bypass in December.  If you are thinking about weight loss surgery, I can't say enough positive things about it.  I've lost 118 pounds so far and am a different person.
I'm 51 and actually feel like I'm healthy again.  I'm active with no foot, ankle, knee, or back pain on a daily basis.  I can walk without getting short of breath.  My blood pressure and cholesterol are normal without having to take any medications.
That being said, the surgery is just a tool to eat less.  I still have to make the right decisions on the menu and I need to exercise.  So what do I do?  Basically the same thing as at home because my truck camper allows me to be home on the road.
Protein is my first and foremost goal.  I eat 100-120 grams of protein a day with 20-40 carbs.  I have chicken, steak, fish (especially sushi grade tuna, yummy and low fat, no carbs, high protein), and Light and Lively yogurt, low fat cottage cheese and chives.
Low carb protein bars and shakes are a must for meals or snacks as well.  These fit in a pocket or pack as well as the passenger's seat of my truck while driving.  What about some crunch?  Peanuts, almonds, cashews or some Quest Protein Chips (sour cream and onion are my favorite).
I drink one gallon of water a day.  I buy the cheap 35 bottle packs at Walmart and throw a generic Crystal light type mix in.
I eat well.  I shop like normal and stay away from fast food and restaurants.  If I eat out I make the same decisions and box up three-quarters of it for left overs.
For exercise, I am not going to carry my weights, squat rack, or bench around the countryside.  Nor am I going to look for a gym to use.  I did buy some exercise bands but I haven't used them yet.  I like the idea of these and will work them in for my next trip.
Basically, I just stay active while I'm away.  Walking is a huge part of this.  I park at the end of whatever lot I'm in.  I walk around the area or hike.  The campgrounds are great places to walk with low traffic and usually dirt roads which are better for your legs than walking on pavement.
At the end of May we went to Disney for a week.  We walked a lot in the main parks as everyone does, but I also walked 45 minutes to an hour every morning and or night around Fort Wilderness as well.  We ate out twice in that week and otherwise ate at the camper or took stuff with us.  I may be the only human to spend a week at Disney and still lose five pounds.
Experts say we need eight hours of sleep a night.  That's pretty rare for me, but I do try for six to seven every night.
Thankfully, I have never been much of a drinker.  I don't drink at all now because of my diet choices but a beer, wine cooler, or whiskey a night is okay.  Four or more drinks will certainly undo any good food or activity choices someone makes in a day.
This is my life now and is the same at home or in the camper.  I am extremely happy with it.  37 pounds left to go." – Kevin Jenckes, 1996 Ford F250, 2005 Lance 820
"I live in rural Utah, which is not known for good restaurants or fancy grocery stores.  What I eat at home is mostly cooked from scratch.  I often freeze a few extra portions for later, and those can keep me going for several days on the road along with some fruit, vegetables, and a few extras.  The goal is to avoid the default road trip diet of fast food, sandwiches, and pizza.  I call those hunger aspirins.
As for exercise, the point of travel is to experience somewhere new.  Some kind of daily walk or hike is pretty much mandatory.  My main health concern on summer trips is to avoid mosquito bites, which cause me to swell up in huge, hot itchy blistered lumps that can ruin any trip.  I go armed with insect repellent, plus Benadryl cream and large band-aids to quell any bites that get through." – Christine Dyer, 2012 Chevy Silverado 1500, 2016 Four Wheel Camper Hawk shell
"We try to live a vigorous lifestyle with long walks and a diet that is well suited to both our tastes and our bodies.  No junk foods, fast foods or prepackaged microwave foods – except popcorn!  We prepare all our own meals unless we're eating barbecue in the Carolinas, boudin and catfish in Louisiana, brisket in Texas, and fry bread and Mexican in Arizona.
We've discovered a little exercise goes a long way.  We try to walk at least two miles every day.  No more extended strenuous hikes, but plenty of walks.  We're outdoors as much as possible.  We get plenty of sleep and breathe deep.
We eat fresh fruits and vegetables and good red meat and fish with plenty of eggs.  We try to buy local but don't bother with organic.
That being said, we also enjoy loads of potato chips and all beverages fermented, brewed, and distilled.  It works for us.  I'll be 80 years old on my next birthday and Polly is just a tad north of 65.
A typical trip for us is four to five months.  Our guide for staying healthy on the road is to eat and drink well and laugh many times a day and keep on truckin'." – Frank and Polly Foley, 2016 Ford F-350, 2016 Northstar 8.5 Arrow U
"We walk 10,000 steps each day.  Our diet is much the same as at home.  We have lots of fruit and small portions.  We try to keep the desserts to a minimum.  We don't have campfires." – Tom Scholtens, 2010 Silverado 2500, 2013 Bigfoot 25c10.4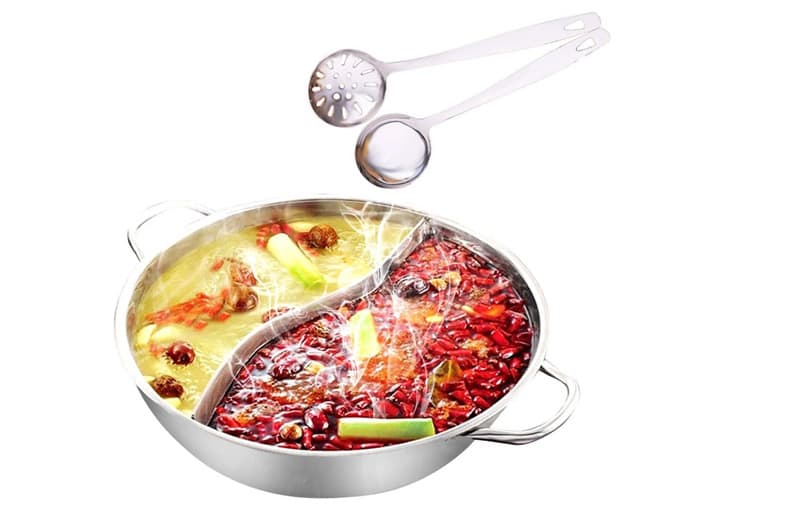 "We walk the dog four times a day, go hiking, kayaking, and go to campground meet and greets.  We like roadside markets with fresh veggies and fruit.
We cook with a one pot Shabu Shabu pot.  That's a pot that cooks the whole meal of healthy Asian style food.  It includes lean protein and whole grains.  We also bring lots of frozen wild salmon.  We have a light breakfast, light lunch, and early dinner.  And my XO brandy at night!" – Gerald Kato, 2012 GMC 2500, 2017 Cirrus 820
"We like to take two to three mile hikes.  We also take our dog for good walks and take walks through the campground.  Fly fishing with lots of walking also adds to our workouts.  We are looking at purchasing bicycles to provide another means of working out." – John Dorrer, 2013 Ford F250, 2014 Four Wheel Camper Grandby

"Walking, kayaking, biking, and hiking are all are fun healthy activities.  I tow a toy hauler to have toys to help me stay active.  Since its just me and the dog, I eat out a lot, which is not always healthy, but I try for smaller portions.  It seems like most restaurants have larger portions than I'm used to.  When that's he case I just get a go box and take some back to the camper.  It makes two meals which cuts down on cost, too.  Just use common sense and keep moving.  I use a Fitbit to track my activities." – Doug Potter, 1995 Dodge, 1997 S&S 8.5
"I am guilty of all slacker-ness, but I'm desperately trying to get back on track.  I am slowly gathering all my hiking gear, boots, pack, water, etc.  I am getting the 10 essentials (PNW) with thoughts of getting back into hiking.
So far, it's still rattling around in the brain.  Then the thought of those little rubber band thingies and a yoga mat to do an old 45-min tape works wonders, but I have no room for some of the stuff.
So, the bottom line?  I'm exercising my brain in ways to get into shape without doing it.  Sigh.  With food, I can't afford the stuff I need to balance protein/carbs as a nutritionist has advised.  That would be the next level..  So, I'm stuck in the "overweight and outta shape land".  I'm looking forward to what others have come up with.  It's a good topic as it's been on my mind for quite some time." – Frank Poole, 2016 Ram 5500, 2016 Arctic Fox 990
"I'm too old and too broken down to claim good health.  It's survival mode and a desire for "Adventure before Dementia" that keeps me going.  My wife was a floor RN for 35 years and earned a titanium knee by walking all those concrete floors.  We can still get up into our truck camper's bed, but hiking trails are chosen carefully.  We've learned to distrust the advice of anyone under the age of 55 when asking about hiking trails." – Philip Tron, 2009 Chevy 3500, 2012 Lance 1050
"I have a vegetarian diet that's tailored to my cardiovascular disease.  The truck camper makes it simple for me to prepare healthy meals no matter where or when.  I can access all the foods I want on the road at farmers' markets, fruit stands, foraging for mushrooms and berries in the wild, and large supermarkets with great prices and selection.  I can bring the surplus home after the trip.  We are able to reduce our eating out to a minimum and save a lot of money.  That pays for a lot of fuel.
It is often a challenge to get enough exercise when we're at home, but with the truck camper it is a pleasure to be able to drive for a few hours and then stop at a trailhead.  We'll also walk around an urban or shopping area from our truck camper's base in a parking space.  We also enjoy paddling a canoe or kayak when we're near water." – Rene Poulin, 1997 Dodge Ram 2500, 2000 Bigfoot 2500 9.6