Ten TCM readers head to the front of the class to share their truck camper toy stories.  One is perfect for all you stinky boondockers.  Two are stashed and geocached somewhere in the wilderness.  Another is a well-loved Buddy-L.
This week's Question of the Week was, "Do you have, or have you ever had a toy truck camper?"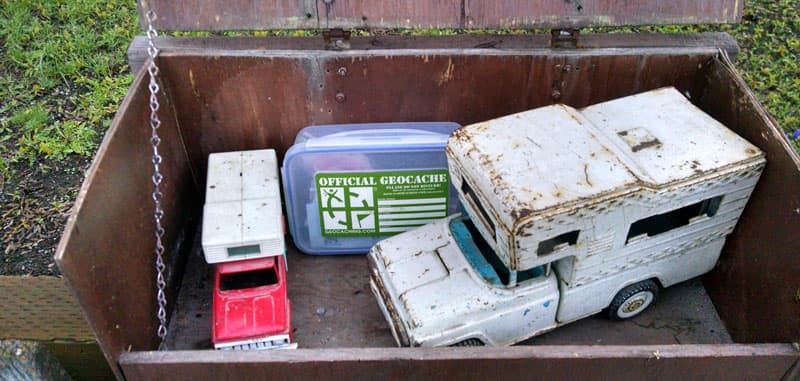 "I have three truck camper toys.  One is a matchbox sized 1972 Chevy C20 Cheyenne brand new in the original box.  That one sits on my display shelf.
The other two truck camper toys are outside in a box that I built for a geocache.  The box is locked and I have a geocache container sitting inside along with the two toys.  The lock code is available to cachers who read the page telling them how to get into it.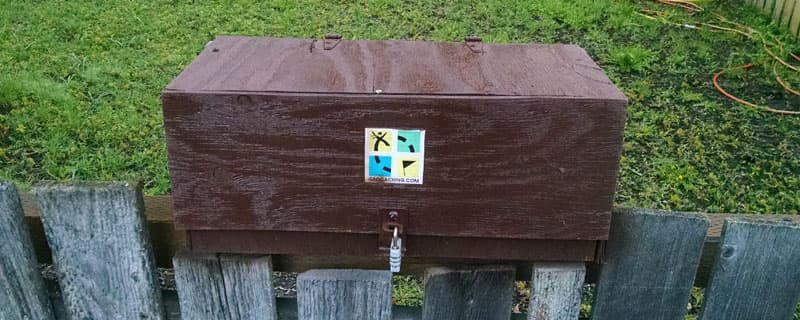 The toys are bolted down inside the box to insure they stay put.  Since I am known as "The TC Life" (The Truck Camper Life) it makes sense to have a cache that is truck camper related.  That is also my geocache name as well.  The cache code is: GC4QHPR
It took some searching to find the toys because there are not a lot of truck camper toys out there that I have found.  I do have one truck camper Christmas tree ornament as well." – Rich Bain, 2004 Dodge 3500, 2010 Adventurer 810
"Don't forget about the Avon green truck with wild country cologne and truck camper with talc powder.  It was my dad's and I have had it since the 70s." – Denise Barber, 2011chevy 2500, 2006 Lance 815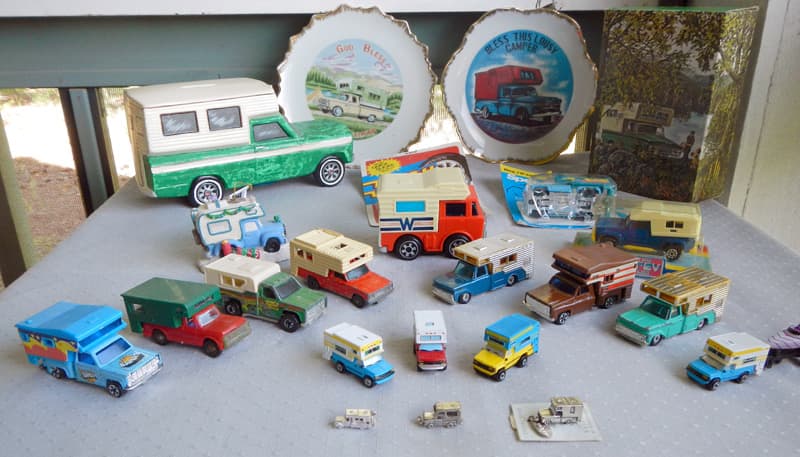 "Oh my!  I have several toy, jewelry, and other small truck campers.  They are packed away at home and I will try to dig them out and send you a photo.  I treasure them all!" – Sally Stomberg, 2006 Ford F550, 2006 Lance 1191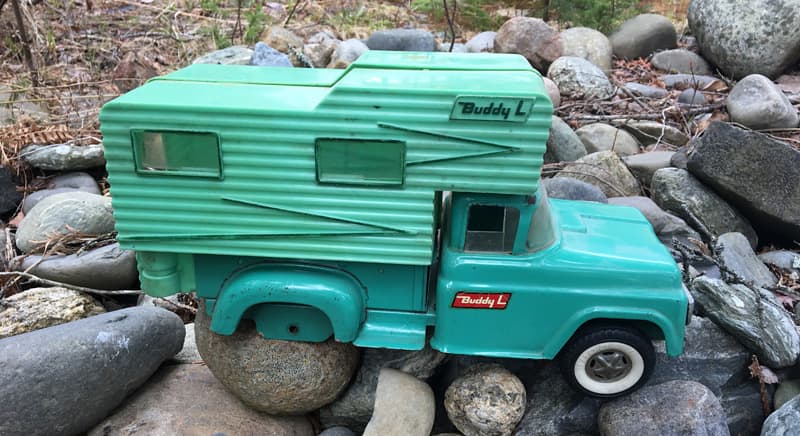 "I was a tomboy and loved horses, cowboys, and truck campers.  I drove this truck all over the neighborhood.  It was filled with little bowlegged cowboys and their horses in the camper.
I received the truck one year as a Christmas present – no dolls for me.  It had a rough life (guess I should have gotten the four-wheel drive model).  I have no idea where the back wheels are.  The fold down steps and flip-up door are also missing.  What fun seeing another Buddy-L in TCM." – Sue Graf, 2008 Ford F350, 2013 Arctic Fox 865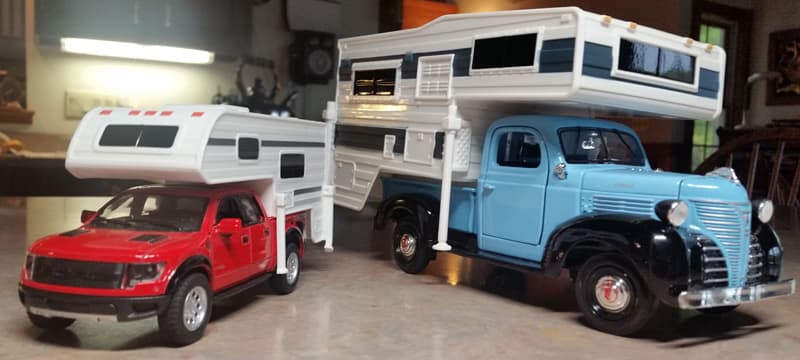 "Your recent article inspired me to shop for a new, larger truck and camper.  The old red one really was rather cramped.  After an extensive search, I pulled the trigger.  The new blue one is obviously much roomier!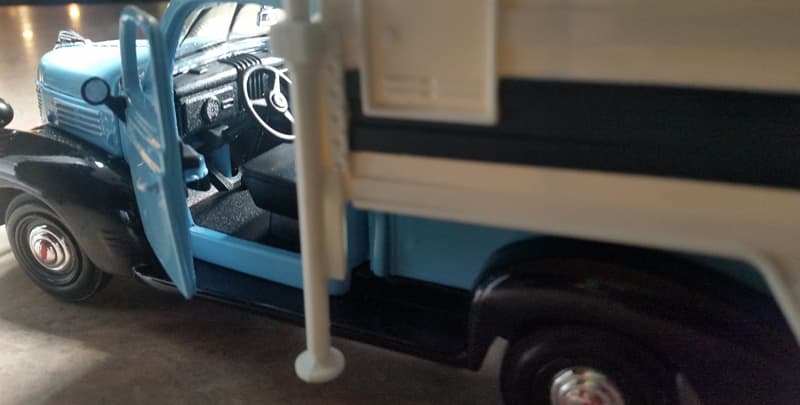 Not really super luxurious as far as interior appointments, but we're not fancy folks anyhow…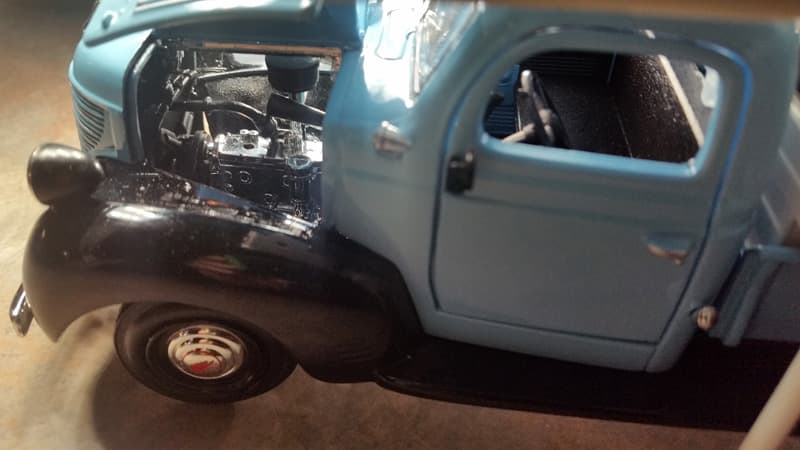 You'll be pleased to note that we went for a gas engine.  Diesel wasn't offered as an optional power-train anyhow.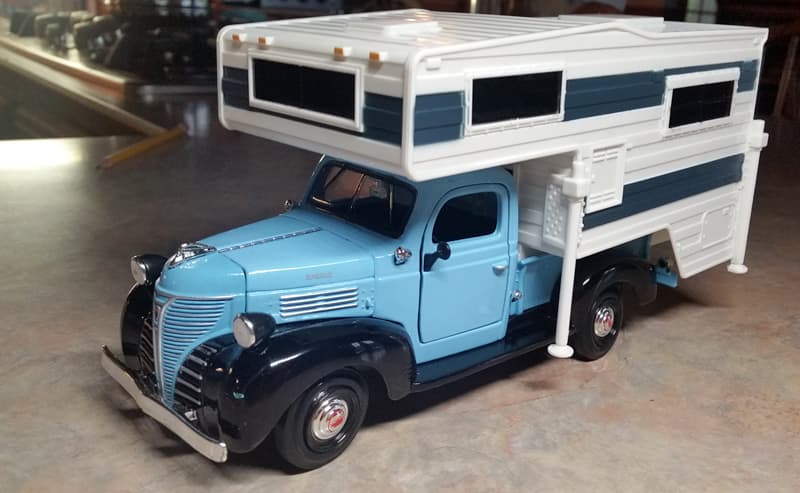 I only hope I'm not over-weight, as I couldn't find any payload specs for a 1941 Plymouth." – John and Marylou Wells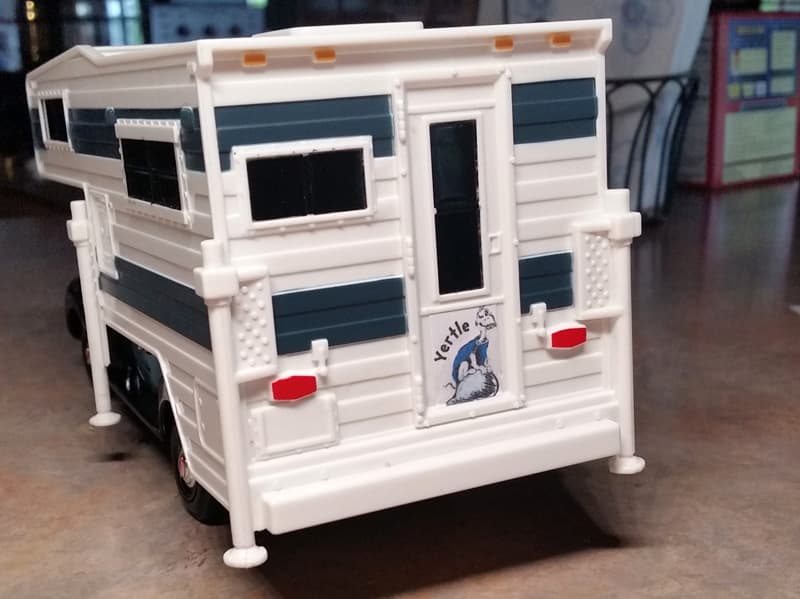 "I don't know how it started.  I used my Tonka truck and cardboard to make camper rig. Sometimes cardboard beds.  Other times dominoes.  This was 1957-58 and I was four years old. I finally got my first real camper this year.  It was a long wait." – Marc Cavit, 1982 Jeep J20, 1968 Gold Star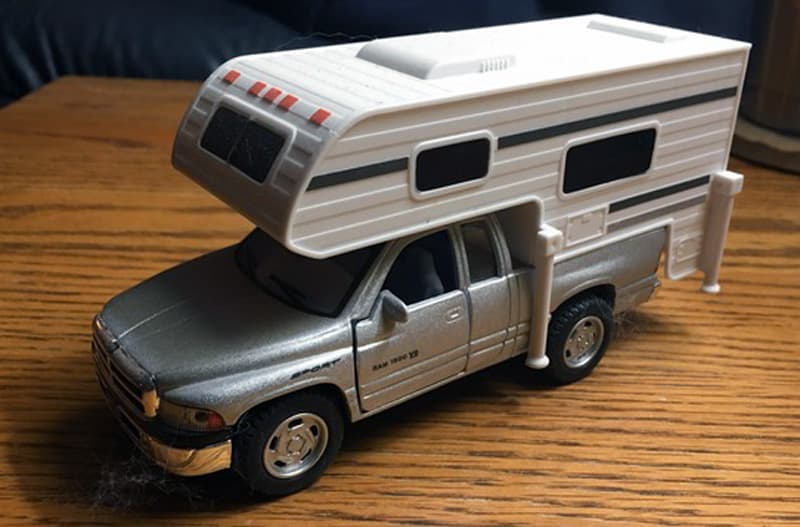 "Actually, we have a couple truck camper toys.  The first one we found at the Hunting Island, South Carolina camp store.  It's a generic, truck camper mounted on a Dodge Ram 1500 that had a Ford bed.  There's no way a 1500 could handle a camper that large.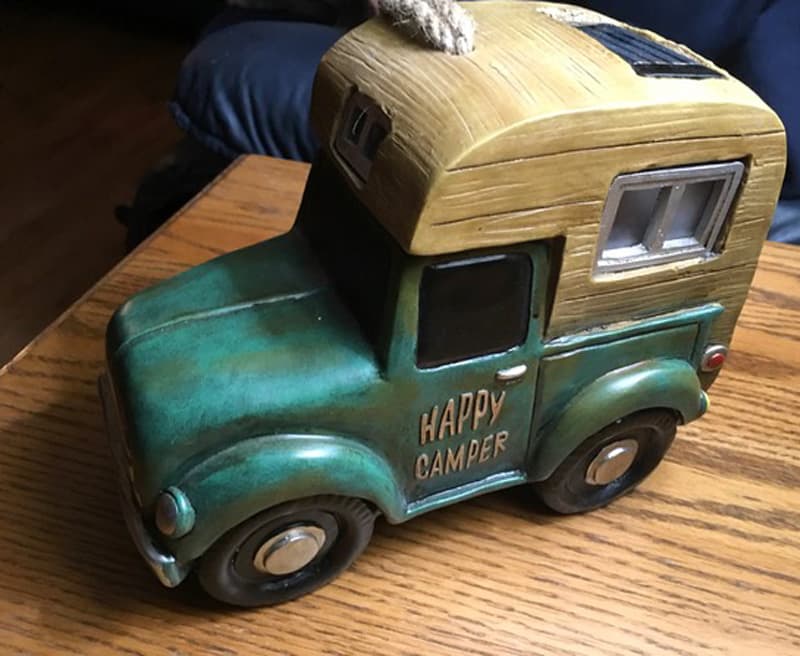 The second is a cute solar-powered truck camper patio light.  It's cartoonish, but also kind of fun to have around." – Nick and Marcia Rukavina, 2015 Ford F350, 2015 Northstar Arrow 8.5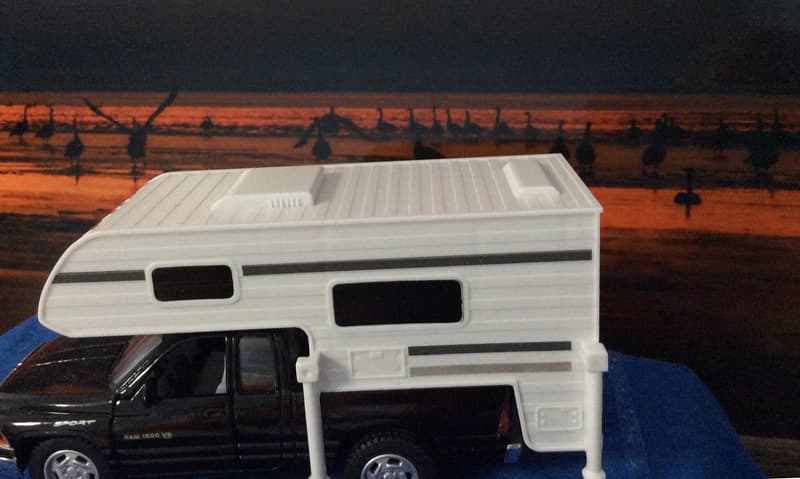 "Since I've played with cars my whole life, I was attracted to a display recently in the grocery store.  Low and behold, among the pile of cars, trucks, buses, etc., was one truck with a camper.
It's mounted on a Ram 1500 extended cab, four-wheel drive, short bed with about a 2-foot overhang.  It must be an older model with a front window, air conditioner with tiny air vent grill, electric jacks, and some detailed storage.  I'm guessing it has Torklift Stable Loads because it isn't squatting in the back.
I'm not sure about the model of camper; definitely none of the major United States brands because it says China on the bottom." – Stan Johnson, 2009 GMC 2500, 2009 Northstar Laredo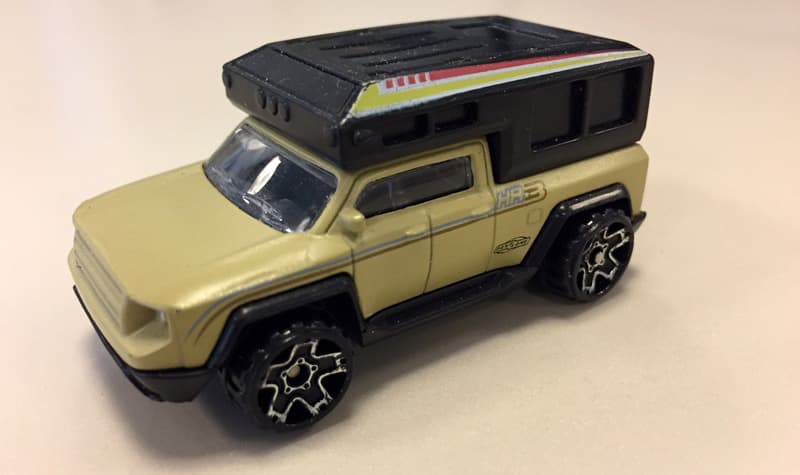 "I can't remember where I got it, but I have this little 2.5-inch long Fast Lane pop up truck camper model HR-003.  It sits on my desk at work.
Since I'm always obsessing over truck campers, my wife bought me a LEGO Volkswagen T1 Camper Van for Christmas.  While not a truck camper, it's super cool.  There's no doubt the VW vans were a big influence for truck camper manufacturers." – Darrin P., 2016 Ram 3500, 2016 Lance 855-S
"We have the Fisher-Price Playland camper with all the accessories!  We paid $40 for it at an antique store last year.  We bought it so our grandson could play camp when he comes to visit.
I have also purchased a Matchbox truck camper and – just last weekend – found two Matchbox-like truck campers at a nearby auto show.  We will give these as gifts eventually." – Arn Chamberlain, 2000 Ford F250, 2004 Palomino 8801
"I collect RV toys of all sizes and sorts.  I try to buy as many as possible around the 1:50 scale.  The reason for the scale preference is that I use model and toy campers for our O scale toy train layout.  Quite a few are models of truck campers." – Charles Spray, 2002 Ford F-350, 2016 Travel Lite 1100 Illusion
To see more camper toys, visit our Pinterest board and Facebook page.