This week we asked our readers, "Do you tow a Jeep behind your truck camper?"  We also asked for information about their Jeeps, how campers tow their Jeeps, and where they go Jeeping.
"I have a 2006 Jeep Wrangler Unlimited Rubicon with a four-inch lift, rock bumpers, lots of skid plates, and 33-inch tires.  I can carry extra fuel and water on the rear and it's outfitted with a CB and ham radios in case of an emergency.
I flat tow the Jeep on short distance camping trips of 200 miles or less.  On longer trips, I have a flatbed car hauler trailer that I put the Jeep on.  I've towed the Jeep behind my truck camper to run trails in Utah, Colorado, New Mexico, Texas, Arizona, Nevada, and California." – Erwin Greven, 2002 Chevrolet Silverado 2500HD, 2002 Lance 921, 2006 Jeep Rubicon Unlimited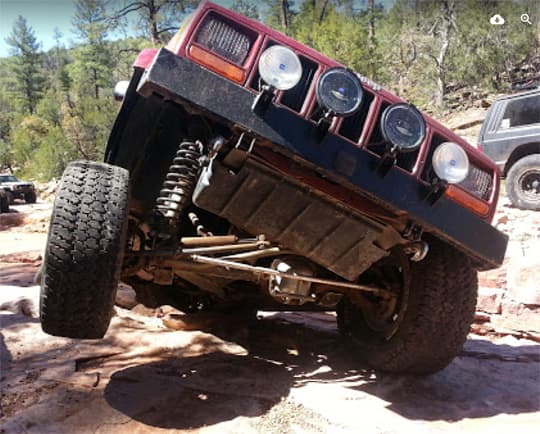 "My Jeep is a street-legal rock crawler with a 5.5-inch lift front and rear locked with lots of armor.  It is towed on a 16-foot dove tail Carson Trailer.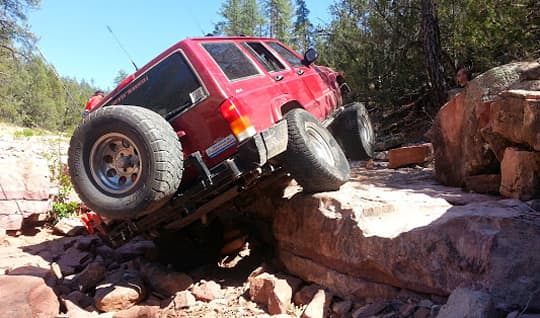 The combined weight of trailer and Jeep is 5,800 pounds.  The tongue weight is set at 600 pounds.  The hitch on my truck is a Reese Titan Class V 2.5-inch with 24-inch extension, which is rated at 800/600 pounds (WD/WC).
Normal use of the Jeep is rock crawling, but it can be used for road use also." – Leonard Pennock, 2006 Dodge Ram 3500, 2002 Eagle Cap 950, 1998 Jeep Cherokee
"We put the Jeep (called Eeyore because he is blue) on a 16-foot utility trailer.  We go to old Jeep runs.  We are not into mud bogging, rock crawling, or bashing and beating up our Jeep.  We travel back roads and forest service roads.  It is necessary to use four-wheel drive, but the roads are not extreme.
At 51 years old, our Jeep is usually the youngest Jeep at these gatherings.  The runs are for old Jeeps from the 1940s and 1950s.
We go to Whitewood, South Dakota in June and Nathrop, Colorado in September.  The Black Hills are great to Jeep in, old mines and ghost towns.  The Rocky Mountains have outstanding views and the Aspen trees are gold and yellow in September.  Lots of picture opportunities.  We also do some geocaching while out with our Jeep." – Tom Ralls, 2005 GMC Sierra, 1994 Shadow Cruiser 800, 1964 CJ5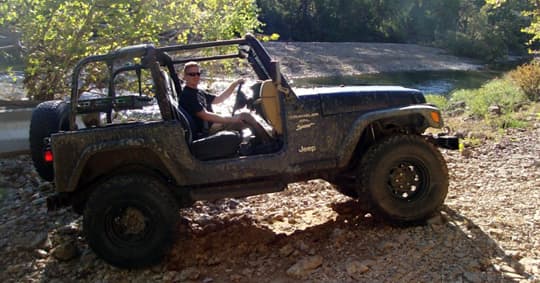 "I have a 1997 TJ 4.7L Stroker.  I taught myself how to rebuild an engine by pulling the motor and stroking it myself, minus the machine shop work.
It has a Ford 8.8 rear, high-pinion Dana 30 front, 4.88 gears, and selectable lockers front and rear.  It rides on 34-inch Super Swamper LTBs with a 2.5-inch suspension and 1.25-inch body lift.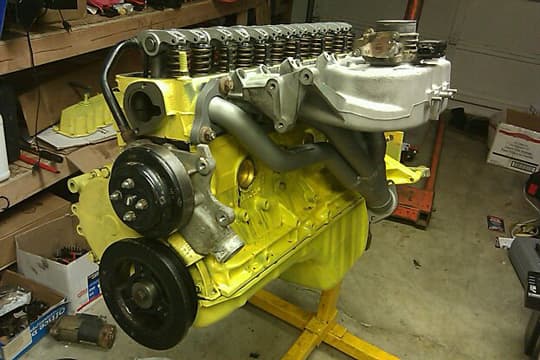 The tummy-tuck skid is from Under Cover Fabworks.  I installed an HD AX-15 with 4.3 first gear from Novak, Rugged Ridge SYE for the NP231J, and Tom Wood rear driveshaft.  I use a Reese Titan 2.5-inch extension at 24-inch to tow an 18-foot PJ P7 Pipetop trailer.
My Jeep has terrible road manners, so I trailer it wherever I go.  My favorite off-road park is Hidden Falls Adventure Park in the Texas Hill Country and I ride with the Fort Hood Chapter of Military Jeepers." – Patrick Franklin, 2014 Ram 3500, 2015 Lance 995, 1997 TJ
"I tow a fully grown three-quarter ton behind my 5500 Sterling.  It is loaded with 200 gallons of water and two Yamaha Grizzlies.  I use an IBIS tow bar with pintle hook adaptor, which usually gets used to tow Humvees in a row.  I got rid of my Jeep, and have an ATV instead." – Chef Martin, Sterling Bullet 5500 16-foot flatbed, Okanagan 96DB, Dodge Ram 2500
"I tug a 2003 Jeep Rubicon to off-road parks east of the Mississippi.  I recently upgraded to a 24-foot Kraftsman Gooseneck trailer.  I permanently mounted the truck camper on the front of the trailer, and have plenty of space to haul the Jeep behind it.