This week we asked our readers, "Do you tow a Jeep behind your truck camper?"  We also asked for information about their Jeeps, how campers tow their Jeeps, and where they go Jeeping.
"I have a 2006 Jeep Wrangler Unlimited Rubicon with a four-inch lift, rock bumpers, lots of skid plates, and 33-inch tires.  I can carry extra fuel and water on the rear and it's outfitted with a CB and ham radios in case of an emergency.
I flat tow the Jeep on short distance camping trips of 200 miles or less.  On longer trips, I have a flatbed car hauler trailer that I put the Jeep on.  I've towed the Jeep behind my truck camper to run trails in Utah, Colorado, New Mexico, Texas, Arizona, Nevada, and California." – Erwin Greven, 2002 Chevrolet Silverado 2500HD, 2002 Lance 921, 2006 Jeep Rubicon Unlimited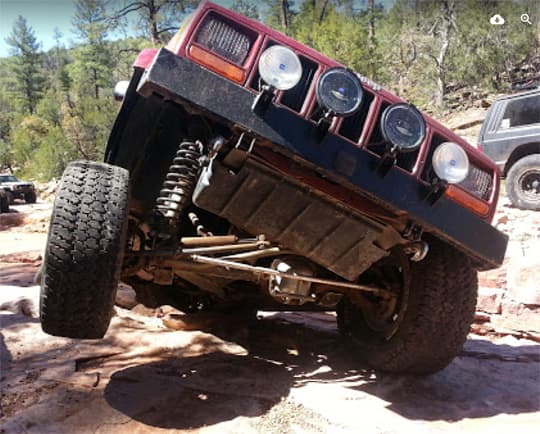 "My Jeep is a street-legal rock crawler with a 5.5-inch lift front and rear locked with lots of armor.  It is towed on a 16-foot dove tail Carson Trailer.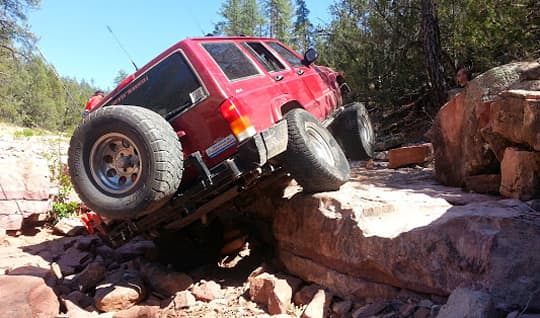 The combined weight of trailer and Jeep is 5,800 pounds.  The tongue weight is set at 600 pounds.  The hitch on my truck is a Reese Titan Class V 2.5-inch with 24-inch extension, which is rated at 800/600 pounds (WD/WC).
Normal use of the Jeep is rock crawling, but it can be used for road use also." – Leonard Pennock, 2006 Dodge Ram 3500, 2002 Eagle Cap 950, 1998 Jeep Cherokee
"We put the Jeep (called Eeyore because he is blue) on a 16-foot utility trailer.  We go to old Jeep runs.  We are not into mud bogging, rock crawling, or bashing and beating up our Jeep.  We travel back roads and forest service roads.  It is necessary to use four-wheel drive, but the roads are not extreme.
At 51 years old, our Jeep is usually the youngest Jeep at these gatherings.  The runs are for old Jeeps from the 1940s and 1950s.
We go to Whitewood, South Dakota in June and Nathrop, Colorado in September.  The Black Hills are great to Jeep in, old mines and ghost towns.  The Rocky Mountains have outstanding views and the Aspen trees are gold and yellow in September.  Lots of picture opportunities.  We also do some geocaching while out with our Jeep." – Tom Ralls, 2005 GMC Sierra, 1994 Shadow Cruiser 800, 1964 CJ5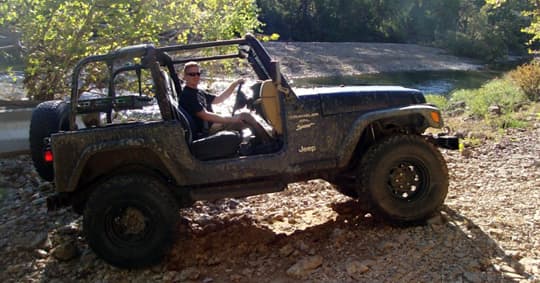 "I have a 1997 TJ 4.7L Stroker.  I taught myself how to rebuild an engine by pulling the motor and stroking it myself, minus the machine shop work.
It has a Ford 8.8 rear, high-pinion Dana 30 front, 4.88 gears, and selectable lockers front and rear.  It rides on 34-inch Super Swamper LTBs with a 2.5-inch suspension and 1.25-inch body lift.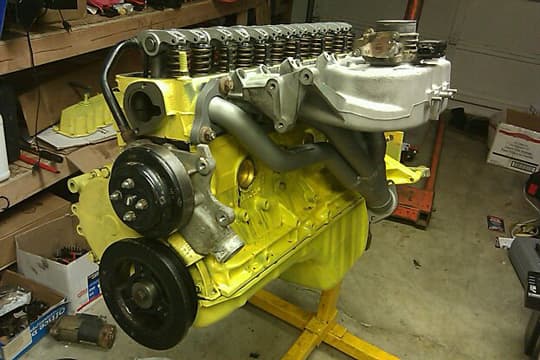 The tummy-tuck skid is from Under Cover Fabworks.  I installed an HD AX-15 with 4.3 first gear from Novak, Rugged Ridge SYE for the NP231J, and Tom Wood rear driveshaft.  I use a Reese Titan 2.5-inch extension at 24-inch to tow an 18-foot PJ P7 Pipetop trailer.
My Jeep has terrible road manners, so I trailer it wherever I go.  My favorite off-road park is Hidden Falls Adventure Park in the Texas Hill Country and I ride with the Fort Hood Chapter of Military Jeepers." – Patrick Franklin, 2014 Ram 3500, 2015 Lance 995, 1997 TJ
"I tow a fully grown three-quarter ton behind my 5500 Sterling.  It is loaded with 200 gallons of water and two Yamaha Grizzlies.  I use an IBIS tow bar with pintle hook adaptor, which usually gets used to tow Humvees in a row.  I got rid of my Jeep, and have an ATV instead." – Chef Martin, Sterling Bullet 5500 16-foot flatbed, Okanagan 96DB, Dodge Ram 2500
"I tug a 2003 Jeep Rubicon to off-road parks east of the Mississippi.  I recently upgraded to a 24-foot Kraftsman Gooseneck trailer.  I permanently mounted the truck camper on the front of the trailer, and have plenty of space to haul the Jeep behind it.
I like to take my dog along, and the camper gives me the freedom to go anywhere and not worry whether I can find accommodations that accept pets.  I wheel in Alabama, Georgia, Virginia, Tennessee, South Carolina, Florida, and North Carolina." – Michael Parr, 1998 Dodge Ram 2500, 2004 Sun Valley Sunlite 860, 2003 Jeep Wrangler Rubicon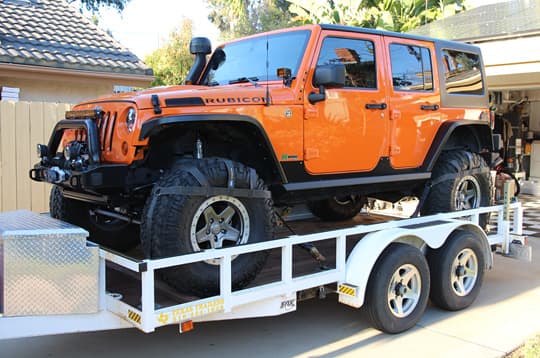 "We tow our 2012 Jeep Rubicon on a 14-foot Texas Trailer.  The trailer allows us to back up and offers less wear and tear on the 37-inch off-road tires on the Jeep.  The trailer also gives us a way to get the Jeep home if there is a mechanical issue.  As an added bonus, the trailer can be used as a platform for the barbecue and lawn chairs.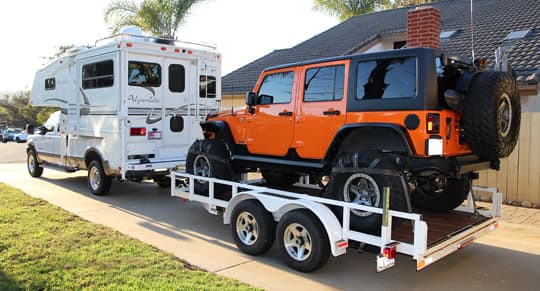 Being from San Diego, we go out regularly to the Anza-Borrego desert.  We've also been over to Sedona, Arizona, and up to Shaver Lake, California to run the Dusy Ershim Trail.  Later this year, we'll be towing the Jeep up to Lake Tahoe to run the Rubicon Trail and we already have plans to attend next years 50th Easter Jeep Safari in Moab, Utah." – Rex Carroll, 2004 Ford F350, 2006 Alpenlite Cheyenne, 2012 Jeep Wrangler JKU Rubicon
"I tow my 1947 CJ2A with a tow bar.  I purchased this Jeep in May 1971 while stationed a Williams AFB Phoenix, Arizona.  It's well traveled has been to New Mexico, South Carolina, Alaska, and now in Idaho.
Over the years it has had its fair share of mods, some good and some not so good.  In its current form, it has a SMB Chevy, modern power steering, posi-rear, four-speed truck transmission, overdrive, front disc brakes, 11-inch rear brakes, and body and frame stretched 4-inches with locking hubs front and rear.
When in tow, it's a trailer hauling stuff that I don't want to put in the camper.  It hauls a canoe on top.  Once in camp, it becomes a fire wood getter, an explorer, run about, and hauls us where we want to go.  For the last twenty years, it's run the backcountry of Idaho." – Dave Erickson, 2011 Ford F350, 2006 Arctic Fox 990, 1947 Willys CJ2A

"Jeep!  I drive no stinking jeep – it's a Samurai!  I'm usually there to pull the Jeeps out.  The Samurai is easy to tow, and hook up takes five minutes.  I made the bar and mount myself.
We go anywhere we want hunting, fishing, skeet, trap shooting, sporting clay events and, in general, fun camping and off-road running!" – Richard Wolf, 2007 Dodge 3500, 2006 Six-Pac Delux 650, 1986 Suzuki Samurai
"We flat tow our CJ7 with the hubs unlocked and the rear driveshaft disconnected.  We have spent a lot of time in Moab, but enjoy all of Utah.  We also love to go to the mountains around Ouray, Colorado.  We hope to explore more of The West as we progress into retirement." – Tom and Laurie Sant, 1999 Dodge 2500, 2000 Northland 860, 1986 Jeep CJ7
"I flat tow my Jeep Wrangler with a 5,000 pound fold-up S.S. tow bar.  Once my camper is set-up, we use the Jeep to sightsee, pack fold-up bicycles, and kayaks on the roof.   It's very handy." – Stephen Ross, 1997 Ram 3500, 2000 Lance 1130, 2000 Jeep Wrangler TJ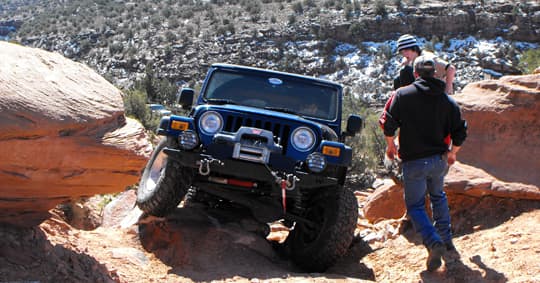 "Our Wrangler Unlimited LJ is flat-towed behind our Lance Camper and Ford F250.  Our truck is equipped with a Ranch Hand rear bumper, with a ten (7-inch) drop.  The Lance 981's length is 9'11" and we require a Reese 24-inch extension from the Ranch Hand bumper which places the 2-inch receiver directly below and even with the camper step.
The Jeep is attached to the ball mount with a Draw Tight hitch bolted to the front bumper of the Jeep.  The necessary safety chains and lights are then hooked up.  Once hooked up, we hardly know the Jeep is back there.  They are so easy to pull anywhere once the transfer case has been neutralized.
The 2004 through 2006 Unlimited LJ's were the only produced during these model years.  This Jeep is a very capable off-road vehicle due to its additional length over a standard TJ.  Our Unlimited has been modified to allow us the option of many types of trails.  It has a 3-inch Skyjacker lift, 31-inch tires (previously 33-inch), rear locker, front disconnects, side rock guards, Warn front bumper with a Warn 9.5ti winch, and more.
We have traveled most of the United States, but our travels specifically to Florida, Georgina, Tennessee, Colorado, Utah, Arizona, and New Mexico are key states that we have specifically taken the Jeep off-road.
The highlight of our adventures has been in Moab, Utah where we participated in the annual Easter Jeep Safari.  The event is perhaps one of the premier events after the Rubicon Trail.  The trails are most challenging and the event offers something for everyone.  Also in Utah is a town known as Kanab, which is noted for the pink desert.  Sand can also be a challenge.  The San Juan mountains in Western Colorado offer many demanding trails.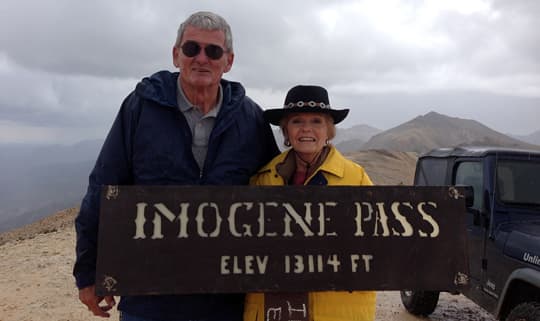 For the last three years, and in August of this year, we will be in Ouray, designated as the "Jeep Capital of the World", which is known for the scenic and often rugged trails.  A few trails we've been on are Black Bear, Imogene Pass, Engineer Pass, and Corkscrew.  Elevations of 13,140 feet may be reached.
Sedona, Arizona, and Red River, New Mexico also offer many challenges as well as the other states mentioned.  Jeeping offers many challenges, excitement, and beauty that will not be seen unless you have a Jeep!" – Warne Todd, 2000 Ford F250, 2005 Lance 981, 2005 Jeep Wrangler Unlimited LJ

"I have a highly modified Wrangler Unlimited (LJ).  We flat tow our Jeep because we don't have room for a trailer.  We do use a Brake Buddy when flat towing, which we credit with saving the Jeep (and maybe the whole rig and/or us) when we had a hardware failure with the tow bar connection at highway speed.
Our Jeep's license plate spells "Boundless", so we go just about anywhere.  We are experienced Moab rock crawlers, but our preference is to use the Jeep for exploring the back canyons and mountains of the southwest deserts in California, Arizona, Utah, and Nevada.  We'll take the Jeep to distant trailheads, hike or backpack from there, and then return to the truck camper for a refreshing shower and meal, plus a comfy bed!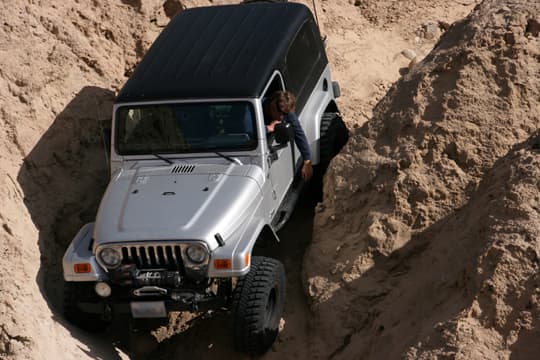 The Jeep has increased our range of exploration by magnitudes.  Its small size and short wheelbase allow us to fit between the boulders and onto narrow mining trails that most other vehicles cannot reconnoiter.  The high degree of chassis and body modifications allow us to dismiss extremely rugged terrain and/or foul weather as reasons not to explore.  Our Jeep has been a fantastic addition to our truck camping holidays!" – Bruce and Kathy Allison, 2000 Ford F350, 2012 Adventurer 910 FBS, 2005 Wrangler Unlimited (LJ)
"I used to pull this Jeep behind my old Lance 880 with the tow bar brackets welded to the Jeep's bumper.  I never had any problems.
I recently bought a new 2015 Jeep Rubicon and a new 1050S Lance, but haven't towed the new Jeep yet.  I plan on changing out the front bumper to a Rockhard aluminum bumper with their tow bar tangs on the bumper.
I never used any supplemental braking with the old Jeep, but now I will because of the added weights of the new camper and Jeep.  I would also like an exhaust brake on my Dodge to prolong the life of the brakes, but this will come later.
I'm a little more apprehensive about towing a $30,000 Jeep versus the old $5,000 one, so everything has to be set up just right.
We live close to the Canadian border, so we towed the old Jeep up into British Columbia.  We always remote camp when we can.  This allows us to go most anywhere one can with a truck camper and a Jeep.  We love this combination.  Besides, it looks pretty awesome!" – Scott Barker, 1999 Dodge 3500 dually, 2015 Lance 1050S, 1995 Jeep YJ, 2015 Jeep Rubicon
"I have a 2002 Wrangler with a winch, ARB air lockers front and rear, 4.57 Dana 44, Poison Spyder rocker, and Rock Hard cage.
I have been a Jeep guy for over forty-five years.  I tow the Jeep on a car trailer with the camper.  I go out annually to Moab, Canyonlands, and to Glacier, Montana last year.  I like the capability of the camper and Jeep combination." – Brad Cary, 2009 Chevy 2500, 2008 Lance 835, 2002 highly modified Wrangler "old guy jeep"
"We tow a 2015 Jeep Wrangler Unlimited Rubicon.  We haul it on a 16-foot flatbed trailer with aluminum ramps.  We spend the winters in the Southwest four-wheeling.  The Jeep goes on summer trips where we need a run around rig, so we can leave the camper setup." – Dave and Cheryl Wirey, 2012 Dodge Ram 3500, 2015 Host Everest, 2015 Jeep Wrangler Unlimited Rubicon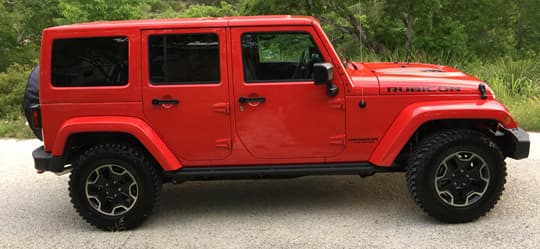 "For years we towed behind a motor coach.  Now we have a truck camper.  I have a receiver extension that I made to tow trailers and now the Jeep.  I need to add the wiring for brake lights and turn signals.
My Jeeps have been used to off-road across the United States.  The Rubicon is one of the one most off-road capable Jeeps ever made and there are very few trails in the United States it will not traverse in OEM form with nothing but letting some air out of the tires.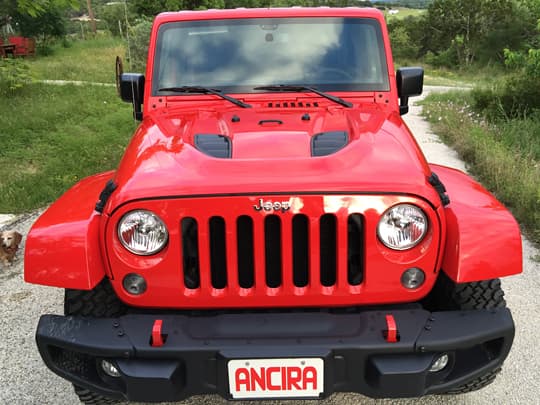 My favorite areas are the BLM lands of Arizona, Moab, Utah, Death Valley, Southern California and Northern Mexico's Sea of Cortez.  I have off-roaded Alaska and Hawaii, and parts of Europe and Asia.  While my hard rock crawling days are mostly over, the fun and excitement of exploring has not gone away." – Don Pryor, 2015 Ford F350, 2008 Arctic Fox 1150, 2015 Jeep Rubicon Hard Rock
"I have a 2003 Jeep Rubicon.  I have a tow bar that I use when I'm towing close to home.  I also have a trailer that I use when I'm towing say over fifty miles from home.
The biggest reason I use the trailer is safety and wear and tear on my Jeep.  The trailer has brakes so I can stop faster with it.  I have a lot of money in Jeep tires.  With the trailer, I'm not wearing them out behind the truck and camper.  When I am using the tow bar, it's close to home, maybe fifteen or twenty miles, and not on the freeway.  I live in the Pacific Northwest so I have lots of places to go four-wheeling close to home.
Last March my wife and I went to the Easter Jeep Safari in Moab, Utah.  What a great time we had!  We took the truck and camper and Jeep on the trailer.  I stayed at the Slick Rock campgrounds.  We went four-wheeling just about everyday with a group, all around Moab.  I met a lot of nice people from all over the United States and even from Europe and Australia.  A lot of the people we meet weren't Jeepers.  It's a great time for all!
Our next trip on our bucket list is the Rubicon Trail from Georgetown, California to Lake Tahoe, Nevada.  Over the 4th of July weekend, we'll tow the Jeep, on the tow bar, up the Icicle Canyon out of Leavenworth, Washington, and stay at one of the campgrounds there.  We'll use the Jeep to explore the roads and trails.  This only about fifteen miles from our home, so I'll use the tow bar." – Bruce Moses, 2006 Chevy 3500, 2008 Lance 1191, 2003 Jeep Rubicon

"I tow a 1999 Jeep Cherokee built for off-roading.  It is lifted 6-inches and has a full width Ford 9-inch rear axle and a Dana 44 front axle.  It rides on 36-inch Irok tires and has a full cage and winch.  I tow it on a 16-foot car trailer.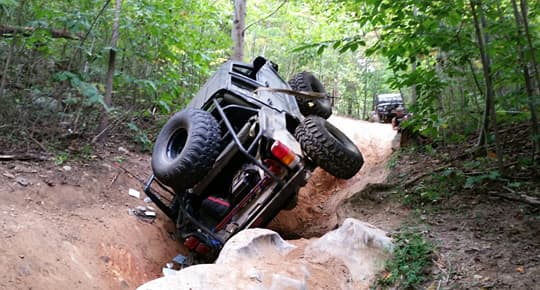 I take my Jeep all over the southeast to different off-road parks and National Forests with a 4×4 club that I am a member of.  It's called the Carolina Trailblazers.  We travel all over North Carolina, South Carolina, Tennessee, Kentucky, and Virginia.  For the first time this year we are heading to Pennsylvania." – Michael Juarez, 2000 Chevrolet 3500, 2013 CampLite 8.6, 1999 Jeep Cherokee
"We tow our Jeep behind our rig so we can set up camp and not have to break it down when we want to go exploring.  Having owned a Jeep CJ 7 from the late 1970s to the late 1980s.  We are familiar with them, and their capabilities.
We go into nearby towns and explore the area.  We also go four-wheeling whenever we can, in places our truck camper would have a tough time negotiating.  Our new Jeep "Barney", is a blast to drive.  Having a truck camper and a Jeep is the best of both worlds!  They go together like mustard on a hot dog." – Mike Kolinski, 2012 GMC Sierra 2500HD, 2012 FWC Hawk, 2015 Jeep Wrangler, Willys Wheeler edition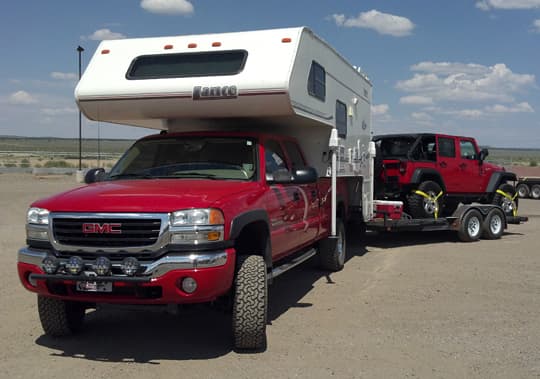 "We have a 2011 Jeep Rubicon Unlimited and we tow it one of two ways depending on how far we're going and where we're planning on ending up.  If we're going long distances, we typically put the Jeep on our car hauler trailer and tow it that way.  The ultimate location is farther off the pavement, so we flat-tow the Jeep using a tow bar.
We like to explore, see nature, and go places that the average four-wheel drive can't access.  Extreme trails pose imminent body damage, but we have outfitted our JK to be able to get in and out of most anywhere, and do it safely and with confidence.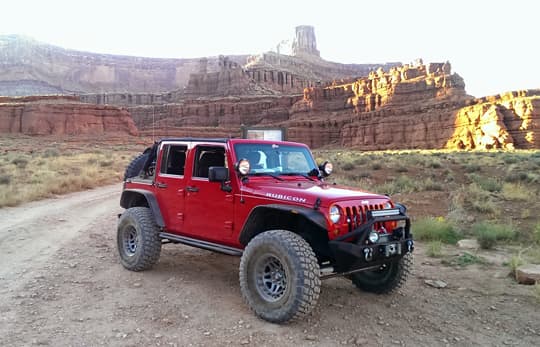 Our favorite place to go in our camper/Jeep is the San Juan Mountains of southwest Colorado.  There are hundreds and hundreds of miles of roads/trails there to see and explore, most of which have breathtaking scenery and history that is fascinating." – Steve and Jennifer House, 2005 GMC, 2010 Eagle Cap 1050, 2011 Rubicon Unlimited
"I have an off-road Ford Bronco and a rock-crawling buggy that's towed with a Torklift hitch/extension to a 18-inch enclosed trailer.  I go out for rock crawling only.  I go to Pennsylvania, Tennessee, Virginia, Utah, Maine, Massachusetts, and New Hampshire." – Sean Gaudette, 2006 Ford F350, 2015 Eagle Cap 1160, 1975 Ford Bronco
"We did tow our modified Jeep on a car carrier behind our Lance 825.  Now we use a dolly with surge brakes behind our Lance 1050 with no hitch extension.  It's straight to the receiver hitch.  We like the Jeep up on something in case of trail damage.
We like to go to many Jeep Jamborees across the country.  We go to California, Nevada, Colorado, Arizona, Wyoming, Utah, New Mexico, and Arkansas.  We go on yearly treks to the Ouray, Colorado area.  We trailer or tow out of Friendswood, Texas (south of Houston) so it's many miles to anywhere.
I like the pickup camper for ease at fuel stops and more camping spots are open to us." – Harvey Melcher, 2002 Chevy 2500, 2012 Lance 1050, 2001 Wrangler Sport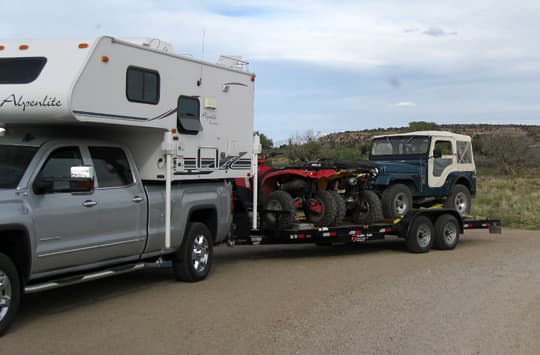 We flat tow the Jeep locally around Western Wyoming.  We have a flat bed 12,000 pound car hauler that will handle the Jeep and two quads. Grossed out at 18,800 pounds wet, three weeks ago we hauled it to Moab and back at 11 to 12 mpg.  The flat bed is definitely easier as I don't have to disconnect the rear driveline (afraid that towing will hurt the old school Borg Warner overdrive).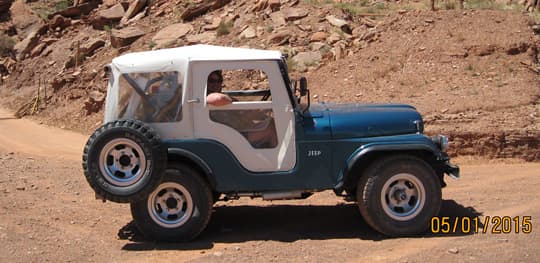 We prefer the quads for off roading, but in inclement weather the Jeep excels.  Using the Jeep for runs into town or longer hauls lets us leave the truck in camp and makes life more enjoyable.  Old school Jeep suspensions leave a lot to be desired for washboard roads.  Our Jeep has a 327 Chevy truck motor (now throttle body fuel injected) Borg Warner (Studebaker) overdrive, winch, 31 inch tires, and Softride rear suspension (front coming this winter) as well as 20 gal of fuel.  It is not a rock crawler and is lacking many of the heavy duty upgrades, but between it and the quads we get anywhere we want to go." – Robert and Rene Benesh, 2015 GMC 3500, 2004 Alpenlite 850, 62 Jeep CJ5
"Our Jeep is built for off-road.  It's a go anywhere kind of Jeep.  We tow it with a Ford F350 Powerstroke diesel crew cab.  We also use Roadmaster's tow gear and breaking system, the Invisabrake.  We go to baseball tournaments, camping, hunting, or just taking either vehicle in for service." – Eric Williams, 2002 Ford F350, 2012 Alaskan 8-foot, 2000 Jeep Wrangler Sahara TJ
"I tow with a tow bar.  We ride trails, sand dunes, go to ghost towns, hunting, sight seeing, and shopping.  We don't have to take the truck and camper." – Richard Jagiello, 2015 Ford F350, 2015 Lance 1172, 1998 Jeep Wrangler TJ Sport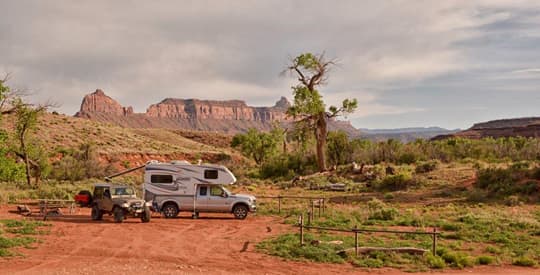 "We tow a well equipped 2006 Jeep Wrangler Rubicon.  The Jeep has plenty of lift, 35-inch tires, and all the right stuff for off-road fun.
We tow it using an 8-inch rise receiver adapter, connected to an Aladdin Blue Ox tow bar and an RVi2 auxiliary brake.  We had to have custom tow bar brackets fabricated for our Jeep since the off-the-shelf base plates would not work with our suspension setup.  I chose the RVi2 over a built-in braking system so that we could tow our other vehicle (a Jeep Grand Cherokee) on winter trips.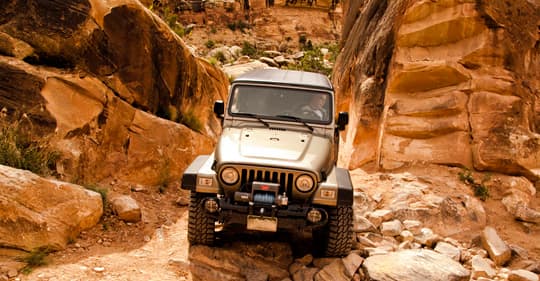 The Rubicon rolls along great behind the Ford/Lance combination, which has plenty of power to climb the passes in Colorado.  We noticed a -2 MPG difference towing the Jeep compared to the truck and camper without a toad.
We use our Jeep mostly in Colorado and Utah, four-wheeling on our favorite Jeep trails and mountain passes.  So far, we have not towed it to other states, but who knows.  Our favorite destinations are Salida and Ouray in Colorado and the general Moab area in Utah." – Kevin Burkhart, 2015 Ford F250, 2015 Lance 850, 2006 Jeep Rubicon

"I've have a two-door Willy's Wrangler that I bought eleven months ago.  I use a set of tow bars that attach to the D-rings of my aftermarket bumper on the Jeep.
The plan is to dry camp in more remote areas away from campgrounds and use the Jeep to explore from there.  We want to explore the backcountry of the Pacific Northwest.  Exploring Moab is high on the list of places to go as well.  Over the last few months, I've been working on getting the Jeep ready to go." – Rich Spofford, 2000 Ford F350, 2005 Four Wheel Camper Grandby, 2014 Wrangler "Willy's"
"I tow my automatic Jeep Wrangler flat behind my camper.  After setting up camp, I'm free to go anywhere I want with the Jeep.  I also carry my Yamaha TW200 duel sport bike on the back of the Jeep.  I love Pocahontas County, West Virginia with its logging and coal (gravel) roads in the mountains." – Jim O'Donnell, 2008 Ford F350, 2014 Travel Lite 800X, 1978 Jeep Wrangler
"I tow my little rock crawling Jeep behind the truck on a car trailer.  I have a Torklift hitch with a SuperTruss extension to keep the trailer away from the camper jacks when I am turning.
I find it is best to use a full trailer for the Jeep as it allows me to get home if I break the rig while on the trail.  I just need to get the broken Jeep back to the trailer and load it up, strap it down, and head home.
I do a variety of activities with my Jeep.  I enjoy wheeling on various trails in the Western Sierra Nevada Mountains.  I go on trails like Fordyce Creek, Slick Rock, Niagra Rim, and Rubicon snow wheeling.  I enjoy rock crawling and also going on forest roads that lead to incredible scenery that is off the beaten path." – Chris Mains, 2012 Ram 3500, 2000 Northern Lite 8'11" Queen Classic, 1995 Jeep Wrangler

"We flat tow our 2004 Jeep Wrangler.  We take the Jeep and camper wheeling in many locations, several off-road parks in Indiana and Kentucky, and the Red River Gorge area." – David Powell, 2014 Ford F350, 2012 Palomino Maverick, 2004 Jeep Wrangler TJ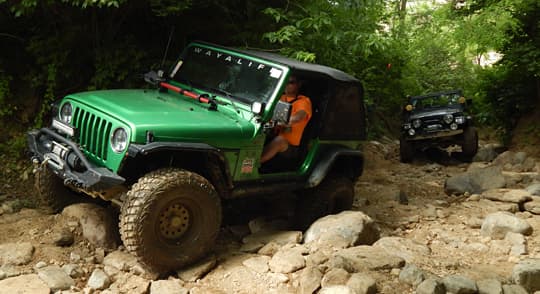 "I have a Jeep Wrangler that is towed on 16-foot utility bed trailer using home built 28-inch extension (Curt extender, which starts as 2.5-inch but necks down to 2-inch, with chain supports on sides).
The trailer has ramps, so it's easy to load.  I bought it used, but have needed to redo a lot.  By the time I get it finished this summer, I will have replaced all the wiring, added ten lights, new plate holder with lamp, and deck.  Eventually, I hope to redo the front so I can have a flat front with tool box.  I'll add a pipe rack to hold spare tires and a box for wood.  It makes it so much easier to take the Jeep for a week's outing since my camper is with me.
I live in New Mexico, so I travel this area a lot on trails.  I also make a few trips to Arizona and Colorado where the off-the-beat trails are great!  Utah has Moab, which is a real challenging place for off-roading.  Someday I want to drive the Rubicon Trail in California.
My current Jeep is not lifted (yet), but I have added 3/16-inch steel armor for the oil pan and transmission as well as an armor cover for the front differential.  I plan to do a 2.5-inch to 3.5-inch lift and replace some components as they wear.  I have already added (via Father's Day gifts) a sun screen so I can remove the roof but not get sun-burned.
My Rubicon replaced a 2000 Grand Cherokee which had 175K miles and needed a lot of work done.  This new vehicle works so much better – at least I don't get stuck!" – Harry Palmer, 2008 Dodge 2500, 2008 Lance 915, 2011 Jeep Wrangler Unlimited Rubicon (JKU); 2014 Grand Cherokee
"Our 2005 Jeep Unlimited Rubicon is equipped with a 6-inch lift, long-travel four link suspension, Bilstein coilover reservoir shocks, Warn 9000-pound winch, 30 gallon gas tank, roof rack, onboard engine-driven air compressor, 37-inch BFG tires, beadlock wheels, dual batteries, and a plethora of tools/repair stuff.
We tow it on a custom-built double-deck trailer that we are in the process of outfitting with an 18-panel solar system (6 roof mount, 12 side mount), a 7,500 watt generator, a mig welder/plasma cutter on an off-road mobile cart, two 33 gallon water tanks with pump, 50 gallon fuel tank refueling station, 12,000 pound winch, workbench, and overhead garage door.
The trailer has two 7,000 pound torsion axles with four-wheel hydraulic disc brakes, two 12,000 pound hydraulic front jacks, 33-inch BFG All Terrain KO2 tires, and a 8×8 upper observation deck at the rear with an 8-foot ramp to load the toys.  Overall, the trailer is 30-feet long with a 22-foot deck, is 102-inches wide and 11-feet tall.  It's the same height as our truck camper.
Before we had the trailer built in January, we flat-towed the Jeep behind our former motorhome and our previous truck camper throughout California, Arizona, Nevada and Oregon.  We spend a lot of time in the Anza-Borrego desert area, but also like both sides of the Sierras, the forest service roads near Flagstaff and Sedona, and the Lost Coast in NorCal.
This summer we are exploring the eastern Oregon backcountry.  Next Spring we are cruising the myriad of trails in Canyonlands and nearby venues in Utah.  The day after Linda retires from her school teaching career in 2017, we're leaving for Alaska." – Gene and Linda Yale, 2014 Ford F450, 2015 Host Mammoth, 2005 Wrangler Rubicon LJ
"We tow a Jeep Wrangler Sahara with a manual transmission.  We have frame-mounted Demco hitch mounts on the Jeep.  We are using an aluminum Blue Ox hitch.  We use the Roadmaster Even Brake for the towed Jeep.  The set up is easy to put on and easy to take off.
The nice thing about the Jeep is that it is easy to tow.  It is easy to drive around town in and, if you like to do some off road exploring, it can more then handle that.  I also like the fact that it gives you a little more space for storage.
We usually camp in the Sierra Nevada mountain range.  We have towed our Jeep many times to Oregon, Washington and Nevada.  The Jeep gives us some flexibility to explore towns or drive out some dirt road just to see where it will take us.  When you get back to camp at the end of the day the truck and camper is all set up.  Nice!" – John Ritchey, 2009 Dodge 3500, 2008 Lance 981, 2010 Jeep Wrangler Sahara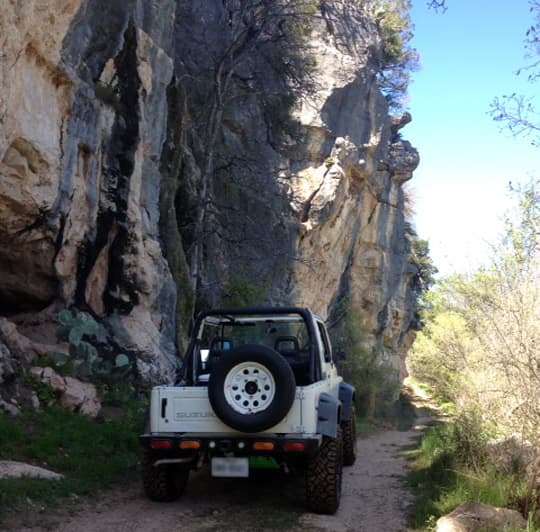 "I flat tow my Zuki to the Colorado River at Bend, Texas.  We camp at Barefoot Camp.  There are lots of river roads and trails to drive on.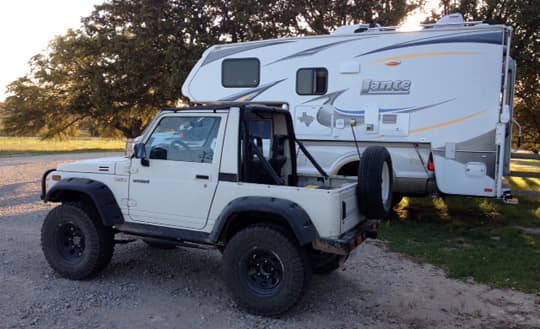 We also go to Sulfer Springs about four miles down river to drive the trails along the Colorado.  Then you can go to the state park at the bend and drive to Gorman Falls and hike the many trails they have along the river in hill country." – Jeff Wallin, 2013 Ford 350, 2013 Lance 1050s, 1988 Suzuki Samurai 4×4
"Our Jeep is modified with one-inch body lift and a 4.5-inch suspension lift on 35-inch tires, among other modifications.  We tow our Jeep on a flatbed car trailer.  Our truck is also a 6.4 diesel.
We go off-road with a local club in and around New England.  We go over lots of crazy rocks and through mud and small ponds.  Our Jeep is registered and perfectly roadworthy.  We tow in case we break something on the trail that can't be easily repaired.
And you're right, we bought our truck camper because we tow a Jeep.  We tent camped for many years.  After it snowed during a May wheeling weekend one year, we were cold, tired, and ready for something with heat that kept us from sleeping on the ground.
We wanted a truck camper that was lightweight, fit into a six foot truck bed without hanging past the rear bumper, had nice features, and a good fit and finish.  We started looking at pop-up truck campers and decided to go with a hard side instead, thinking the canvas of the pop-up is another item to maintain, a potential point of failure, and probably cold in late fall weather in northern New England.
We couldn't be happier with our Northstar Liberty.  It offers lots of little upgrades not available on other campers without paying extra and it is very lightweight at less than 1,800 pounds dry." – Mary Cyr, 2010 Ford F-250, 2013 Northstar Liberty, 2003 Wrangler Rubicon
"I have a 3.5-inch lifted Rubicon Express Sahara with a G2 rear axle featuring lockers and disc brakes.  We tow with an extended receiver hitch and a tow bar.
We take the Jeep on side trips.  We get a little better gas mileage and more accessibility.  We like the Continental Divide mountain states of New Mexico, Colorado, and Arizona.  We have plans for Wyoming, Idaho, Utah, Montana, and possibly the eastern states and Canada." – Mark Daigle, 2002 2500 HD, 2012 Lance 992, 2002 Jeep Sahara

"I have a 2014 JKUR and a 1986 Cherokee.  I have flat towed the JK about three times.  The first time was out to Johnson Valley (it's where the Hammers are).  At that time it was only about a month old and pretty stock, with the exception of the front bumper and winch.  It now has a 4″ lift, rear bumper with tire carrier, full skid plates.  It was on the Rubicon trail even before I had the lift on it.  I've wheeled it in Arizona and Pismo beach.  Next will be Moab." – Tim May, 1993 Dodge W250, 1987 Vacationeer 9'10", 2014 JKUR (4 door Wrangler Rubicon) and 1986 Cherokee
"We tow on a 16 foot trailer.  Moab, Utah is our favorite, but we have towed all the way to Alberta after stopping in Wallace, Idaho for a Jeep Jamboree.  That was 4000 miles away.  This September we plan to tow to Deadwood, South Dakota for another Jamboree.  Our children chip in for Christmas and birthdays so we can go on the Jamborees.  We just returned from a trip to all points of interest in South Arizona.  We rarely leave town without the Jeep or the horses.  We love the camper.  It's our third one, and we really like the side door because there's no more stepping around the hitch.  We also use our Jeep for mild to moderate rock crawling." – Gary Walker, 2012 Chevy 3500, 2014 Lance 1172, 2004 Jeep Rubicon
"I have a Wrangler, two door style Jeep towed with a Blue Ox tow bar on a 24″ extension from the hitch.  We go on back road treks.  We go rockhounding, hunting, fishing, and sightseeing.  It is our run around town vehicle, too.  It is a lot easier getting around town in a Jeep than a dually Ford.  The Jeep just covers all our bases  and is small and light enough for easy towing.  Without a trailer or dolly you don't have to worry about finding something to do with those when you finally get to your destination.  The tow bar is simple and the lightest option." – Jim Thomas, 2013 Ford F350, 2013 Host Shasta 9.5′, 2000 Jeep TJ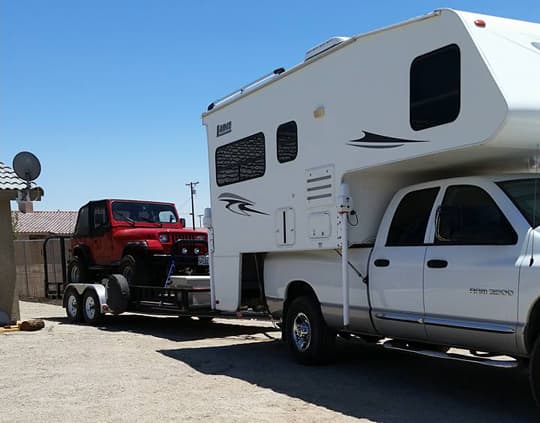 "I tow my 1993 Jeep Wrangler I6 4.0L on a trailer that also hauls water, wood, generator, a barbecue, and more.  I live in a very rural desert and leave for the summer due to the intense heat.  I live in my Lance for about four months and use my Jeep for transportation, off-roading, and getting supplies.  I usually boondock for all those months.  I love it!" – Stacey Power, 2004 Dodge Ram 2500, 2008 Lance 1055, 1993 Jeep Wrangler
"I have a 1992 Comanche pick up, last year the Comanche was made, before this I had a 1992 Wrangler.  I have towed both of them on a car trailer behind the truck and camper.  I like the car trailer rather than flat towing as I can still tow the Jeep if it gets broken and is unable to roll.
I belong to a four-wheel drive club and we go wheeling at least once a month.  I have been to Moab, Utah twice, Northern California to the Rubicon and Fordyce Creek, Helena, Montana exploring old gold mining activities.  We also have several local areas here in Washington state that we go wheeling in, Elbe Hills, Evans Creek, Fortune Creek, Tahuya, Walker Valley and the Naches area.
In the Jeep I enjoy exploring trails, rock crawling and some mud but it's not my favorite.  We will do week long and weekend trips where the truck camper comes in handy.  We like to dry camp if possible but we will also stay in campgrounds so we have water and electric for the longer stays." – Ron Tennyson, 2013 Dodge Ram 3500 DRW 4×4, 2014 Arctic Fox 865, 1992 Jeep Comanche pick up
Ron Tennyson was featured in a TCM article titled, "Jeep, Camper, and Manifold Burritos".