From the Rubicon Trail to Fordyce Creek, four-wheel drive enthusiast Ron Tennyson takes his 2014 Arctic Fox 865 to the trails and unleashes a tricked-out Jeep Comanche MJ.

If the red diesel truck and camper doesn't give it away, and the towed 1992 Jeep Comanche MJ isn't enough of a clue, surely the chili pepper bedspread will tell you that Ron Tennyson has a serious passion for adventure.  And how can you not like a guy who cooks burritos on his Jeep engine?
In his story, Ron shares his path to Jeeping and truck camping, and reveals a few hair raising events that happened along the way.  Let's just say he needed a new rear axle after his second day of wheeling with his Jeep club.
Ron's story also contains a sobering near-death experience that should have all of us checking the date and function of our carbon monoxide detectors.  While you're at it, check your LP and smoke detectors too.  We're glad Ron is okay and is here to inspire us to be safe, get out there, and have more fun.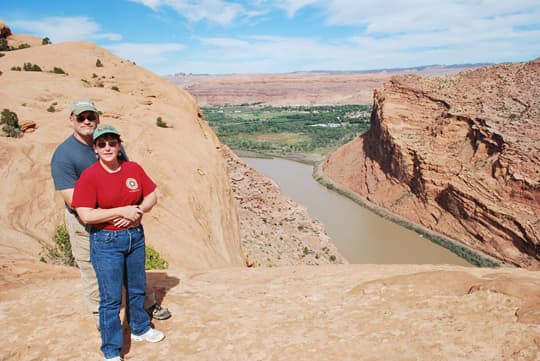 Above: Ron and Lejuana Tennyson overlooking the Colorado river on the Moab Rim trail in Moab, Utah
TCM: How did you get into truck camping?
Ron: It all starting with Jeeping.  My wife, Lejuana, and I got into Jeeping or four-wheeling approximately five years ago when I decided to buy a used Jeep.  I had always wanted one since I was a teenager.  I had ridden in friends' Jeeps and played around in the fields in Kansas where I grew up, but I never owned one for myself.
While at work, I was playing on Craigslist and started looking at Jeeps.  I told myself that one day I should buy one.  I realized that today was one day and I started seriously looking.
After a couple months of searching, I found a Jeep that I liked and could afford.  I bought the Jeep and then started looking for a four-wheel drive club to join.  I found the best club with great people who are my age and have a similar lifestyle.
At first I just did local trips and went home each night.  Then I started going on overnight trips.  The first long trip I went on with the club was to Moab, Utah.  I stayed in a cabin at the campground while everyone else was in their campers.  I stayed in a tent at other places, sleeping on the ground while my friends were warm and dry in their beds.  After a very wet night in a tent, I decided it was time to buy my first camper.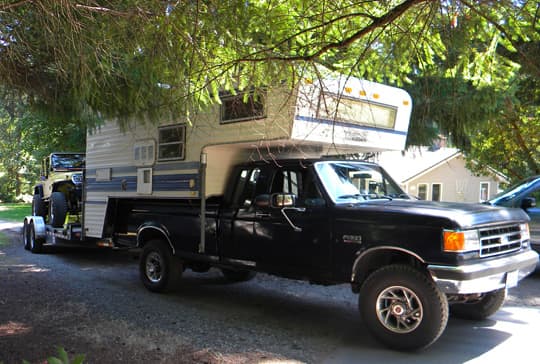 Above: Ron and Lejuana's first truck camper, a 1977 Western Wilderness
TCM: What did you get?
Ron: I bought a 1977 Western Wilderness, which I hauled with a 1990 Ford F250 in 2011.  I tried to use the camper twice.  The first time was a two week trip to Montana, but the truck broke down going over the first mountain pass, so we went back to the tent.
The second trip was a weekend trip to Eastern Washington.  The temperature was cold at night so I used the heater for the first time.  The heater leaked CO (carbon monoxide) and just about killed me.  I spent the next day in the emergency room being force fed oxygen.

TCM: That's terrifying.  We always keep two vents cracked open when using a propane RV heater.  We also regularly check our detectors.  Is that experience what led you to Wolf Creek?
Ron: Yes.  I researched a lot of different brands and bought a newer Chevy diesel truck and a brand new Wolf Creek 850 camper in February of 2012.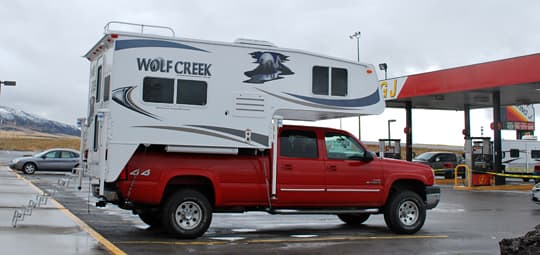 Above: Ron bought his new Wolf Creek 850 in February of 2012
I was looking for a light weight truck camper, and didn't want a pop-up.  The Wolf Creek 850 was the perfect camper for me to go wheeling with.  The Wolf Creek was also big enough for me and light enough for the truck to carry it and tow the Jeep.  We have used the rig lots of times, both with the Jeep and without.
Our first trip in the camper was driving back to Oklahoma for my father-in-law's 80th birthday.  This was a two week trip and we had a great time.  Since then we have taken it to Moab, Utah, Northern California to the Rubicon Trail, and several other states.  It has also been our home away from home here in Washington.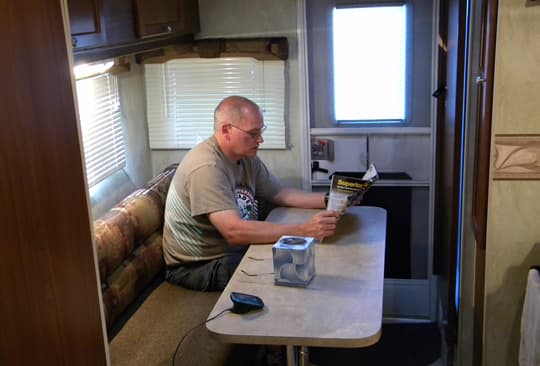 Above: Ron hanging out in his Wolf Creek 850
TCM: What led you to trade up to an Arctic Fox?
Ron: Initially we bought Wolf Creek for just me to go Jeeping with my club.  My wife didn't want to go camping, and the Wolf Creek 850 was fine for just me.  But, for two people, it's a bit crowded and there was very little storage.
After two and a half years, my wife went with me for a weekend and said, "We need something bigger".  That's all it took.  I was like, "Okay" and I started looking for another truck camper.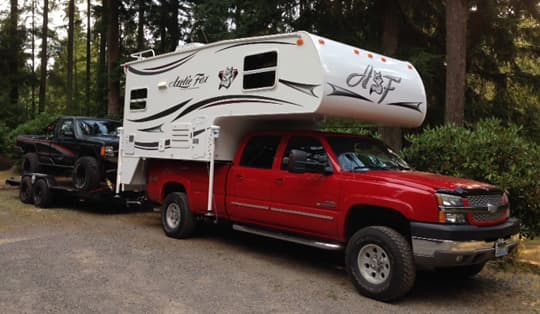 Above: Their new 2014 Arctic Fox 865
I wasn't interested in a slide-out.  We just purchased an Arctic Fox 865 non-slide camper, which is very new and has only been used twice so far.   The Arctic Fox 865 is roughly the same size as the Wolf Creek 850, but has a lot more storage and, in my opinion, is better laid out.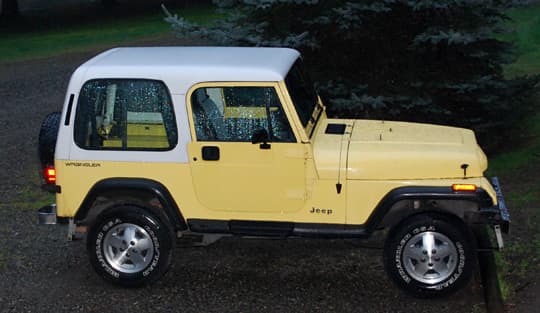 Above: Ron's first Jeep, a 1992 Jeep Wrangler YJ, before the mods were added
TCM: In 2010, we borrowed an Arctic Fox 865 and loved it.  We took that camper down to the Florida Keys and had a great time.  We especially like how the rear windows offer a panoramic view out the back of the camper.  Tell us about your Jeep and wheeling adventures.
Ron: My first Jeep was a 1992 Jeep Wrangler YJ.  I owned that Jeep for five years.  After I bought it, I installed a bigger lift and bigger tires, but I didn't know what else to do.  Then I started going to the four-wheel drive club meetings and trail runs.  I didn't know anyone there when I showed up.
On my first trail run I broke the rear axle of my Jeep on the second day.  For a stock Jeep, the rear axle is not very strong.  Friends helped me get off the trail, put my Jeep on their trailer, and towed it behind their RV.  That's when I knew I had found a good club.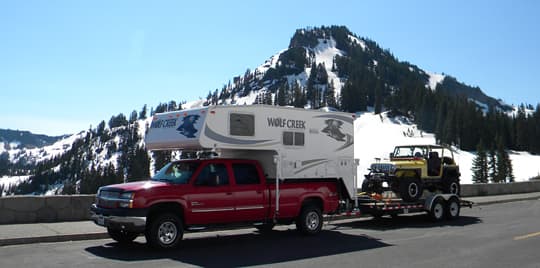 Above: The 1992 Jeep Wrangler YJ behind the Wolf Creek and Chevy rig
TCM: Clearly you made some good friends.  That's what we love about the truck camper rallies.  So what did you do with your Jeep after the rear axle broke?
Ron: The Wrangler was totally stock when I got it.  I added heavy duty front and rear bumpers, rock sliders that go under the doors to keep rocks from crushing doors, heavy steel tube fenders to not crush my fenders, an upgraded roll cage, a winch, lights, a CB radio, new interior seats and carpeting, and a center console.
Above Left: The 1992 Jeep Wrangler YJ after after the lift and tires were installed.  Middle and Right: Fordyce Creek in northern California. – click to enlarge
TCM: Sounds like you turned that Jeep into a tank.
Ron: That's the idea.  I also carried a CO2 tank for airing up tires and an air compressor that runs the lockers in the axle's differentials.  You can lock up the axles in a true four-wheel drive vehicle this is when all four tires are spinning at the same time.
Last year I sold the Jeep to another Jeeper.  He's retired.  He buys Jeeps, strips them down, and sells them piece by piece.  The next time I saw my yellow Jeep Wrangler YJ it was in a hundred different pieces at a four wheel drive swap meet.
TCM: That had to be a strange feeling.
Ron: To me it's just a vehicle.  A funny thing is that two weeks ago at a trail called Fortune Creek we had pulled off the side of the trail to let another group go by.  As the group went by a fellow club member noticed yellow doors on this black Jeep.  I stopped the guy and asked where he got the doors?  He had purchased them from the guy who bought my old Jeep.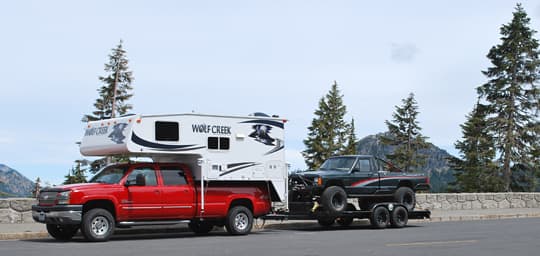 Above: The 1992 Jeep Comanche MJ pickup being towed behind their truck camper rig
TCM: In your pictures there's also a pickup truck that you're towing.
Ron: That's a 1992 Jeep Comanche MJ pickup that I bought last November.  Jeep only made that model for six years.  They quit making them in May of 1992 and only made 951 of them that year.
Whenever you go four-wheeling, everyone has a Wrangler.  I wanted something different.  You don't see many Comanche pickups out on the trails.  The bed space allows me to store and carry more stuff.  I wanted the longer wheel base, which is 119 inches.  It climbs up steep hills better and I don't have the roll over factor as much.
TCM: Did you modify the 1992 Jeep Comanche MJ like you modded out the 1992 Jeep Wrangler YJ?
Ron: Yes.  I made the same types of mods, but I did all the work myself on the Comanche with the help of friends.  With the Wrangler, I mainly took it to shops.  I bought the Comanche, drove it for two weeks, brought into my shop, and started tearing it apart.
Above: Ron is part of the Cascade 4×4 Club in Tacoma, Washington – click to enlarge the above photos

TCM: That must have been an incredible learning experience.  Tell us about the Jeeping lifestyle you mentioned earlier.
Ron: I am in the Cascade 4×4 Club in Tacoma, Washington.  I went and visited their club because they are close to where I live.  There are meetings once a month and an organized trail run once a month.  They have at least twelve trail runs a year, usually more.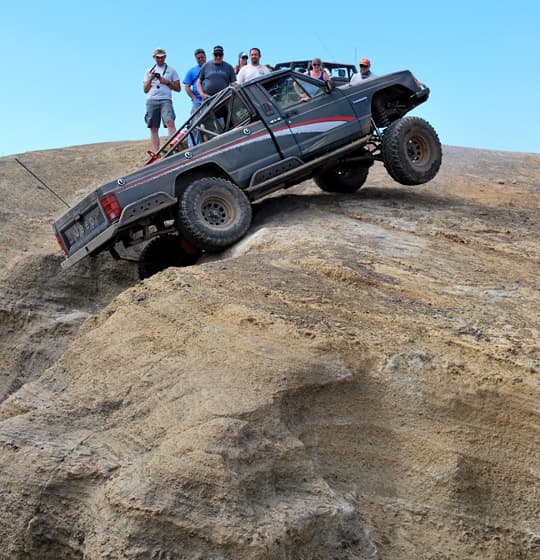 Above: Fellow Jeepers spot each other during the trail runs
This Friday I'm leaving for the weekend for a run.  Some trail runs will be for the day, and some for a week.  We get pretty good participation with our club.  We've been to Moab with the club twice.  A lot of the pictures are from the Jeep Jamboree, which happens every year in July.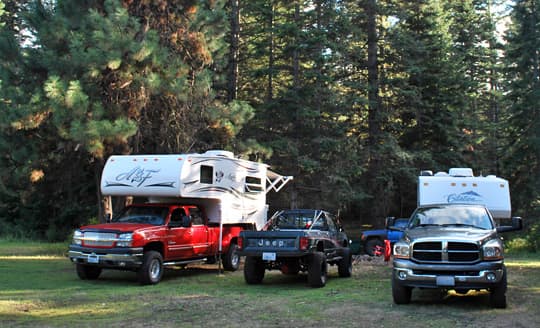 Above: Camping with his truck camper buddy who has a Citation camper
TCM: Do you see many truck campers in your club?
Ron: Yes, I have a buddy with a truck camper who has put it on gooseneck trailer just like the article you ran in TCM, "Truck Camper on a Gooseneck".  My friend, Willy, has been doing this for eight to ten years.  I just recently helped him put on a Citation camper on his trailer.  That was quite the feat.  We also have club members that have Lance and Arctic Fox truck campers.
It's a family oriented club.  My kids are older, but I enjoy the eight to nine year olds running around.  We go out on a trail and we'll see a ten year old driving with his or her dad, sitting there next to him, going slow.  It's a great time.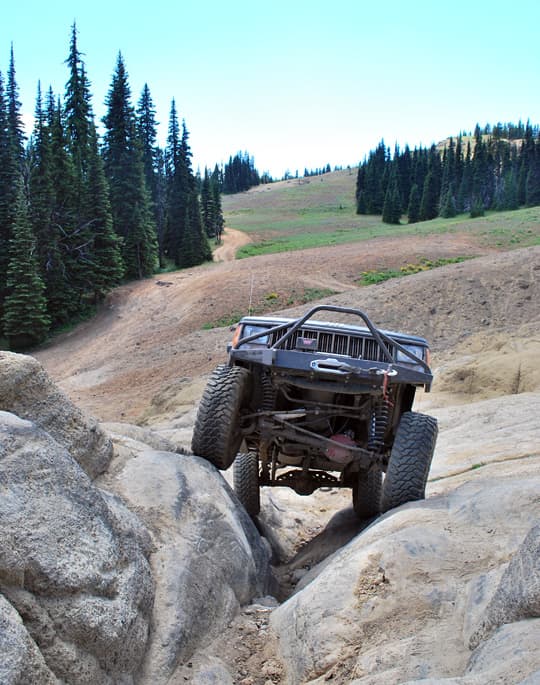 Above: Ron's 1992 Jeep Comanche MJ pickup playing on the rocks at Moon Rock during 2014 Trail Jamboree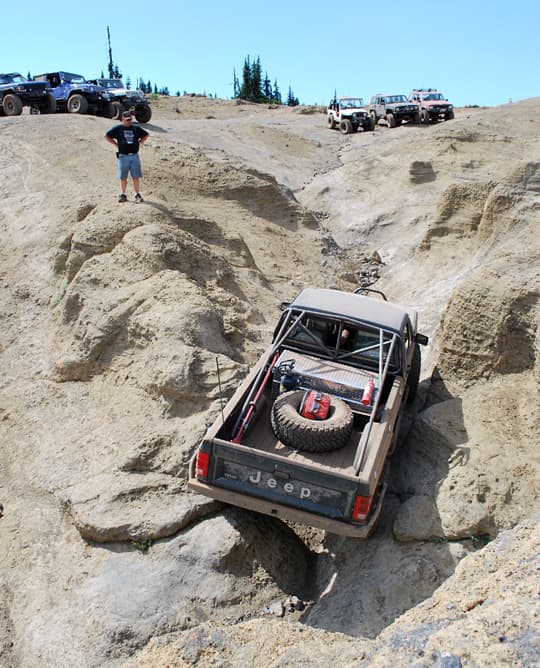 Above: Ron's 1992 Jeep Comanche MJ pickup playing on the rocks at Moon Rock during 2014 Trail Jamboree
TCM: From your photos, it looks like you do some pretty extreme off-roading with your Jeep.  How did you learn to do that?
Ron: As a teenager, I did some off-roading that I shouldn't have been doing.  Now I watch more experienced people and learn what not to do.  It's trial and error.  Most of the time it's safe.  The people in the club will tell us where to put our tires and what to do with a difficult area.  We do a lot of spotting with each other.
We went on the Rubicon Trail a couple years ago.  We also went to Fordyce Creek in northern California.  On that trail you have to cross the creek three times.  The water level can be too high to cross some of the year.  The trail is twelve miles long and it took us two days to get through the trail.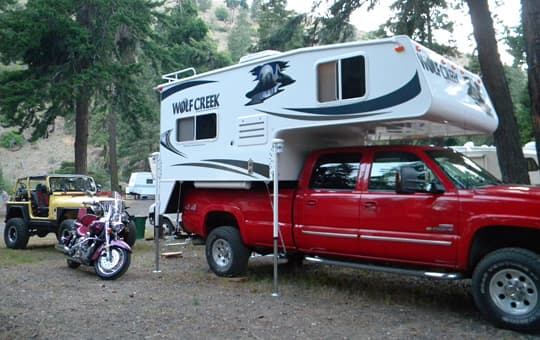 Above: Lejuana's motorcycle comes along for some of their camping trips
TCM: There's also a motorcycle in the pictures.
Ron: The motorcycle is my wife's.  Generally I'll get to the camping area first and then I do my thing for a day or two.  She'll ride the bike over and then go for a few days.  Sometimes she'll follow me back home.  We do our own things.  We met on motorcycles thirty years ago.  We've always had motorcycles.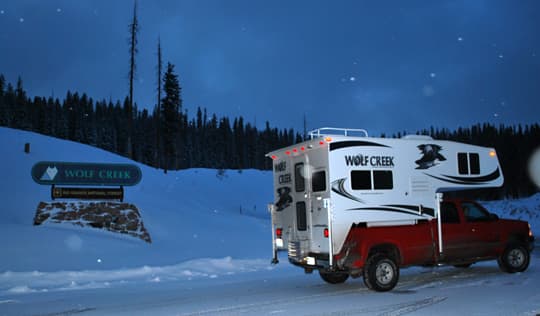 Above: Ron and Lejuana's Wolf Creek camper at Wolf Creek Pass in Colorado
TCM: Do you ever go camping without a Jeep?
Ron: Yes, we do.  Our first trip in truck camper was to go to Oklahoma to see her parents.  We didn't have a Jeep, just our truck and camper.  I sent you a picture of Wolf Creek Pass in Colorado.  That was on our first trip.  I had to take a picture of our Wolf Creek camper there.  That was a big snow storm that we were trying to get through in Colorado.  We have also been to Bryce Canyon and Zion National Park.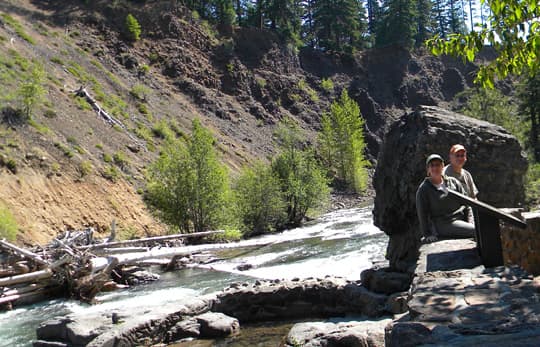 Above: Lejuana and Ron stopped along the Little Naches River checking out a fish ladder
We live about 100 miles from Mount Rainier National Park.  Mount Saint Helens National Volcanic Monument, Crater Lake National Park, and the Pacific Ocean are all close to where we live.  We have lots of opportunities to go camping.
We are planning on going to Vancouver Island in Canada in the fall.  Our truck camper is nice because our accommodations are with us.  We don't have to find a hotel and make a reservation.  It's also nice that with your camper, the bathroom is right there.  You don't need to always find a gas station.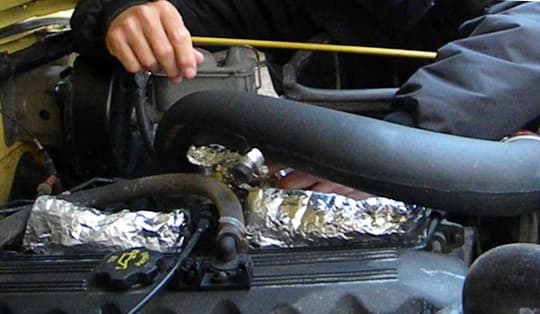 Above: Manifold burritos being heated up on the exhaust manifold
TCM: Please explain the tin foil on the engine picture.
Ron: On the trail, obviously, there are no microwaves.  Quite often we make burritos.  We wrap them in aluminum foil and put them on the engine.  The burrito heats up while you're doing your trail run.  By lunch time we have hot food to eat.  We call these manifold burritos because we heat them on the exhaust manifold.  A lot of people do it.  In Jeep Magazine last month they had a whole article on recipes you can cook on the manifold.
While traveling to a destination, we will often eat out just for the ease.  When we are camping, I will cook meals in the camper.  I like to fix pancakes, french toast, or maybe a sausage and egg scramble, and sometimes just oatmeal and fruit.  For dinner, depending on when we get back to the camper, it might be pasta, or we make something on the grill.  Often our group will do a potluck dinner and we never know what we might get.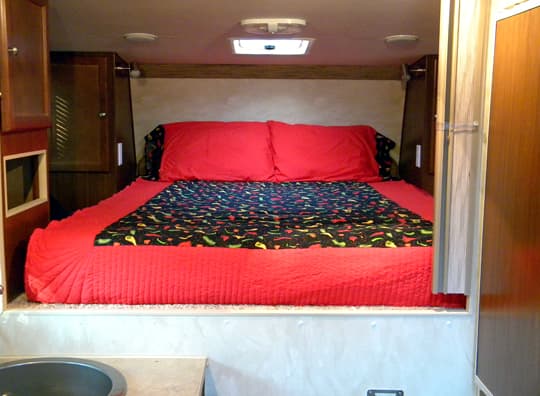 Above: A full size chili pepper quilt for a queen size bed
TCM: That's hysterical.  Manifold burritos!  Love it.  I also love the bedspread.  It looks like it's fitted for a camper.
Ron: My wife made the quilt for my bed.  I had the chili pepper theme going after I went to Taos, New Mexico.  She bought potholders and made the bedspread.  It's a full size instead of queen so it fits the bed better with no overhang.  It makes the bed easy to make.
TCM: What's the story behind the rig photo at Flying J?
Ron: That was taken in southern Idaho.  Flying J had a big power failure and none of the gas pumps were working.  A lot of people were sitting in cars waiting for the gas pumps.  We climbed in our truck camper and took about a three hour nap until the pumps were ready to go.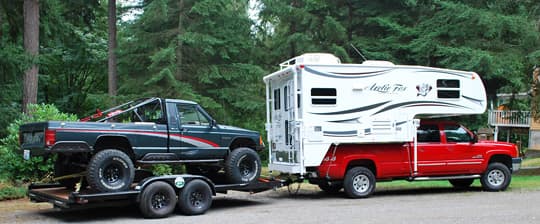 Above: The new Arctic Fox 865 is ready to go out jeeping and camping
TCM: What's next for you and your Jeeping and truck camping lifestyle?
Ron: We want to go to the northeast United States, near your area.  Neither one of us has been to the northeast.  We also want to go across southern Canada.  We want to plan a trip to see the Fall colors.  We want to spend a month and a half driving so we don't feel rushed.  That way we can enjoy it and take our time.  When we take long road trips, we listen to books on tape and talk.  It beats the heck out of flying on a plane.
I enjoy truck camping it because we get to stay with friends and club members.  On the last trip we camped with people from southern Washington.  We didn't know them before last weekend.  It's amazing how friendly and helpful people are on the trail and at the camp.  Everyone steps out and helps.  I would have never done any of this if I hadn't bought a Jeep.  I wouldn't have gotten into truck camping either.  Jeeping and truck camping make it possible.
Camper: 2014 Arctic Fox 865
Tie-downs/Turnbuckles: Torklift
Suspension: Airbags
Gear: Factory Hitch
Tow: 1992 Jeep Wrangler YJ
Do you travel with a Jeep and go to neat off-road locations?  If you do, please share your story.