From the Rubicon Trail to Fordyce Creek, four-wheel drive enthusiast Ron Tennyson takes his 2014 Arctic Fox 865 to the trails and unleashes a tricked-out Jeep Comanche MJ.

If the red diesel truck and camper doesn't give it away, and the towed 1992 Jeep Comanche MJ isn't enough of a clue, surely the chili pepper bedspread will tell you that Ron Tennyson has a serious passion for adventure.  And how can you not like a guy who cooks burritos on his Jeep engine?
In his story, Ron shares his path to Jeeping and truck camping, and reveals a few hair raising events that happened along the way.  Let's just say he needed a new rear axle after his second day of wheeling with his Jeep club.
Ron's story also contains a sobering near-death experience that should have all of us checking the date and function of our carbon monoxide detectors.  While you're at it, check your LP and smoke detectors too.  We're glad Ron is okay and is here to inspire us to be safe, get out there, and have more fun.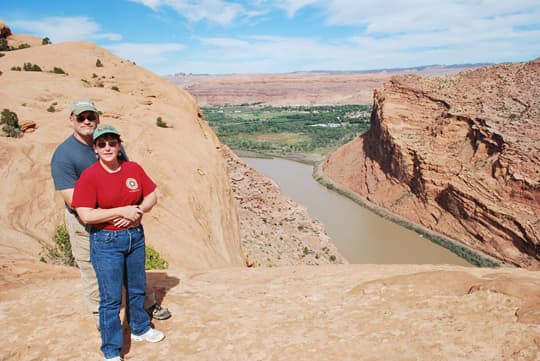 Above: Ron and Lejuana Tennyson overlooking the Colorado river on the Moab Rim trail in Moab, Utah
TCM: How did you get into truck camping?
Ron: It all starting with Jeeping.  My wife, Lejuana, and I got into Jeeping or four-wheeling approximately five years ago when I decided to buy a used Jeep.  I had always wanted one since I was a teenager.  I had ridden in friends' Jeeps and played around in the fields in Kansas where I grew up, but I never owned one for myself.
While at work, I was playing on Craigslist and started looking at Jeeps.  I told myself that one day I should buy one.  I realized that today was one day and I started seriously looking.
After a couple months of searching, I found a Jeep that I liked and could afford.  I bought the Jeep and then started looking for a four-wheel drive club to join.  I found the best club with great people who are my age and have a similar lifestyle.
At first I just did local trips and went home each night.  Then I started going on overnight trips.  The first long trip I went on with the club was to Moab, Utah.  I stayed in a cabin at the campground while everyone else was in their campers.  I stayed in a tent at other places, sleeping on the ground while my friends were warm and dry in their beds.  After a very wet night in a tent, I decided it was time to buy my first camper.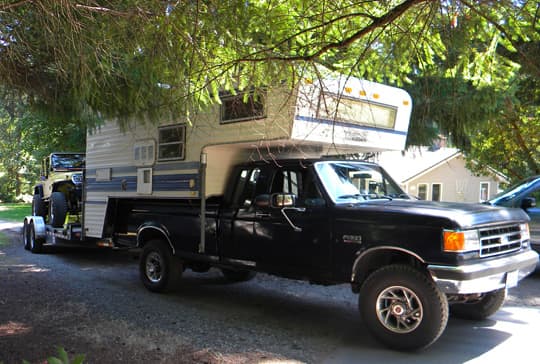 Above: Ron and Lejuana's first truck camper, a 1977 Western Wilderness
TCM: What did you get?
Ron: I bought a 1977 Western Wilderness, which I hauled with a 1990 Ford F250 in 2011.  I tried to use the camper twice.  The first time was a two week trip to Montana, but the truck broke down going over the first mountain pass, so we went back to the tent.
The second trip was a weekend trip to Eastern Washington.  The temperature was cold at night so I used the heater for the first time.  The heater leaked CO (carbon monoxide) and just about killed me.  I spent the next day in the emergency room being force fed oxygen.

TCM: That's terrifying.  We always keep two vents cracked open when using a propane RV heater.  We also regularly check our detectors.  Is that experience what led you to Wolf Creek?
Ron: Yes.  I researched a lot of different brands and bought a newer Chevy diesel truck and a brand new Wolf Creek 850 camper in February of 2012.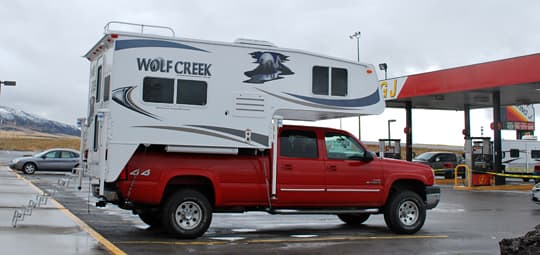 Above: Ron bought his new Wolf Creek 850 in February of 2012
I was looking for a light weight truck camper, and didn't want a pop-up.  The Wolf Creek 850 was the perfect camper for me to go wheeling with.  The Wolf Creek was also big enough for me and light enough for the truck to carry it and tow the Jeep.  We have used the rig lots of times, both with the Jeep and without.