Truck Camper Magazine readers reveal clever niche LED products as well as some creative applications for LED lighting for RVs and campers. You don't have to put out the red light, but maybe you should.
This week's Question of the Week was:
What LED lighting products do you use on the interior or exterior of your truck camper?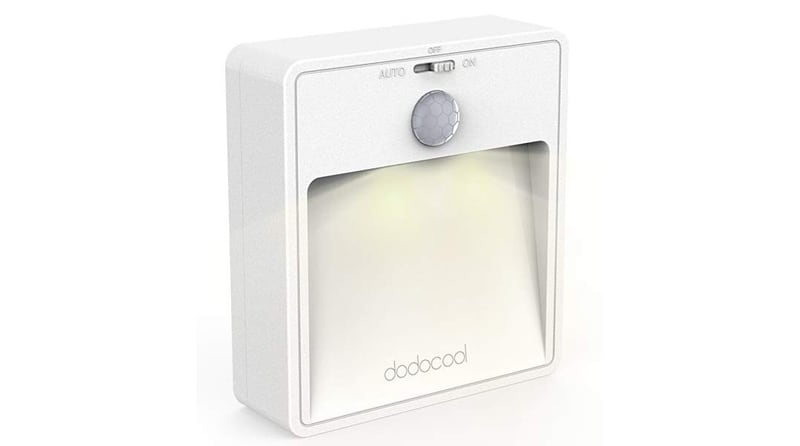 "Our 2016 Palomino HS-2911 truck camper came with all-LED, but I added motion sensor LED lights to the closets and storage areas under the dinette. It greatly helps in those dark areas. With the motion sensors, we don't have to turn the lights on and off." – John Leslie, 2017 Dodge Ram 3500, 2016 Palomino HS-2911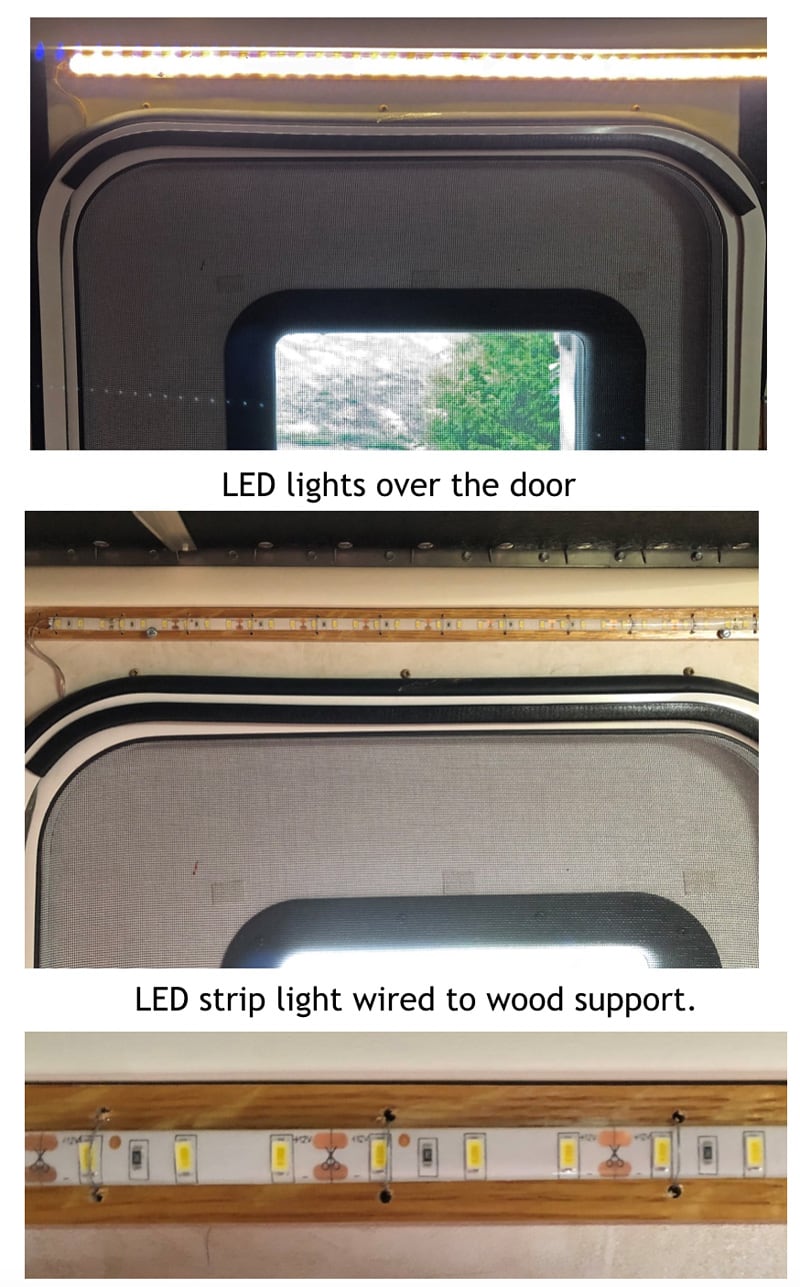 "We added stick-up LED lights that we bought from eBay (no particular brand). They are over the door, and under the cabinet. Even though the lights worked fine, the adhesive was not strong enough and kept coming loose.
Howard drilled holes in a thin strip of wood and wired the strip to the wood. He then hung that to the cabinet and over the door with screws. It is great having the extra light in the camper." – Laurel and Howard Wilson, 2018 Ford F350, Four Wheel Camper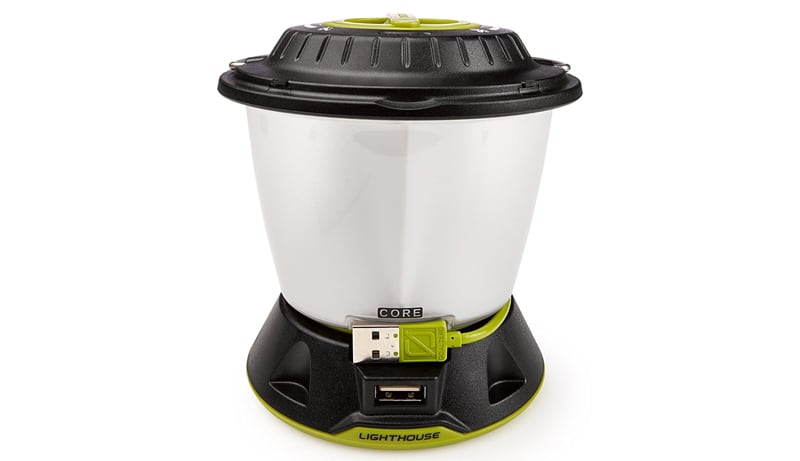 "The factory LED lights on my camper were too harsh, so I bought some transparent yellow film to stick onto the covers to soften the light. This was supposed to be a temporary measure, but it is still working for me.
For mood lighting and a bedside lamp, I was using my Coleman LED lantern. After a few months of use it would no longer charge.
After much research, I replaced it with the Goal Zero Lighthouse Core Lantern and USB Power Hub. I'm happy with it. It is smaller than the Coleman, and it gives a pleasant soft light. Its recharging cable is built in so I won't lose it. The light level is also very adjustable." – Christine Dyer, 2012 Chevy Silverado 1500, 2016 Four Wheel Camper Hawk shell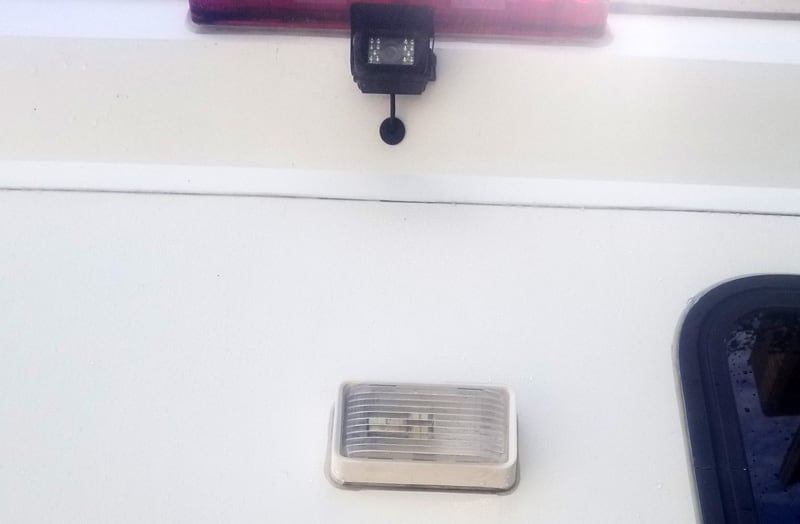 "Years ago I installed LED replacement bulbs. Then about two years ago I changed most of the fixtures. They were yellowing and looked old.
I have a DC shunt with a DC amp meter in my camper. There is a huge power consumption difference between the incandescent bulbs and LED lights. I like the the new LED fixtures. You can get any combination of lumens (amount of light) you want." – Gary Raymond, 2014 Ram 3500, 2006 Lance 1191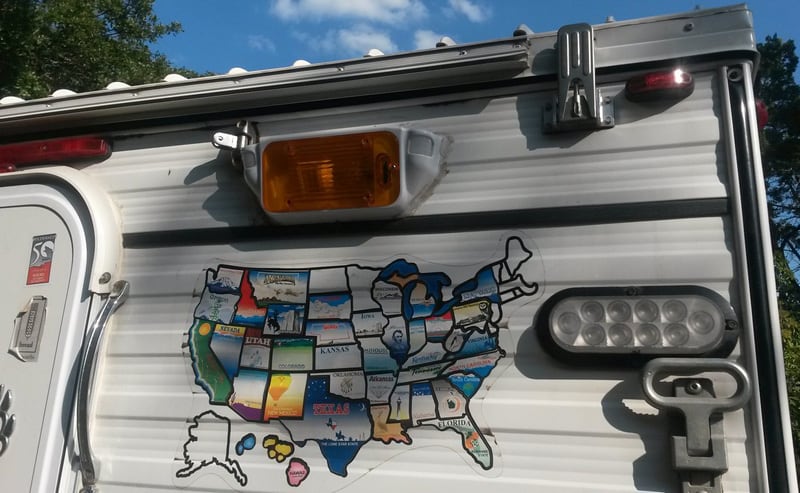 "My 2013 Four Wheel Camper Hawk came with LED lights. However, they were blueish. I replaced them with LEDs that were much more pleasing to the eye.
The exterior porch light was incandescent. I first replaced it with an LED bulb then an LED motion sensor light.
The Four Wheel Camper factory installed two exterior side lights. They were LED back-up lights, mounted vertically. It was really good for digging in the ground or raccoon hunting, but not so great for lighting around the campsite.
I replaced those original LED side lights and added standard LED surface mount backup lights. I sprayed the exterior-down lights with a red tint and added an LED red step light below the door.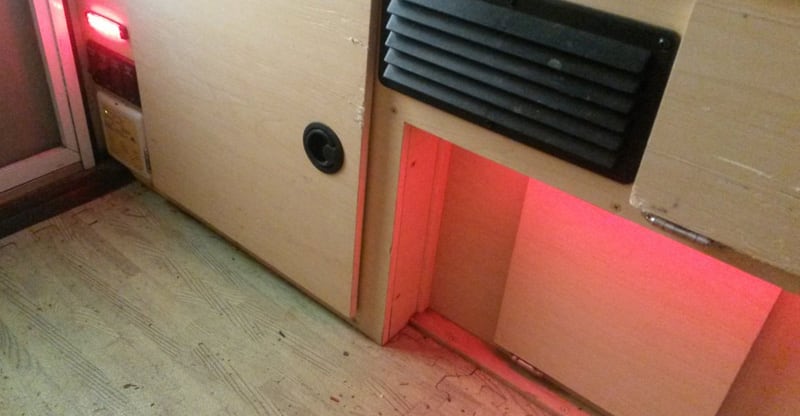 I replaced the interior floor light a red LED strip and added another red LED marker light by the doorway. We use a portable plug-in LED strip for the bed area." – Bill Peters, 2017 Chevy Silverado 1500, 2013 Four Wheel Camper Hawk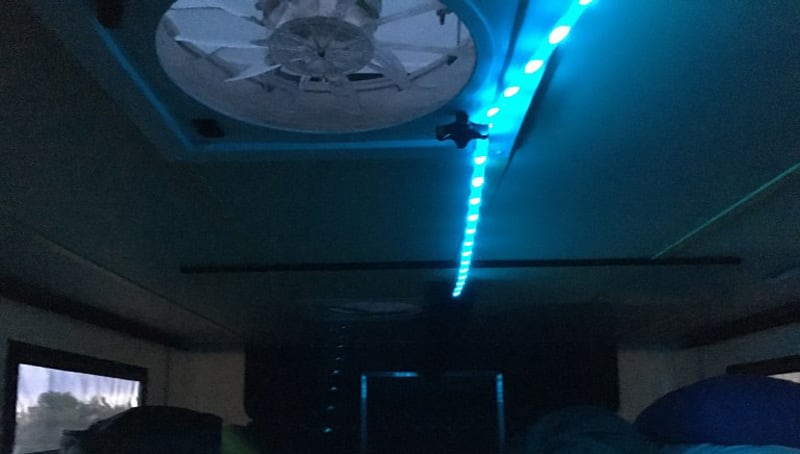 "We have a Luminoodle color rope light. It has brightness settings and a remote. We hook it up to a USB power bank. It is perfect to set a warm ambiance, disco dance party or for middle of the night restroom runs.
I use the remote to flip it on. It is set to the dimmest blue and nobody gets blinded. It's easily moved around if we want to attach it to the awning or even to the truck. It's especially nice when we want softer light inside the camper than the two bright LED light strips that came with it." – Sandy Schmidt, 2006 Toyota Tundra, 2015 Four Wheel Camper Hawk

"In 2014, three Japanese physicists were awarded the Nobel Prize for discovering and inventing the blue LED. This enabled manufacturers to adjust the color temperature of LED lamps and made them more acceptable. This development resulted in the explosion of the use of LED fixtures. I'm a residential electrical contractor and that's all I will install these days.
In my 2000 Four Wheel Camper Eagle, I have replaced all of the lighting with LEDs. I found these two-position ceiling fixtures at Camping World. They were an easy switch from the incandescent fixtures that came with it. I put an LED bulb in the exterior light as well.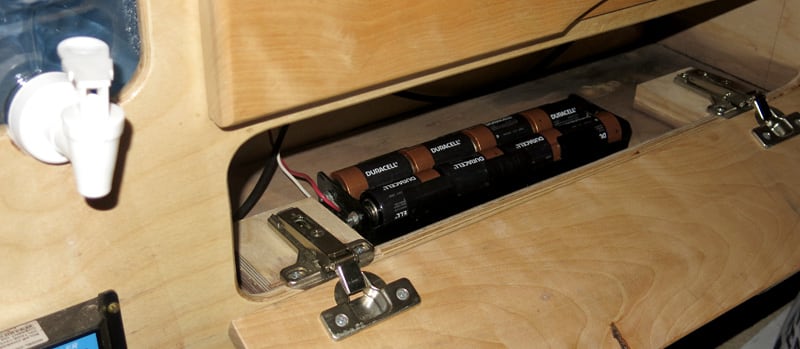 LEDs have reduced my electrical needs (they are the only electrical item I use). I now run them on an eight pack of D batteries, which last a long time." – Mark Gentry, 2003 Ford Ranger, 2000 Four Wheel Camper Eagle
"Our 2012 Arctic Fox 990 model came with exterior LED lights, but the interior lights were not. I contacted Northwood about installing LEDs on the interior since the 2013 models came with interior LED lights.
I then went to Camping World and replaced the dining area, bed light, shower light and over the sink light fixtures with new LED fixtures. The reading lights by the bed had bulbs that I was able to just replace the bulbs with LED.
Northwood was very accommodating in helping me to get their dimmable LED fixtures. They had great after the sales service!
The LED lights are brighter than the original lights and use less power for longer boondocking stays." – Steven Cilenti, 1999 Ford F-350, 2012 Arctic Fox 990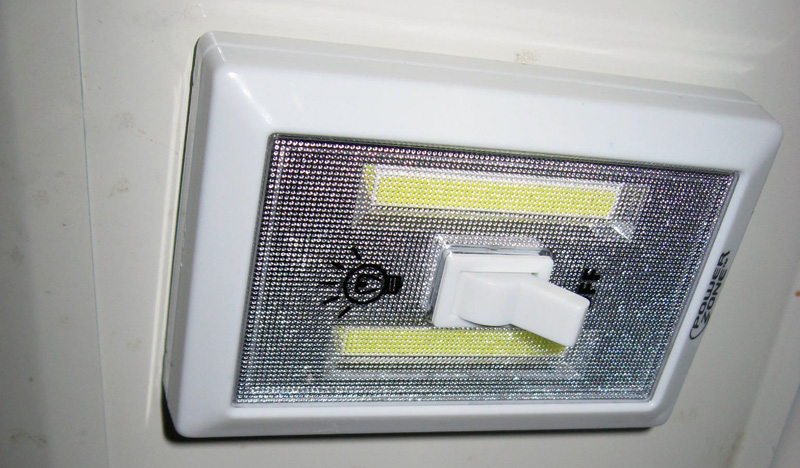 "I have changed all the light fixtures to LED bulbs except for two fluorescent lights. Those are over the dinette and over the kitchen area. We seldom use them because they're just too bright.
I put in the LED bulbs about three years ago. When I turn them on over the stove or the kitchen sink they start to flicker after about ten minutes, which is very annoying.
I've added two new LED lights that run on AAA batteries. One is under the cabinet over the sink and the other is under the stove's hood. They're attached by Velcro strips and have proven to be very effective. They only cost $3 at Harbor Freight. I do have four puck lights in the closets and one in the bathroom. We still get good use of our LED Joby Gorilla lamps in the dinette area and in the cabover when not plugged in to 110 power." – Roger and Elaine Odahl, 2008 Dodge Ram 3500, 2004 Eagle Cap 950
"I replaced the incandescents with off-brand 1156 LEDs. One fixture was wired backwards so the LED wouldn't light until corrected. A few others had poor solder joints and quit after a few miles of back roads. Since then the rest have worked. It has been three years." – Ron and Judi Pucul, 2016 Ford F-350, 2007 Lance 1055

"I bought GRV Ba15s (1156 or 1141) LED lights. They're advertised as warm white and $10.33 for two bulbs. They replace an 1156 or 1141 style bulb. I replaced six bulbs in my camper including the exterior light next to the door.
I really like the brightness and color of the GRV Ba15s LEDs. They're a little brighter than the original bulbs, but I like bright light to see what I'm doing. And they use one-tenth the amps of regular incandescent bulbs as measured on my Bogart Engineering digital read out." – Dan Sundt, 2005 Chevy Silverado 2500HD, 2003 Hallmark Ute
"I have replaced all but the incandescent range light in my camper with LED lights. I asked a RV tech about the camper's tail light bulbs. He said, "Of course we could change them" and promptly blew out the fuse. I can't find LED replacement Bargmans so I keep the OEM bulbs." – Bill Close, 2017 Ram 3500, 2012 Lance 850
"All of my interior lighting has been upgraded to LED replacement bulbs, even the refrigerator. All exterior bulbs have also been upgraded to LED. It helps for brightness. The parking/signal brake lights really shine.
I can now run nearly all of the interior LED lighting for the same power as maybe two of the old incandescent bulbs. I also run a double string of solar lights as walkway lighting with no load on our battery system." – Eric Devolin, 2007 GMC 3500, 2006 Adventurer 106 DBS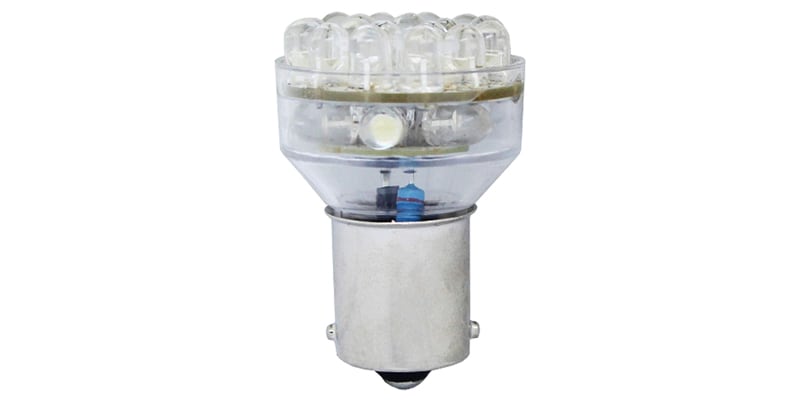 "I just ordered a pair of LED replacements for the incandescent lamps in the night lights on the shelf over the cabover bed. We've found they get so hot that – when you finally go to shut them off – you get a pretty nasty burn searching for the switch. The LED should cool that issue considerably and save our battery at the same time!" – Jim Duarte, 2015 Ford F-350, 2013 Eagle Cap 850
"I've got a couple interior lights in work zones. But, I have been shying away from doing the whole rig as I've heard about quality issues and bulbs shorting out. I don't mind paying for good bulbs, but don't want to buy anything that's a hazard." – Ross Montani, 1997 RAM 2500, 1999 Bigfoot 9.6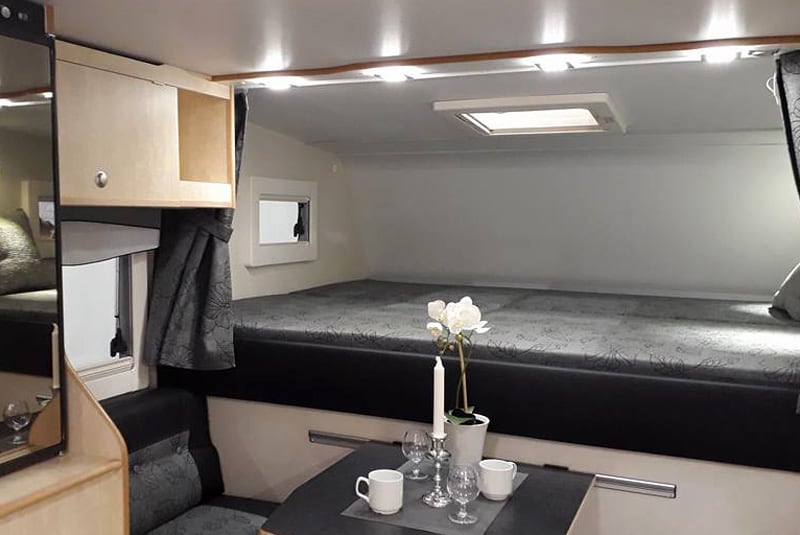 "The Easy Camper uses simple light and white lights that provide comfortable light. There is a LED lamp with four LED lights that are dimmable between the alcove and seating area." – Dag Bjørnar Stemsverk, Volkswagen Amarok, 2018 Easy Camper
"I purchased plain 1156 LED replacement bulbs on Amazon." – Kevin Smith

"A couple of years ago, we switched all of our regularly-used lights in the camper to LED to reduce our power consumption. We did this by replacing the bulbs with comparably-sized LED replacements. This has mostly worked okay. However, on a couple of highly-used fixtures (over the sink and over the table), we have experienced short bulb life. The failed bulbs were replaced with LED light fixtures and these have worked well.
We frequently camp off-grid. We were more than three-weeks unplugged at a time on our last trip to Alaska, but we also drove every day, so the truck's alternator charged the batteries." – Steven Merrill, Chevrolet Silverado 3500, 2007 Lance 992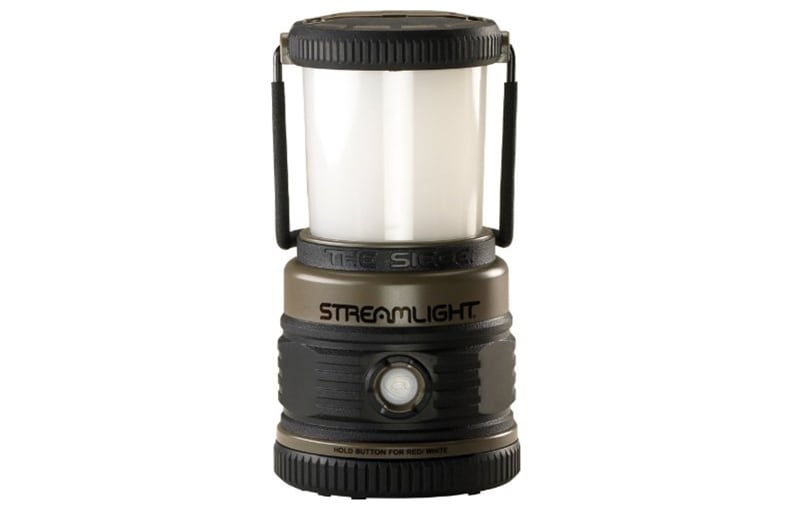 "When we are boondocking or have no hook-ups, I use a LED rechargeable lantern from Streamlight called the Super Siege. Even though the camper has LED lights throughout, the lantern helps save battery power.
We need the camper batteries for more important things like the furnace fan when we got caught in 25-degree weather this year in Yellowstone National Park in early June.
I can recharge the Streamlight off of solar on the camper and don't have to bring extra fuel or batteries with me. It is a bright little lantern and has worked out great for us!" – Josh and Stephanie Papp, 2007 Chevy 2500, 2016 Lance 865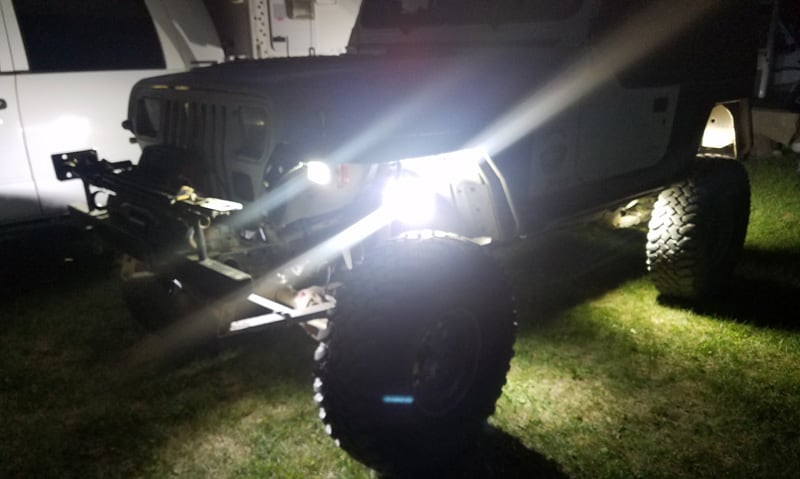 "We can't seem to arrive during the day, so we have full LED lights on our tow vehicle for parking at night.  I added a key fob remote control to the Jeep's rock lights. When we hear something near the camper in the dark, I use the Jeep to light the area." – Bill Cole, 2006 Dodge 2500, 2008 Arctic Fox 811
"I get all my lights from Superbright LED. My camper came with interior LED lights, but I retrofitted all the exterior lamps to LED as well. I did the truck, too – even the headlights." – Daryl Davis, 1997 Ford F350, 2014 Palomino SS-1500