Maggie Karam's article, "Full-Time Truck Camping With Wonder Woman" clearly hit a nerve.  Not only was was Maggie's story of solo truck camping very well received, but her solitary lifestyle touched off a firestorm of passionate responses to this week's Question of the Week, "Do you ever go truck camping by yourself?"
It turns out there's a good number of folks who go truck camping by themselves.  And the reasons they go truck camping alone include death of a spouse, divorce, disinterested partners, different vacation schedules, different retirement dates, and a strong preference for being alone.
While many respondents leave the door open to camping with others, there's very little sense that truck camping alone isn't anything but awesome.  As many state, the unlimited freedom of solo truck camping is beyond compare.
Go anywhere.  Camp anywhere.  Tow anything.  And answer to no one?
The following sixty-five truck campers say, "Heck yeah!"
"Over the past two years I have done many month-long trips.  Only on one of these did I have a friend travel with me.  Otherwise, it has been me and my cat, Zoe.
Like Maggie Karam, I don't have a significant other, and I like to explore and travel.  Other than an occasional breakdown (I have an older truck), I have had no problems being on my own.  I am always aware of my surroundings and I won't camp somewhere that doesn't feel safe.  Truck camping is the best!" – Wanda Myers, 1999 Dodge 2500, 2003 Hallmark Cuchara
"Over the years it's me and the dog crossing the USA and Canada.  My wife still is working full-time and will fly out to meet me.  It's four years until her retirement and then we expect to get a unit with slide-outs." – Tom Martin, 2003 Ford F350, 2005 Lance 1050
"My wife will go fishing, but she won't go deer hunting." – Philip Tron, 2009 Chevy, 2012 Lance 1050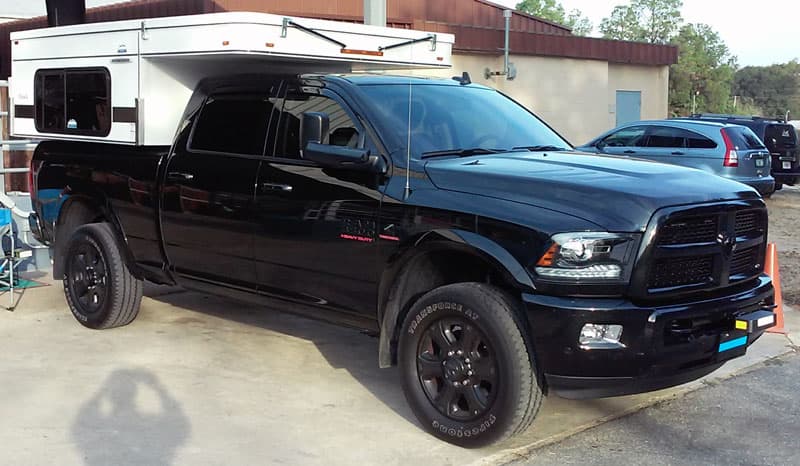 "I have a daughter in South Florida and a daughter in Colorado.  My wife is resistant to retirement.  I even offered her a new Airstream, which she resisted by saying, "Not me, but you can do that if you like."  Hence the truck camper.
I signed up for federal parks, Florida state parks, and KOA campgrounds.  I am happy as a butcher's dog.  I'm not sure what I'll do when she retires." – R. Shafer, 2016 Ram 3500, 2016 Four Wheel Camper Hawk
"Yes, I camp by myself and rarely with companions.  I traveled a lot by myself as a teen and young adult living in Europe, and never really stopped.  It's quite normal for me.
I'm retired and single now.  I still have the urge to get out and explore.  I want to do it in comfort and without towing, so I bought a pop-up truck camper in February.  It's everything I'd hoped it would be.  It's easy for me to manage and ideal for solo camping.
This year I explored The West in a series of trips between Yellowstone and Southern California.  I have stayed in national parks and forests, nature preserves, a hot spring, and a couple of parking lots.  I felt at ease in those places.
I'm attracted to the idea of having remote backcountry campsites all to myself, but getting a tire puncture on a rough Mojave desert dirt track in the heat of June made me aware that it's easy to cross the line between adventure and stupidity.  So, for now, I'll remain semi-civilized on solo trips.
Why camp alone?  With a companion, trips become more about the shared experience. That's fine, but having only myself to please feels completely different.  I find the freedom of traveling alone exciting and restorative.  It brings out my inner big kid!" – Christine Dyer, 2012 Chevy Silverado, 2016 Four Wheel Camper Hawk shell
"My wife isn't really into camping, so most of the time it is just me and my dog.  We use our camper quite a bit during the fall and winter for hunting trips and hunting tournaments.  It's plenty big for the two of us." – Rob Haas, 2004 Chevy 2500HD, 1990 Sunlite 850WT
"Being single, retired, and having a golden retriever, I go camping by myself.  It may sound a little lonely, but it's not at all.  I have meet a lot of interesting people and I can go as I please.  When I drop by on relatives, classmates, or friends, it is usually a fun time." – Charlie Young, 2013 Chevy 2500 HD, 2004 Sunlite Apache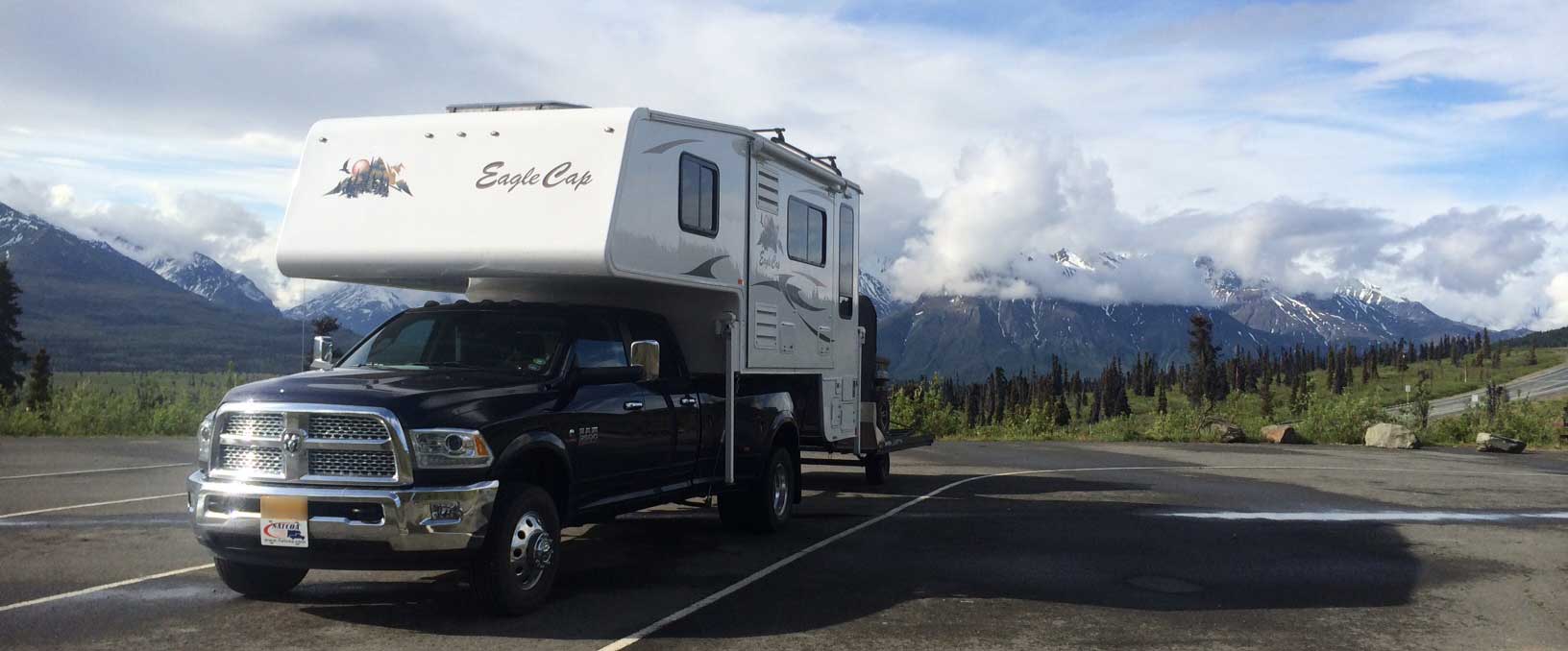 "The majority of my truck camping trips in Alaska are alone.  My better half is not as fanatical about camping as I am.  I head out just about every weekend.  With my current work schedule, every other weekend is a long weekend for me.
My wife does like camping, but also has other interests that she likes to do in the local area with friends and our daughters.
I never had any intensions of living close to a city.  I am a country boy at heart and we currently live ten miles outside of Anchorage.  That is only because of the jobs we have.  So, I head out of town every chance I get to maintain my sanity.
I'll load up the truck camper Wednesday after work, hook up the boat or UTV trailer, and head out straight from work on Thursday or Friday and stay until Sunday or Monday afternoon.  This all starts in March and goes until October.  Depending on the temps, I will do a couple of winter trips, too.
I enjoy camping alone.  Everything I do is on my schedule.  I can head out the river or in the boat and not have any set times to be back.  Meals are simple; meat, potatoes, bread, and a brew.
Many of the places I go, especially salmon fishing, I always seem to meet interesting people.  I enjoy meeting up with people that are on their RV vacations up here.  I love hearing their experiences on the road both good and bad, and I often get to help them in landing their first Alaskan salmon.  I'd love to know how many photos I'm in with travelers and if they remember my name when they get back home to share their adventures.
Don't get me wrong, I really do love it when my wife comes along on these trips.  But, when it is just me, I really enjoy the freedom to do as I please for those few days." – Tom Warren, 2013 Ram 3500, 2013 Eagle Cap 1160
"If I only went camping when someone else wanted to go, I'd miss out on lots of adventures!  I'm a widow (youngish for a widow at 51 years old) and have always had a gypsy spirit and wandering shoes.  My camper is an extension of that and, since it's just me and my dogs, we really enjoy taking to the road.
Right now I'm workamping!  I'm a counselor for the US Military, assigned for a month at Holloman AFB, and staying at Oliver Lee State Park, near Alamogordo, New Mexico.
Last spring I checked off a bucket list item by driving myself across the country from New Mexico to Pennsylvania for a Civil War battlefields tour.  I loosely planned the trip and made sure my rig was in good working order.  Then I set out all by my lil' ole' self in my #biggirlrig!
The best part was that I could do exactly as I wanted, and spend as much time as I wanted geeking out on Civil War history.  No one was standing around bored and waiting for me as I wandered over battlefields and through museums learning about part of our country's history that interested me.
People ask me if I'm nervous about traveling alone, but I'm really not – especially with cell phones and good roadside service.  There are some things that I'd like to do that I don't think are a good idea to do solo.  The Al-Can to Alaska doesn't seem like a good solo gig, and going boondocking beyond of cell service doesn't seem smart either.
I'm very lucky to have a brother and his wife who are also truck campers.  He's helped me immensely with maintenance and mods, not to mention the random and regular text on how to fix something, or what I should do.  Just a few weeks ago he put another solar panel and battery on my Lance so I'm less reliant on shore power.  His help, patience, support, and work on my rig has changed my ideas of what is possible in this world of truck camping." – Karen House, 2005 Ram 2500, 2005 Lance 811
"We live in New Zealand and drove our truck camper everywhere using four-wheel drive to go fly fishing and hunting in remote places.  We also compete in gun dog trials around New Zealand with our black lab, Harley.
When my wife was still flying on her many South Pacific trips and unable to join us (she's a recently retired Virgin flight attendant), Harley and I would attend the trials on our own.  It's great to show located some remote place for the trial.  We will be purchasing a new Palomino soft side and truck very soon.  Cheers from down under." – Gene Klein, Recently sold 1994 Mazda B2600, Recently sold 1996 Jayco soft side
"I was inspired by a lady that my husband and I met in the 1980's while we were living in a tent for the summer in Michigan.  She lived in her truck camper with her cat and traveled south in the winter and north in the summer.  I thought it was the greatest thing to do.  It took me a while to get a truck and camper of my own.
Meanwhile, from 2003 through 2013 I was tent camping by myself two or three times a year in New Jersey while I was taking classes in wilderness survival and primitive skills.
I finally got my truck in 2014 and my camper in 2015.  That summer I took it to the Pine Barrens in New Jersey while helping staff a Vision Quest.  It felt so good not having to pitch a tent (sometimes in the snow) and not worrying about my tent flooding if it rained.
I didn't take a long vacation this past year, but I hope to use the camper again in 2017.  I would like to visit my sister in Kentucky, my sister in Florida, my in-laws and my brother in California, and ever onward to many more adventures." – Marcia Liedigk, 2000 GMC Sierra K3500, 1998 Fleetwood Elkhorn
"I started truck camping solo after my divorce in order to see my two young kids who lived 500 miles away from me.  Camping made it possible to have happy meaningful bonding times with my daughter and son.
I was able to get them away from their normal surroundings and allowed them to relax and be themselves around their dad.  They didn't have a clue that dad, at the time, had no other choice if he wanted to see his own kids due to financial struggles.
Now 12 years later, they are all grown up and on their own.  I find I have more time on the books to travel and see places that this great country has to offer.  I enjoy meeting new people on the road and hearing their life stories.
In my years of travel, I only have seen one women who was willing to travel by herself in a truck camper.  Other than that, it's been a lot of couples, and males traveling alone.
Even if I had unlimited amount of money I would still choose to own a truck camper to travel in.  I enjoy the places that I have visited and would rather do it now while I'm still young enough to do it.  For me, it must be solo for now." – David Petsch, 2004 Toyota Tundra, 2011 Lance 825
"Absolutely!  Most of the time I go truck camping alone, although that's only true if you don't count my little four legged companion – Gladys the pug!
We take weekend jaunts, especially in the fall and spring.  I have a large park model RV on a permanent campground in the New Hampshire mountains where we stay in the summer, but truck camping in my Travel Lite is unbeatable during the shoulder seasons.  I would go truck camping it in winter as well, but there are no electrical outlets available at my weekday work location, or at my multi-unit apartment building.
I haven't figured out yet (after six years of research) how to keep a truck camper from freezing up over five days of disconnected non-use during the winter months.  I would love to hear ideas from other readers.  Based in New England, I probably couldn't get enough sun during winter days to charge the batteries and feed the current-hungry furnace blower." – Reed Prior, 2007 GMC 2500HD, 2000 Travel Lite
"I have always camped alone as an adult, although my dog goes with me.  I love being the only one in a campground or area.  I love exploring nature and being able to do it at my own pace.  I think you see more wildlife when you are out quietly by yourself.
I have never been scared or afraid to be alone.  Solitude is a precious commodity.  You do need to use common sense and pay attention to your surroundings.  I am on my second truck camper and camped alone with my first rig in my 20s and 30s.
My hat is off to Maggie Karam.  I am retired now and was full-timing in mine for 15 months.  I thought I was looking for a new place to live but, like Dorothy and Kansas, found there was no place like home.
I have a home base now but will be headed out for multiple months next year to Canada and Alaska.  That is a group trip but it is also fun to meet new people and talk truck campers!  I have no plans to ever stop camping alone as long as I am safe on the road." – Denise Gilmer, 2015 GMC 3500, 2014 Lance 1050S
"I decided to try truck camping after my significant other passed away a couple years ago.  I still have a forty-plus foot RV that was ideal for two, but the truck camper is ideally suited for one.
A friend could always bunk on the convertible dinette.  The opposing slides of the 1062 leave enough room for the dog's crate if I were to take him.  The couple of trips I've taken so far have been just by myself.  The size seems appropriate for just me.
The height from the ground to the entrance is daunting for the dog, so I got a ramp.  I'm concerned it won't support me and I don't want to have to constantly move it aside.  So now I'm considering having a ramp custom-built for the dog that would attach to the camper's bumper.  In the meantime, the size really does seem right for a party of one." – Brian H, 2016 Ram 3500, 2016 Lance 1062
"I haven't gone in my new rig yet, but I will soon.  My spouse wants to stay home to care for several pets we have.  I get cabin fever in the winter.  I also enjoy the solo time with nature.  My solo trips are relatively short." – Dusty Reefer, 2016 Ram 1500, 2016 Four Wheel Camper Hawk shell
"I retired eight years ago and my girlfriend still works.  Someone has to do it.
If there is a place I want to go, I load up and go.  My dog likes to go, too.  I usually go to places where I can fish.  Since we live in Key West now, I don't go as much as I used to because there is so much to do here; fishing and diving.
The camper is great when we have a lot of guests.  I still enjoy the camper by myself or when my girlfriend is with me.  We have met a lot of nice people out there and will continue to use the camper with or without someone." – Gary Raymond, 2014 Ram 3500, 2006 Lance 1191
"I always truck camp with my wife.  She loves traveling in the camper.  If I was alone I would still truck camp because I like traveling on my schedule and sleeping in my own bed." – George Visconti, GMC Sierra 3500 HD, 2016 Arctic Fox 990
"I go solo truck camping all the time.  My wife is not a fan of the desert, and most of my camping is in the desert.  The reason I bought the Four Wheel Camper Hawk was for solo camping.  My wife is more into shopping at the mall.  The experience of solo camping is great because I get to pick the food menu, the music for camp, and nobody counts my beers." – Winston Gotte, 2003 GMC Sierra 1500HD, 2016 Four Wheel Camper Hawk
"I mostly go solo camping when I want to get somewhere fairly far from home and my wife doesn't have the time or desire to sit for the miles involved.  She then flies in to meet me.  We do something more or less locally, and then she flies home while I drive back." – Bruce Colby, 2004 Dodge 2500, 2004 Lance 835
"I'm married to a wonderful woman, but she does not get involved in things that involve travel.  She does not like being in the outdoors.  On the other hand, I love being on the move and in the outdoors.
Every two years, she holds the door open, offers me "Good luck", and watches me drive off on some solo trip.  I write a daily travel blog to her and my close friends.  They tell me they would never do a solo trip, but live vicariously through my adventures, and encourage me to keep going.
Solo travel, whether camping or otherwise, is the best way to experience a place and the people who live there.  Solo travel also allows me to discover the unique and generally unappreciated aspects of a trip.
If you travel with another person, you will almost always miss those serendipitous opportunities to talk to a local and get to know them.  You will talk to your companion and not force yourself to overcome your fears and shyness to talk to the locals.  It is amazing how much generosity is out there if you just talk to people, show interest and, when necessary, ask for their help.
At 68 years old, two summers ago, I drove solo in my camper from San Antonio, Texas to Prudhoe Bay, Alaska – a 16,000 mile trip.  I broke down and got lost, but was never left to my own.  The locals were always there to assist me.
This past April I made a solo trip to Mount Everest Base Camp that included a 5,000 mile train ride with a Chinese couple and a student.  They did not speak a word of English and I not a word of Chinese (or Tibetan).  I spent 35 days in Tibet and China.  I was never once apprehensive about my health, meals, lodging, or transportation because, at every turn, the locals were more than gracious in helping me.
One on one, people all over the world are pretty good to be around.  It is when a group gets together that our humanity begins to erode.  I highly recommend you get out there by yourself and experience real people and where they live." – Dan Griffin, 1998 Dodge, Skamper 100
"Well, I wouldn't consider it camping, but I do take the truck and camper out alone.  I do so primarily when I'm off to a motorcycle event or some other event that my wife doesn't enjoy that much.  In these instances, I'm possibly more like a rodeo gypsy than a camper." – Mark Obert, 1999 Ford F250 SD, 1999 Lance 920
"I got a divorce in 2002 and, other than a couple of hunting trips where my son came along, I always camp alone.  I have had as many as three dogs as companions, but at the moment am down to only one.  Maybe someday I will find a woman who suits me but, for now, solo works very well.
Every fall I take a trip that covers parts of North Dakota, Montana, Wyoming, Idaho, Utah, and sometimes Colorado.  I love to boondock with an occasional stop at a regular campground to fill the fresh water and dump the waste water tanks.
I have a vague travel route and places I want to stay but, if a little side road catches my eye and it leads to a new spot that looks like a good place to camp, I'll spend a night or two.  I kind of measure the success of a trip on how few times I need to leash my dogs.
Solo camping might not be for everyone, but I have gotten used to catering only to my whims and schedule.  I seldom disagree with myself." – Terry Gfeller, 2015 Ram 2500, 2013 Lance 865
"Our family uses our truck camper for vacations, overnights at the lake, or our neighbor's ranch.  But I also use it for work traveling throughout Texas and Louisiana as a property manager.
For the last 15 years I have stayed at every lousy motel in every part of both states.  Since buying our truck camper last year, I use it by myself at least once month for two to four nights.
I mostly stay at Walmarts and, once in a while, at an RV park.  I do not stay at our own properties as to not encourage others.  I love the cost savings and convenience of pulling in or leaving whenever I need to.  Always having my own pillow is pretty nice too." – John O'Shaughnessy, 2015 Ford F150, 2012 Wolf Creek 816
"I will go camping by myself if all else fails.  I like to take my wife or one of my kids if at all possible.
New Mexico is a wide open state with sparse population centers and even less medical service available.  It is always better to have a helper along when loading and unloading a boat for fishing.
I am not old (70) but do realize that the trail to the top of the mountain or the hike down the gorge to the river for fishing might be rough.  A companion is a good thing." – Lloyd White, 2011 Ford F350, 2007 Lance 1131
"We have been going to Arizona for two to three months in the winter.  We go down for a month and my wife flies home for a month and comes back the last month.  She is still working for our business a few days a week.
I take the ATVs down and boondock in the desert.  The first couple years I even rode the ATVs over 500 miles alone.  Getting older, it's nice to have someone along in case of problems or accidents.
I've meet a lot of people doing the same thing.  We team up along the way and camp together for days or weeks at a time.  One year we had six couples from six different states.  We stopped and talked to another single rider who was 80 years old riding by himself.
The kids got me the Spot Satellite Messenger, a personal tracking device that they can use to track me anywhere in the world.  If I have an emergency I can send a emergency call out and they know my exact location.
Sometimes I have friends from Phoenix come out and ride for a day or a week (male bonding).  Being alone its a nice time to catch up on reading my magazines, which I never have time to do otherwise." – Frank Niehus, 2007 Ford F350, 2007 Arctic Fox 1150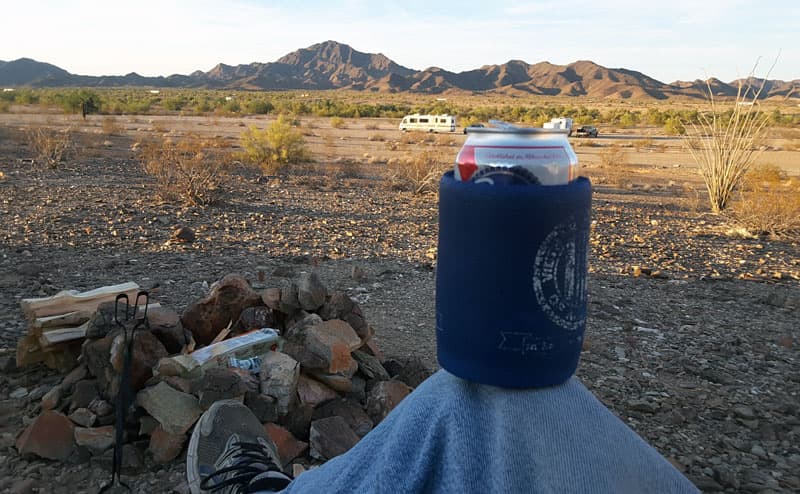 "Actually, I'm solo full-timer.  I sold my condo and I have been a, "Loner on Wheels" for just over a year now.  I love it and plan routes to hit different places that are mainly west of the Ole Mississippi River.
I've pretty much been solo throughout my life, so I'm used to it.  I love the adventure of it all, aside from dump and fills.  I'm looking forward to doing the Pacific Northwest again and Vancouver Island.  I used to go there diving all the time, so now I get to go camping." – Frank Poole, 2016 Ram 5500 HD, 2016 Arctic Fox 990
"I go solo truck camping almost all the time.  My wife is not interested in fishing.  I enjoy going alone.  I don't have to put up with anyone else's BS.  I fish all day or I will go mushrooming, hiking, or sightseeing." – John Werderber, 2005 Ford F450, 2009 Lance 980
"We make several trips each year from northern to southern California to assist my aging parents with home maintenance projects.  I work for a commercial construction company as a safety manager and often have ongoing projects in southern California.
Along the way, when the opportunity presents itself, I will leave a few days early and drive south (a somewhat boring 400 mile drive) and visit our job sites, do safety training, etc.  I will then set up camp in my parent's driveway and pick up my wife who flies down after work, closer to the weekend.  We return together in the camper on Sunday or Monday if it's a holiday weekend.
Tonight I leave for another southern California adventure.  I will be staying the first night in a rest stop with the big rigs and the second night at an RV park on the beach close to a job site.  Then, I'm off to my folks' driveway!  I enjoy a few nights of solitude occasionally, but prefer to have my co-pilot along for longer trips." – Greg Chambers, 2015 GMC 3500, 2015 Lance 855S
"I like to go rock crawling with my Jeep and the misses doesn't like to go.  So every third weekend from April to November, I'm gone." – Chip Fraser, 2013 Chevy 2500, 2015 Arctic Fox 865
"I go camping quite a few times a year with just myself and my dog.  I look forward to seeing new places, towns, fishing, and catching up with friends along the way.  It usually starts with first outing in spring, by tossing a coin to tell me where my adventure starts.  I have found some amazing camping spots and great little fishing holes.
Why do I go?  Most my friends are married or have young children that can not just pick up and go like I am able to do.  I enjoy camping with friends as well.  Life is an adventure.  Make the best of it." – Kim Zimmer, 2000 Dodge Ram 2500, 2016 Lance 1050s
"You bet I do!  Usually I only go out a day, maybe two away.  It's my time to unwind (from my job as a school bus driver), find peace and solitude.  I love it, and used to do it with our 32′ bumper pull, our fifth wheel and have done it with all three of our truck campers.  I have an independent streak.  When I go, everything becomes my responsibility (including dumping).  It's a chance to read, relax or metal detect and not worry about my husband having something to do.  Knowing I can do it all without him along gives me a sense of pride and confidence!" – Cindi Delo, 2002, Chevy K2500, 2004 Adventurer 90 RDS
"We have somewhat different work schedules so frequently one of us will leave day or two before the other to get a better camping spot.  The day or two alone is really nice, and lets us do hikes or activities that maybe the other doesn't really want to do.  Camping alone can be a bit spooky the first time or two, but after a bit you get used to it." – Dave and Jenney Kiel, 2007 Toyota Tundra, Phoenix Custom Camper
"Many times.  Sometimes I go out first and my wife comes out a day later.  Or when dirt bike riding, my sons may have to leave and work, and then come back the next day.  I'll be alone for a day.  At the drag races I'll be in the camper alone, but camping with other drag racers." – Ron Williams, 1997 Ford F250, 2003 Lance 1010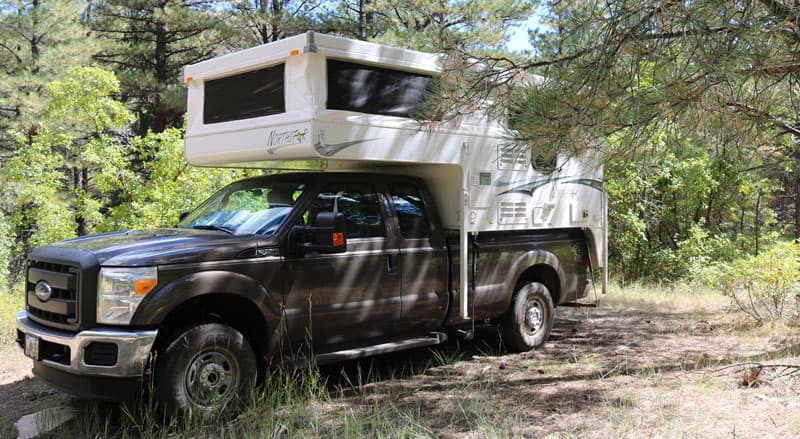 "After being widowed last year, I began truck camping early this year after retirement. I've already put 18,000 miles on the camper.
Overall, it's been a very good experience.  I like to boondock and often drive on very remote roads that can be a little hairy when I'm by myself.  The positives of getting out and having new adventures far outweigh the negatives." – Bill Rosso, 2016 Ford F250, 2016 Northstar 850SC
"I have more vacation time than my wife so I have gone a few times to bicycle events that I participate in." – Ken Ward, 2005 Chevy Silverado, 2014 Arctic Fox 990
"Occasionally I will take the camper for a weekend trip by myself to do some sketching and painting – art stuff.  The wife and dog get kind of bored when I spend too long at the easel.  To keep everyone happy, I'll take a short weekend camper trip by myself." – Jeffrey Donnelly, 2001 Dodge 2500, 2006 Adventurer 810WS
"Truck camping solo is great!  After a 40 year career in the automotive repair industry, retirement was very welcomed.  But with no one to go with, I went alone.
I found the camper much bigger inside with just me.  It stays much cleaner and organized inside as well.  I think the best part was that I stayed out much longer (sometimes up to three weeks) and traveled most of the time with no plan, and no destination.
Just wandering is amazing!  With a map at breakfast and no goals, timelines, or pressures, I wound up in wonderful places meeting great people and taking great pictures.
Another big advantage is that I boondock almost all the time and have a big solar system that gives me a lot of freedom.  And I have found that it is all about freedom!" – Richard Sullivan, 2010 Chevrolet Silverado, 2007 Lance
"One of us is still working, so I leave home with the truck camper.  A week later, my partner flies to a location near where we plan to spend three weeks.  Then, a return flight and I drive the truck camper home.
This plan works for us right now.  It would be nice to have company, but then we wouldn't be able to visit different locations or have as long to explore the new locale.  We would be sticking close to home and repeating trips." – Carol Bowman, 2005 Dodge 3500, 2014 Lance 1191
"I regularly go alone as I am a widow and my two grandchildren are now in school.  I have to choose holidays to have them along as my companions.
I love to explore new campgrounds and check out areas that I have heard about, but never visited.  This gives me an excuse to pack up, leave the farm in my children's capable hands, and load up the big poodle and mini dachshund for an adventure.
There is a sense of freedom to drive away from everyday responsibilities and head for parts unknown.  If you are the sociable type, you can meet many friends walking about with two hairy critters asking to be petted.  If not, sit under the stars, read a good book, and enjoy the bare essentials of existing in unfamiliar territory.
The hardest part is leaving home.  Once on the road, a sense of adventure takes over as you wonder what you will encounter as you crest the next hill.  There is a peace that comes from being on one's own, a time to listen to your thoughts and envelope new experiences.
When I travel, I tend to meet many truck campers who are solo.  There is a kinship that happens that I can't explain.  We swap stories, talk about our campers or trucks, and the places we have been.  Truck camping tends to cater to the solo traveler who likes the adventure and lack of strings that comes with having a full size RV." – Heather Rutherford, 2011 Ford F150, 2013 CampLite 5.7
"My wife goes camping with me when we are going someplace interesting.  While we are there, we sleep in the truck camper for a night or two.  However, she is not a big fan of going out for a long weekend just to camp and experience the quiet of nature, or to experience the noise of Virginia Beach in the summer.  So I go out for a long weekend by myself sometimes and enjoy it; maybe as much as my wife enjoys getting the occasional break from me." – Fred Patterson, 2013 Ford F350 SD, 2002 Lance 1161
"I am single and prefer to travel and camp alone on trips longer than weekenders with friends.  My habits have evolved over the years, probably due to 30 years working afternoon and evening shifts.  I do enjoy staying up late at night, and I enjoy sleeping until I want to wake.
I generally have breakfast around 10:00am.  Breakfast can take an hour to eat while looking out the window and contemplating nature.  I have no urgency to do chores, plan hikes and meals, or be concerned of time.  I don't even wear a watch.
Owning an RV is the perfect excuse to do nothing but relax.  The drive home will bring me back into reality." – Vic Smith, 2015 Ford F350, 2013 Adventurer 89RB
"Most of the time I go alone unless you count my dog.  I'm single and like to travel.  The dog is happy to go wherever I go.  I'm planning an Alaska trip next summer and snow birding next winter.  I live in Montana, but have family coast to coast and a home in Texas." – Doug Potter, 1995 Dodge, 1997 S&S 8.5
"My wife was extremely upset when I bought this new camper.  Her words are not printable here.  She did say that she didn't care if she ever saw the inside of the camper.  Accordingly, I have respected her wishes and have not invited her inside again, so I do go by myself.
Peace and quiet is priceless.  I bring a book to read.  I do my own cooking and cleaning.  I can go where I want and stop when I want.  There is no arguing or complaining.  This summer, I do hope to have my grandson travel with me." – George Randall, 2012 Ford F350, 2016 Arctic Fox 865
"For the last five years, I have been sailing on the Texas Racing Sunfish Circuit.  The truck camper and boat/trailer are on the road once a month somewhere in Texas or Louisiana.
In 2017, a friend and I are moving to a two-person sailboat and I have joined the Centerboard Racing Circuit.  She's from the Dallas Fort-Worth area and I'm from central Texas, so we will meet every three weeks somewhere in Louisiana or Texas.  Me, "Armadillo" the camper, "Knot-a-Clew" the sailboat, and Ellen with the food." – Sylvie Mathis, 1994 Dodge Ram 2500, 2003 Northern Lite 9Q
"Yes, I go solo truck camping when I go hunting and fishing." – Bill Richcreek, 2013 Ford F350, 2014 Lance 865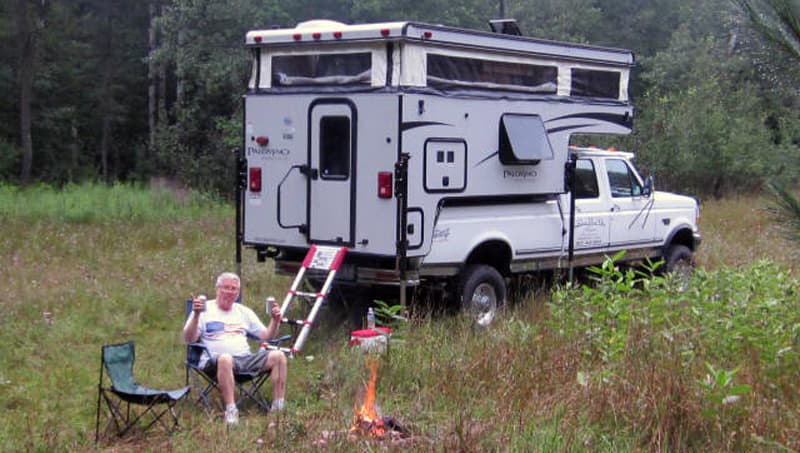 "I do go alone once in a while because my wife must be home (at the farm) to tend to the animals.  The livestock need to be fed everyday and watered so someone must be here.  Plus, we have a diabetic dog (our kid) that requires constant attention and cannot travel.
I always boondock or stay at unimproved campsites.  I always carry spares and recovery equipment.  I always have a cell phone or satellite phone which will work anywhere because it doesn't rely on cell towers.
Additionally, besides insuring your camper is up to snuff and equipped with the proper necessities, make sure your truck is up to snuff as well.  Check the tires for proper inflation.  Check your spare as well.  There's nothing worse than having a flat and discovering that your spare is flat as well.
While I don't venture out for weeks at a time, I make sure my camper is stocked with everything I need to cover any situation, including a comprehensive medical kit.  I carry an Adventure Medical Kit in the camper at all times.  You never know when an emergency will arise, so be prepared.  My opinion is, every truck camper should be equipped with at least a basic medical kit because you never know.
Off-road camping solo can be an adventure and fun, but can turn into a disaster if you are ill prepared.  Plan ahead and pack the necessities for your survival in any emergency that may arise." – Daryl Davis, 1997 Ford F350, 2014 Palomino SS-1500
"95-percent of my year-round camping is by myself.  I enjoy the different places I visit solo, exploring and just finding new places to see!" – Michael Sasse, 2013 Toyota Tacoma, 2014 Four Wheel Camper Eagle
"Yes, I have gone truck camping alone.  I do not mind camping with others, and it is enjoyable to spend time with family and friends in camp.
However, I do enjoy my time alone.  Also, I do not currently have truck camper friends to camp with.  I enjoy going to the smaller campgrounds that don't always accommodate large trailers and fifth wheels, which my family and friends have.
When traveling cross-country by myself, I like to take the smaller two lane roads where I can slow down and enjoy the journey.  And I can stop when and where I want for fuel or groceries without worrying if my traveling partners can get their rigs in and out of the parking lots or gas stations.  Most of them do not like two lane roads because of their larger campers." – David Reese, 2006 GMC 2500HD, 2009 Northern Lite 8-11 QC
"For the first either years I've always been truck camping alone.  I spend about six months a year traveling.  I had a full-time friend travel with me for about three months to Death Valley and back.  His rig was left in storage.
Since then my wife did a spring trip to Vicksburg, down the Natchez Trace to Louisiana, along the coast of Texas, to Big Bend National Park, Carlsbad Caverns National Park, White Sands National Monument, and more.
Then one summer she went with me up the Mississippi River to the Badlands National Park, Custer State Park, Mount Rushmore National Memorial, Jackson Hole, Grand Teton National Park, Yellowstone National Park, Glacier National Park, Yukon Territory, Alaska, Northern Cascades National Park, Olympic National Park, Tahoe National Forest, Redwoods National Park, then down California coast and back home.
That was her last trip due to health reasons, so now I'm by myself again!  I will leave again soon.  Can't wait!" – Ray Stallings, 2010GMC Sierra 2500HD, 2007 Travel Lite 890SBRX
"I frequently hunted and camped alone in my old cabover and loved it.  First, because I didn't have to share the room in the camper.  Second, because, when hunting, the fewer people the better." – Jeff Freeman, 2013 Chevy Silverado, no camper
"I always go by myself, since I'm single.  Therefore, I go where I want, when I want, and only stay as long as I want.  I've traveled about six months a year for the last eleven years, logging over 105K miles in my truck camper.
I've been asked if I get lonely.  No, not lonely, but a bit bored sometimes with no one to talk to.  Like, 'Wow, look at that beautiful lake'." – Ralph Goff (aka Ramblin' Ralph), 2006 GMC 2500HD, 2001 Lance 845
"Yes, I go by myself a lot and enjoy it for the peace and quiet.  I also like being able to do whatever I want to do, and when to do it.
I live a busy life and deal with a lot of people each day.  When I want to get away from it all, I just load up and get off-the-grid, and enjoy all of nature's sounds and beautiful scenery.  You can't do that in a larger RV sitting on a concrete pad somewhere surrounded by a lot of people and constant noise." – Bill Mount, 2017 Ram 5500, 2016 Lance 1172
"I often go camping by myself.  I am single and it is difficult to find friends who have the time.
My favorite place is Blair Creek.  It is only 25 miles from my home, but it's also 10 miles down a dirt road from the nearest highway.  There is almost never anyone around on weekdays.  The area is beautiful and free.
The Ranger and my cabover camper are small enough to go down narrow paths that full size truck campers would have difficulty with.  The four-wheel drive makes crossing creeks a breeze.  Going camping at Blair Creek is the best way to relax and escape all the stress and work at home." – Phillip Greer, 2008 Ford Ranger, 25 year old GlenL homemade camper
"I tow my Polaris RZR to the desert to play and my wife would rather stay home.  She does not like to dry camp as much as I do.  I love the wilderness." – Bryan Whipp, 2016 Dodge 3500, 2017 Arctic Fox 990
"Frequently I go off alone fishing, hauling my boat with me.  Our dog does not travel well.  We had him before the camper, so my soul mate stays with him.
Recently I left from Colorado Springs on a trip to Melbourne Florida to see our granddaughter, my daughter, and her husband.  The granddaughter was singing, dancing, and acting in a production.
From Melbourne, I went to New Jersey to see a lifelong friend that, at the time, was dying from cancer.  I was on the road about three weeks and, while I missed my wife, she encouraged me to go to see our family in Florida and then on to New Jersey.
I am glad she kind of pushed me because the production was great and, when I returned home, my friend passed.  I was glad and thankful that I had made the trip." – Wayne Clark, 2011 Ford F150, 2013 Lance 865
"I regularly camp by myself.  Well, usually I am accompanied by one to three dogs as well.  The truck camper is a great man cave and these forays are a great chance to check out new areas or just get some down time.  My solo trips normally coincide with my wife having other plans.  Often times the solo camping involves hunting, fishing, or wildlife viewing.  I usually have no regrets after a solo outing!" – Dave Ruane, 2008 Chevrolet 3500HD, 2006 Northstar TS1000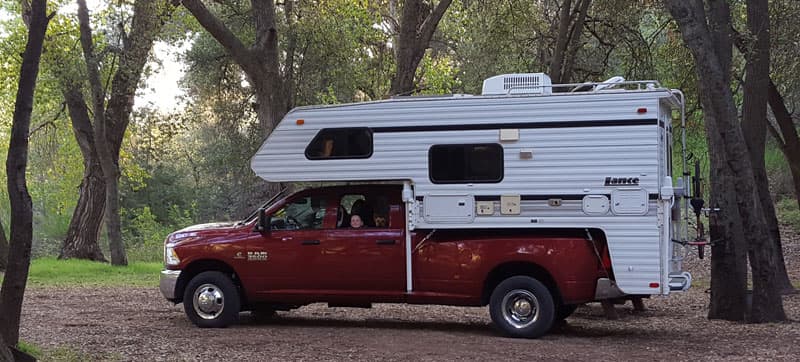 "I fantasize about truck camping alone often and am looking forward to doing it more in the next chapter of my life.  I have kids at home still, so I usually have at least one kid camping with me.
I spent 100 days in my camper this past year and all I want is more.  I love being the only adult when we travel though because it is so easy and stress free being the only boss and driver.  The kids give input and ideas and I often incorporate their suggestions in our camping activities, but what I say goes so there is little conflict.
The kids like it because both mom and the rules are relaxed when camping and it's is all good times.  The couple of trips I have managed to sneak in by myself were a blast.
One of the best parts was being the only DJ on board and getting to listen to my music,  Another was not having to cook proper meals and just eating when I felt like it.  Truck camping solo sounds like pure freedom." – Darcy Hubbard, 2014 Ram 3500, 1998 Lance Legend
"I go solo truck camping all the time.  I'm single, retired, and live alone.  I always tow my scout boat or my Honda side-by-side.  I've always tented, so truck camping is a real treat for me.  If the rite gal comes along, there's plenty of room in my little Lance 650." – James Davis, 2009 Toyota Tundra, 2016 Lance 650
"My wife of 57 years passed away in July of 2015.  So now I go truck camping mostly by myself but, on a few occasions, my oldest son will be my copilot.  My wife loved camping and, when I'm alone, I can still feel her influence while camping." – Joe Cassidy Sr., 1989 GMC 3500, 2008 Lance 1055
"Fishing is a big part of my life between May and October.  I plan about a dozen out-of-town trips within 300 miles of home of four to five days each every year.  My bride doesn't share the same love of the sport as I do, so I almost always go alone.  It works for us." – Robert Hicks, 2011 Chevrolet 2500HD, 2011 Lance 992
"A timely question as I will be embarking in January on my first extended solo trip without my wife.  She will be looking after the grandkids for a month while I am taking a trip to Baja.  I am currently in the planning stages.  I have taken a couple of short trips alone to Great Sand Dunes Natioanl Park and into the Colorado Rocky Mountains.  I thoroughly enjoyed both times." – Kris Cassidy, 2003 Toyota Tacoma, 2013 Northstar 600SS
"I am retired and my wife, Chris, is working for another two years.  In January of 2014 we wanted to visit my daughter in New Orleans, experience Mardi Gras, and take a seven day Norwegian cruise out of New Orleans.  Since Chris had limited vacation time, she flew to New Orleans.
I loaded up the camper and drove solo from Idaho leaving a week earlier.  After two weeks in New Orleans, Chris flew back to Idaho and I took two weeks to drive home visiting places in Texas, New Mexico, and Arizona.  I had never been to places such as Carlsbad Caverns, Karchner Caverns, and much more.
Chris and I camp together most of the time but, while she is working, I'll take off for a night or two to solo camp off-grid in the desert or forests around home.  Needless to say, I can't wait for Chris to retire." – Brian and Chris Hagen, 2004 Dodge 2500, 2014 Palomino SS-1251 Backpack
"I don't have a truck camper yet, but I'm looking.  I have tried several times to get my wife to look inside different models.  She will not even step inside because of claustrophobia.  So I guess it's going to be just me when I do get a camper." – Doug Wilson, 1998 Chevy 2500, no camper yet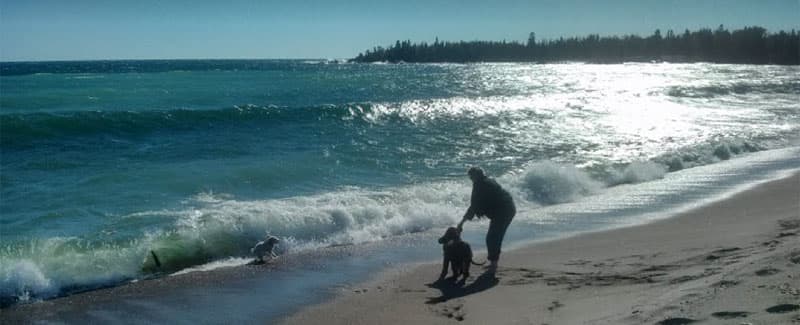 "I purchased both of my truck campers (I also have a Northstar TC800) planning to travel alone.  I have never felt lonely in my entire life and greatly enjoy responding to the moment without planning.
My daughter usually joins me for up to a week and we have a wonderful time but, once I have dropped her off at some airport, I am delighted to continue on for weeks alone.  I do travel with Jack my Irish Water Spaniel and, this year, I added a Cockapoo puppy, Sophie.
I do enjoy the pattern of the day with dogs in a camper.  For instance, you can't just open the door to the yard for them first thing in the morning when you are camped.  You have to get out and walk them and that is a wonderful way to start the day.  Left on my own, I would be prone to drinking endless coffee and just reading for hours.  With dogs, you have to walk them and, in doing so, you often discover fabulous sights or geological formations.
I love to drive wherever I want to, and to stop or turn off on a whim.  I don't usually drive more than three hours in a day, all on 2 lane roads.  I avoid highways as much as possible.  Two years ago, I drove 11,500 kilometers west across Canada, then east back through northern USA, and only got onto a multi-lane highway the last two days when most camping grounds were closing (it was early November).
For the first year I didn't boondock as I was learning the ropes, but I now avoid campgrounds whenever possible.  I do have friends and family scattered across the continent and am delighted to stop and spend a few days to visit.  I also have a friend who likes to join me on my travels for a few days when I am passing near their town.  We have a great hilarious time playing lots of Scrabble in the evenings and hiking in the daytime.
I find my Travel Hawk is the perfect size for sharing for a short period of time, although my daughter and I are comfortable in the pop-up Northstar as well.  I also use my camper to reach trail heads the night before a hike.  This is an ideal way to get out early in the morning before the summer heat starts, especially on those occasions my hiking partner shares the camper with me.
Women in campgrounds often grill me; "Aren't you afraid?", "Aren't you lonely?", or even "Don't tell me you are alone!"  I love to be with people I care deeply about.  I greatly enjoy shared travel with special people, but I am not interested in socializing in groups.
If there is no one to go with you at a particular point, why would I take up knitting and sit home in a rocker?  Meandering along, interacting with interesting people, exploring nature and human developments, all while sleeping on my own excellent mattress, lounging on my new fabulous rubber foam 5-inch dinette cushions, and eating my own cooking daily is a lovely and relaxed way to see the world." – Michele McLeod, 2013 F150, 2000 Travel Hawk 9.5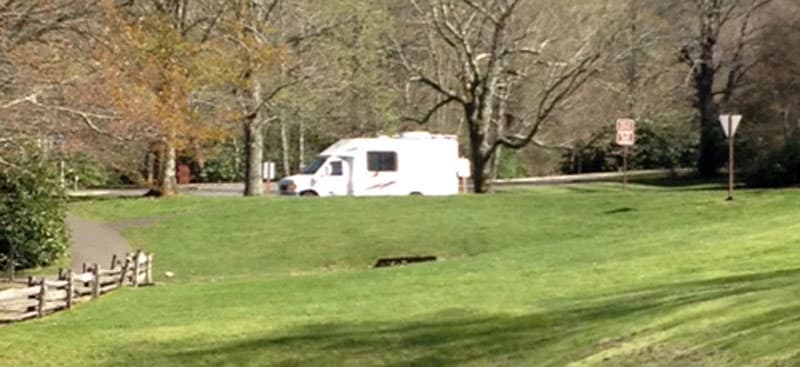 "I have done a lot of camping by myself.  Being single, if I didn't sometimes go places alone, I would do much less camping.  I started out camping alone with my first RV, a 13.5-foot Shadow Cruiser travel trailer.  In that trailer I camped throughout Northern California, Oregon, and Washington.  Then I camped alone in my Canadian made Class-B motorhome all over Oregon, especially along the gorgeous 85-percent state owned coastline.  Then I went cross-country and relocated to New England.
I switched to a truck camper and camped around the Northeast alone, and with others. And now I camp in my 2006 Born Free 22-foot motorhome up and down the East Coast and into Canada, alone or with others.
I enjoy the freedom to go where I want to go, and when I want to go, when I travel alone.  I can go hiking, poke around in yarn shops, go to museums, etc. – all on my own time schedule.
I think the best experience is a blend of both – traveling with others and traveling alone.  I loved caravanning down to Florida with two other rigs from Massachusetts a few years ago, but also enjoyed making the drive home by myself.  I stay in rest areas, Cracker Barrel restaurants, private campgrounds, or state/national parks when I travel alone.  If I don't feel comfortable or safe, I move on.
And I also had a wonderful time caravanning with thirteen other rigs throughout Nova Scotia this September.  So, the short answer is, "Yes, I travel alone, but I also enjoy traveling with others." – Cheryl Lane, 2006 Born Free 22-foot Motorhome
"All my truck camper travel is alone.  My wife does not like the smaller space and I will not give up travel.  In the last three years I have visited 47 states and 12 provinces, including driving the Dalton, Dempster, McKenzie, Alaskan, James Bay, Trans-Taiga and Trans-Labrador roads.  I love the peace and quiet of remote camping.  We do have a gooseneck toy hauler for trips together, mostly winters in the Southwest." – Ron Niemann, 2014 Ford F350, 1973 Alaskan modified for flatbed
"I go truck camping on my own from time-to-time to go fishing. Sometimes my regular fishing partners are unable to join me, so I go by myself.  While I prefer to fish and camp with company, it's better to go solo than not go at all!
A truck camper is a great rig for traveling and fishing.  I also allows me to tow my boat – something I couldn't do if I was towing a travel trailer.  And I am often able to park in all sorts of fishing spot locations so I can just walk out the door first thing in the morning and be on the water in no time at all.  Cheers!" – Ken Woodward, 2012 Ford F-150, 1994 Trav-L-Lite 8-foot
"I have taken quite a few trips by myself when my husband decided he was tired if traveling.  My longest trip by myself was a seven week trip to Michigan.  I stayed mostly at state parks and did a lot of sightseeing and hiking.  I tried to see as many lighthouses, waterfalls, parks and AAA Gems as possible.  I came back fit and happy and lost five pounds.  I have wonderful memories that I will never forget." – Margaret Smith, Ram 3500, 2010 Lance 950