Maggie Karam's article, "Full-Time Truck Camping With Wonder Woman" clearly hit a nerve.  Not only was was Maggie's story of solo truck camping very well received, but her solitary lifestyle touched off a firestorm of passionate responses to this week's Question of the Week, "Do you ever go truck camping by yourself?"
It turns out there's a good number of folks who go truck camping by themselves.  And the reasons they go truck camping alone include death of a spouse, divorce, disinterested partners, different vacation schedules, different retirement dates, and a strong preference for being alone.
While many respondents leave the door open to camping with others, there's very little sense that truck camping alone isn't anything but awesome.  As many state, the unlimited freedom of solo truck camping is beyond compare.
Go anywhere.  Camp anywhere.  Tow anything.  And answer to no one?
The following sixty-five truck campers say, "Heck yeah!"
"Over the past two years I have done many month-long trips.  Only on one of these did I have a friend travel with me.  Otherwise, it has been me and my cat, Zoe.
Like Maggie Karam, I don't have a significant other, and I like to explore and travel.  Other than an occasional breakdown (I have an older truck), I have had no problems being on my own.  I am always aware of my surroundings and I won't camp somewhere that doesn't feel safe.  Truck camping is the best!" – Wanda Myers, 1999 Dodge 2500, 2003 Hallmark Cuchara
"Over the years it's me and the dog crossing the USA and Canada.  My wife still is working full-time and will fly out to meet me.  It's four years until her retirement and then we expect to get a unit with slide-outs." – Tom Martin, 2003 Ford F350, 2005 Lance 1050
"My wife will go fishing, but she won't go deer hunting." – Philip Tron, 2009 Chevy, 2012 Lance 1050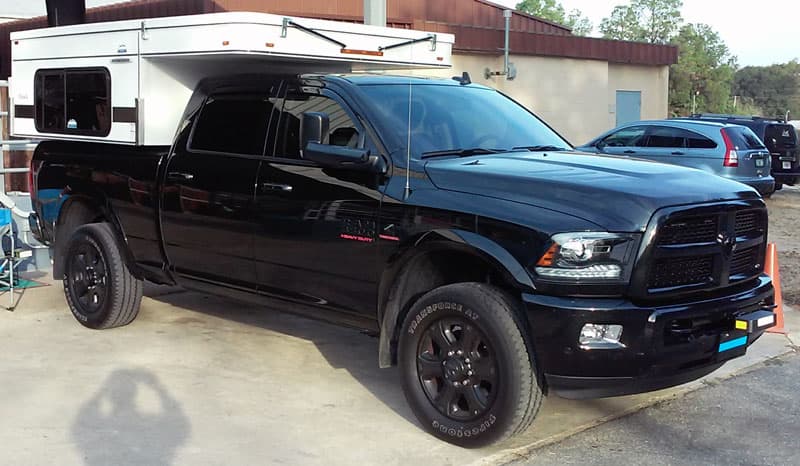 "I have a daughter in South Florida and a daughter in Colorado.  My wife is resistant to retirement.  I even offered her a new Airstream, which she resisted by saying, "Not me, but you can do that if you like."  Hence the truck camper.
I signed up for federal parks, Florida state parks, and KOA campgrounds.  I am happy as a butcher's dog.  I'm not sure what I'll do when she retires." – R. Shafer, 2016 Ram 3500, 2016 Four Wheel Camper Hawk
"Yes, I camp by myself and rarely with companions.  I traveled a lot by myself as a teen and young adult living in Europe, and never really stopped.  It's quite normal for me.
I'm retired and single now.  I still have the urge to get out and explore.  I want to do it in comfort and without towing, so I bought a pop-up truck camper in February.  It's everything I'd hoped it would be.  It's easy for me to manage and ideal for solo camping.
This year I explored The West in a series of trips between Yellowstone and Southern California.  I have stayed in national parks and forests, nature preserves, a hot spring, and a couple of parking lots.  I felt at ease in those places.
I'm attracted to the idea of having remote backcountry campsites all to myself, but getting a tire puncture on a rough Mojave desert dirt track in the heat of June made me aware that it's easy to cross the line between adventure and stupidity.  So, for now, I'll remain semi-civilized on solo trips.
Why camp alone?  With a companion, trips become more about the shared experience. That's fine, but having only myself to please feels completely different.  I find the freedom of traveling alone exciting and restorative.  It brings out my inner big kid!" – Christine Dyer, 2012 Chevy Silverado, 2016 Four Wheel Camper Hawk shell
"My wife isn't really into camping, so most of the time it is just me and my dog.  We use our camper quite a bit during the fall and winter for hunting trips and hunting tournaments.  It's plenty big for the two of us." – Rob Haas, 2004 Chevy 2500HD, 1990 Sunlite 850WT
"Being single, retired, and having a golden retriever, I go camping by myself.  It may sound a little lonely, but it's not at all.  I have meet a lot of interesting people and I can go as I please.  When I drop by on relatives, classmates, or friends, it is usually a fun time." – Charlie Young, 2013 Chevy 2500 HD, 2004 Sunlite Apache