Sixty-three fellow truck campers recommend their favorite portable grills and griddles. Among the twenty-nine named brands, one specific make and model stands out. In the respective categories, three are clear winners.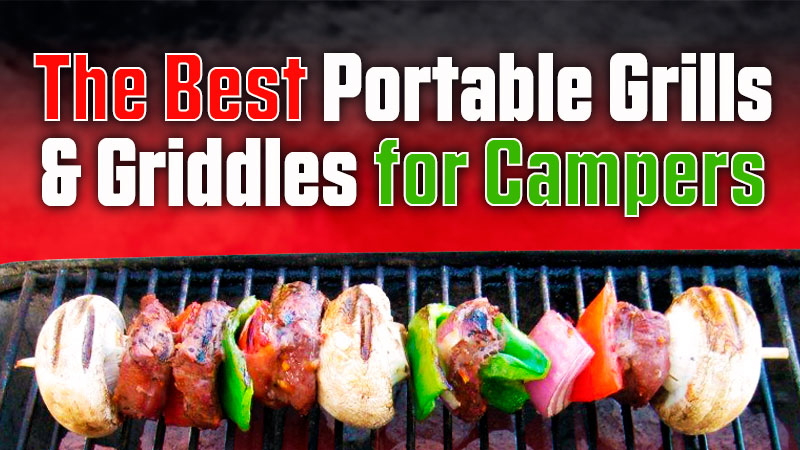 By far the most highly recommended portable propane grill by our esteemed readers is the Weber Q1000; aka the Baby Q. Furthermore, Weber was the number one named brand with easily the most praise pointed to the Q1000 model. The next runner-up in the small propane grill category was the Coleman Fold N Go.
For those who prefer charcoal, Weber won again with the Weber Smokey Joe 14-inch model. However, the alternatives in the charcoal grill category are nearly as diverse as the entries with at least a dozen named brands.
The other interesting result is how many truck camper owners carry two grills, or both a grill and a griddle, or a griddle instead of a grill. It seems the desire to cook outdoors is universal, but the tools run the gamut. Heck, a number of readers use very simple metal grills that extend over a fire. That's old school, but it certainly cuts down on the cost and potential size, weight and complexity.
Before we hand all the glory to Weber, there are a lot of amazing grills and griddles here by companies like Blackstone, Napoleon, Camco, Jackson, Petromax, and Tembo. It's incredible how many companies are manufacturing different portable designs and solutions to cooking outdoors. Make your choice, and get cookin'.
WINNER: Portable Propane Grill Category
Weber Q1000; aka the Baby Q
WINNER: Portable Charcoal Grill Category
Weber Smokey Joe 14-inch model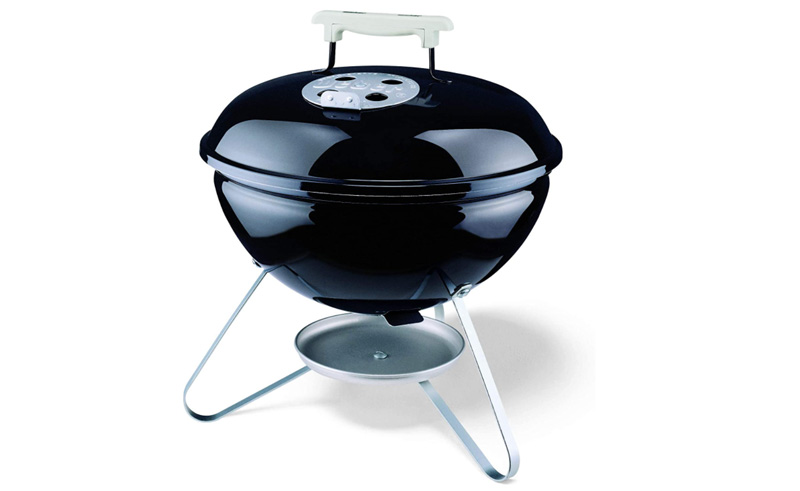 WINNER: Portable Griddle Category
Blackstone electric and gas
What follows are grill and griddle recommendations from our readers, listed in the order we received them. Thanks to everyone for sharing your barbecue.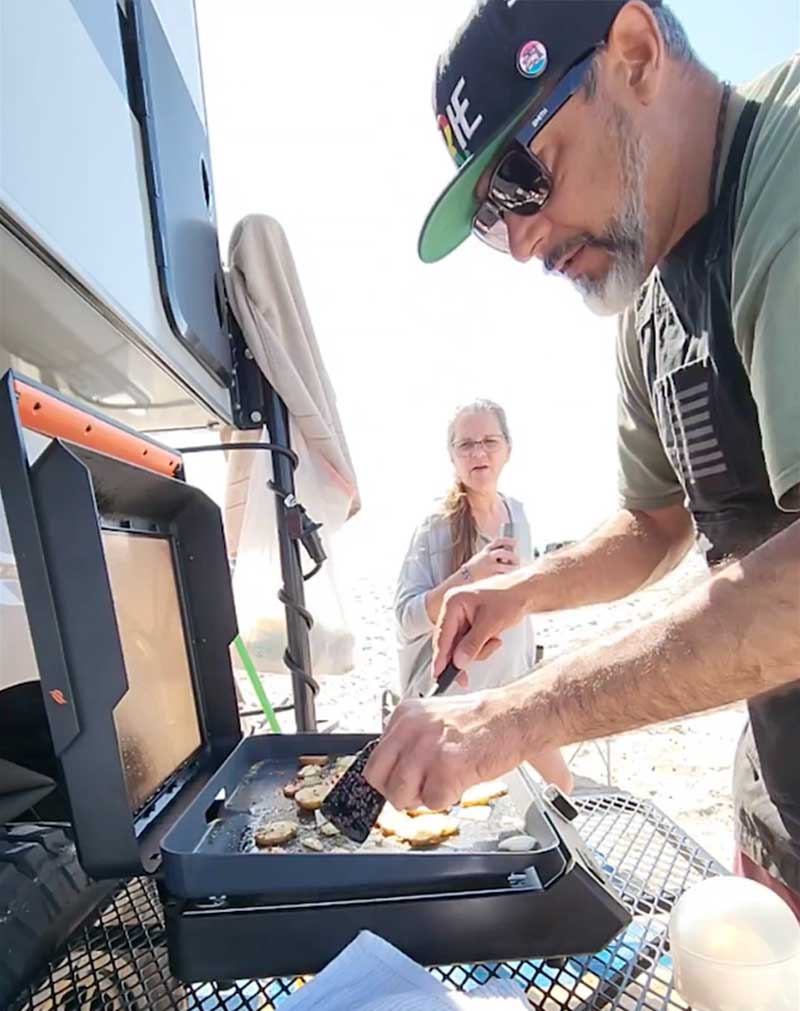 "We use a Blackstone E-Series tabletop electric griddle. Since we have a truck with a 7200-watt inverter generator built-in, we have decided to use more electricity versus gas. So far, so good. It is nice not having to camp with an extra propane tank. Breakfast is my favorite meal to cook." – Eddy Solis, 2021 Ford F-150, Cirrus 620
"The best grill I've come across is the Weber Q1200. I use it for boating and camping. I make steaks, with sliced potatoes and brussel sprouts grilled on the flat plate attachment for the Q1200." – Mike Brandl, 2019 Ford F450, 2022 Adventurer 901SB
Editor's Note: More information about Mike's grill mount is in our article, "8 Grill Mounts for Truck Campers".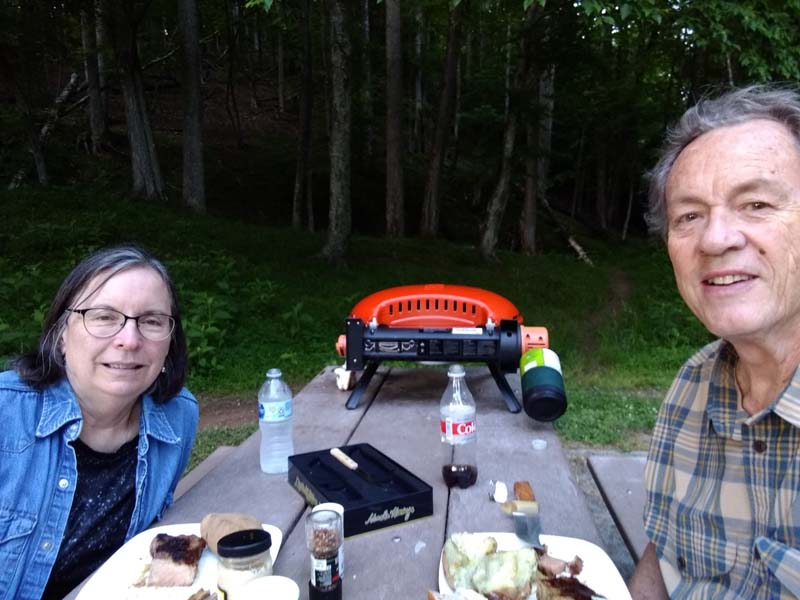 "We use a Napoleon TravelQ 2225 grill, and I can highly recommend it. It stows easily in a carrying bag, is easy to set up, and uses one-pound propane bottles. According to the company's website, they are still available.
We cook burgers, hot dogs, thick pork chops, steaks, kabobs, and corn on the cob on the grill. Marinated chicken is super tasty too. I'll be trying my hand at quesadillas on our next outing." – Riley Burgess, 2018 Ford F-350, 2004 Bigfoot 30C10.11FR
"If I'm taking the camper only, I go with the Weber Go Anywhere propane grill because it fits in the rear side compartment of my Northern Lite. If I have the boat or utility trailer in tow, I'll bring either my Weber Q2200 propane grill or a Weber 18-inch charcoal kettle.
I grill steak, chops, a rack of pork, prime rib, pork ribs, carne asada, chicken or we use it as a small warming oven for leftovers." – Drew DeBois, 2004 Dodge Ram 2500, 2011 Northern Lite 8-11 Q
"My Weber Q2200 is tied into our on-board propane system. I make tri-tip burgers." – Rick Christensen, 2002 GMC 3500, 2013 Eagle Cap 1165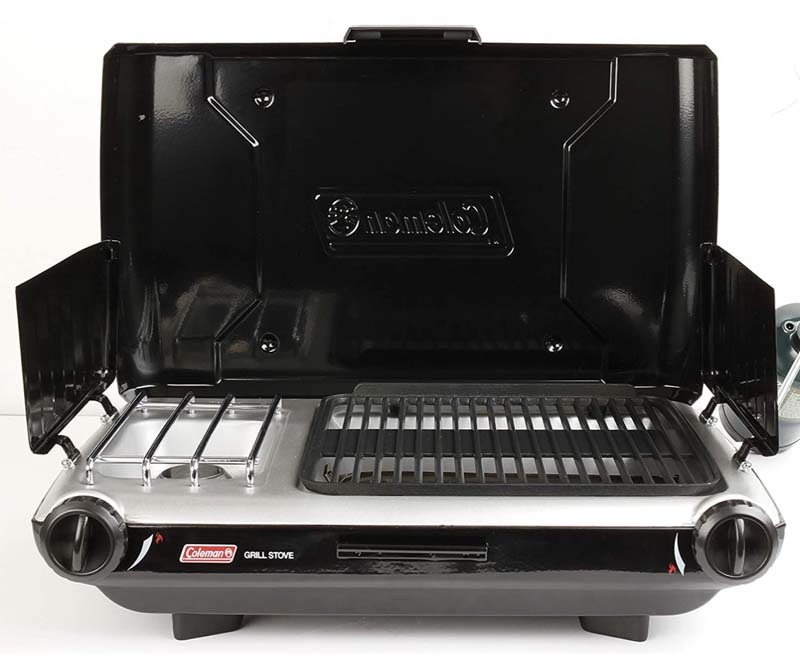 "I have a Coleman Tabletop Propane 2-in-1 grill and stove. I grill steaks, chops, chicken, and veggie kabobs. The burner is handy for baked beans." – Nancy Meiners, 2020 Ford F350, 2019 Northern Lite 10-2
"I use the Weber Go Anywhere charcoal or Go Anywhere gas. I used to run the Weber Q120 which is an outstanding grill, but the Go Anywhere grills are just as good, have a way smaller footprint, and hold almost as much food.
I've smoked fish and pork shoulder with the charcoal Go Anywhere. But, generally burgers, chicken, steak, bratwurst on both. I usually go with charcoal unless there's a fire ban on." – Anthony Morel, 2018 Chevrolet Silverado 3500, 2021 Adventurer 89RBS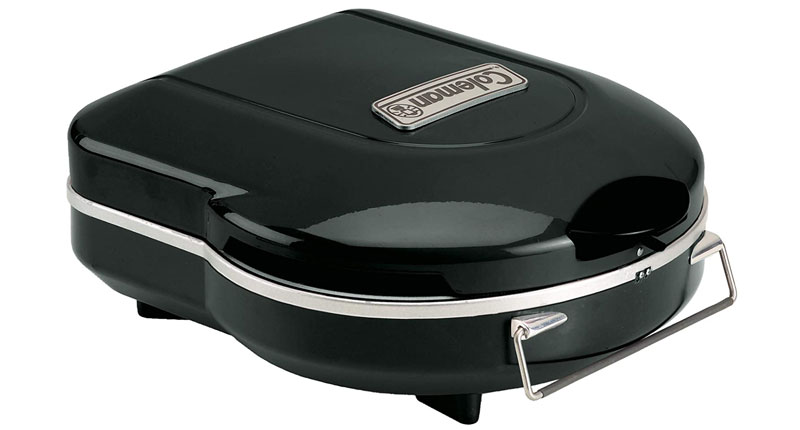 "We have a Coleman Fold N Go. We like cooking sausages and pork chops with an occasional piece of chicken or fish." – Celina and Brett Binns, 2022 Ford F550, 2014 Arctic Fox 1150
"I have carried a Weber Baby Q grill in my truck camper since I purchased it new in 2011. The model number of this grill has since changed to a Weber Q1000, but it is essentially the same grill. Most of the time I am grilling fish or chicken on this grill." – Eldon Rhodes, 2008 Chevy 3500 HD, 2011 Lance 1050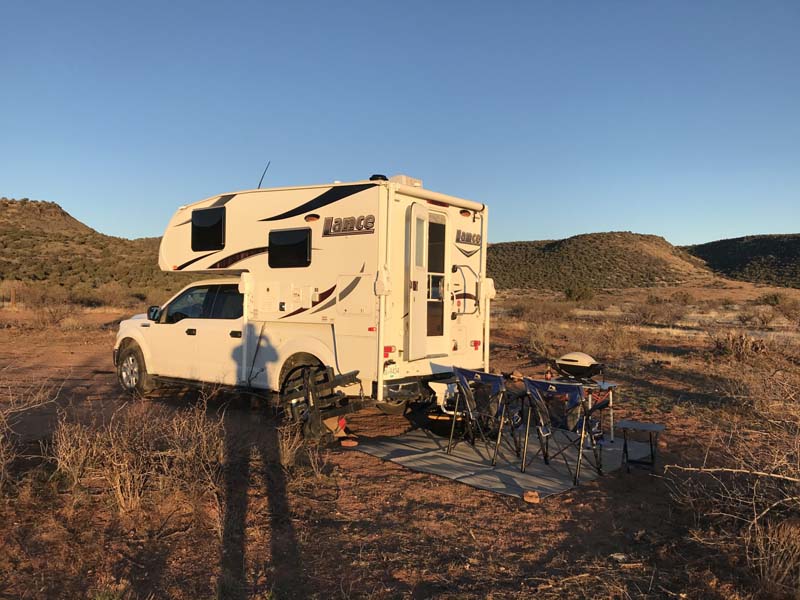 "I have a Weber portable grill. I have, ribeye steak, my friend, with a tall glass of Crown Royal." – Ed Evans, Ford F-150, Lance 650
"I have a Blackstone 17" with a top and cook everything on it." – Mike Almaraz, 2005 Silverado 2500, 2021 Palomino pop-up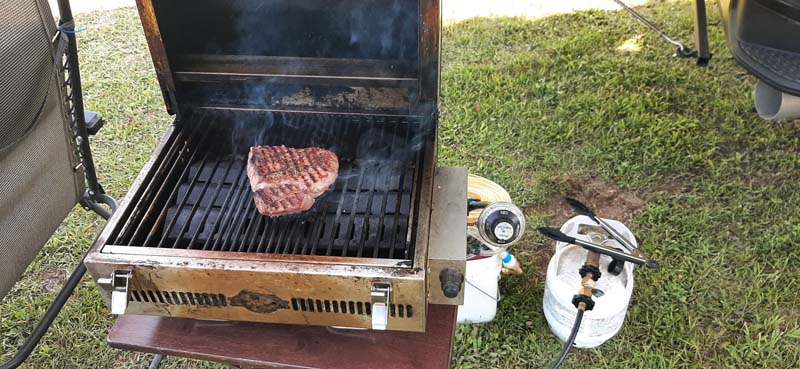 "We have an older Versa Series portable Jackson Grill that we store in the generator compartment along with our camp stove. It has the same footprint as our Coleman camp stove and fits on top.
Jackson Grill is a local, Abbotsford, British Columbia, Canada company that makes stainless steel grills. They now have three different size portable grills available; Versa 50, 75, and 100. We have had our Jackson Grill for over a decade and it is still in good shape.
We use it like our home grill, but I prefer cooking all-in-one foil meals when camping. We also have grill sheets, a veggie basket, and a pizza stone to use with the grill." – Eckhart Franz, 2021 Chevrolet 3500, 2021 Northern Lite 10-2 EX LE dry bath
"No grill. We use a 17" Blackstone griddle. Best thing ever! We grill everything! Unless something needs to be boiled, it probably goes on the griddle." – Michael Voldahl-Corliss, 2012 Chevy 1500, 2012 Northstar 650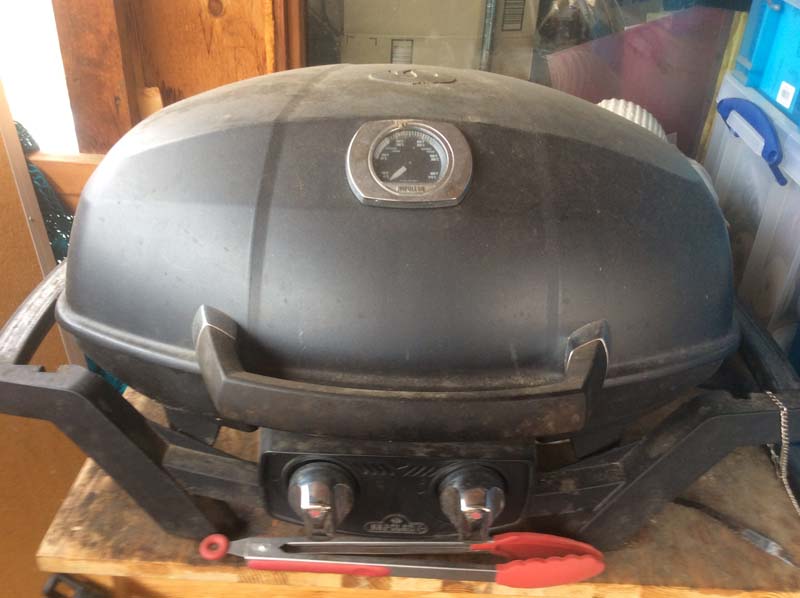 "We bought a Napoleon TravelQ 285 Pro grill for its portability. The high dome cover allows us to use the grill like an oven for pizza, bread, potatoes, grilled asparagus, sweet potatoes, veggie burgers, veggie dogs, pancakes, eggs, toast, stir fry, tacos, and quesadillas, bannock, cakes, corn on the cob, etc. We season the grill and griddle with palm oil for a nonstick finish.
We are vegetarians, so meat is verboten. Dishes with liquids and sauces we wrap in foil or cook on a silicone mat. If it's warm out, pretty much any dish we might cook in the camper kitchen we will cook outdoors on our grill." – Rene Poulin, 1997 Dodge Ram 2500, 2000 Bigfoot 2500 9.6
"We recently purchased a Blackstone 17" griddle to take with us. Our camper has limited storage, so we carry it in the backseat area of the truck. So far we like it better than the Weber we used before because we can cook a wider variety of items on it. We make fried potatoes, chicken, steak, and sweet potato hash browns. We need to try a pizza sometime soon." – Scott Mote, 2005 Dodge 3500, 2001 Lance 1030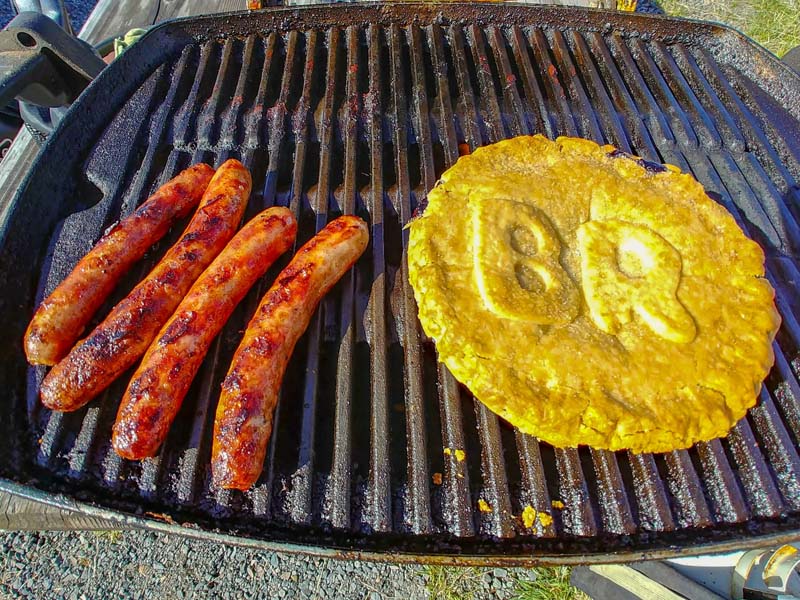 "The Weber Q1200 allows you to adjust the heat from a hot sear to a very low and slow cook. It's also very wind resistant. All of the grease drains to a removable pan, so it's pretty much self-cleaning. It also fits perfectly in the rear of the camper. We never leave home without it." – Ed Keith, 2020 Ford Ranger, 2012 Four Wheel Camper Eagle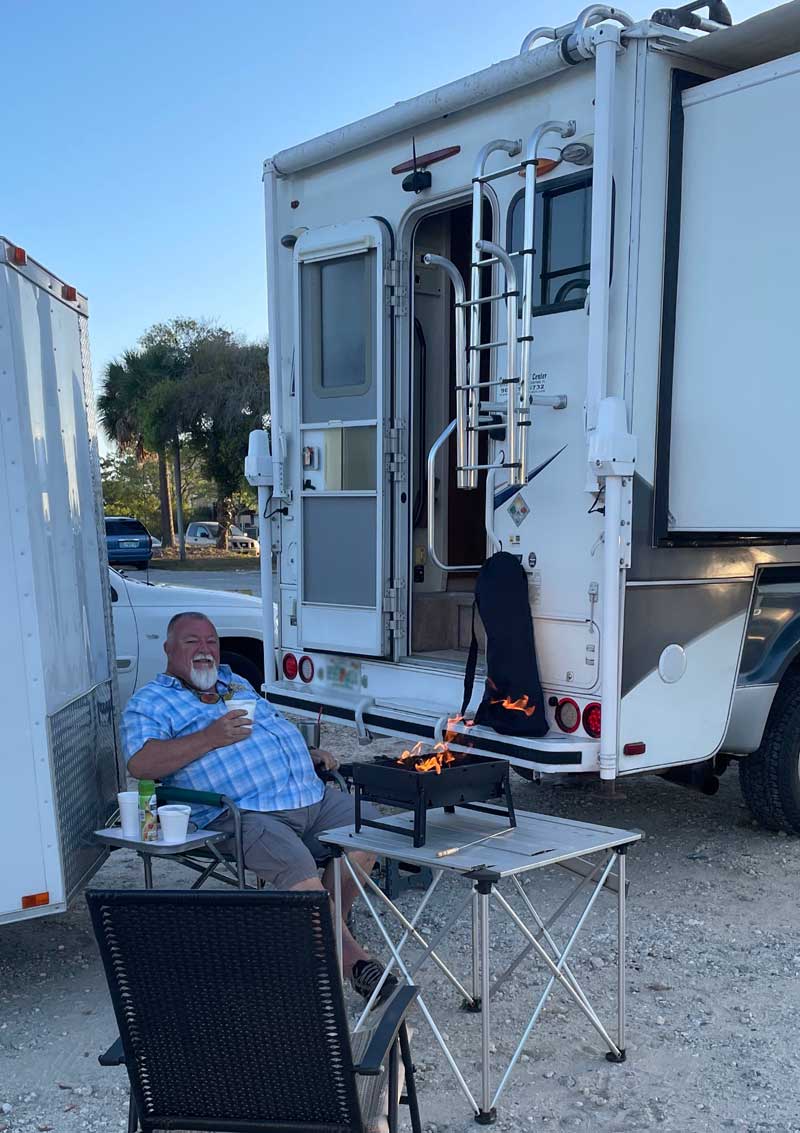 "I have a cheap fold-up grill that I found on Amazon. It works great and when it burns through, I will get another one. The legs fold to make storing easy. We grill everything! We have a grill basket with a folding handle. I cut a steak up into cubes, chop some veggies, add a few shrimp and we have shish-kabobs!" – Mike Patterson, 2004 Ford F-350, 2014 Lance 992
"I have a Coleman 2-in-1 – half camping grill, half stove – that I make steak and fish on." – Suzanne Payette, 2010 Ford 250, 2006 Arctic Fox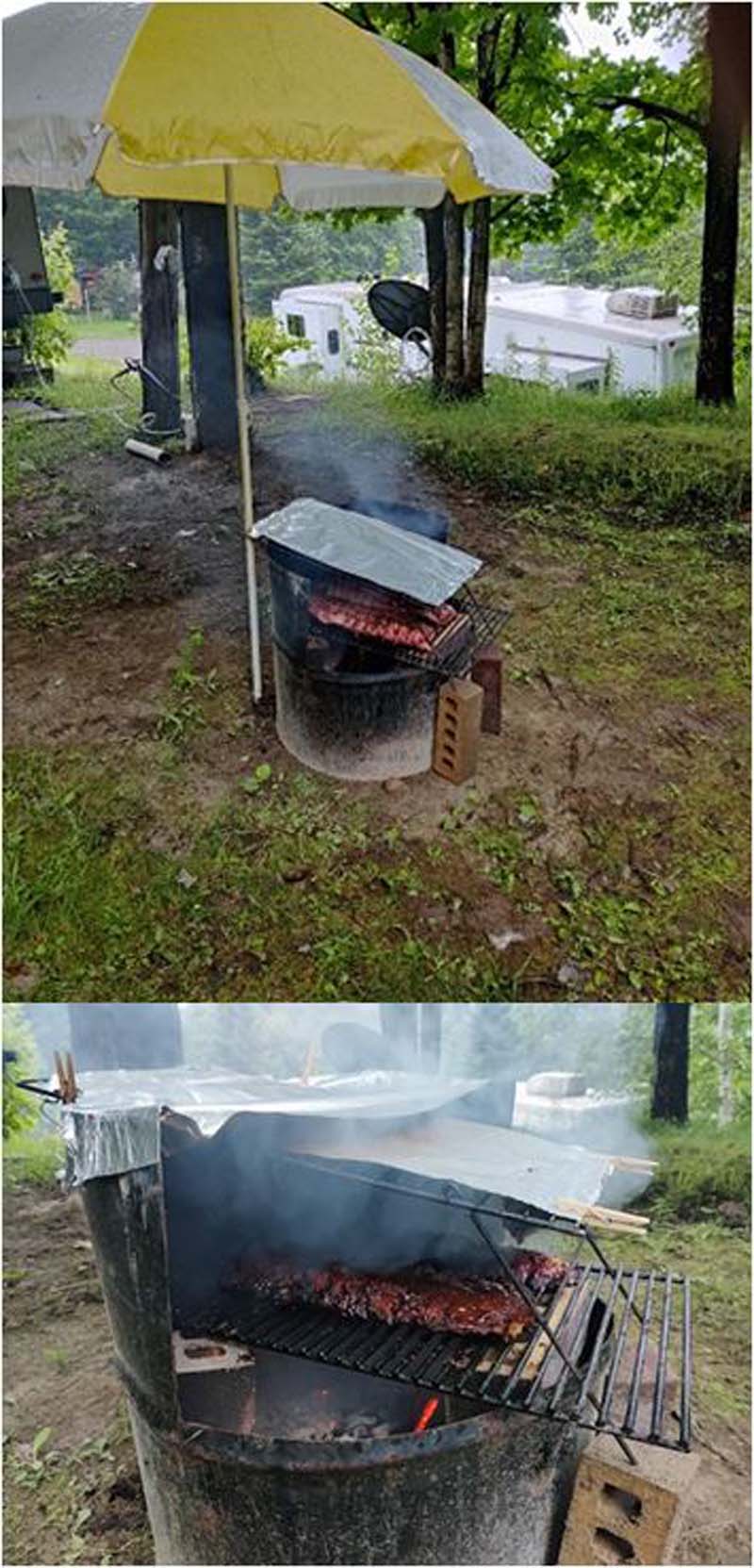 "I use a simple to use and store camping grill called the Coleman Deluxe Camp Grill. You can buy it on Amazon. I use an aluminum tray with charcoal and wood chips for heat. When it gets too dirty, I throw it away and use another. If you are crafty enough, it even can be a smoker as seen in the attached picture. It was raining that day!
I grill everything but eggs because they run through the grill. LOL. I smoke roasts, ribs, steaks, fish, and anything else you could barbecue." – Ron Vito, 1992 Ford F-350, 2010 Arctic Fox 992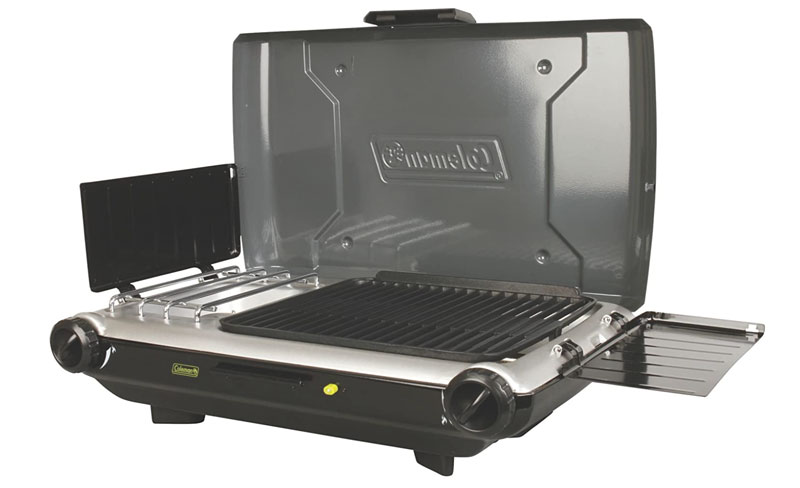 "I try to cook outside as much as possible. I used to use a portable propane barbecue but found it to be bulky and sometimes messy. Now I cook outside using a Coleman 9922 which has a burner and propane grill. I bought a carrying case for it which is compact and convenient. It is perfect for two people and is easy to clean up.
I bought extension propane hoses which I attach to my rig's propane tanks and can reach a nearby picnic table or portable table. I have seen a camper where the grill and burners could be moved from the inside to the outside. To me, this is the ideal solution and I don't understand why this is not standard equipment for all campers.
We love going to the coasts for fresh seafood including fresh mussels clams, crabs, or else fresh store-bought, or self-caught fish. We also love splattery foods like steak, bacon, and eggs. Because the foods we love are splattery or can have lingering odors in the confines of a camper, I cook outside as much as possible.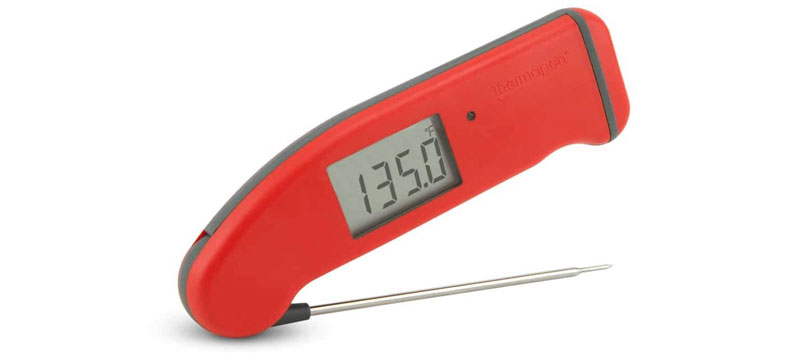 I find that a Thermapen Mk4 cooking thermometer is a useful accessory for steak or roasts." – Dave Gibson, 2014 Ford F250, 2017 Northern Lite 9-6 Q SE
"We have a small George Foreman and make stuffed flank steak and ribeye steak." – Cindi Goodrich, 2006 Chevy 3500 dually, 2008 Lance 1191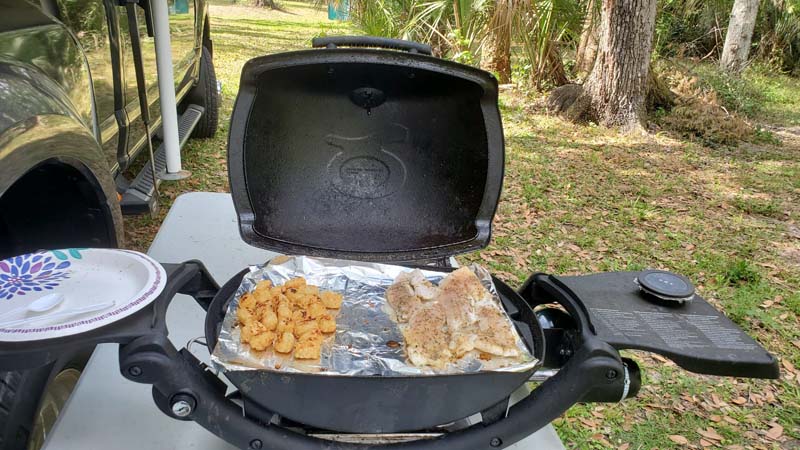 "The Weber Q1200 always goes with me. It's seven years old and still works well. I did remove the Weber regulator so it can use our onboard propane system. The Q1200 is highly recommended. If you drive through a campground you will probably see more of these than anything else.
I sometimes also bring my Brinkmann charcoal smoker which appears to be discontinued. I make the mandatory burgers and dogs, hot wings, fresh fish or shrimp." – Gary Usher, 2017 Ford F350, 2015 Lance 1172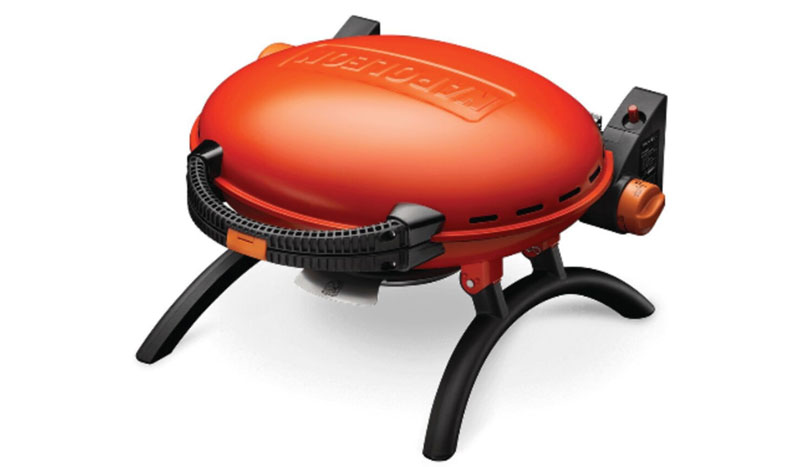 "We have a black Napoleon TravelQ 1165. It came with a carrying case and it fits nicely under the dinette when traveling. It's just the right size for two people, and it cooks well using screw on bottles or a separate tank attached with a hose adapter. The drip tray is easy to remove and clean." – Ken Woodward, 2016 Ford F-350, 2019 Northern Lite 9-6Q SE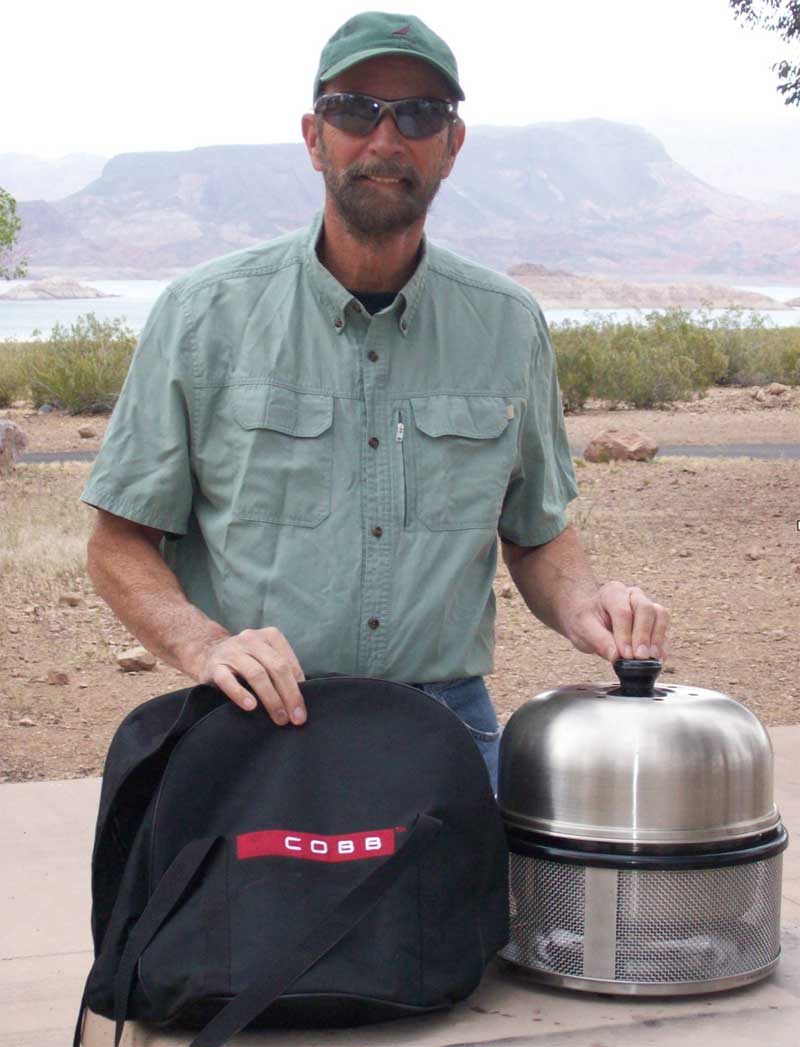 "Due to the size and weight of grills, two are my favorite. For a charcoal grill, I prefer the Cobb Grill. For a gas grill, I carry a Magma Kettle grill. Often, I carry both grills, especially traveling out west. Both grills are expensive, but in my opinion, are worth it.
The Cobb uses a very small amount of charcoal, and stays cool on the bottom. We have grilled steaks, chicken, fish and lots of veggies. Since it serves as an oven, we have cooked items like whole chickens, pizza, and loins.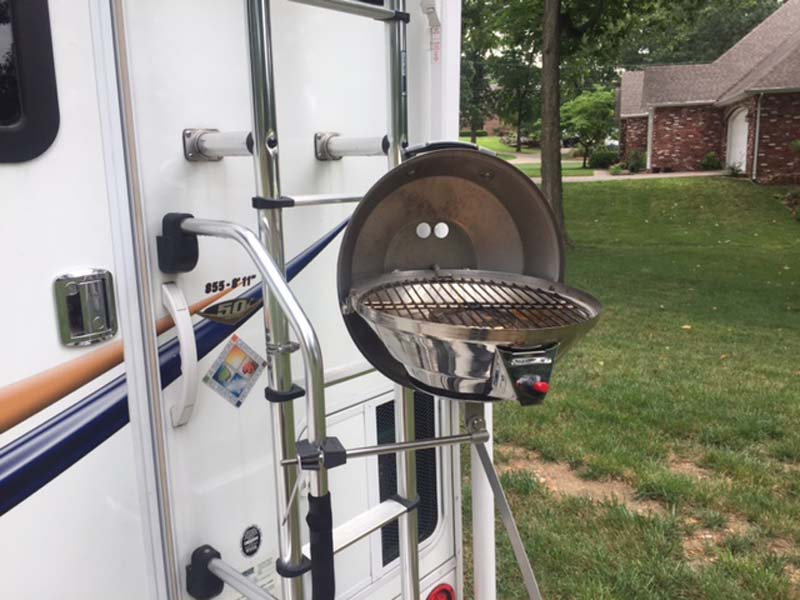 Originally designed for boats, Magma offers multiple mounting options that also work great for a truck camper. I mostly use small gas bottles, but also use a hose to the QDC fitting." – Les Sage, 2015 GMC 3500, 2015 Lance 855S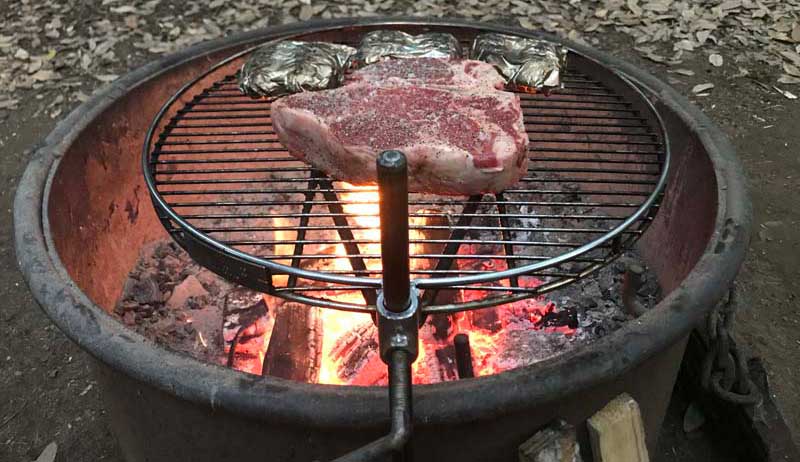 "I actually bring two grills; the Weber Go Anywhere propane and Campfire Grill Pioneer 1030.
I use the propane grill when I need to grill something quickly and use the Pioneer grate when I want to slowly BBQ something over hardwood.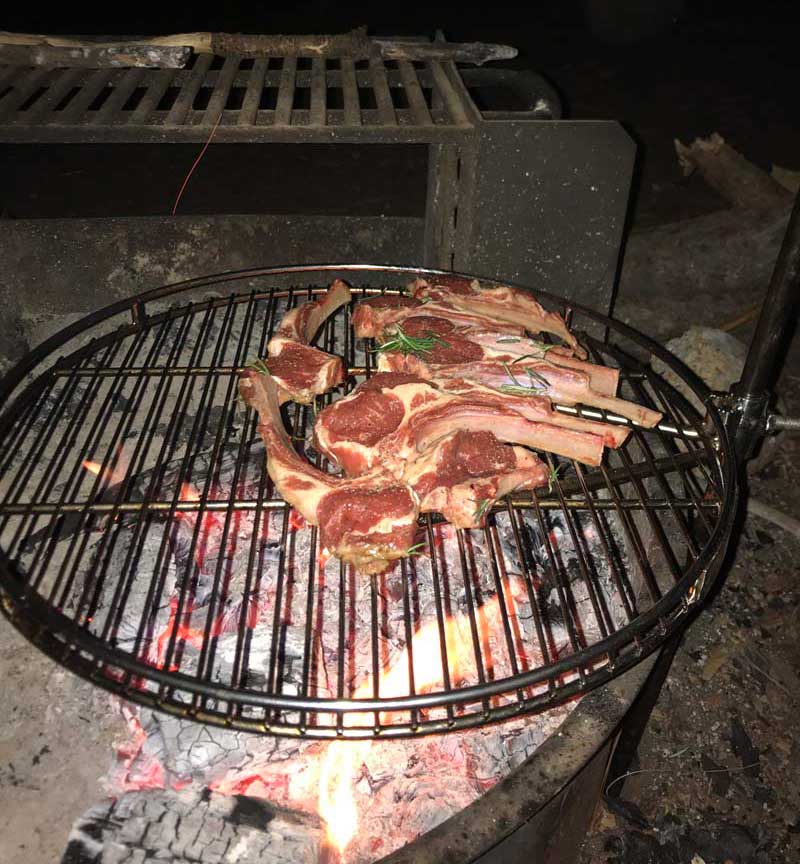 We usually cook tri-tips, lamb chops, and ribs over in the Pioneer. It's nice because we can raise and lower the grill over the coals at our desired temperature level. Roasts and ribs cook for well over an hour and the thinner cuts take around 45-minutes." – Sean Ferber, 2002 Ford F-250, 2003 Lance 815
"I have a Napoleon Travel Q2225 and mainly grill chicken." – Craig Carder, 2019 Chevrolet 2500 HD, 2013 CampLite TC86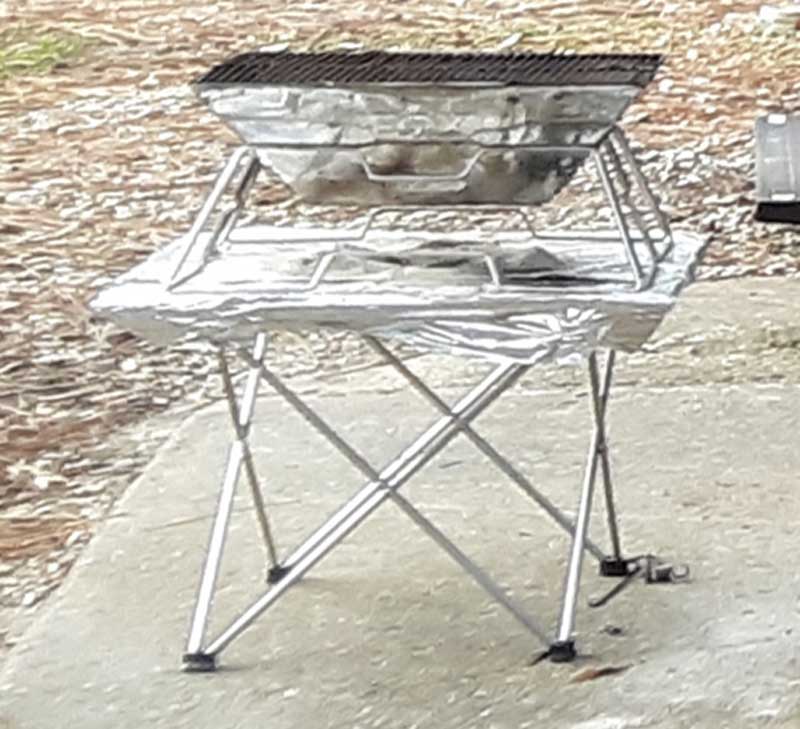 "I use the Fox Outfitters collapsible charcoal grill to cook meat." – Howard Bisco, 2015 Ford F-250, 2020 Palomino HS-8801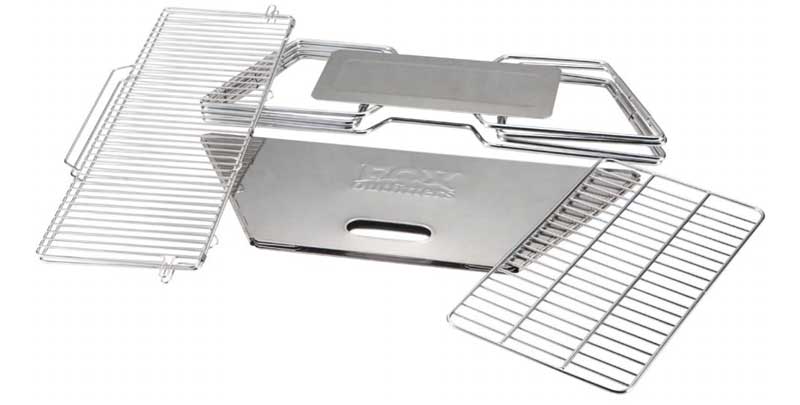 "We have the Camco Olympian 5500 which runs off the low-pressure propane connection at the rear of the camper. I have a mounting bar on the outside wall of the generator compartment where we mount the grill for cooking. It's so easy to hook up to the onboard propane system. The only drawback to having it mounted to the side of the camper is that we have to keep the window over the sink closed, but it's a small price to pay for the ease of grilling and chilling.
We cook steaks, burgers, corn on the cob, and, lately, fresh-caught fish. Nothing is off-limits and everything seems to taste better when grilled." – Wayne Magro, 2016 Chevy 3500HD, 2020 Arctic Fox 992
"I take along the Green Mountain Davy Crockett pellet grill to cook all kinds of foods." – Philip A Reid, 2016 GMC Sierra 2500, 2016 Four Wheel Grandby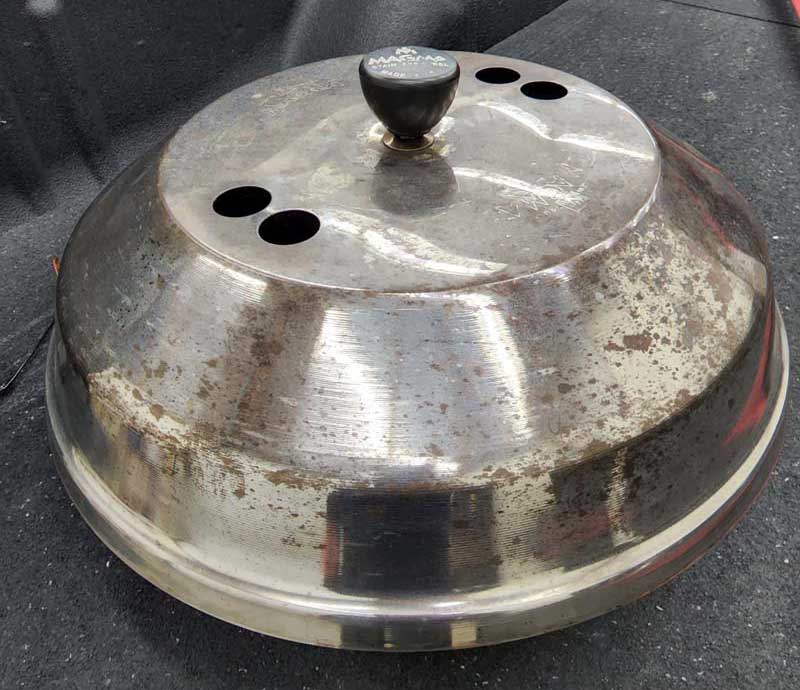 "We use a propane-fueled Magma Party Size grill for burgers, steaks, veggies, dogs, and whatever else. We have a special veggie grill so the veggies can be cooked without losing them.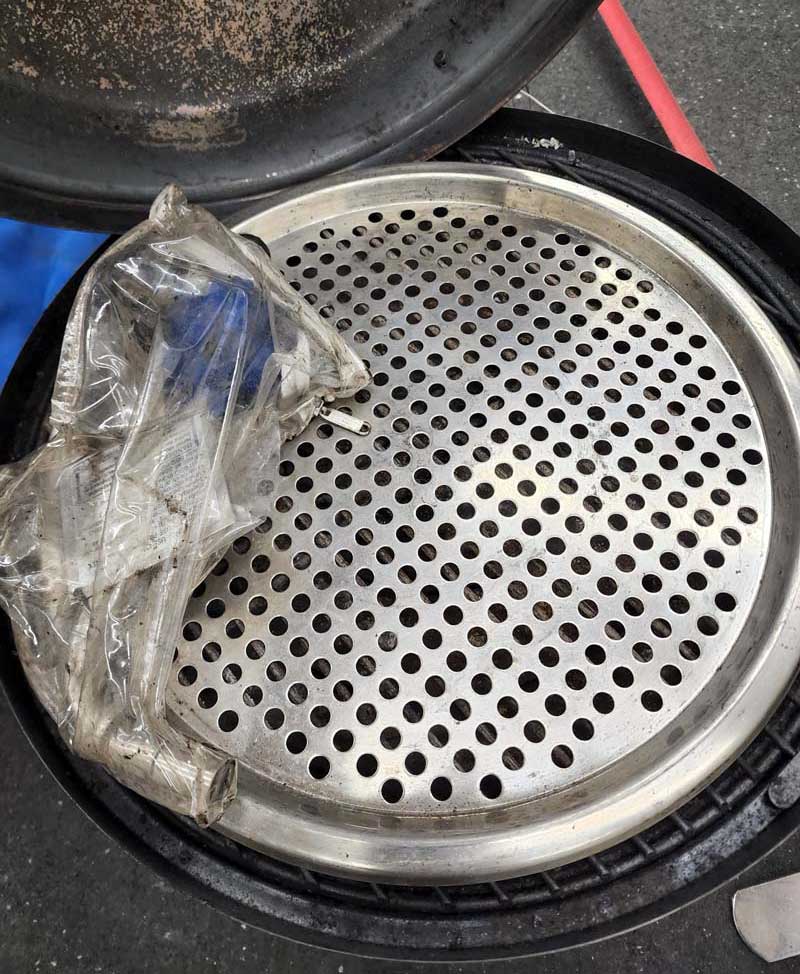 Magma grills are made in the USA from stainless steel. The one we have was originally purchased several years ago for our boat and then we added the three-legged stand and started using it with the camper. I store it in the basement storage area.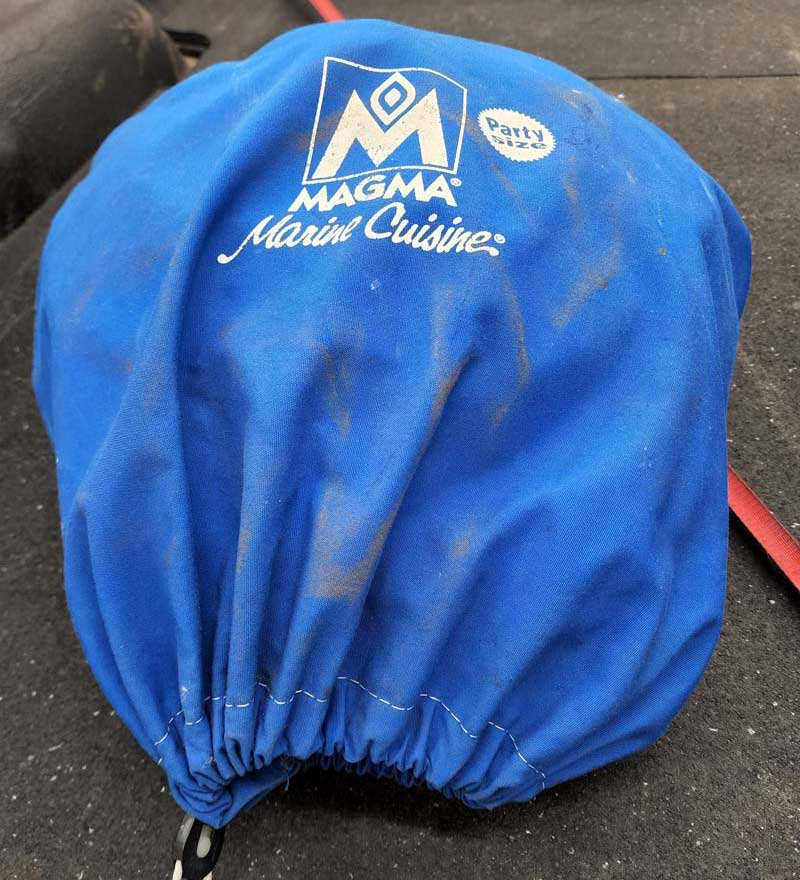 It works well for what we need and is pretty much indestructible. They are still available and can be purchased in other sizes as well." – Dave Riddle, 2015 Chevrolet Silverado 3500 HD, 2017 Host Mammoth
"At this point, we carry our Weber Q1000 under our dinette table. The grates are really heavy, so we would either like to find another lighter grill or find/build some grates that would be lighter. We are also looking into carrying it in a box on the back of the camper that would sit on top of the generator box. We enjoy any kind of meats or vegetables." – Grant Bullard, 2022 Ford F-350, 2022 Cirrus 820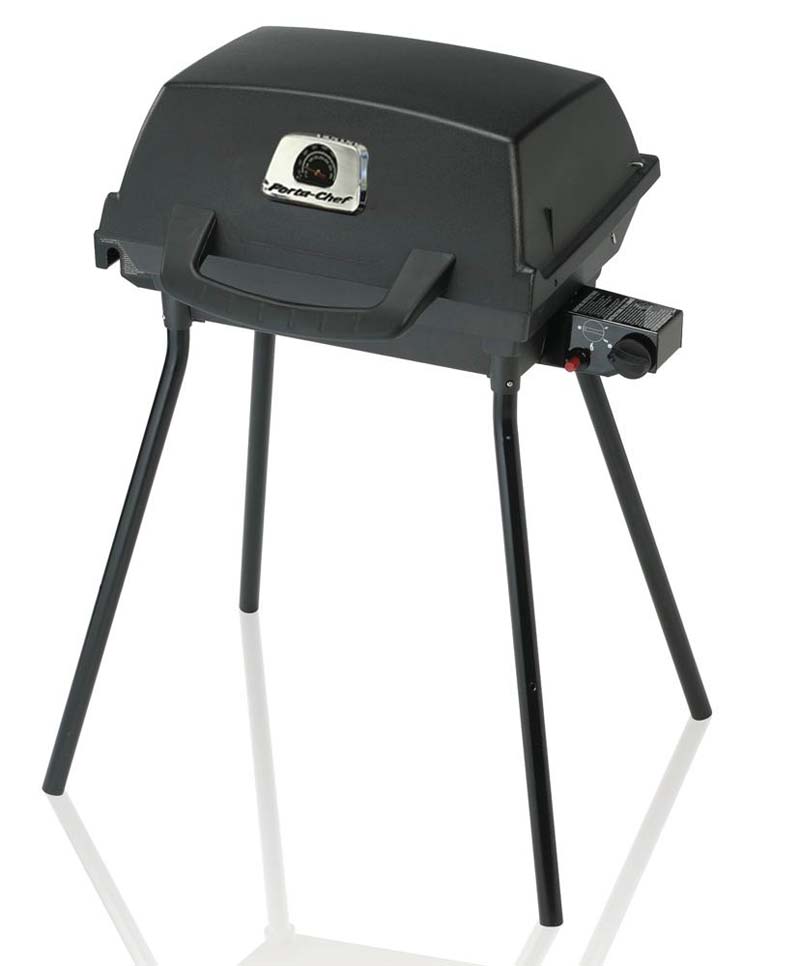 "I have a Broil King Porta Chef and make steaks, burgers, dogs, and baked potatoes." – Wayne Peck, 2013 Palomino Maverick 2902
"I have a Weber Smokey Joe that I use while camping and at home. I make hamburgers, steak, chicken, pork chops, and sausage." – Jim Thompson, 2016 Ram 3500, Kodiak K-99
"We use a Coleman Fold N Go. We have carried a compact charcoal grill for many years, but the fire hazards last summer caused us to reconsider. It was too hot to enjoy cooking in the camper, and we couldn't use the charcoal grill.
Because space is tight, we carefully measured the dimensions of our possible grills and even made a mock-up to see if the grill would fit with the other stuff we store in the outside compartment. It has worked very well.
We haven't made anything fancy; just burgers or pork chops or something similar. The Coleman Fold N Go is easy to use and works well. There are also available accessories, like a griddle or stovetop, so it has versatility." – Steven Merrill, 2010 Ford F-350, 2007 Lance 992
"I have a Weber Q-series. I make pork steaks the most but have grilled tons of hot dogs, hamburgers, and boneless chicken breast. I have had the grill since 2007 and cook on it weekly at home and while camping. Replacement parts are sold at all of the Ace Hardware stores we visit. It's the best grill on market." – Charles Williams, 2017 Ford F-350, 2008 Lance 861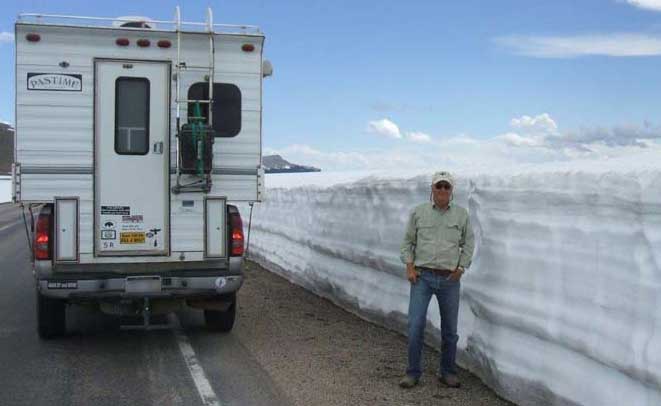 "I have the Weber Go Anywhere. This is a small rectangular unit that stores perfectly on the rear ladder of the camper (see photo above).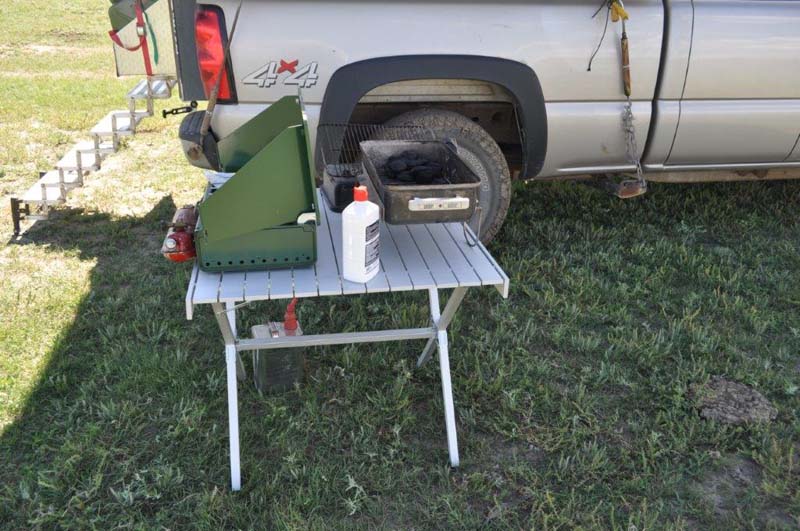 We are now into our second one of these handy little grills.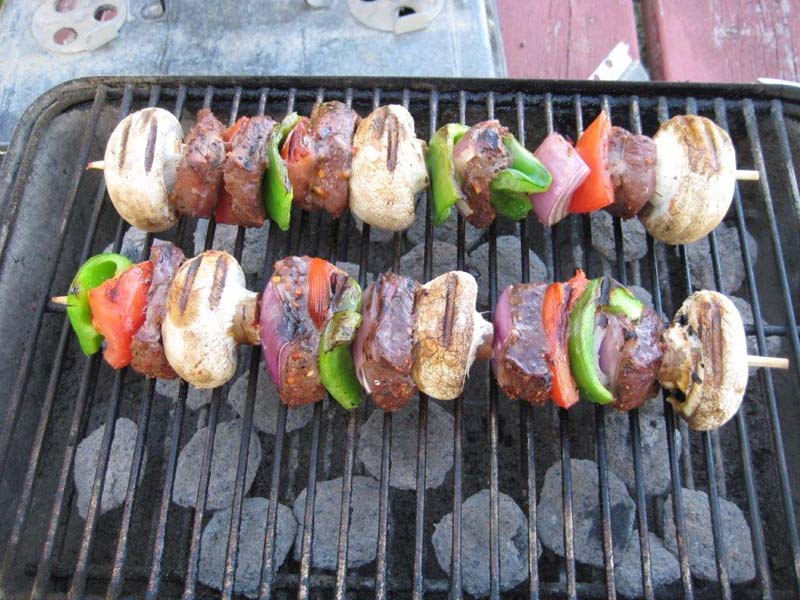 I have cooked everything from hot dogs, burgers, and brats to kabobs and trout and steaks.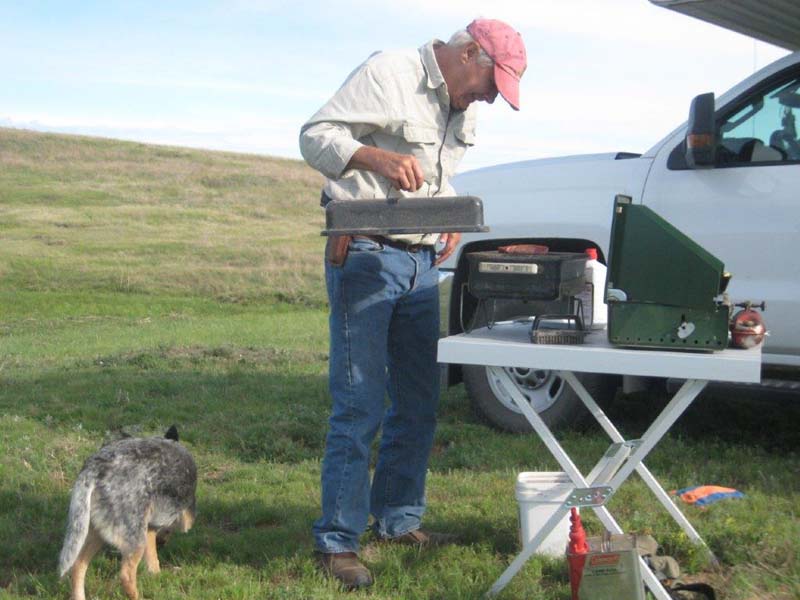 It takes a minimum amount of charcoal and the temperatures are easy to control via the simple side and top vents." – John Markwell, 201 Chevrolet 2500 HD, 2006 Pastime 850
"I have a Weber grill. You name it, I grill it." – John Voss, 1999 Ford F-350, 2015 Lance 992
"I have a Weber Smokey Joe charcoal grill and grill any kind of meat." – Bill Richcreek, 2020 Ford F-350, 2020 Lance 1172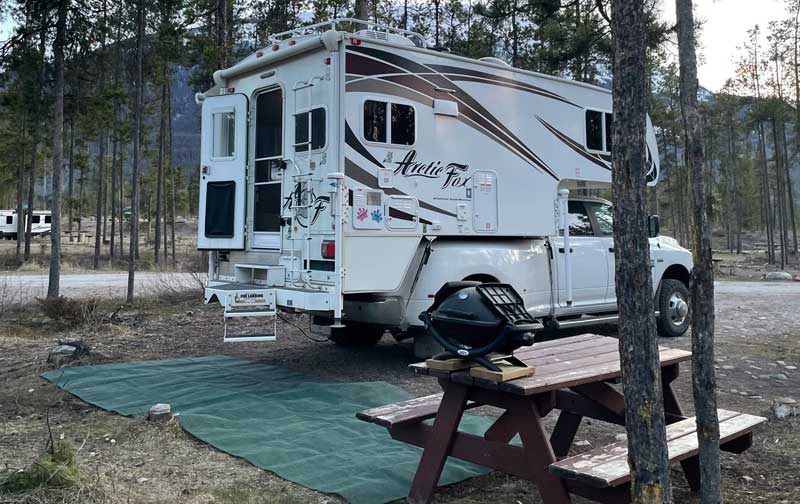 I have a Weber grill and cook ribs on it." – André Tremblay, 2018 Ram 3500, 2018 Arctic Fox 992
"I have a 14-inch Weber charcoal grill. Everything you can grill on a grill, I grill. I even use it for a cast-iron skillet, Dutch oven, or pot." – Calvin Meeks, 2021 Ram 3500, 2022 Lance 825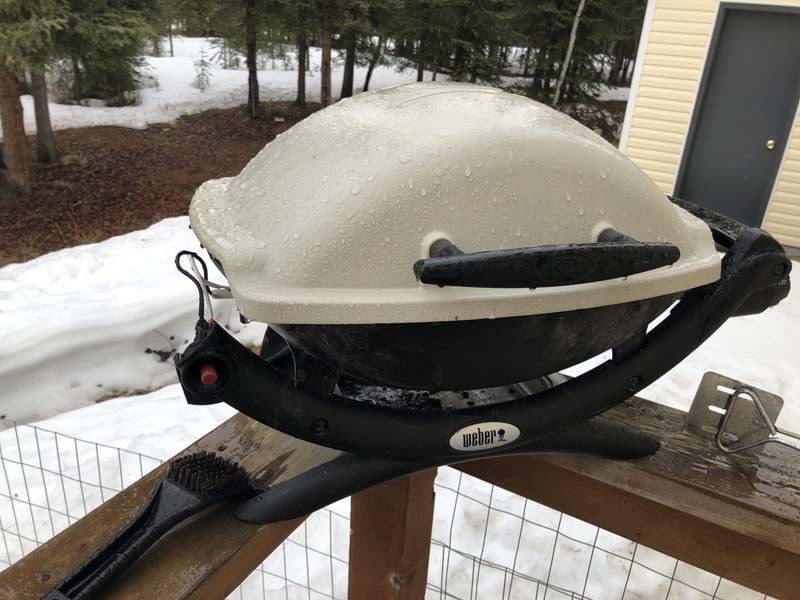 "I have a Weber Q1000 with the left handle cut off. If you tilt and twist it in just the right sequence it fits in our generator compartment. The Weber is the only small grill I've had that actually gets hot enough to sear steaks properly." – Dusty Carmello, 2000 Dodge 3500, 1997 Bigfoot 30c1011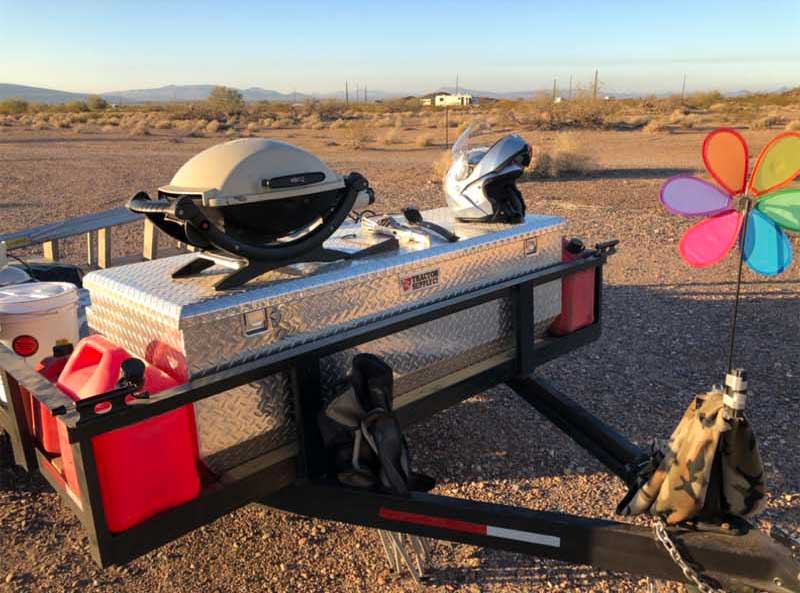 "I have a Weber Baby Q and cook everything on it." – Gary Ferguson, 2002 Ford F-350, 2005 Bigfoot 2500 9-6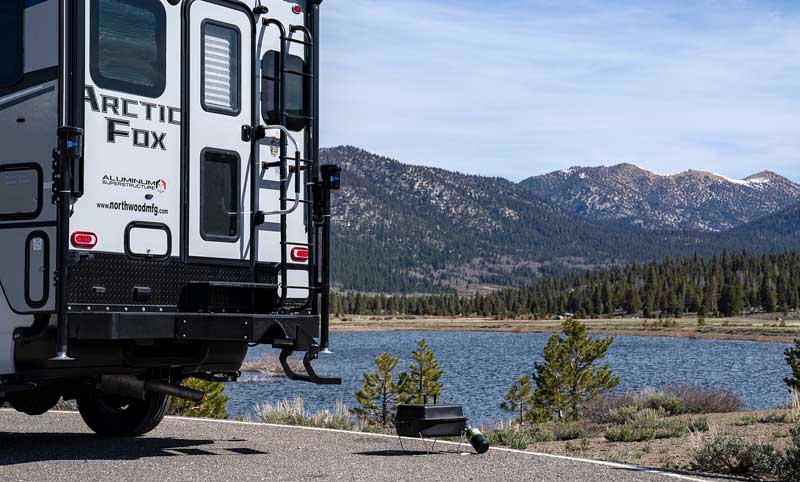 "I use a Char-Broil portable charcoal grill. It is tabletop-sized. I run it with Coleman Propane gas cylinders and use it for almost every dinner. It is small, light, and packs away easily. I'll make chicken and apple brats, steaks, hot dogs, burgers, marinated chicken, fish tacos, asparagus, pork chops, corn in foil wrap and in the husks, sweet potatoes, and fruit kabobs." – David Clock, 2021 Ram 3500, 2022 Arctic Fox 865
"I have a Pit Boss 22-inch flat gas griddle. I make everything on it. I have not found anything except a roast or large chunk of meat that cannot be cooked on the Pit Boss." – David Kelly, 2019 Ram 3500, 2017 Palomino SS-1251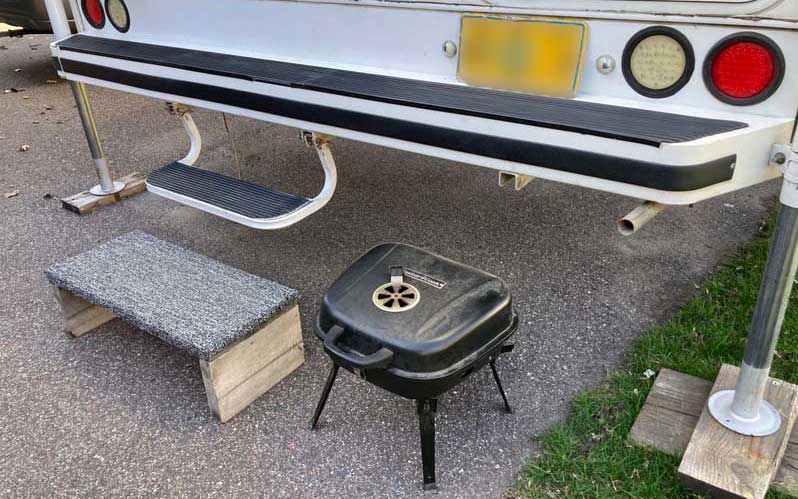 "When we bought our rig five years ago, we needed a traveling "Barbie" too. We bought a compact Master Cook Tabletop Charcoal Grill from our local Midwest Menards home improvement store for about $25. It seems our model isn't available anymore but there are many similar cheap, semi-disposable grills available at most outlets.
Amazingly, we are on season four and it hasn't burnt through. I do place the charcoal on a layer or two of aluminum foil for longevity and easy disposal of the ashes.
This grill fits in our rear passthrough locker after I added a shelf using an old oven grate that's just the right size. When the time comes to replace it, I'll look for an even more compact one. With just the two of us, we don't need much cooking area. I can cook our banquet on twelve to fifteen briquettes.
We cook a range of goodies; steak, chicken, brats, lamb, whatever. It's simple, affordable, and an easily stowable option for outdoor cooking. On many of our travels out west, there have been fire bans where an enclosed grill is okay. This has been the case with our travels through southwest Texas, Arizona and the Buffalo Gap Grasslands, southwest of the Badlands in South Dakota." – Dave Marsh, 2005 Dodge Ram 3500, 2005 Lance 1181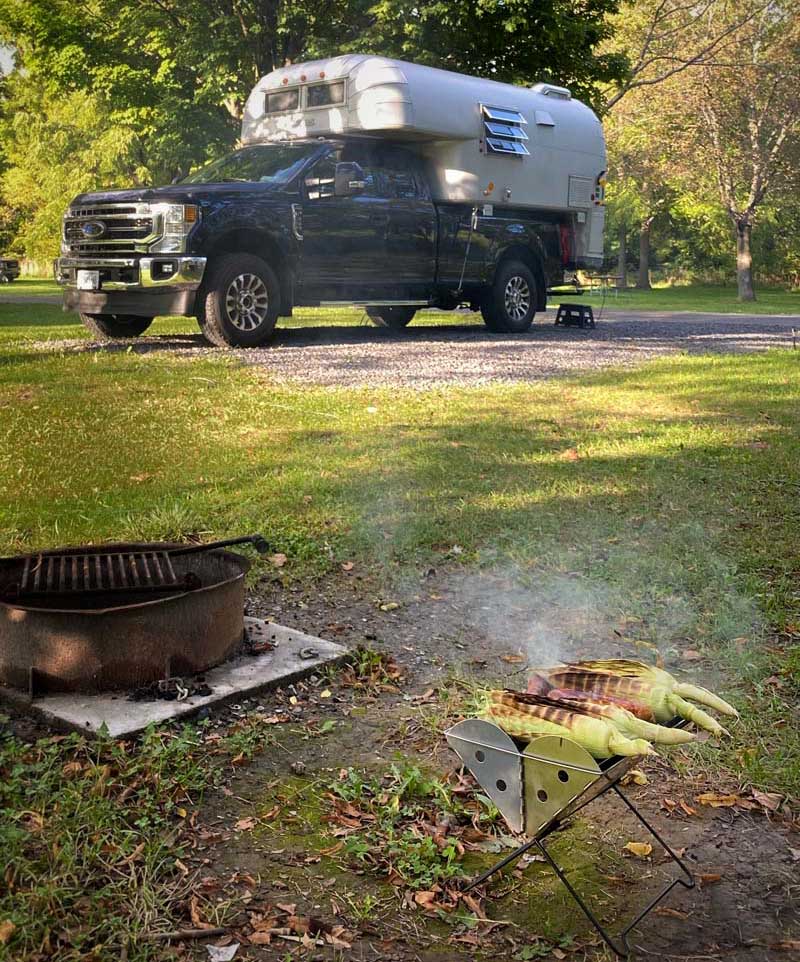 "We have a UCO Gear Flat Pack Grill that we use with our Avion. It's incredibly small when folded up; about the size of a laptop computer. It's proven to be just the right size when cooking for two of us, cleans up easily, then it goes in a plastic sleeve and thin fabric case that can be stored anywhere in our rig.
You can see a standard state campground-style fire ring with a grate in the photo. We find that a flat pack grill gives takes less charcoal than those rings, so it's usually more efficient when cooking for two.
We make sausages, pork chops, and corn on the cob picked up at local roadside stands. Pretty much anything you'd cook on an outdoor grill we grill." – Don and Barb Stucke, 2021 Ford F-350, 1965 Avion C-10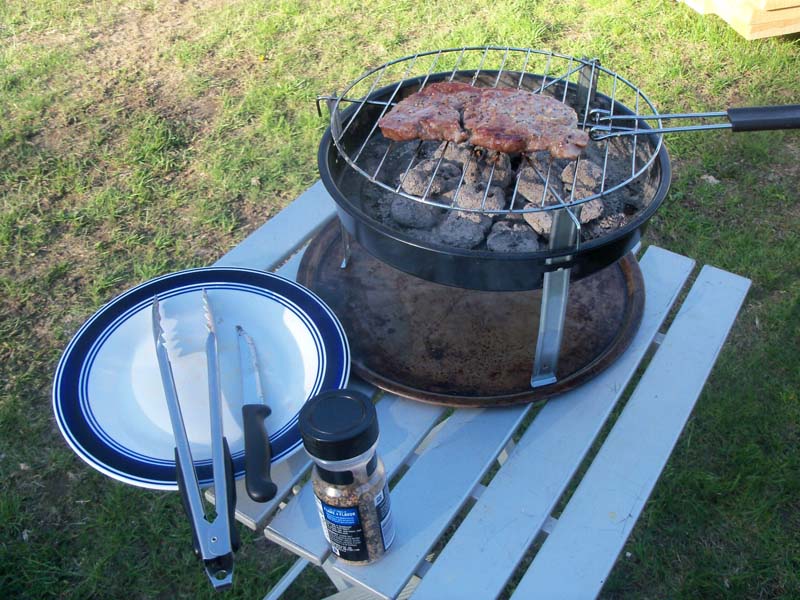 "I use a Blue Rhino CBT1601G Black Char Grill. I bought it in the local grocery store for $12.99 last year on my way camping. It comes with 1.2-pounds of charcoal.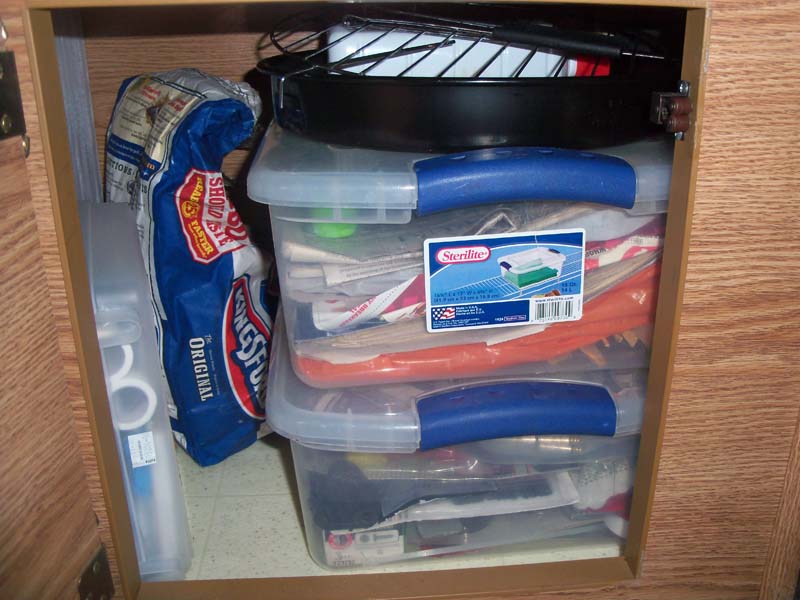 Pros: It's inexpensive, small and fits easily in the under-dinette seat compartment, and weighs about 2-pounds. So, 8-pounds of charcoal, 16-ounces of lighter fluid, and this grill are a total of 11-pounds. Also, there are no propane tanks to deal with.
Cons: The stands for the grill are too high, so I took tin snips and cut them down. The legs have very small feet on them and fell through the spaces in between the table slats, so I put it on a pizza pan when I use it.
Overall, the Blue Rhino does the job. I enjoy cooking hamburgers, hot dogs, steaks, and chicken breasts and I occasionally cook potatoes and corn on the cob on the grill.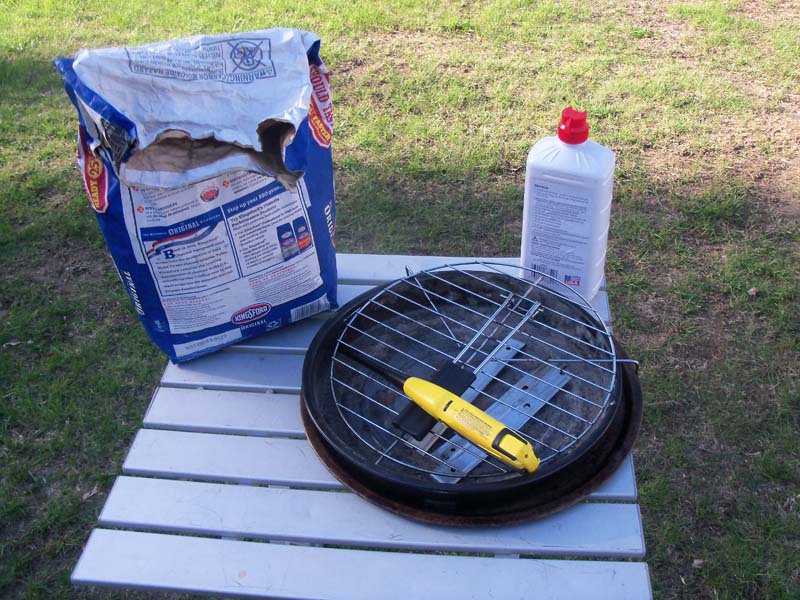 I know that you might think that this is a joke, but it's what I use. I will probably upgrade before my planned trip to Alaska next year, so I am looking forward to seeing what charcoal grills and propane grills other truck campers are using." – David Sponable, 1990 Chevy R-3500, 1995 Lance Lite 195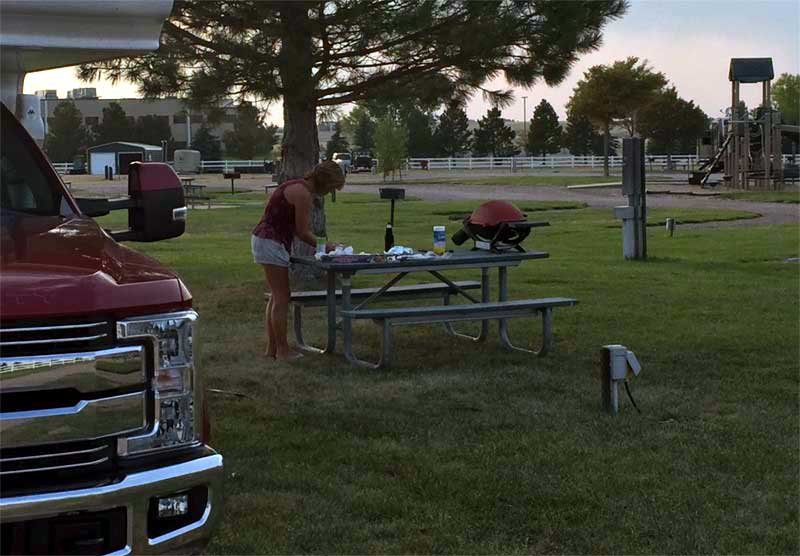 "I have a Weber mini propane grill and make foil dinners." – Jerry Dinnocenzo, 2017 Ford F-250, 2017 Lance 850
"We have a Weber Baby Q and cook pretty much everything on it, from vegetables to steak." – Esther Fiddes, 2001 Chevy 2500 HD, 2006 Lance 915
"I have Coleman Fold N Go propane grill and it's available from Amazon. We make Bison hamburgers and chicken tenders." – Van Wood, 2003 Ford F-350, 2017 Adventurer 86FB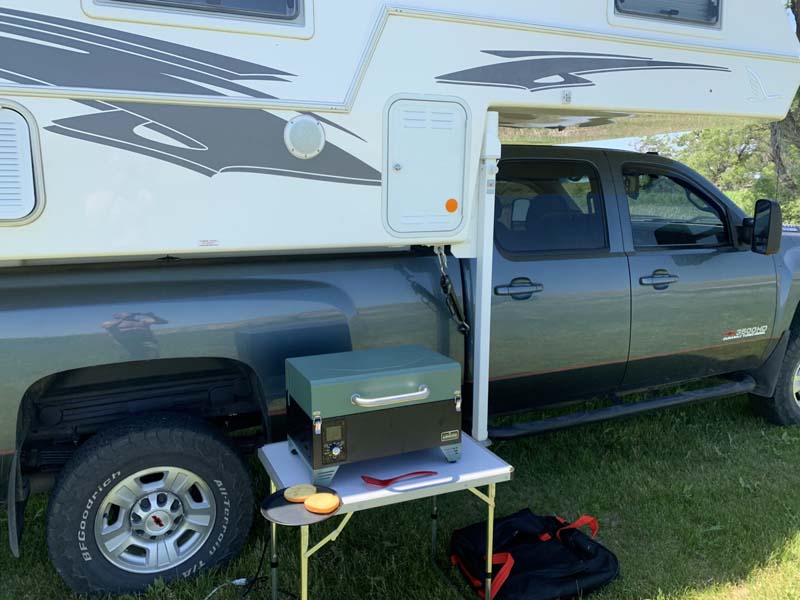 "I use an Asmoke AS300 Pellet Grill. I cook everything! It's a smoker and a grill. I love smoking fish or seafood but also use it to quick grill burgers, hot dogs, steaks and chicken." – Dave Ruane, 2008 Chevrolet Silverado 3500HD, 2020 Northern Lite 9-6
"I bring the Camp Chef 2-burner stove. It has several modular pieces that I can bring; a grill, griddle, and pizza oven. My favorite is the griddle because of its versatility. I should get sponsored by these guys. All of my campmates bought Camp Chefs because I talk em' up so much.
I cook everything I want to on it; crabs, steak, salmon, shrimp, burgers, sausages, bacon, pancakes, hash browns, and fajitas." – Aaron R., 2019 Ram 3500, 2021 Adventurer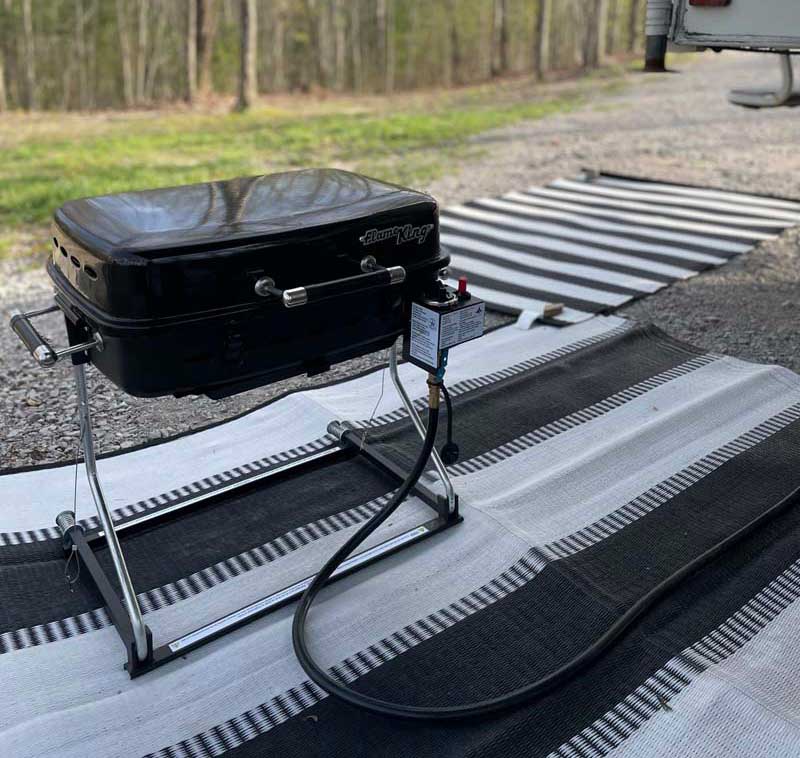 "I have an RV Mounted BBQ gas grill. We make Bratwurst, burgers, and egg pockets." – Angela and William Howerter, 2019 Ram 3500, 2004 Lance 1030
"We just returned from a trip where we took three grills plus an Inno Stage portable fire pit. The Inno Stage can run pellets that can be transported or local firewood.
My Akorn Jr. charcoal grill rides in the back seat and is a must-have for grilling, smoking, and baking. My Blackstone 22 Adventure-Ready griddle can fit in the camper basement or back seat and is used for breakfast, lunch, dinner, and snacks.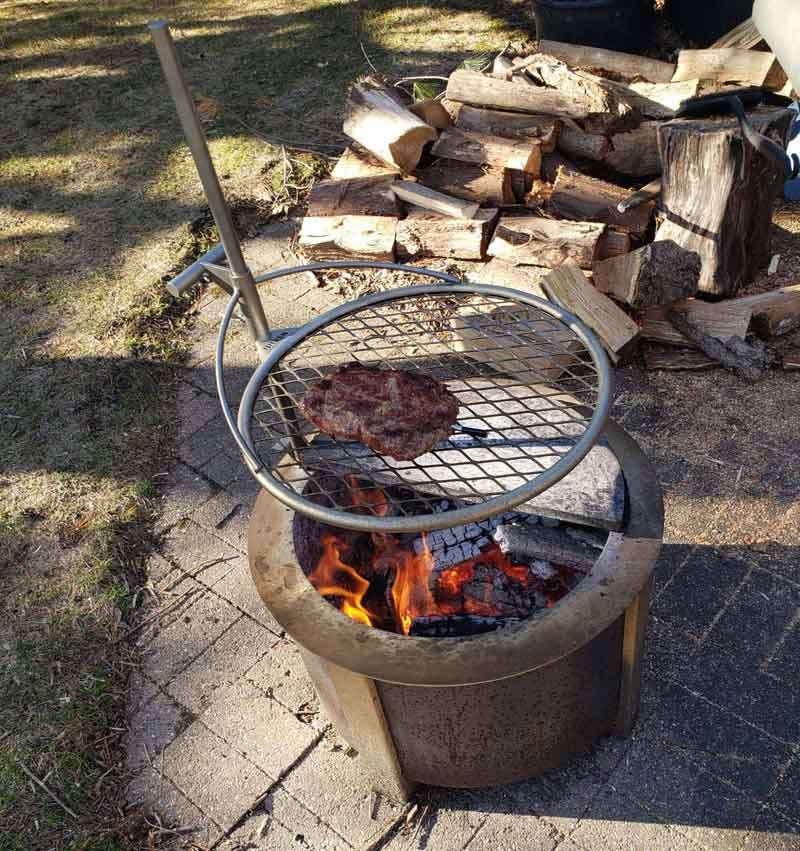 My Breeo Outpost 19 has an anchor point that can be driven into the ground for use over a campfire or portable fire pit and fits easily into the basement. We cook most meals outside, even in the rain.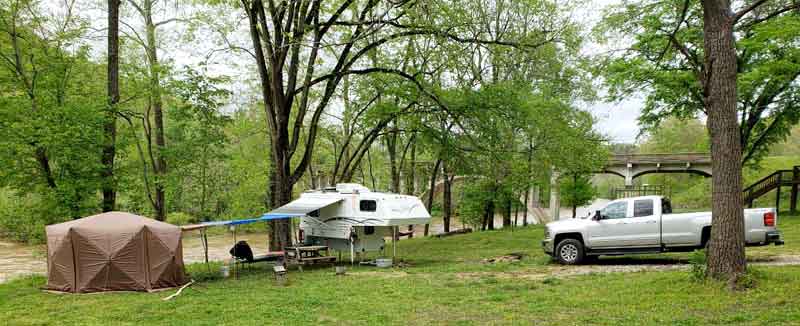 Above is a photo of our recent week-long paddle camp on the North Fork of the White River in Missouri. The smokeless fire pit and box of pellets are under the bed. The Blackstone is under the awning next to the table. The Akorn Jr is covered under the blue tarp extension.
The Gazell deluxe shelter gives us a warm dry place to gather with friends. Two kayaks are behind the camper by the river. This setup allows us to cook most meals outside, even in the rain, which was half of our stay. It is hard to believe that this all fits into the truck and camper." – Tom Strock, 2017 Chevy 3500, 2000 Bigfoot 9.6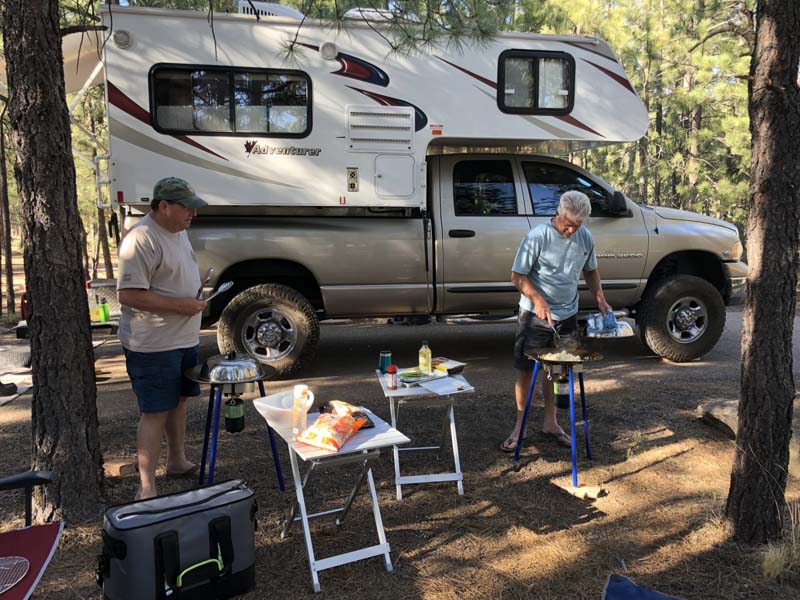 "We use the Tembo Tusk Skottle and got rid of our grill. It's great to cook on and, once it's cleaned, it's easy to pack and store away. My brother-in-law just gave us his gas griddle because he had no room to store it in his truck camper. We haven't used it yet. It's similar to a Skottle also. I love cooking on the Tembo Tusk and my brother-in-law also has one. Dual cooking." – John MacPherson, 2020 Dodge Ram 5500, 2020 Bigfoot 10.4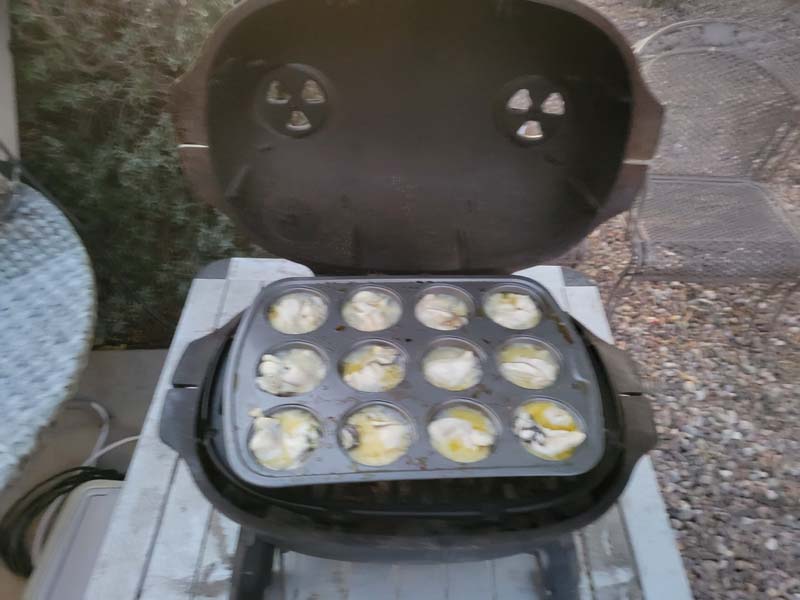 "I have a PKGO portable charcoal grill. I'll grill anything. In the picture above, it's smoked oysters." – Brian Roark, 2015 Ford F-350, 2018 Lance 1172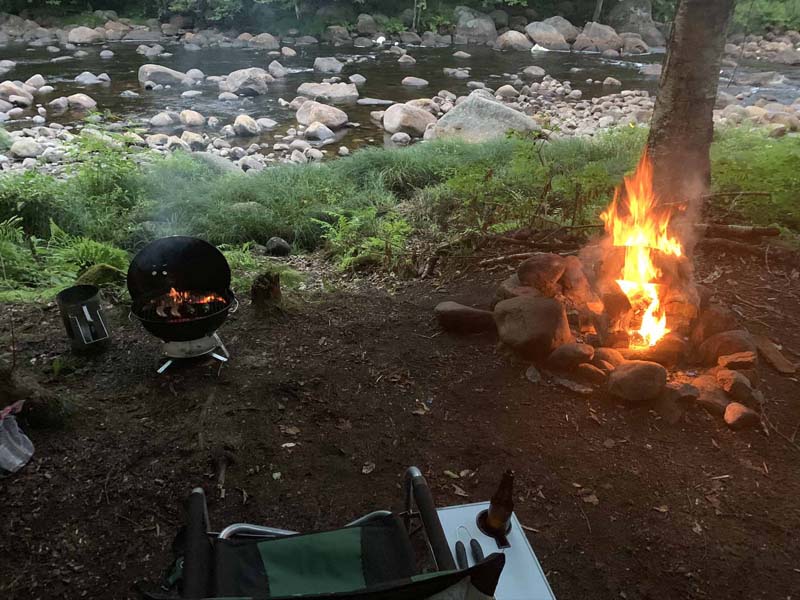 "I have a Weber Jumbo Joe that I cook steak, pork chops, brats, and hamburgers on." – Aaron McVay, 2019 Ram 2500, 2010 Northstar 650XB
"We have our original 1985 that I've reworked a couple of times. I refined the gas burner out of S/S tubing and different burner hole sizes. I made up some for our camping friends for their barbecues. It works very well and stows in one of our outside compartments.
I use one-pound bottles which I store under our overhang so that they're outside. I made a fold-out rack support for the barbecue off the rear jack leg. It took a couple of times to get that workable. I make everything from breakfast to steaks!" – Eric Devolin, 2007 GMC 3500, 2006 Adventurer 106 DBS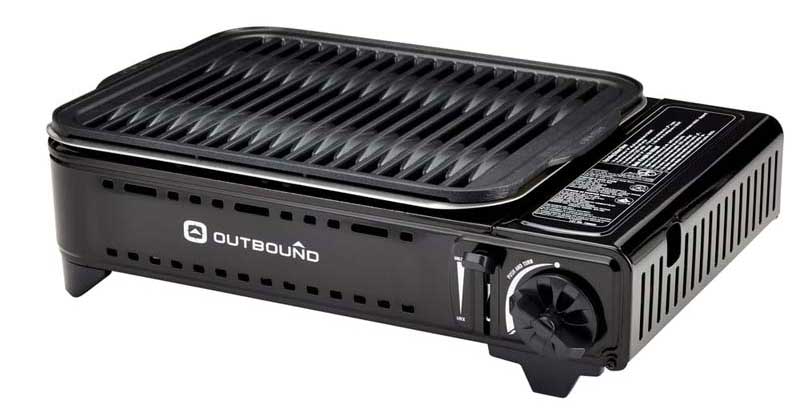 "We purchased the Outbound portable butane grill. This item fits perfectly in the slide-out tray in the bottom of the camper. It takes up very little space and you can put more stuff in the slide-out tray. This item can be bought at Canadian Tire in the outdoor section.
We are able to cook steak, chicken, hot dogs, burgers, and fish. It uses one butane canister. It does a great job and there is no mess to clean up since it has a drip tray on the bottom of the grill. Just wipe out the grease tray with a paper towel along with the grill. Once done, just wash with soapy water. There is no need to oil it as it has a non-stick grill. There's an even heat and it cooks great." – Scott Hannaford, 2018 Ram 2500, 2021 Adventurer 89RSB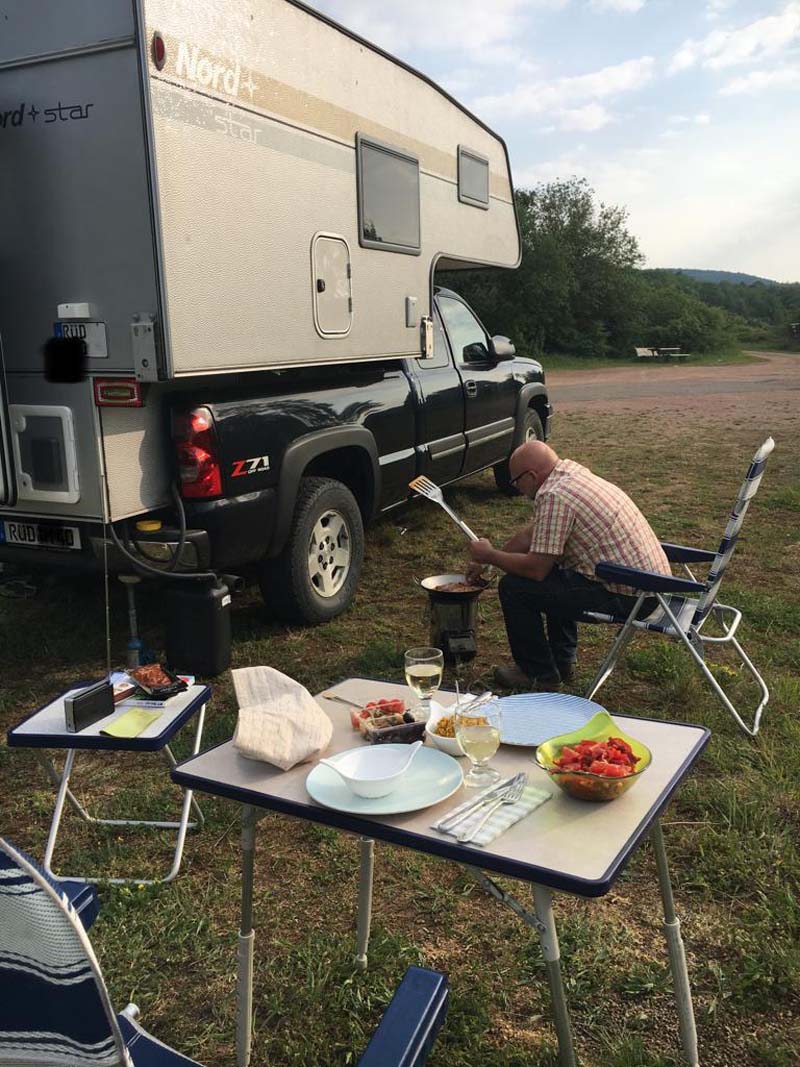 "We've had a Petromax Rocket Stove rf33 since 2016. It's a portable wood-burning model. We love this portable stove. We use it with an iron pan. Using a fire kettle or a dutch oven is possible.
For breakfast, we make ham and eggs, pancakes, and hot water for coffee. For dinner, we bake potatoes, all types of steaks, and fish. We love a Turkish Meal with Sucuk (fermented sausage) with garlic. If all sides are ready then comes eggs over the sausage. At home, our smoke detector gives us an alert every time we make this dish. It's better if you cook it outside for your nose and the smoke." – Rainer Hentschel, 2004 GMC Sierra 2500HD, 2016 Nordstar Camp 8.5C
"We purchased the Eureka SPRK camp grill because of the compact size. It easily fits between the camper and the bed of the truck. We grill steaks, hamburgers, chicken, Korean style pork, ribs, asparagus, bell peppers." – Mike McBride, 2011 Ford F-350, 2014 Palomino SS-550
"I have a Weber 100 (the original). I've had it for more than fifteen years and use it at home as well. It fits perfectly in an old footlocker carried in a tag-a-along trailer or in the fishing boat. I cook brats, veggie burgers, and fresh fish." – Seigurd Van Der Walk, 2020 Ram 3500, 2017 Wolf Creek
For more ideas from fellow TCM readers, click here.