"I have a small 110-volt, 5-cup electric coffee maker with a timer so that the coffee is ready before I wake up in the morning.  I don't like to wait for my coffee in the morning.
I also carry a small 110-volt fry daddy to fry up fish while I'm fishing.  I like using a small crock pot while I'm camping due to the fact I can set it and forget it.  By the time I get back to my camp site, I'll have a delicious meal ready.  It's easy clean up, too." – Mark White, 2011 Ford F250, 2005 Lance 845
"I have a double 6-volt golf cart battery set in my pickup box with a 2,000-watt pure sine inverter.  I have a 110-volt, 4-cup coffee maker, a coffee grinder, and a two-slice toaster.  They're cheapies from Walmart.  I also have a small 110-volt clamp-on fan, and an electric heater that I use for a quick warm up.  I've gotten by for two days with no problems so far." – Phil Hunter, 1999 Ford 250, 1994 Sky View pop-up
"We travel with a 110-volt mini Keurig coffee maker.  It stores in cabinet over the cooking area making it easy to access.
We use shore power when we have it.  Last Christmas Jim gave me an inverter that he installed; a great gift!  I can now use my Keurig every morning anywhere, anytime, anyplace for a great cup of coffee.  Since we have a 110-volt outlet, I'm thinking there are many other options available.  I'm looking forward to responses to this question." – Janet and Jim Manis, 2014 Dodge 2500 HD, 2016 TravelLite 960RX
"I have a 110-volt Mr. Coffee 12-cup coffee maker from Walmart that was $9, a two-slice toaster, and a tea kettle, but I don't know the brands.  They stay in the camper permanently." – Erwin Greven, 2002 Chevy 2500HD, 2002 Lance 921
"None.  We're only set up for off-grid camping using propane, 12-volt, or fire." – Steven Gasser, Ram 3500, Adventurer 90FWS
"I have a 110-volt Salton Portable induction cooktop, Advent microwave oven, and single serve Keurig coffee maker (to make hot water, coffee or hot chocolate).   All are used with shore power or dry camping with a 1,500-watt GoPower Inverter I installed.  A propane oven and a three-burner cooktop were included in the 89RB, but have never been used." – Vic Smith, 2015 Ford F350, 2013 Adventurer 89RB
"We use a 110-volt under-the-counter coffee maker (it takes up no counter space, and we can use it to also heat water – my favorite), an electric skillet (for skillet dinners, and baking – and I use it outside to keep the heat out of the camper), toaster oven (again, outside), a Bullet for making smoothies and slushie drinks, and a small George Forman grill (for when it's raining outside, and sandwiches).
We also have a 110-volt two-slice toaster for toast and bagels.  And they all fit in one drawer under the dinette seat.  It's nothing fancy, but it works for us!" – Jody Smith, 2013 Chevy 3500, 2013 Lance 1172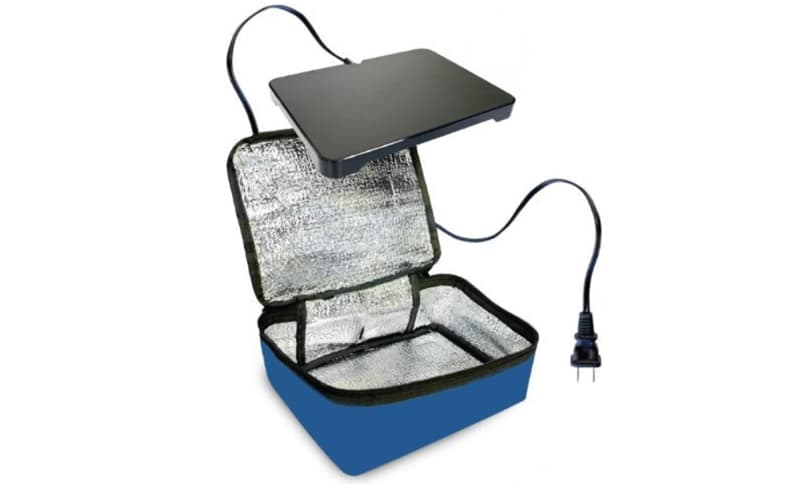 "The 110-volt HotLogic Mini Personal Portable Oven goes camping with me.  It's a sort of heated lunch box that can actually cook food, including frozen meals.  I set it up with a meal, put it where it won't slide around if I'm driving, and the food is ready in an hour or two.
It seals in food smells, so if you are cooking something like curry, you can open it up outside.  I was looking on Amazon for a slow cooker to use in my camper when I found it.  Wonderful invention!  My camper outlets are 12-volt and I use it with a 75-watt inverter." – Christine Dyer, 2012 Chevy Silverado, 2016 FWC Hawk Shell
"I use a 110-volt Keurig coffeemaker for sure, and a toaster sometimes.  We have a generator, so we can get the Keurig going even when boondocking." – Jim McIrvin, 2015 Ford F350, 2012 Lance 1191
"We bring our Mr. Coffee drip machine, a Rival 2 quart crockpot, and a Sunbeam mini food processor.  Our camper has ample counter space for the coffee pot and crockpot when being used.  For travel, the coffee pot goes on the dinette floor, the food processor goes inside the crockpot, and the crockpot goes inside a storage tub in the bedroom closet." – C&J Ramsey, 2012 Chevy 3500, 2014 Adventurer 116DS
"We have a Keurig coffee maker.  I start it first thing in the morning.  It makes one cup on a timer.  It keeps the waste down and I usually only have one or two cups of coffee.  So, it's simple to use.  Coffee is a bit expensive, but then again, I waste nothing.
I also have a GNC Blender just to make a protein drinks.  So far I've been using these items when I'm plugged into 110 or with my Honda 2000 generator.  I just added a 150-watt solar panel to the camper and I will add an inverter soon." – Joe Tatosky, 2005 Dodge Ram 3500, 2008 Northstar 850SC