I do like the idea of multi-purposing with that Griddler, though.  Maybe our toaster will get traded in on one of those puppies in the future!" – John and Marylou Wells, 2011 Chevy 3500, 2012 Chalet Ascent S100F
"A 110-volt toaster!  We have a large inverter so we can make toast and toasty things on the road while on battery power." – Mike Johnson, 2008 Chevrolet 3500, 2008 Eagle Cap 1160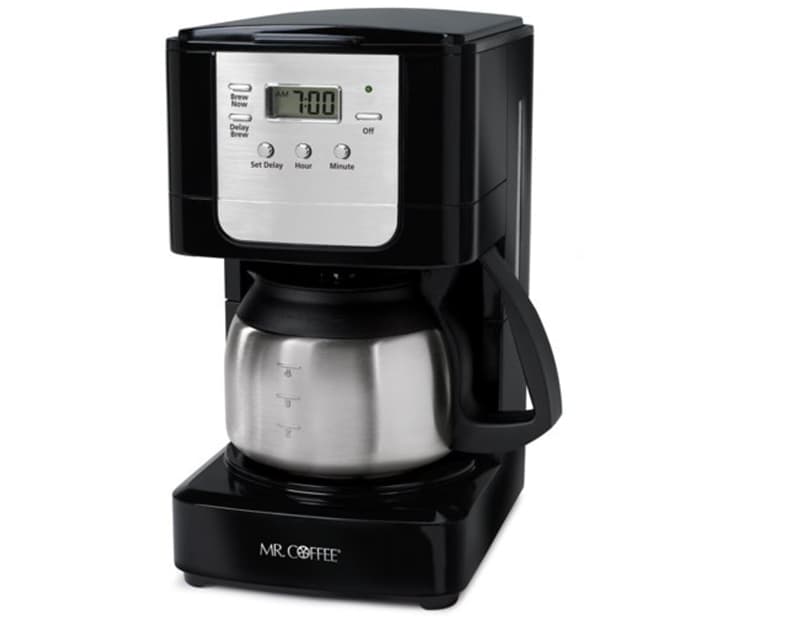 "First of all, I have to have my coffee in the morning and, even though I have tried non 110-volt coffee makers, I have not found one that I find as convenient as my Mr. Coffee JWX9 5 cup coffee maker.  It has a stainless steal pot so breakage is not a concern. I usually have shore power.  When I don't, I will fire up the generator for the short time it takes to brew a pot.
I also take a 110-volt Cuisinart TOB-165 Convection Toaster Broiler and Oven that I use for everything from making toast to brownies.  It is great for most everything that can be done in a conventional oven, but heats the camper less than the built-in oven, is faster, and uses no propane." – Eldon Rhodes, 2008 Chevy 3500HD, 2011 Lance 1050
"In the kitchen, I have a 110-volt versatile crockpot (which is a pan and heating unit).  The pan is 4-quarts and can be used as such.  When you put on the electric base, it becomes a crockpot.
I also have a 110-volt hand mixer, an immersion blender, a heavy duty Ninja blender (makes great margaritas), Ninja food processor, and (of course) my blow dryer, curling iron, and hot curlers.  All of these items can be used on shore power, but I have absolutely no problem using them while we are dry camping since we have a 1,000-watt inverter.
We also have all our computers, camera equipment, and printer.  And my honey's drills and tools are battery operated and need to be charged up." – Gretchen Berquam, 2014 Ford F-350, 2015 Arctic Fox 1140
"I boondock with a 110-volt television, coffee pot, and microwave oven.  I use a 3,000-watt inverter with two 6-volt golf cart batteries.  I also have 400 watts of solar power so long stays off the grid are easy.  I have a nice generator that I don't even take with me anymore." – Richard Sullivan, 2010 Chevrolet 1500, 2009 Lance 845
"We use a 110-volt toaster, computer, hair dryer (wifey), smart phone chargers, and microwave (sometimes).  We use our camper year round but, when the temperature drops to freezing and we aren't on the road, I often run a 110-volt oscillating heater fan to make sure things don't freeze up." – Kevin Eliseo, 2006 Ford F-350, 2006 Lance 1055
"We absolutely love our 110-volt NuWave oven.  Admittedly, it is bulky to find space for, but it is very light and well worth it.  We use it in camp and at home all the time!  It has been our favorite mini kitchen appliance for over 20 years.  We wouldn't leave home without it!" – Ken Southworth, 2015 GMC Sierra Denali 3500HD, No camper right now, we're still shopping for the right one!
"Instant coffee has gone out the window since I purchased a 110-volt Keurig.  I can't leave my Keurig behind.  I have to have Keurig coffee first thing in the morning." – Kathy Jo Zigrang, 2003 Chevy Silverado, 2001 Alpenlite 1150
"I have a 110-volt electric pressure cooker.  I stumbled across one at Goodwill, and glory be it was a 4-quarts.  I have a 6-quart version at home and love it, but it's big and there is no place to easily fit it, so it stays home.  Enter the 4-quart, and it's just big enough.  I throw something frozen in it when we have shore power and, in less than 45 minutes, we have a hot meal.  It doubles as a slow cooker and rice cooker.
Our other vise is our 110-volt Bunn Coffee maker.  Don't get me wrong, I love percolated coffee, but I want instant gratification when I roll out of bed.  In three minutes and I have a steaming cup of nectar of the gods.  Aahhhh!  We also have a toaster (sorry that doesn't inspire me)." – Cindi Delo, 2002 Chevy K2500, 2004 Adventurer 90 RDS
"Our 110-volt Cuisinart compact two-slice toaster ($25 white plastic body) has elements on both sides of each slot and does a better job than our big name/big buck home toaster.  We also enjoy the speed, convenience, and variety of coffees available from our 110-volt Nespresso.  Their compact $100 model does the same job as the larger home model (pods are recycled).  Both fit perfectly in a small overhead cabinet.  They were bought on sale at a Target somewhere in Arizona.  We never leave home without them." – Joe Sesto, 2015 Silverado 3500, 2015 Bigfoot 10.6E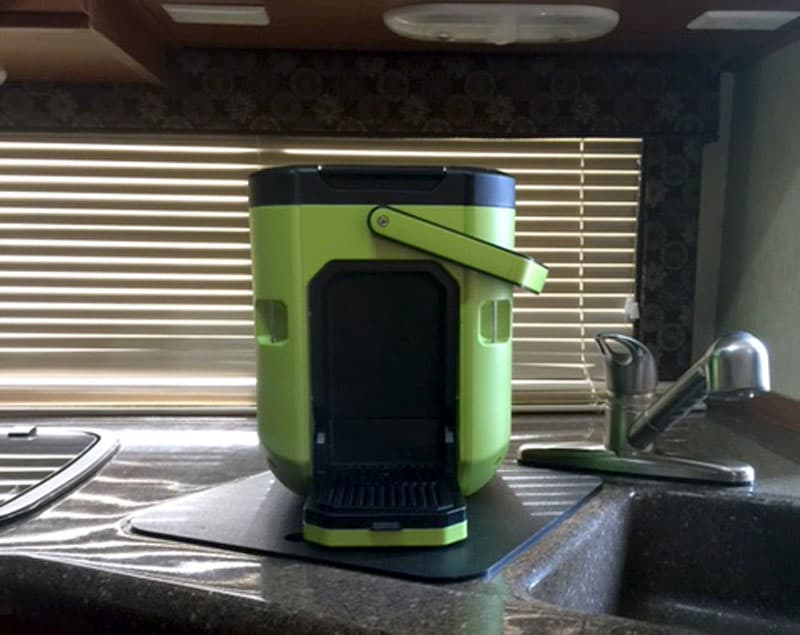 "We have a 110-volt Oxx CoffeeBoxx, the Godzilla of K-Cup coffeemakers.  It was designed primarily for construction workers, but works great in the boondocks.
Oxx CoffeeBoxx coffee makers are built strong enough to support the weight of a Jeep Wrangler by placing one coffee box under each wheel.  It has a retractable cord, tie down brackets (for serious off-roaders with a generator), and can be easily stored in the truck or an outside compartment.  We use it both inside the camper and outside as well." – Gene and Linda Yale, 2016 Dodge Ram 5500, 2015 Host Mammoth
"I have a 110-volt coffee maker with a stainless steel insulated pot, and a regular two-slice toaster.  I installed a 2,000 watt inverter and a selector switch so, when we are plugged in, everything runs on shore power.
Off grid, I turn on the inverter, switch the selector switch off of shore and onto inverter, and we have our regular toast and coffee in the morning.  We run the coffee first and turn it off when it's done before pushing down the toast.  The insulated pot keeps the coffee warm as long as it needs to be." – Michael Dvorak, 2003 Ram 3500, 2007 Okanagan 90W