We evidently hit a nerve with this week's tailgate question. Almost 200 truck campers responded with remarkable passion, snarf-worthy humor, and unexpected tailgate insights and intrigue. Grab a cup of joe, have a seat and dig in.
This week's Question of the Week was, "When unloaded, do you drive around with or without your tailgate?"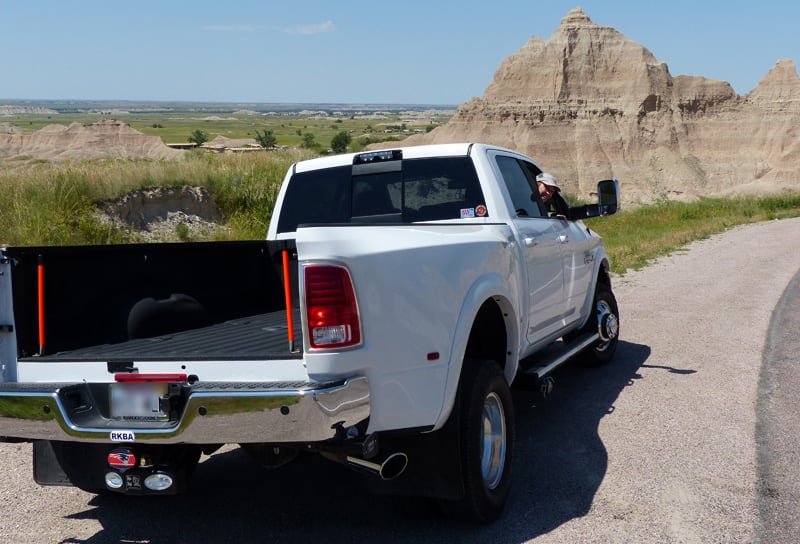 "I could not agree with you more about the procedure to remove the Ram tailgate. What a pain! It takes the two of us to do it almost comfortably! That connector gives us a problem every time we have to remove our tailgate. Like you said, "what were those Ram engineers thinking?"
But to answer your question, of course while we are on the road camping, the tailgate gets left behind because it's a requirement to remove it in order to load our 2015 Eagle Cap 1165. When we are camping and stop at a destination for more than a day, we always unload so we can use our truck for touring – with no tailgate of course!" – Dan Daddieco, 2015 Ram 3500, 2015 Eagle Cap 1165
"After first purchasing our truck, we always re-installed the tailgate, but after a few times removing and re-installing, the procedure got old. As mentioned in the original article, the back-up camera harness is a pain to remove and the weight of the tailgate usually required two people to remove it. We have since removed the tailgate and installed a tailgate net with quick connects. The net easily folds down into the bed and the camper sits directly on it." – Patrick Carroll, 2018 Chevrolet Silverado 3500, 2014 Lance 855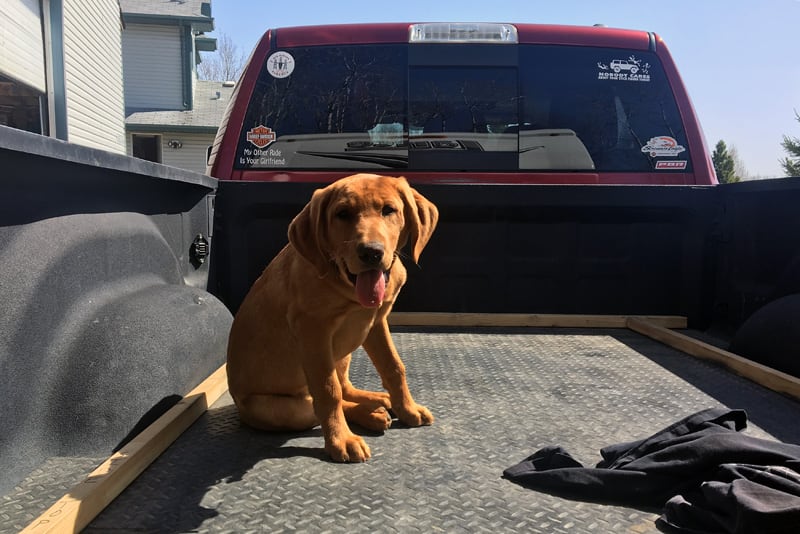 "Because we live in Canada we only use our camper from May to October, weather permitting. I take the tailgate off in the spring and put it back on in late fall. It stays that way all winter. Yes it's a pain to take off and put on." – Ken and Leona Atamaniuk, 2012 Ram 3500, 2016 Lance 855s
"With the tailgate. My rational is that I don't have a good place to keep the tailgate except for on the truck. I also leave that damn connector disconnected. On my truck it only works the electric tailgate lock, which in my case is pretty pointless since it's an open bed truck. I thought of some brand new curse words the first time I tried to take it off." – Randy Smith, 2017 Ram 3500, 2017 Adventurer 910DB

"I leave my tailgate off all the time because my camper is on the truck more than its off. When I do need to haul something I use a Moto-Gate.
I like that it is adjustable if I have a load that sticks out of the bed a little. My truck actually has a recall right now for a tailgate latch and I think I will just bring the tailgate to them and drop it off instead of having to leave my truck all day while they fix it." – Chris Tiefenbrunn, 2016 Ram 3500, 2016 Northstar Arrow U
"I put mine back on. My older truck doesn't have the problem that those with built in back up cameras have. In my opinion, that is a design flaw. I installed a back up camera on the license plate bracket of my truck. I still have that capability with the tailgate off. New trucks weren't engineered with campers in mind with the design of their backup cameras." – Pat Eastes, 2005 Chevy, 2015 Lance 865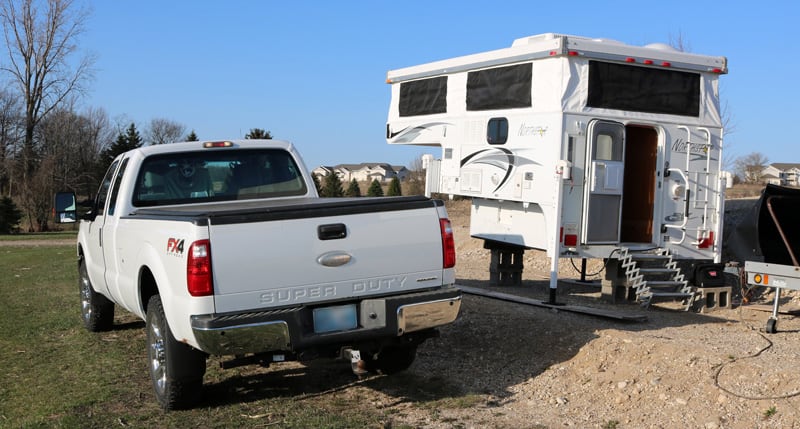 "With tailgate. I haul a lot of tools and supplies in my truck bed when the camper is off and I prefer they stay in the truck and not on the road!" – Wayne Petrie, 2012 Ford F-250, 2012 Northstar 850 SC
"As the only one to load and unload the camper, I also leave the tailgate off all year. My issue is the same as yours. I had the dealer remove it first time. It took him 20 minutes of cussing, so I decided then to leave it off." – Bill Close, 2017 Ram 3500, 2012 Lance 850
"Since we are full-timers, we don't bring the tailgate with us. So when the camper is off, the bed is bare." – Paul Neumann, 2013 Ram 3500, 2019 Cirrus 920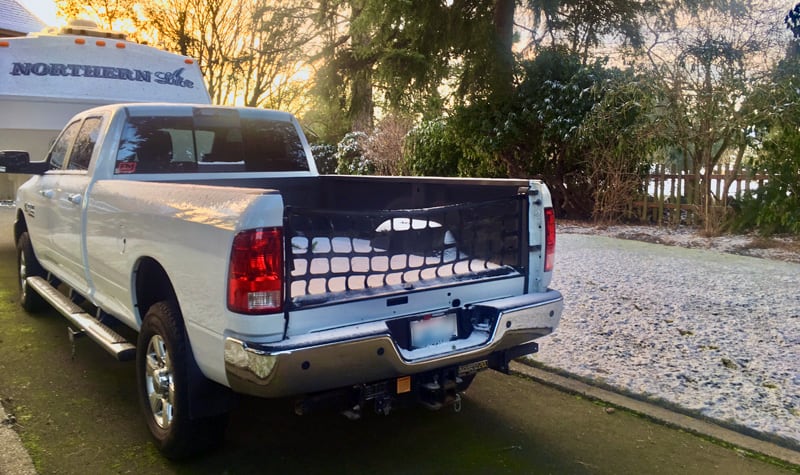 "We do exactly as Gordon White. The tailgate is safely stored in our basement far away from accidental dings and dirt in the garage. That's how permanent our decision is!
We use a rubberized and heavy duty strapped net so that things don't slide out. It looks okay and one notch more polished than the blank look. Plus it's easy and minimalist to store when camper goes back on." – Barb Malden, 2014 Ram 3500, Northern Lite 10.2 EX CDSE