The lightning rod issue of bathroom access and slide-outs continues with more critical feedback and insights for the truck camper community and industry.

The Question of the Week was, "Is bathroom access an important factor when you select a truck camper for purchase?"
"I don't have a slide on my current camper and can use the whole thing anytime and anyplace. I couldn't imagine not being able to at least get to the bed, open the refrigerator, or squeeze into a bathroom with a slide in. How would you stealth camp if these were not possible?" – Kevin Garrett, 2004 Ford F-350, 2009 Lance 915
"Yes. I had a Lance with a double slide on a F-450 dually. I had to open both to do anything, and it was 2000 pounds heavier." – Dennis DeLong, 2018 Ford F450, 2008 Lance 815
"This potty question is one that we completely overlooked when we purchased our camper! We never even thought about traveling down a remote road in No Town, USA and suddenly – duty calls! Holy crap! No pun intended!
If you've got a medical condition as I do, (sudden IBSD), the need to find a bathroom on a moment's notice should have been a top priority when we were hunting down our truck camper. But, unfortunately, with our 1165, it takes a few long minutes to come to a full and safe stop, jump out of the truck, with keys in hand, dash to the entrance, pull out the stairs, unlock the door, find the right switch for two of the three slides and hope to hell the Schwinteck Motors don't decide to fail right now, fumble for the water pump switch and go! Not all emergency bio-events have happy endings!" – Dan Daddieco, 2015 Ram 3500, 2015 Eagle Cap 1165
"Yes! Bathroom access was a big consideration when we looked at campers. We even chose the roll-over sofa option to make access even easier. Now the hardest part is reaching the outside door lock to open the camper to use the bathroom. When we were shopping for our truck camper we saw several models we liked, but bathroom access was one of the things that edged out others. I have an Arctic Fox 1150 with the roll-over sofa option." – Pam Conner, 2015 Ford F350, 2015 Arctic Fox 1150
"Our Lance 1172 has a rear slide out and a driver's side slide out. We do have to slide the rear out most of the way and the side part way to access our dry bath, but it takes less than a minute. It is not a big deal at all. We usually stop at rest stops to walk our dog and take that opportunity to use the restroom facilities there if we need them. Having the layout and room the 1172's slide-outs provide is well worth taking less than a minute to access them if we need to." – Todd Kidder, 2011 Chevy 3500 HD, 2015 Lance 1172
"Yes, bathroom access was on our must have list when we went shopping for a truck camper, and we have taken advantage of that feature many times! It is a handy feature when you are exploring the back roads and byways." – Jeannie Coushaine, 2001 Ford F-350, 2012 Chalet DS116RB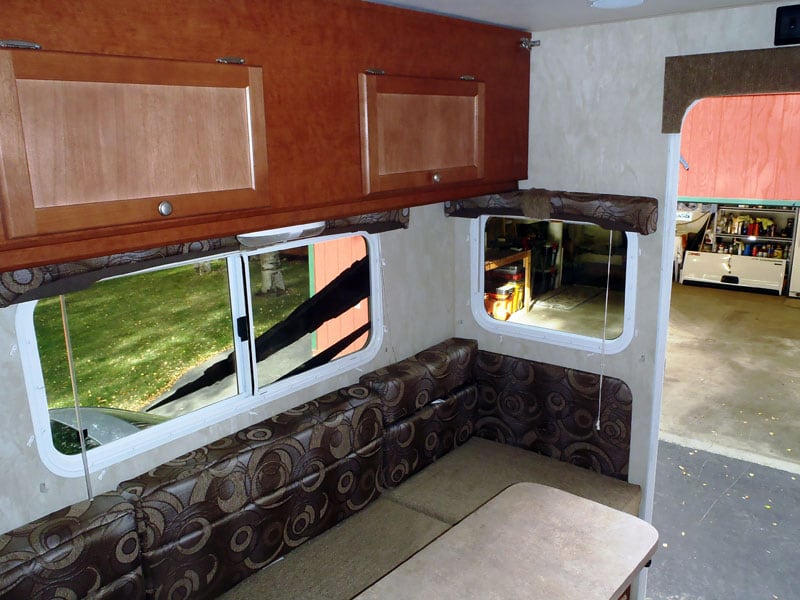 "I'm on the non-slide side of the fence. A few of the factors in my decision were overall weight, heavier on one side than the other, more moving parts, plenty of issues with slides on every camper forum, smaller dinette area (bed is extremely short on slide models), bathroom access, and the huge loss of overhead cabinets. I honestly don't see the advantage of a little extra floor space for the two of us and the loss of tons of cabinet storage above the dinette (pictured above)." – Allen Jedlicki, 2012 GMC 2500HD, 2014 Wolf Creek 850
"It took us a year of searching to find our double slide Okanagan. We had to give up our Bigfoot but we love the open living space provide by the big windows, the side door and center bath layout of the 117DBL. The slides move out fast enough to accommodate an emergency road side bathroom stop. The down side: It's heavy, harder to heat in the winter and there are a lot more moving parts to maintain but the comfy couch is worth it all." – Phil and Pat McEachen, 2000 Ford F-350, 2008 Okanagan 117DBL
"Having pull campers and truck campers for the last 30 years, the first thing I look at is what crazy things happen when the slide goes out or the slide comes in. To me I want to be able to use my camper with the least amount of set-up as possible. With my Lance I can use the bathroom, fire the generator, microwave or bake lunch, open the refrigerator and freezer, sit at the dinette and take a nap all by just opening the door. I'm definitely not anti-slide when I get to my destination. Opening the slide seems like I doubled my square footage. If I had to open two or three slides to accomplish these tasks I would go buy a giant fifth wheel." – Dierk Mehner, 2002 Ram 3500 and 2018 Ram 3500, 2003 Lance 1161
"My bathroom is totally inaccessible with the slides in. Both slides must be out. Our priority was getting an actual separate couch so both old geezers (okay, a geezer and a geezette) could nap simultaneously without disturbing the other when one wakes earlier. If a bathroom is needed while traveling, it takes very little time to deploy both slides. A separate couch was just higher priority for us than having to wait about a minute for slide deployment." – Robert Branson, 2008 Ford F-350, 2014 Lance 1172
"Before we had a truck camper we always wondered if the slide had to be out to access the bathroom. One day I wondered why we were even having the discussion because I had determined I never wanted a camper with a slide anyhow. When we van camped I saw too many folks with slide problems. We're simple folks with simple needs; be dry, be warm and well fed.
Slides just don't seem necessary to me. Actually the bathroom itself seems a bit superfluous. I think the space could be better used for storage. The great outdoors and porta-potties along with public restrooms have gotten us through 18 years of either van or truck camping adventures." – Frank and Polly Foley, 2016 Ford F-350, Northstar 8.5 Arrow U
"I think one of the benefits of a truck camper is having a bathroom with you anytime you might need one. In our search for a camper that is a question we ask. While we are primarily looking at hard side, non-slide models, there have been one or two single slides that we are considering. You can access the bathroom when the slide is in for those models." – Skip Dickson, 2017 Ford F350, Looking
"The fact never crossed my mind as this is my first truck camper. My big butt will just squeeze through to get to the bath and use the inside if needed. I have enjoyed looking at views in crappy weather from inside while having lunch or just laying down for awhile. Now I do not have much room, but it is possible. I can also open the slide a little to make more room." – John Werderber, 2005 Ford F-450, 2008 Lance 981
"Yes. We refused to buy anything that did not have easy access to the bathroom. When we pull into a rest area for the night or stealth camp, our slide does not go out. We have to have access to the toilet and also to the kitchen. I honestly think we had more room and were better off without slides." – Gretchen Berquam, 2014 Ford F-350, 2015 Arctic Fox 1140