The lightning rod issue of bathroom access and slide-outs continues with more critical feedback and insights for the truck camper community and industry.

The Question of the Week was, "Is bathroom access an important factor when you select a truck camper for purchase?"
"I don't have a slide on my current camper and can use the whole thing anytime and anyplace. I couldn't imagine not being able to at least get to the bed, open the refrigerator, or squeeze into a bathroom with a slide in. How would you stealth camp if these were not possible?" – Kevin Garrett, 2004 Ford F-350, 2009 Lance 915
"Yes. I had a Lance with a double slide on a F-450 dually. I had to open both to do anything, and it was 2000 pounds heavier." – Dennis DeLong, 2018 Ford F450, 2008 Lance 815
"This potty question is one that we completely overlooked when we purchased our camper! We never even thought about traveling down a remote road in No Town, USA and suddenly – duty calls! Holy crap! No pun intended!
If you've got a medical condition as I do, (sudden IBSD), the need to find a bathroom on a moment's notice should have been a top priority when we were hunting down our truck camper. But, unfortunately, with our 1165, it takes a few long minutes to come to a full and safe stop, jump out of the truck, with keys in hand, dash to the entrance, pull out the stairs, unlock the door, find the right switch for two of the three slides and hope to hell the Schwinteck Motors don't decide to fail right now, fumble for the water pump switch and go! Not all emergency bio-events have happy endings!" – Dan Daddieco, 2015 Ram 3500, 2015 Eagle Cap 1165
"Yes! Bathroom access was a big consideration when we looked at campers. We even chose the roll-over sofa option to make access even easier. Now the hardest part is reaching the outside door lock to open the camper to use the bathroom. When we were shopping for our truck camper we saw several models we liked, but bathroom access was one of the things that edged out others. I have an Arctic Fox 1150 with the roll-over sofa option." – Pam Conner, 2015 Ford F350, 2015 Arctic Fox 1150
"Our Lance 1172 has a rear slide out and a driver's side slide out. We do have to slide the rear out most of the way and the side part way to access our dry bath, but it takes less than a minute. It is not a big deal at all. We usually stop at rest stops to walk our dog and take that opportunity to use the restroom facilities there if we need them. Having the layout and room the 1172's slide-outs provide is well worth taking less than a minute to access them if we need to." – Todd Kidder, 2011 Chevy 3500 HD, 2015 Lance 1172
"Yes, bathroom access was on our must have list when we went shopping for a truck camper, and we have taken advantage of that feature many times! It is a handy feature when you are exploring the back roads and byways." – Jeannie Coushaine, 2001 Ford F-350, 2012 Chalet DS116RB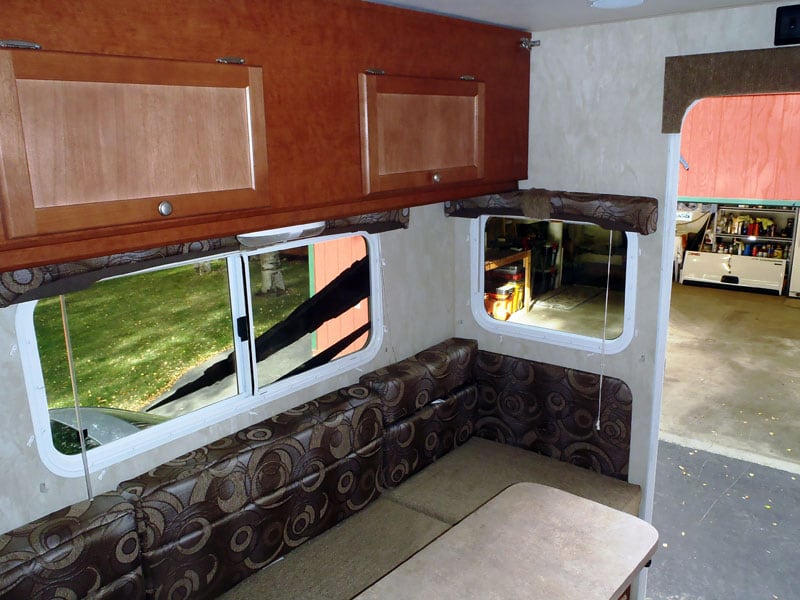 "I'm on the non-slide side of the fence. A few of the factors in my decision were overall weight, heavier on one side than the other, more moving parts, plenty of issues with slides on every camper forum, smaller dinette area (bed is extremely short on slide models), bathroom access, and the huge loss of overhead cabinets. I honestly don't see the advantage of a little extra floor space for the two of us and the loss of tons of cabinet storage above the dinette (pictured above)." – Allen Jedlicki, 2012 GMC 2500HD, 2014 Wolf Creek 850
"It took us a year of searching to find our double slide Okanagan. We had to give up our Bigfoot but we love the open living space provide by the big windows, the side door and center bath layout of the 117DBL. The slides move out fast enough to accommodate an emergency road side bathroom stop. The down side: It's heavy, harder to heat in the winter and there are a lot more moving parts to maintain but the comfy couch is worth it all." – Phil and Pat McEachen, 2000 Ford F-350, 2008 Okanagan 117DBL
"Having pull campers and truck campers for the last 30 years, the first thing I look at is what crazy things happen when the slide goes out or the slide comes in. To me I want to be able to use my camper with the least amount of set-up as possible. With my Lance I can use the bathroom, fire the generator, microwave or bake lunch, open the refrigerator and freezer, sit at the dinette and take a nap all by just opening the door. I'm definitely not anti-slide when I get to my destination. Opening the slide seems like I doubled my square footage. If I had to open two or three slides to accomplish these tasks I would go buy a giant fifth wheel." – Dierk Mehner, 2002 Ram 3500 and 2018 Ram 3500, 2003 Lance 1161
"My bathroom is totally inaccessible with the slides in. Both slides must be out. Our priority was getting an actual separate couch so both old geezers (okay, a geezer and a geezette) could nap simultaneously without disturbing the other when one wakes earlier. If a bathroom is needed while traveling, it takes very little time to deploy both slides. A separate couch was just higher priority for us than having to wait about a minute for slide deployment." – Robert Branson, 2008 Ford F-350, 2014 Lance 1172
"Before we had a truck camper we always wondered if the slide had to be out to access the bathroom. One day I wondered why we were even having the discussion because I had determined I never wanted a camper with a slide anyhow. When we van camped I saw too many folks with slide problems. We're simple folks with simple needs; be dry, be warm and well fed.
Slides just don't seem necessary to me. Actually the bathroom itself seems a bit superfluous. I think the space could be better used for storage. The great outdoors and porta-potties along with public restrooms have gotten us through 18 years of either van or truck camping adventures." – Frank and Polly Foley, 2016 Ford F-350, Northstar 8.5 Arrow U
"I think one of the benefits of a truck camper is having a bathroom with you anytime you might need one. In our search for a camper that is a question we ask. While we are primarily looking at hard side, non-slide models, there have been one or two single slides that we are considering. You can access the bathroom when the slide is in for those models." – Skip Dickson, 2017 Ford F350, Looking
"The fact never crossed my mind as this is my first truck camper. My big butt will just squeeze through to get to the bath and use the inside if needed. I have enjoyed looking at views in crappy weather from inside while having lunch or just laying down for awhile. Now I do not have much room, but it is possible. I can also open the slide a little to make more room." – John Werderber, 2005 Ford F-450, 2008 Lance 981
"Yes. We refused to buy anything that did not have easy access to the bathroom. When we pull into a rest area for the night or stealth camp, our slide does not go out. We have to have access to the toilet and also to the kitchen. I honestly think we had more room and were better off without slides." – Gretchen Berquam, 2014 Ford F-350, 2015 Arctic Fox 1140
"I have since sold my Lance and gotten a Mercedes Van conversion instead, for my secondary motorized RV. I chose to let go of the Lance (still have the Ram to pull a trailer) for two primary reasons. I could not get into the bathroom without moving the slide out at least partially. The other was that there were too many steps up into the camper when it on the four wheel drive truck. It was hurting my old knees after a few days of going in and out of it. If I had access to the bathroom without bringing the slide out, I might have lived with the access due to the height of the floor.
I can access the conversion bathroom without moving anything, but the tradeoff with that is that it's a wet bath instead of my preferred dry bath. The conversion is lower so it's easier on my knees." – Brian H, 2016 Ram 3500, 2016 Lance 1062
"Yes. As a 20 year survivor of PCA my bladder is contracted. I need access to the bath when and where I want." – Art Reagan, Ford F250, 2019 Palomino
"Bathroom access is the main reason that I hunted for years to find a post-2010 Lance 1191 with a side entry and single dinette slide out. It also provides enough room to squeeze by the slide when it is retracted. But, beware of squeezing by and bumping the stove knobs. Accidentally leaving one of these on can result in some breathtaking fireworks!" – Ean McClane, 2017 Ford F-350, 2011 Lance 1191
"Bathroom access is vital for those of us retired whether in a camper or not. The Lance 1062 from the factory does not allow bathroom access with the slide in.
But I changed the hinges on the bathroom door so that it would open 180 degrees instead of the 90 degrees from the factory. This allows the bathroom door to be fully opened when the slide is in. It is a bit tight getting in the camper past the open bathroom door, but like they say, where there is a will there is a way." – Donald Mellon, 2001 Ford F350, 2017 Lance 1062
"We have easy bathroom access with our Bigfoot's slide in. Worst case scenario is that we would have to step over a cooler and a 24-inch passage to gain bathroom access.
When we were looking to purchase, bathroom access was a minor concern. Since going full time, I'd say if nothing else, from a resale value, bathroom access is very important, if not mandatory.
We've had the extraordinary pleasure of meeting all sorts of folks, in all sorts of rigs, and it always comes up that potty parity was a major reason for the purchase of a self contained unit. Those who decided to tolerate the limited access generally regret it. At this point, I'd also have to say it reflects poor engineering and design by the manufacturers." – Matt Fen, 2004 Ford F-550, 2007 Bigfoot 3000 C1002
"My 850SC popup is my first camper. When the roof is down there is no access to the bathroom and that is one of the few regrets I have with the camper. My wife has an illness that requires that I assist her with bathroom needs. As a result, public bathrooms are an issue unless a family bathroom is available. I wish I had easier access to the camper's bathroom when we are on the road so it would not be a problem.
If I were to upgrade to a hard-side I would definitely require access to the bathroom without interference from a slide-out. I do love the compactness of the pop-up and the access it gives us to remote sites and areas with limited clearance, but unlatching and raising the roof is not practical for a quick bathroom stop. Good logistical planning is required as a result!" – Wayne Petrie, 2012 Ford F-250, 2012 Northstar 850SC
"Since purchasing our 1172 two years ago I can't say that it has been inconvenient having to open the slides to gain access to the bathroom. The time difference to get to the bathroom from our old camper, Lance 1010, to our current camper is about one minute. We knew five years ago when we started with the 1010 that we would change to a larger camper if we enjoyed traveling as much as we thought we would. Having the slides gives us that extra room and comfort." – Glenn Blount, 2012 Ford F350, 2017 Lance 1172
"This is our first truck camper so accessing the bathroom with the slide in was not a factor in purchasing because we didn't know any better at the time. While it is not the easiest thing to do to access the bathroom with the slide in, it can be done and it has come in very handy on more than a few handful of times. Another positive side to this is motivation to stay somewhat in shape – thin-ish. Sliding by to turn on the water at the front by the sink is not for those who can't see their toes while standing." – Jim Azinger, 2015 Chevy Silverado 3500, 2015 Arctic Fox 1150
"Slides on the Lance camper we were considering prevented access to the bathroom. No slides was one of the main reasons we bought the Bigfoot." – Stephen Amendola, 2017 Ford F-350, 2018 Bigfoot 25C10.4
"Yes it is, or was! We would have bought a new Lance if we could have gotten one with the same floor plan as our 1121. But since that floor plan is not available and the cable pull black water dump, we just purchased a new Northern Lite. Sorry Lance!" – Ellen Wilson, 2017, 2003 Lance 1121
"Bathroom access is not a biggie and is a non issue as far as slides go. I don't want a slide at all because of the extra weight, dust, bug intrusion, complications with seals, and mechanical issues. Slides are not even on the radar." – Lyle Tremblay, 2004 GMC 2500, 2006 Bigfoot 25c9.4
"I purchased my truck and camper long distance and didn't realize the slides would block bathroom access completely due to my driver's side slide. This is a big problem for a few reasons.
A passenger's side slide out wouldn't solve the issue, but would be much safer if I were only pulled off the road a bit. Another issue is the stress it puts on the slide to be extended in a less than level situation. My driver's side slide is the full, side length of my camper, so very heavy and long. I must admit that short of giving up space gained by the slides, I am unable to think of a solution to the problem. I cannot even access the interior of my rig with both slides closed either." – Rayne Butler, 2005 Ford F-550, 2007 Okanagan 116ULT
"We are new to truck campers. We have owned one travel trailer that we could not get to the bathroom without the slide out. Since then, bathroom and refrigerator access have always been a must for us. We like sleeping in our own bed and using our own bathroom." – Chris Miller, 2013, 2001 Lance 1121 and 2015 fifth wheel
"Our current camper is our first one with a slide. It has very nice features to say the least. But you cannot access the bathroom with the slide closed. The next camper we buy will have that feature. We camp in cold weather, and it would be a huge benefit to be able to keep the slide closed at night for heating. A closed slide collects no snow, doesn't allow in any bugs, blowing dust, etc.
We love our slide and can't imagine going back to a non-slide. If anything, a double or triple with reclining sofa seating is on the wish list. The extra room makes a huge difference, especially for longer periods of use.
Slides are not without their issues. We had ours stay open when we were ready to leave, only to discover it was a 1/4″ shear style pin that had failed. Many bad words later." – Kevin Mooney, 2014 Ford F350, 2006 Okanagan 106 UDB
"Absolutely. We love our non-slide truck camper and will never own one with a slide. We can pull up anywhere and park then disappear into the the camper without anyone knowing we are in there. I have been a loyal Lance truck camper owner for six years, but Lance stopped making full size, non-slide, dry bath campers awhile back stating that they do not believe that there is a market for them.
All they have to do is look north to Bigfoot and Northern Lite campers to see that's not true. Neither company would be in business if there were no market for them. Slides are just another point of failure on a camper that we don't need. My guess is that truck camper manufacturers went to slides to lure travel trailer and fifth wheel owners to their products, but my wife and I don't need a lot of room." – Hugh Redmon, 2007 Ford F350, 1998 Lance Legend 990
"Yes, the bathroom access is important to us on the road, along with the rest of the camper. We usually stop at a rest area to make breakfast or lunch and wouldn't want to worry about having room for extending a slide out. Weight is also a consideration. Since we have an F-250 we want to keep it light. We come from years of tent camping, so our 850 is like a mansion to us." – Jerry Dinnocenzo, 2017 Ford F-250, 2017 Lance 850
"Accessing the bathroom easily while on the road is extremely important. Our double slide Host does allow access without extending either slide out. Access is a bit easier if the dinette slide out is moved out about four inches. The trick now is to remember to stow the slide out before we continue our travels." – Ray Steinmeyer, 2007 GMC 3500, 2007 Host Yellowstone 115DS
"Yes. We feel it is very important to have this access. Blocked entry is a deal breaker. We have a double slide now, and have no issue accessing any part of the camper with both slides in. The floor plan is awesome with a rear dry bath.
With the slides in we have a 4" span of space that has the 12" squeeze. It's really not an issue to get past the wood frame of the bench seat in dinette. Then we're home free. We have had some late night driving, due to time restraints, that has led us to pull off for a few hours sleep. Never have we needed to open a slide for bath or bed.
We recently attended the Florida RV Supershow, purposing the visit around the Host dealer and a look at the 2019 Host Mammoth triple slide. We left still very content in our Host Yellowstone DS, for now." – Mark Piper, 2003 Chevy 3500, 2006 Host 11.5 Yellowstone DS
"We are on our third truck camper. When we bought our second one with a slide, we thought we would get one that we could access the bathroom. We ended up getting a floor plan we liked. The floor plan and storage became more important than opening a slide to use the bathroom. Fast forward ten years. We bought a third camper that has three slides. We have to open two to get to the bathroom. No big deal. When we make a quick stop, we just don't open the slides all the way." – Teri Tuter, 2009 Chevy, 2019 Eagle Cap 1200
"Absolutely! When I travel on the backroads, the public bathrooms are far and few apart. I must have access to the bathroom! I have a non-slide camper to keep the weight down. With the Northstar Laredo, I would not have a camper with an entry door that has no window! I want to be able to see what going on behind my camper when I'm parked in the woods." – Larry Wiethop, 2007 Ford F250, 2003 Lance 920
"Access to the bathroom was not a deal breaker. Should I need access, I can partially extend the slide for quick entry." – Bob Padgett, 2011 Chevy Silverado 3500, 2011 Lance 911
"It was somewhat important. I was looking at Arctic Fox 1140 dry bath. Rear entries appealed to me because I can get to the bathroom. I didn't like having to sit at a dinette all the time though. I have Cougar trailer. I replaced the dinette with theater seating. I had to buy a free standing table to eat at.
When I found the Eagle Cap 1160 I saw that I could have theater seats that had swinging tables. That left me the option to have a sofa instead of the dinette. I would lose you outside storage.
The bathroom, for me, is secondary to my seating and eating comforts since I do that more than using the bathroom. Besides if I stop while driving we usually stop to eat or get gas. They have restrooms. So bathroom access is not super big in my opinion." – Todd Ramsay, Ford F-450, Looking at a Eagle Cap 1160
"Bathroom access is a must as is access to the refrigerator. We considered many models before our purchase and this is one of the main reasons we bought the 1191. Our first camper was a Host Yukon and it also had great access with the slide in." – Charles Maras, 2008 Ford F350, 2014 Lance 1191
"As we search for our rig, toilet accessibility is a number one factor to our decision making paradigm." – Karl Sault
"No." – William Thomas, 2009 Ram 3500, 2014 Lance 1172
"If you are thin, no problem. Otherwise you better have a urinal." – Bill Sargent, 2012 Ram 3500, 2009 Lance 971
"Bathroom access is definitely a priority. We have owned several truck campers. This was our first truck camper with a slide-out and we didn't think about bathroom access when we bought it.
Of course the dealer displayed it with slides out. We cannot even get in the camper without moving one slide, let alone getting to the bathroom. The other issue is that we cannot see the battery condition monitor without completely extending the slide. This is a big problem. We are thinking about getting rid of the Lance and buying something else. This has been a very disappointing experience.
Why don't manufacturers think of this kind of stuff? Next time we will make sure that we see a potential purchase with the slides in." – Lee, 2015 Ford F350, 2015 Lance 1052
"No slides for us ever. I don't want the weight or complexity. We often sleep at rest areas and truck stops and we don't want to put a slide out to function in the camper. We just don't require as much room as some people do. I would never have a camper where you had to put the slide out to get to the bathroom or refrigerator." – Tom Overholt, 2017 F-350, 2007 Palomino 8801
"It's a deal breaker for us. What good is a bathroom if you can't easily access it? With three young daughters it's nice to have your own clean place to do your business anywhere at anytime. Our Adventure 950B gives us plenty of access with the slide in. Just watch out for the shin buster with the slide rail that extends into the camper." – Nick Bonen, 2012 Ford F-350, 2008 Adventurer 950B
"I like the simple idea of no slide, one less failure point. If you cut a big hole in the wall of a camper, you are compromising the structure of the camper. Bathroom access while traveling is an added bonus." – Howard Bisco, 2015 Ford F-250, 2014 Palomino HS-6601
"I do not have a camper with a slide out. I, nor my wife, would consider a camper in which we could not access the bathroom without putting out the slide-out. We are older and access to a bathroom on a quick basis is sometimes necessary." – Gary Burgess, 2005 Dodge 3500, 1998 Kodiak
"Doesn't it get to the point where if you think you need a truck camper that expands like a transformer toy and folds up like origami, maybe it's time to consider a travel trailer or motorhome?
Make no mistake, I get the concept of the multi-purpose vehicle. But although profligacy has been a significant part of the American zeitgeist for at least a few generations, truck campers were originally both a foil and an alternative to land yachts. More is not necessarily better and to me, it eventually gets to the point of trying to fit ten pounds of whatever into a five pound bag. Of course, want often trumps need and there is obviously something to be said for the compensatory salve of driving a one-ton or ton-and-a-half dually to work or Walmart, practicality be damned." – Norman Luxton
"We think our 1191 is the best slide-in Lance built because of where the bathroom is located, at least for us since we are both 81 years old and on diuretics. Our camper has a side entry with the bathroom directly inside door. There are no obstructions.
Others such as the 1172 has the entry in the rear, like the 1191, but the rear slide covers most of the entry. The bathroom is in the front next to the bunk and ahead of the dinette which makes it hard to get to without putting the slide out. Before the 1191 we had a 1990 Lance 1050 with no slide. The bathroom was in the back just inside the rear entry. We loved it, but it was a pain having to climb over the hitch to get inside." – Bob and Bonnie MacAdams, 2010 Ford F-350, 2011 Lance 1191
"While we would like access, the 1181 has no possible access. The bathroom door swings, so it is blocked and it is a center bathroom. We knew this up front. If we were deciding between two campers, one of which had an accessible bathroom, we would probably choose the one which is accessible. On the other hand, so many other factors would have priority." – Bruce Tinkler, 2013 Ford F-350, 2013 Lance 1181
"Absolutely! My wife and I bought the camper so we no longer have to make a run for the woods when traveling. We use the camper for shorter fishing trips and the like. Restrooms are not always available." – Jim Bergauer, 2002 Dodge Ram 3500, 1999 Lance 835
"My upcoming truck camper will not have slides. Only one of my previous five campers, the cheapest one, hasn't had a slide problem. And, yes, bathroom access is important." – Edwin Congdon, 2011 GMC 2500HD, 2015 Open Range Journier trailer
"Yes access is important. That's why we still have our 2005 Lance 1030. No slide is in the way. Space on the road is more important than in campground." – William Palleschi, 2010 Ford F-350, 2005 Lance 1030
"Yes, easy access to the bathroom and refrigerator was a priority. Originally I looked at a Lance slide, but backed out due to the lack of access with the slide-out in." – Sheldon Bell, 2016 Chevy Silverado 3500, 2017 Northern Lite 8'11 Q SE Classic
"Access to the refrigerator was the only consideration when we bought. Access to bathroom hasn't been issue since we typically use a rest area. Getting in and out of our camper is not an easy task because it sits very high. But if there is no rest area around, it would be simple to press button to put slide out. However it happens that SnowRiver designed bath with sliding door and it is easily accessible even when slide is in (as is the refrigerator). We are very happy with our old vintage one slider." – Tim OSullivan, 2017 Chevy 3500, 2008 SnowRiver 9.6
"Not having to use unmaintained, filthy, smelly public/rest area bathrooms is a huge benefit of any self-contained rig. For me, the internal debate between the purchase of a camper and a Class C RV came down to a conflict of easy bathroom access while driving versus four-wheel drive. Having the ability to quickly stop and use the already bought and paid for on-board bathroom, is one of the great benefits of traveling in an RV instead of an automobile.
As government shut-downs and more excuses by our government like closing rest areas in the winter, along with a general disregard for picking up after oneself continues, the ability to use your own will only become a greater consideration. The truck camper manufacturers need to realize that the purchasing decision between a Class C and a truck camper is very narrow for some." – Vince Wall, 2018 Ford F-350, 2016 Lance 850
"Absolutely! I would not buy a camper without access to bathroom. I traveled across Canada and back and some of the facilities were not very clean. I would not buy a truck camper with any slide due to the excess weight and unable to stop for a quick lunch while traveling. Northern Lite don't build with slides and I don't think they ever will." – Wallace Greening, 2010 Toyota Tundra, 2011 Northern Lite Classic
"Yes indeed! We began with a 2011 Lance 992. We loved the camper, but didn't love waiting for the mega-slide to open every time we needed access. Not just to use the bathroom, but to anything inside the camper. Our decision to move to the Lance 1191 was largely because of the slide position. We have quick easy access to the bathroom, and we have adequate access to the refrigerator and the food (and the coffee – which makes the bathroom access so important!). We can do all of it without moving the slide.
We loved the 1062 and nearly bought a new one because the slide only needed to move a few inches to get to the bathroom. But just in time, we realized that the 1062 is made for short people. My husband could not easily use the bathroom (he's 6'4″) and the lower-than normal kitchen counter height killed it for us." – Joan Thompson, 2011 GMC 3500, 2013 Lance 1191
"Access to the bathroom is somewhat important, but not a deal breaker. We slide the dinette out partially to access the bathroom when in transit. It takes only a moment. More important to us is the ability to run the slides without using a remote. The 2014 Lance did not put in slide switches. Why?" – Andrew Woehler, 2007 Ford F-350, 2014 Lance 992
"I don't believe it would be as there seems to be plenty of available rest stops along the way for me. I asked my wife and she feels the same way. I do like the extra room a slide gives, but simplicity is attractive too." – Wayne Owens, 2011 Ford F-250, 2006 Northern Lite 8-11Q
"Bathroom access is very important. Ease of using it when on the road without opening the slide on the side of a highway is important. I have a large single-slide. With the slide out closed I can go into the camper and use the bathroom which is located in the middle across from the slide out section.
Many times I wanted to use gas station bathroom, but there were other people in line. So, I went back to my camper and used my own bathroom. There is about two and a half foot distance between dining table and stove. I can walk right into the camper without turning sideways." – Helen Scurzi, 1991 Chevrolet 3500, 2008 Lance 981
"Bathroom access seems to have gone by the wayside, whether it is a Class A or B, fifth wheel or whatever. Bathroom access is a definite as we become more elderly. It is the first thing that we look at. It definitely needs to be accessible on the road, not covered by sliding tables against a bathroom door, etc.
Slide-outs also cut into storage space. When we hit the road we are looking at long periods of time. The industry needs to look at both of the above." – Lewis E Turner, 2014 Ford F-350, 2008 Northern Lite 9.5 Classic
"We are in the process of purchasing a new camper and bathroom access was high on the list. My wife prefers our bathroom when we stop for fuel knowing that it is clean. We looked long and hard at some of the double and triple slide campers available. The restricted access with the slides retracted seems to be normal with the campers we were looking at. Slides also add weight and possible problems with leaks and mechanical failures, therefore we will be getting a new Northern Lite in another week." – Bruce Van Aken, 2016 Ram 3500, 2012 Northern Lite 10-2
"I would like to be able to get to the bathroom." – Brad Cress, 2018 GMC 2500HD, Looking
"Our camper is a non-slide. We wanted access to the bathroom on the road and did not want the extra weight or problems with a slide. Our camper is perfect. We don't feel a slide would improve our camping experience in any way." – Debi Long, 2013 GMC 2500, 2014 Lance 855
"Full use with slide in was major consideration when we bought our camper. After having a fifth wheel trailer that had most everything blocked with slides in, we knew what to look for!
One problem in design of slides is having refrigerators mounted in the slides. They are a lot of weight on the slide hardware, but most important is they are not vented very well to get rid of the heat buildup, particularly if the slide is facing the wind.
As a Firefighter (retired) I have seen fires in this design. In my camper, after I became aware of this, I added two muffin fans and vent holes in top vent cover and added insulation on the burner side wall." – Bill Hansen, 2013 Ram 3500, 2007 Arctic Fox 990
"We have a single slide camper and can access the bathroom with the slide in. There is approximately a foot of leg room to pass by the dinette and more at waist level. Slide in bathroom access is important and a big consideration. During long drives of several days in a row to our destination we typically use our own facilities as needed. Further, when stealth camping, it is essential." – Louis Pomerville, 2008 Silverado 3500, 2008 Snowriver 102RK
"Bathroom access is an issue, but in general I would not buy another slide unit. Aside from failed motor repair I miss the storage and structural integrity of a non-slide. Billed as a four season unit, mine lets in the seasons and daylight in numerous places my older units didn't.
Having to activate the slide constantly for access is a nuisance and use of floor space for other purposes is difficult. I could carry 4×8 sheets of plywood or secured pairs of bikes or camp chairs with minimal fuss and still have better interior access in my Bigfoot, Okanagan and other older non-slides. They were just campers and got used year round. The slide unit is pretty useless once winter sets in and likes to wait for spring inside my workshop." – Ken Nix, 2003 Ram 3500, 2007 Arctic Fox 990
"Access to the bathroom would have been nice, but if I had and opportunity to choose again, I would still choose extra slide space over bathroom access. Since installing a slide out switch in our camper, it only takes five seconds to move the slide 12-inches to access the bathroom. So it is really a non issue for us." – John A, 2016 Ford F350, 2014 Lance 992
"Yes, it is very important to have access to our camper without moving our single slide out for access to the bathroom, the kitchen, or even the sleeping area. I looked a a big Lance and thought all the space (three slides). It was great, but I asked the salesman to put in all the slides for a look. I walked away from the unit because I knew it would be too frustrating for our more nomadic type of camper use." – Wes Hargreaves, 2005 Snowbird 108DS
"Yes, it was and still will be. You couldn't give me a truck camper with the slide blocking me from entering. Nothing but a side door for us also." – James Schumacher, 2007 Ford F-350, 2008 Lance 1131
"Yes. I had a hard time finding a camper without a slide." – Margaret Smith, 2004 Dodge 3500, 2011 Lance 950
"Lack of bathroom access with the slide closed is an absolute deal-breaker for us when camper shopping. In fact, we prefer all camper amenities to be usable whether slide is in or out. We had a slide-out motor failure at the very beginning of a long trip, and if our camper wasn't usable with the slide-out in, it might have ruined the trip. As it was, the lack of a functional slide was only a minor inconvenience.
Even without that experience, we prefer handier roadside access to toilet facilities. Also, a quick lunch stop is easy-peasy, as is stealth camping in a friend's driveway or curbside with the minimal footprint of an undeployed slide. Our current camper allows use of 90% of the campers features with the slide in, and we wouldn't have it any other way!" – John and Marylou Wells, 2011 Chevy 3500HD, 2012 Chalet Ascent S100F
"Yes, bathroom access was important. I left room for it in the construction phase at the rear. It is accessible with the top down, and is more convenient if I'm just popping the rear. I have a self-contained porta-potti that can be emptied at a pit toilet." – Russell Sherratt, 2016 Ford F250, 2016 ATC Cougar pop-up
"Yes." – Chip Fraser, 2013 Chevy 2500, 2015 Arctic Fox 865
"I am looking to purchase a truck camper in the next 12 months or so. I am interested in a single slide. Bathroom access with the slide-out in is important." – David White
"Absolutely! We would love the added floorspace of a slide-out but we must be able to use most of the camper features without extending the slide . It would be an absolute deal breaker if the bathroom and the kitchen are not accessible with the slides in. We road trip frequently and need use of the camper within the space of a parking spot. Extending the slide would, in many cases, be impossible. Additionally, even if we could squeeze past a slide to get to the bathroom, kitchen, or bed, our dogs need some floor space to sleep. For us, if a camper has a slide it must be a relatively functional floorpan with the slides in. The same would be true for a travel trailer or fifth wheel." – Brandon Guard, 2004 Dodge Ram 3500, 2017 Cirrus 820
Click here to return to Part 1 of Slide-Out Versus Bathroom Access.