This week's Question of the Week was, "What LED light products have you tried with your truck camper, and what do you think of them?"
"I've mostly used replacement LED bulb and circuit boards from SuperbrightLEDs.com.  They make straight swap and plug models for most types or RV bulbs, wedge base, or bayonet base, both inside and out.
I've also replaced a few florescent and incandescent fixtures with dedicated RV LED fixtures.  They have less heat, and more light with less power consumption across the board.  They are costly by comparison to incandescent, but the long life and low power use makes the trade-off worth the dollars." – John Wells, 2011 Chevy 3500, 2012 Chalet Ascent S100F
"I have installed exclusively STARLIGHTSINC.com RV LED bulbs in 100% of interior and exterior lighting.  They are awesome and we have had no problems.  We like the color temperature of the bulbs we have.  The reduction in load on our batteries is well worth the cost and effort." – Gary and Laurii Gadwa, 2012 Ford F350, 2011 Eagle Cap 950
"I purchased Putco PURE Premium 1157 lamps in 2009 and installed them in our 2004 SnowRiver 9'6".  When we traded campers in 2010, I re-installed them in our new camper.
The lumen output is good and the color is fine.  It was much cheaper than replacing all the fixtures and we have been very happy with this swap.  I'm sure the battery load has decreased, but I have never tested it." – Pete Clark, 2006 Dodge 3500SLT, 2008 SnowRiver 102-K
"I replaced all the interior incandescent bulbs plus the outside porch light with LEDs.  I purchased the LEDs off eBay after reading a recommendation for a supplier from a fellow Northern Lite owner on the Northern Lite online board.
The LEDs are brighter than the original bulbs, which is fine.  If I recall the specifications correctly, an individual LED light requires an eighth of the power of an incandescent light.  I may be in the dark but my camper isn't." – Dennis Sychra, 2012 Ford F150, 2004 Northern Lite 8.5 Q Lite
"I went fully LED with products from SuperbrightLEDs.com.  On my previous camper I had LEDs from assorted companies and had some good and some bad.  This time I decided to pay a little more and get all of them from the one company that I had the best results with.
Other than the outside back door light I used all warm color LEDs.  I used replacement bulbs in existing fixtures and staged them so the brightest ones were in the kitchen, about half the lumens in the dining area and very dim ones in the overhead area.
After installing them, I decided that I wanted more control and switched the fixtures to ones with individual switches so we could have even more control.
I then added an ALM 3-LED Rectangular Accent Light Module in cool white by the door.  It's wired into the rear outside light switch.  It is a very low power directional light that nicely illuminates the floor as we enter, and low enough in power that it can be left on when we are away in the evening.
I added a small battery operated light over by the porta-potty for a middle of the night bathroom light.  After a couple of outings we decided that our normal evening inside activity didn't need as much light since we use iPads and iPhones to read, or we are on a laptop.  I then installed two warm LPC-x-W2 lights.  They are normally used as license plate lights and are very low current.  You can use them with or without a metal reflector.
I mounted one with a reflector by the sink so we can use it for sink use and mood lighting.  The second one I mounted with out the reflector so the light would bounce around under the front cabinets.  These two illuminate the lower part of the camper nicely for just sitting in the evening for reading or listening to music.  At 35 and 25 lumens, they are a great addition.
I made some current measurements after replacing just the original lights and I was at about one-tenth the current with all the lights on and plenty of light where we needed it.  In normal operation, with the extra switches and fixtures for fine tuning our lighting needs for our normal usage, the rate is much less than one-tenth (for lighting)." – Jim Bollman, 2000 Ford F250, 2005 Shadow Cruiser
"My camper did not come with LED lights like the newer models do.  I wanted to get them all changed out to the LEDs so I had less amp draw on the batteries.  It also would make saying "turn off the light" over and over not an issue anymore.
Last year I finished changing all of the light bulbs out to the LEDs.  Now, not all LEDs are created equal.  I bought a couple bulbs and hated the blueish color they gave off.  They worked, but to my eyes they were not pleasing.
I then came across a different brand of bulbs and I love them.  They have a nice clean white light.  There was a cost to change them all out, and in the long run it will be far better.  Think of it this way, if you have to start up the generator to charge the batteries, you burn more fuel.  There is less amp draw with LEDs, which means less battery drainage.  Less battery drainage means less time and fuel on the generator.  Its a win-win for me.
I bought my bulbs from: http://www.ledtrailerlights.com/rv/RV-T10-wedge-252.htm.  

They have fast shipping and I have never had a problem.  In fact the bonus is that the seller is even a truck camper owner.  So I get to support a fellow truck camper too.  Talk about a win-win." – Rich Bain, 1999 Chevy 3500, 2010 Adventurer 810S
"I have replaced all my incandescent lamps with LED bulbs from Super Brite LEDs. I started by ordering just three bulbs.  I was pleased with the fit, brightness and color of the light.  For us the warm white bulbs are the most pleasing.
Then I ordered enough bulbs to complete the camper.   The cost was $10 each.  I have eight fixtures, for a total of twelve bulbs, so my total cost was $120 plus shipping and handling.  It's a lot cheaper than new fixtures.  I even ordered a yellow bulb for the back porch light.
I have run every light for two weeks to test longevity.  There have been no burnouts.  Additionally, the back porch bulb has been on 24/7 since the first week in January.  No worries." – Neil Womack, 2007 GMC 2500, 2013 CampLite 11.0
"I replaced all the bulbs in our Travel Lite.  The color and brightness are fine with me.  They are super bright warm white bulbs.  I purchased them from Panther RV, part number, T19 921 194 24-3528, SMD LED bulb.  For the two bulb fixtures I installed one of each in fixture.  It saves lots of power.  I'm very happy!" – Ray Stallings, 2010 GMC 2500HD, 2007 Travel Lite 890SB and Palomino 800
"I bought expensive 24×5050 SMD LED arrays out of China to replace my bulbs.  The only bad thing in the kit was the double sticky tape wasn't very strong.  I wound up getting a roll of double sticky tape from Radio Shack and using that.
The light output is a pleasant white light that was about two times as bright as the incandescent bulbs.  We did measure the current draw on the array.  Replacing all the lights in the camper with LED arrays draws less current than a single incandescent bulb did.  I was a little concerned if the kits would hold up, but so far they have been through an Arizona summer along with snow camping trips with no issues other than the double sticky tape." – Leonard K. Pennock, 2006 Dodge Ram 3500, 2003 Eagle Cap 950
"We've tried some LED panel type bulb replacements.  The one on the outside light worked out well.  Inside we did not like them as much because they are a fixed brightness.  With conventional bulbs, we can select from several wattage ratings.  We keep different sizes in the drawer to choose from.
If we do get more LEDs, we will get the ones with a dimmer.  We do use some LED stick-up lights here and there, which are handy.  We like fluorescent lights better than LED because it is softer and more uniform light.  They are just easier on the eyes." – Vince, 2012 Ford F150, Panther Sierra 7′
"I have replaced all the lights with LED except for the back-up lights.  And it's just because I have not gotten around to those.  I have ordered a direct replacement plug-in LED lamp from China, 50 of them for only around $9.  They work great; plug and play.  Even all the clearance lamps have been replaced.  I can't beat the price.  I just need to wait a few weeks for delivery." – Frank Mertes, 2006 Dodge Ram 3500, 2007 SunValley SunLite 955SD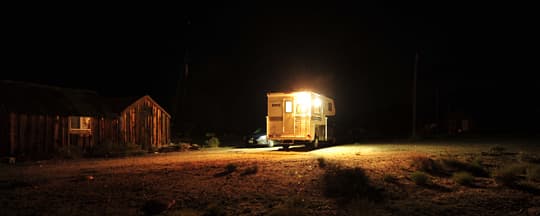 "My war on noisy and inconsiderate generators led me to going all LED and solar charging.  It works great for weeks at a time in the deserts of the southwest.
My outside LEDs are from Camping World (Catalog #57270) and main inside light is from Amazon Ming's Mark (#9090103).  I have replaced all other inside lights as well.  I can leave them all on all night and be fully re-charged by noon the next day.
I also use a 3,000 watt inverter to run a microwave oven.  No generator!" – Richard Sullivan, 2010 Chevrolet 1500, 2009 Lance
"I can't tell you the make and models of the LEDs I use, but I replaced all but two (they were for inside use only) a number of years ago with ones that went into the existing sockets.  Since then, I've replaced the last two with LEDs from Camping World.
My goal was to reduce the power use when boondocking.  Now I've never really accurately assessed how well that works, but my thinking is that it can't hurt.  The light isn't as warm, but I'll take that trade off for more time in the backcountry." – Al Stebbins, 2006 GMC 2500, Northern Lite 8′ 11" Queen Classic
"So far I have only replaced one fixture, which is a double light over the table.  This was done as an experiment to see if we like the new LED lights.  I purchased the fixture from the Camping World website along with a bezel for a perfect fit.  The light is not as soft as the original light, but it does work well and seems to use much less electricity, which will help for boondocking.  I will continue to replace additional fixtures." – Barry Schoenwetter, 2006 GMC Sierra 2500 HD, 2005 Lance 1030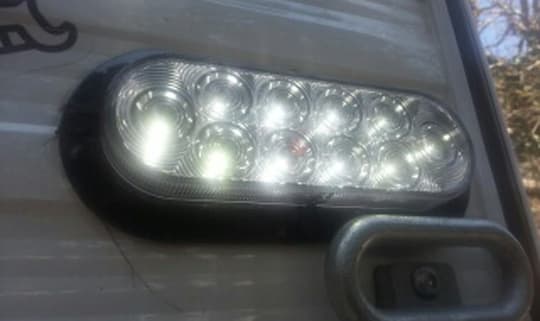 "I purchased my camper with the LED option from Four Wheel Campers.  I replaced the rear door incandescent bulb with an LED, and also installed LED floodlights front and rear.  I mounted four of these Optronic lights, purchased through eBay.  Two are on front, two on rear, and they are wired into the existing side light switch.  I am pleased with their performance and may even replace the factory installed sidelights with them." – Bill B Peters, 2013 Chevy Silverado, 2013 Four Wheel Campers Hawk
"When my camper's tail/turn light burned out (four inch sealed unit), I replaced both of them with LED units from NAPA.  They only cost $5 more than bulb units." – Philip Tron, 2009 Chevy 3500, 2012 Lance 1050
"We replaced our whole camper.  The new one is all LED lighting, inside and out!" – Bill Tex, 2006 Chevy Silverado, 2013 Eagle Cap 850
"We have replaced all of the bulbs with LEDs except the fluorescent bulb above the kitchen sink.  So far, we have been very pleased with the LEDs.  I ordered all of the lights from ledtrailerlights.com." – Charlie Cherry, 2009 GMC Sierra 2500HD SLT 4×4, 2008 Bigfoot 15C9.5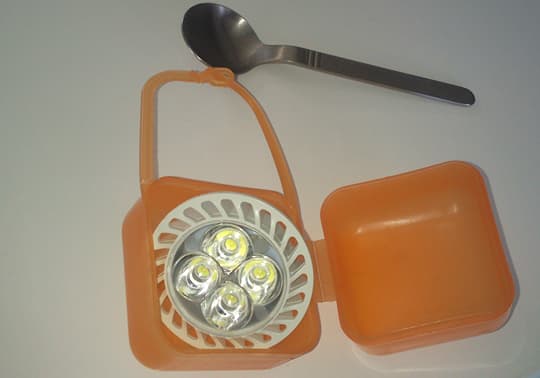 "For the interior lighting in the camper, we have three neons of 2x8W each, and 6W Flexo LED lights for reading.  We also have two AGM batteries and a 120W solar panel on the roof." – Frederic Amorós, 2011 Toyota Hilux, 2011 Azalai (PSI, France) Fix Camper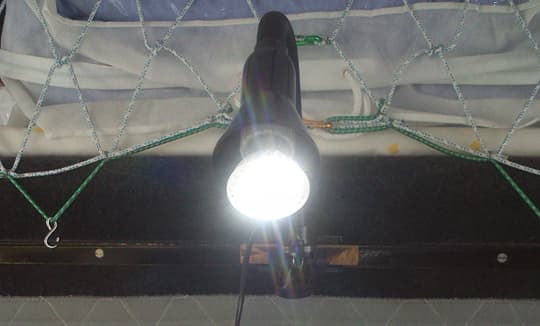 "Greetings from Switzerland!  I have a LED exterior and interior lighting package, LED rear flood lights, and LED marker lights.  I changed the LED interior lights because the original lights are very cold.  I have now warm lights in three zones and all are individually dimmable." – Eusebio, Dodge Ram 1500, Four Wheel Campers Hawk with Silver Spur package
"I changed the reading light bulbs in the bed area and the fixture over the dinette and in the bath.  The LED light is much better, the fixtures are cooler to the touch, and I have longer battery life for boondocking.
I really like the new bulbs by the bed as they provide a whiter and brighter reading light.  Also, the new fixtures over the dinette and in the bath are very bright and just as importantly cooler to the touch.  One strange issue with the factory lights is that there is a slight delay when shutting off the lights; they stay on for an extra second before going off.
I bought the lamp bulbs (by the bed) and the replacement fixtures from Camping World in Vacaville, California.  The reading lamps are plug-in so I only had to change the bulbs.  For the dinette and bathroom lights, I opted for replacement of the fixtures.  Both of the changes were easy and I did them while I was camping.  I don't remember the brand name of either product.
If you replace the bulbs, make sure you replace it with an LED bulb with the same base.  It's well worth the time and cost to get your camper updated, especially if you boondock." – Steve Cilenti, 1999 Ford F350, 2012 Arctic Fox 990
"We have replaced all the interior lights with LEDs as well as the side and rear exterior lights. They use virtually no power.  We especially like the LED replacements for the fluorescent tubes.  Wow, we can work on our tans when that light is on.  I have no idea what the brands are, other than Mike Olesnevich/Xtreme Camper brand!" – Ed Amato, 2000 Ford F350, 2011 Lance 1050S
"I have LED camper lights inside and outside, a LED camping lantern, and LED flashlights.  It is a nice bright light, and low battery draw.  I highly recommend LED lights." – Gary Goyette, 2011 GMC 2500HD, 2011 Northern Lite 8-11
"I replaced one of the 1141 bulbs in my Bigfoot to see what the color and brightness was like.  The LED replacement was a flat piece of plastic with multiple LEDs on it and multiple plug choices.  The assembly was attached to the existing fixture with double back tape.  The LED was described as warm white and was a bit whiter/blue than the 1141, but wasn't too bad.  It was not quite as bright either.
It looks like there are many choices out there and I will keep on testing.  I'm wondering if the LED bulb with LEDs around the bulb area work any better than the flat plate?  I really like the warm light of an incandescent bulb and not the harsh blue of the cool white LED, so color is important.  The LED bulb came from Coast Distribution Wholesale.  The manufacturer is listed as Lumi RV.  The specs say it is a 24 LED, 1.4 watt, listed as a DOME24KIT, warm white, p/n 145803102 and it comes with six adapters.  Keep up the great questions." – Dave Miller, 2012 Ford F-350, 2003 Bigfoot 10.6E
"I asked Hallmark to install only LED lights with my Everest.  Every bulb, inside and out, are LEDs.  We love the lights and get compliments on them everywhere we go.  Even the spotlights on the camper are LEDs.  We love the light output, the light color, and they seem to take so little energy that our solar panels can easily keep up with the charge.  I highly recommend LEDs! " – Rick Guffey, 2012 Dodge Ram 2500, 2013 Hallmark Everest
"The whole camper came with LED lights, but every now and then the lights flicker like crazy, not constant.  I have replaced several of the lights under warranty and some of the new ones still flicker.  I saw a note from the light manufacturer to Host campers and they told them that they had had some issues with the switches.  One of these days I am going to experiment and change out some of the switches.  Otherwise, overall we are happy with the low battery consumption of the LED lights.  We just need to fix the flickering." – James Thomas, 2013 Ford F350, 2013 Host Shasta 9.5
"I lost the brand names.  We like the dimming feature and less heat of LED lights." – Mike Pascucci, 2012 Chevy 3500, 2012 Adventure 86FB
"I found cheap 36 SMD type bulbs on Amazon for under three dollars.  I tried a couple of them, and liked them, so I bought enough for half of the lights in the camper.  If I'm on battery power I use mostly the LED lights.  If I'm plugged in, it doesn't matter.
These lights are flat and mount with sticky tape.  I have had no trouble with them so far.  I still like the warm light from the incandescent light, so I'm keeping some to use for reading or cookinging after dark." – Jeff Hagberg, 2002 Ford F250, 2006 Travel Lite 800SBX
"My camper was retrofitted by the previous owner with replacement LED panels.  These lamps were bright, efficient, and cool.  The only issue was the color temperature.  The LEDs are daylight balance, probably 6500K.  After sundown the blue light made the inside of the camper seem very cold.
I solved this by adding a small square of colored filter material to each panel using a few drops of rubber cement.  This warmed up the light to make it a more comfortable environment.  The filter was made by LEE, Number 206 1/4-CTO.  For any future LED purchases, I would recommend purchasing warm white lamps and avoid any lamps described as bright white." – Peter Mason, 2013 Ford F150, 2010 Four Wheel Hawk Shell
"So far, no LED lights for the camper.  However, I now have four LED flashlights and plan to add more.  My wife's new Jeep is full of LED lights, so I'm trying to decide which gets replaced first on the Lance.  I'm planning on adding LED taillights when my tax refund arrives." – Harry Palmer, 2008 Dodge 2500, 2008 Lance 915
"I replaced most all of the interior incandescent lights with LED and I'm happy so far.  It definitely helps lower power consumption.  I used Amazon and got a variety for the different bulb types.  I remember it being confusing, but they all work.  I pulled the existing ones and sat with the computer and sorted it out.  They are a harsher light, but are great on the batteries.  I have a custom solar system with two panels." – Bruce Ostermann, 2006 Chevy 3500, 2008 Arctic Fox 990
"I bought them from China.  They are direct stick-on 24 LEDs and plug into the existing 1056 socket.  It's cheaper by the dozen.  I replaced them all for about $60." – Jim, 2010 GMC 3500, 2005 Okanagan