After more than a half-century of vigorous debate, Truck Camper Magazine is ending the controversy over the proper pronunciation of the word tonneau; Tuh-no, Tah-no, or Tuna.  With 529 responses, here are the results:
As you can see, I'm not the only one who pronounces, "tonneau" as, "tuna".  2.56-percent of the responses (13 fellow fish-minded folks), either agreed with my pronunciation, or just wanted in on the funny.  Either way, I'm sticking with tuna.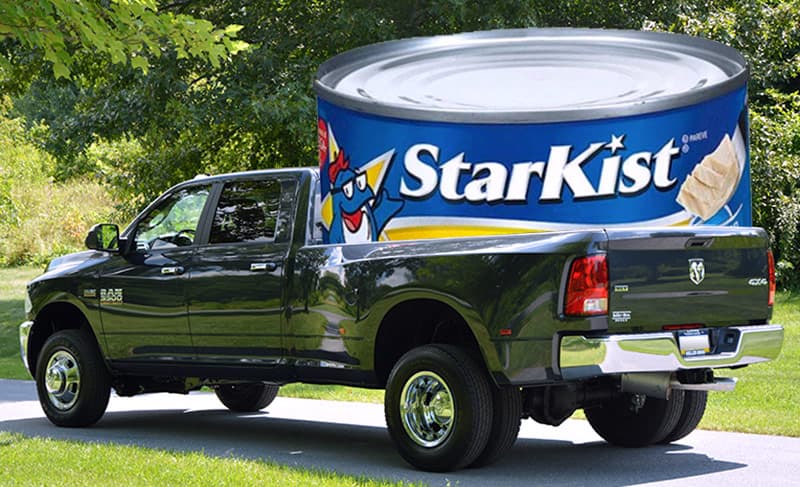 We also asked how many readers actually use a truck topper, shell, tonneau cover, or work cap.  Here are those results: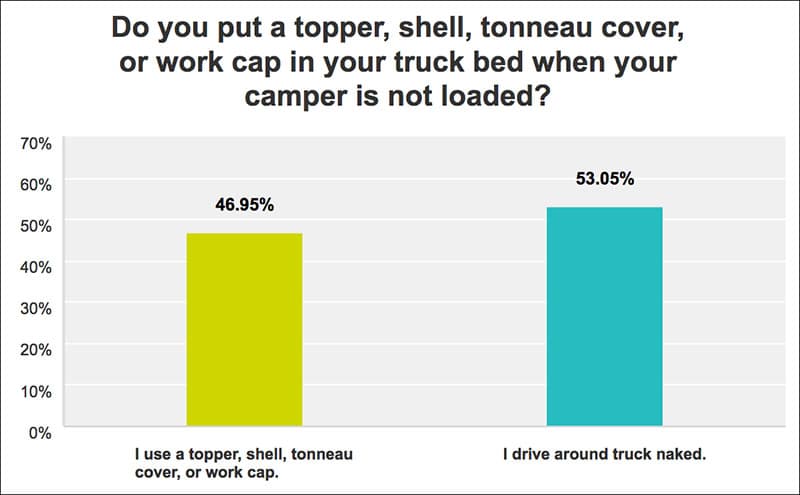 Over 53-percent of respondents openly admitted to driving around truck naked.  Worse, several readers even confess to trotting around town without a tailgate in the written responses.
Scandalous behavior aside, we find it even more interesting that nearly 47-percent of Truck Camper Magazine readers are using a topper of some kind when they're not truck camping.  That's a higher percentage have boats (comparatively 37.8-percent), or utility trailers (26.4-percent).  When it comes to truck toppers, we are heavy users.
For deeper insight into what type of topper readers were using, our QOTW was, "If you use a topper, shell, tonneau cover, or work cap when the camper is off your truck, tell us what you have, and why you have it."
Here are the reader responses: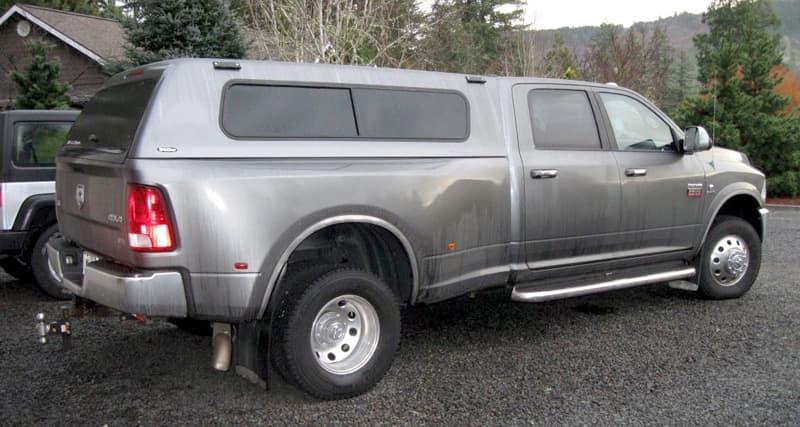 Above: A shell made by SnugTop
"I have a shell made by SnugTop.  Here in the rainy northwest you need a cover if you put anything in the back.  And, like everywhere else in this great country, you need to lock it up or some hairball will steal it.
The downside to a shell is that they are heavy and when you take it off you have to store it someplace while the camper is on the truck.  I take my shell off with the aid of my tractor to preserve my aging back!" – Bob Holland, 2012 Dodge 3500, 2013 Adventurer 910FBS
"I have a tonneau to keep tools clean and dry.  I can also put lightweight items in the box without worrying about them blowing out." – Mike P, 2016 Ram 3500, 2017 Lance 1172
"I use a TruXport roll-up tonneau cover.  I bought this and installed it for use when the camper is off the truck.  It works well, for what it is.
I tried to leave their mounting rails on the truck and load the camper.  This caused the bottom side rails of the Cirrus to compress the mounting rails into the bed, so I abandoned that plan." – Stephen Smith, 2015 Chevy 3500 HD, 2017 Cirrus 820
"It's easier, dryer, and safer storage with a tonneau cover.  It also gives me about 10-percent better fuel economy." – Steve Hannan, 2016 Chevy 2500, 2013 Hallmark pop-up
"We have a Diamondback HD tonneau cover on our truck.  It's the only totally weather proof, rigid, locking cover that is also capable of loading 1,600 pounds of cargo on top of the cover as well as more inside the bed!" – Ken Southworth, 2015 GMC Sierra 3500HD, Currently shopping for a new one
"I use a raised Leer 8-foot box topper.  It's for security, keeping the spare in the back, and hauling stuff dry.  But, I can't park in the underground parking at the office.  The truck is too tall." – Joseph Angelicchio, 1996 Chevrolet C2500, 1998 Leer 122
"I have a metal-braced tonneau cover that goes on the truck whenever the camper is off.  That provides a weather protected storage space for tools, a snow shovel, windshield fluid, and assorted safety related stuff that resides in the back seat when the camper is installed.  It helps clear clutter in the cab, while protecting the truck bed from rust-promoting snow and rain." – Reed Prior, 2007 GMC 2500 HD, 2000 Travel Lite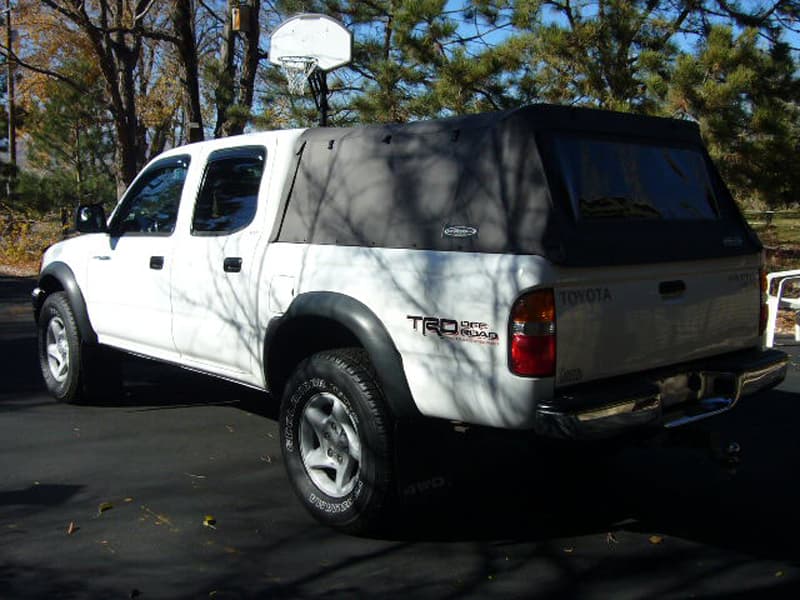 Above: Softopper cap for Toyota truck
"I have a Softopper and love it!  It's on or off in about three minutes, folds up and stores easily.  It offers the same weather protection as a regular hard topper." – Tom Fitch, 2002 Tacoma, 2016 Outfitter Caribou Lite 6.5
"We have a cap which came with our used 2006 Ford F150 Lariat crew cab, four-wheel drive, super short bed." – Martin Lee, 2006 Ford F150, 2016 Adventurer 80RB
"I only use my tah-no cover during the months that my camper is stored, usually November through March, to keep the bed clean and dry.  When the camper comes out for the year, the cover comes off." – Rick Alinzo, 2007 Chevrolet 3500, 2008 Arctic Fox 995
"I use the Bakflip VP bed cover when my camper is not on my truck.  It gives me the room of a giant trunk and the security to carry my golf clubs." – John O'Shaughnessy, 2015 Ford F150, 2012 Wolf Creek 816
"I pull a tandem axle gooseneck for the farm, plus the truck carries a diesel tank to fuel tractors in the field.  My gooseneck hitch screws into a receiver below the box floor.  It screws out so the floor is flat.
The diesel tank has lift eyes for removal when the camper is in the truck.  My truck wears more than one hat.  The camper hat is one of many.  The truck only gets used for truck stuff.  We have a hatchback car for the grocery store and errands." – Daryl Davis, 1997 Ford F350, 2016 Palomino SS-1500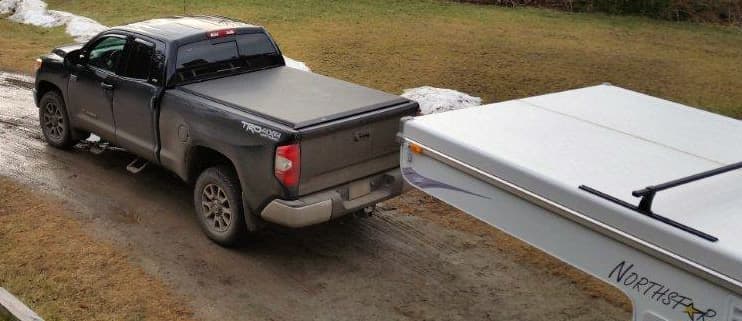 Above: Tonneau cover by Access
"I use a tonneau cover by Access and love it." – Scottie Rome, 2015 Toyota Tundra, 2015 Northstar TC650
"If I won't be putting the camper back on for a while I will put the tailgate, tonneau cover, and side rails back on.  I like to be able to put things in the bed and have them covered and out of sight.
The tonneau cover is especially handy because, if you want to haul leaves or branches, you can roll it up and out of the way.  You also have an open bed to dump stuff.  Also, when hunting, you can climb in and pull your deer into the bed without having to hunch under the topper.  It's also easier to spray it out to clean it." – Allen Brummel, 2008 Dodge Ram 1500, 2016 Northstar 650SC
"I have an aluminum cap with a rack on top for the canoe.  I keep it on late fall though early spring so that I can haul hunting/fishing gear and keep it somewhat secure and out of the weather." – Mike O'Shea, 2011 Chevy Silverado, 2016 Four Wheel Camper Hawk
"I use a three part folding hard surface cover that simply connects to the truck's side rails with spring loaded clamps.  That makes it easy to install and remove.  There is no hardware that interferes with the camper.  It's like a topper in that it keeps items secure in the box.  If I need to haul larger items the top folds up into one section." – Roger Geisinger, 2013 Chevy 3500, 2013 Northern Lite 10-2
"Here in Oregon, we call ours a canopy.  The canopy weighs around 125 pounds which isn't that heavy but, at 8-feet long and with it being rear heavy, it is super awkward.  So, we built a hoist.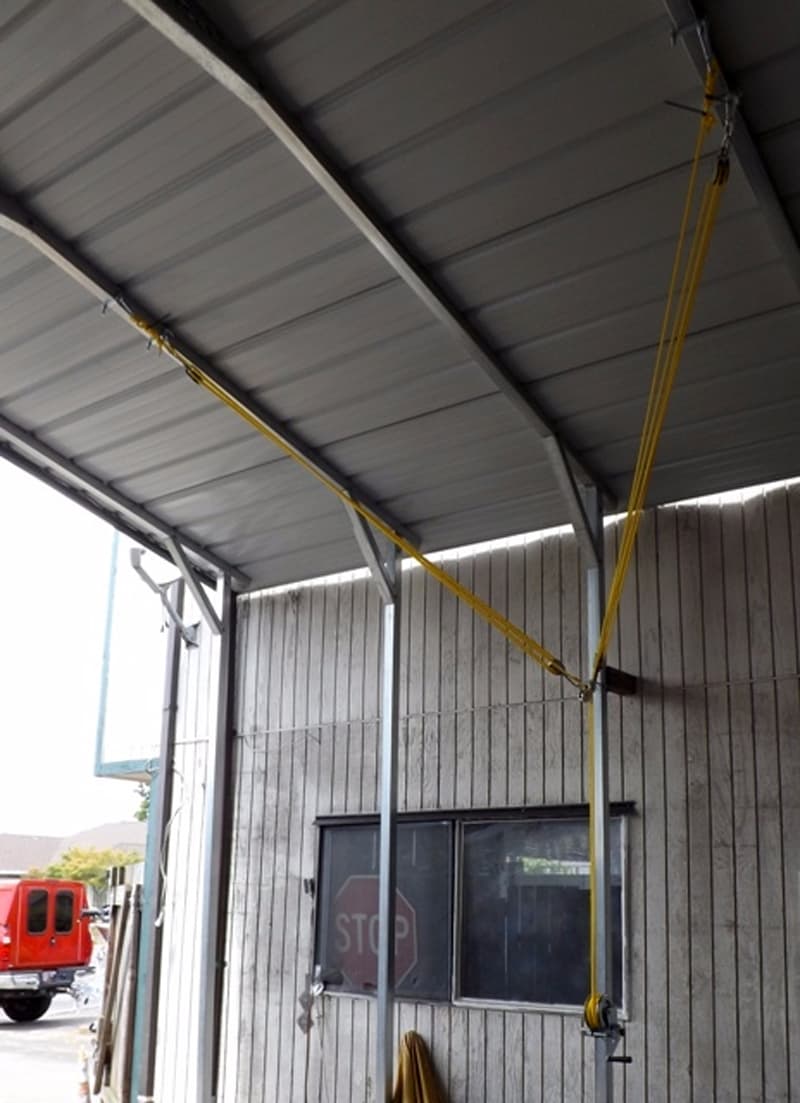 The hoist attaches to cover via brackets, and ropes comes down to a boat pulley with a ratcheting crank.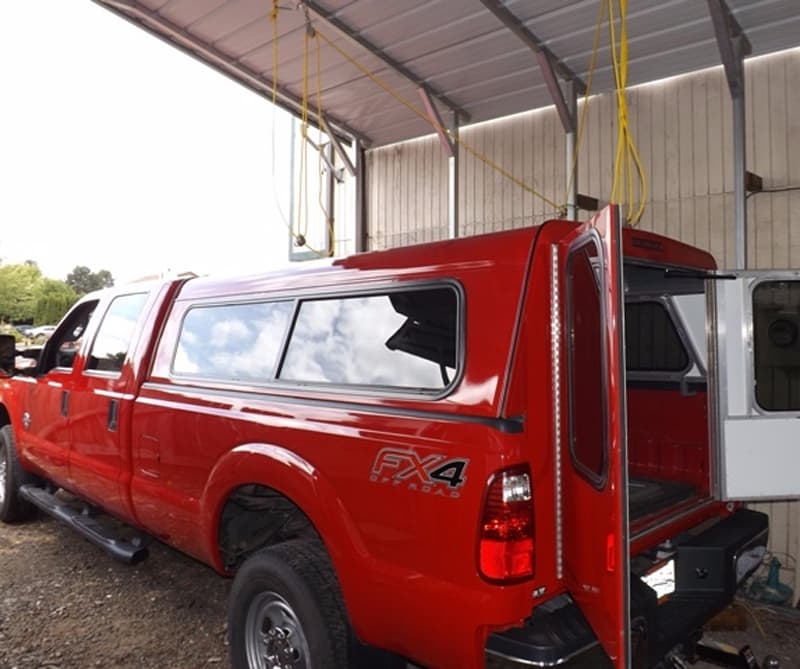 Above: Truck with canopy backed into position.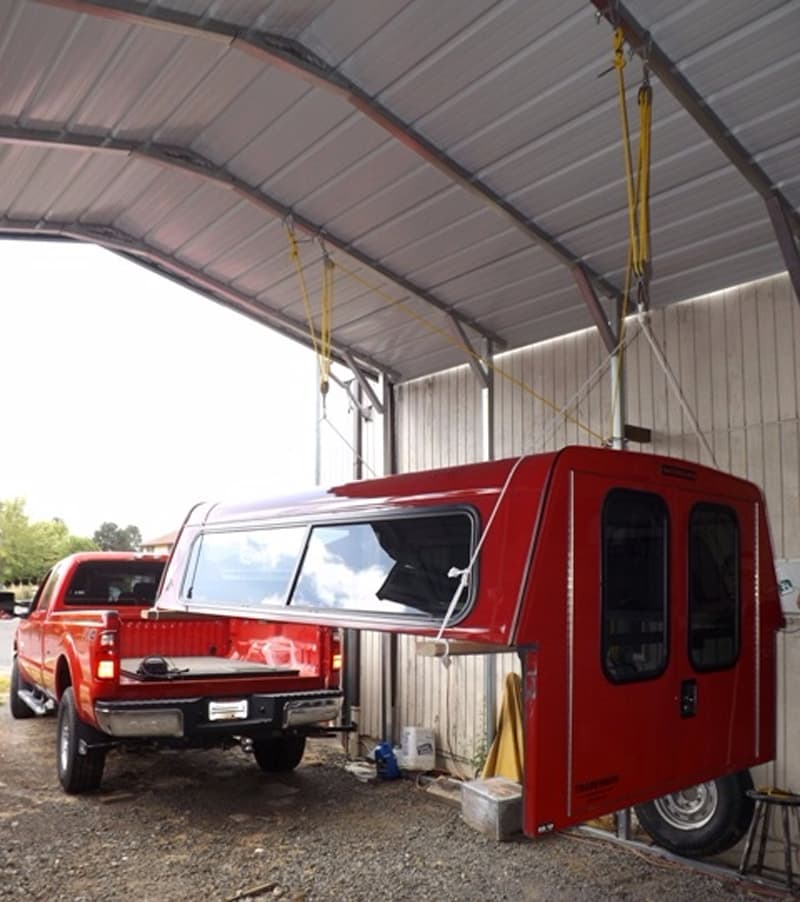 We still have to lift the canopy by hand to insert the 2x4s that create the cradle.  I've seen some systems that use eye bolts installed on the canopy, but neither one of us wanted holes in the side of the canopy.  As we get older, that may change.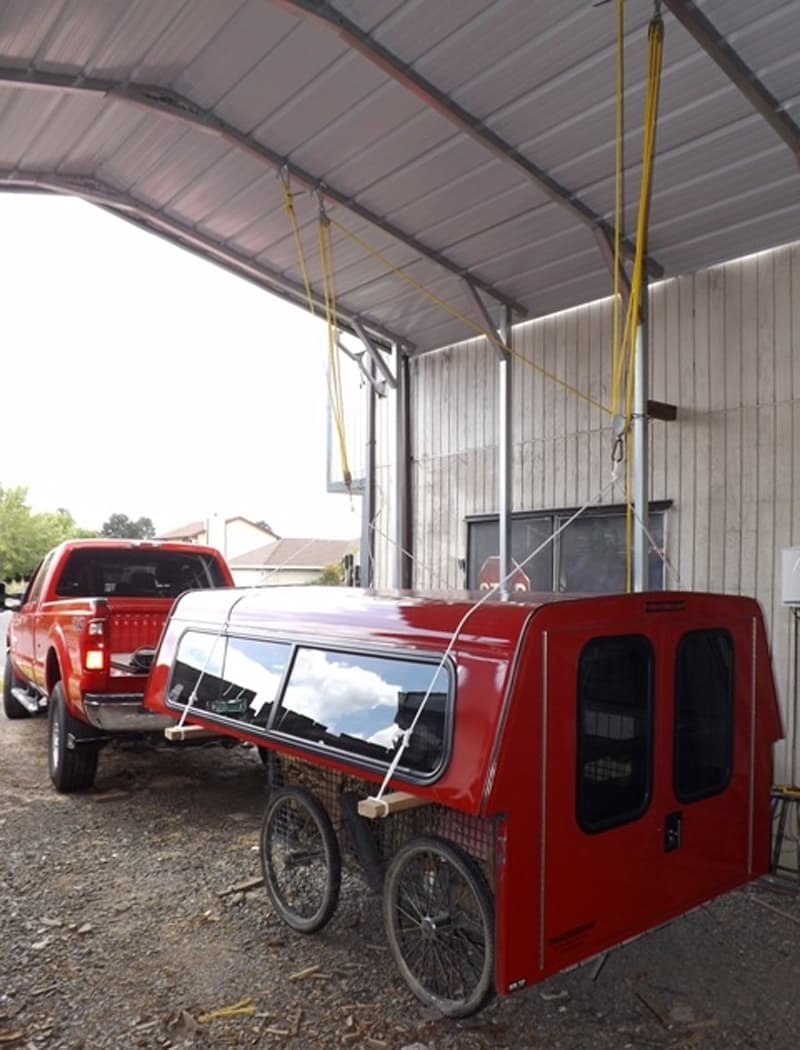 Above: They have a decoy cart that we set it on for easy wheeling around the yard.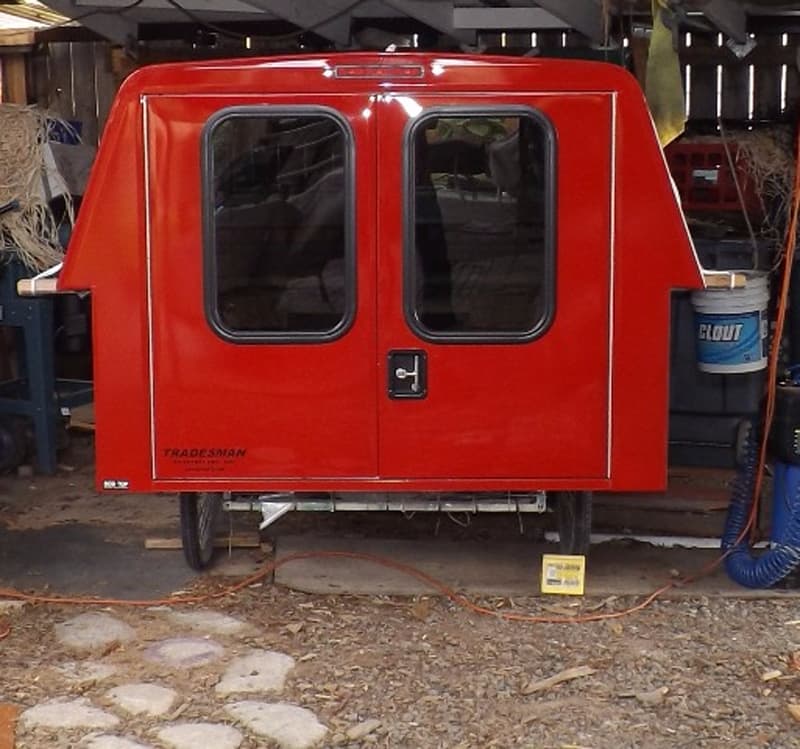 Above: Here it is tucked out of the way.
The canopy is on the truck from September until June and buck naked June until August, which may change once my husband retires.
The double doors make loading groceries and fishing/hunting gear super easy.  There is no tailgate to mess with and everything stays dry which doesn't happen with the tri-fold tonneau (tah-no) on my husband's Ford F150!" – Diane Larsen, 2012 Ford F350, 2007 S&S Montana Ponderosa
"I have an inexpensive Access cover because the factory is about 100 miles from my home.  I can get service and parts if needed.  My pickup box has eight 70-pound sandbags, three summer tires with rims, and other stuff for weight on the rear wheels in winter.  I take the outside tires/rims off the dually for increased traction on ice.  Also, the snow doesn't pack between the dual rear wheels." – Philip Tron, 2009 Chevy 3500, 2012 Lance 1050
"I have a Snug-Top fiberglass cap that is painted to match the truck.  I like it because I can lock stuff up when I'm out shopping and I can have stuff in the back without it walking off." – Richard Spurgeon, 2006 Dodge Ram 2500, 2003 Summerwind 8.5
"We keep our work horse naked with a deep over rail truck box when we're not camping.  Our rig is easy to swap out since I use an engine hoist to lift the box off the tailgate and dolly over to its detention area.  We swing a gooseneck trailer often, so capping or covering wouldn't be very useful for us.
I will admit that I do love the A.R.E. truck caps with the full rear entry door.  Many a rainy day I wish I had one to keep the cab from getting mudded up when I get back to launch or climb out the woods." – Nicholas G, 1999 Ford F350, 2000 Lance 1130
"We have a rollup cover for the truck bed.  It is rolled up and the supports are stored along the side of the truck bed when the camper is on the truck.  It is easy to unroll and install when the camper is off.
We also put the tailgate back on.  We like having it because we often have stuff in the bed and we don't want to tempt people who may see it when walking by." – Bill Billyard, 2000 Dodge Ram 3500, 2008 Palomino Winter Creek 115RS
"I live in Canada.  To prevent my truck box from filling with snow, I use a truck cap." – Howard Burke, 2015 Ford F150, 1995 Shadow Cruiser
"I leave my cap on whenever the camper is off the truck.  Sometimes, when I want to make a fast get-a-way, I just stay in the cap.  I went all the way to Alaska one time just using the cap as a camper.  My question is, how does everyone get the cap on and off the truck when using the camper?" – Doris Pursell, 2012 Ford F250, Looking at a new Wolf Creek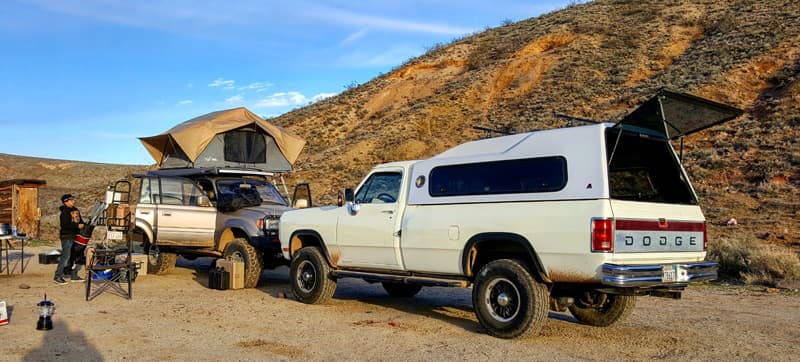 Above: Leer shell on Dodge w250 truck
"I just bought a Leer shell for my truck.  It's used and I picked it up for $200.  It's easier to off-road camp with the shell then the full-size camper." – Tim May, 1993 Dodge w250, 1986 Vacationeer
"My 2015 Ram 2500 is the first truck in a long time that I have not had a topper for.  I went with a roll up tonneau this time to save money.  I also thought that I could just roll it up when putting my truck camper on my truck.  It turns out I still have to take it off.
The cover has some metal mounting bars that stick into the box area and that looked too iffy with the camper.  It made the box narrower and was just another accident waiting to happen.  So I unclamp the whole thing and take it off.  I actually think that I can take a topper off and on much faster than the tonneau.
I miss the extra room and protection a topper gives when hauling a bunch of stuff.  Next time I'm springing for the topper again." – Terry Gfeller, 2015 Ram 2500, 2013 Lance 865
"When the camper is put to bed in the winter, I run an older fiberglass cap that is cab height.  It allows me to cart tools, and is lockable.  I built a stand so that it can be put on and off as easy as the camper.
During the other three seasons when I'm not camping, the camper comes off and I run a toh-no cover.  I just unsnap and roll up with the back bar and bows.  I throw it in the garage and it's back under the camper." – Kevin Eaton, 2015 Ford F350, 2016 Eagle Cap 850
"The first tonneau cover I had was in 1961.  Since then I have had fiberglass tonneau covers or camper shells on my trucks." – Bud Brown, 1994 Ford F150, 2017 Capri Camper Cowboy
"Living in the great Northwest where we get a lot of rain, I put a canopy on my 2008 2500 in the winter.  I go bare in the summer.  That way the truck is ready to load the camper when I want to go camping." – Gene Funk, 2001 Slumber Queen 810W
"I have a tri-fold hard tonneau cover made by Extang.  I like it because it keeps things dry and secure." – Dave Barker, 2014 Ram 3500, 2017 Northstar Laredo SC
"I use a tonneau cover to keep the leaves out." – William Weber, 2016 Ford F150, 2003 Six-Pac Camper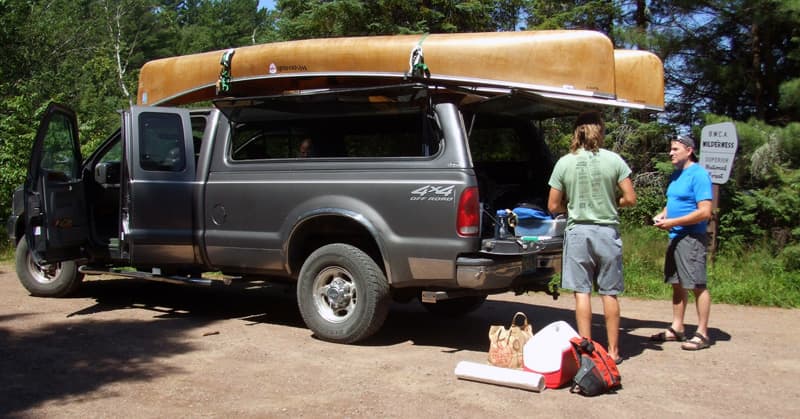 Above: Using the topper to be able to haul canoes
"On my previous F250 8-foot bed, I did not have a tonneau (pronounced "tan-new") cover.  I actually had a topper that I only installed to haul the canoes to the BWCA or to keep the Minnesota snow out of the bed.
An 8-foot fiberglass topper is a real PITA to remove and install.  I made a real nice slide and store setup for it when I did have the topper.
On my new F350 dually, I drive around naked.  I don't believe I just said that.  I hope this doesn't get out." – Ben Hansen, 2006 Ford 350, 2005 Lance 981 Max
"I have a Tyger tri-fold cover because I hate shoveling snow out of the back." – Robert Bergen, 2000 Ford F350, 1987 Real-Lite
"I have a TruXport soft roll-up tonneau cover.  It works very well.  It is easy to put on and take off.  It rolls up easily." – Tom Burns, 2005 GMC Sierra, 2006 Northern Lite
"In the summer I leave the cover off.  I use the bed for a variety of landscaping chores.  In the winter, it is on all the time." – Tom Klinczar, 2012 GMC Sierra, 2012 Palomino Maverick 8801
"I use it to haul goose and duck decoys to the fields.  I hunt, so I leave the decoys in truck during the season.  It keeps everything dry." – Bob Drake, Dodge 2500, 2004 Palomino Bronco
"I used to own a standard cab pickup, so having a locking shell was nice for carrying valuable cargo that wouldn't fit on the cab seat or in the floor.  My shell eventually died and my replacement truck is now an extended cab with a folding rear seat.  Since retiring to the country, theft is not as much of a problem, so a locking cover is no longer a necessity." – Alan Keith, 1993 Ford F250, 1997 Lance Squire Lite 165
"I live on a hill with a nine-degree tilt going up the gravel drive.  With the back of my truck empty I have to put it in four-wheel drive to get the traction needed to push my 2011 Ford F350 6.7 up the hill.
The topper gives the rear wheels just the right amount of weight.  It's a pain taking the topper off and putting it back on, so I built a tall set of sawhorses using 2×6's as the top bar.  I reinforced it with cross bars and deck screws.
I back the truck up, push one horse right up against the truck, undo the clamps, and then get underneath.  Then, I stand up so the topper is on my back enough to walk it to the first horse and then to the second." – David Litteral, 2011 Ford F350, 2016 Wolf Creek 850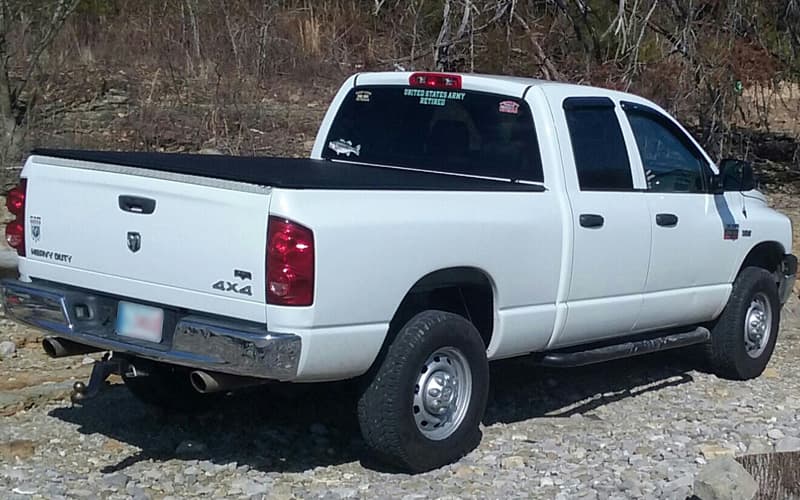 "I have a soft tri-fold tonneau that I use.  I use it primarily to keep weather off of the camper anchors, steps, and several totes that contain off-season clothing (full-timer)." – Gregory Watson, 2007 Dodge Ram 2500, 2013 Travel Lite 840SBRX
"I have a Tonno-Pro roll-up cover.  It was bought so that when we go on a trip we can load our stuff in the back, and it's protected." – Tim Chapell, 2013 Ford F150, 2013 Palomino SS-1251
"We have an ARE canopy that we usually reinstall in between needing the open truck bed.  We plan on continuing to use the truck for many other things than just hauling a camper.
We just bought a camper and it isn't scheduled for pickup until the end of April.  Three years ago we went on a twelve day road trip through the midwest and slept every night in the back of the truck, under the canopy." – Roy Edwards, 2002 Chevy Silverado 2500HD, 2017 Arctic Fox 990 on order
"Tuh-no is likely correct since the word comes from the old French "tun" meaning cask. The open passenger compartments of early cars were shaped like casks or tuns.
I have the Bak Revolver X2 tonneau.  It is a hard roll up cover made from interlinking aluminum slats.  It's easy for the Mrs. to open and doesn't take up bed space or block the back window." – Gregory Himes, 2017 Ford F350, TBD
"It seems that I've owned more bed covers than I've owned pick-ups.  During my tent camping days, I used a fiberglass shell (truck #1), then a fiberglass bed cover (truck #2), both of which were painted to match the truck.  These provided superior protection from the elements, but the shell was much too heavy for my wife and I to lift off the truck, and the bed cover was borderline.
On truck #3, I used an Undercover plastic bed cover.  It was lighter and weatherproof, but you had to have a place to store it.  When we got our fifth wheel, we installed a rollback-type cover.  This worked great because we could remove the cover (roll it back) any time we wanted (when towing) and put it back on when we unhitched.  It was mostly weatherproof, but unfortunately the rollback canister design was not compatible with using a truck camper.
In our current set-up, I built a shallow deck to cover my fifth wheel rails.  Then I bought a three section fold-back cover for when I'm not using the truck camper.  The fold-back design is the least weather-proof of all our past covers, but I am able to quickly remove the cover and store it on a set of saw horses." – Steve Williams, 2010 Dodge Ram 2500, 2016 Lance 650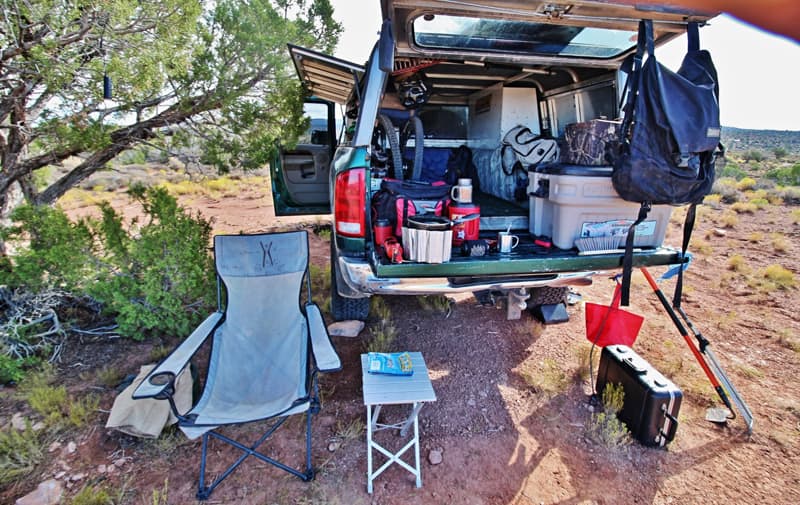 Above: Truck topper as a camper
"That's the beauty of the truck camper.  Your truck can be a modular system to meet your needs.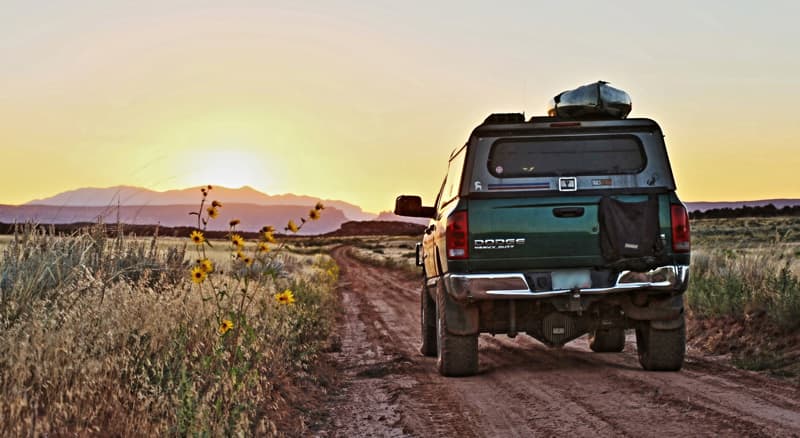 Sometimes I de-camper it and drive the truck naked – the truck that is, unless no one is watching.  It can be used as a work truck.  I also have a few lightweight toys for camping options, especially in the warmer season, when I don't need the creature comforts of a full truck camper.

Above: ARE topper and rooftop tent
If I'm not using my Jeep, I will use the truck to haul lots of toys on some longer warm weather trips.  Sometimes I use a Thule Rack and a roof top tent, sometimes a topper, and sometimes a topper and roof tent together.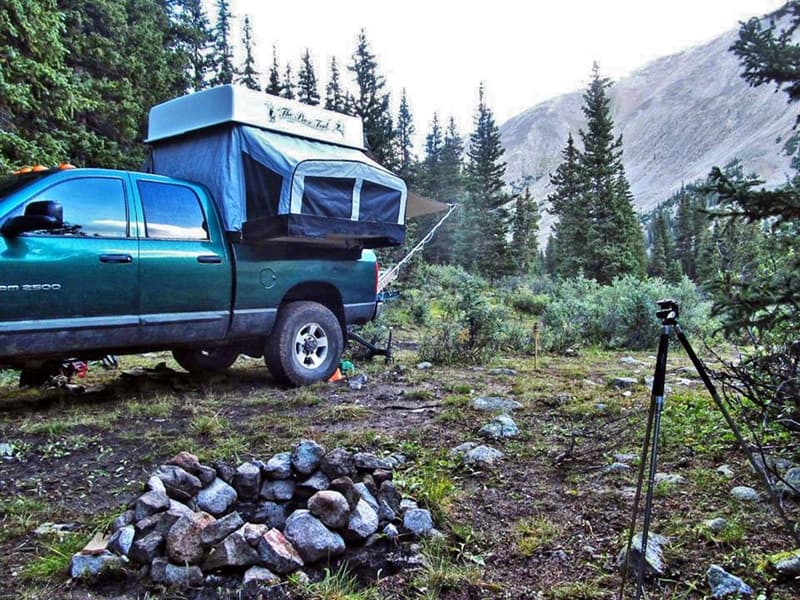 Above: Jim's box tent on his Dodge truck
I also have a rare Box Tent, that fits in the bed below roof line and I can close the tail gate.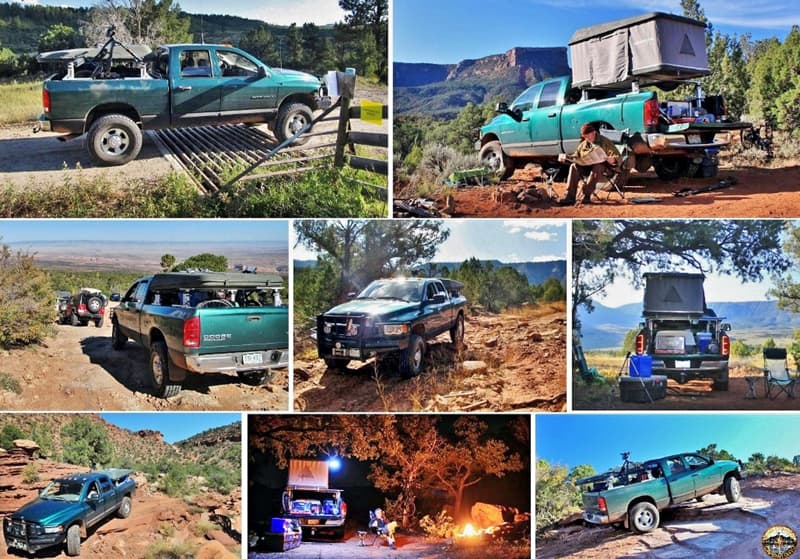 Above: Roof top tent on a Thule Xsporter Rack system
I have experimented with many options to still use my truck as a camper without the camper.  They all have a place and time." – Jim McCoy, 2003 Dodge 2500, 1990 Hallmark LaVeta
"I had the truck prior to a truck camper with an ARE hard tonneau cover.  There was no market to sell it, so I use it when the truck camper is off for an extended time." – Steven Garbisch, 2008 Ram 3500, 2014 Bigfoot 1500
"I use a truck cap sometimes, especially if I have stuff to move which would blow around without it.  I keep my truck cap hanging in the barn so it's easy to drive under it and place it on the truck.  I use 2×4's and a rope pulley system to raise and lower the cap." – Robert Devantery, 2014 GMC 3500, 2012 Lance 1050S
"We have a roll-up style which pulls tight against the tailgate by the rails.  It clamps to the box rails and attaches by Velcro to the under side of the cover.
We used this tonneau cover while we had our fifth wheel as the rails are only a half-inch thick and didn't interfere with clearance between the truck bed and bottom of our fifth wheel.  The manufacturer no longer sells this model.  We used this style on our last three trucks." – Eric Devolin, 2007 GMC 3500, 2006 Adventurer 106DBS
"I use a camper shell, as we call it in California.  It has a gradually raised height toward the rear to give better head clearance and maintain aerodynamics.  I have used it occasionally for camping if the camper is not necessary for the trek.  But mostly, I use it to secure what I am hauling, like tools, and to haul trash.  I live in a rural area where most of us haul our own trash." – Mike Wenrich, 2014 Ram 3500, 2014 Northstar pop-up
"I have a tonneau cover.  It looks good, plus I can haul stuff and keep it covered, or I can roll it up and go topless." – Gary and Cinda Whistler, 2013 Chevy 3500, 2017 Lance 1172
"I have a Designfx commercial topper." – Gary Ellis, 06 ford f350, 02 lance 962
"I have a tonneau cover which is always on the truck when the camper is off.  I live in British Columbia, Canada.  When it's not raining it's only because the sky has run out and more is coming soon.  That said, the cover helps protect the inside of the box which would become a mobile pond complete with leaves, algae, etc. without it.  I also like to use it for security reasons, like picking up items from the store." – Tony Bridge, 2007 Ford F350, 2008 Arctic Fox 811
"I have a cab level topper on the 8-foot bed when the camper is off.  I have it because of going alone on two to three day fishing trips.  I sleep in it." – Rag, 2003 Chevrolet Silverado, 1980 Sportsman 8FSD
"We have a truck canopy that is put on whenever we take the camper off.  That is usually from mid-December through the end of March.  During the fall hunting season it goes on and off many times.  We have strong grandsons!
When traveling with just the truck, the canopy keeps suitcases and supplies secure and out of the weather.  We have had the same canopy for 17 years and have it painted when we change trucks." – Rick Jones, 2005 Chevrolet 2500HD, 2013 Wolf Creek 850 SB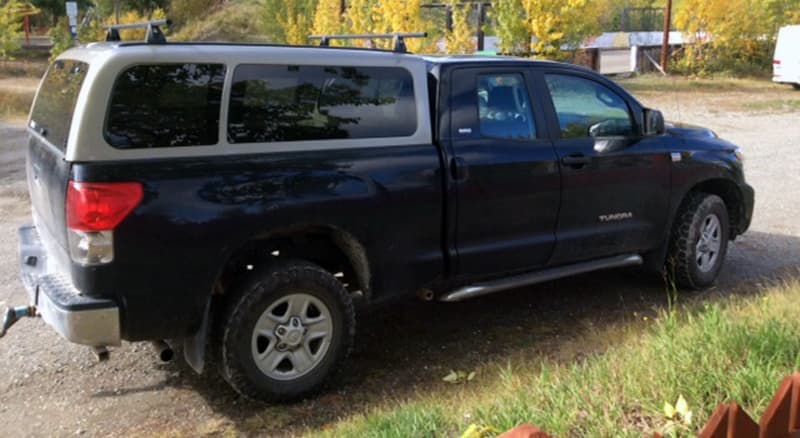 Above: Roch's truck canopy
"I have a canopy (well, most of the people here in the Yukon call it a canopy) for two mains reasons.  I don't have to shovel the snow out the truck bed during winter and I'm a handy man who always has a project going on.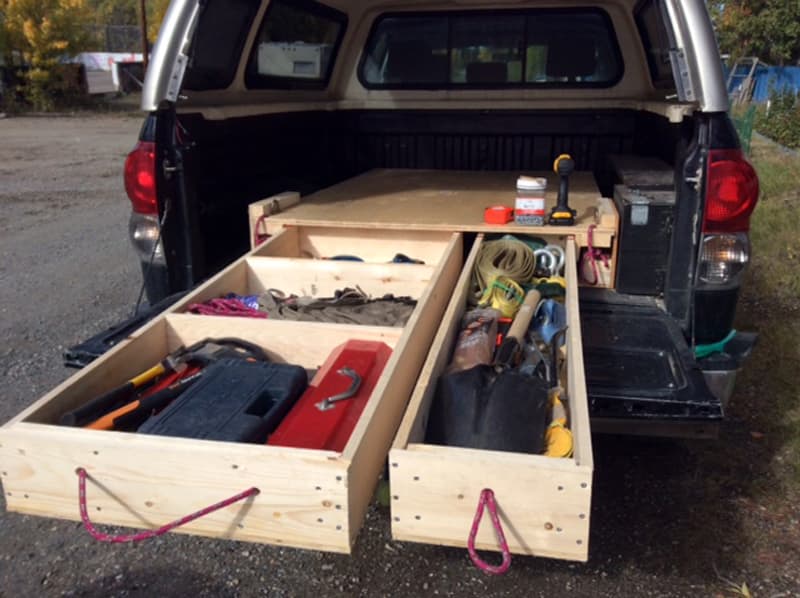 Above: Truck canopy with storage compartments
I need all my tools, equipment, and other gear protected from the weather and from people with bad intentions." – Roch Nadon, 2007 Toyota Tundra, 2007 Okanagan 89WS
"I pronounce it tah-no, and we have one." – Sue Laufer, 2015 Chevy Silverado 3500, 2016 Northstar 12STC
"I have a Gator tonneau cover." – Timothy Cooper, 2016 Ram 3500, 2007 SunLite
"I have a tonneau cover to keep the snow off in the winter." – Burt Ridge, 2012 Ford F350, 2012 Eagle Cap 11.80
"I have a Snugtop canopy to keep the truck bed weatherproof in rainy weather in the northwest." – Pat De Grand, 2011 Chevy Silverado, 2001 Palomino 1250
"Living in Maine without a garage, one needs a way to keep the back end of the pickup bed snow-free during the winter, so we got a tonneau cover.
We no longer live in Maine.  Now, we spend winters in Florida where sunlight can cause problems on items left in the bed.  We use the tonneau when the truck camper is in storage.  We have a Tri-Fold soft rugged tonneau cover." – C&J Ramsey, 2012 Chevy Silverado, 2014 Adventurer 116DS
"I use a BakFlip F1 tah-no hard folding cover.  I can put goods in the truck bed and they are out of sight, out of the weather and, with a locking tailgate, there is a level of security.  You can fold the cover up to the back of the cab and use the open bed to haul large items.  The other thing I like is that the cover just looks great.  It compliments the clean lines of the truck." – Bruce VanAken, 2016 Ram 3500, 2012 Northern Lite 10-2 SE
"I put on a Century brand model truck cap just before the first snows of winter so that I can load sand bags and keep them dry.  They come in handy for highway slide-offs, driveway rescues, and other winter emergencies.  Wet sand freezes solid and is worthless.  The weight helps with traction.
I built a rack to hold my cover during the fair weather so that I can load/unload it by driving under it.  Those covers are heavy!" – Tim Streagle, 2006 Ford F350, 2016 Wolf Creek 840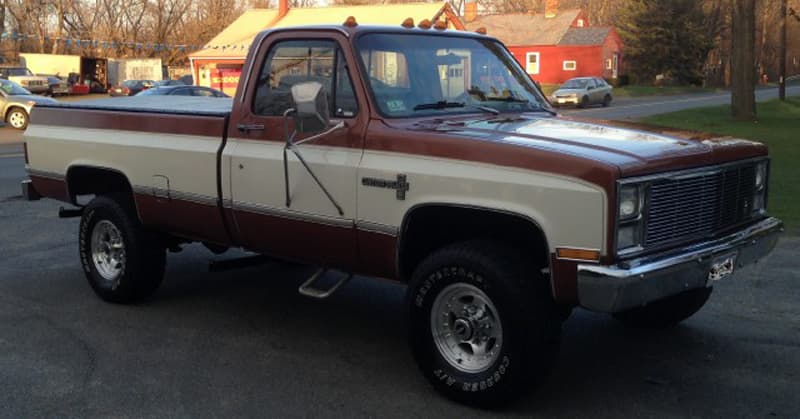 Above: A soft tonneau cover on a 1983 Chevy K30
"I use a soft tonneau cover when my camper is not on the truck.  I like the look of it and it makes a clean and dry place to put things in the bed.  If I need to haul something tall, it easily rolls up out of the way.  I also like the hard, folding type of tonneau cover, but the soft one was more in my price range." – Eric W, 1983 Chevy K30, 1999 Coachmen 115RD
"I just bought a used Bestop fabric topper and I absolutely love it.  It keeps everything dry, which is the number one advantage.  The tinted windows keep prying eyes out. Valuable items such as my RadRover Electric bike are cabled and locked in the bed. We call it the Safari Truck." – Robert Morrissey, 2016 Ford F150, Looking at lightweight bare bones camper models
"I have had a lot of tonneau covers and the absolute best is the Extang Trifecta!  Skip the rollup ones, especially the ones with velcro.  The velcro gets cruddy with debris and those covers require a lot of work to get them positioned right.  The Trifecta is completely off in about two minutes, and is easily stored.  It's back on in about the same time.  When it's on, it looks great, is very stout, and foolproof!" – Dave Ruane, 2008 Chevrolet 3500HD, 2006 Northstar TS1000
"I install a Leer color matched fiberglass cap on my Ford F350.  It protects the BedRug and whatever I need to haul during the off season.  I live in the northern plains of South Dakota, so winter snow is a pain to clean out of an open truck.  Also, the added weight of the topper helps dampen the hard suspension of my 350 truck." – Carlton Basmajian, 2012 Ford F350, 2016 Wolf Creek 850
"I have a tonneau cover to hide stuff from the thieves!" – Chip Fisher, 2016 Ram 3500, 2016 Northstar Adventurer 8.5
"We call what I have a canopy here in the Pacific Northwest.  I also have a fabric tonneau cover that we put on if we drop the camper and want to still protect the stuff we put in the bed.  We get so much rain that it's just not practical to not cover the bed around here." – Steve Winters, 1986 Chevy 3500, 1989 Six-Pac 8.5
"I use everything!  I use a tonneau cover when I need to cover contents.  I use a truck cap when snow is likely and the extra height is required to cover contents.  I use no cover when hauling large loads.  And I also load my Lance camper!" – Lucien Langlois, 2012 Ford F250, 2004 Lance 1025
"I had an undercover hard cover.  It took up too much space and was cumbersome.  Now I go truck naked." – Thomas Bjerk, 2004 Ford F350, 2000 Elkhorn 9T
"Throw in a tarp and fill with water.  It's an instant pool party" – W. Banes, 1986 Dodge W250, Denver West
"I never take the truck camper off, so there!" – Randy Brewer, 2001 Ford F150, 2016 Capri Retreat
"I pronounce it 'to-nay' like today.  Of course it could be 'to-no' like Henry Thoreau.  I drive a flatbed, which I put a headboard (aka a headache rack) on when using it as my daily driver sans camper." – David Ruble, 2017 Ford F350, 2017 Phoenix
"Lazy is as lazy does.  I've been driving around sans tah-no and without tale-gait!" – Mark Obert, 1999 Ford F250SD, 1999 Lance 920
"No covers.  I drive truck naked.  It's my daily driver to work, to the store, to the dump, etc." – Laurie Tseka, 2004 Chevy Silverado 2500HD, 2012 Lance 850
"Naked is best, after all.  I don't have a tailgate either.  None of those tops are very useful unless you go to the trouble of reinstalling your tailgate.  It's not worth the time or the trouble." – Thomas Fallon, 2009 Ford F250, 2013 Lance 825
"I drive my truck naked with no tailgate.  My Lance 850 is on truck 80-percent of the time." – Edward Everitt, 2003 Chevy Silverado 2500 HD, 2016 Lance 850
"I'm looking for a low profile utility bed to replace the pickup body on my dually now.  I'd like have the extra storage compartments." – David Ordway, 2007 Chevy Classic, 2011 Northern Lite 10-2
"I didn't answer your first question because it's pronounced 'taw-no'." – Nik Rende, 2011 Dodge Ram 3500, 2001 Lance 1121
"We don't.  Well, if you don't count the one back in the woods.  We've always pronounced it 'tawn-u', so you're not alone." – Lois Zell, Ford F-350, 2010 Lance 1040
"I pronounce it more like, 'tawn-o'" – Richard Mount, 2013 Ford F150, 2013 FWC Grandby
"It's pronounced 'torn-no'." – Jim and Anne Beach, 2009 GMC 3500HD, 2012 Arctic Fox 865
"This is only the second year that the camper has been off the truck in the past eight years.  I really don't know why I take it off as it is all that the truck is used for.
Whenever the sun shines and the temp climbs above 0 degrees Celcius / 32 degrees Fahrenheit, I get the urge to go.  With the camper off we have to settle with snacks and coffee in the yard.  The truck still gets exercised, but as you said, naked – not the same as if the camper were on." – Lewis Turner, 2003 GMC 2500SLT, 2008 Northern Lite SLE Classic
"I'm very interested to see what others are using before I make a purchase." – Tom Radovic, 2017 Ford F350, 2012 Travel Lite 770 SL
"I drive not only naked without a topper, but I don't even bother to put the tailgate back on the truck unless I haul something where the tailgate is needed to keep the load in the bed." – Mark Traylor, 2014 Ford F150, 2017 Lance 825
"I would use a tah-no cover if they weren't hard to install.  I had one on my old truck but it took two men to take and put it on.  That was too much of a hassle.  What's easy out there?" – Larry Head, 2017 Ram 3500, 2016 Wolf Creek
"Nothing, not even tailgate." – Ron Pucul, 2016 Ford F-350, 2007 Lance 1055
"I haven't put the tailgate on my truck since 2013.  The camper comes off in mid-November and goes back on in early March.  There is no point in lugging the thing out of the garage for a few short months." – Roger Odahl, 2008 Dodge Ram 3500, 2004 Eagle Cap 950
"Since the tailgate is difficult to remove and put back on, I guess I'm completely naked and stripped to the bones.  I have a 2×10 that fits across the back, painted the same color as the truck.
I'm glad you asked this question.  I've been dying to find out more about these various possibilities for my truck.  I guess you'd say I have a bare butt end." – SJ, 2009 GMC 2500, 2009 Northstar Laredo