After more than a half-century of vigorous debate, Truck Camper Magazine is ending the controversy over the proper pronunciation of the word tonneau; Tuh-no, Tah-no, or Tuna.  With 529 responses, here are the results:
As you can see, I'm not the only one who pronounces, "tonneau" as, "tuna".  2.56-percent of the responses (13 fellow fish-minded folks), either agreed with my pronunciation, or just wanted in on the funny.  Either way, I'm sticking with tuna.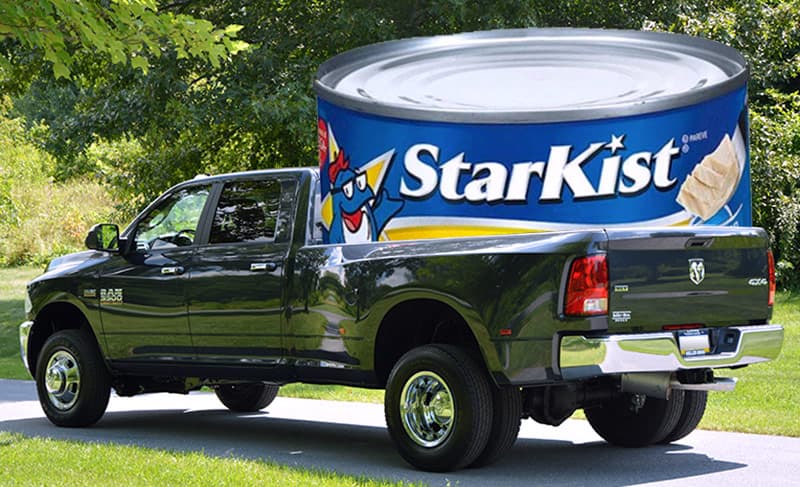 We also asked how many readers actually use a truck topper, shell, tonneau cover, or work cap.  Here are those results: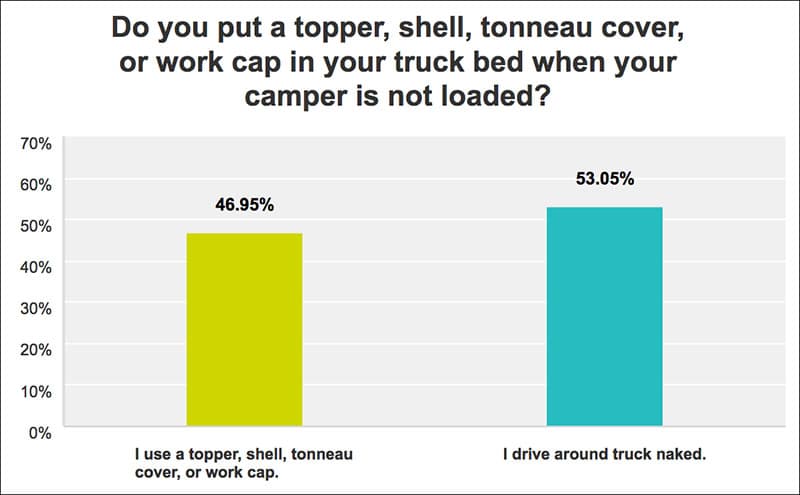 Over 53-percent of respondents openly admitted to driving around truck naked.  Worse, several readers even confess to trotting around town without a tailgate in the written responses.
Scandalous behavior aside, we find it even more interesting that nearly 47-percent of Truck Camper Magazine readers are using a topper of some kind when they're not truck camping.  That's a higher percentage have boats (comparatively 37.8-percent), or utility trailers (26.4-percent).  When it comes to truck toppers, we are heavy users.
For deeper insight into what type of topper readers were using, our QOTW was, "If you use a topper, shell, tonneau cover, or work cap when the camper is off your truck, tell us what you have, and why you have it."
Here are the reader responses: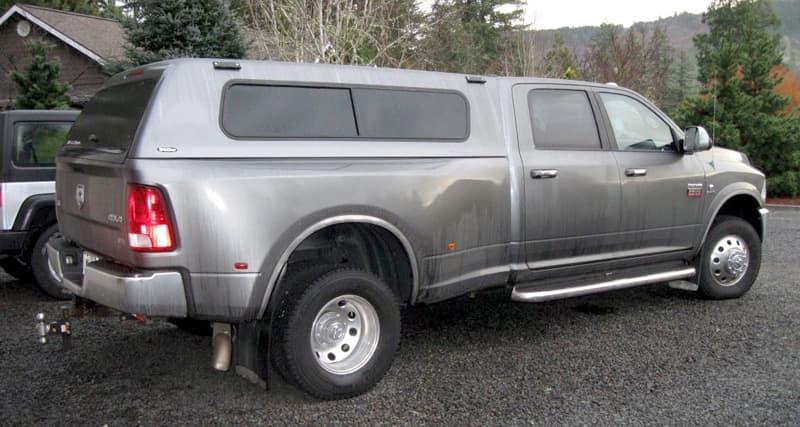 Above: A shell made by SnugTop
"I have a shell made by SnugTop.  Here in the rainy northwest you need a cover if you put anything in the back.  And, like everywhere else in this great country, you need to lock it up or some hairball will steal it.
The downside to a shell is that they are heavy and when you take it off you have to store it someplace while the camper is on the truck.  I take my shell off with the aid of my tractor to preserve my aging back!" – Bob Holland, 2012 Dodge 3500, 2013 Adventurer 910FBS
"I have a tonneau to keep tools clean and dry.  I can also put lightweight items in the box without worrying about them blowing out." – Mike P, 2016 Ram 3500, 2017 Lance 1172
"I use a TruXport roll-up tonneau cover.  I bought this and installed it for use when the camper is off the truck.  It works well, for what it is.
I tried to leave their mounting rails on the truck and load the camper.  This caused the bottom side rails of the Cirrus to compress the mounting rails into the bed, so I abandoned that plan." – Stephen Smith, 2015 Chevy 3500 HD, 2017 Cirrus 820
"It's easier, dryer, and safer storage with a tonneau cover.  It also gives me about 10-percent better fuel economy." – Steve Hannan, 2016 Chevy 2500, 2013 Hallmark pop-up
"We have a Diamondback HD tonneau cover on our truck.  It's the only totally weather proof, rigid, locking cover that is also capable of loading 1,600 pounds of cargo on top of the cover as well as more inside the bed!" – Ken Southworth, 2015 GMC Sierra 3500HD, Currently shopping for a new one
"I use a raised Leer 8-foot box topper.  It's for security, keeping the spare in the back, and hauling stuff dry.  But, I can't park in the underground parking at the office.  The truck is too tall." – Joseph Angelicchio, 1996 Chevrolet C2500, 1998 Leer 122