With four-wheel drive, multiple power sources, and holding tanks, truck campers are designed to camp far from the reaches of mankind.  Exactly how far one takes their truck and camper is often more a question of one's specific set-up, off-road driving skills, and bravery.
All of this is on full display for this week's Question of the Week.  In fact, the responses have us thinking even more about what we're missing by not tackling the road less paved.  Thank you to everyone who responded.  We are inspired!
How far off-road and off-grid have you been in a truck camper?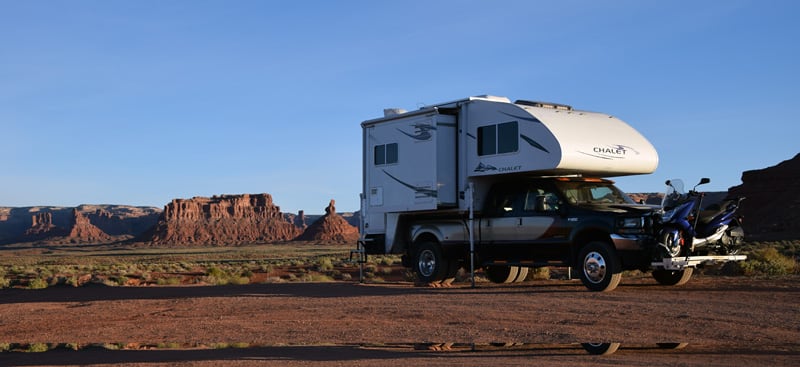 Off-Grid Camping In Utah
"Having a large double-slide truck camper limits us from going too far off road, but we did take a multi-mile trip off road and off-grid to the Valley of the Gods in Utah!
This off-grid and off-oad adventure was fantastic. We took several scooter trips around the giant red monoliths, as well as many hikes." – Charles Coushaine, 2001 Ford F350, 2012 Chalet DS116RB
Off-Grid Camping In Wyoming
"We love backcountry byways and will often leave the beaten track to head for the hills. The Red Gulch Back Country Byway is a road we've traveled twice. First, we went with our little Ford Ranger with a homebuilt topper.  The second time was in our 2013 Ford F-350 and the 2001 Four Wheel Grandby Shell camper.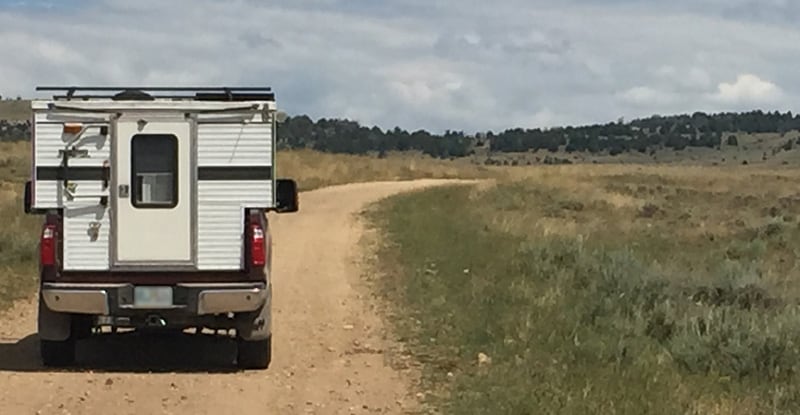 Red Gulch Byway is located in the Bighorn Mountains of Wyoming between Highway 16 from Buffalo to Worland and Highway 14 from Sheridan to Greybull. Parts of the road are level (no big boulders or holes) but the section near 14 was a rubble of boulders and holes. We were very glad that our rig was not top heavy.
Cell service was great to our surprise! Another of our favorites is the Red Cloud Loop Road in the Unita Mountains of Utah. That loop is accessed from 40 at Vernal and loops to 191." – Laurel and Howard Wilson, 2018 Ford F-350, 2016 Four Wheel Camper Shell
Off-Grid Camping In Arizona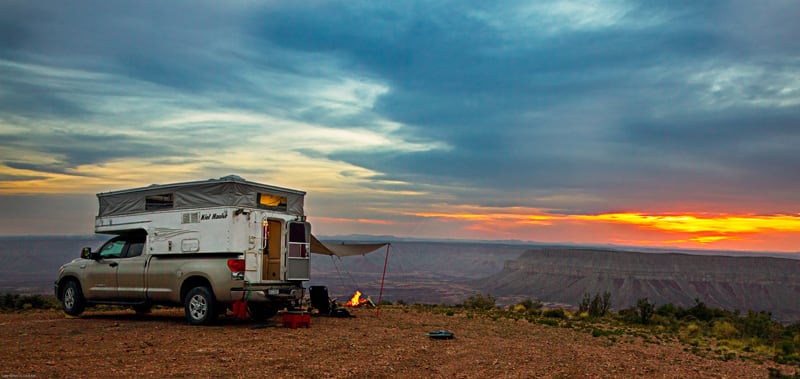 "Probably the furthest we've been from anywhere is Sowats Point (36.50069, -112.53171) right on the edge of the rugged Kanab Canyon. It's a major tributary to the Grand Canyon.
It's only about two hours after leaving pavement at either Fredonia or Jacob Lake. The night we were out there there wasn't a visible sign of anything manmade – except the rough road providing the access for our truck camper.
After a red sunset, the only light was from the stars and our fire. We really were alone out there with no manmade lights visible in any direction.
Access wasn't hard since many of the dirt roads lacing the Kaibab Plateau are passable by car. The last ten or so miles to Sowats Point are high clearance in dry weather, and could be four-wheel drive in wet weather." – Dave and Jenney Kiel, 2017 Ford F350, 2017 Phoenix Custom
"The Grand Canyon, North Rim is not exactly off road, but it is about as far from what we now think of civilization (ie. Walmart, McDonalds, etc) as you can get in the Lower 48.
It's so different than the South Rim and extremely remote. There is a great National Park Service campground right on the Rim, and it's a long way from anything. The nearest gas is 43 miles away at the general store in Jacob Lake. If you do need major shopping, it's probably about five hours in each direction.
The Grand Canyon North Rim should be on every truck campers bucket list!" – Joe McGerald, 1991 Ford F350, 2005 Lance 981
Off-Grid Camping In British Columbia
"The Cassier Highway in British Columbia is about as far off-the-grid as you can get. There are nearly 700-miles of backcountry byway. Until just a few years ago, much of it was unpaved. The first time we drove it we really wondered if we had enough gas with us. We made it to Wolf Creek Station, but just barely. It's beautiful wild country." – Gary Gadwa, 2012 Ford F-350, 2011 Eagle Cap 950
Off-Grid Camping In Alberta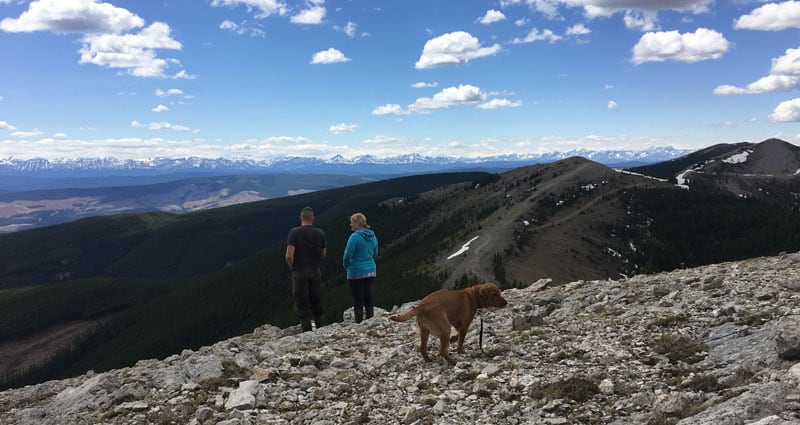 "Most of our camping is in the Rocky Mountains; three to four hours from home. There is no service. We only have what we bring with us. Normally we go on a gravel road less traveled leading to a lake or river.
We take our side-by-side and pup and go look at new things on forgotten trails. There is always something beautiful and new to see. We find remnants of old trapper cabins and mines and odd buildings in the middle of nowhere.
When we venture up a mountain, I will admit that we sometimes get cell service and check on things. Otherwise, we like to get away from the cities and the crowds.
Out there we find peace and calm and usually a bear or two. This last long weekend we were kind of close to Nordegg, Alberta. We followed a trail up a mountain found some snow and a wonderful view." – Ken and Leona Atamaniuk, 2013 Ram 3500, 2016 Lance 855s
Off-Grid Camping In Quebec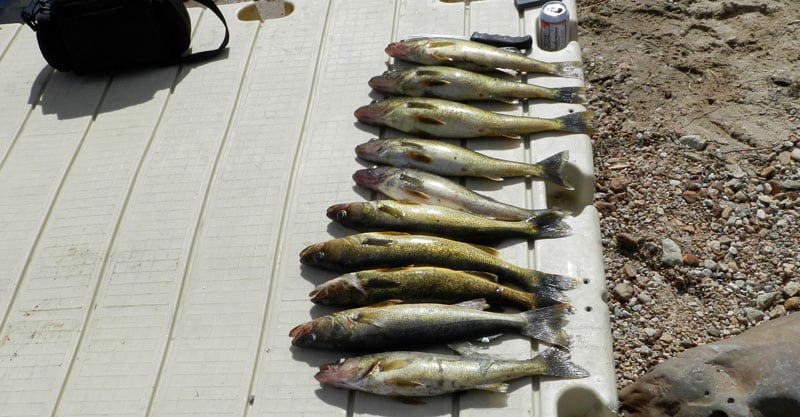 "Our most remote trip would likely be to the James Bay area in Quebec. I often go there to fish for walleye and northern pike. We usually spend a week in the bush. Typically we are about 300 kilometers from the nearest gas station and tow truck.
For safety there is usually another vehicle accompanying me. The picture above shows two campers side-by-side side with a tarp suspended between us to keep out the rain. Fishing is always excellent and nothing beats multiple shore suppers." – Jim Carpenter, 2009 Ford F-150, 2005 Starcraft Pine Mountain Pop-up
Off-Grid Camping In Baja
"Our first off-the-grid truck camper trip was to Baja, Mexico! The last 50-miles took almost six hours of shale/shelf road. We were rewarded by the Sea of Cortez out the driver's side window, and we had all of our fillings intact on our arrival.
The bonus was a seaside beach camping spot with a palapa for about $10 US per night! Ahhh, the sunrise over the Sea of Cortez each morning!" – Mike and Sharon Nervik, 2002 Silverado 3500, 2004 Eagle Cap 1150
50 Free Overnight Parking Ideas  |  TCM Favorite Roads  | TCM Favorite Campgrounds