Response to this week's Arctic Fox Air Time caption contest was unbelievable, and truly laugh out loud funny.  Truck campers might not be the largest part of the RV marketplace, but we clearly have the best sense of humor.
With well over 200 entries, it was nearly impossible to pick a winner.  It really came down to which caption made us laugh the most.  We realize that's not exactly science, but funny always wins here at Truck Camper Magazine.  The winning caption made me laugh, Angela laugh, and Harley roll over and go back to sleep.  That's enough for us.
Here's the photo: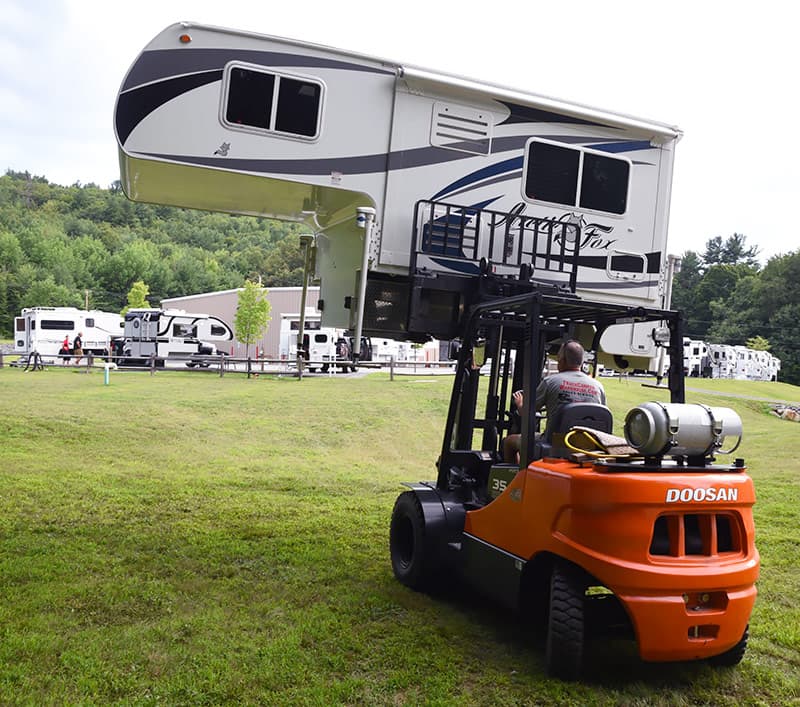 And the winner is…
"If this truck camper escapes one more time, I'm not bringing it back Gordy!" – Rickey Werner
Congratulations Rickey!  You won a Truck Camper Magazine T-Shirt of your choosing.
Thank you to everyone who participated in our caption contest.  We'll have to do this again next time we capture a funny moment.  Knowing this community, that won't take long.
Here are our honorable mentions.  Please don't drink coffee as you read these!
Honorable Mentions:
"Now just where was that truck?" – Anne Brown
"The Doosan-Dont's of camping." – Mark McCracken
"Do you have WIFI now?" – Pat Patterson
"Easy to park, but I only get two miles to the gallon." – Bill Spath
"I know Wonder Woman parked her truck here somewhere." – Rob Stewart
"I told you not to park there!" – Dale Koehler
"Bob's wife was not impressed with the new hydraulic lift system for the camper." – Greg Sellers
"Time for some big boy, real life Tetris!" – David LaVine
"If you can't play nice with the other campers, you have to go into time out." – Cindi Goodrich
"They repossessed the pickup, but the forklift is paid for. What site am I in?" – Tom Julkowski