Response to this week's Arctic Fox Air Time caption contest was unbelievable, and truly laugh out loud funny.  Truck campers might not be the largest part of the RV marketplace, but we clearly have the best sense of humor.
With well over 200 entries, it was nearly impossible to pick a winner.  It really came down to which caption made us laugh the most.  We realize that's not exactly science, but funny always wins here at Truck Camper Magazine.  The winning caption made me laugh, Angela laugh, and Harley roll over and go back to sleep.  That's enough for us.
Here's the photo: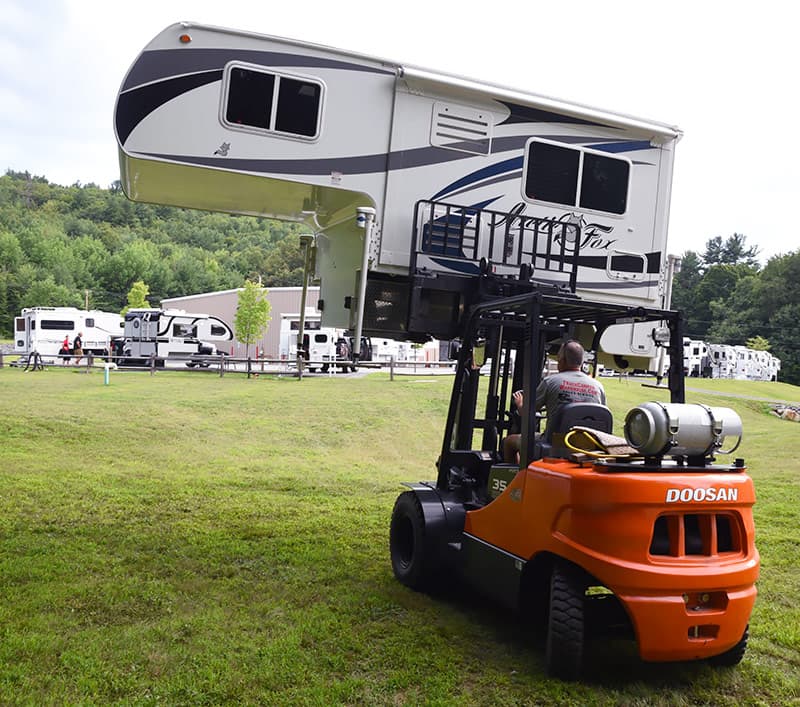 And the winner is…
"If this truck camper escapes one more time, I'm not bringing it back Gordy!" – Rickey Werner
Congratulations Rickey!  You won a Truck Camper Magazine T-Shirt of your choosing.
Thank you to everyone who participated in our caption contest.  We'll have to do this again next time we capture a funny moment.  Knowing this community, that won't take long.
Here are our honorable mentions.  Please don't drink coffee as you read these!
Honorable Mentions:
"Now just where was that truck?" – Anne Brown
"The Doosan-Dont's of camping." – Mark McCracken
"Do you have WIFI now?" – Pat Patterson
"Easy to park, but I only get two miles to the gallon." – Bill Spath
"I know Wonder Woman parked her truck here somewhere." – Rob Stewart
"I told you not to park there!" – Dale Koehler
"Bob's wife was not impressed with the new hydraulic lift system for the camper." – Greg Sellers
"Time for some big boy, real life Tetris!" – David LaVine
"If you can't play nice with the other campers, you have to go into time out." – Cindi Goodrich
"They repossessed the pickup, but the forklift is paid for. What site am I in?" – Tom Julkowski
"Gotta move this last year model, I wonder if anyone will notice if I just drop this in the next truck that comes in?" – John Macias
"This will teach the kids to sleep in!" – Jim McIrvin
"Leave your camper in the boss's parking space again?  Hah!  I'll show you!" – John Wells
"And this is your view sitting atop your lifted truck." – Nela Skul
"We used to tip our tent to sweep it out.  Old habits die hard…" – Steve Kernik
"NASA Control to all staff, prepare for launch." – Ron Berry
"That's not what I meant when I said it was a pop-up!" – Bill Rosso
"Now if I can just raise it up slightly, give it a little tilt, and shake it just a bit, I'll get the last remaining drops of water out of the tanks, and we'll call it winterized!" – Roger Odahl
"We don't need no stinking truck!" – Wade Johnson
"This ought to keep those pesky Northwood employees from sitting on the roof." – Gregory Himes
"Wait, wait my loan payment check is in the mail!" – Ralph Goff (aka Ramblin' Ralph)
"Nice catch by center fielder Bill Penney." – Glenn Blount
"Wow!  I cannot believe those newbies just drove off without the new camper.  I am sure they will be back soon enough." – Doug Colfer
"I don't care that my truck is being fixed.  I'm going camping in my Arctic Fox." – William Chase
"Alaska or bust!" – Vince Vogt
"Doosan-docking" – Robert Schene
"Jacks? I don't need no steenking jacks!" – Gary Freedman
"Hey you guys, did you forget this?" – Ed Graf
"What happens when you miss a second payment!" – Mick McDevitt
"And this little piggy went to market…" – Linda Norman
"Day 16: I am still living amongst the herd.  The camper is aiding in my illusion that I am truck and not in fact a forklift." – Ashley Canavan
"That's not how this works, that's not how any of this works." – Jim Meehan
"The quick Arctic Fox jumps over the lazy Doosan!" – Jack Masters
"Doosan announces new LPG powered off-road alternative to using a truck to carry your truck camper.  This new versatile package allows you to navigate to places that a normal truck camper rig can not.  Additionally, since your truck camper and your forklift run on the same fuel you can save the hassle of stopping at the gas station.  Doosan's torque and versatility is unparalleled.  On top of that, you have the ability to level your truck camper without resorting to the archaic method of using a wireless remote jack controller.  From the driver's seat you can level your truck camper before it even touches the ground.  While highway speeds may be slower than you are accustomed to, the open-air feel of transporting your truck camper will reach a new level of freedom.  Finally, tie-downs are now a thing of the past with your new Doosan Truck Camper rig.  Call Truck Camper Warehouse now to schedule a test drive." – Mark Joslin
And the funny keeps going…
"Arctic Fox… rising to new heights!" – Tom Emerick
"The ultimate high-lift kit, but that first step…" – Terry Smith
"Would you, could you, with a Fox?" – Kevin H.
"The new sky box camper!" – Bill Bergstrom
"Is there an extension ladder in the options list?" – Mark McVicker
"Well, you said you wanted to be upwardly mobile." – Sue and Don Graf
"Looking for that perfect place to camp?  Try the new Arctic truck campers and take yours anywhere.  Now with free valet parking!" – David Wilson
"Arctic Fox: Always providing unexpected and delightful travel experiences.
Arctic Fox: Always reaching for new heights in travel experiences.
Arctic Fox: Rising above the competition." – Jim Carpenter
"I have a few: 1. HIJACKED!  2. When traveling, be wary of forklifts!  3. What all truck camping folks need. Never have an issue loading or unloading again!" – Angie Brown
"Anywhere!  You want it there – I can do that!" – Connie Koehler
"Santa's special TC elves, loading gifts for the good campers!" – Karen House
"Easy unloading, but slow travel time." – Herb Kolbe
"The Flying Fox." – James Cleereman
"The cloud for truck campers." – Steven Sternberg
"Just love my new FoxLift!" – Mary Strasser
"Hold my beer, and watch this." – Tom Elliott
"Another 'lifted' beauty!" – Manfred Klement
"Hey Foxie, hop over here." – Frank Niehus
"The latest innovation in the truck camper industry!  No truck?  No problem." – Janet Joki
"I finally found the Arctic Fox of my dreams, and they even loaned me the forklift to get it home!  I just hope this will finally convince my wife we need a truck…" – Michael Hendersond
"Stick a fork ON it… It's built!" – Mike Kolinski
"Faster than a flying Fox!" – Jerry Pettes
"Up, up and awayyyyyyy." – Chuck Currie
"My plan is finally coming together…" – Mark Hendircks
"Where do you want this Mrs. Howell?  Over there, Gilligan." – W. Banes
"1. Don't those Boondockers know they need a truck for this?
2. Sorry Fox, but we'll have to place you here on timeout until you can play nice with the other campers.
3. Arctic Fox Ultralight; where the truck is optional.
4. Time for the off-road drop test…
5. This new 'order online, and drive thru' shopping should revolutionize the industry!" – John Macias
"On the road again…" – Pam Kaleva
"East meets West, two cultures working as one – oriental forklift, and domestic camper." – Daryl Davis
"Arctic Fox introduces the 'High Rise' truck camper, new for 2017." – Steve Gomez
"Back the truck under Gomer!" – Denver Woods
"Lighter than air, the helium filled camper." – Ron Richardson
"The Arctic Foxtrot!" – Patricia Woods
"He ain't heavy, he's my camper." – Patrick Morrison
"Arctic Fox – onward and upward." – Miro Minka
"So… now for the crash test we do!" – Mark Urscheler
"And we're moving on uuuuuup; to theee top; to a deeeeeluxe apartment, in the skyyyyyyy!" – Brett Shuman
"Elevated living." – Don Grint
"Dear, I still think it would be easier to move the truck and camper together to our camp site." – William Hrubetz
"Step up to Arctic Fox." – Richard Zilke
"Gives new meaning to the phrase, 'cash and carry.'" – Gail Coleman
"Arctic Fox recently released their newest truck camper built specifically for Monster Trucks." – Kevin Harris
"Houston, we have a problem." – Robert Cabral
"Slip sliding away." – Barbara Cabral
"1. For those who have TC's on lifted trucks, Doosan introduces the EZ-Lift camper mounting system."
"2. Moments later, Frank the forklift driver regretted not moving that small pebble fin front of the tires as he was moving this camper forward." – Frank Kaye
"In south Texas we call this a 'deer blind'." – Charles Patton
"Now, where did I park the truck!?" – Sandy Lancaster
"And you thought truck camping was just for trucks!" – Bryan Carrick
"I could of swore that my stealth truck was here." – Beverly Chmelik
"Closer to heaven in my Arctic Fox." – Jim Dailey
"1. At 5,322.6 pounds, the DOOSAN may be the preferred tow vehicle!  2.  At 5,322.6 pounds, the Arctic Fox 992 feels lighter than air." – Stephen Beal
"We're gonna have the 'primo' camping spot!" – Lori Hall
"Russell Doosan was a man who marched to the beat of a different drummer." – Randy Brewer
"H-ho Silver, away." – Stuart Lansberg
"49 Rogers Ave." – Brian Bach
"Up, up and away!" – Charlie Coushaine
"Who let the doos out!" – Roger Sharpe
"Off-roading with Bill." – Chip Fraser
"You're doin' fine!  Just keep going like you are, and then over there to left where my truck is parked." – Norm Cushard
"The all-new Arctic Air!  It rides like a dream!" – Doug Lamb
"I know I should let this down lower and drive in reverse, but I have a stiff neck today." – Fred Stanley
"Getting high in New Hampshire!" – Peter Wood
"Who says you need a truck to go camping?" – Audrey Ruccio
"Some 'kids' have all the fun." – Thomas Slack
"First step is a doozie." – Shelley Pike
"Loading on a lifted monster truck… no problem!" – Linda Rearick
"Found it… This one must have gotten away!" – Brian Bach
"Retired and on the move!" – Laura Grondin
"Whoo-hoo, we're going truck camping – truck or not!" – Roger Surman
"Have Fox, will travel." – Pete Ward
"A flying fox!" – Philip Tron
"New 2017 Arctic Fox Fork Lift Camper." – Mark Mudgett
"It may not be fast, but it has great elevation." – Gary Peters
"Leave me alone.  I am late for our safety meeting." – David Fern
"Off-roading innovation." – John Bull
"I got it Ma!" – Maggie Karam
"Need a lift?  Tally ho!" – Kris Thomas
"The freeway speeds aren't great, but the view is magnificent." – Edward Gerhard
"Arctic Fox to be installed on Bigfoot 5, the world's tallest monster truck!" – Bob Meigs
"Set that in the back of Old Man Randall's truck and get him the heck out of here." – George Randall
"Waiting for enough money to come in for my truck." – Larry T. Bowman
"Moving camper for exterior photo shoot of next FOX TALKX ." – Gary Seckel
"Get 'Er Done!" – Joanne Cleereman
"Pie in the sky!" – Barbara Sutton
"Up. Up.  And away." – Kevin Hasch
"The center of gravity is right about here." – Allen Jedlicki
"A true Fox Landing." – Mike Pohl
"Does Torklift make a Stow 'N Go that high?" – Keith Lord
"Maybe a real truck would be better!" – Lonnie Cross
"Up, up and away!" – Lloyd Thomure
"In hindsight, I probably should have bought a pickup like those people over there.  At least I am well under my GVWR!" says the Forklift Driver and brand new Arctic Fox owner." – Pat Walsh
"I told you NOT to park there." – Joe Cardinal
"See, it's so much lighter now." – Tim May
"The great escape.  I almost made it." – Kim McColl
"It's a bird, it's a plane, no, it's a… fox?" – Peggy Sego
"Who needs a truck?  I'm a forklift trailer!" – Len Ver Vers
"1. They said it was a pick up camper!  2. I have heard of slide-in campers and flatbed campers, but a fork camper?" – Matt Reinker
"Think they will miss it?" – Les Hatley
"Listed as an option in the Arctic Fox Truck Camper brochure: Forklift option with instruction manual – propane not included (loading and off loading from your rig). ** Recommendation for those who have BAD (Backing Anxiety Disorder) or BDD (Backing Deficiency Disorder)." – C. Ehrhardt
"Trucks!  I don't need no stinkin trucks to move truck campers!" – Carl Goode
"Truck optional." – Melody Benn
"Up, up, and away!" – Amy Westbeld
"1. Meanwhile at the GlowStep secret test facility…  2. You want a second floor condo?  We've got that.  3. Which way did that wascally wabbit go with my twuck?" – Bill Sprague
"Whoa there fella, no need to be so high!" – Dave Ruane
"Hold my beer and watch this!" – Caleb Sampson
"I TOLD you to stay with your siblings and not wander off!" – Steve Williams
"Don't have a truck, but I'm going camping!" – Randall Rice
"I sure hope my new truck is delivered next week. I keep getting all these funny LOOKS when I park my camper." – Bob Long
"Arctic Fox presents its penthouse version of their most popular truck camper (forklift not included)." – Jim Meehan
"Caber toss? I thought you said Camper toss."  (The caber toss is a traditional Scottish athletic event in which competitors toss a large tapered pole called a "caber")." – Bruce Scott
"It's January and I really need a pick me up." – Paul Kellagher
"Now to find a sturdy oak for the ultimate deer stand…" – Bill McCracken
"Jacks, jacks, we don't need no stinking jacks." – Winston Gotte
"Now where did I park my truck?" – Steve Venneman
"Just another road trip, watch out for potholes!" – Janine Gordon
"Hey, where is your truck?" – Eric Williams
"Up, up and away!" – Bob Presto
"Did you say penthouse?" – Barbara Youngs
"Looks Mom, I gots me a deer stand." – Russal Golding
"Turn this thing around.  I told you I wanted to go to Florida for the winter!" – Elaine Odahl
"Up, up and away!" – Bill Billyard
"No. No. No. I was looking for a truck damnit!" – Audra Abbott
"That's a odd looking pickup truck.  When they say pickup truck and truck camper they mean PICKUP TRUCK CAMPER!" – Richard Jagiello
"Next year we will be introducing 'slide-out' wings!" – Jerry Bonneau
"We're going to need taller stairs!" – Grant Davidson
"I told you site 15, not site 50!  Oh, I'll just move it for you!" – Connie Murnin
"Need a lift? Go camping!" – Kathleen Morrissey
"Hold my beer, watch this!" – Jeannie Coushaine
"My kids keep asking for a tree house.  I'll show them how fast I can make them a tree house." – Troy O'Rourke
"Australian for 'Overhead Camper'." – Randall Howse
"Pull through? I don't need no stinking pull through." – Steve Singhose
"Tell the owner of Big Foot Monster Truck the camper is ready." – Larry Kelly
"Forklifted!" – Charles Reichenbach
"Look Mom! No hands!" – Chuck Wilson
"When Mommy said, 'Go out and play in the traffic', she meant – on the truck!" – Tom Miner
"Top shelf camper." – Dennis Maulding
"1. Get closer to truck camping heaven with Arctic Fox.  2. Which view do you want for breakfast, honey?" – Jamie Rea
"The Penthouse of Truck Campers." – Lawrence White
"1. W13275 Green Acres Road.  2. No, Bill, wait!  The truck's over there!" – Charla Schapfel
"It's a bird! It's a plane! It's a truck camper!?" – Anne Marie Lewis
"Installing a Fox on Wonder Woman's jet." – Brad Spencer
"Hmm…. Did I tie this thing down?" – Mike Baird
"Well love… you said you wanted to live in a high-rise condo." – Kevin Griffin
"Tilt'n Hilton." – King Titera
"HELP, Get me out of here!" – Charlie Young
"Get off of my lawn! Dang truck campers!" – Geoffrey Johnson
"1. Crazy like a fox!  2. This is fox 992 to ground control! 3. Calling Truck camper warehouse. We have a problem! 4.  Penney wise -forklift crazy!  5. Come fly with 992 Arctic fox!" – Cliff Devine
"There is no limit to what you can do with a new toy." – Arthur Armstrong
"1.Camping when your truck gets repossessed.  2.Who needs a truck?
3. I guess they're serious about the no camping sign." – Jackie Macpherson
"I can't believe the truck camper caravan didn't wait for me…" – Steve Kernik
"Stick a forklift in that Arctic Fox, it's done." – Blake Hooper
"That perfect campsite is somewhere around here! (GO FIND YOURS)" – John Tseka