To celebrate the US National Park 100th anniversary, and the 150th anniversary of Canada's Confederation, Truck Camper Magazine did something a little different.
We asked our readers, "If you had to live in one National Park for the rest of your life, what National Park would you live in?"
Readers had just three days to choose which United States or Canadian national park they would spend the rest of their lives.  One national park, till death do they part.
Naturally, they would be able to take their truck and camper, and have full privileges within the national park, but under no circumstances would they be allowed to leave.  All needed food, clothing, and supplies would be available, and visitation is not restricted.  Not a bad way to live out your golden years, right?
Of the 19 named national parks, Yellowstone National Park was the number one choice with 22.5-percent of folks choosing to live among the geysers, bubbling mud, and buffalo!  Glacier National Park and Yosemite National Park both got 8.5-percent, and Grand Teton, Zion, Smoky Mountain, and Acadia each got 5.7-percent.  The rest received 2.8-percent each.
By the way, for Truck Camper Magazine readers that did not select a National Park, one has been selected for you based on your last name, date of birth, and wherever the dart landed.  Your escort arrives in a few weeks, so please pack your truck campers now.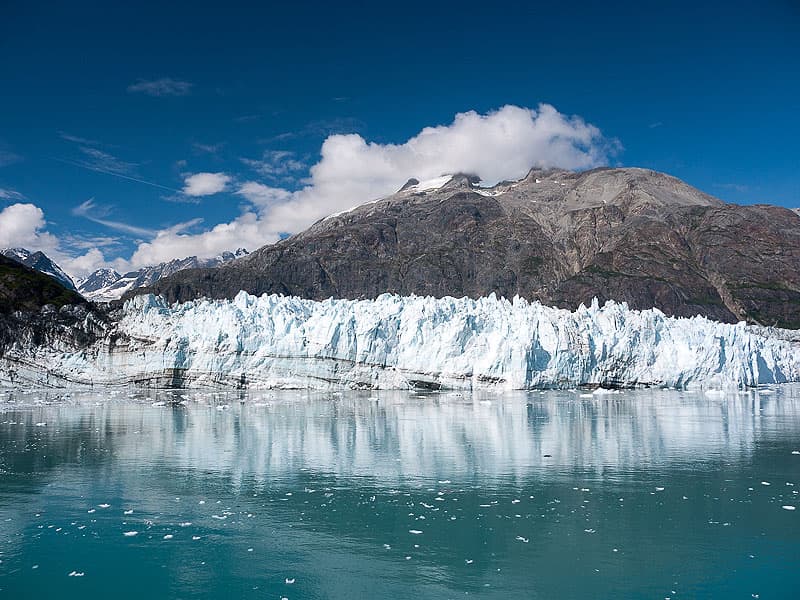 "Hands down, it's Glacier Bay National Park in Alaska!  I lived in Alaska for three years and it continues to pull at my heart and soul.  I have been there several times and would love to experience the raw and rugged beauty of the park year-round and re-trace John Muir's footsteps exploring the glaciers, moraines, and shorelines of the park." – Dan Kehlenbach, 2013 Toyota Tacoma, Hope to get a camper soon
"Yellowstone simply because I would have all the quiet of the wilderness for backpacking getaways and yet all of the conveniences of the commercial enterprises within the park." – John Addu, 2015 Ram 2500, 2016 Lance 650
"I would choose Rocky Mountain National Park because of the weather, proximity to other parks and recreation; skiing, boating, fishing, biking, snowmobiling, hiking, cities/towns and more.  Also the park itself is beautiful!" – Kevin Maynard, 2014 GMC 3500HD, 2014 Lance 855S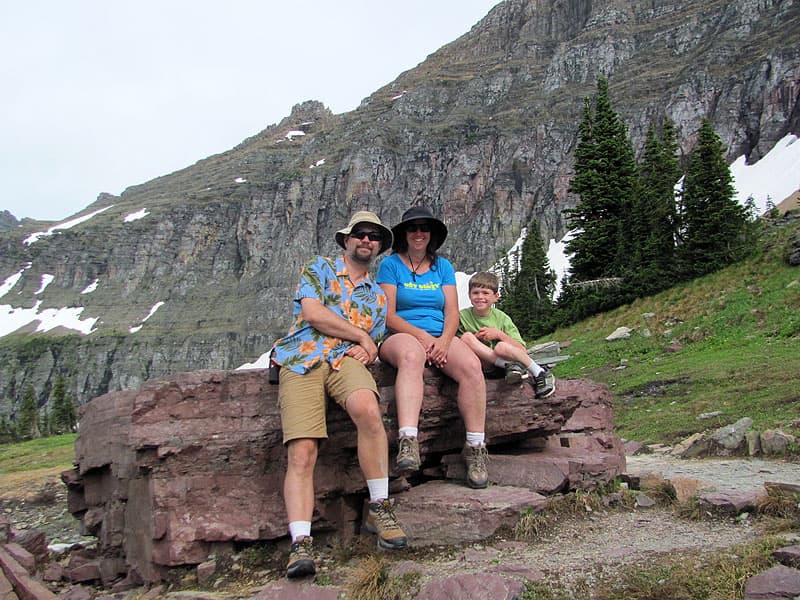 "That is a very easy question for me; Glacier National Park.  In all the visits I have had in the park there are still miles and miles of trails for me to hike.  There is a lifetime of new trails, maybe not if I live to a good old age, but enough.
Of course there are so many trails I have hiked already that I would love to do over and over again.  Glacier is a park designed to get you out of your rig and hike.  While the views by the road are amazing, that is nothing compared to the backcountry.
I do love a couple other national parks too, but Glacier has my heart.  So when does this adventure start?" – Rich Bain, 1999 Chevy c3500, 2010 Adventurer 810
"Without a question it would be Isle Royale National Park, but there's a problem.  The park is an island about 20 miles from the US/Canadian border out in Lake Superior.
I would have to get going with my amphibious camper carrier boat (ACCB).  I couldn't think of a better home than my Bigfoot.  The winters are cold and the ice is thick, but the camper would be warm and cozy.
Isle Royale has held a special place in my heart for over 50 years and is only accessible by water or air.  It is closed all winter, so this is only a dream.  Our boat is very similar to our truck camper as far as the systems.  So, by land or sea, we are ready to go.  Keep it simple." – Dave Miller, 2015 Ford F350, 2003 Bigfoot 10.6E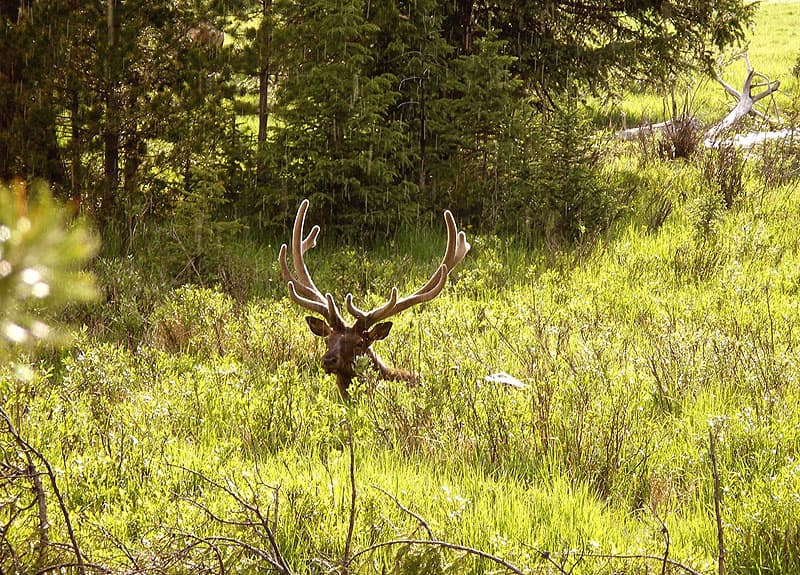 "Yellowstone because there are huge areas to hike, explore, and discover.  It has great fly fishing in multiple rivers, streams, and lakes.  Yellowstone is beautiful in all seasons.  There is lots of wildlife to watch and photograph.  There is nothing like soaking in a natural hot spring and looking at the stars." – Fred Stanley, 2012 Ford F350, 2015 Northern 8'11" Q Classic Sportsman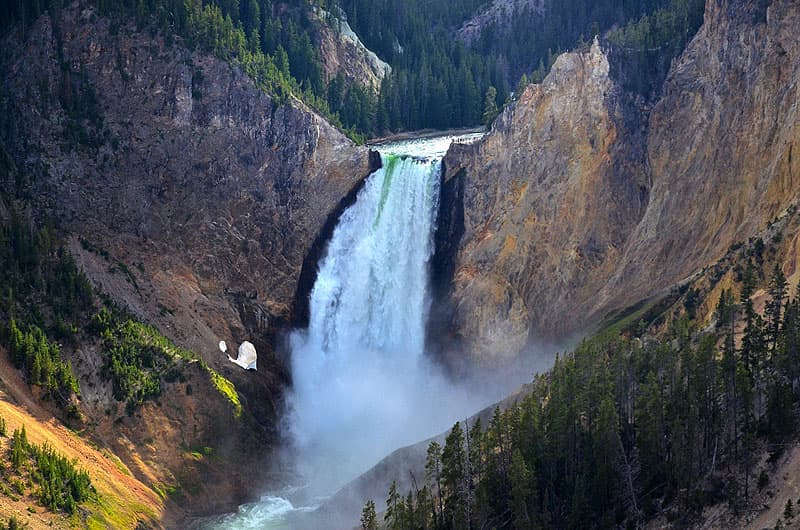 "We thought about this question when we were getting ready to retire.  We decided to cheat.  We love Grand Teton National Park and Yellowstone.  Since they are connected, that's our choice.  Yellowstone is more developed and more varied.  But, Grand Teton is majestic and less hectic.  We moved within 50 miles of them and share them and the fantastic wildlife with our friends." – Mark Harrison, 2005 Dodge 2500, 2017 Northern Lite 10.2 EX CD
"I would choose Pacific Rim National Park, British Columbia, Canada.  There is mild weather year round, and the residents of Tofino and Ucluelet would be happy to deliver me needed items." – Joan Humphrey, 2015 GMC Sierra 2500HD, 2013 Adventurer 80GS
"Zion National Park in Utah.  It's nice all year around.  They have good campgrounds that have primitive and full hookup camping.  The city is pretty close so it would not be too far for the hearse to travel when I check out." – Jeff Hauser, 1996 Dodge 2500, 2006 Arctic Fox 860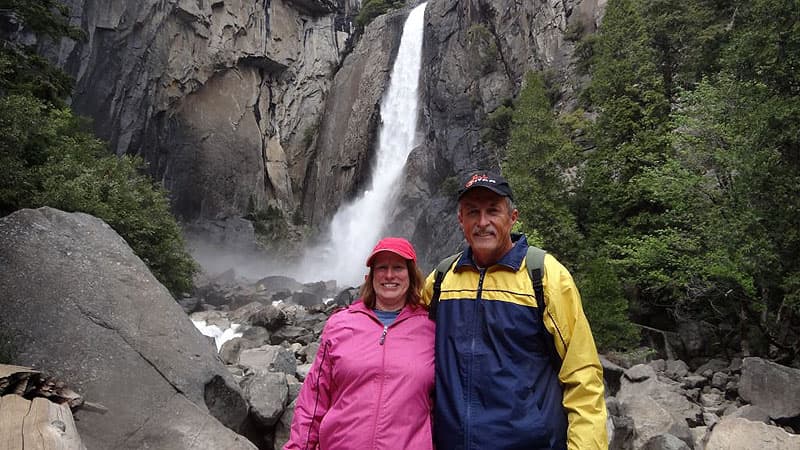 "We would pick Yosemite National Park in California as the park for us to live out our twilight years!  I call this park a 'Waterfall Wonderland'.  Its overabundance of beautiful waterfalls, unique and diverse hiking trails, and spectacular mountain scenery make it a perfect place to live.  You can hike up to streams, along streams, and right thru streams all leading to beautiful waterfalls.  Prepare to get wet and have fun!" – Charles and Jeannie Coushaine, 2001 Ford F350, 2012 Chalet DS116RB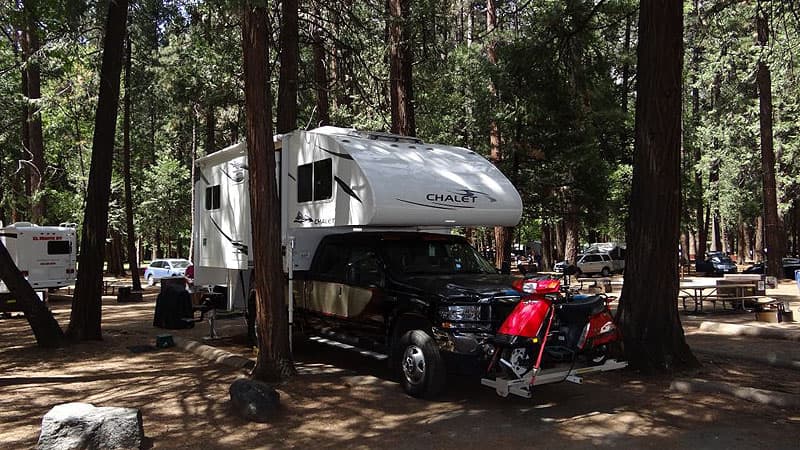 "Yellowstone." – Tom Andersen, 2006 Ram 3500, 2003 Lance 1121
"Smokey Mountain National Park." – Mike Chiles, 2015 Ram 3500, 2013 Lance 1050S
"Yellowstone!  I was lucky in my youth to work there for the Yellowstone Park Complete, and later as a Park Ranger.  It has the biggest variety of terrain, environment, animals, and activities.  Historically it was the first – and to me – always the best." – Ken Cramer, 2013 Ram 3500, 2016 Northern Lite 10.2
"Denali!" – Rick Guffey, 2012 Ram 2500, 2013 Hallmark Everest
"For us it would be a no-brainer.  It's Yosemite National Park without a moment's hesitation.  We both enjoy photography and the photo opportunities there are endless and change by the season.  Plus, it is located within easy driving distance of other parts of the Sierra, including the Eastern Sierra, Mammoth Lakes, Kings Canyon, Sequoia, etc.  Yellowstone would be our second choice.  Ideally, it would be about 40 years ago, before the world beat a path to their gates." – Joe Sesto, 2015 Silverado 3500, Bigfoot 2500 10.6e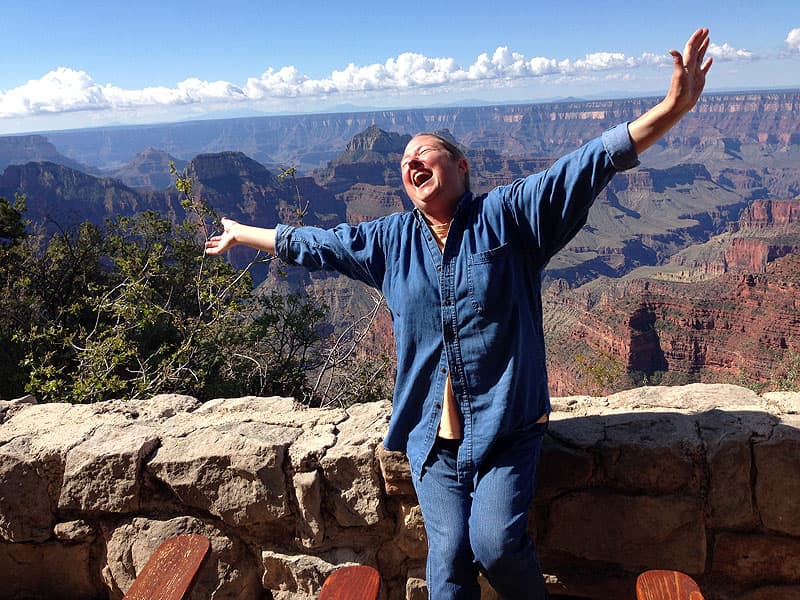 "The North Rim of the Grand Canyon is my favorite place on earth.  The scenery is wonderful and the colors of the canyon are surreal.  It is remote and not filled with too many tourists.  The hiking options are great.  The canyon just sits there all the time being beautiful.  I cried the first time I saw the North Rim of the Grand Canyon." – Diane Grefer, 2008 Dodge Ram, 2013 Four Wheel Hawk
"Acadia." – George Elliott, 2007 Ford F250, 2007 Lance 845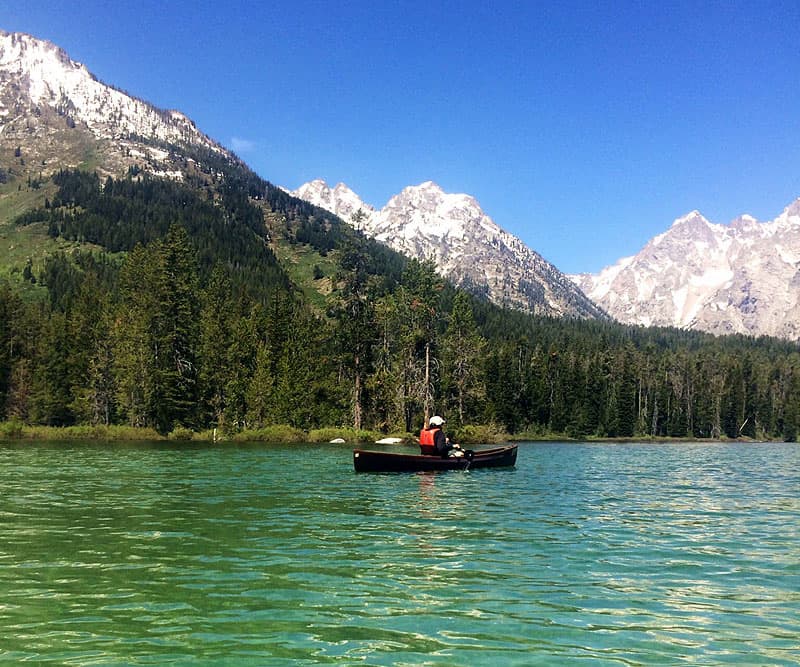 "I choose Grand Teton National Park.  My first choice was Arcadia National Park, but they don't have full hookups in the park.  Grand Teton National Park has Coulter Bay with full hookups and cell service." – George Visconti, 2015 GMC Sierra 3500HD, 2016 Arctic Fox 990
"This was both a hard question and an easy one.  There are so many great options that it is hard to choose just one.
On the other hand, Yellowstone National Park would get my vote hands down.  We have been there several times and each time we discover something that we never knew about the area.
I would love to spend the remainder of my days discovering all the beauty that is in Yellowstone National Park!" – Eddie Fort, 2006 Ford F350, 2016 Hallmark Everest
"Yellowstone National Park.  Why?  There are a great variety of areas to explore, it's open all year, and wildlife photography is everywhere.  There are full hookups at Fishing Bridge, an extensive road system, trails, and great fishing." – Candy Krewer, 1995 Dodge, 2005 Lance 1181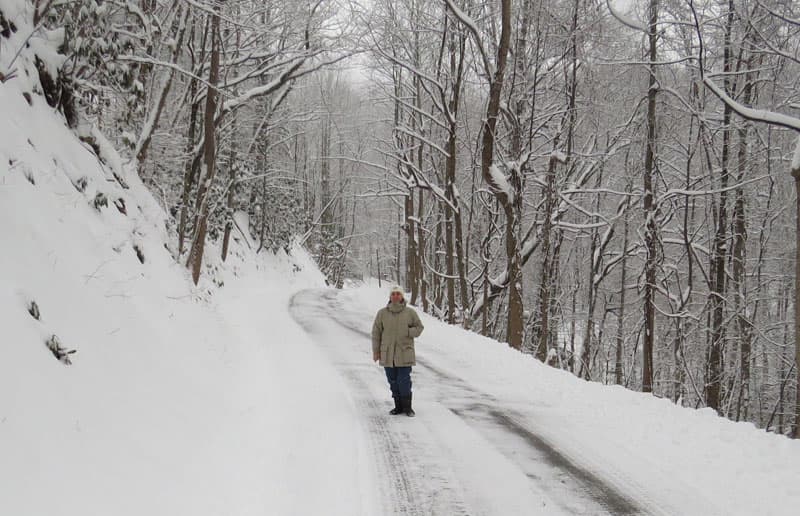 "We have been blessed to have been able to travel to many of the National Parks within the USA and to many parks in Canada.  All have been stunning.  However, hands down the national park we could stay in forever is Great Smoky Mountains National Park.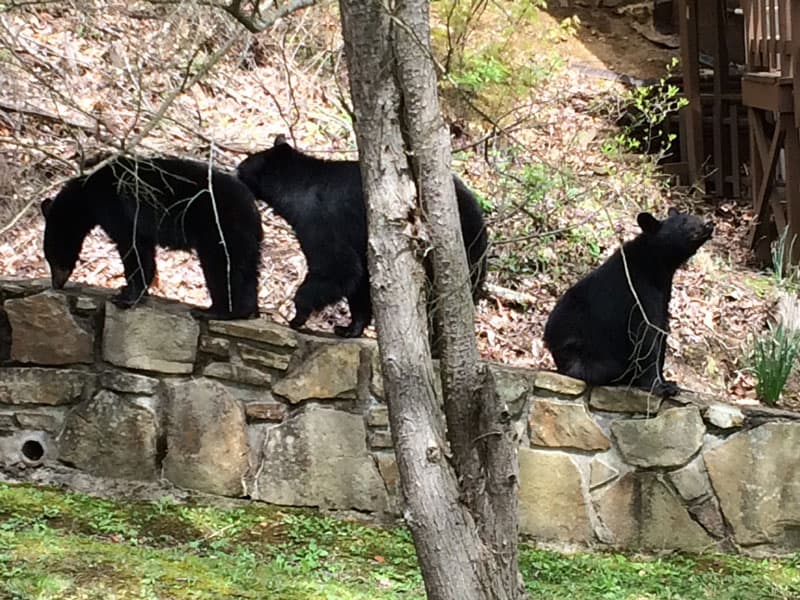 If you have never been you owe it to yourselves to visit at least once.  It is a magical place.  Hiking, biking, fishing, rafting, off-road adventures and horseback riding are just a few of the activities.  I think I have just talked myself into a trip." – Pat Bullock, 2016 Ford F350, 2001 Lance 1030
"Capital Reef National Park because of the beauty and seclusion.  The weather is nice most of the year." – George Pratt, 2002 Chevy Silverado 2500HD, 2014 Lance 825
"My forever park choice would be Acadia National Park in Maine.  Although winters can be harsh, the four seasons are ever changing.  It feeds anticipation for the next season to arrive.  I just can't get enough of the ocean air, beautiful island views, wildlife, wonderfully preserved carriage roads, and trails built many years ago.  Acadia is in a constant state of natural change." – Michael Henderson, 2000, Dodge Ram 2500, 2004 Alaskan 10 foot Cabover
"I would choose Nahanni National Park Reserve in Northwest Territories, Canada.  I spent a summer and winter working in Banff National Park, Alberta back in 1972 and became enamored with the Canadian Rockies.  Banff has become too populated since then, so I say, "Go north, young woman".
Nahanni is over 11 thousand square miles in area and that gives me plenty of room to roam.  It has everything.  180 bird species have been identified, along with 42 species of mammals from moose and caribou, to minks and fox, and, of course, bears.  With tundra, mountains, plains, and water in the form of waterfalls and rivers, the vegetation of trees and plants is wildly diverse.  Some species are only known to the region.
I'll just have to make some winter modifications, such as the ubiquitous heater on the manifold with the electric cord sticking out of the grill." – Marcia Liedigk, 2000 GMC K3500 Sierra, 1998 Fleetwood Elkhart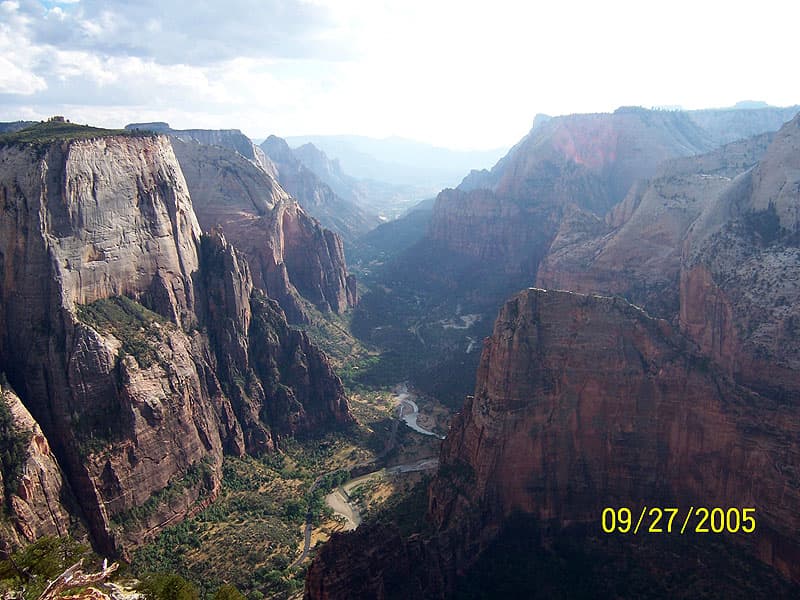 "I think I would choose Zion National Park.  It has such wonderful features, hiking, and such a great feel about it.  Plus it's fairly warm in the winter and, up on top, not so hot in the summer.  It's a beautiful place." – Rick Stolz, 1997 Ford SD, 2002 Four Wheel Camper Grandby
"My choice is Grand Tetons National Park.  The views there are just what I would love to live by forever!" – Michael Leveskas, no truck yet, no camper yet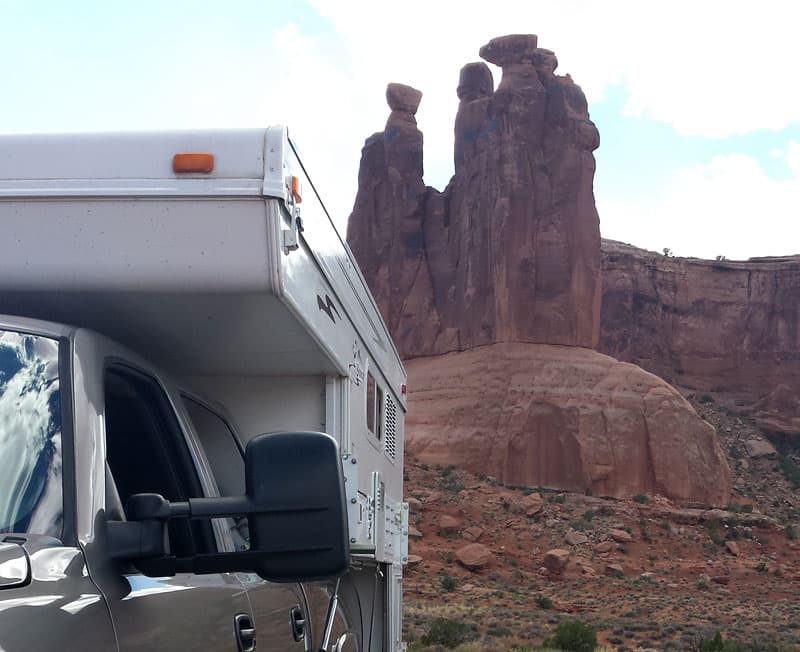 "Yellowstone National Park for its size, features, and amenities.  Although Arches National Park is my favorite, it is too small to live in the rest of my life." – Bill Haynes, 2006 GMC 2500HD, 2005 Palomino Bronco 1250
"Great Basin National Park.  Making this decision was a process of elimination from the 50 national parks listed in Wikipedia.  Forget Hawaii because I can't stand island living.  So the same goes for the Channel Islands and Dry Tortugas.  Also, forget Alaska and many parks in the United States with intolerable winters; Yellowstone, Rocky Mountain, Grand Canyon North Rim, etc.
No one-trick ponies either; Carlsbad Caverns, Mesa Verde, Joshua Tree, Petrified Forest, for example.  Finally, I would prefer not to face hoards of visitors.
There are still a few choices, but Great Basin National Park is a good result.  Two campgrounds, one lower elevation at the Lehman Cave level and one at high elevation where the Bristlecone Pines are.  Summer and winter covered, and very few visitors comparably.
It has the second highest peak in Nevada with hiking trails all over and an opportunity to volunteer as a tour guide in the cave.  It also has a friendly staff.  To my knowledge, it currently lacks cell service, but I think that will eventually be remedied." – Rick Johnson, 2004 Ford F350, 2007 Lance 1181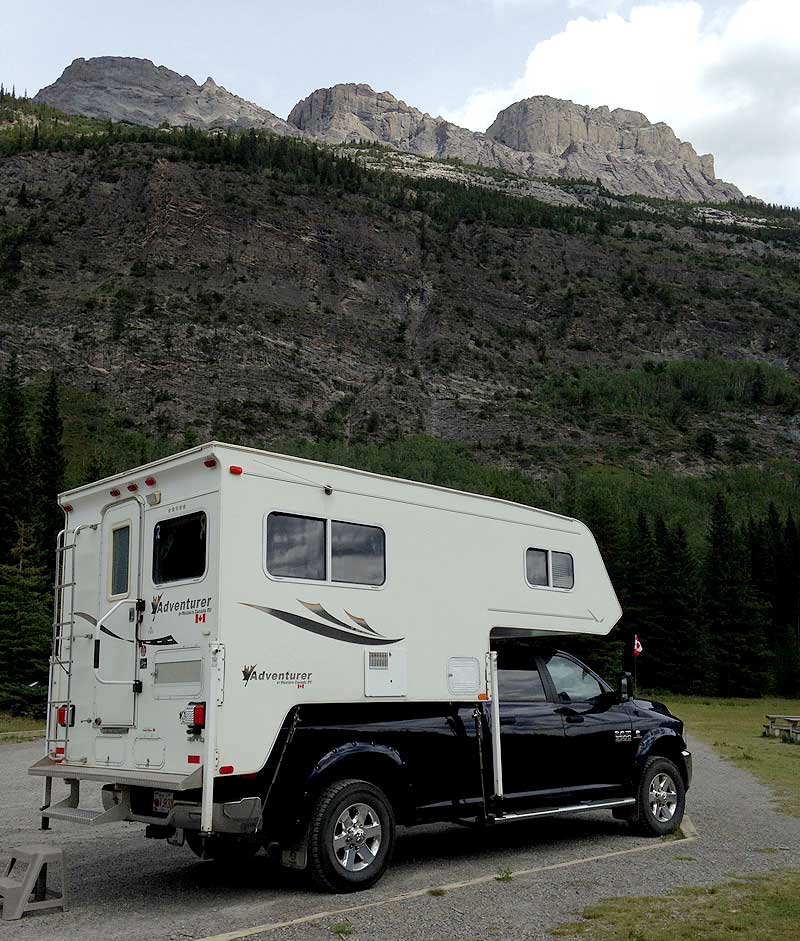 "There is no contest.  Having lived in Banff National Park for six years earlier in my life, I would choose it Banff as my final resting place.  Given that it is Canada's first and premier National Park, many others will choose it as well (busy place it will be).
I will take along my boating, fishing, hiking, horseback riding, and skiing (backcountry, cross country and alpine) gear.  I will also need a trailer to haul everything up there.
There are plenty of campgrounds to choose from, but given the four seasons I will choose the Tunnel Mountain Campground in order to have full hookups for the winter months and perhaps move out to one of the more remote sites for some summer solace." – Steven Gasser, 2013 Ram 3500, 2004 Adventurer 90FWS
"Glacier National Park because of the natural raw beauty with lakes, rivers, streams, glaciers, and abundant wildlife.  It probably looked the same 100 years ago." – Gerald Kato, 2012 GMC 2500HD, 2017 Cirrus 820
"Glacier National Park.  It is the most beautiful spot in the Lower 48.  The mountains, the waterfalls, the lakes, and the bears!" – David Clardy, 1997 Chevy 2500HD, 2010 Northstar Igloo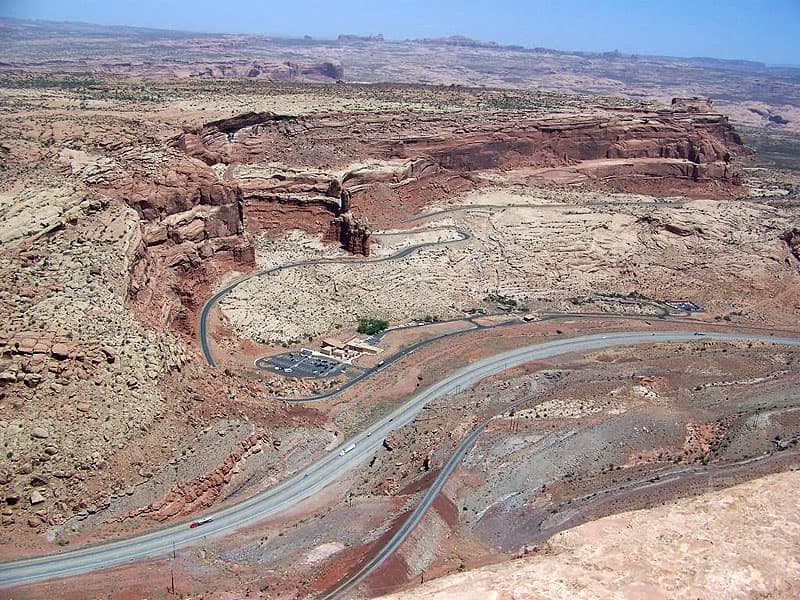 "Arches National Park.  From the brutal heat of summer to the bitter cold of winter, the landscape tells the story of time.  Whether you hike, bike, or off-road RV, there are always things to do and places to go." – Roger Scott, 2012 Silverado 2500HD, 2006 Lance 9SC
"What a weird but intriguing question.  Even if I'd been to all of them, it'd be a difficult choice.  Crater Lake National Park is nice.  Who'd argue with any of the Utah quintet or Yellowstone's beautiful diversity and historical significance?  But I'm a California boy and I'm going to have to say John Muir's jewel, Yosemite National Park.
Valley floor, open meadows, and Alpine escarpment provide scenic variety and four-season weather extremes.  Ample paths and walkways make for exploratory treks.  Granite monoliths call out for climbing.  But I'm going to modify Gordon's premise.
Truck campers and truck camping are not about full-timing or staying in one place for a long time.  They are about being mobile and partaking of diverse activity.  As a wise man once said, "Go Anywhere. Camp Anywhere. Tow Anything" (probably coined by Angela).
So, having towed my motorcycle or sidecar (heck it's make believe, so why not both) with me, I'd take day trips challenging the great Sierra Nevada pass roads nearby.  I'd drop the camper and roll over to San Francisco, or maybe Lake Tahoe when I needed a vacation.  I might even escape the crowds for a night or two at nearby Sequoia and Kings Canyon National parks.
How d'ya like them apples?" – Mark Obert, 1999 Ford F250SD, 1999 Lance 920
"Why live in one National Park for the rest of your life when there are so many to see.  Surely that in itself could easily occupy a lifetime." – Terence Disley, Chevy 1500, 2000 Hallmark Milner
"I live full-time in my camper because I can't live in one place all the time.  I have always either been on the road or plotting my next adventure.  I could probably live the rest of my life going from one national park to the next in an eternal round of new roads." – Maggie Karam, 2011 Dodge Ram 3500, 2002 Lance 1130
"I haven't been to all of the national parks, so it would be hard to pick one.  I have been to Hawaii and so far that would be my choice." – Charlie Young, 2013 Chevy 2500HD, Palomino SS-1200
"Hells Canyon National recreational area and Boise National Forest." – Neil Steirer, 2008 Ford F350, 2015 Lance 1172