We had a blast reading about all the fun things folks do in their truck campers when the sun goes down. What's particularly fun is both the incredible variety of things fellow truck campers do, and the unexpected trends. Evidently there are some seriously competitive games of Scrabble, Yahtzee, and Cribbage throwing down in cabovers across the land. And not everyone goes to bed happy.
The responses are well worth the read to get ideas for your next truck camping trip. No matter where you go, night will fall. Here are about 100 ideas to keep the truck camping party going, long into the night.
This week's Question of the Week was, "What do you enjoy doing in your camper after dark?"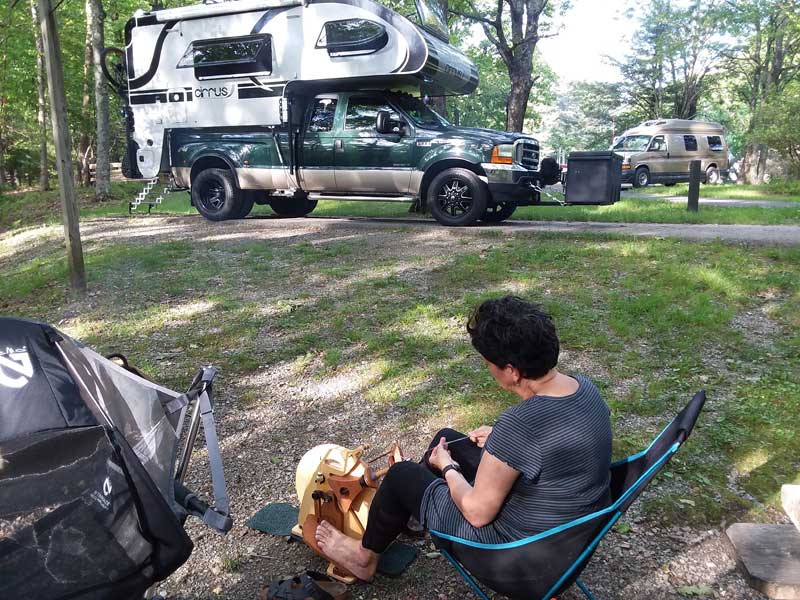 "Most times after dark we are by a campfire till 9:00 or 10:00pm. It is usually quiet and peaceful. The campfire is just memorizing.
When we do call it a night, Andrea knits and reads blogs of campers. I read places to go on our trips. Truck Camper Magazine is a great source for that. The experience of others is a good way to get an adventure preview. On rainy nights we have popcorn and a good movie." – Doug and Andrea Caruolo, 2001 Ford F-350, 2018 Cirrus 920
"We enjoy a wide variety of things from cards, reading, Dominos, Tenzi, and board games like Camping. I usually bring my guitar, but that is normally played around the campfire. We also plan our next day's adventure – even if it is just hanging around the campsite." – Mark Brown, 2004 Ford F350, 2015 Palomino HS-2902
"When it's time to go into the camper at night, it's usually time to go to sleep. So that's what we do… sleep. Once in a while we actually do hang out in the camper in the evening. During those times, we read. My wife will read on her tablet and I will read a paperback. The books I read are about hiking or history or sometimes about both." – Rich Bain, 2004 Dodge 3500, 2010 Adventurer 810WS
"I make music (currently researching small harps), read, play cards and board games, use my iPad, watch movies, make jewelry, and look at interesting opportunities in the area we are traveling." – Stacie Link, 2016 Ram 2500, 2001 Four Wheel Grandby
Above: This video is one of Vince's accordion buddies from Seattle.
"I'm an accomplished accordion (and button box) player. Sometimes I bring an accordion along. I play music from Germany, Austria, Ireland/Scotland, France, Italy, etc. It's like taking a trip to Europe – only cheaper (but not by much).
Accordions are loud, so I usually play when the windows can be mostly closed if we have close neighbors. Most people don't understand this kind of music anymore.
Sometimes I will also use the computer to review and edit pictures I have taken during the day." – Vince Kurpan, 2014 Dodge, Custom Camper
"I read books on the Kindle app. I play games on my tablet and play Yahtzee with my wife. Sometimes I will watch television or play cribbage." – Gordon Townsend, 2015 Silverado 2500, 2018 Cirrus 920
"If we're not sitting around a campfire, we usually take an after dark hike and head back to the camper for a movie. We hardly ever watch a movie at home, but really enjoy making a nest in the cabover to watch a movie. We love our camper!
There has been lots of talk about front nose cabover windows. Our Bigfoot has a thermopane front nose window. After the lights go out, there's nothing like laying in bed and watching the stars overhead. It makes waking up in the middle of the night worth it!" – Dave Miller, 2015 Ford F-350, 2003 Bigfoot 10.6E

"I shoot video all day in support of our YouTube channel. I usually shoot between 8 and 16 GB everyday spread between six cameras. I try to make a video documenting each day. At the end of each day I have to create a folder and download that day's footage in order to properly and accurately store many Gigabytes of data. I then charge all the batteries.
Yoly enters all the expense receipts for the day and keeps her financial accounts updated. Then, she plays video games on her laptop. We have a PS4 with us to watch Bluray movies (from our own large collection). I also play racing video games religiously.