This week's reader poll and Question of the Week on professionally matched truck and camper rigs triggered an enormous and highly passionate response from truck camper enthusiasts coast-to-coast.
It's not every day that a Truck Camper Magazine poll gets 491 participants in 4 days, and a very clear result.  The sheer number of readers who participated shows how important the topic of accurate and responsible truck and camper matching advice truly is – professionally matched, or otherwise.
If the poll results don't sway the industry leaders, the 78 following written responses should.  Truck and camper matching is an issue where the truck camper industry needs to do better.  A lot better.
Whatever the industry does, we are going to study the feedback and look for opportunities to meet the need for improved and more specific truck and camper matching advice.
In the meantime, anyone who needs the straight facts on how to properly match a truck and camper, please read, "How To Match A Truck and Camper".
Here is the poll result: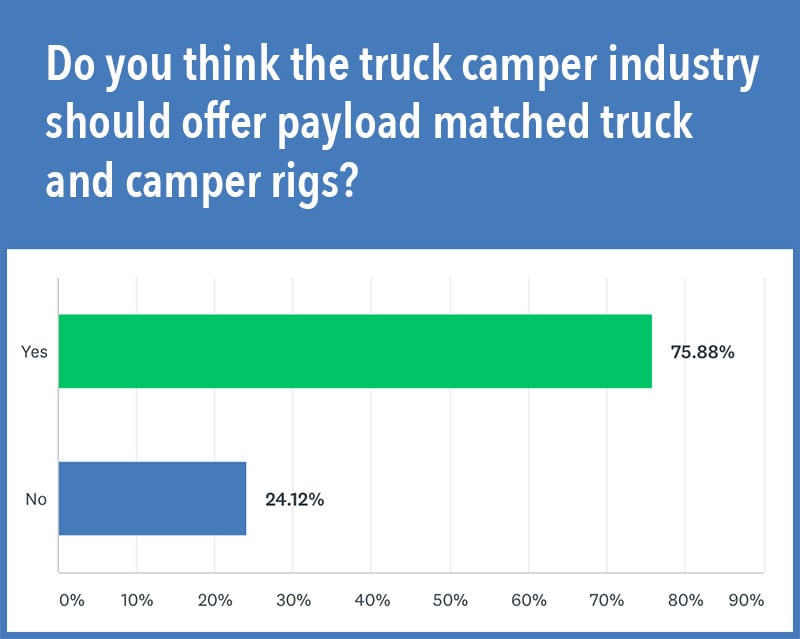 This week's Question of the Week was, "Do you think the truck camper industry should offer payload matched truck and camper rigs on dealer lots?"
"I'm the newbie you are describing. We don't even own a truck. As you've mentioned in your Newbie Corner, starting from zero can be an asset. We're really sold on a truck and camper, but it's two big changes.
How much better it would be to walk around and drive around in a fully set up rig? If such a showroom existed, we'd be planning our road trip today." – Nathan Evans, No Truck Yet, No Camper Yet
"The market for a professionally matched and fully equipped rig may be small as a large percentage of folks already own one or the other.
The pros are that buyers would be purchasing a safe rig within all weight ratings, at least as it left the dealership. In theory, dealers could certify the weights and match and the buyers would sign acknowledging that information.
The cons include a cost that might put matched rigs beyond the price point of many. And dealers may not want to take on the added liability." – Peter Paulson, 2018 GMC, 2011 Bigfoot 25C94
"Professionally matched rigs sound like a good idea, but I can't see it happening. There are too many options available to make enough people happy. As a result, I don't believe many matched rigs would move." – Louanne Burgess
"I absolutely think professionally matched rigs should be an option. I had a 2016 Ford F250 and then bought a Northern Lite. The dealer told us everything would be fine and the truck would handle it.
Well, the truck would handle it but, unfortunately, the payload on the truck was 2,496 pounds and the camper wet is about 3,700 pounds. Yes, the truck could handle it, but was I safe going down the road?
Being in the transportation industry, I knew the answer. While the truck could handle it, I could see the attorneys coming out of the woodwork if we got into an accident.
So we made a decision to upgrade the truck a 2017 Ford F350 with a payload of 4,226 pounds. It cost me about $7,000 dollars to make the move, but it was the right one." – Scott Gallinger, 2017 Ford F350, 2017 Northern Lite 8.11 QCSE
"While we've been sold on truck camping for several years, we don't yet own a truck or camper. Having owned a Class B van conversion, we know we can live small and have no desire to own a big RV.
We rented a truck camper from Cruise America for a two week vacation and learned a lot about our needs and desires for our future rig. Our primary camping goal is to visit state and national parks across the country throughout our soon-to-be retired years.
Having spent countless hours reading numerous camper reviews and helpful articles posted on Truck Camper Magazine, we've reached a decision on the truck camper model we desire. The next task is finding the right truck.
If trucks and truck campers were matched and available on RV lots, our research and decision making could be considerably easier." – David Gibbs, No Truck Yet, No Camper Yet
"From a marketing point of view, it makes sense to offer a truck and camper solution to customers who have the cash.
Our set up brand new would be about $100,000 brand new. By finding a used truck with 26,000 miles, rebuilding the suspension, tie downs, brakes, wheels and tires, and getting a brand new but previous model year Bigfoot, we were able to get in for approximately $70,000. For us, the math is easy and I liked the challenge." – Tom Scholtens, 2010 Chevy 2500 HD, 2013 Bigfoot 25c10.4
"Maybe it should be more of a list of exactly what truck would go with a specific camper. There are so many variables with each that it might be too expensive for an individual dealer to have an inventory of trucks and campers matched on the lot.
A truck and camper might be something you could order from the dealer. Most people don't buy a truck and camper package. As a result, they sometimes get into trouble. Too many RV dealers aren't knowledgeable as to what the truck needs to have for a given camper." – Kim Brinn, 1997 Ford F-350, 2009 Lance 981
"Professionally matched truck and camper rigs would be good. They might also help cut down insurance costs and improve safety.
My camper was dealership installed, but they failed to add spacers to keep the camper centered side-to-side. This caused the camper to shift around by four inches. The two front rubber bumpers disintegrated, which damaged the front of the bed.
I added 2x6s to rectify the problem. You would think the dealer would have known about this fit problem given how many campers they sell. Dealers, please be aware of this." – Gaston Belanger, 2017 Ram 3500, 2017 Northern Lite 9-6 QSE
"I love the idea of dealers providing a prepared list of possible weight matches to specific truck models and builds. It would not really be too time consuming to prepare a chart of all suitable truck models with their maximum payloads, and a similar chart to subtract common truck options from the starting payload for a bare bones truck. A counselor to help purchasers make those choices would be dandy.
However, since vehicle purchases are so personal, with a myriad of available colors, upholstery, and a massive number of other options, the chances of a dealer having just the right truck for a particular buyer would be rather slim in my opinion. And the holding costs to dealers for stocking trucks in addition to campers would be prohibitive, with the added risk of not finding a buyer." – John Wells, 2011 Chevy 3500HD, 2012 Chalet Ascent S100F
"I think professionally matched rigs would be a positive thing for dealers to do as a showcase. Consumers could see the ride as well as the ease of navigating roadways and parking lots before they buy.
I found that information was a forbidden fruit for any buyer. It did not matter who manufactured the vehicle. Dealers generally were making things up as they went along. I accidentally stumbled into a fleet dealership selling Fords. They had the right information to make a good buying decision (model, GVWR, etc.)." – Luther Lloyd, 2016 Ford F350, 2016 Arctic Fox 990
"I think professionally matched rigs would be a great idea. It would help those not familiar with the load and weight capacity of their current or prospective vehicle.
Most people do a lot of research before buying. From what I've seen online, eventually these folks get told to look at Truck Camper Magazine to make a more informed decision.
But, like other things in life, some find out about this information after they have already bought into this lifestyle." – Rick Law, 2005 Ford F550, 2003 Bigfoot 30C10.11SL
"While professionally matched rigs might be nice for newbies, I don't see the need for it. What I would rather see is a rating system for RV dealers so one could distinguish responsible dealers from reprehensible dealers.
I once heard the owner of an RV outlet say, in regards to truck camper matching, "If I worried about that, I wouldn't sell a single truck camper." This person was only concerned about his bottom line and had no business selling truck campers. There needs to be a way that dealers like this can be identified so the truck camper buying public can avoid them." – Arn Chamberlain, 2000 Ford F-250, 2004 Palomino Maverick 8801
"I said yes in the poll, but professionally matched rigs would be a option for people who don't want to go through the hassle of having to figure it out themselves. I remember my first try was an expensive experience. If it is all figured in the price and you just sign and go, some people might like that." – Jeff Hagberg, 2002 Ford F250, 2006 Travel Lite 800 SBX
"As long as the professionally matched set-ups are legitimate. For example, most truck campers that are promoted for half and three-quarter trucks are right at the GVWR limit, without options or stuff.
I am waiting for the new Rams to come out. Fingers crossed that the single rear wheels will have enough legitimate payload for a Bigfoot 10.4. If not, a dually it is." – Dan Allison
"Let me see here. How lazy can you get? Is the next step hiring a professional driver too? A truck and camper should not be a 'git 'n go' experience.
You are throwing somewhere between 2,000 and 6,000 pounds in the bed of a pickup truck. You better know what you are doing.
The experience along with learning the capabilities of your truck and matching it to the camper are invaluable. Be a knowledgable truck and camper owner for your safety and for others." – Don Pryor, 2019 Ford F350, 2008 Arctic Fox 1150
"Professionally matched truck and camper rigs are not for everyone, but I see so many over capacity rigs on the road. Having had single and dual rear wheel I know that most single rear wheel trucks with campers are over capacity. There are too many campers recommended for three-quarter ton trucks that really need a dually.
There's nothing like a good safety margin, especially when you consider the additional weight of people and gear. Thanks for being the point people on this issue." – Dave Miller, 2015 Ford F350, 2002 Bigfoot 10.6E
"The trouble with this idea is there are too many truck alternatives to pick from (make, color, trim level, etc.). The problem is that the camper sales people are generally not trained to match trucks and campers. It's all about getting the sale and getting the camper out the door on whatever the customer drives.
Making the problem worse is the fact that truck camper sales at most RV dealerships are a small fraction of their total sales. So sales people don't have much incentive to get smart about camper and truck matching. I believe that the best that we can do is use the TCM truck and camper matching guidance." – Jim Goodrich, 2006 Chevy 3500, 2008 Lance 1191
"I feel part of the lure of the truck camper market is the ability to use your truck of choice under your preferred truck camper. I'm not sure I would want someone else making that choice for me. If I was a newbie to the truck camper market, it might be attractive, especially if you do not have a truck brand preference." – Richard Jones, 2005 Chevrolet 2500HD, 2013 Wolf Creek SB
"I like the idea of professionally matched rigs, but I see some logistical and philosophical problems. Would the smaller, custom build companies be able to keep a couple of pre-matched rigs on the lot? Would they have the physical space and financial resources to do so? And would independent, mod-crazy, go-it-your-own-way truck camper clientele embrace such a lack of self-determination?
Alaskan Campers has had a pre-matched flatbed Alaskan for sale since Overland Expo West in May. I suggest asking Bryan and Dorrie your question." – David Casterson, 2016 RAM 3500, 2011 Hallmark Ute
"I like the idea. I think the younger generation is less interested in researching the compatibility of RV combinations. Offering professionally matched truck and camper set-ups would be safer and would perform better than unmatched units." – Bradley Shaffer, 2009 Chevy 3500 HD, 2008 Lance 1181
"Why not? The problem is what I experienced when I purchased my first truck camper. I ordered a Ford F450 diesel dually in anticipation of purchasing a Lance 1172. I thought I would be as safe as anyone could be at that point.
When the truck arrived, I changed out the fuel tank from 37-gallons to a new tank with 65-gallons. I updated the front bumper with a Warn bumper and 15,000-pound capable winch. I then changed out the rear hitch with the Torklift 30,000-pound capable hitch.
I added everything that could allow the camper to ride level with Torklift equipment and air bags. Then I picked up the camper and watched the camper drop several inches.
To be within payload, I would have had to eliminate everything I added to the truck. A naked F-450 gas engine would work, but not perform to expectations." – Donald Fox, 2015 Ford F-450, 2018 Arctic Fox 990
"I think professionally matched rigs are a great idea since I routinely see videos on Youtube where the salesman say a heavy camper will fit on a single rear wheel 2500 or 3500.
The salesmen are skirting the issue. Yes, you may be able to put 5,000-pound camper a payload-maxed regular cab long bed, two-wheel drive truck with a gas engine, but that would be dry weight only.
I think salesmen are being irresponsible to say things like that. It may not be a lie, but they are not being completely truthful either.
The manufacturers can help this by being more honest in their sales literature as well as stressing to their dealers to come clean on this issue." – Marty Commins, 2007 Ford F250, 2006 Nash 22GQ trailer
"I love the idea of a professionally matched truck and camper. However, the reality is that most truck owners are fiercely loyal to their truck brand (Ford, Ram, Chevy, etc). With this being the case, each camper would need to be matched with all truck brands making it very cumbersome and probably not worth it." – Charles Coushaine, 2001 Ford F350, 2012 Chalet DS116RB
"I am exactly looking for this. I do not want to go through the hassle to buy a truck and a truck camper separately." – Ludwig Fella, No Truck Yet, No Camper Yet
"Ready to go rigs are not needed. What is needed is a little honesty. All we need are some accurate and honest figures on weight. Every one of us are smart enough to do the math. The manufacturer should be required to weigh the unit before it goes out the door. They should certify and post the weight on the camper!
This also goes for the truck manufacturers. We need true and honest capacities." – Rod Folkerts, 2006 Ford F350, 2002 Lance
"Though a pre-packaged unit may be appealing to some, I still prefer to pick and choose the combination best suited for my needs, respecting the numbers for road safety first ." – Mario P., 2006 Toyota Tacoma, homemade camper
"Yes, I think professionally matched rigs are a good idea." – James Feeley, 2018 Chevy 2500HD, 2007 Northstar Igloo 9.5
"I think professionally matched rigs are a great idea. It should not only be for new ones, but for used rigs as well." – Dan Bigelow, 2009 Ford F-250, 2015 Wolf Creek 850
"Many, if not all of camper makers, totally lie about camper's total weight and compatibility with half-ton trucks. I'm not sure there is any camper (other than a shell type) that is truly compatible with a half-ton. They should not advertise campers as being for a half-ton when it's not even possible.
We had one of the lightest campers ever made and it was still to much for our "heavy duty" half-ton, even with airbags and heavy duty shocks. The basic weight is the first problem, but the weight is poorly distributed and they are quite top heavy. So, you need a much stiffer suspension than you would otherwise think.
In addition to the suspension, you need to run high pressure tires for stiffer sidewalls.  So you need a heavy duty truck built that way from the ground up." – Vince Kurpan, Ram Promaster 2500, Custom
"Professionally matched rigs would eliminate all the running around to weigh the truck and verify the center of gravity. You wouldn't have to visit both dealers and make the deal with two payments if you are financing. I like the idea of one stop shopping, even if it means a little extra money." – Bob Hunt, 2016 Ram 4500, 2016 Arctic Fox 990
"It would have saved us time, money and worry." – Mike Dichter, 2016 Ford F-350, 2017 Arctic Fox 811
"One might think of it the other way around as well. How about truck campers sold and matched by the truck dealership?" – Bob Eckert, 2017 Ford F350, 2015 Lance 825
"Yes, professionally matched truck and camper set ups would take a lot of guess work out of figuring out weight and how many personal belongings you can carry." – Pat Trunda, 2015 Ford F-250, Looking for a used Lance 855S
"In a previous life I worked in the commercial furniture industry. There was no way to ever stock the thousands of combinations of color and component options that were available in every product.
I believe that truck and camper matching has a similar issue. The dealers would have to stock Fords, Rams, GMC etc. and then all the various options available like high end interiors versus work trucks, exterior colors, etc.
That fancy tricked-out truck with the big rims and light bar that gets everyone's attention might work for one or two rigs, but most of us want to decide what features, colors and options we want." – Greg Chambers, 2015 GMC 3500, 2015 Lance 855s
"You're right. For those of us already in the truck camper group, we've done the work, for better or worse. But, your idea of having payload matched rigs ready to sell is certainly intriguing.
A challenge is that there are numerous options which vary by customer – truck brand, engine type, two-wheel drive or four-wheel drive, standard, extended or quad cab. Then come trim packages.
If RV dealers had a fleet of ready-to-go rigs it certainly might appeal to folks entering the game." – Mark Joslin, 2006 Ram 3500, 2005 Lance 1181
"I don't think truck camper dealerships would carry a wide variety of truck and camper combinations, but they could have one or two on their lot. I feel they could offer that service to a customer and show them samples of their service." – Rick Jones, 2017 Chevy Silverado 3500, 2018 Arctic Fox 1150
"For those who are not going to do their own pathway of responsibility and safety, it would be a good thing. The Release and Waiver of Liability form would be a very impressive document." – Bill and Kira Jones, 2017 Ford F-350, 2018 Northern Lite 9-6Q SE
"Great idea." – Vincent Wonsiewski, 2017 Ford F350
"I like to spec out my truck myself. For the most part, truck camper people are able to determine what they need and get it themselves.
Some people like Lance. Some like Arctic Fox. I like Bigfoot campers. Some people like Ford, others like Chevy or GMC, and others like Ram or something else.
People can get what they want. If they don't know how to outfit a truck, there is plenty of information available to educate themselves." – Bob Walsh, 2013 GMC Sierra 3500, 2003 Bigfoot C25 10.6E
"I don't think this is a realistic question. If the industry did this, buyers would realize they need an additional vehicle that many won't want to drive without the camper. Maybe it would help the rest of the RV business." – Chris Sensel, 2013 GMC 2500, 2018 Arctic Fox 811
"As a newbie, I can understand the attraction to buying a ready matched package without having to figure out all the parts and pieces.
On the other hand, I think one of the benefits of a truck camper is the ability to mix and match the different components to better match both to what you want to do. I found it hard enough searching around New England to find the truck equipped the way I wanted.
The likelihood of getting that truck matched to a camper I wanted would seem somewhat daunting. But, for those who are not real particular about there truck, I think it is a good idea on a limited basis." – Skip Dickson, 2017 Ford F350, Looking
"Excellent idea, but they'd have to match it with the various models; Ford, Chevy, and Ram. It sounds like professional matching would be an option package to be ordered. It would probably not be sitting on the showroom floor, but readily available on short notice.
Also, there is a tendency to overrate capacity and underrate loads. There's got to be some wiggle room in there. Another thing they might consider is making it easier to add things like solar, another set of batteries, rear cameras, and Sirius radio antennas." – Frank Poole, 2016 Ram 5500, 2016 Arctic Fox 990
"Great idea, but some won't be able to afford the package." – Bud Betz, 2011 Ram 3500, 2017 Lance 1172
"It's far too small of a market to address. But I think each truck camper manufacturer should suggest an ideal truck match for each camper they offer." – Frank Nemec, 2010 Toyota Tacoma, Snugtop Rebel camper shell topper
"Professional truck and camper matching should be done by second party who has no interest in the sales of the truck camper. The sales person will lie about what your truck can haul just to make the sale. I've talked to too many people in my journeys who have that situation in common." – Alex Blasingame, 2007 F250, 2002 Lance 815
"It would require competent personnel and a lot of comparison research. Therefore it would probably be cost-prohibitive." – John Cook, 2017 F350, 2018 Northstar Laredo SC
"This is an excellent idea. As long as the industry does the correct matching and doesn't try to cut corners to save a few bucks on lesser qualified trucks.
An inexperienced consumer would not have the expertise to know what is correct. I've often considered upgrading my truck camper, but really don't want the hassle of shopping for a truck and then the camper. It would be great if it were already done for me!" – Rita Eshman, 2005 Ford F250, 2013 Adventurer 86FB
"It would be great." – Trina Stephenson, No Truck Yet, No Camper Yet
"I don't know if Bill Penney of Truck Camper Warehouse is still doing it but, when he was a truck camper dealer on Long Island, he offered rigs ready to roll." – Robert Lick, 2003 Dodge 3500, 1993 Alpenlite 11'
"I think there are so many options that it would be difficult. Having a few to see and demo drive would be good. An order system that would insure a good match would be wonderful." – Stephen White, 2015 Chevrolet Silverado 3500, 2017 Northern Lite 8-11 Q SE
"I think it would be a good idea to have something in place to assure customers that their truck and camper are properly matched. You know salesmen." – Kenneth Wright, 2006 Dodge 2500d, 2011 Travel Lite 890
"It's a good idea. There are too many overloaded trucks carrying truck campers. It is unsafe for all of us who are on the roadways." – Mark Motsko, 2016 Silverado 3500, 2016 Bigfoot 1500
"It would all depend on pricing. If you could get a deal through the match, it would make more sense. Money talks." – Dale Gould, 2016 Ford F-250, Palomino HS-8801
"I think professional matching would help sell truck campers. So yes, it's a good idea." – Kenneth McGill
"It would probably be a good idea for people who don't want to shop around for the right truck." – Ted Holvey, 2016 Chevy Silverado 3500, 2019 Capri Retreat
"Some people are Ford People and some are Chevy people. I don't want someone selling me to buy something I don't want. The advantage of a truck camper is that you can use the truck without the camper. Also, some people might like Happijac tie-downs and others may like the another brand." – Stuart Lansberg
"Nope. Absolutely Not! It will drive up cost to the max. The last thing campers need are industries flooding the market with high option models, talking consumers into things we don't need. Yeah pay to play but, like always, they will find ways to take advantage.
It's like what's going on now. Truck campers are booming. What do the auto dealers do? They lower your payload rating to push you into a high option model.
I have a 2000 GMC. Payload in my current model has dropped considerably with twice the cost. I don't like it at all. The truck camping industry has been doing fine. Just leave it alone." – Jacques Bonaparte, 2000 GMC K3500, 2018 CampLite 8.6
"I have seen quite a few mismatched trucks and campers when I'm out traveling. I think that having a professionally matched truck and camper available for a newbie is probably a good idea.
However, I also think the RV dealers and the direct manufacturers should be honest and up front about their loaded camper weights during the sales process. They should also have a good idea of what truck model and size is needed for their particular camper model, even if they don't sell matched truck and camper rigs." – Buzz and Sherri Merchlewitz, 2017 Ram 3500, 2015 Hallmark Ute
"We lucked out with a one year old Ford F350 with a Northern Lite on it. It was on consignment at Truck Camper Warehouse. Buying our rig was a very easy process, like you described. Dealers will need to take responsibility for the new truck sale. In our case Ford did honor some warranty issues at 30,000 miles." – Neal Kellogg, 2016 Ford F350, 2016 Northern Lite 8-11
"This idea of matching a truck to a camper would be incredibly helpful. I bought the truck first, anticipating a large camper. I then bought a Bigfoot camper.
After much needed modifications, I now have a perfect fit. I had to add a Hellwig sway bar, Firestone air bags, and convert the truck to a dually. I did all the work myself, which helped financially.
If I knew a more exact weight specs on both vehicle and camper, I would have looked for a Ram 3500. My truck has a V10 and devours gas. I don't care though because, if it breaks down, I can fix it with minimal tools and I won't have the task of trying to find a diesel shop." – Scott Noble, 2001 Dodge 2500, 2003 Bigfoot 2500 10.6
"They had matched rigs at Truck Camper Warehouse when I was a newbie. I have thought a lot about them since. He just might have my next rig." – Scottie Rome, 2015 Toyota Tundra, 2015 Northstar 650
"If they don't do it right, there's a problem. Just like all the trailers blowing tires and wrecking their fender wells. The customers all want to sue someone or want the trailers fixed for free. Too many campers are way overload to the top of the kitchen sink." – Neil Steirer, 2017 Ford F-350, 2014 Lance 1172
"Great idea, but right now you sure can't trust too many dealers to steer you right! One dealer last year even told me that the Cirrus 820 would be a perfect match for a 150/1500 truck crew cab, four-wheel drive truck." – Maaja Sutak, 2012 GMC Sierra 2500HD, 2017 Northstar Adventurer 8.5
"We thought we had done our homework about payload. Since we custom ordered our truck, we didn't know what it's true payload would be. The upgrades and off-road stuff added more weight than we expected.
Being newbies, we didn't account for the weight of the tie-downs, anchors for the tie downs, the rubber mat, and the lift required to clear the Ford's cab. As a result we are always riding at max payload, or more. We're not as bad as some rigs we see!" – Orian Hartviksen, 2011 Ford F-350, Northern Lite
"I think professionally matched rigs is a great idea. It would take the guess work out of trying to decide which one to get." – Jay Yennock, 2019 Ford F-350
"I think a matched set-up would be helpful for a large portion of interested newbie truck campers. I was and still am a newbie. I purchased a used camper a year ago to match the truck I owned and love.
I'm a mechanical engineer, own a machine shop, and consider myself pretty mechanically capable. I enjoyed setting up the truck with tie-downs and turnbuckles but, I still missed on the overall weight.
My GVWR is 9,200 pounds. With the Duramax diesel engine, the truck weighs in at just about 7,000 pounds leaving only 2,200 pounds to be perfectly legal. The dry weight of the 811S is 3,200 pounds.
With air bags and a Torklift StableLoads, our truck handles the camper fine and does not sag, but I'm overweight and will be looking to purchase a 3500HD soon." – Bob Graham, 2007 GMC 2500HD, 2014 Arctic Fox 811S
"I guess for people who want a turn key unit, professionally matched rigs would be an option. Chevrolet tried this in 1976 with the factory Blazer and Chalet camper combination. They only sold 1,800 units in two years before discontinuing the combination.
As far as being a lower cost than a small motorhome, I don't think that holds up. A new one ton base dually is approximately $50,000. Get one with some options and it's more like $60,000 to $70,000. A new Lance 9.5 foot slide-in with a slide out is pushing $50,000, or more.
Here in Tucson, they are advertising a 2019 Thor 25-foot Class C on Mercedes diesel chassis for under $100,000. So I guess it boils down to what the market wants." – Erwin Greven, 2002 Chevrolet 2500HD, 2002 Lance 921
"While not exactly the same, back in the early 1970's GM came out with Camper Specials. These were not matched to any particular camper. Commonly these were three-quarter ton trucks set-up to carry the load of a slide-in camper.
The Camper Specials came with overload springs, swing out mirrors, and a sliding rear window. They also had the option of three switchable gas tanks.
We had a two-ton green and white 1972 Chevy Cheyenne Camper Special with a Big Block 400. We carried an 11-foot Vacationaire Camper. That truck carried that camper with no problems at all." – David Pracht, 2015 GMC Sierra K3500, 1987 Lance LC900
"It's a good idea, especially for newbies. You should be able to pick the vehicle if it is to be successful. Many people will only go with their loved make." – Mike Saint-Amour, 2013 GMC 2500 HD, 2005 8.5 Northstar Arrow
"It is one thing to match payload and tie-down equipment, but could they match truck brand, color, and options to a camper with options? Or, would camper manufacturers only have, for example, Fords. That is what most Class C motorhomes are made on. Would the color choice be white?
I think most truck camper owners use the truck alone a lot more than the truck and camper combination. People would also have to be happy with the truck by itself. I think there would be way too many potential options to make this matching thing work." – Stan Schroth, 1999 Ford F250SD, Travel Lite 800X
"There are too many variables. Take a Ford. Which trim? Which engine? On camper, which accessories do you add? Air conditioners? Generators? Solar?" – Larry Power, 2014 Ford F350, 2009 Northland Polar 860
"It sounds good in theory, but there are so many makes and models of similar tricks. Perhaps you could be given different choices." – Thomas Vanasco, 2001 Toyota Tacoma, 2016 Northstar 600SS
"It's not a bad idea, adding a truck's $45,000 to $75,000 purchase price might hurt truck camper sales. Then, you would have to get the correct brand, color and options for the truck. I would think it would kill the dealers to stock matched rigs." – Ed Kuivinen, 2009 Ford F250, 2016 Lance 850
"I think professionally matched truck and camper rigs would be a great idea. Some dealers already have this option, but it would be great to expand it. This would particularly help new clients to truck campers, but also simplify things for long timers when upgrading.
This could make for broader trade-in options as well since the truck could be traded when the camper is traded. Clients could choose new or used trucks. Most truck camper dealers know the trucks as well as or better than truck dealers when it comes to our specific use." – Bruce Tinkler, 2013 Ford F-350, 2013 Lance 1181
"I would like to see camper salesmen be competent enough and honest enough to sell you the correct camper for your truck when you drive onto their lot. Also, I would like the salesmen to not lie about camper being just fine for your truck when in fact it is as much as 2,000 pounds more than the truck should haul." – John Rand, 1999 Ford F-250, 2016 Northern Lite 9.6 Q SE
"Professionally matched campers would be great. I went out and bought a Ram 3500 and will add a camper to in the next year or so. Airbags will most likely be added and I will need to change out the factory hitch to be able to pull our 14-foot utility trailer.
I would have been better off buying a 4500 or 5500 and having a dually bed added after buying the chassis cab. I had done this back in 2000 with a F-450 with our first truck camper and wish I would have done it this time around. Centurion Vehicles did my F-450. Unfortunately, they are no longer in business." – Steve Bridges, 2018 Ram 3500, Looking at Lance campers
"Professionally matched truck and camper set-ups would be a great way to go. I need more payload. I was told my F350 would be fine. My next truck will be a F550!" – Steven Sui, 2016 Ford F-350, 2016 Eagle Cap 1160
"Out in California back in the 70s, 80s, and 90s, I shopped at two facilities that matched and equiped trucks and campers that were sold together. One facility was a family operation called "Burbank truck and camper". Sadly, this wonderful facility closed in the early 90s.
The other facility was in North Hollywood. It was essentially a factory outlet for Lance Campers. Customers could order a new truck and camper from them to be picked up completely equipped and ready to go. I met a few couples that had done that and were very pleased with their purchase." – Adam Eugene, 1997 Ford F-350, 1997 Northland Polar 1060