This week's reader poll and Question of the Week on professionally matched truck and camper rigs triggered an enormous and highly passionate response from truck camper enthusiasts coast-to-coast.
It's not every day that a Truck Camper Magazine poll gets 491 participants in 4 days, and a very clear result.  The sheer number of readers who participated shows how important the topic of accurate and responsible truck and camper matching advice truly is – professionally matched, or otherwise.
If the poll results don't sway the industry leaders, the 78 following written responses should.  Truck and camper matching is an issue where the truck camper industry needs to do better.  A lot better.
Whatever the industry does, we are going to study the feedback and look for opportunities to meet the need for improved and more specific truck and camper matching advice.
In the meantime, anyone who needs the straight facts on how to properly match a truck and camper, please read, "How To Match A Truck and Camper".
Here is the poll result: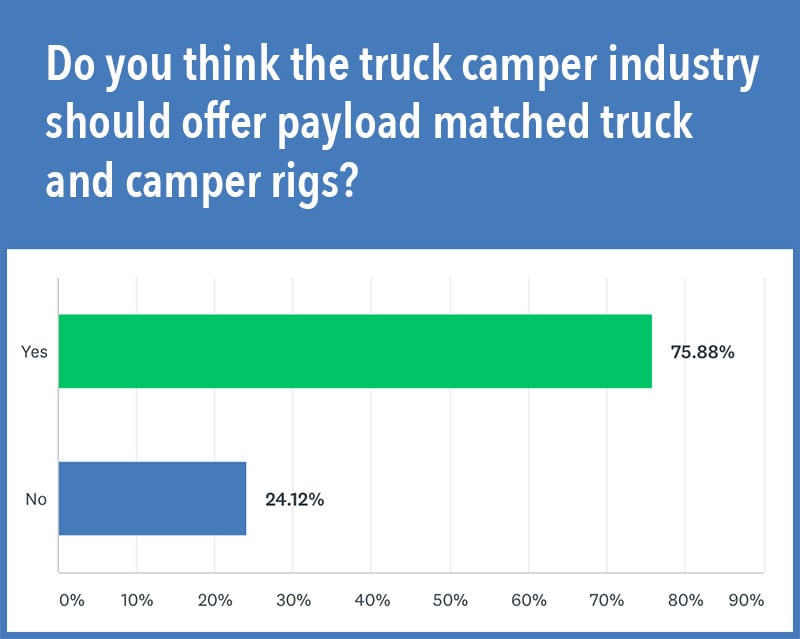 This week's Question of the Week was, "Do you think the truck camper industry should offer payload matched truck and camper rigs on dealer lots?"
"I'm the newbie you are describing. We don't even own a truck. As you've mentioned in your Newbie Corner, starting from zero can be an asset. We're really sold on a truck and camper, but it's two big changes.
How much better it would be to walk around and drive around in a fully set up rig? If such a showroom existed, we'd be planning our road trip today." – Nathan Evans, No Truck Yet, No Camper Yet
"The market for a professionally matched and fully equipped rig may be small as a large percentage of folks already own one or the other.
The pros are that buyers would be purchasing a safe rig within all weight ratings, at least as it left the dealership. In theory, dealers could certify the weights and match and the buyers would sign acknowledging that information.
The cons include a cost that might put matched rigs beyond the price point of many. And dealers may not want to take on the added liability." – Peter Paulson, 2018 GMC, 2011 Bigfoot 25C94
"Professionally matched rigs sound like a good idea, but I can't see it happening. There are too many options available to make enough people happy. As a result, I don't believe many matched rigs would move." – Louanne Burgess
"I absolutely think professionally matched rigs should be an option. I had a 2016 Ford F250 and then bought a Northern Lite. The dealer told us everything would be fine and the truck would handle it.
Well, the truck would handle it but, unfortunately, the payload on the truck was 2,496 pounds and the camper wet is about 3,700 pounds. Yes, the truck could handle it, but was I safe going down the road?
Being in the transportation industry, I knew the answer. While the truck could handle it, I could see the attorneys coming out of the woodwork if we got into an accident.
So we made a decision to upgrade the truck a 2017 Ford F350 with a payload of 4,226 pounds. It cost me about $7,000 dollars to make the move, but it was the right one." – Scott Gallinger, 2017 Ford F350, 2017 Northern Lite 8.11 QCSE
"While we've been sold on truck camping for several years, we don't yet own a truck or camper. Having owned a Class B van conversion, we know we can live small and have no desire to own a big RV.
We rented a truck camper from Cruise America for a two week vacation and learned a lot about our needs and desires for our future rig. Our primary camping goal is to visit state and national parks across the country throughout our soon-to-be retired years.