As we publish this morning, we're driving through sleet and snow in North Carolina.  It's not quite the most extreme weather we've ever truck camped in, but it does seem appropriate given the subject matter.
The Question of the Week was, "What is the most extreme weather you've ever experienced while out truck camping?"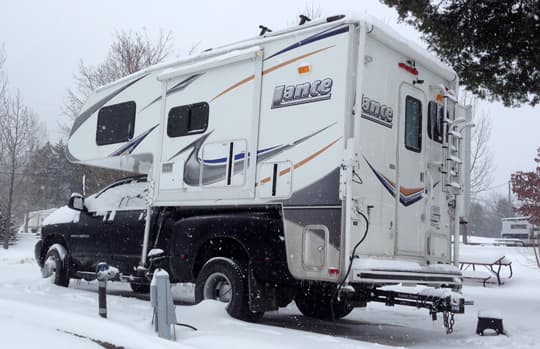 "The rally we attended in December of 2013 was the most extreme weather we've camped in.  Our camper door was frozen shut and we had huge icicles hanging from the back window that didn't melt for a week.  But, we still had a great time with new and old friends, which is what it is all about." – Dan and Peggy Sego, 2005 Dodge 3500, 2011 Lance 992
"Winter camping at -38 Celsius in Lake Louise in the Canadian Rockies.  It was only supposed to drop down to -25, but an extra cold front swooped in.  We thought the propane might freeze up, but it didn't.  Everything worked!" – Mr. Goode, 2003 Ford 350, 2005 Arctic Fox 990
"My girlfriend and I were staying at Farr Park in Baton Rouge, Louisiana last spring when a severe thunderstorm moved in during the middle of the night.  We had watched the weather report before retiring for the night so were not surprised, but we were still not prepared for the severity of the storm.
The rain poured down.  The wind blew to the point I was concerned about the whole rig being blown over.  I think if the camper had not been mounted onto the truck, with the jacks down on the ground, it might have. Thankfully, there was no hail or tornados involved.  It was pretty nerve wracking for a while." – Eldon Rhodes, 2008 Chevy 3500 HD, 2011 Lance 1050
"Camping at altitudes over 6,000 feet.  It's just plain cold, even in June with temperatures in the twenties." – Paul Foster, 2005 Ford F250, 2008 Lance 845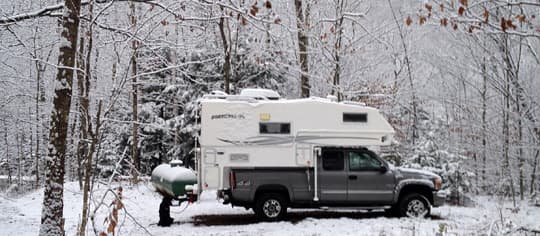 "My wife and I have camp in the White Mountains National Forest of New Hampshire where the temperature got down to about fifteen degrees.  We were off the power grid, but it was fine.  We've also been snowed on in Jackson, New Hampshire, and again it was fine." – Al Stebbins, GMC 2500, 2006 Northern Lite
"In Key West we woke up to forty mile per hour gale force winds for about five hours.  We had a thirty-four foot sailboat in the front of our camping site.  The camper and truck were shaking so much that we believed we were at sea in a sailboat." – Sylvie and Jake Mathis, 1994 Dodge Ram, 2005 Northern Lite 9Q
"On the bridge from Ohio into West Virginia, we hit whiteout conditions with heavy wet snow and wind.  The next time we looked at the camper we were missing the filon on the passenger side of the cabover nose.  We did not hit anything, but the weight of the sticky heavy wet snow and wind just pulled it off.  Should be an easy fix when it warms up." – David and Lila Weinstein, Dodge Ram 3500, 2005 Arctic Fox 1150
"About ten years ago, my youngest son went to University of Alaska Fairbanks as an exchange student. When the end of the year came, we decided to drive up from New Mexico to pick him up.  At the time we had a 1999 Chevy Silverado, extended cab, 4×4 truck and sleeper as well as a Coleman Sequoia pop-up camper.
We left Las Cruces on the 31st of April and took the back routes into Montana headed for Dawson Creek, British Columbia to pick up the Alcan highway.  We slept in the truck sleeper or the Coleman most of the time.  We were in the Yukon Territory near Destruction Bay when I got very tired, so I turned over the driving to my wife.
About ten minutes after she starting driving, it started to rain, then the golf-ball sized hail came, then snow and wind.  We traveled about fifty miles and then pulled over so we could kick the twelve inches of snow and ice off the mirrors, which were hanging down at a forty-five degree angle.  The trailer had twenty-four inches of snow embedded on the front.  The wind was blowing around sixty miles per hour and it was snowing so heavy that we could just make out the tail lights of the semi-trailer fifty feet in front of us.  We were in this weather for over four hours and 100 miles.
After we crossed into Alaska, we had to knock all the icicles and snow off the truck and the trailer.  We also had to use duct tape to tape the trailer doors shut because the vibration from the road (frost heaves) caused the screws in the door to come loose, the sidewalls broke free from the rivets, and the storage door hinge rivets all popped.  If we had not had two large rolls of duct tape and a quarter inch rope we would not have been able to get to Fairbanks.
By the way, there was only one place to pull over in the entire 100 mile stretch, which we used to knock the snow and ice off the first time. 

 Oh, did I mention my wife hates to drive in heavy rain, snow, or ice?  We didn't take any pictures, but I sure wish I had. " – Harry Palmer, 2008 Dodge 2500, 2008 Lance 915
"I've often been in below zero temperatures because I use my camper as a deer hunting camp.  The season in North Dakota is in November.  The worst was during a return from a fishing trip to a small Minnesota lake.  I was dodging a severe thunderstorm with an embedded tornado.  I went forty miles out of my way to keep out of trouble." – Philip Tron, 2009 Chevy 3500, 2012 Lance 1050
"We ski out of our camper during the winter.  We had two and a half feet of snow while camped out over three days.  Regarding temps, last weekend was a new personal record.  It was -8 Fahrenheit while we camped out in the Sawtooth Outdoor Bonspiel for  a curling competition in Stanley, Idaho.  We were boondocking, as usual, so we ran the catalytic heater with the drained water system.  We were great!" – Sue Jurf and JT More, 2004 Ford F250, 1995 S&S Ponderosa 8.5
"Many years ago, in June, we were traveling west on our vacation in the Bighorn Mountains between Buffalo and Ten Sleep.  As we approached Powder River Pass, it began snowing very hard.  By the time we reached the summit there was about five inches of snow and slush on the road.