As we publish this morning, we're driving through sleet and snow in North Carolina.  It's not quite the most extreme weather we've ever truck camped in, but it does seem appropriate given the subject matter.
The Question of the Week was, "What is the most extreme weather you've ever experienced while out truck camping?"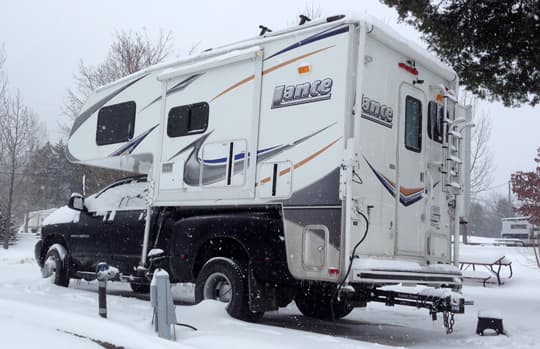 "The rally we attended in December of 2013 was the most extreme weather we've camped in.  Our camper door was frozen shut and we had huge icicles hanging from the back window that didn't melt for a week.  But, we still had a great time with new and old friends, which is what it is all about." – Dan and Peggy Sego, 2005 Dodge 3500, 2011 Lance 992
"Winter camping at -38 Celsius in Lake Louise in the Canadian Rockies.  It was only supposed to drop down to -25, but an extra cold front swooped in.  We thought the propane might freeze up, but it didn't.  Everything worked!" – Mr. Goode, 2003 Ford 350, 2005 Arctic Fox 990
"My girlfriend and I were staying at Farr Park in Baton Rouge, Louisiana last spring when a severe thunderstorm moved in during the middle of the night.  We had watched the weather report before retiring for the night so were not surprised, but we were still not prepared for the severity of the storm.
The rain poured down.  The wind blew to the point I was concerned about the whole rig being blown over.  I think if the camper had not been mounted onto the truck, with the jacks down on the ground, it might have. Thankfully, there was no hail or tornados involved.  It was pretty nerve wracking for a while." – Eldon Rhodes, 2008 Chevy 3500 HD, 2011 Lance 1050
"Camping at altitudes over 6,000 feet.  It's just plain cold, even in June with temperatures in the twenties." – Paul Foster, 2005 Ford F250, 2008 Lance 845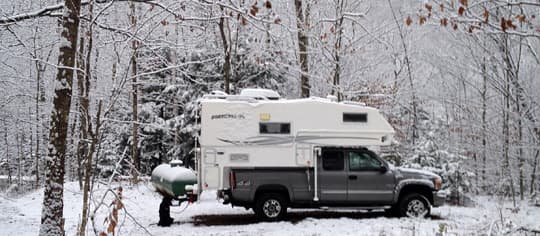 "My wife and I have camp in the White Mountains National Forest of New Hampshire where the temperature got down to about fifteen degrees.  We were off the power grid, but it was fine.  We've also been snowed on in Jackson, New Hampshire, and again it was fine." – Al Stebbins, GMC 2500, 2006 Northern Lite
"In Key West we woke up to forty mile per hour gale force winds for about five hours.  We had a thirty-four foot sailboat in the front of our camping site.  The camper and truck were shaking so much that we believed we were at sea in a sailboat." – Sylvie and Jake Mathis, 1994 Dodge Ram, 2005 Northern Lite 9Q
"On the bridge from Ohio into West Virginia, we hit whiteout conditions with heavy wet snow and wind.  The next time we looked at the camper we were missing the filon on the passenger side of the cabover nose.  We did not hit anything, but the weight of the sticky heavy wet snow and wind just pulled it off.  Should be an easy fix when it warms up." – David and Lila Weinstein, Dodge Ram 3500, 2005 Arctic Fox 1150
"About ten years ago, my youngest son went to University of Alaska Fairbanks as an exchange student. When the end of the year came, we decided to drive up from New Mexico to pick him up.  At the time we had a 1999 Chevy Silverado, extended cab, 4×4 truck and sleeper as well as a Coleman Sequoia pop-up camper.
We left Las Cruces on the 31st of April and took the back routes into Montana headed for Dawson Creek, British Columbia to pick up the Alcan highway.  We slept in the truck sleeper or the Coleman most of the time.  We were in the Yukon Territory near Destruction Bay when I got very tired, so I turned over the driving to my wife.
About ten minutes after she starting driving, it started to rain, then the golf-ball sized hail came, then snow and wind.  We traveled about fifty miles and then pulled over so we could kick the twelve inches of snow and ice off the mirrors, which were hanging down at a forty-five degree angle.  The trailer had twenty-four inches of snow embedded on the front.  The wind was blowing around sixty miles per hour and it was snowing so heavy that we could just make out the tail lights of the semi-trailer fifty feet in front of us.  We were in this weather for over four hours and 100 miles.
After we crossed into Alaska, we had to knock all the icicles and snow off the truck and the trailer.  We also had to use duct tape to tape the trailer doors shut because the vibration from the road (frost heaves) caused the screws in the door to come loose, the sidewalls broke free from the rivets, and the storage door hinge rivets all popped.  If we had not had two large rolls of duct tape and a quarter inch rope we would not have been able to get to Fairbanks.
By the way, there was only one place to pull over in the entire 100 mile stretch, which we used to knock the snow and ice off the first time. 

 Oh, did I mention my wife hates to drive in heavy rain, snow, or ice?  We didn't take any pictures, but I sure wish I had. " – Harry Palmer, 2008 Dodge 2500, 2008 Lance 915
"I've often been in below zero temperatures because I use my camper as a deer hunting camp.  The season in North Dakota is in November.  The worst was during a return from a fishing trip to a small Minnesota lake.  I was dodging a severe thunderstorm with an embedded tornado.  I went forty miles out of my way to keep out of trouble." – Philip Tron, 2009 Chevy 3500, 2012 Lance 1050
"We ski out of our camper during the winter.  We had two and a half feet of snow while camped out over three days.  Regarding temps, last weekend was a new personal record.  It was -8 Fahrenheit while we camped out in the Sawtooth Outdoor Bonspiel for  a curling competition in Stanley, Idaho.  We were boondocking, as usual, so we ran the catalytic heater with the drained water system.  We were great!" – Sue Jurf and JT More, 2004 Ford F250, 1995 S&S Ponderosa 8.5
"Many years ago, in June, we were traveling west on our vacation in the Bighorn Mountains between Buffalo and Ten Sleep.  As we approached Powder River Pass, it began snowing very hard.  By the time we reached the summit there was about five inches of snow and slush on the road.
At the top of the pass they now have a big turn-out where you can rest or wait out poor road conditions.  When we did this trip, that turn-out was not there.  It was very scary driving down the west side of the pass with all that snow and slush on the road.  I was glad the road was only bad for about five miles with the camper." – Tom Bender,  2011 Ford F250, 2009 Sun Valley Apache Chief 8.65 WS
"For four years my wife used our camper as a place to stay while working on a local ski hill.  She endured many feet of snow and -18 Celsius.  Once the camper almost blew over in a ninety knot wind.  She said that was a lot of fun!" – James B., 2006 Ford F150, 1990 Okanagan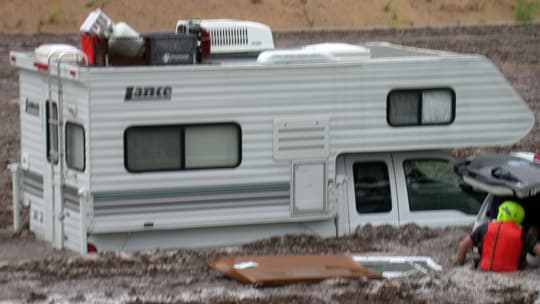 "In July of 2004, we were doing our first cross-country trip to see relatives.  We made stops along the way to see the many sights along our way.  Everything was going great.
Then we were on our way back to California traveling on the I-40 through New Mexico and wanted to check out some of the natural sights down on SR117 and spend the night at South Narrows campsite.  The weather had turned a bit dicey with sudden microburst of rain and hail that caused us to have to crawl along SR117 with our flashers on.  The downpour would disappear as quickly as it came.
We did make it to South Narrows campsite and there was a local there and his wife.  Another guy and his daughter drove in to do some tent camping.
South Narrows is bowl configured site below road grade.  Bottom line is that South Narrows flooded out while we were there, the water loaded up with hail and debris.  Flooding waters came in so fast that we all didn't have time to get out and we all lost our vehicles.  Our Lance 815 survived, but my F250 didn't.  It had only 26,000 miles on it.  We were able to retrieve personal items the next day.
That "mud" you see in the photo is the debris washed off the hillsides with several inches of hail under it floating on the water that flooded in." – Alex Blasingame, 2007 Ford F250, 2002 Lance 815
"In 1973, I was hunting in western Ontario, Canada.  I was staying in the back of my truck that had a homemade topper on the back.  I had thrown in an old bed mattress that I had been saving in the garage with a sleeping bag on top of that.  I no more than got comfortable when mice started coming out of the mattress and running around inside the topper.
It got so cold that night that, when I woke up in the morning, my hair was frozen to the metal box of the truck.  After quickly dressing, the first thing I did was throw the mattress on the ground and started jumping on it to get the mice out.
I have spent some cold nights in a tent in the snow, but this was the most extreme weather I ever went truck camping in.  I am planning on some day trying to ice fish while staying in my present camper.  At least the camper I have now has a heater in it." – Greg Giese, 2010 Chevy Silverado, 1990 Sunlite Eagle
"The most extreme weather that I have experienced truck camping was during several consecutive winters of snow skiing at White Pass in Washington State and Mt. Bachelor near Bend, Oregon.  In both cases, I experienced overnight snow falls with up to twenty-four inches of new snow, often with blowing and drifting conditions, closed mountain passes due to poor visibility, and sub-zero temperatures at or below minus -20 degrees F.
That said, what made the conditions truly extreme is that I always had my son and two to three of his friends with me for two to four days!  All of us were in our first hard side camper; an eleven foot non-slide Western Wilderness.  We made wonderful life-long memories and enjoyed awesome skiing." – Dave Riddle, 1997 Dodge 3500, 2006 Host 10.5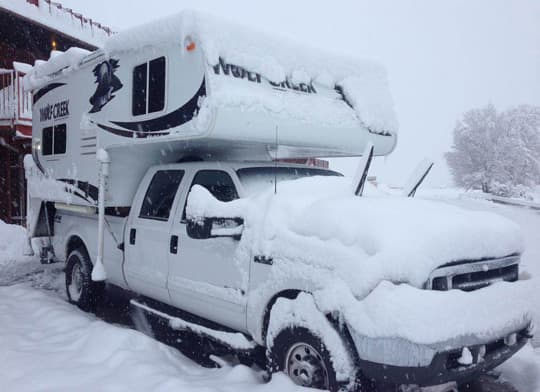 "The week before Thanksgiving we decided to take scenic Highway 12 in Utah on our way to visit family in Colorado Springs.  While camping in Bryce Canyon, the first major winter storm of the year decided to make its way through the area.
I made the mistake of leaving my Honda eu2000i generator at home in San Diego because I just installed a 200 watt solar system on the roof.  We had already spent two days dry camping in Bryce Canyon and my batteries were at two-thirds power.  With my batteries at a must charge state, I knew we could not handle another two days of constant furnace usage, so we tried to outrun the storm.
We headed East on Highway 12 and the storm turned extreme (for southern California standards).  We only made it into Escalante, Utah with a full blown blizzard.  We decided to check in to the Prospectors Inn.
For the next seventy-two hours it snowed like I had never seen it snow before.  The power in the town kept going out and some hikers in the area had to be rescued.  Even though the weather was extreme and our travel plans were altered, we had the best time and we grew closer as a family.  I will never forget the snowball war I had with my five and eight year old.
The storm allowed us to slow things down and enjoying the amazing Utah snow.  Our truck camper supported us with a pantry full of food, a refrigerator not altered by power outages, and a stove to cook all our meals on." – Nolan Sturgeon, 2001 Ford F350, 2012 Wolf Creek 850
"In August of 1997, I was camped alone near a remote water source called Little White Tank in the KOFA National Wildlife Refuge in Arizona to photograph bighorn sheep.  At the time our camper was a Skamper pop-up on a 1995 Toyota four-by-four.
With a temperature around 105 degrees, I had left my blind around noon to hike back to the camper and wait out the heat.  Little did I know that high temperatures were nothing compared to what was in store for me later that evening.
Thunderstorms had been brewing since late morning.  By late afternoon, some big stuff was building off to the north.  Since I hadn't had a drop of rain all day, I felt confident that I'd be missed, although a little rain would have been nice.  I set up my cot outside since it was too hot to sleep, even with all the windows unzipped in the pop-up.  After the sun had set, the storm to the north had moved further south and east of my location.  It looked like it was heading towards Mexico as I laid down on my cot in the hot, calm air.
Just as I started to doze off, I heard a good clap of thunder and looked towards the east.  "Funny", I thought to myself, "I don't see any stars in that direction".  In fact I couldn't see much of anything that way, not even the closer star-lite mountains that were visible earlier.
Another bolt of lightning lit up the sky and I could see a dark, nasty looking mass boiling in the distance.  That's when I knew what was coming.  It was a classic dust storm and it was heading my way.
I quickly scrambled to get the cot folded up and the rest of the outside gear secured as the wind started to pick up.  A glance to the east revealed an angry dark cloud quickly approaching my location.  I worried about my 500mm lens and camera still inside the blind about half a mile away.  I'd never get there in time so I figured getting the campsite squared away was my main priority.
The dust storm was almost on top of me by the time I jumped in the camper and cranked down the top and braced myself for the hit.  And what a hit it was!  The camper bucked and swayed for the next ten minutes like I'd never seen it do before.  Somehow sand was getting inside and soon left a coating all over everything, including me.  When the wind began to die down a few big drops of rain started to fall and then it was over.
An eerie calm had set in as I climbed out of the camper and watched the sandstorm move off towards the west.  Other than the dust, the camper was none the worst for wear.  The camera equipment did just fine in the blind and the rest of the weekend passed without further incident.
We've camped in snow, wind, desert heat, and mountain cold, but that was the most extreme weather I'd ever experienced in more than thirty years of truck camping." – Cliff and Susie Kellogg, 2006 Chevy 2500 HD, 1999 Apache pop-up
"Late one Friday night, while towing ATVs out to the desert, the winds were so strong and the truck camper rig leaning so much that we had to get off the road.  We put the truck in four-wheel drive and pointed the truck into the wind, drove into the desert, put the jacks down and stayed until morning.  My wife thought we were going to blow over." – Guy Cornell, 1995 Ford F350, 2002 Lance 1025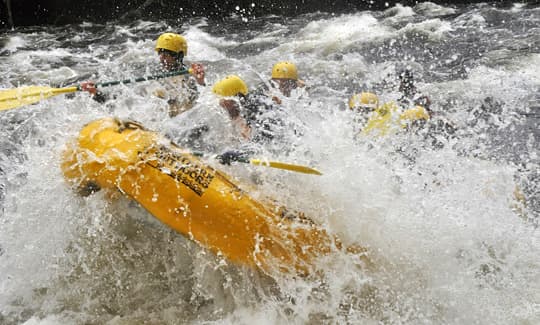 "Two trips come to mind, both of which were last year.  Heading up to Vermont for a ski weekend, it was blowing forty to fifty miles per hour and snowing sideways.  That was a slow 300 mile ride.
Killington Ski area has a couple of lots that allow overnight camping.  We were the only ones camping that weekend.  The wind blew all night, but we awoke to a beautiful day and had a great time skiing.
The other trip that comes to mind was heading up to Maine for white water rafting.  It was Memorial Day weekend; the beginning of summer.  Well, it poured rain so hard on the 400 mile drive that we had to pull over several times as we could not see.
I thought for sure the camper would be wet inside somewhere.  If there were any leaks this drive would find them!  We arrived late afternoon, opened the camper (our previous Adventurer 810WS) and not a drop of water was anywhere.  That was a relief.
The rafting was outrageous as the river was very high, and we were rafting in a blizzard on Memorial Day!  It was a cold raw weekend for a rafting trip, and one we'll always remember!" – Bill Tex, 2006 Chevy Silverado 2500HD, 2013 Eagle Cap 850
"While traveling West along the North Saskatchewan River in late August of 1987, we ran into heavy rains, extremely high winds, lightning, and hail.  We pulled into a campground in Battleford, Saskatchewan.  We had a spot next to an Airstream camper on a bluff overlooking the river (we did not know this until the weather cleared, later).
Lightning struck the ground around us several times causing a big shake every time.  We found out the next day, when we arrived in Edmonton, that a F-4 tornado had devastated part of the city and surrounding area, including a trailer park we had just driven past, destroying 200+ homes.  Streets were still flooded, and the next campground we stopped at had six inches of water in it.  Hairy situation, indeed." – John Desjardins, 2007.5 GMC Sierra 2500HD, 2002 General Coach Globetrotter
"Camping in Rocky Mountain National Park one October, we had a blizzard blowing horizontally, temperature in the low 20s, and our cat insisting on taking a walk outside.  He loved it.  It was pretty awesome.  The snow with the trees still changing colors was beautiful.  The next morning it cleared and the peaks were spectacular." – Doug Baker, 2006 Toyota Tundra, 2006 Six-Pac D650
"While living in Whitehorse, Yukon we used to go coho fishing in Haines, Alaska every weekend in late September/early October.  One Friday night on the way over the Haines Pass in the dark we encountered eighteen inches of snow on the road and white out driving conditions.  Rather than risk pulling off into the ditch and get stuck, we opted for using four wheel drive and slow, steady white knuckle driving until we had descended below the snow line and into the rain.  What a relief!  Then we were on to some really awesome salmon fishing!" – Steven Gasser, 2001 Dodge Ram 2500, 2003 Adventurer 90FWS
"We were heading south on I-5 the third week of March, 2012, with a destination of Palm Desert, Arizona, for a few weeks of sunshine.  After spending the night in Canyonville, Oregon, we woke to clouds on top of us and a cold rainy morning.  Driving on to Medford, Oregon, and approaching Ashland, Oregon, we began to see highway reader boards indicating heavy snow on the previous night in the Siskiyou's.  It required chains to go through the pass.  Well, we we're heading for the desert and I didn't want to carry thirty pounds of extra weight lugging chains around.  It was a little after noontime passing through Ashland when I was noticing more reader boards saying chains required.  Dozens of cars and semis pulled over beginning to put chains on.  But I kept creeping along at twenty-five miles per hour in four wheel drive high.  My wife kept asking if we were going to return to Ashland to buy chains.  "No, I'm going onward until someone tells us we have to go back or pull over and wait out the next storm."  Not much further ahead there was a California DOT person stopping vehicles to either let them pass or take the next exit to go back.  Sign boards had indicated another snow storm was due about 3pm.  Pulling up to the checkpoint I told the DOT person we were in four wheel drive and I had M&S tires on the truck.  He just looked at us and said, "you're good". T raveling over the Siskiyou's at 20-25 miles per hour, was a long tedious slog.  It did start to snow passing by Weed.  After going past Mt. Shasta and starting the downward run to Redding we noticed the north bound lanes completely stopped with both lanes backed up about five miles.  Both North and South lanes were closed after 3pm for the oncoming storm.  We rolled into Rolling Hills about 7:15 and secured the last hook up site available.  The wind blowing hard and rocking our Eagle Cap all night didn't bother us at all.  We were so glad to be through that day's drive." – Roger and Elaine Odahl, 2008 Dodge Ram 3500, 2004 Eagle Cap 950
"We were coming from a Lance Rally with twenty-eight truck campers down by Sandwich, Illinois heading Back to Hartland, Wisconsin.  Everyone just about left and my wife wanted to a shower.  The dumping area was backed up so she did, but we heard a bad storm was coming through. People told us not to go through tornado alley.  We left in a little while and got lost even thought we were heading north.  Suddenly the wind picked up real fast. We watched trees getting blow over! I  tried to go west but the high winds were heading south.  We were rocking real bad and getting scared especially when the wind rocked us so bad side ways and the duallies came off the ground and back down.  Now we had to find a place to hid the rig.  My wife said to pull behind a farmer's barn.  As fast as we could, we drove up into his yard hoping the barn wouldn't blow away.  Two seconds later we watched four of the farmers forty foot pine trees blow over.  Next we looked to the right and watched a small red car getting blown across the farmer's tall corn field and they were gone.  We waited until the rain and wind stopped and thought it was safe to leave.  The people in the farm were in their basement came out and couldn't believe we didn't flip over.  We headed up to our friend's place in DeKalb, Illinois.  They wondered what happen to us.  We told them that we got lost and they told us that we were in tornado alley we were lucky we made it.  We thanked our lucky stars and checked our shorts!" – Neil Steirer, 2008 Ford F350, 2008 Lance 1181
"I moved to Vermont from Florida and was living in the camper throughout the winter of 1978-1979.  The camper was up on blocks and the temperature sometimes hit minus 25F.  I would use a 20 pound LP tank every single night just to keep the inside of the camper at about 45 to 50 degrees.  I finally rented some 100 pound tanks.  My black water tank froze solid.  I had a heated water hose that leaked enough to form a ice block so large under the camper that I literally had to have a bulldozer come to break it up so that I could put the truck underneath the camper again.  What a experience!  I now live full time in a Lance 992 and am amazed at how much truck campers have changed over the years. – Dale Wilmot, 1967 Chevy 3/4 ton Camper Special, 1970ish Saturn