See if you can relate to this.  You visit the homes of friends and family in your truck camper.  They are not RVers.  When you arrive, they show you their guest room.
When you tell them you want to stay in your camper, they are initially perplexed, then concerned that you have somehow rejected their hospitality.
Here are three recommended ways to let your would-be hosts down, and not have them feel hurt or rejected.  We encourage you to start with the first recommendation, and proceed down the list should it be necessary.
1. Tell them that you have a very bad back and need the special mattress in your truck camper to avoid problems.  You wish you could stay in their house, but you don't want to risk an injury.
2. Explain that your dog (or cat) is much more comfortable staying in your camper and needs to sleep with you at night.  Then tell them a detailed story about how your fur baby one night peed in nearly every room of a house they didn't know.
If that doesn't do it, bring out the nuclear option.  Here it goes…
3. Reveal that you are a sleep walker and night eater and could wake up in the middle of the night and consume a complete jar of peanut butter from their pantry – with your bare hands (or is it bear hands?).
If these three recommendations don't work, drive immediately to the next stop.
Or do as we do.  I tell folks that our truck camper is our home, and that we enjoy having our own space at night, and we are allowing them to have theirs.  And our cat, Harley, will chew a hole through something if we leave him in the camper.  That's the truth, and we're sticking to it.
"Yes, I'm an habitual moochdocker.  During my six months of ramblin' every year, I usually moochdock at three locations.
I park on the street in front of my long time friend's place in southern California, where I spent my working years.
I'll stay the driveway at my son's in northern California for a few nights.  My eight year old granddaughter loves to come out and play in Grandpa's camper.
I'll also camp in the circular driveway at my cousin's in Montana, where I visit for a couple of weeks and try to catch some fish.
I do buy dinners for all three, so I'm a considerate moocher.  So far, I've always been invited back.  It's much more comfortable to have my own space while visiting." – Ralph Goff (aka Ramblin' Ralph), 2006 GMC 2500HD, 2001 Lance 845
"Yes, we moochdock every time we visit friends and family.  We love the comfort of our own bed, coffee in the morning, and a refuge when large family gatherings get a little too rowdy for us.  We will also be staying at our son's house watching their dogs while they take a Junior ROTC group to Kentucky in April." – Bill and Barb Johns, 2016 Ram 3500, 2018 Arctic Fox 990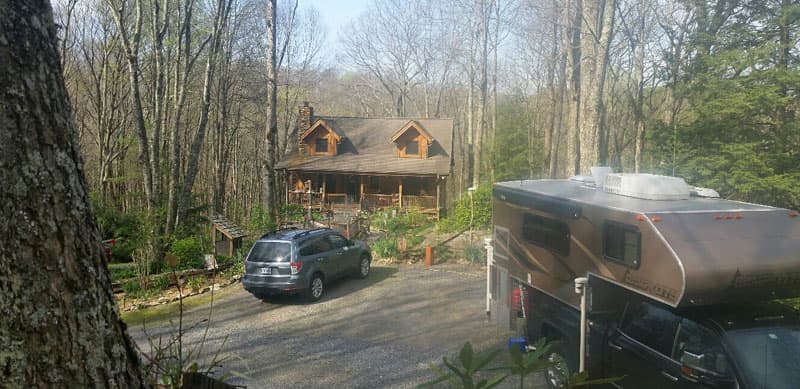 "We moochdock with my brothers in Jonesbourgh, Tennessee and Sun Valley, Nevada.  We also stay at my son's house the mountains of North Carolina.  I can't moochdock at my eldest son's house in Florida because of HOA rules.  I have to store my camper while I spend most of the winter with him.
I have 15-amps at all the places and water available.  I can live with that." – Thomas Baxter, 2016 GMC Denali 3500, 2013 CampLite 8.5
"Yes, I moochdocked in front of my brother's home using his 110-volt service.  I have no problem with his friendly neighbors.  I use three 2x10s street-side to level my camper.
I love the Arctic Fox 990's 59 gallons of fresh water, 39 gallons of grey, and 41 gallons of black that allow for more than six days without dumps and fills.