One thing we love about Question of the Week is that we learn about a wide range of topics from our truck camping community.  For example, we learned from this week's responses that 12-volt to 12-volt chargers are something we should look into for our computers, phone, and cameras.  We also learned that several readers are content with two batteries, all-LED lighting, and approximately a 100-watt solar panel.
Thank you to everyone who answered this week's question, "Do you have an inverter in your truck camper?"
"I have a Cobra 400 watt inverter.  It is located in the cabinet with the Samsung Blu-Ray player and Direct TV box.  Supplementing the inverter requirements are two Group 27 deep cycle batteries.  Our Lance also has the factory solar panel installed.  This combination allows us to watch our 19-inch Samsung television without any drain on the batteries for extended periods.
Also, the inverter has a USB port for charging our cell phones and iPad.  This configuration is most effective for boondocking so the generator does not have to be used for such low wattage devices.  I wouldn't be without it.  It's a very inexpensive upgrade for sports and movies." – Warne Todd, 2000 Ford F250 diesel, 2005 Lance 981
"Yes, we have two portable inverters; a 70 watt Vector and a 200 Watt Whistler.  The Whistler has two outlets and a USB charging port.  We use the units for charging the computer.  The iPad and phone are charged by the 12 volt outlet.  Sue is a quilter and she can operate her sewing machine and iron off the 200 watt inverter; not at the same time of course.  We also have solar panels and two batteries." – Don and Sue Graf, 2008 Ford F350 , 2013 Arctic Fox 865
"Yes, we currently have two small generic portable 100 and 150 watt inverters which we use plugged into the camper's 12 volt jacks.  We use these to power and charge small electronics and a 50 watt heating pad.  These are handy to have since we are not usually plugged into shore power.
Eventually, we would like to install a Xantrex 2000 watt inverter to power a coffee pot and microwave while not on shore power, but only use it for brief periods as necessary." – Bruce Tinkler, 2013 Ford F-350, 2013 Lance 1181
"Our old Panther had three full sized batteries and a 1000W pure sine wave inverter which ran a domestic type compressor fridge and all lighting and accessories.  It could also power the AC for a while.  It only charged from shore power or the engine's alternator. 

In my opinion, pure sine wave is the only way to go.  Our camper originally came with a modified sine inverter and it did some scary things to the laptop computer and other electronics.  I would never again use a modified sine inverter.  Most compressor type fridges do not like modified sine either. 

Our new camper, that we are building, will have only one battery and a 300W pure sine inverter.  It will have all-LED and fluorescent lighting and no refrigerator or air conditioner.  I have no plans for solar power." – Vince Kurpan, 2012 F150, Panther
"I haven't installed an inverter yet because I'm still looking for a spot in my camper to put it.  I would like to add an outlet by the sink for a coffee pot or toaster and one by the dining table to charge my laptop.  I'm looking for around a 1000 watt unit." – Pete Haidinyak, 2008 Ram 3500, 2014 Lance 1172
"I presently do not have an inverter, however, I'm in the market to purchase one.  Which one?  Full or chopped sine wave?  And how many watts?  I hope your commenters will help me out.
I do have one important question.  Why do you think you have to provide alternating current to all your toys (camera, computer etc), when you can purchase an inexpensive 12 volt charger that plugs into an ordinary cigarette lighter socket?  It seems to me that converting 12 volt DC to 120 volt AC and back again is very inefficient and eats away at your battery's storage.  Am I missing something? 

As 12 volt DC wiring is found throughout my camper, it's a simple project to tap into that wiring anywhere and install a 12 volt DC socket.  Do later model campers provide these 12 volt sockets?  If not, why not?" – Steve Cordis, 2000 Ford F250, 1996 Weekender 1010E
"We do not have one, have not missed it, and haven't figured out why we would need one." – Allen Brummel, 2008 Dodge Ram 1500 , 2008 Northstar TC650
"Being new to RVs when I purchased my truck camper, there was a steep learning curve.  But, I was up for a challenge.  Sitting in the camper, pulled into a small park on the way home from picking up my camper for the first time, I sat inside looking around and surveying the camper and one of the first things I looked at were the outlets.
That is when I realized I am a slow starter.  They didn't work and I needed to get that solved.  Then I found out about inverters and, of course, their inherent limitations.  Something so inane, such as a television, wouldn't run on one of those simple plug into a cigarette 12 volt outlet inverters.  You needed to have an inverter that meets the watts of the item you are using!

I soon solved all of this by installing my own solar system.  This was to match my daily power demands.  I mated my solar system with a Xantrex 2000 watt Pure Sine Inverter.  Now, many years later, I am still using this same set-up and successfully.  Nothing comes easily, but the more I delved into the problem, reading and researching, the things I needed were easier to understand.
It all came from why those outlets were dead.  It was a matter of what was needed to make them work every time, just like in a home, anytime I would plug something in to them, no matter where I might find myself boondocking." – Bryan Appleby, 2008 Ford F550, 2009 Lance 1191
"I have a Power Drive 300.  It is a portable 300 watt inverter.  It does an adequate job of charging the laptop and cell phones when camping.  It will also run our television." – Mike Suan, 2008 Silverado 2500 HD, 2010 Lance 830
"Yes, I have an inverter.  It is a 350 watt unit and was purchased at Fleet Farm (brand unknown).  My wife likes me to shave everyday and I don't have much luck with a blade.  I only use it to shave once per day.  I have been using it for six years now and it is very handy." – Rag, 2003 Chevrolet Silverado, 1980 Sportsman 8ft
"We have two inverters that we use in the camper.  One is a Tripp Lite PV375.  The Tripp Lite PV375 is hard-wired via a re-purposed motorcycle driving light harness.  The installation features a relay and remote switch with indicator light to two custom outlets.  It runs either of two LED televisions and a DVD player when shore power is not available.
I mounted the Tripp Lite PV375 in the basement to muffle the whine of the cooling fan, and ran the control switch/indicator light for the wiring harness to a site inside the living space for convenience.
The other unit is a portable solid state Energizer 180 watt cup inverter which has one 120 volt AC outlet and four USB outlets.  It's compact and lightweight.  We use this for charging cellphones and laptops at any one of several cigarette 12 volt outlets that I've installed in the camper.
Our camper has a 145 watt solar panel, three Group 31 batteries, LED lights, and an on-board generator.  Electrons-R-Us!" – John and Marylou Wells, 2011 Chevy 3500HD, 2012 Chalet Ascent S100F
"Yes, I do have an inverter.  It's a Nature Power Pure Sine Wave 2000 watt inverter.  It is hard wired into a transfer switch that is added to the main power cord.  Shore power is normal.  If the inverter is turned on, the transfer switch will switch the inverter to power up the camper.  All plugs will then have power.  The only thing I have to do is turn off the on board battery charger.
I have a four cup coffee maker and a small toaster oven that I make biscuits with in the morning.  I do not disturb anyone.  In other words, I don't use the generator.
I also have two batteries, solar panels, and my half of the camper has LED lights.  So, when I'm off the grid I use LED, and if I'm plugged in, it doesn't matter.
The Nature Power Inverter also has a wired remote and a USB charging port.  I also added a USB charging port with a 120 volt plug so charging phones, laptops, and tablets is an easy task. My LED television is also 12 volt." – Jeff Hagberg, 2002 Ford F250, Travel Lite 800 SBX
"I carry a small portable 150 watt inverter.  It's nothing special.  It is a Wagan Smart AC 150 with a USB and 110 volt out.  I used to carry two or three inverters, but slowly brought the proper 12 volt chargers for all our toys.
I have not had to get the Wagan out for a couple of years now and took out the backup inverters.  The power losses of going up to 110 AC then back to some DC value are significantly higher than buying the right DC to DC charger.  I have also switched to mostly toys that charge off USB and have wired multiple USB charge points around the camper.

I actually carry the Wagan in a gadget bag with chargers and adapters and such that goes in the car, even on non-camping trips just in case we need 110 volts when we are on the road.  I originally bought the Wagan because it is very thin and compact to carry." – Jim Bollman, 2000 Ford F250, 2005 Shadow Cruiser pop-up
"We have a factory installed Progressive Dynamics PD4000 Series Power Control Center.  The converter incorporates a three-stage microprocessor which senses three separate charging modes.  The truck also has two 120 volt plugs.  Both keep our batteries and other electronics fully charged on our three to four day trips.
On longer trips, we'll stop at a campground that has hook ups, if needed.  I am presently trying to decide whether we're going to add solar, a generator, or both." – J. Kevin McCarron, 2013 Ford F-350 Lariat SRW 6.7 LPS Long Bed, 2013 Northern Lite 10-2 CD Special Edition
"I have a Kisae 2000 watt pure sine wave inverter, two batteries, and a 150 watt solar panel.  I can run the 1850 watt microwave, the 1500 watt coffee pot, or the 950 watt toaster, one at a time, and still use lights or heat as needed.
I mounted the inverter to a cabinet shelf and presently use a heavy extension cord to the kitchen counter from the inverter." – Joseph Bergeron, 2013 Ford F450, 2007 Lance 1055
"The first installed inverter was a 600 watt Samlex Pure Sine Wave Inverter.  Currently the installed 1000 watt AIMS Pure Sine Power Inverter is doing the work.  The reason for the upgrade was the 600 watts could not make a pot of coffee with the generator on.  The 1000 watt inverter also has a remote.  Currently I'm dry camping since Friday afternoon (14 November) and haven't turned on the Honda 2000 watt generator on this trip.  Life is grand." – Paul Foster, 2005 Ford F250, 2008 Lance 845
"No, and I wonder why I would need one?  We each use our computers three to four hours a day each, charge cell phones, and charge camera batteries with the existing twelve-volt from the camper.
I have two 12 volt batteries, and two 6 volt batteries in series in the wheel well, and I built my own solar panel.  It seems to keep us going.  In three months I've never been plugged into shore power and only use the generator to nuke a few potatoes or unfreeze something.
I found a plug-in inverter (from Walgreens) that plugs into the 12 volt and is enough to charge the special camera batteries.  It's not much of an inverter but just enough to charge a cell phone or the special camera batteries." – Frank Niehus, 2007 Ford, 350, Arctic Fox 1150
"I purchased this truck and camper this year after downsizing from a diesel pusher motorhome.  It's Heart inverter spoiled me.  I decided I wanted the same features installed in the camper.  The Xantrex Pro 1000 was the right choice.  It provides battery charging when plugged into shore power or the generator is running.  It converts 12 volt DC battery to 110 volt AC, as all inverters do.
The best feature is a seamless changeover when shore power is connected or the generator started.  It is so fast that the satellite receiver and the television do not receive any interruption to their operation.
In addition to installing the inverter, I installed a triple-relay that would disconnect the air conditioner, microwave, and electric hot water heater when the inverter is the only source of AC.  If I need any of those appliances, starting the generator closes the relay making them all available automatically.
I should have also included the three-way fridge.  If I forget to change it over to gas while on the inverter, it will run the battery down quickly.  Next year, I plan to add solar panels and LED lights." – Chance Parker, 2005 Ford F350, 2006 Arctic Fox 1150
"Yes, I have a 300 watt portable that we have had for years." – Erwin Greven, 2002 Chevrolet Silverado 2500HD, 2002 Lance 921
"I installed a Cobra 2500 watt in the camper after purchasing it in 2006.  The installation is permanently located behind the outside shower door.  The Host camper was originally wired for a factory installed inverter, so there are a couple of 110 volt plugs in the camper that are now supplied with power, and were previously without power. 

After installing the heavy duty battery cables and in-line fuse, I tested the capacity by running my 6 horsepower shop vacuum on one of the outlets.  It worked great for the entire test of about twenty minutes.  Since then, all I use it for is the DVD player and television, and occasionally a smaller 110 volt appliance.  The equipment works great and, when we're without shore power or in a place that I don't want to start the generator, the inverter is a quiet and efficient way to provide needed power." – Dave Riddle, 1997 Dodge 2500, 2004 Host Tahoe DSDB
"I installed a Power Bright PW2300-12 with zero gauge cables.  The size of the cables are critical to the output of the inverter, especially if you are several feet away.  Think of it as trying to fill a swimming pool with straws versus large pipes.  Since I converted to all LED lighting, installed a 100 watt solar panel, and added this inverter, we have had no need to connect to shore power, except for extended use of the air conditioner.

It is a modified sine wave and it will power anything you can plug into a household outlet; an air compressor, microwave, etc.  It will even run the air conditioner.  Most importantly, it easily runs my wife's 1800 watt hair dryer. 

If I were to charge or run sensitive electronic equipment, I will use either the 12 volt charger that came with the device, or buy a smaller pure sine wave inverter, if needed.  But this inverter runs everything we need inside and outside the camper." – Lorin Lowe, 2012 Chevy Silverado 3500, 1999 Lance 1010
"Yes, I have a Cotex ST series 1500 watt pure sine wave inverter that I permanently installed on brackets that I built in the cabinet under the sink.  I use it when I dry camp at the Naval Air Station in Key West." – Carl Mutschler, 2005 Dodge 3500, 2005 Lance 1181
"We have several 150 watt plug-in inverters, and I've added fused 12 volt DC receptacles in the camper so that we always have one or more nearby.  However, the main inverter system is truck-mounted.  I made a frame to mount two GP31 AGM batteries under the truck, and these are charged by the engine via a Hellroaring isolator.
The batteries feed a 1800 watt Xantrex modified sine wave inverter that's mounted up under the truck bed.  The inverter powers a weatherproof duplex ground-fault receptacle mounted on the driver's side of the tow hitch.  I use a nine foot appliance cord to plug the camper into the receptacle, so going down the road, or while parked, we can always have 110 volt AC available.  The camper itself has two group 31 AGM batteries, all LED lighting, 160 watts solar, and an Efoy fuel cell.  We no longer have any need to plug in anywhere." – Duncan Crawford, 2008 Ford F450, 2008 S&S
"I have a portable 70 watt Vector Pocket Power Inverter.  I have carried it many years and use it to charge a phone and to plug in my electric shaver.  I do wish I had a larger built-in inverter to power the 110 volt outlets in the camper.  We have two batteries, LED lights, and a 100 watt solar panel on the camper." – John Bull, 2004 Dodge 3500, 2015 Arctic Fox 990
"We have two 12 volt outlets in our Alpenlite truck camper and have a PowerDrive PPD150 150-watt DC to AC power inverter strip w/USB port and 3 outlets plugged in to each outlet.  We purchased the inverters from Amazon for about $24 each.
We use one of the inverters to power our television, satellite dish, and Direct TV box whenever we are dry-camping.  We use the other inverter strip to keep our iPhones, iPads, and camera gear charged up.  These are great inverters and the 12 volt pass-through port is a nice bonus.
With the 95 watt solar panel we installed, dual batteries, and 100% LED lighting, we've never had a problem with low batteries." – Rex Carroll, 2004 Ford F350, 2006 Alpenlite 950
"We have installed a Xantrex 2000 watt inverter mainly so that we can use the installed microwave oven for short uses off of our two Trojan 6 volt golf cart batteries.  So far, we have been very pleased with clean and powerful 120 volt AC from the Xantrex.
We carry a Honda 2000 watt generator.  However, the quick, simple, and short use of the Xantrex inverter is very convenient.  We have 130 watts of solar with MPPT Controller.  We may double the solar capacity, but for now we feel we have a great array of options." – Gary and Laurii Gadwa, 2012 Ford F350, 2011 Eagle Cap 950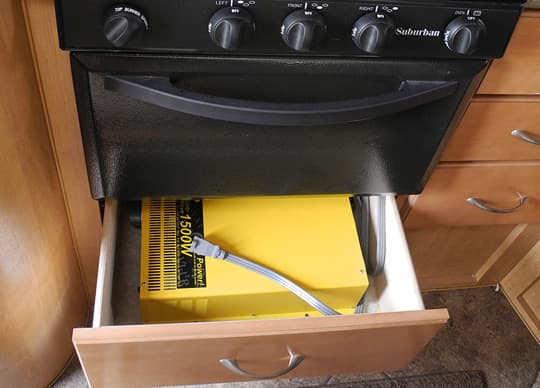 "My 2013 Adventurer 89RB came with a microwave that I could not use without shore power.  I dry camp a few days at a time.  Then I installed the GoPower 1500 watt inverter in the pots and pans drawer below the oven.  I put it there since the 12 volt battery compartment is just five inches behind the drawer wall.
The inverter kit included number two wiring.  Twelve inch leads were made and connected from the parallel battery posts to the fuse and inverter with enough slack to allow the drawer to slide open.  One battery was turned around so the post was closer to the hole.  The multitude of pots and pans is no longer needed.  With the twin 12 volt batteries there is enough 110 volt capacity to run the microwave continuously for seventeen hours.  A heavy duty extension cable is used to plug in the microwave, induction cooktop, or any other device such as power tools or, in an emergency, the music sound system of the group I belong to.
The GoPower 1500w was purchased from an auto parts dealer as the inverters are used in emergency vehicles, like ambulances and fire trucks.  The cost was 30% below the RV store's price.  The inverter has proven to be a great addition to my camper." – Vic Smith, 1997 Chevy Silverado 2500HD, 2013 Adventurer 89RB
"I permanently installed an Exeltech 2000 watt pure sine wave inverter with remote on/off.  It's American made, has a good warranty, and performs very well.  I used an industrial selector switch with stacked multiple contacts to disconnect the microwave and the outlets from the existing camper circuits and reconnect them to the inverter while simultaneously turning on the inverter (never with an appliance under load).  It runs the microwave, coffee maker, hair dryer, and curling iron.
I think it's nice to not only be off the grid, but to minimize propane use.
My only regret is that I used price and local availability to be my guide for wire size.  If the unit were to be run at its rated load, the voltage drop (or line loss) on the 12 volt input side would be a little excessive.  I did use marine grade circuit breakers mounted near each of the four AGM batteries mounted to the truck frame.  These protect the fifteen feet or so of cable winding about on its way to the inverter." – Charles Phy, 2011 Dodge 5500, 2010 Eagle Cap 1160
"I've been using the Goal Zero Yeti 1200 solar generator, but have recently purchased the smaller 400 and Sherpa.  These products are portable enough to be repurposed when they are not in the camper.  They have a very nice ergonomic footprint and have been very reliable.
I have several portable solar panels to compensate for shade and portability.  I've made my own system, but it is bulky and difficult to store.  I haven't found anything else that really compares that is commercially made that fits my preference of an MPPT charge controller and pure sine wave package in an all-in-one package that looks really professional and inviting to use." – Skinny Badger, 2005 Chevrolet 3500, 1991 Hideaway
"I use a 300 watt portable Tripp-Lite inverter (located up in the over-counter cupboard area and plugged into the 12-Volt connector up there) to power a television occasionally, and I use it all night to power a CPAP machine. It also does a fine job of charging phones, iPods, Kindles, etc, but it sometimes will not work with the power cord for my Sony laptop.
The latter places too strong of an initial power draw on the system (probably due to the transient inductive load) and the inverter system just stops.  Since the inverter works well with everything else, I blame the Sony device for this problem, and not the inverter, with which I am very pleased.
I'd like to use this opportunity to warn your readers of another electrical glitch that I've experienced, and about which all truck campers should be aware.  The older main power supplies and charger panels we have in our units to utilize shore power, run AC outlets, and charging our camper batteries can fail in a particularly damaging way.
My fourteen year-old unit occasionally drifted in charging voltages all the way up to 16 Volts, and that would then set off my propane alarm.  Despite my engineering and physics background, I mis-diagnosed this problem, replacing the propane alarm unit and ignoring the charger unit.
Well, two dead $125 deep cycle batteries later, I luckily learned from a veteran RVer that these shore power panels can fail.  Once the batteries become fully charged they just begin escalating the voltage to ever higher levels, causing the battery acid to actually boil in the cells.
It's the emitted gases from this event that were tripping my propane alarm (thank goodness!), and the boiling fluid damaged the batteries.  I've learned that the bottom section of these old shore power panels can be replaced with newer, upgraded configurations for about $200 to $350, and the newer units have better electronic control circuitry to both measure and properly respond to battery charging voltage needs, as well as to limit overvoltage conditions.
I've just ordered one of these replacement modules, and will see how it works.  Meantime, I no longer plug into shore power, but just run the truck engine at idle to charge the batteries for about an hour each evening while I'm preparing dinner and thus running the vent fans and other loads.  That charges me up sufficiently to make it through even the cold New England nights.
Finally, in response to your comments about the perfect electrical configuration for boondocking with minimal use of shore power, I would emphatically agree with the recommendation of LED lights.  What a huge reduction in battery load these provided.  Turn on just one conventional incandescent bulb and the voltage of my two Group 27 deep cycle batteries noticeably declines.  But, when I turn on all ten of the LED lamps in my unit, it doesn't blink an eye.
Now, will someone please design a furnace that uses a fan with a more modest power draw?  One can run a Fantastic Fan vent for days on a single battery charge, but just twenty minutes per hour of the furnace fan blowing a far lower volume of air in my unit over night depletes my two high capacity batteries!" – Reed Prior, 2007 GMC Sierra 2500 HD, 2000 Travel Lite
"I have a 2000 watt Vector non-sine wave model with a remote on/off switch.  Vector has been bought by Black and Decker who then discontinued similar models.  One thing to be careful about in sourcing and buying inverters is to inquire about the current draw or drain when using a remote on/off switch.  Some models will drain your RV battery even in the off position.  Working with a knowledgeable company such as DonRowe.Com will allow you to find inverters made by Samlex with remote switches that have close to a zero current draw.  It is also important to use the correct size wire to connect your inverter to your RV battery." – James Jeffries, 2007 Toyota Tacoma, Phoenix Pop Up
"We have Xantrex ProWatt installed by Hallmark.  It is a high quality pure sine wave inverter, but we rarely need to use it.  I originally installed it in order to run a medical device, but immediately after I started using the camper I was able to get a 12V version of the device which is more power efficient than going through the inverter.  It is always more efficient (i.e. lower drain on battery) to use 12V directly than to invert it.  And with the proliferation of 12V charging equipment with USB interfaces for phones, tablets, etc, I now only use the inverter when I run the laptop.  I still like having it though, just in case.  Our camper has a 100W solar panel and dual batteries, so we are very accustomed to extended camping off the grid." – Bryan Thompson, 2011 Ford F250, 2012 Hallmark Everest