Truck Camper Magazine readers report their truck and camper fit compatibility experiences.  The poll result reveals good news.  The comments showcase the challenges and solutions.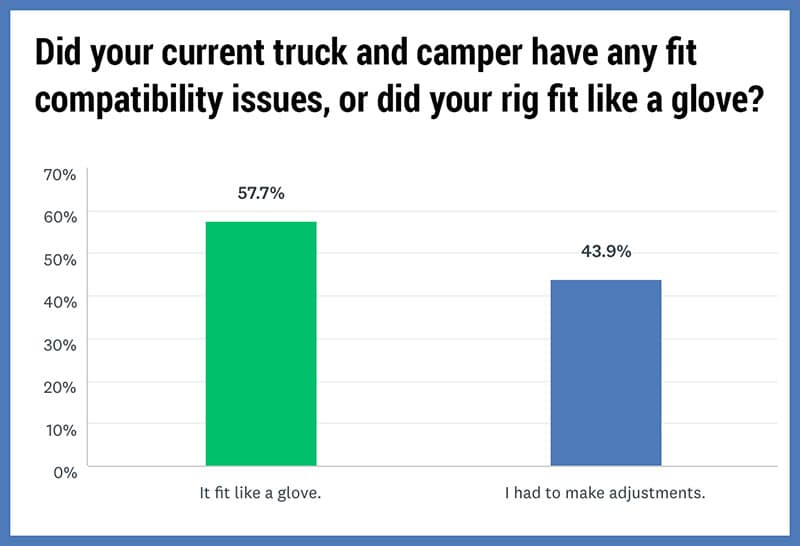 According to the poll result, 57.7-percent of truck and camper matches fit like a glove.  No adjustments are necessary, just load and go.  That's the good news.
Digging into the comments, there's actually more good news.  Most of the readers reveal minor fit compatibility issues that were easily solved by installing (a) a truck bed mat and/or plywood riser to clear the truck cab, or (b) a wood spacer to push the camper back to clear the tail lights.
Both of these problems and their solutions should be widely familiar to any truck camper manufacturer, dealer, and consumer.  This is why I focused on fit compatibility in the article, "How To Match A Truck and Truck Camper".  It's also why I threw a red flag when the new trucks emerged with all their bed and cabover dimension changes.
The take away from all this is simple; for any proposed truck and camper match, pay attention to fit compatibility.  As the above poll shows, chances are your rig will fit like a glove, but at least be prepared to need a riser, or a front spacer.
This week's Question of the Week was, "Did you current truck and camper have any fit compatibility issues, or did your rig fit like a glove?"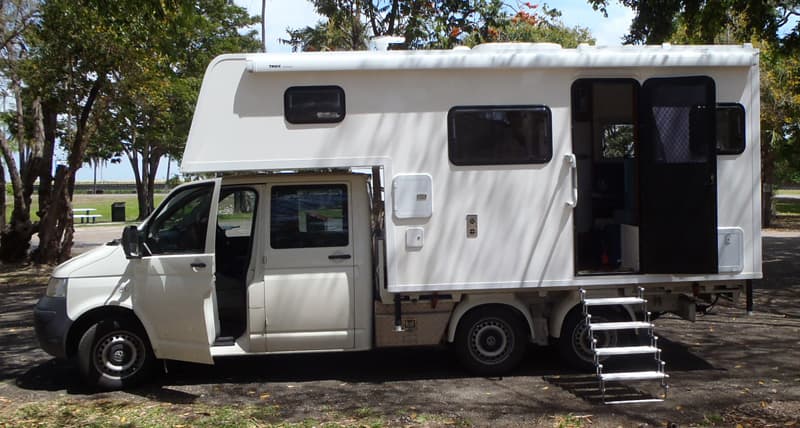 "I don't understand why Americans love standard truck beds.  Here in Australia we put flat trays on Utes and throw away the small standard bed.  This enables us to make campers that have flatbeds, which are so much easier to build, are much stronger, and have no wasted space.
I have seen some flatbed campers made by US companies as well.  Why don't you start showing those?  Maybe you can point people in that direction and then the compatibility problem won't be a problem." – Chris Adams, 2008 VW Transporter, 2017 Shedbilt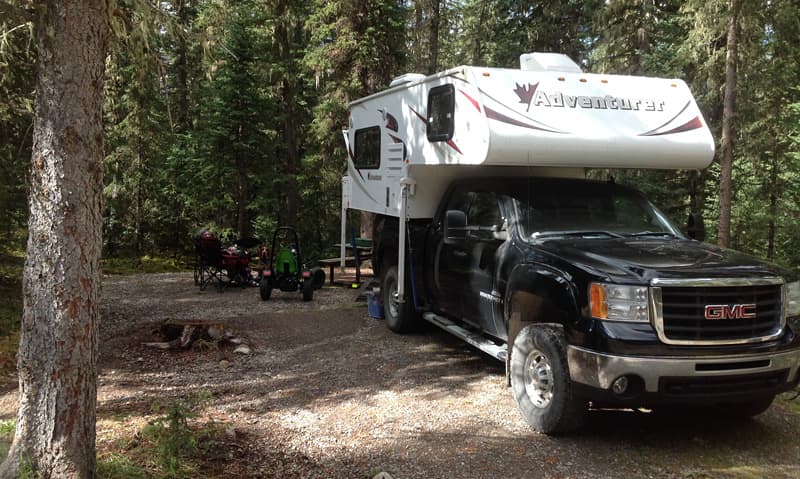 "There are no issues with our combination; 2007 GMC Sierra 2500HD and 2016 Adventurer 80RB." – Brian Plourde, 2007 GMC Sierra 2500HD, 2015 Adventurer 80RB
"I have to use five sheets of plywood under our 1997 Bigfoot 10.6 truck camper.  This raises the cabover enough for adequate clearance on the truck cab roof and clearance lights.  Other than than, no problems." – William Jones, 2003 Ford F350, 1997 Bigfoot 10.6
"Our former Lance 1161 with a StableLift system sat on a sheet of 3/4-inch plywood to clear the truck bed rails.  The new camper fits perfectly." – Larry Bell, 2003 Dodge 3500 diesel, 2017 Northern Lite 9 6 Classic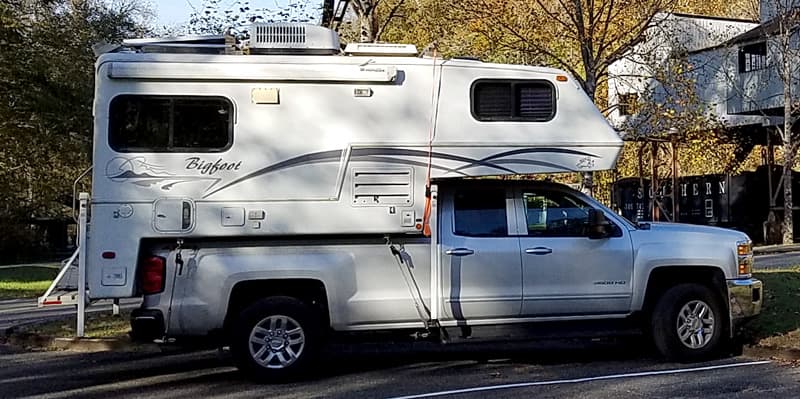 "The higher bed rails of our 2017 Silverado 3500 provided almost no clearance to the wings of our 2000 Bigfoot 9.6 truck camper.  The biggest problem came from a new radius at the bottom of the 2017 Silverado's tailgate that hit the edges of the camper.
To solve both problems, I made a 1.5-inch riser.  I built it using 2x4s like a ladder with two 8-footers below each edge connected by four 4-footers at the front, back, and midships.  A 1×4 would have provided enough clearance, but I had extra 2×4 laying around and they provide enough clearance between the rails and wing to slip a garden hose into for easy storage.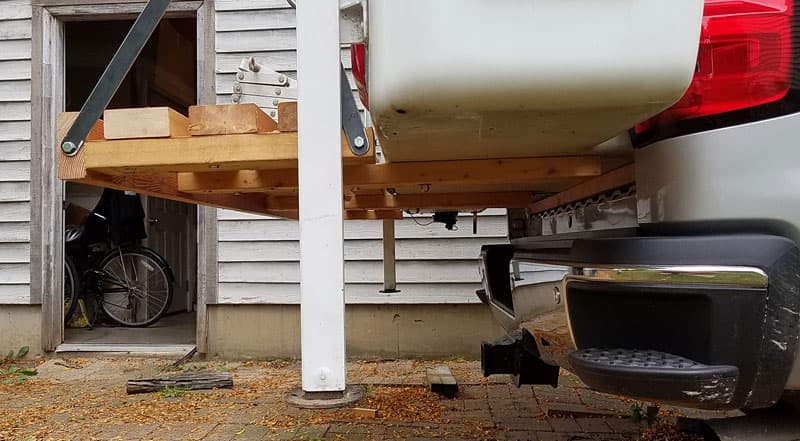 The ladder structure is much lighter and more dimensionally stable than two 4×8 sheets of 3/4-inch plywood would be." – Tom Strock, 2017 Silverado 3500, 2000 Bigfoot 9.6