This week we asked Truck Camper Magazine readers, "What hobbies have you been able to bring with you on the road?"  We were delighted to discover just how many different truck camping hobbies our readers enjoy.  Wait, one guy is taking a midi-lathe on the road?
"We enjoy motorcycling, hiking, photography, catching up on recorded television series, and bicycling while on the road.  A small purpose-built camper makes it easy." – Pete and Julie Marshall, 2003 GMC Sierra 2500HD, 2007 Adventurer 810WS
"Mountain biking is a hobby.  I am working on front mounted motorcycle hauler for my vintage 1967 Honda Dream 305 that I restored." – Scott Ridgway, 2003 Dodge 2500, 2012 Lance 1050S
"I am a very serious quilter, and could not be away from it for the length of many of our trips.  Our truck camper has a space built into the closet for my sewing machine.  The pressing mat and cutting mat are stored under the bed.  My sewing machine and a small pressing iron will work off our inverter.  I sew and rotary cut on the table and do my ironing on the counter between the sink and stove.  The projects and tools I need are stored in the bottom of my clothes closet.  As we travel, I am always looking for quilt shows and quilt shops." – Sue Graf, 2008 Ford F350, 2013 Arctic Fox 865
"Bird watching.  All we need is a good reference book and a pair of binoculars.  I keep a list every year of the birds we see.  It's a fun hobby.
Hiking.  We always bring our walking sticks and hike at every opportunity.  Exercise is great, and the views are fantastic.
Antique tractor collecting.  We attend several shows every year, sometimes taking one of our tractors for display.  With a truck camper it is easy to haul the trailer along.
Cooking.  Bonnie likes to try different methods and recipes and we've all gotta eat!" – Dan Forry, 2004 Ford F-250, 2006 Palomino 1251
"Photography.  I am preparing to travel with a Modular N-Scale Model Railroad.  I'm rebuilding my trailer to accommodate my N-Trak modules and layout by adding a Snowcap canvas trailer cover." – Bob Phillips, 2011 Silverado 1500, 2004 Travel Lite Mountain Star 800
"The reason for my truck camper was and is the hobbies.  Fishing and towing a boat, horse camping and hauling a small horse trailer, off road exploring and hauling a true off road vehicle.  Nothing works as well as a truck camper." – Cheryl Nelson, 2004 Chevy 3500, 1990 Shadow Cruiser 9.5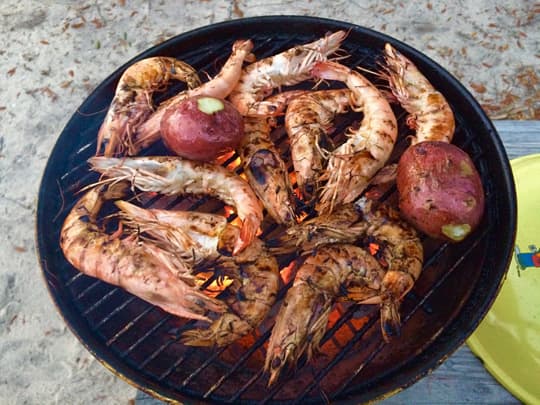 "Cooking.  David and I are passionate about eating fresh, interesting foods daily.  David tends to be the prep cook.  I do the grilling.  While out camping, we always take time to build a nice fire for cooking.
Another hobby is taking our dog, Gus, and cat, Dusty, with us.  While we do a fair amount of cat chasing.  He always returns to his camper and we have yet to leave him behind." – Susan Jessen Milner, 2004 Ford F350, 2000 Skyline Weekender
"My wife and I share a common interest in our computers and all the information that is available.  I have virtually given up on printed books opting instead for talking books many of which can be downloaded without charge.
I enjoy fishing although the lack of an interstate system of fishing licenses for seniors is a detriment.  My wife is an accomplished birder, which is a pastime which can be pursued anywhere.
My personal passion is for billiards.  Most towns have a pool hall, some better avoided perhaps, but many are designed for families and are often part of a bowling alley.  A bonus is that a couple of pool cues take up much less space than a set of golf clubs.
Neither of us are great photographers but we do keep a digitized record of our travels.  Photography is great to keep friends and relatives up to date through email and Facebook.
My one complaint is that we need a better system of hooking up with WIFI when we are traveling.  Getting a signal at McDonalds gets old pretty fast." – Peter and Anna Staples, 2013 Chevrolet 3500, 2013 Lance 1172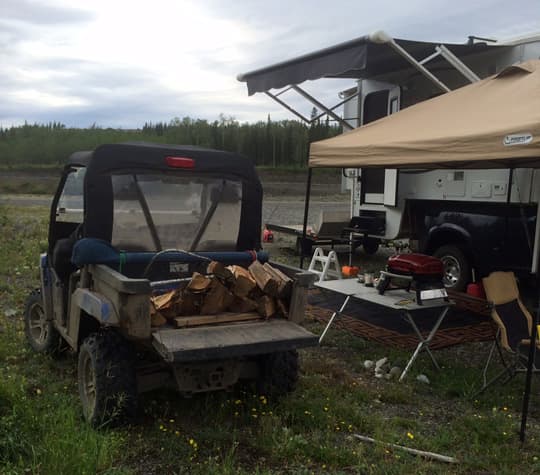 "Reading, fly tying, fly fishing, riding UTVs, hunting, playing cards, Yahtzee, exploring Alaska, and, last but not least, relaxing with good micro brew beer." – Tom and Doreen Warren, 2013 Dodge Ram 3500, 2013 Eagle Cap 1160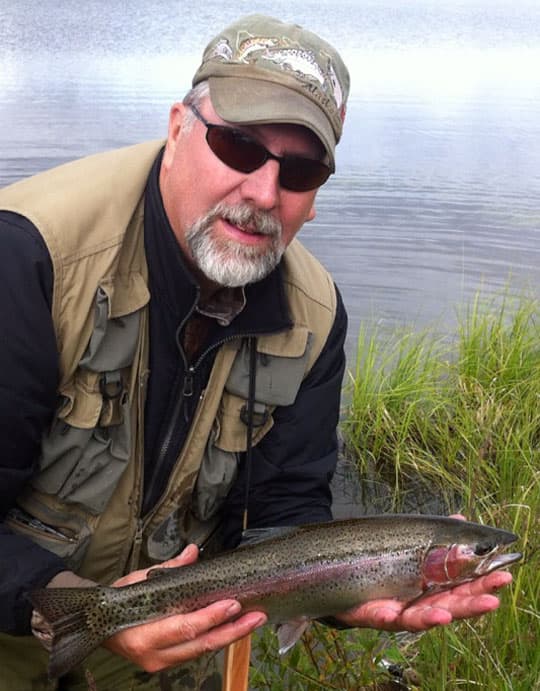 "I tow my Jeep Rubicon behind my camper.  We like to find back trails around the country.  When we are not towing the Jeep, we pull our horse trailer and go horse camping up in the mountains." – Erwin Greven, 2002 Chevrolet Silverado 2500HD, 2002 Lance 921
"Hobbies and truck camping started for us in 1967.  At first it was riding endro's on my motorcycle and I soon went on to professional motocross for the next six years.  The kids came along and we got into horses.  In 2008 we ditched the behemoth living quarter, four horse trailer and went back to a truck camper and bumper pull trailer.  Now we go wherever we want with or without the trailer." – Pete Clark, 2006 Dodge Ram 3500, 2008 SnowRiver 10-2 RK
"Providing us the most enjoyment is our Jeep Wrangler Unlimited.  We enjoy many of the scenic off road activities that many people will never do or see in a lifetime.  We have enjoyed many trails in Georgia, Tennessee, Florida, Utah, Wyoming, and Colorado.  In particular we have participated in the annual "Easter Jeep Safari" in Moab, Utah, a world class event.  Florida and Utah offer many challenging sand fields. In western Colorado the San Juan Mountains around Telluride offer demanding opportunities with Imogene Pass, Black Bear, Corkscrew, Engineer Pass and more.
Hiking in the National Forests around the country is relaxing and pleasurable.  We especially enjoy taking our pedigreed Weimaraner Toby with us.  He brings us much joy to watch his excitement on the trail looking for what ever he can find.  They enjoy pleasing us, and offer protection from aggressive wild animals.
In summary, we just enjoy the great outdoors in every respect anywhere, any time." – Warne Todd, 2000 Ford F250, 2005 Lance 981
"We started truck camping so we could tow our Jeep and stay anywhere.  My food allergies had made it impossible to eat out so a truck camper was perfect for eating and towing, not to mention sleeping!
We now have a RZR XP1000 and love the ability to go swooping down any dirt road we come to.  We love exploring and off-roading, so this is perfect.  We also enjoy hiking and mountain biking and the camper serves us well here, too.
We have a hitch on the back of our RZR trailer for the bikes (eventually we will put one on the front of our new truck but with only ten days to get a new truck that needs all new hitches and tie-downs ready for a trip, something had to give).
Last weekend we purchased some great plastic file cabinet drawer stacking boxes at the Container Store to hold our hiking and biking equipment neatly in the back seat of the truck.  I have been looking for something just like these for years – so excellent!
I also love photography and keep up with our adventures (and daily life) by making a daily cartoon episode (or two) starring our plastic skeleton Heinrich and his friends.  I love creating the episodes after having captured cameos of Heinrich throughout the day and then I supplement the cartoon (made on the iPad using Strip Designer) with a narrative blog-style entry that is kept with the cartoon in an app called Day One.  It has been a great way to chronicle our daily life and our travels, and I even have a sizable group of individuals who subscribe and read the episode every day.  Hey, it's free so they sometimes get TMI on our lives.  I just say to myself, "They get that they pay for."
We also love to read and have a huge library of ebooks borrowed from the library in a cloud account so we can read to our heart's content.  eMagazines are also free from our public library so we stockpile those as well.  Finally, we like to watch television shows that we don't have the chance to see at home (generally catching up on shows we never started watching years ago, like NCIS and Burn Notice, with this year's special treat: Moonlighting).  We order the DVD from Netflix and store it on a 1TB hard drive that can talk to our TV.
We never run out of things to do with all of these hobbies.  I think we sometimes come home a bit more tired than when we left for trying to get in all the fun we can!  I'd imagine that's a common story among all of us!" – Steve and Tracy Schuster, 2015 GMC 3500 HD, 2012 Lance 992
"Photography is at the top of the list for sure.  Russ does ham radio, and I do crocheting.  We both love hiking and exploring.  Back home Russ is an avid woodturner and I love canning and drying foods.  I would love to have a garden, but we are never at home!" – Russ and Gretchen Berquam, 2014 Ford F350, 2015 Arctic Fox 1140
"The hobbies determined the RV.  Fishing with our boat in tow, staying in national forests, parks, BLM land or state parks and forests, travel/scenic photography, and hunting.  I want a 4X4 for running errands on our winter streets as much as accessing remote campgrounds.
Motorhomes/camping trailers are too long.  Motorhomes aren't often four wheel drive.  My pickup actually hauls stuff and it's my daily commuter (not my wife's) when we aren't traveling." – Philip Tron, 2009 Chevy 3500, 2012 Lance 1050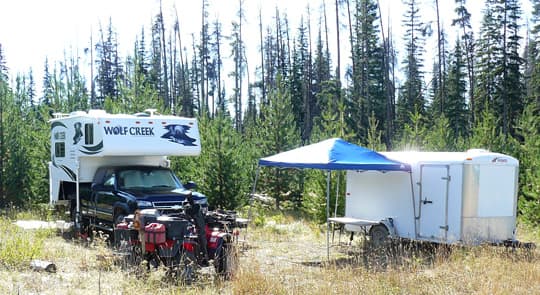 "We like to hunt, fish, attend archery 3D events, Quad (ATV), and camp with friends.  For most of these hobbies we tow a six by twelve cargo trailer, that has our quad, and all our gear.  We have the Fox Landing on our camper which allows us easy access to the camper without unhooking the trailer.
For hunting trips the trailer allows us to bring along our five foot cooler.  We also take along a ten foot Zodiac, when lake fishing or just bring our belly boats.  The trailer allows us to bring all our toys.  When we go on extended camping trips we usually leave the trailer at home, and pack carefully.
I forgot to mention that our Australian Labradoodle, Flip, (50 pounds) comes everywhere with us.  Having had all types of RVs, the truck camper certainly fits our lifestyle the best." – Rick Jones, 2005 Chevrolet 2500 HD, 2013 Wolf Creek SB
"Hiking, biking, kayaking, skiing, snow shoeing, fishing, rafting, geocaching, visiting historic sites and National Parks, photography, chemistry (related to hops, grain, and malt fermentation)." – Bill Tex, 2006 Chevy 3500, 2013 Eagle Cap 850
"I participate in BBQ competitions and specifically purchased a camper setup so I would have a good night's sleep.  Plus, I can do the food prep inside a quiet, dry, comfortable setting.  It's working well so far." – Dale Groetsema, 2015 Chevy Silverado 3500 HD, 2014 Lance 1172
"I plan to take my midi lathe on the road." – Pete Haidinyak, 2008 Ram 3500, 2014 Lance 1172
"Taking my RC airplanes cross country and flying at different fields.  I also like astronomy with the telescope and camera.  We also enjoy traveling, meeting new people, and seeing the sights." – David and Lila Weinstein, 1999 Ram 3500, 2005 Arctic Fox 1150
"We are still discovering new hobbies for the truck camper.  We play games in and out of the trailer, hike, and fish.  I'd love to see your set up for your stereo and turntable.  My husband would love to take some of his 800+ record collection on the road." – Pam Conner, 2015 Ford F350, 2015 Arctic Fox 1150
"Hiking, backpacking, four-wheeling, racing cars, and photography." – Bruce and Kathy Allison, 2000 Ford F350, 2012 Adventurer 910FBS
"We are avid rock collectors and sometimes end up with far to much weight on the truck for the trip home.  Denise loves to use her metal detector and enjoys panning for gold.  I love exploring and love to get a fishing line wet.  I am always spend some time on my Ham radio (installed in camper) when we are settle somewhere for the evening.
Our combined hobby is time spent with our Madi, our young and energetic German Shorthaired Pointer.  She adds at least 100 extra smiles to our faces everyday." – Denise and Wes Hargreaves, 1994 GMC 3500, 2004 Snowbird 108DS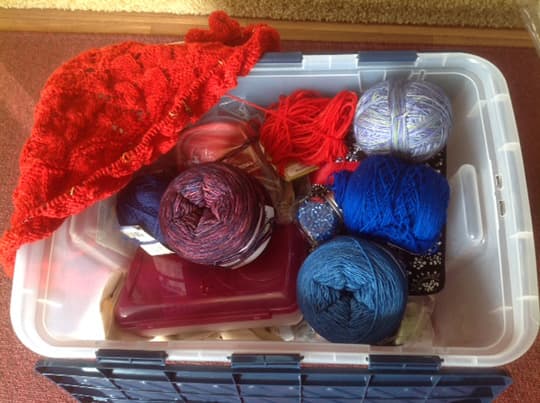 "My grandmother taught me to knit when I was about five years old, so it has been a long time hobby.  As we pack the camper for trips, picking out yarns, patterns and equipment is one of the hardest choices.  Everything has to fit in one plastic tub and I don't allow myself to exceed that.  Over the years I've started a lot of fellow campers knitting and it is a joy to see how they have progressed as we meet again.  I do allow myself a souvenir skein of yarn on each trip and the hunt for it has led to many adventures.  We both also love to read.  The Nook is now the choice for keeping a lot of reading on hand." – Anne Brown, 2013 Ford F-450, 2013 Chalet triple-slide
"I love making movies for friends following our country wide travels.  To make them even better, I got into aerial photography using a DJI Phantom quadcopter and a GoPro Hero 3 camera.  Of course, with any hobby, you can expand as I did by adding a three-axis gimbal to give the camera pixel level stabilization during flight, and integrating a transmitter into the quadcopter to allow me to view through the camera using my goggles.  I have made many aerial videos all around the country as it gives us a unique perspective on this great land of ours.  See some of our beautiful Alaska videos." – Charles Coushaine, 2001 Ford F350, 2012 Chalet DS116RB
"Photography, golf, hiking, and reading." – Douglas Hogue, 2007 Chevy Silverado 2500HD, 2004 Adventurer 850
"By day, radio control model sail planes, and by night, astronomy!  Night skies are amazing when boondocking.  I did have to downsize to a travel size telescope, and that works great.  Even a good pair of binoculars will open up a whole new world." – Richard Sullivan, 2010 Chevrolet Silverado, 2007 Lance
"Probably our number one hobby is travel.  We are a go, see, do family.  We are both into guns.  We just got back a few days ago from the NRA annual conference and show in Nashville, Tennessee.  While the show only goes about four days, we spent two weeks traveling from our home in Boerne, Texas to Nashville and back.  We make a habit of not driving back on the same route we took to get there.
All total we spent almost a full month in travel to various shows and exploring off the beaten path towns in less than forty-five days.  Our only wish is that our truck camper would fit in the belly of a plane for when we travel outside the United States.
Last week we met a couple at a park we were staying at and they came over to see our truck camper.  We all got a great laugh when we both discovered that we all had come from motor coaches.  The freedom a truck camper gives takes travel and exploring to a whole new level." – Don Pryor, 2015 Ford F350, 2008 Arctic Fox 1150
"Well, actually our hobby is why we have a truck camper.  Every year we would take a three week long fishing trip.  The weather would vary from cold and wet to hot and dry during the same trip.  So tent camping grew old and, after seeing my fishing buddy's new truck camper, we bought our own truck camper.
Now we are on our second truck camper.  The truck camper allows us to tow a boat or bring an inflatable boat with small outboard motor.  It also allows us to stay at Forest Service campgrounds and trailheads to hike into lakes." – Henry Nelsen, 2007 Toyota Tundra, 2012 Northstar Liberty
"I'm semi-retired now, but I teach high school physics during the school year.  Since age eleven, I've been a ham radio operator.  For most of my life I've lived in antenna-restricted city and suburban housing, so ham radio operating has been limited to trips when I could drape a wire antenna out of a hotel room window or string one up between the trees at a camping site.
Since acquiring the used Travel Lite truck camper a few years ago, I've finally found the ideal mobile platform for my hobby.  I just bought a small Yaesu FT-817 HF transceiver, and have been using it with a portable whip antenna just extended inside the wood-framed camper.  It works okay on the digital modes, but this Summer I hope to mount a tunable HF screwdriver antenna externally and have a real mobile station for the first time since I was a kid.  Stay tuned for updates!" – Reed Prior, 2007 GMC 2500 HD, 2000 Travel Lite
"I started rock climbing in 1980 and only had done two car road trips before that.  For many years as my employment allowed me the summer off I'd travel west, or to Europe, to climb.  When I retired in 2006 I bought a truck camper to continue living on the road, is style compared to how I used to travel, and climb.  So climbing came before truck camping.  One caveat though climbing isn't really so much a sport or hobby as a life style." – Al Stebbins, GMC 2005 2500HD, Northern Lite 8-11 Queen Classic
"We have so may hobbies that it borders on ridiculous.  Nevertheless, we seem to bring most of them with us on many of our truck camper travels.  We enjoy photography, hiking, trekking, bird watching, wildlife watching, fishing, hunting, back packing, Ham radio, sewing, needle work, reading, motorcycling, off roading, and the list goes on.  Some trips emphasize a couple hobbies and others may include many hobbies.  We just love traveling with our truck camper and enjoying our many joys in life." – Gary and Laurii Gadwa, 2012 Ford F350, 2011 Eagle Cap 950
"Our two hobbies for which we use our truck camper are fishing and horseback trail riding.  We purchased a truck camper since we were really tired of going everywhere with two trucks and two trailers and trying to get our fifth wheel into small backwoods spaces." – Tricia Mason, 2009 Ford F350, 2008 Montana Ponderosa 9.5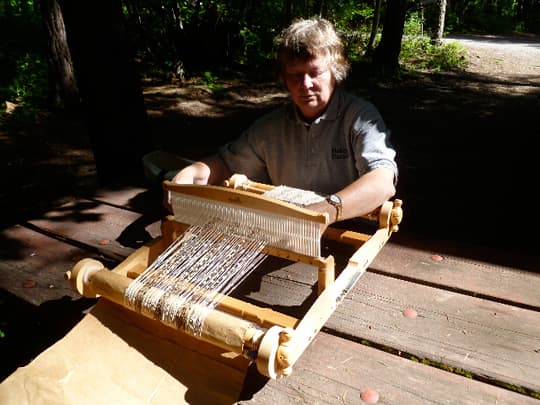 "I am a spinner, weaver, and quilter.  Obviously, I can't fit my spinning wheel, floor loom, and sewing machines into the camper, but I found a way to take it all along!  I pack a bag of wool, a drop spindle, a folding rigid heddle loom, and even a tiny Featherweight sewing machine into the camper.
My husband pulls a trailer behind the camper which brings along either the Harley, or two small trail bikes.  He also restores old British sports cars, so even they go along with us to car shows as he pulls a car hauler behind the camper.  He's always tuning them or fixing them, so in a way his hobby comes along with us too!" – Evelyn Roseberry, 2002 Ford F250, 2005 Arctic Fox 860
"We enjoy a lot of hobbies when we are out and about in our truck camper.  We enjoy art.  We always have water colors and colored pencils and art paper in a cabinet in the camper.  We also like photography and hiking.  We have Kindles, which saves space and reduces power usage at night.  We're amassing a collection of Benchmark Atlases to help us find boondocking sites, preferably at remote hot springs.  It's a bit of a challenge to find places to put the collected rocks for our rock collection, but we've made it work so far.
Our newest hobby is kayaking.  We bought a two-person, inflatable Sea Eagle kayak. Although it's a bit bulky, we can seat belt it in behind the driver's seat in our extended cab.  It has not yet gone on a trip with us, but we've used it around home.  We can have it inflated and ready to go in less than fifteen minutes.  We are really looking forward to being out in the many lakes we visit when we travel." – Karen Clark, 2013 Ford F350, 2013 Hallmark K2
"I like to take pictures of nature when we travel.  I use my phone camera as well as a Cannon point and shoot camera.  I also like to read books during the day and evening when I am not hiking with my Yorkies.  Often I will visit libraries where I meet people and learn more about the area that I am visiting.  I also like trying out new recipes and cook often in the camper.  My. husband is often a taste tester!" – Helen Scurzi, 1991 Chevy 3500, 2008 Lance 9'11"
"Camping.  Duh!" – Mark Obert, 1999 Ford F250, 1999 Lance 920
"For the past several years I have pursued Genealogy and I've been able to visit libraries, museums, state capitals and places my relatives lived while traveling in the truck camper.  It's great for family reunions too!
Getting away from all the electronics while out camping allows me uninterrupted reading time and peace and quiet to organize my research.
My husband is a prospector and uses the truck camper to go places to dig and explore and have his house right there with him." – Bonnie Belza, 2007 Chevy Silverado HD2500, S&S Ponderosa 9.5'
"I go fishing all over Canada, and boating with a 16′ Lund with 25 horsepower Suzuki outboard." – Tim Ubels, 2004 Dodge 3500, 1982 Okanagan 8′
"I carry my golf clubs and, if I don't have time to play around of golf, I go to a driving range and hit balls.  I also carry a telescoping fishing pole and a few lures to try the local fishing.  Some states require a license if you're over 65, some don't." – Gene Miller, 2008 Ford F350, 2012 Eagle Cap 1165
"Beer tastings, kite flying, photography, model making typically for HO model railroad, canoeing, and I'm sure I've forgotten something." – Kevin Presson, 1997 Dodge Ram 2500, 2011 Outfitter Apex 9.5
"I have three main hobby areas, one of which I gladly enjoy doing with my bride.  I am passionate about duck hunting, fishing, and Skeet shooting.
Our truck camper plays a very big role in the fishing and skeet shooting; not so much in the duck hunting.  For the fishing part, the truck camper allows me to have a very comfortable living arrangement while visiting many of Utah's beautiful state and federal campgrounds located at dozens of fishing locations around the state.  I am able to set-up my camp, with or without hook-ups, and use my truck to launch and retrieve my boat using the truck sans the truck camper.  I have already made reservations for five fishing trips with at least three more trips waiting to be reserved when the dates open up for reservations.
My bride and I travel to dozens of different venues around the country to compete in skeet tournaments throughout the year.  In 2015, we have already made plans to attend tournaments in Utah, Idaho, Montana, California, and Texas.  Plus, we already made a trip to Arizona to shoot in Phoenix and Tucson in our truck camper.  Life is good!" – Robert Hicks, 2010 Chevy 2500HD, 2011 Lance 992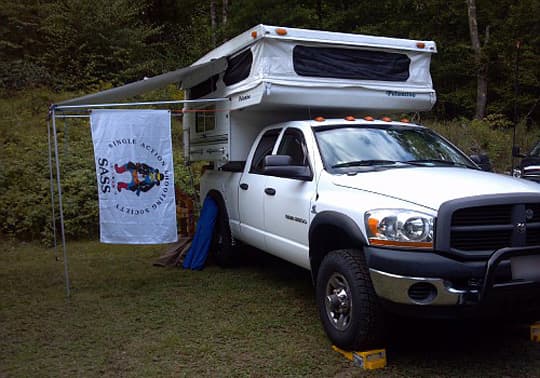 "#1 My Camper!  I love working on it, modifying it, and adding stuff to it.  I got it just about where I want it!  Time to sell it and start again.
#2 Cowboy Action Shooting.  Grown folks dress up like Cowboys and shoot guns at metal targets under a time clock.  Camping is the best way to stay at a weekend event.
#3 Motorcyling.  Hook up the trailer with the bike, drive to a place with great twisty roads, unload the bike, and sleep in the camper.
#4 Motor Sport Racing with motorcycles, cars, and airplanes.  If it goes fast and makes lots of noise, me and my camper are there!" – Roy Bertalotto, 2006 Dodge 2500, 1998 Palomino Bronco
"I can haul my SXS UTV on my 14′ deck over trailer and camp in remote areas.  I also haul my 20′ pontoon boat on weekend trips." – DK McColl, 2013 Ram 1500, 2010 Travel Lite 690
"I've been a fly fisherman for sixty years.  It's my passion!  When we bought the camper I was worried that my wife wouldn't want to travel to the areas where wild trout live. What would she do when I was on the river?  Fortunately, those same areas are great photo opportunities, which is her passion.  It works well." – John Schlobohm, 2013 Ford F150, 2013 Lance 825
"Never in a million years would I have ever thought I would own any kind of camper!  I got tired of paying exorbitant room rates at motels.  I use my camper five to six times a year.  First in April I go to the The York Fairgrounds in York, Pennsylvania.  Then in October for the fall show of the Eastern Div TCA Train Collectors Show.  You can stay on the grounds for four days for forty dollars and you get water, 50 amp electric, and a dump station.  Room rates start at $150 per night in York.  I get to eat breakfast and lunch in my camper and I save hundreds.  I also have a 1956 Ford truck that I show.  Most show sites have on site camping." – Bob Taylor, 2011 Ford F-250, 1999 Fleetwood Angler
"I go waterfowl hunting.  I tow a 17′ Duck Boat Blind behind the truck camper.  I also go ATV riding with my younger daughter and tow a two place trailer.  My daughter loves having her own bathroom with us when riding.  We also go to Hunt Testing with Scout, my retriever.  It's my home away from home when running hunt tests." – Tom Orlowski, 2000 Chevrolet K2500, 2015 Adventurer 89RB
"I bring radio control airplanes and my road bicycle." – Michael Suan, 2008 Silverado 2500 HD, 2010 Lance 830

"I use my truck camper for remote camping in Alaska and access to the world's greatest backcountry ATV riding areas.  There are endless miles of trails across tundra, mountain ranges, and river valleys." – Allen Jedlicki, 2012 GMC Sierra 2500HD, 2014 Wolf Creek 850
"It all started with horses, back in the 1970s.  We were already on our second truck and horse trailer by then.  We thought it would be nice to have a place to cool down during the hot summer shows, or get warmed up in during those freezing cold winter clinics.
It's a lot more comfortable to be self-contained and sleep in your own comfy bed instead of in a small tent or on a narrow cot in the horse trailer.  We used solar power and a small Honda 2000 for power.  We also used to pull a pontoon boat or a utility trailer/party shack.
We're now on our fifth truck camper, which is the smallest of them all.  The truck is smaller, too.  No more boats or horses, just camping for pleasure." – Maaja Sutak, 2012 GMC 2500, 2015 Northstar Liberty
"We have been collecting, buying, and selling antiques for twenty-one years.  We pull a trailer when we go "teakin'".  Instead of having to motel hunt, we have our home on our back.  It's much more convenient to have our camper.  It saves time compared to trying to find a decent motel.  It's also cheaper in the long run, saving some dough to spend on more antiques, and other collectible goodies.  Life is good!" – Mike Kolinski, 2012 GMC 2500HD, 2012 FWC Hawk
"Photography, musical instruments – guitar and auto harp – and boating on United States rivers." – Debbie Greiner, 2015 Chevy Silverado 3500, 2015 Lance 1172
"Photography, basket making, sewing, reading, and hiking." – Laurel Wilson, 2013 Ford F350, 2001 Four Wheel Grandby
"I originally got into tent camping when I started doing cross country bicycling.  When my lovely bride started following me on some of the rides, she decided that we needed a truck camper the day after a torrential rain storm during the night where she got soaked.  So we did.  My hobby got us into a truck camper.
Now that I have had ten knee operations and both knees replaced, we now use the truck and camper in our Disaster Assistance work and to travel our great country fishing for trout and promoting Trout Magnets." – Ed Krech, 2006 Dodge 3500, 2011 Northern Lite 8-11
"Our hobbies preceded truck camping, but the truck camper has been an integral part of continuing to enjoy them.  N-SSA Artillery and small arms competition shooting requires hauling a heavy trailer to events.
When family camping was included, Marylou towed a separate pop-up camper for the four kids and us.  As the family shrank, we realized that a truck camper would allow towing chores and living quarters to be handled by one vehicle.  When we do have a couple guests along, they sleep on a pallet and sleeping bags in the cannon trailer.
Our other hobbies that we bring with us are Marylou's sewing and my singing and playing Civil War and Celtic music with octave mandolin.  We love to cook and entertain, and our present camper is spacious enough that we can do that better than ever." – John and Marylou Wells, 2011 Chevy 3500, 2012 Chalet Ascent S100F
"Photography and mountain bike riding.  Anything but work." – Darren Walker, 2004 Chevy 3500, 2007 Northern Lite 10.2
"One thing I do – and I guess you can call it a hobby – is I volunteer to keep the ATV trails for the Forest Service maintained.  We have a camp weekend once a month.  Belonging to the Smokey Mountain OHV Club is a chance to fellowship, work on the trails, and boondock camp." – Jeff Hagberg, 2002 Ford F250, 2006 Travel Lite 800 SBX
"At least every third trip in our truck camper is to a bluegrass festival, so we often spend time on our trips playing either guitar or mandolin.  We also enjoy sitting around at bluegrass jams and shows listening to live music.
We like to go to state fairs with our camper too.  While we don't really count camping at a fair's RV parking area as camping, I love having my RV at the fair.  It means we can relax and take our time and really see all there is to see at the fair." – Linda Becker, 1994 Ford F350, 1992 Lance 880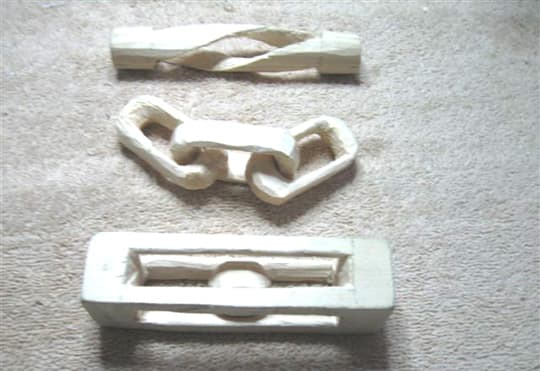 "Music.  I bring my guitar and mandolin along.  Sometimes I play one at the campsite (and irritate my neighbors).  I also usually stop at a couple of bluegrass festivals during my summer travels and jam some there.  I also have my iPod, loaded with over 9,000 songs and a small Bose speaker.
Woodcarving.  I bring my carving knives and some wood to try and carve something from a magazine or book.  I started doing this a few years back to give me something else to do at my site.  I haven't cut my finger off, yet.
Fishing.  I have my ultra-light spinning rod and also a fly rod.  I usually use the ultra-light in California, and the fly rod in Montana, like the real fishermen do.
Reading.  I like to read some every night before bed.  By the end of my summer's travels, I have a stack of paperbacks I've read." – Ralph Goff aka Ramblin' Ralph, 2006 GMC 2500HD, 2001 Lance 845
"Our appetites.  We are always looking for great local eats.  And, yes, knitting for Nancy." – Keith and Nancy Rivers, 2004 Ford F250, 2012 Northern Lite 9'6 Classic Queen
"I'm a sailor, so I tow my sailboat.  I also love to read so I have many books, a few magazines, and a Kindle stashed in the camper." – Dave Scobie, 2005 Ford Ranger, 1998 Romain' Chariot
"Paddling (canoeing, kayaking, rafting, sup), hiking, cycling, SCUBA diving, snorkeling, fishing, and photography." – Dann and Helen O'Kane, 2011 Ford F350, 2013 Lance 855S
"Hunting, fishing, amateur radio, and firearms competitions." – Les Brush, 2002 Dodge 2500, 2008 S&S 8.5FBSC
"Mahjong." – Rodger Greene , 2004 GMC 2500HD, 2010 Palomino Maverick 8801
"If I was stopped by the hobby police, the first thing she would ask is, "How the heck is there enough room for you in that rig?".  I am the author of thirteen adventure travel books and I have a least a box of each book with me.  Also, since I'm always working on more stories and books, I have my computer, printer, and an iPad that accepts Visa, Mastercard, and American Express.
Then I work with beads so I have about $2,000 worth of beads with me all in their own little boxes along with all kinds of ready-made beadwork so I can sell along the way.  Plus, since I teach a class called "Hobbies for the Road" at the RV Owners Lifestyle Conference in Kelowna, British Columbia third weekend in June, I have magazines and paperwork on places to shop for the beads.  Like I said, I'm running out of room for me in my rig." – Joei Carlton Hossack, joeicarlton.com, 1997 Ford F250, 2006 Adventurer
"My hobby has mostly been traveling via motorcycle.  Now with my truck camper I can zone travel.  I set up camp in an new or favorite area and make day trips on the bike.  Of course with that comes a lot of photos.
Also, fishing spots play a major role in determining base camp placement.  I have brothers that also ride motorcycles and many miles are driven to get togethers to make that possible.  My truck camper ties it all together." – Larry Kelly, 1999 Ford F350, 2015 Palomino 8801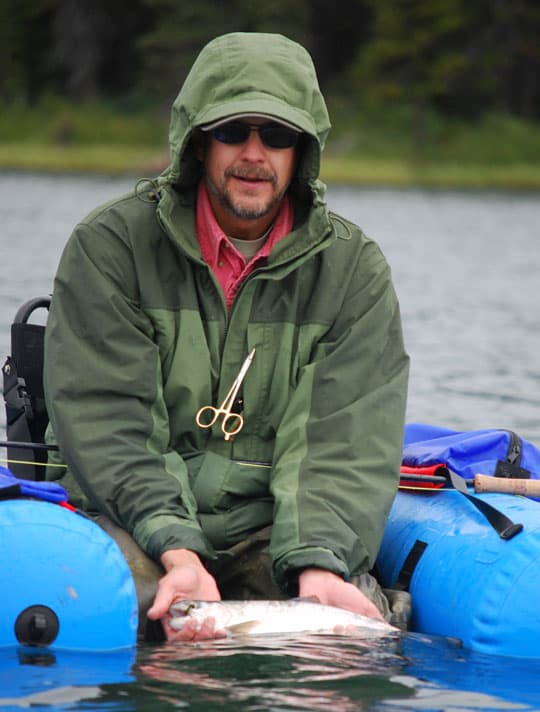 "Cooking, dining and wine appreciation are at the top of the list. We have our camper stocked with topnotch cookware and dining ware and we use it often.  We've created a rack for stemware (champagne and wine glasses) and have even carved out a space to store several bottles of wine.
We tow our C-Dory Angler 22, so boating and fishing are also important parts of our life.  Although in the past we did all kinds of fishing, we're increasingly transitioning into fly-fishing.  The catch of the day is often the centerpiece of the meals we cook.
Photography and writing go hand-in-hand onboard our Lance.  We publish a modestly popular blog cutterlight.com featuring our culinary experiences as well as our various travel, boating and fishing adventures.
And finally, although we haven't yet begun to tie flies on our camper, this is an important part of our non-camping life.  Once we get going full-time, we'll figure out how to create room for fly-tying in our home on wheels." – Jack and Barbra Donachy, 2007 Chevy Silverado, 2009 Lance 845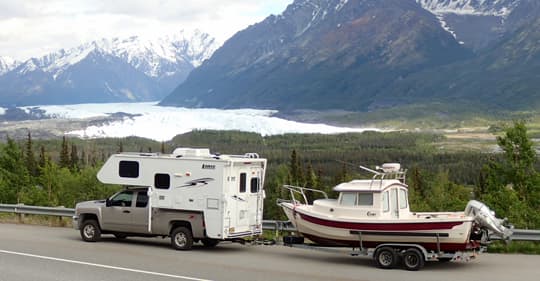 "My main hobby is Astronomy.  I use my truck camper to stay in remote places where I do Stargazing.  Light pollution is terrible and washes out the sky.  So, in order to see faint objects, you have to drive at least 100 miles from where I live to get decent skies." – Bob Chan, 1989 Ford F250, 1988 Lance 780
"1. Dog shows. I've been able to attend out of town weekend dog shows without dealing with hotels.  Most hotels want large deposits when they find out your 180 pound Great Dane is staying with you.  Show venues always have provisions for RVs, but most don't have utilities.  I've owned and handled two top ten ranked Great Danes and hope to improve.
2. Flats fishing for trout and redfish.  There's no better meal than fresh caught fish at your camp site." – Gary Usher, 2015 Ford F350, 2015 Lance 1172
"We have been avid off-roaders (remote hiking, jeeping, exploring) for more than forty years.  We downsized to a truck camper from a long of motorhomes and toy haulers about a year ago.  We want to go boondocking off the beaten off-road paths while traveling the freeway of life.  As it turned out, I couldn't quite bring myself to downsize to the extent that my poor beleaguered wife wanted to accomplish.  We are finishing up the outfitting of our 14,000 pound GBW jeep trailer designed to carry our long-travel Jeep Rubicon, along with refueling tanks, water tanks, 7,500 watt generator, 1000 watt solar system, etc.  There may be room left over for Linda to bring her camera." – Gene and Linda Yale, 2014 Ford F450, 2015 Host Mammoth
"We tow a twenty-two foot Champion boat that gets used a lot for fishing.  I like to go to antique shops when we stop places.  We also carry our Cowboy boots to go Country Line Dancing when we can find places.  I also enjoy reading and listening to Country Music.  Bill has many websites and blogs that he is interested in when we have internet access.  We enjoy a good campfire and some Margaritas, too!" – Bill and Janice LoDico, 2010 Ford F450 , 2011 Host Everest