This week we asked Truck Camper Magazine readers, "What hobbies have you been able to bring with you on the road?"  We were delighted to discover just how many different truck camping hobbies our readers enjoy.  Wait, one guy is taking a midi-lathe on the road?
"We enjoy motorcycling, hiking, photography, catching up on recorded television series, and bicycling while on the road.  A small purpose-built camper makes it easy." – Pete and Julie Marshall, 2003 GMC Sierra 2500HD, 2007 Adventurer 810WS
"Mountain biking is a hobby.  I am working on front mounted motorcycle hauler for my vintage 1967 Honda Dream 305 that I restored." – Scott Ridgway, 2003 Dodge 2500, 2012 Lance 1050S
"I am a very serious quilter, and could not be away from it for the length of many of our trips.  Our truck camper has a space built into the closet for my sewing machine.  The pressing mat and cutting mat are stored under the bed.  My sewing machine and a small pressing iron will work off our inverter.  I sew and rotary cut on the table and do my ironing on the counter between the sink and stove.  The projects and tools I need are stored in the bottom of my clothes closet.  As we travel, I am always looking for quilt shows and quilt shops." – Sue Graf, 2008 Ford F350, 2013 Arctic Fox 865
"Bird watching.  All we need is a good reference book and a pair of binoculars.  I keep a list every year of the birds we see.  It's a fun hobby.
Hiking.  We always bring our walking sticks and hike at every opportunity.  Exercise is great, and the views are fantastic.
Antique tractor collecting.  We attend several shows every year, sometimes taking one of our tractors for display.  With a truck camper it is easy to haul the trailer along.
Cooking.  Bonnie likes to try different methods and recipes and we've all gotta eat!" – Dan Forry, 2004 Ford F-250, 2006 Palomino 1251
"Photography.  I am preparing to travel with a Modular N-Scale Model Railroad.  I'm rebuilding my trailer to accommodate my N-Trak modules and layout by adding a Snowcap canvas trailer cover." – Bob Phillips, 2011 Silverado 1500, 2004 Travel Lite Mountain Star 800
"The reason for my truck camper was and is the hobbies.  Fishing and towing a boat, horse camping and hauling a small horse trailer, off road exploring and hauling a true off road vehicle.  Nothing works as well as a truck camper." – Cheryl Nelson, 2004 Chevy 3500, 1990 Shadow Cruiser 9.5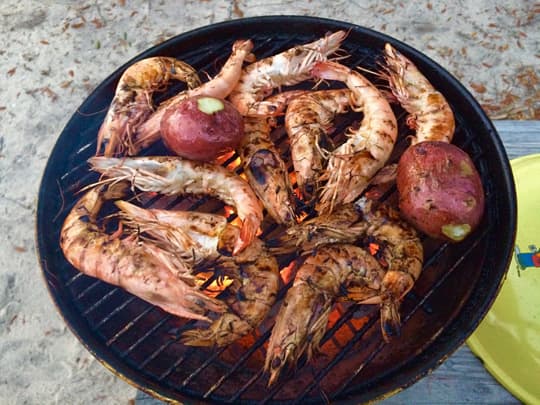 "Cooking.  David and I are passionate about eating fresh, interesting foods daily.  David tends to be the prep cook.  I do the grilling.  While out camping, we always take time to build a nice fire for cooking.
Another hobby is taking our dog, Gus, and cat, Dusty, with us.  While we do a fair amount of cat chasing.  He always returns to his camper and we have yet to leave him behind." – Susan Jessen Milner, 2004 Ford F350, 2000 Skyline Weekender
"My wife and I share a common interest in our computers and all the information that is available.  I have virtually given up on printed books opting instead for talking books many of which can be downloaded without charge.
I enjoy fishing although the lack of an interstate system of fishing licenses for seniors is a detriment.  My wife is an accomplished birder, which is a pastime which can be pursued anywhere.
My personal passion is for billiards.  Most towns have a pool hall, some better avoided perhaps, but many are designed for families and are often part of a bowling alley.  A bonus is that a couple of pool cues take up much less space than a set of golf clubs.
Neither of us are great photographers but we do keep a digitized record of our travels.  Photography is great to keep friends and relatives up to date through email and Facebook.
My one complaint is that we need a better system of hooking up with WIFI when we are traveling.  Getting a signal at McDonalds gets old pretty fast." – Peter and Anna Staples, 2013 Chevrolet 3500, 2013 Lance 1172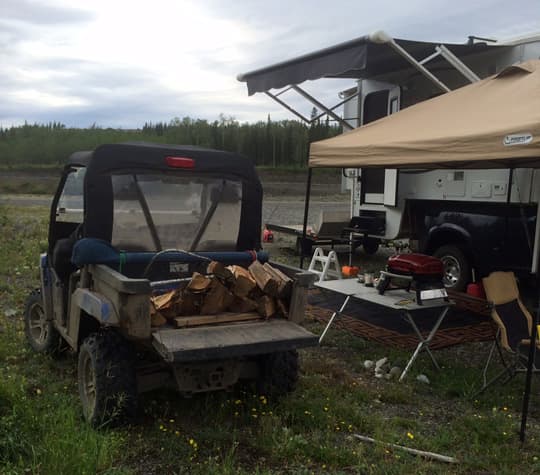 "Reading, fly tying, fly fishing, riding UTVs, hunting, playing cards, Yahtzee, exploring Alaska, and, last but not least, relaxing with good micro brew beer." – Tom and Doreen Warren, 2013 Dodge Ram 3500, 2013 Eagle Cap 1160