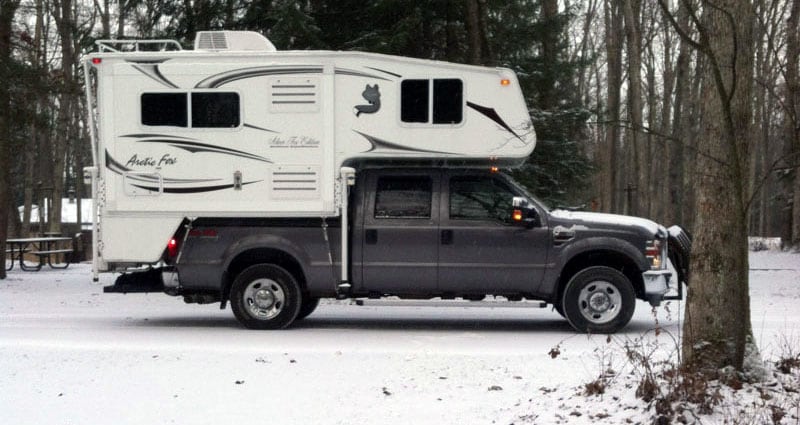 "I took off from North Carolina in November of 2014 to do an art show in East Aurora, New York, which is near Buffalo. I camped overnight in Deep Creek, Maryland. I should have checked the weather when we noticed we were the only campers in the park. The next morning we woke up to 18-inches of snow.
A call to New York revealed that they were in for Snowmaggedon which eventually dropped several feet of snow that weekend. We diverted to family in eastern Maryland with frozen windshield wipers requiring hourly stops to de-ice. No more camping trips to upstate New York in the winter!" – Bill and Kate Meehan, 2009 Ford F350, 2009 Arctic Fox
"A few years ago, we decided to make a trip from Denver to South Padre National Seashore in Texas. On the way back we encountered freezing rain in Amarillo. I engaged four-wheel drive and drove slowly north to Lamar, Colorado. We were shocked when we arrived to see our camper encased in 1-inch of ice.
I beat about 1,000 pounds of ice off with a shovel and then spent the night in a motel. The next morning we left and drove through blinding snow.
We stopped in Monument, Colorado due to poor visibility from the blizzard. We stayed for a couple of hours and then decided to push on up I-25. It was single file, bumper to bumper, at about 10 miles per hour all the way to Denver through a blinding blizzard. Nearing Denver, the check engine light came on. When we finally got home, I opened the hood and found the engine compartment completely packed with snow." – Lee Nelson, 2015 Ford F350 Dually, 2015 Lance 1052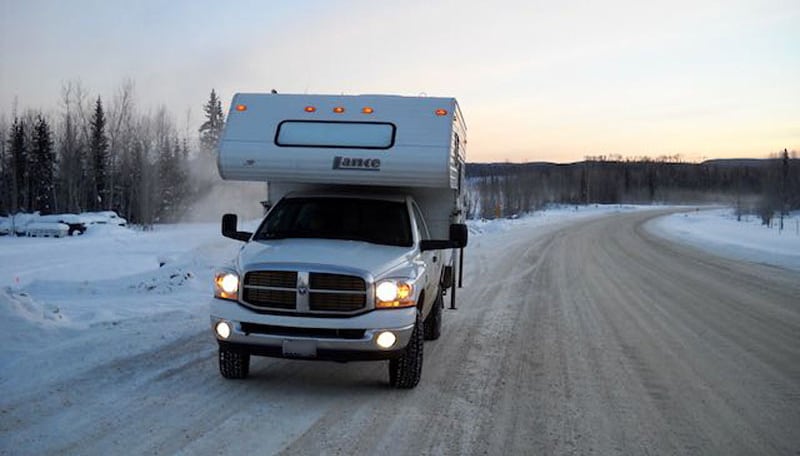 "In February we took our older Lance up through British Columbia, the Yukon, and into southeast Alaska. We caught the ferry back down to Washington.
After a night of soaking in Liard Hot Springs and dry camping, we stepped outside into -34 degrees Fahrenheit. That's not wind chill. That's the real thermometer temperature.
We bought a better insulated camper later that spring, but have only been into -14 with that unit. We love the cold places. There are no bugs and usually no crowds!" – Christopher Andersen, 2006 Dodge Ram 2500
"I pretty much only use my camper for snowmobiling adventures in the winter. It routinely sees snow, cold, and adverse road conditions. Winter temperatures in the Pacific Northwest are generally mild, with temperatures in the teens or above most of the time.
One weekend I was attending an event in Conconully, which is in north central Washington. It was extremely cold with overnight temperatures near -20 degrees Fahrenheit on both nights.
My poor little vintage Hydro Flame was not keeping up and I was supplementing with a Mr. Buddy heater. Luckily I have a good sleeping bag and only had to get up once in the middle of the night to re-warm the camper with the Mr. Buddy heater.
Being a winter camper, I never use the camper's water system for fear of freeze-ups and get by with a seven gallon water container that I can easily keep thawed." – Matthew Mead, 2016 Ford F-350, 1969 Bell 8-foot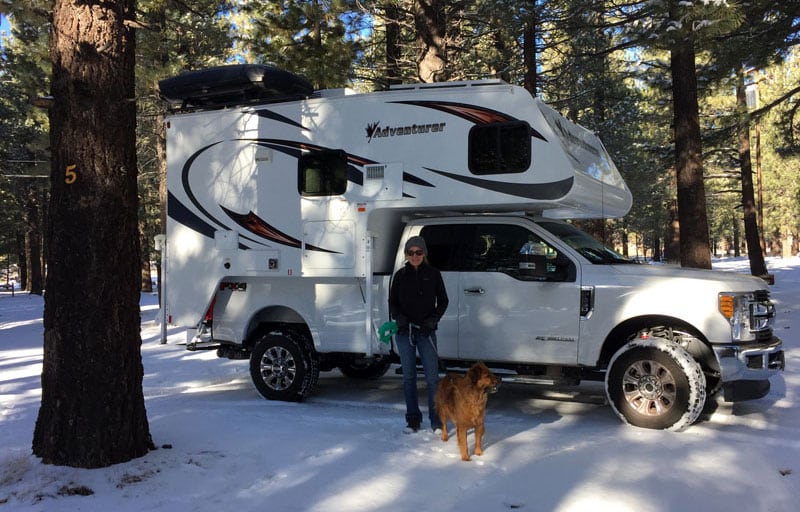 "This last year was our rookie year with our truck camper. Since we are snowboarders, we thought we would save a lot of money and have a lot of fun chasing powder in our camper. The first lesson learned is that a four season camper does not include weather below 20-degrees. Well, it does, but with certain modifications and considerations.
For example, diesel gas freezes. Who knew? Apparently there is a paraffin type product in diesel gas that hardens at below freezing temperatures and will block your fuel lines. We found that out one four degree morning at the Mammoth RV park in California. The solution was pretty easy. We walked to the gas station got the diesel winter gel additive. I added it to our fuel and waited a day for it to warm up and clear the fuel line. We were back in business by noon." – Marc Wilde, 2017 Ford F250, Adventurer 89RBS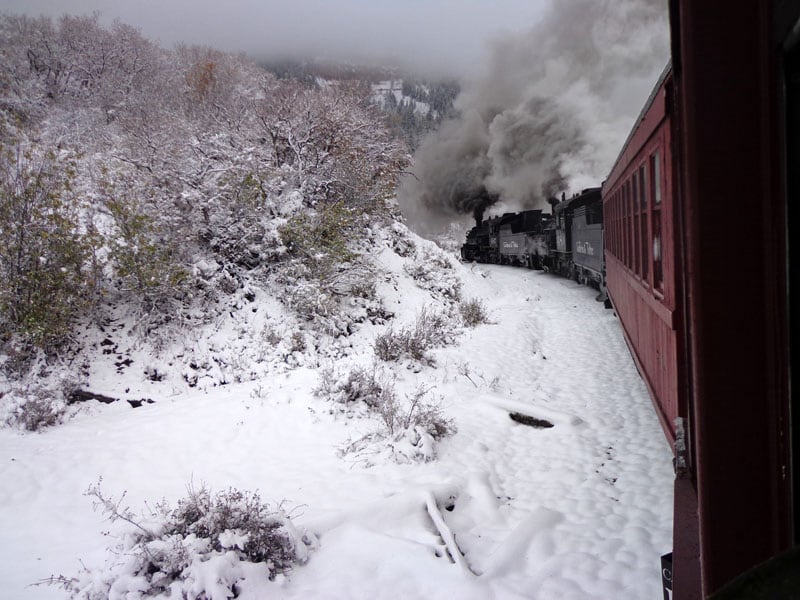 "My wife and I were heading down to Chama, New Mexico to ride the steam train. As we went over the pass we encountered an early snowstorm. We learned the next day they closed the pass shortly after we crossed.
We got to Chama and bought our tickets for the ride the next day. Then, we went to the campground and attempted to set up our camper. The Palomino is a pop-up and when I tried to raise the roof, it was so heavy with snow I was afraid I would break the lift system. So, I used our windshield scraper to clear off the heavy wet snow.