I also got caught in winds outside of Ely, Nevada. When I arrived late afternoon, there were about five to eight RVs in the area. The winds picked up. It was a rocky night to say the least, and no one came a knock'n. It was like sleeping on a dive boat in rough waters." – Frank Poole, 2016 Ram 5500, 2016 Arctic Fox 990
"In the spring of 2016, we were traveling Highway 395 in California and stopped at Red Rock Canyon State Park on the suggestion of friends. We got ourselves settled and began making dinner when the wind began to pick up. We could not get the refrigerator or hot water heater to light as the flame just kept blowing out.
Finally, the wind died down and we enjoyed a good evening hike. We got to bed and then around midnight we were awakened by violent winds that rocked the camper so hard we thought they would tip the truck and camper over. Thankfully, we made it through the night.
After breakfast the next morning, we hustled to get out of there before the winds picked up again. Upon leaving the park we discovered semi trucks tipped over all along the highway as the winds had reached over 100 miles per hour!" – Doug Baker, 2006 Toyota Tundra, 2006 Six-Pac D650

"Since I live in Southern California, all I've had to deal with is heat! I was out in Johnson Valley when it was 110-degrees Fahrenheit. I had driven out there flat towing my new Jeep JKUR to meet a few friends. The drive out there wasn't bad. The air conditioner in the truck worked well.
So I unhooked my Jeep, grabbed my little 2000-watt generator, and hooked it up. Then, I pulled the starting rope and nothing. Not even a tease pop. Just nothing.
At this time it's about 9:30am and already 90-degrees. I checked the gas, and there was plenty. I pulled the spark plug. It looked fine. I check for a spark, there was no spark. I checked the coil, the oil level, and other things that I could think of. Nothing.
Luckily I was there with friends and other then sleeping or four wheeling, I was able to sit in their motorhome. It turned out that the problem was the kill wire shorting out." – Tim May, 1993 Dodge W250, 1996 Vacationeer 9'10"
"This is not very extreme by Canadian standards, but we got our coldest camping weather when returning from Oregon. We were picking up our brand new truck camper and our first RV. We were newbies to all the equipment.
It was April and it wasn't bad until we hit Regina where the weather dropped to -20 degrees Celsius overnight. Our heater quit working and we begged to get an electrical outlet from the gas station to get through the night.
By morning we were alert enough to figure out that the camper manufacturer had turned off the valve on the second propane tank. Once that was open, we were warm again.
The maximum temperature was -10 the rest of the seven day run through Sault Ste-Marie and on to Ottawa. Everything worked fine for those days except our refrigerator froze up and stopped working on the last day or two." – Nanette Fliesser, 2013 Chevy Silverado 3500, 2014 Host Mammoth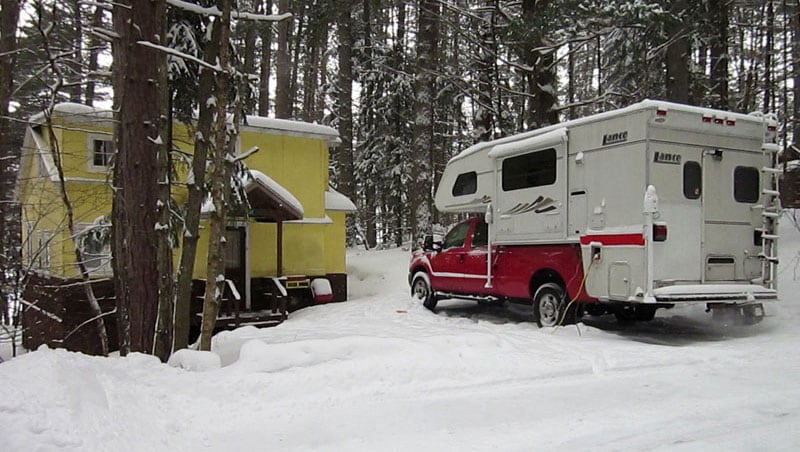 "Most winters I go to a lake cottage in New York's Adirondacks for a week. The cottage is not winterized so I only plug into power and grab DSL. It is always cold and snowy for the week. Then I am ready to return home.
My trip up in January 2015 started out normal. It was cold and snowed some, but after a few days I heard a blizzard was approaching. I was looking forward to a good blizzard since I live further south. Sure enough it came.
It was called winter storm Juno. There were high winds, white out conditions, and deep snow. Fortunately we only got 10-inches. Two feet fell further east, followed by cold weather. While I think I could have driven out in 10-inches of snow with my F350, I didn't have to. I enjoyed being snowed in until the plows came." – Fred Patterson, 2013 Ford F350, 2002 Lance 1161
"At the time we were wintering in Carrabelle, Florida. The heavy rains coming off the gulf were in a pattern they call training. That's where a long line of storms moves longitudinally along a line instead of sweeping past horizontally.
Without letting up for a moment, it poured rain for 28-hours straight. This experience embedded in my mind the need for reclining comfortable seating in an RV. After so much rain I was envisioning huge areas of flooding with giant puddles to wade through once leaving the RV.
Much to my surprise, our close proximity to the gulf (across the small highway) was made up of very loose sandy type soil. Almost all of this rain had simply percolated into the ground. As I stepped out of the camper I could barely find a puddle anywhere." – Neil and Yoly Mullen, 2016 Ram 2500HD, 2018 Eureka