As I write this, we are camped in La Grande, Oregon.  Smoke from a nearby forest fire has cast a thick haze over the surrounding hills.  The smell is reminiscent of my grandfather's wood burning stove back in Pennsylvania.
Folks in The West are accustomed to forest fires and smoke, but it's a new experience for those of us who grew up in the Northeast.  Believe it or not, neither Angela or I can recall a single forest fire or related smoke conditions in the nearly 40 years we lived in Pennsylvania and Maryland.  Not one.
Experiencing different weather conditions as we travel deepens our understanding of what fellow United States and Canadian citizens live with.  Now when we see a forest fire on the news, we have a better idea of what it's like to be in that situation.  It's no longer abstract.
Reading through the responses, a few of us got caught in weather conditions we were not expecting, far from home.  While this experience may not be fun, it gives us a tangible insight into what folks in that area endure.  Perhaps if more people traveled and had these weather experiences, there would be more empathy and support to help when Mother Nature goes sideways.
What follows are some amazing stories of extreme weather while truck camping.  If you want even more, check out the extreme weather reports from 2014.  Hang on to your turnbuckles!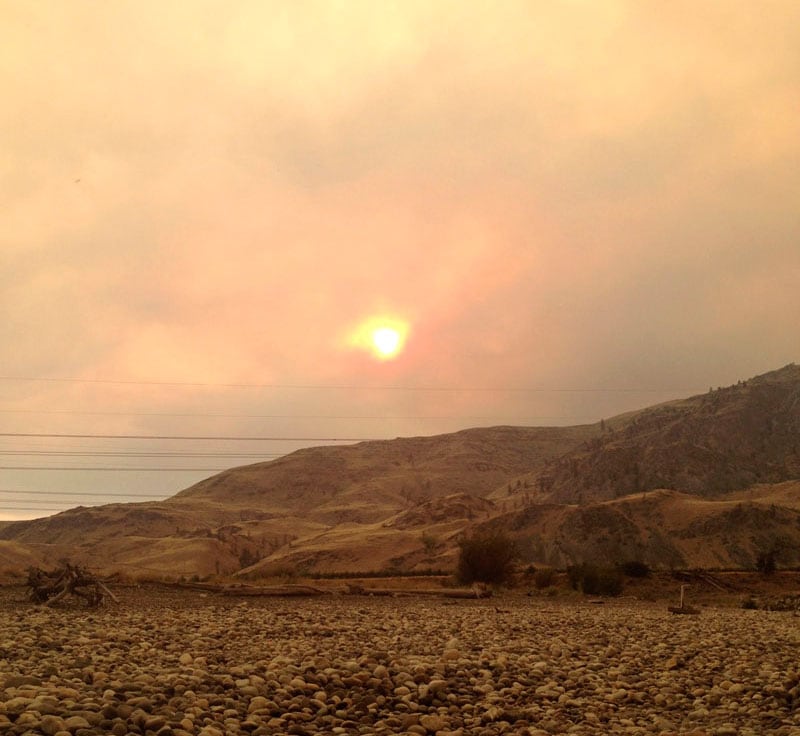 "In mid-July of 2014 I was camped below Wells Dam on the upper Columbia River. I was fishing for summer run Chinook salmon. In a very short time it became very smoky, but I continued to fish. Soon it became difficult to breathe.
I retired to my camper to cool off because it was over 100-degrees Fahrenheit. I then went to bed and woke up to an even smokier morning. I decided to head for home in Spokane and found out the smoke was coming from a major fire in the town of Pateros." – Mike Dahlager, 2001 Dodge Ram 2500, 2007 Okanagan 96DB
"We traveled out of town with my son's high school volleyball team to Red Deer, Alberta. It was January or February. Overnight the temperature went down to -20 Celsius (-4 Fahrenheit). I did not have one freezing issue. The tanks were in the heated basement. The dual pane windows stayed nice and clear." – Bruce Neumann, RAM 3500, Okanagan 96DB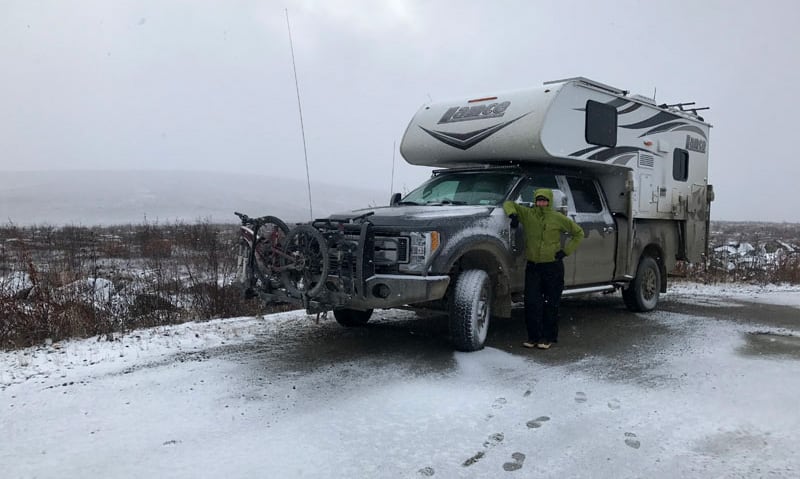 "On September 22, 2017, we were heading south on the Dalton Highway in Alaska after driving up to Prudhoe Bay. We preferred not driving in the dark because it's much easier to hit an animal. We decided to call it a night at the Finger Mountain pull-off, mile marker 97.5.
We've camped in colder conditions, but the wind was roaring intensely from our right side that night. The amount of cold air blowing in through the weep-holes in the windows was incredible. It got down to about 20-degrees Fahrenheit that night.
Nothing froze, but I'd estimate the wind at a sustained 40 miles per hour. We ended up buying weatherstrip to cover the weep-holes for the rest of the trip. We chased the fall weather southward toward Moab, Utah." – Bob and Sheila Eckert, 2017 Ford F350, 2015 Lance 825
"Trying to get in a few more days of South Dakota pheasant hunting, my lab Tuff and I returned one December. The first several days were delightful with moderate temperatures. There was little snow and plenty of birds when suddenly the temperature plummeted.
That day, 18-degrees Fahrenheit was the high for the day. Fortunately, thanks to a good bird dog, it took less than an hour to harvest our limit of three roosters before returning to the camper.
That night really tested the limits of the Alpenlite with near zero temperatures. I was really concerned, but everything held together. The following day it was a balmy 30-degrees and the enjoyable hunt continued." – Bob Lick, 2003 Dodge 3500, 1993 Alpenlite 11′ SK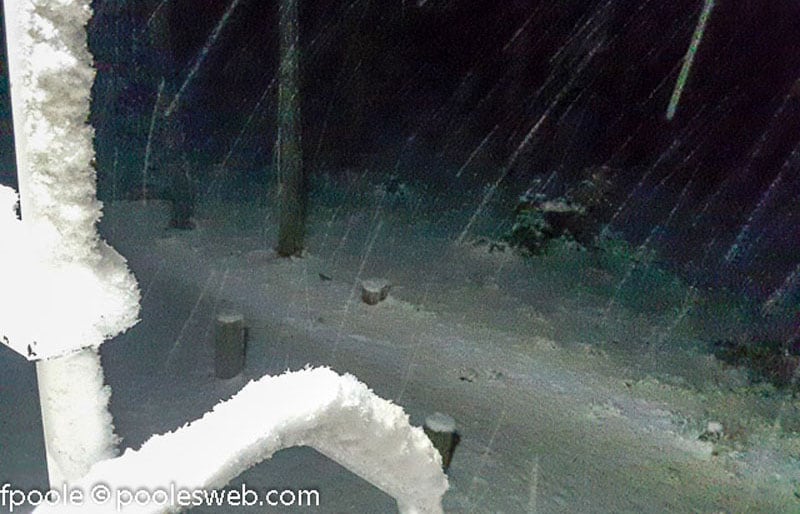 "The coldest I've been in was 14-degrees Fahrenheit. There is always someone who has done colder, warmer, windier, and more rain. However, I have to say snow is pretty much at the top of the list – followed by wind.
I've been surprised several times with snow. It is not a big deal except for sitting out the road clearing. I had that happen in Bend, Oregon for a few days. I consider snow as Mother Nature's little beer cooler.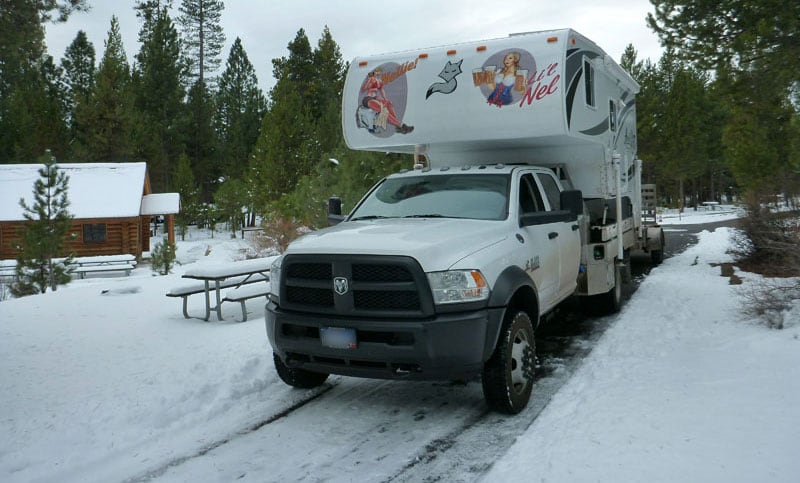 I also got caught in winds outside of Ely, Nevada. When I arrived late afternoon, there were about five to eight RVs in the area. The winds picked up. It was a rocky night to say the least, and no one came a knock'n. It was like sleeping on a dive boat in rough waters." – Frank Poole, 2016 Ram 5500, 2016 Arctic Fox 990
"In the spring of 2016, we were traveling Highway 395 in California and stopped at Red Rock Canyon State Park on the suggestion of friends. We got ourselves settled and began making dinner when the wind began to pick up. We could not get the refrigerator or hot water heater to light as the flame just kept blowing out.
Finally, the wind died down and we enjoyed a good evening hike. We got to bed and then around midnight we were awakened by violent winds that rocked the camper so hard we thought they would tip the truck and camper over. Thankfully, we made it through the night.
After breakfast the next morning, we hustled to get out of there before the winds picked up again. Upon leaving the park we discovered semi trucks tipped over all along the highway as the winds had reached over 100 miles per hour!" – Doug Baker, 2006 Toyota Tundra, 2006 Six-Pac D650

"Since I live in Southern California, all I've had to deal with is heat! I was out in Johnson Valley when it was 110-degrees Fahrenheit. I had driven out there flat towing my new Jeep JKUR to meet a few friends. The drive out there wasn't bad. The air conditioner in the truck worked well.
So I unhooked my Jeep, grabbed my little 2000-watt generator, and hooked it up. Then, I pulled the starting rope and nothing. Not even a tease pop. Just nothing.
At this time it's about 9:30am and already 90-degrees. I checked the gas, and there was plenty. I pulled the spark plug. It looked fine. I check for a spark, there was no spark. I checked the coil, the oil level, and other things that I could think of. Nothing.
Luckily I was there with friends and other then sleeping or four wheeling, I was able to sit in their motorhome. It turned out that the problem was the kill wire shorting out." – Tim May, 1993 Dodge W250, 1996 Vacationeer 9'10"
"This is not very extreme by Canadian standards, but we got our coldest camping weather when returning from Oregon. We were picking up our brand new truck camper and our first RV. We were newbies to all the equipment.
It was April and it wasn't bad until we hit Regina where the weather dropped to -20 degrees Celsius overnight. Our heater quit working and we begged to get an electrical outlet from the gas station to get through the night.
By morning we were alert enough to figure out that the camper manufacturer had turned off the valve on the second propane tank. Once that was open, we were warm again.
The maximum temperature was -10 the rest of the seven day run through Sault Ste-Marie and on to Ottawa. Everything worked fine for those days except our refrigerator froze up and stopped working on the last day or two." – Nanette Fliesser, 2013 Chevy Silverado 3500, 2014 Host Mammoth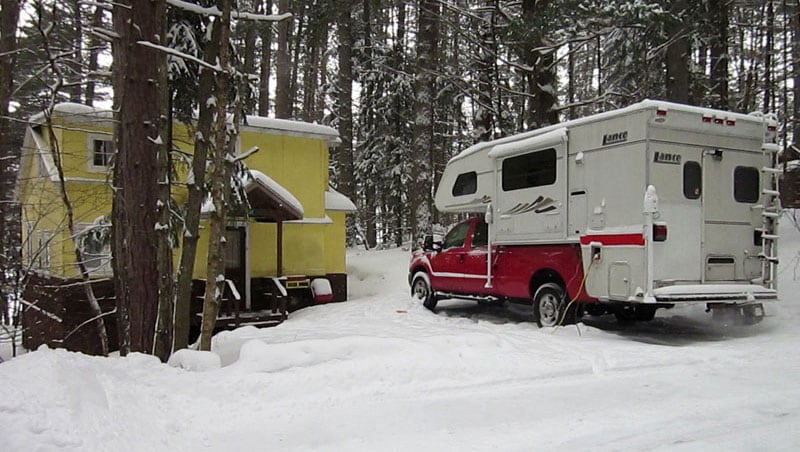 "Most winters I go to a lake cottage in New York's Adirondacks for a week. The cottage is not winterized so I only plug into power and grab DSL. It is always cold and snowy for the week. Then I am ready to return home.
My trip up in January 2015 started out normal. It was cold and snowed some, but after a few days I heard a blizzard was approaching. I was looking forward to a good blizzard since I live further south. Sure enough it came.
It was called winter storm Juno. There were high winds, white out conditions, and deep snow. Fortunately we only got 10-inches. Two feet fell further east, followed by cold weather. While I think I could have driven out in 10-inches of snow with my F350, I didn't have to. I enjoyed being snowed in until the plows came." – Fred Patterson, 2013 Ford F350, 2002 Lance 1161
"At the time we were wintering in Carrabelle, Florida. The heavy rains coming off the gulf were in a pattern they call training. That's where a long line of storms moves longitudinally along a line instead of sweeping past horizontally.
Without letting up for a moment, it poured rain for 28-hours straight. This experience embedded in my mind the need for reclining comfortable seating in an RV. After so much rain I was envisioning huge areas of flooding with giant puddles to wade through once leaving the RV.
Much to my surprise, our close proximity to the gulf (across the small highway) was made up of very loose sandy type soil. Almost all of this rain had simply percolated into the ground. As I stepped out of the camper I could barely find a puddle anywhere." – Neil and Yoly Mullen, 2016 Ram 2500HD, 2018 Eureka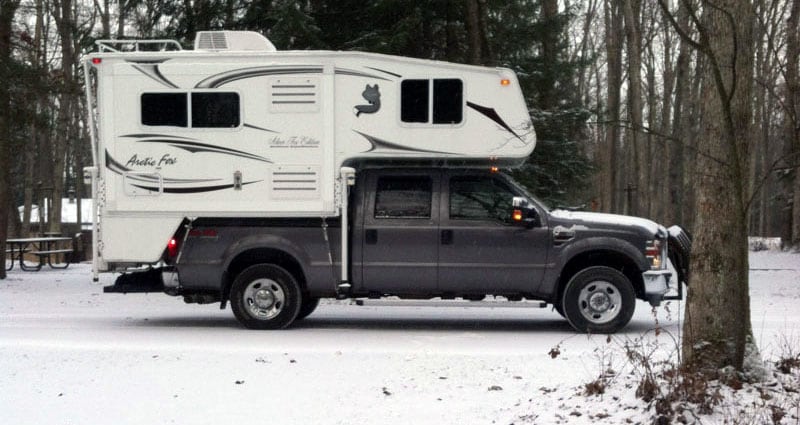 "I took off from North Carolina in November of 2014 to do an art show in East Aurora, New York, which is near Buffalo. I camped overnight in Deep Creek, Maryland. I should have checked the weather when we noticed we were the only campers in the park. The next morning we woke up to 18-inches of snow.
A call to New York revealed that they were in for Snowmaggedon which eventually dropped several feet of snow that weekend. We diverted to family in eastern Maryland with frozen windshield wipers requiring hourly stops to de-ice. No more camping trips to upstate New York in the winter!" – Bill and Kate Meehan, 2009 Ford F350, 2009 Arctic Fox
"A few years ago, we decided to make a trip from Denver to South Padre National Seashore in Texas. On the way back we encountered freezing rain in Amarillo. I engaged four-wheel drive and drove slowly north to Lamar, Colorado. We were shocked when we arrived to see our camper encased in 1-inch of ice.
I beat about 1,000 pounds of ice off with a shovel and then spent the night in a motel. The next morning we left and drove through blinding snow.
We stopped in Monument, Colorado due to poor visibility from the blizzard. We stayed for a couple of hours and then decided to push on up I-25. It was single file, bumper to bumper, at about 10 miles per hour all the way to Denver through a blinding blizzard. Nearing Denver, the check engine light came on. When we finally got home, I opened the hood and found the engine compartment completely packed with snow." – Lee Nelson, 2015 Ford F350 Dually, 2015 Lance 1052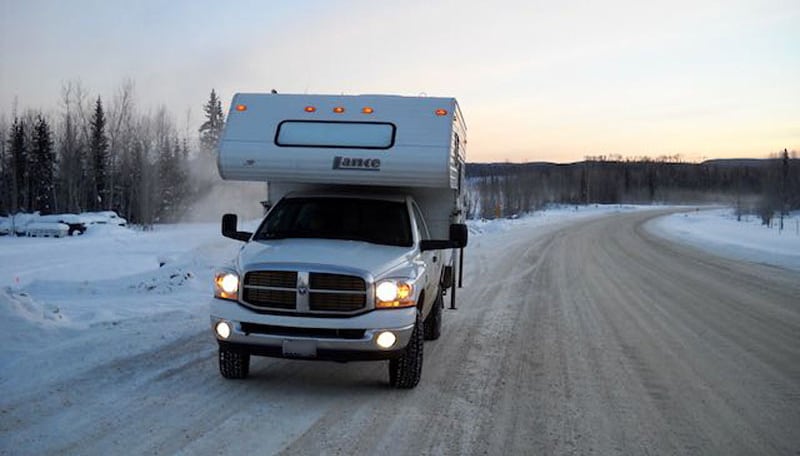 "In February we took our older Lance up through British Columbia, the Yukon, and into southeast Alaska. We caught the ferry back down to Washington.
After a night of soaking in Liard Hot Springs and dry camping, we stepped outside into -34 degrees Fahrenheit. That's not wind chill. That's the real thermometer temperature.
We bought a better insulated camper later that spring, but have only been into -14 with that unit. We love the cold places. There are no bugs and usually no crowds!" – Christopher Andersen, 2006 Dodge Ram 2500
"I pretty much only use my camper for snowmobiling adventures in the winter. It routinely sees snow, cold, and adverse road conditions. Winter temperatures in the Pacific Northwest are generally mild, with temperatures in the teens or above most of the time.
One weekend I was attending an event in Conconully, which is in north central Washington. It was extremely cold with overnight temperatures near -20 degrees Fahrenheit on both nights.
My poor little vintage Hydro Flame was not keeping up and I was supplementing with a Mr. Buddy heater. Luckily I have a good sleeping bag and only had to get up once in the middle of the night to re-warm the camper with the Mr. Buddy heater.
Being a winter camper, I never use the camper's water system for fear of freeze-ups and get by with a seven gallon water container that I can easily keep thawed." – Matthew Mead, 2016 Ford F-350, 1969 Bell 8-foot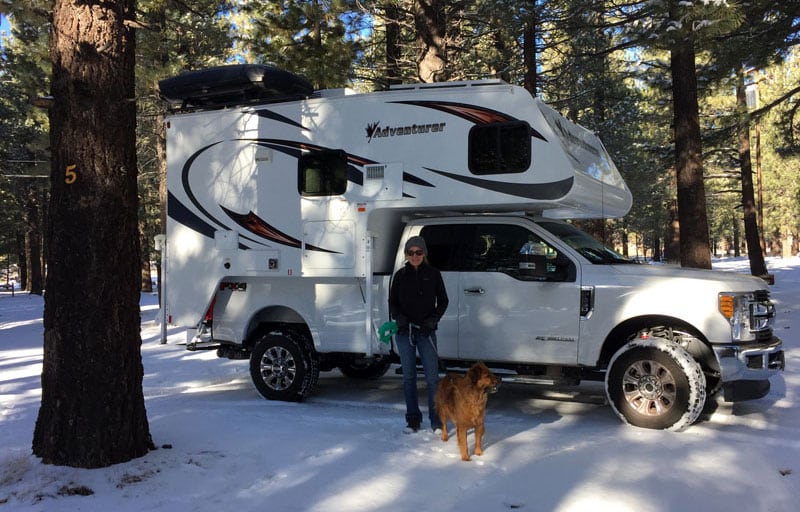 "This last year was our rookie year with our truck camper. Since we are snowboarders, we thought we would save a lot of money and have a lot of fun chasing powder in our camper. The first lesson learned is that a four season camper does not include weather below 20-degrees. Well, it does, but with certain modifications and considerations.
For example, diesel gas freezes. Who knew? Apparently there is a paraffin type product in diesel gas that hardens at below freezing temperatures and will block your fuel lines. We found that out one four degree morning at the Mammoth RV park in California. The solution was pretty easy. We walked to the gas station got the diesel winter gel additive. I added it to our fuel and waited a day for it to warm up and clear the fuel line. We were back in business by noon." – Marc Wilde, 2017 Ford F250, Adventurer 89RBS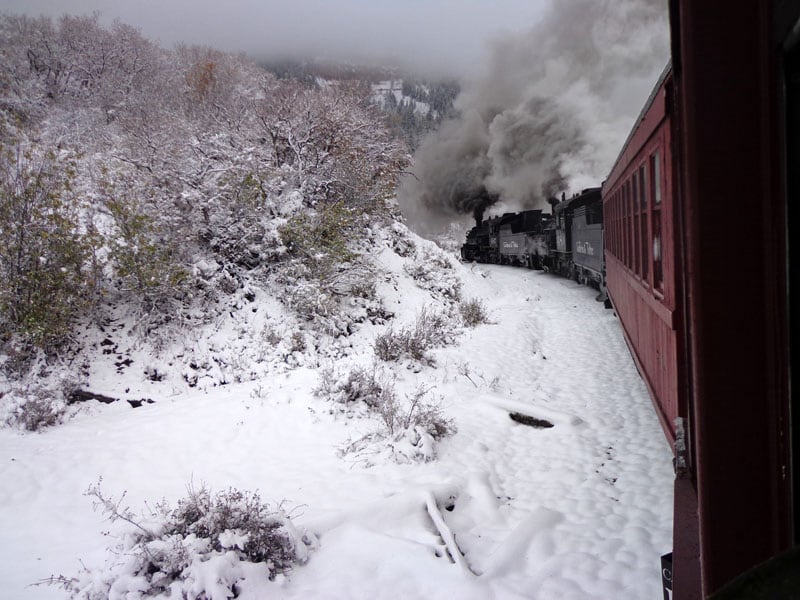 "My wife and I were heading down to Chama, New Mexico to ride the steam train. As we went over the pass we encountered an early snowstorm. We learned the next day they closed the pass shortly after we crossed.
We got to Chama and bought our tickets for the ride the next day. Then, we went to the campground and attempted to set up our camper. The Palomino is a pop-up and when I tried to raise the roof, it was so heavy with snow I was afraid I would break the lift system. So, I used our windshield scraper to clear off the heavy wet snow.
When we rode the train the next morning we encountered the most beautiful scenery of fresh snow on the colorful poplar and evergreen trees. We saw elk and deer in the woods as we climbed to the pass. It was spectacular." – Dan Forry, 1996 Ford F250, 2006 Palomino Bronco 1251
"We were heading west to Alaska on the Alcan Highway in 70-degree weather as a storm approached. Within 30-seconds, the temperature dropped to the low 40s. Then it poured rain so hard the wipers couldn't keep up. Then it switched to large hailstones.
The storm lasted about 10-minutes, leaving a soupy mud surface on the gravel/dirt highway. Then, the temperature went back to the mid 60s. We never saw such extreme weather changes in 10-minutes." – Janet and Jim Kaley, 2015 GMC Sierra 3500HD, 2015 Arctic Fox 992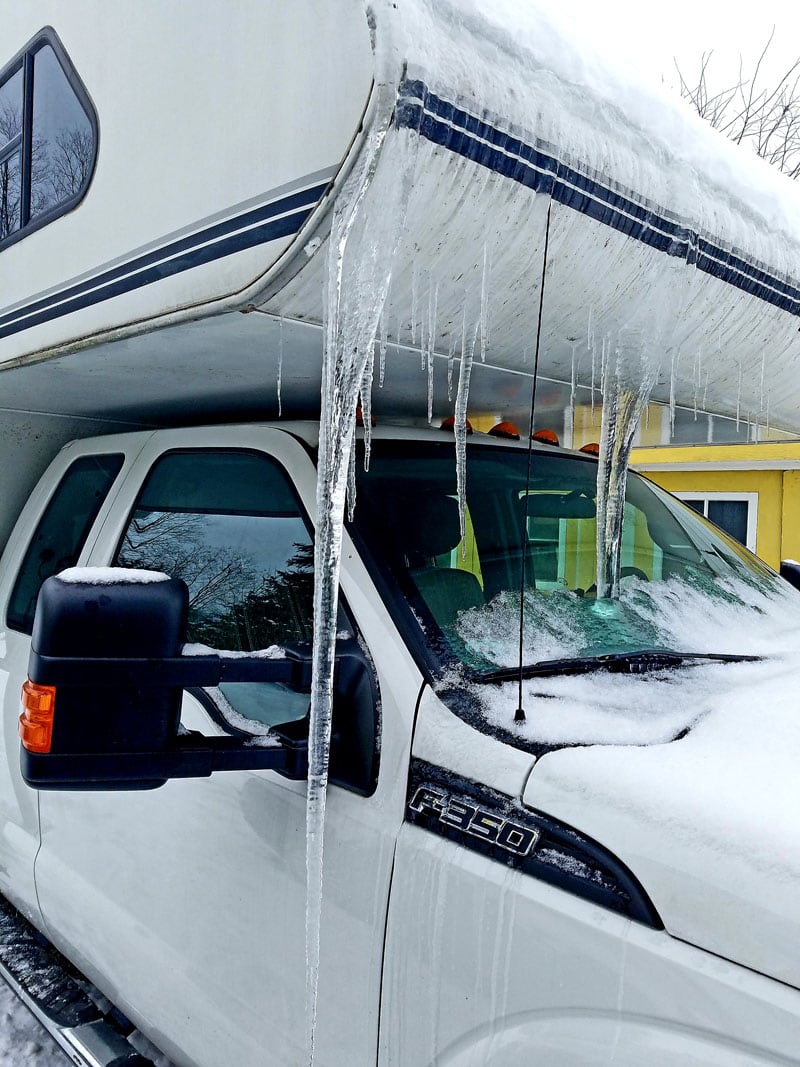 "Just before leaving on a three month trip to the southwest, we had 8-inches of wet snow that began melting as the weather warmed then quickly froze overnight." – Dan Cooper, 2014 Ford F350, 2002 Lance 920
"We just got back from ten days in the Sierras. Above is a video of us getting totally hailed on with marble sized hail and running to the safety of the truck camper." – Nolan Sturgeon, 2001 Ford F350, 2015 Wolf Creek 850