As I write this, we are camped in La Grande, Oregon.  Smoke from a nearby forest fire has cast a thick haze over the surrounding hills.  The smell is reminiscent of my grandfather's wood burning stove back in Pennsylvania.
Folks in The West are accustomed to forest fires and smoke, but it's a new experience for those of us who grew up in the Northeast.  Believe it or not, neither Angela or I can recall a single forest fire or related smoke conditions in the nearly 40 years we lived in Pennsylvania and Maryland.  Not one.
Experiencing different weather conditions as we travel deepens our understanding of what fellow United States and Canadian citizens live with.  Now when we see a forest fire on the news, we have a better idea of what it's like to be in that situation.  It's no longer abstract.
Reading through the responses, a few of us got caught in weather conditions we were not expecting, far from home.  While this experience may not be fun, it gives us a tangible insight into what folks in that area endure.  Perhaps if more people traveled and had these weather experiences, there would be more empathy and support to help when Mother Nature goes sideways.
What follows are some amazing stories of extreme weather while truck camping.  If you want even more, check out the extreme weather reports from 2014.  Hang on to your turnbuckles!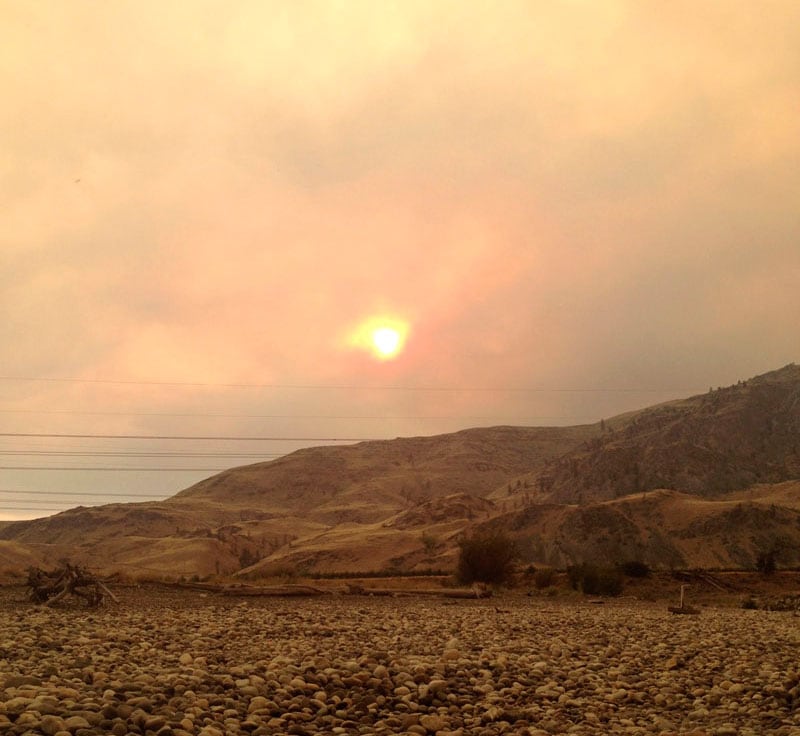 "In mid-July of 2014 I was camped below Wells Dam on the upper Columbia River. I was fishing for summer run Chinook salmon. In a very short time it became very smoky, but I continued to fish. Soon it became difficult to breathe.
I retired to my camper to cool off because it was over 100-degrees Fahrenheit. I then went to bed and woke up to an even smokier morning. I decided to head for home in Spokane and found out the smoke was coming from a major fire in the town of Pateros." – Mike Dahlager, 2001 Dodge Ram 2500, 2007 Okanagan 96DB
"We traveled out of town with my son's high school volleyball team to Red Deer, Alberta. It was January or February. Overnight the temperature went down to -20 Celsius (-4 Fahrenheit). I did not have one freezing issue. The tanks were in the heated basement. The dual pane windows stayed nice and clear." – Bruce Neumann, RAM 3500, Okanagan 96DB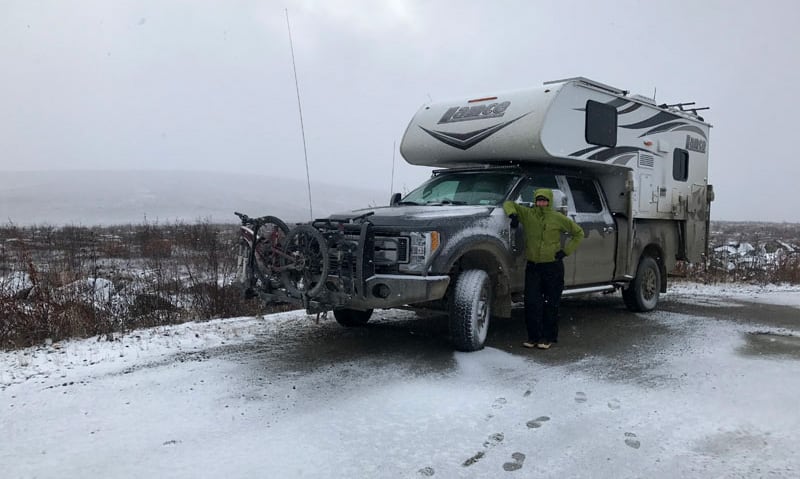 "On September 22, 2017, we were heading south on the Dalton Highway in Alaska after driving up to Prudhoe Bay. We preferred not driving in the dark because it's much easier to hit an animal. We decided to call it a night at the Finger Mountain pull-off, mile marker 97.5.
We've camped in colder conditions, but the wind was roaring intensely from our right side that night. The amount of cold air blowing in through the weep-holes in the windows was incredible. It got down to about 20-degrees Fahrenheit that night.
Nothing froze, but I'd estimate the wind at a sustained 40 miles per hour. We ended up buying weatherstrip to cover the weep-holes for the rest of the trip. We chased the fall weather southward toward Moab, Utah." – Bob and Sheila Eckert, 2017 Ford F350, 2015 Lance 825
"Trying to get in a few more days of South Dakota pheasant hunting, my lab Tuff and I returned one December. The first several days were delightful with moderate temperatures. There was little snow and plenty of birds when suddenly the temperature plummeted.
That day, 18-degrees Fahrenheit was the high for the day. Fortunately, thanks to a good bird dog, it took less than an hour to harvest our limit of three roosters before returning to the camper.
That night really tested the limits of the Alpenlite with near zero temperatures. I was really concerned, but everything held together. The following day it was a balmy 30-degrees and the enjoyable hunt continued." – Bob Lick, 2003 Dodge 3500, 1993 Alpenlite 11′ SK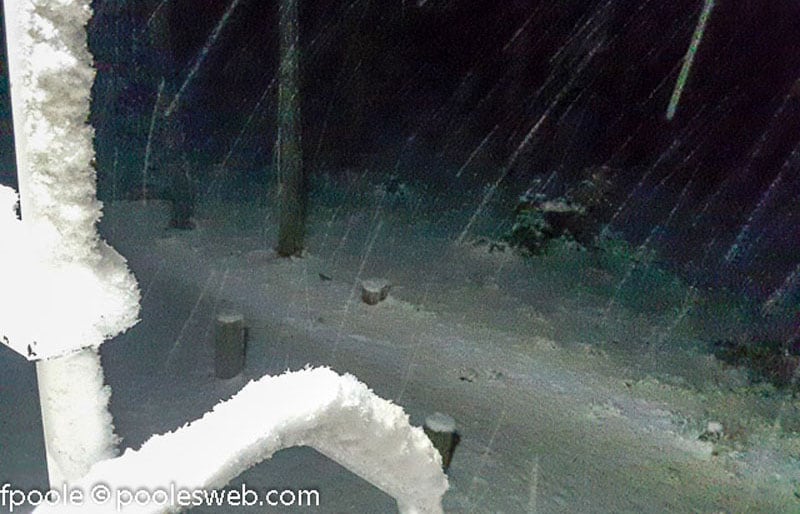 "The coldest I've been in was 14-degrees Fahrenheit. There is always someone who has done colder, warmer, windier, and more rain. However, I have to say snow is pretty much at the top of the list – followed by wind.
I've been surprised several times with snow. It is not a big deal except for sitting out the road clearing. I had that happen in Bend, Oregon for a few days. I consider snow as Mother Nature's little beer cooler.