As you might imagine, I love photography.  The fact that I sometimes get to take pictures as part of my job is just awesome.  The opportunity to travel in a truck camper and take pictures for fun between assignments is even better.
My camera of choice is a Nikon D750.  The Nikon D750 is a full frame DSLR with enough controls to satisfy enthusiasts and professionals alike.  I have owned the D750 for about two years and still learn something every time I pickup the camera.
When photographing a truck camper factory, I use the D750 and the Nikon 24-120mm kit lens – a truly excellent walk-around camera and lens setup.  For most folks who want to get deeper into photography, a Nikon D750 and the 24-120mm lens is likely all they will ever need.  Just be prepared for a highly rewarding learning curve.
When it's time to photograph the inside of a camper, I use Nikon's 14-24mm lens with the D750.  This ultra-wide angle lens is responsible for making the inside of wet baths look like small apartments.  It's an essential tool for our reviews, but I seldom use it for anything else.  Unless you're shooting inside phone booths like I do, it's not essential.
When I'm shooting for fun, I use the Nikon D750 and a Sigma 50mm Art prime lens exclusively.  The Sigma 50mm Art is so sharp that my other photographs often look out of focus in comparison.  I absolutely love shooting with this lens!  If you want to capture state-of-the-art images during your travels, the Nikon D750 and the Sigma 50mm Art prime is a killer combination.  It is highly recommended for the serious photography enthusiasts among us.
Just in case you think I'm a total camera snob, I also take about as many pictures with my iPhone 7.  It's so convenient to have a high quality camera with me all the time.  That said, the Nikon D750 and Sigma 50mm Art is at a whole different level.  To bad it's too big to fit in my pocket.
This week's Question of the Week was, "What smartphone, DSLR, or mirrorless camera do you use while truck camping?  And, what do you enjoy photographing on the road?"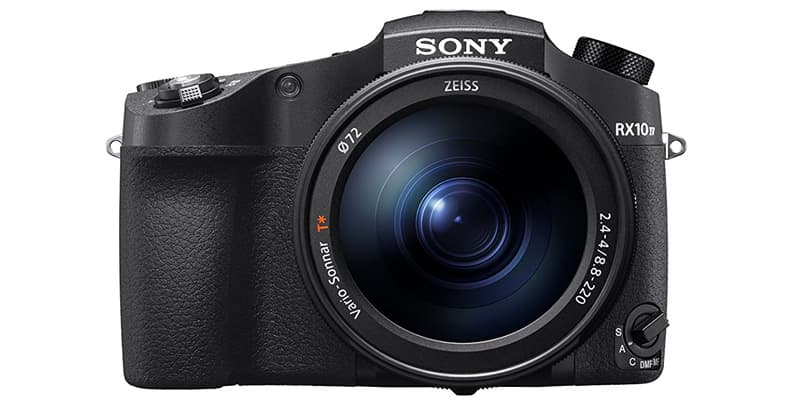 "I have a Sony A99 II, Sony A7R, Sony RX10 IV, and Samsung Galaxy S8+.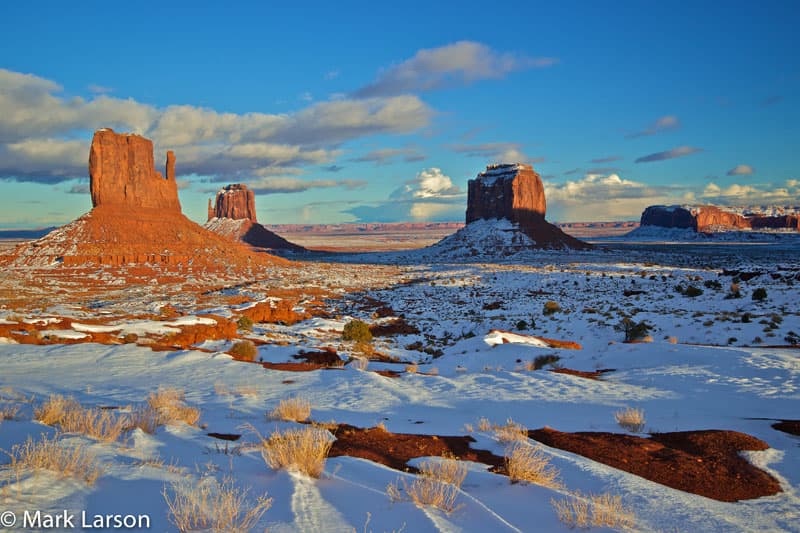 I like taking pictures of landscape, old churches, old cars, and wildlife." – Mark Larson, 2017 Ram 3500, 2016 Arctic Fox 811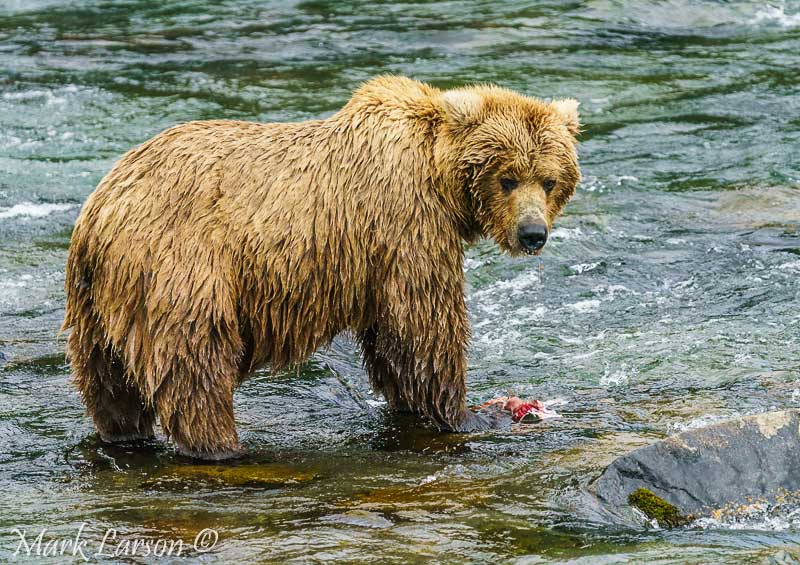 "I use a Canon EOS 7D and take pictures of critters and landscapes." – Ed Chauvaud, 1999 Ford F250, 2014 Northern Lite 9-6Q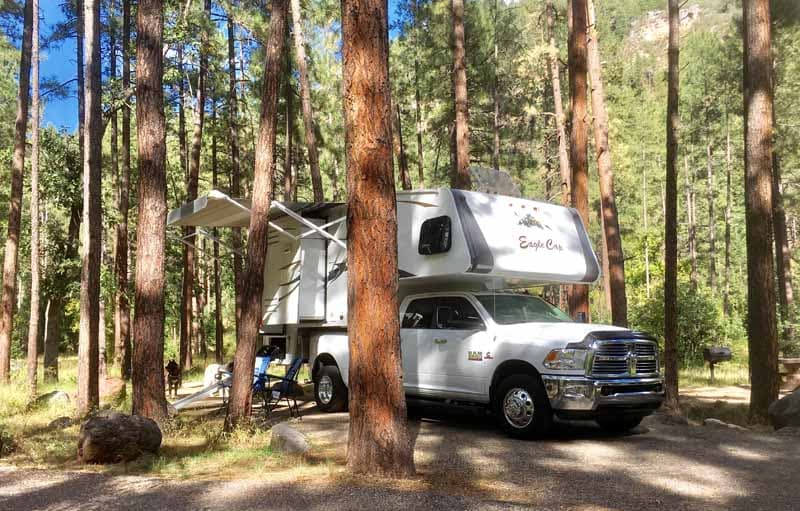 "We have only had our maiden voyage trip in our new truck camper.  I use an Olympus OM-D E M1 mirrorless four-thirds camera and several prime lenses.  I also use my iPhone 6 Plus smartphone camera occasionally.  I enjoy photography landscapes, nature, and wildlife." – Bruce Bowens, 2015 Ram 3500, 2017 Eagle Cap 1165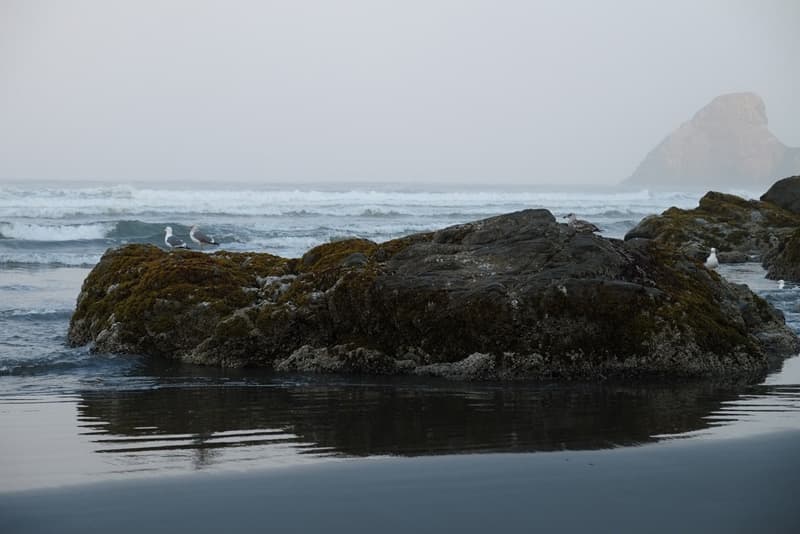 "I have a Fuji XE1 with 18-55mm kit zoom lens.  I like photographing landscapes, food, and whatever strikes me as interesting." – Tod Sukontarak, 2007 Chevrolet Silverado 1500LT, still primitive tenting it
"I use a Canon EOS M with an 18-55mm and a 55-200mm lenses.  This is a mirrorless system with image stabilization.  I especially like to photograph birds and commercial shipping." – Tom Scholtens, 2010 Chevy 2500, 2013 Bigfoot 25c10.4
"While truck camping all over the country, I usually make a video of each location we visit and the great sights we see along the way.  To that end, I have found that a good video camera is worth its weight in gold.  I have purchased a Sony HDRCX900/B Video Camera and its fantastic!  Not only does it take great HD video, but it also allows for taking a 20MP still image while recording – something that I do regularly.

My goal for photography on the road has changed over time.  When we first started truck camping all over the country, I made videos of each specific place we visited.  The videos were very documentary style and showed only the place visited.
Lately I have changed to a more Vlog (video blog) style video that shows my wife and me experiencing the trip in addition to the place visited.  Each video might start out with a camera shot of us in the truck discussing our next adventure and some shots of our travels along the road.  I believe this gives the viewer a more personal glimpse of how we are experiencing the country." – Charles Coushaine, 2001 Ford F350, 2012 Chalet DS116RB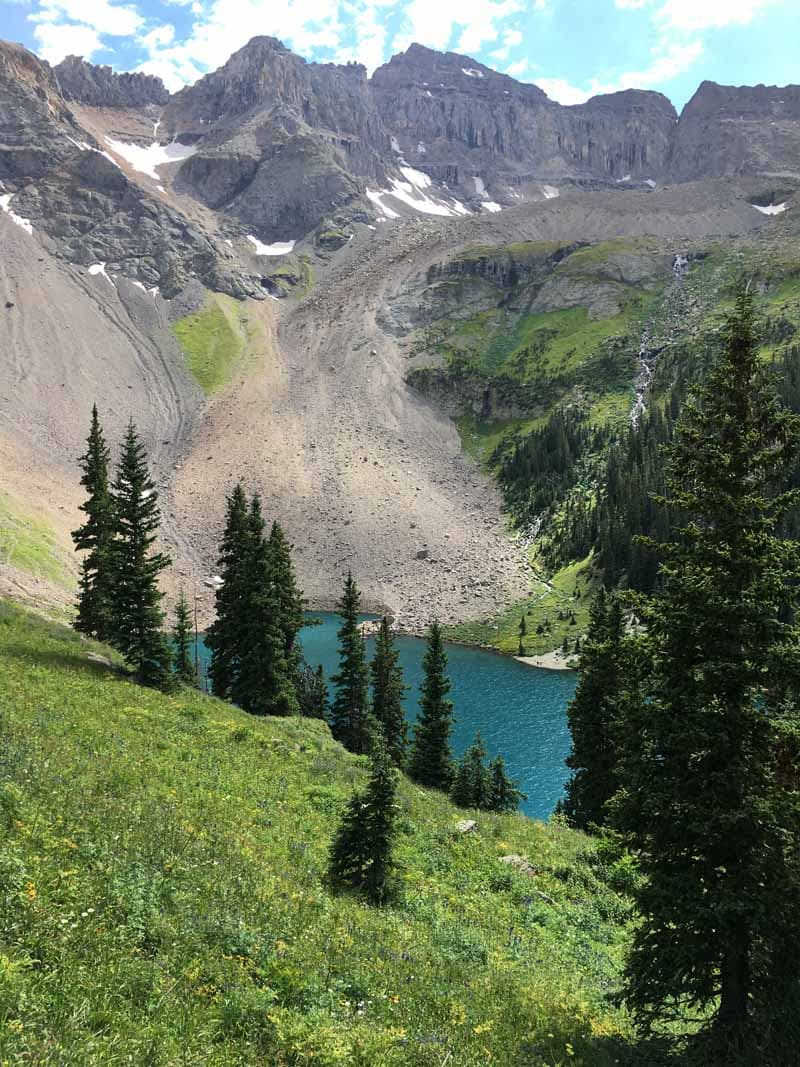 "I use an iPhone 6S.  I take mainly landscape scenery; mountain peaks, waterfalls, and streams.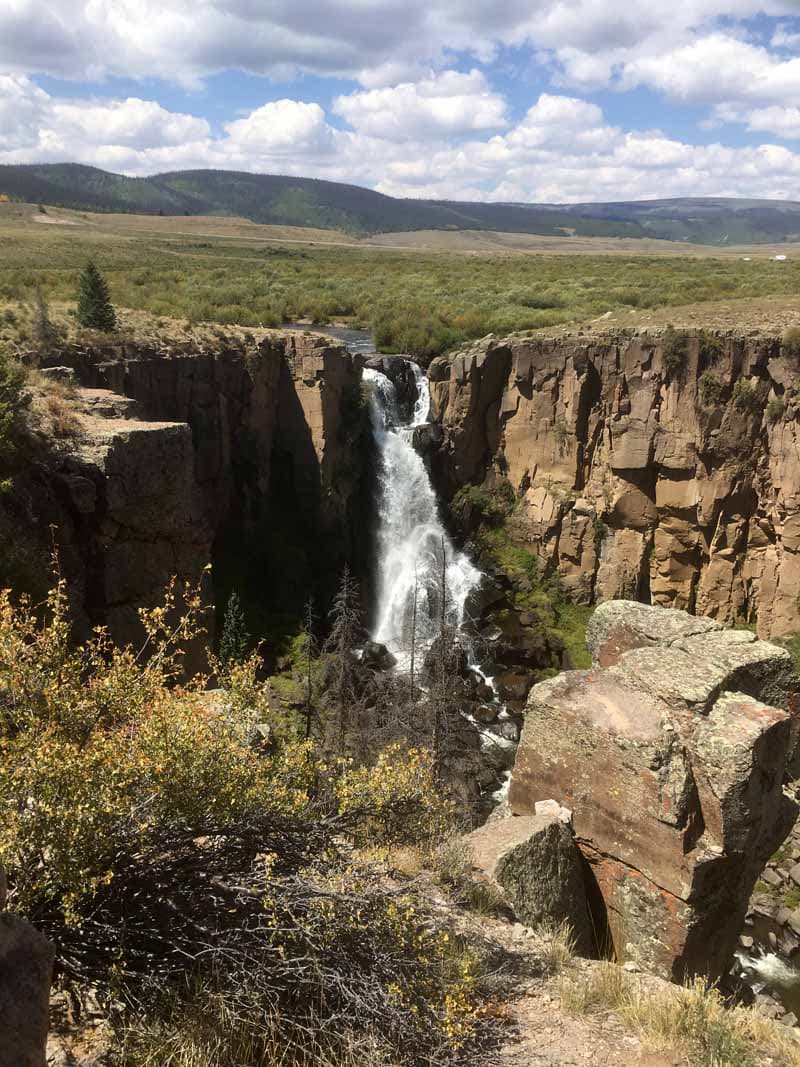 I also take pictures of wildlife if I can catch them, and friends and family while camping." – Dan Sundt, 2005 Chevy Silverado 2500HD, 2003 Hallmark Ute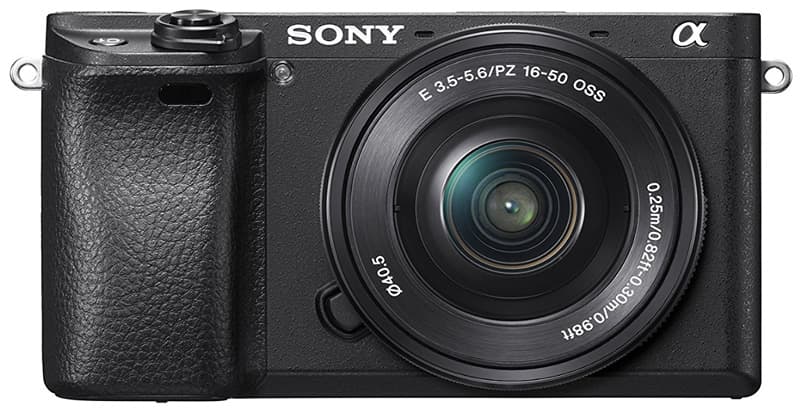 "I have a Sony A6300 mirrorless camera with a wide angle 10-18mm lens, 16-70mm walk about lens, and a 55-210mm telephoto lens.  These are my primary lenses.
My Canon G1 X is the back up camera with a fixed lens of 28-120mm.  I also use a Fuji XP200 water camera with a 28-70mm fixed lens.  I mostly take landscape photos." – Gretchen Berquam, 2014 Ford 350, 2015 Arctic Fox 1140
"I use my smartphone and take pictures of anything that is scenic or of interest to us later.  Having it with us all the time is a great plus because, when we're in the desert and come up on a couple of big horn sheep, we're ready.  Or accidents.  It's interesting what we think we saw.  When we look back on pictures it's usually totally different.
I also take pictures of campsites that are trashed and take pictures of license plates.  If they don't clean their site up before they leave you can send picture to the forest service." – Frank Niehus, 2007 Ford F-350, 2007 Arctic Fox 1150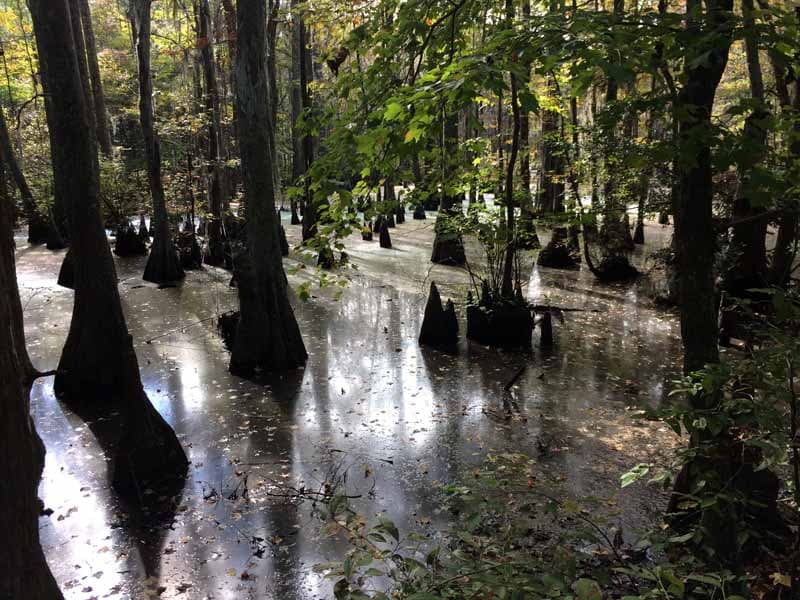 "I use both a Canon PowerShot A1200 and my iPhone.  In earlier days I used the former most of the time, but with the iPhone's improvements over the years I now use the latter most of the time.
A friend of mine of thirty years is a successful professional photographer who receives contracts nationally and internationally.  Coincidentally, I discussed this topic with him recently and he said in jest that he was a dinosaur.  While professionals have knowledge about lighting, background, etc, he acknowledged the cell phone everybody carries with him/her can essentially take as sharp a picture as he/she can with all his/her equipment.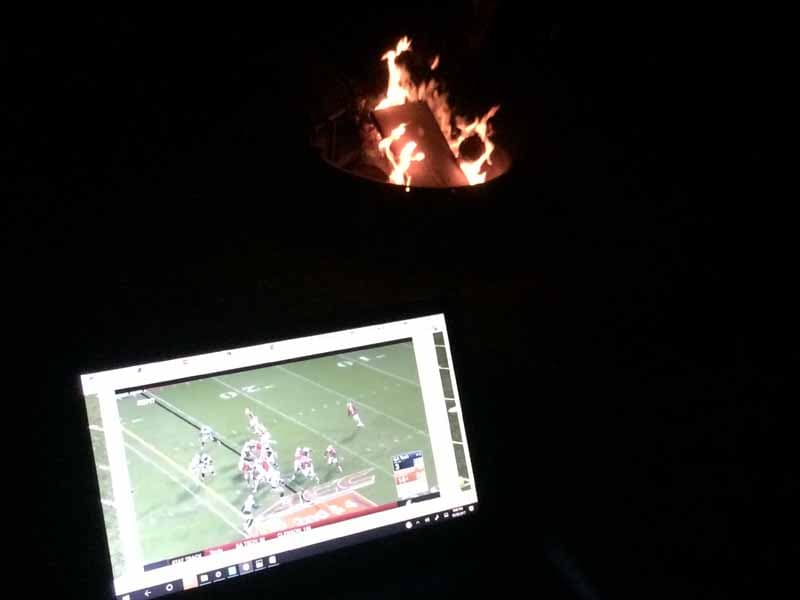 I enjoy taking interesting pictures but, unfortunately, not all of them would meet the high standards of Truck Camper Magazine calendar eligible pictures; one reason being my camper is not in all of them.
Three examples I took with my iPhone on the spur of the moment are lowland bog with light reflecting off the water, the top of a very big hill, and a Saturday night campsite in the woods with no water or power.  I had enough cell signal there to generate a hotspot and watch a Georgia Tech football game." – Fred Patterson, 2013 F350 SD, 2002 Lance 1161
"I use my Samsung Note 8 dual-lens camera phone.  I have a 256 gig add-on memory card.  I take photos of almost anything that catches my eye.
I almost have no limits to the amount of photos my phone will hold.  I love to capture nature – beautiful and odd alike.  I never get tired of taking photos of my truck and camper in cool places.  I love to get shots of each of my campsite's set-up.
I usually bring a trailer with toys on my adventures.  Depending on where I go I bring a 4×4 quad or a dual-purpose motorcycle or my street bike.  Those adventures also give plenty of photo opportunities along the way." – Bob Smith, 2001 Ford F-250, 2015 Lance 1050S

"I have a Sony NEX-6 and take pictures of landscape features, the sky, sunrises, and sunsets." – Rick Brundrige, 2015 Chevy Silverado 3500HD, 2000 Bigfoot 9.6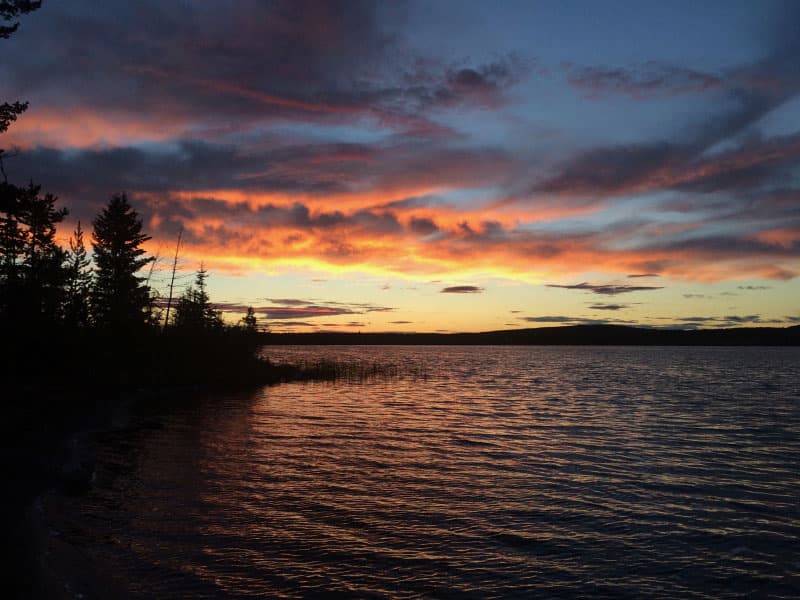 "Phone cameras are getting better compared to older DSLRs it seems.  Most normal pictures I take are with a phone, Samsung S7 Edge and Samsung Galaxy Tab 2.  I also use a little Lumix outdoor waterproof orange camera.  If I find something interesting for a photoshoot, I'll use my old Nikon D200 with various lenses; usually the zoom.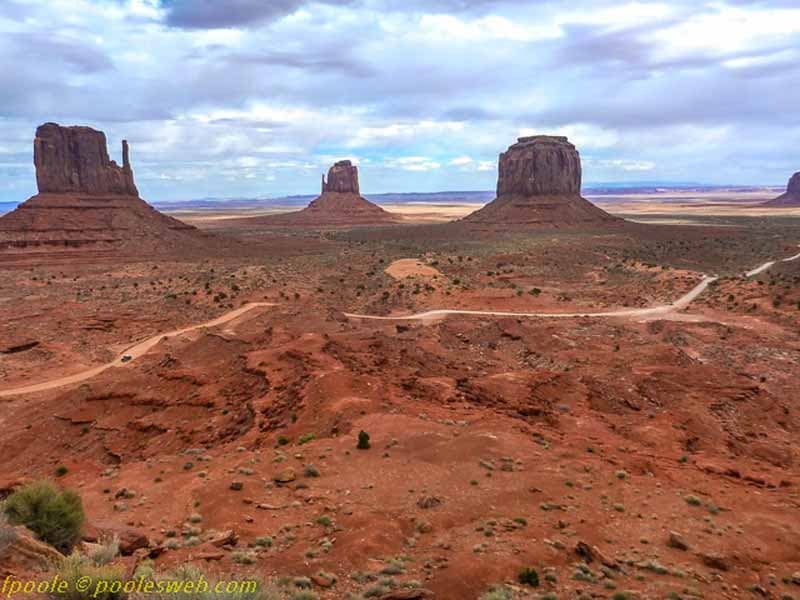 I had a D300 for diving, but sold it.  The problem was downloading, uploading, and processing the photographs on a laptop.  My phone/tablet is the camera of choice as I can upload to Facebook/RVillager right away without having to transfer to a laptop.  With the D200, I have to hookup and transfer NEF/RAW files, which is a PITA, so I don't use it that much.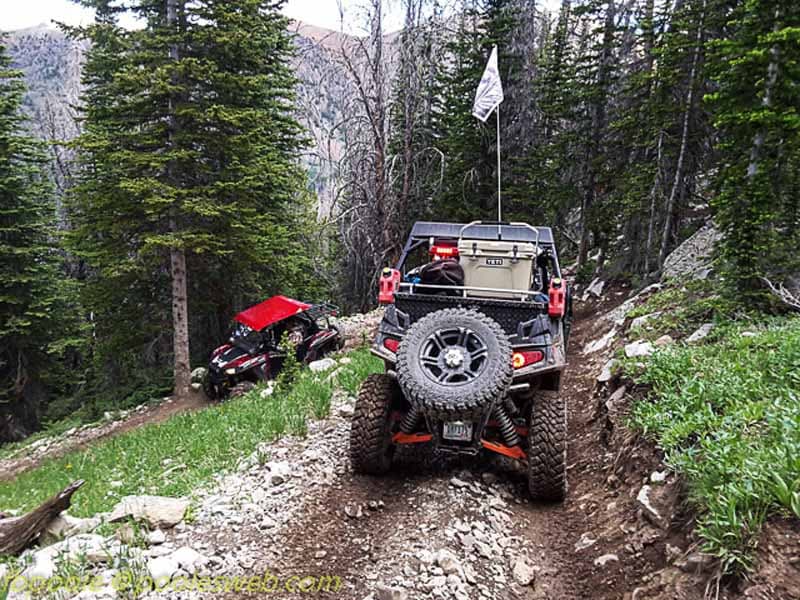 My usual pictures are of locations to help give a general idea of the site/area.  I am not trying to get National Geographic shots.  They are more like travel log shots  Fun it is." – Frank Poole, 2016 Ram 5500, 2016 Arctic Fox 990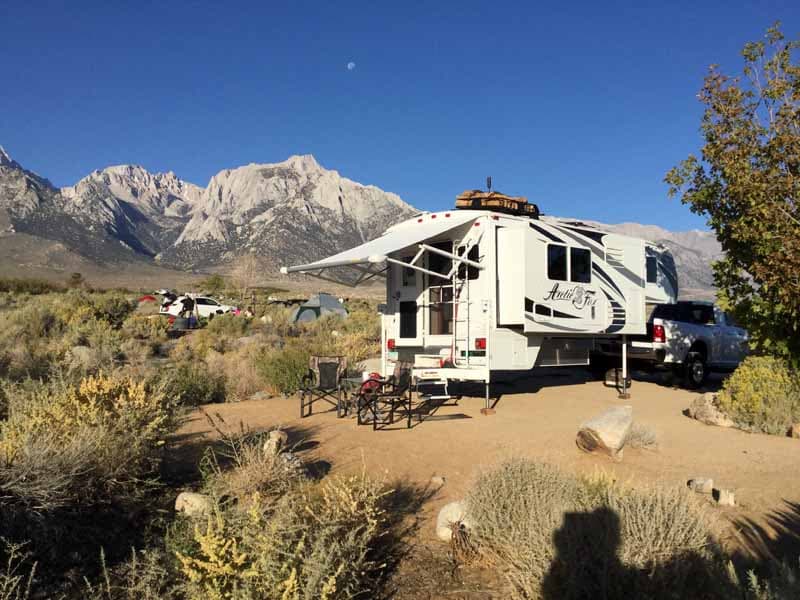 "I use an iPhone 7 Plus.  I love the portrait mode.  I like to take pictures of my dream come true Arctic Fox and my dog, Jake, with really cool backgrounds." – Ray Mungo, 2016 Ram 3500, Arctic Fox 1150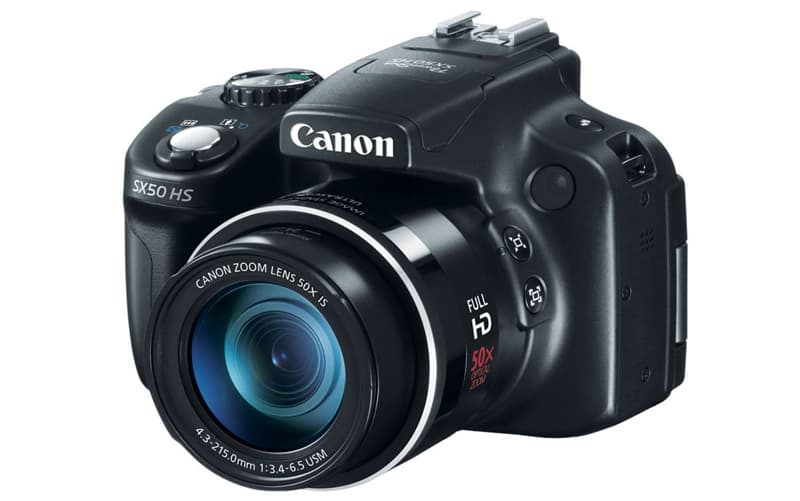 "I take two cameras with me – my Canon SX50 HS, which is a point-and-shoot that has a built in 50x power zoom lens (known as the "Nifty Fifty") and a Canon SX210 IS that is a pocket-sized camera with a 14x power zoom that takes fabulous pictures.
I take mostly scenery and wildlife or anything else we find interesting.  It doesn't have to be beautiful!  It could be an old derelict building, a giant threshing machine in a wheat field, the trucks we met on the Dempster Highway, or a pile of dead salmon beside a stream.  Really what I am after is memories.
Once my pictures are downloaded, they become part of the slideshow that is the screensaver on my computer.  Seeing the pictures all the time keeps the memories clear and alive." – Audrey Ruccio, 2008 Ford F450, 2008 Host Everest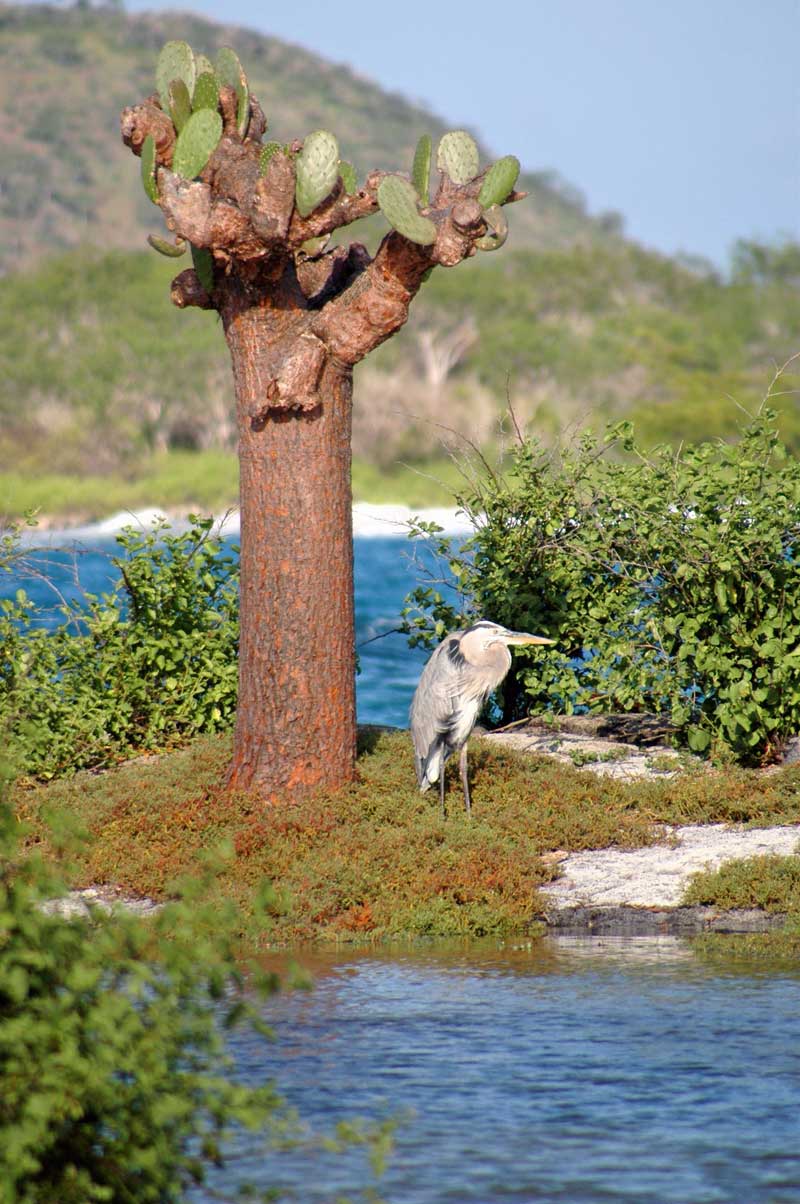 "When the kids were growing up, I had a Nikon D70 with several lenses and enjoyed taking pictures of our family and various outdoor scenes.  Over the last few years I have settled for the convenience of using my iPhone 6 .
Now that I'm nearing retirement (boy, that sounds good!) I am getting back into quality photography and have just ordered a new Nikon D500 along with a couple of additional lenses.  Next year I will be submitting an entry for your calendar!
My interest lies in wildlife and nature photography.  I have been fortunate enough to have one of my pictures taken in The Galapagos featured in National Geographic." – Eddie Fort, 2016 Ford F-350, 2016 Hallmark Everest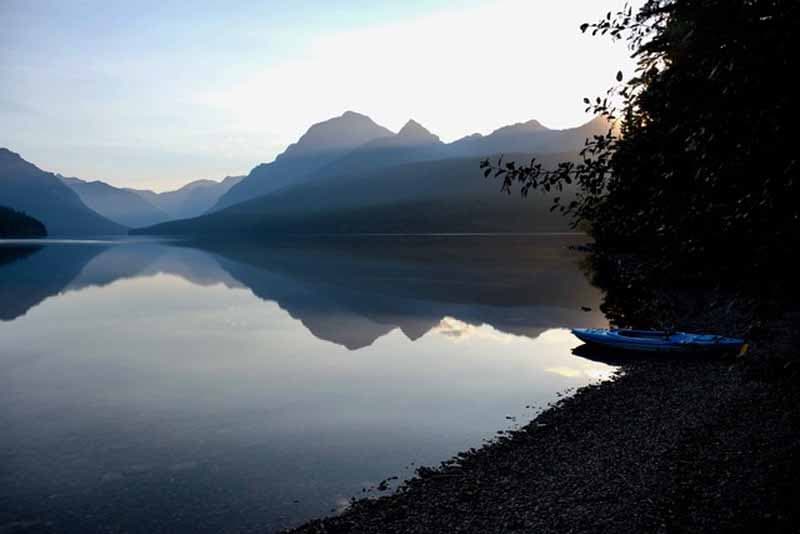 "I have a Fujifilm XT1 mirrorless camera that I take pictures of nature, rock art, and cliff dwellings." – Paul Johnson, 2016 Ram 3500, 2011 Hallmark Milner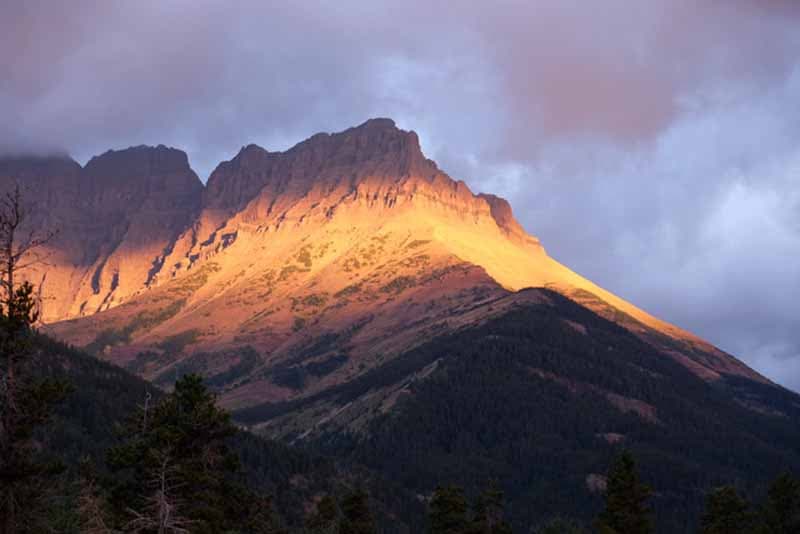 "We travel with Canon 20D, 60D and SL1 cameras.  We also have a Nikon Coolpix 5100 and our iPhones.  We carry multiple lenses, a tripod, and miscellaneous other gear.
We photograph almost anything from landscapes and wildlife, to towns, churches and other attractions." – Matt Wiegand, 2014 Ford F150, 2017 Adventurer 80RB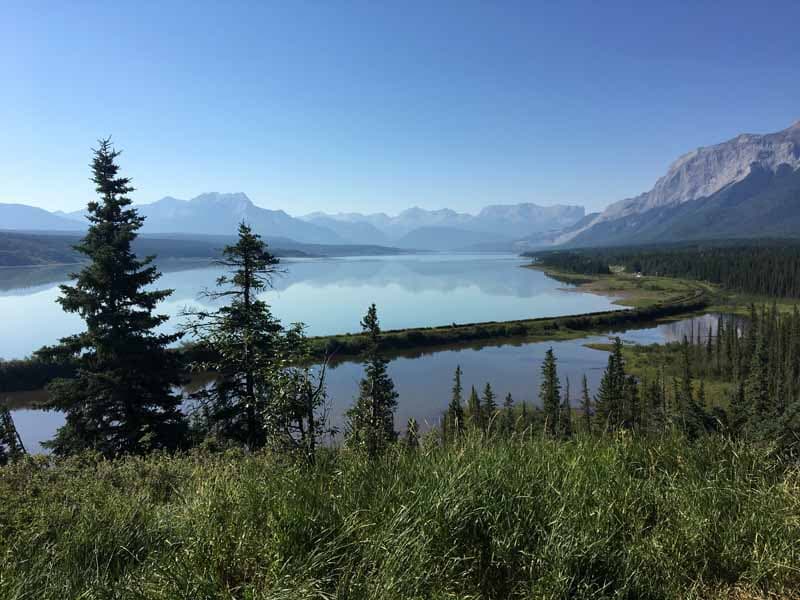 "I have an Apple iPhone.  Usually I take photos of animals, whatever the view is, and new to us things.  We have ATVs so we get out where most people will never get to see.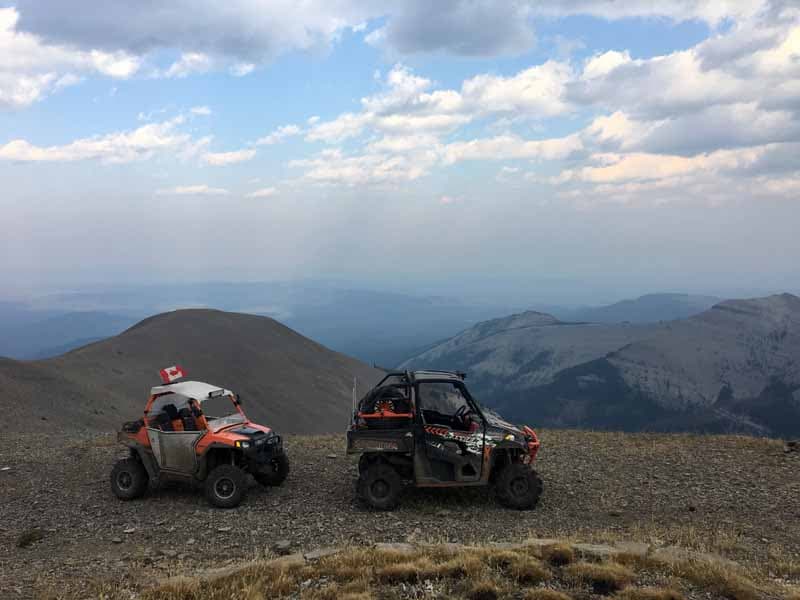 We like to get pictures of our outings and the stuck or broke down people in our group for future laughs.  We also like to take pictures of friends and family having fun." – Ken Atamaniuk, 2012 Ram 3500, 2016 Lance 855S
"I'm new to truck camping, but have been tent camping and hiking for 40 years.  I like the Canon EOS 600D when I'm on my feet, and my wife uses her iPhone from the vehicle.  Many of our Christmas cards have come from shots taken on the road." – Sidd McDonald, 2018 Chevy Silverado 3500, Adventurer 89RB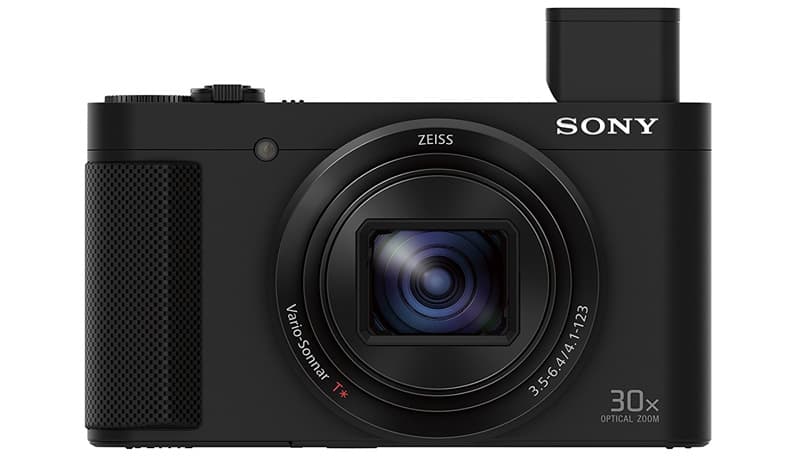 "We have a Sony DSC-HX80 Cybershot pocket camera.  It is 18 megapixels and has a 30x optical zoom.  It is small enough to carry in my shirt pocket.
Since most of our camping is boondocking in the back country, almost all of our photos are scenery and wildlife.  We take hundreds of photographs during our trips.  When we get home, we review them and delete at least a third of them.
The 30X optical zoom is mainly for wildlife and gets used quite a bit.  We are also avid ghost town hunters.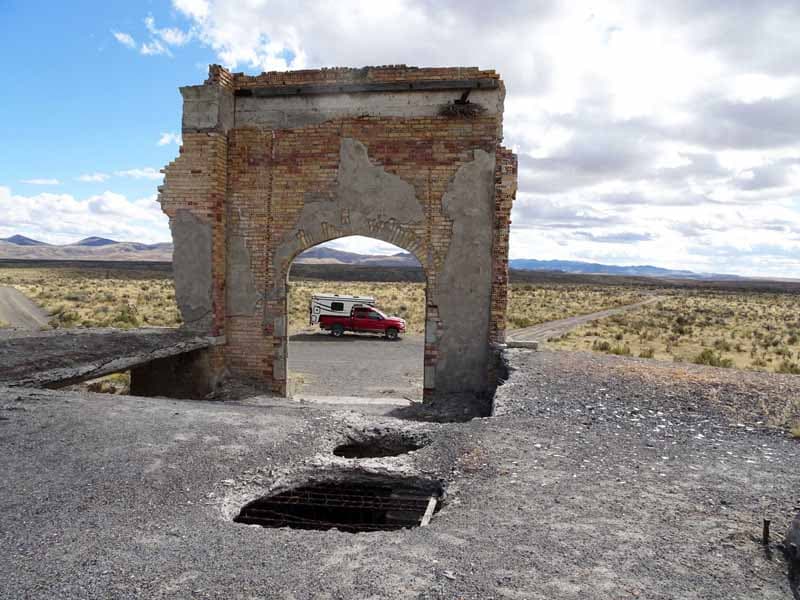 One more thing; we have a special folder on our computer with a photo of every campsite we have ever camped in since we bought our first truck camper, including relatives driveways." – Brian and Chris Hagen, 2004 Dodge Ram 2500, 2014 Palomino SS-1251 Backpack
"I will use my iPhone 6 in a pinch, but usually use my Nikon D7000 DSLR that does the heavy lifting with various Nikon lenses.  I've had Nikons for years starting with a fully manual, all metal body Nikon FE given to me by my Grandfather for my high school graduation.
I'll take pictures of anything interesting including wildlife, landscapes, plants, vistas, eclipses, and buildings.  And, of course, I'll try to get a winning truck camper calendar shot!" – Sandy Schmidt, 2006 Toyota Tundra, 2015 Four Wheel Camper Hawk

"I have a Samsung Galaxy S6, Panasonic Lumix DMC-FZ300, and a DJI Phantom 4.  I really like attending dog shows and photographing the working class dogs.

I also enjoy aerial photography, especially beach scenes." – Gary Usher, 2017 F350 Lariat, 2015 Lance 1172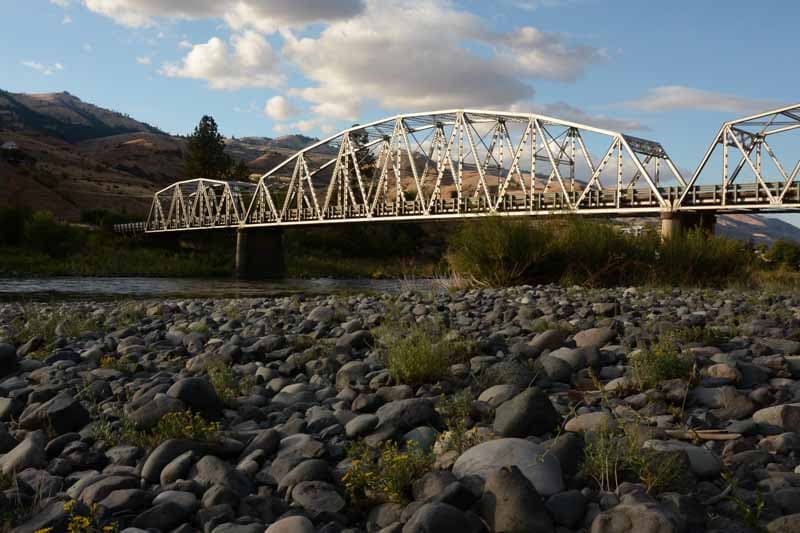 "Primarily I use a Nikon D7100 and 18-210mm lens.  I also use my iPhone.  Landscape photography is my passion, but I enjoy shooting almost anything.  Wildlife in its natural environment is always nice to get.  I also like to include our truck camper in pictures because it looks nice!" – Angie Scott, 2014 Chevy Silverado 3500HD, 2016 Northern Lite 8-11Q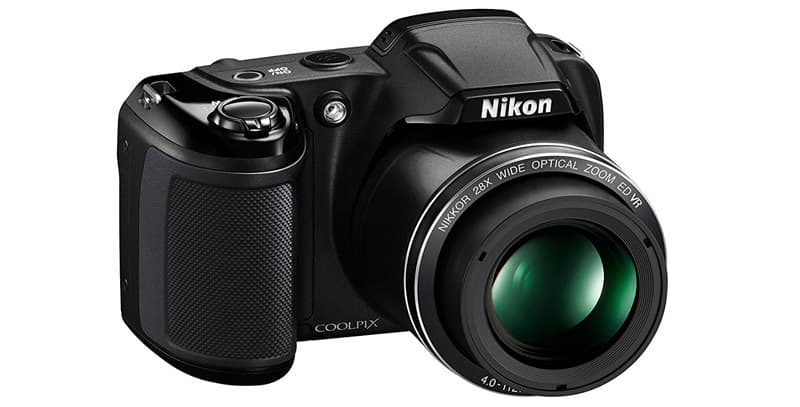 "Our latest camera is a Nikon Coolpix L340.  We are very pleased with it has a good range of controls.  It can be a point-and-shoot or creative, if needed.  I really like its shape with the larger hand grip.  It is much more secure to use, and there is less chance of dropping it.  It is slightly larger than some of the compact units, but it's still easy to carry around and have with us on our hikes.  It is easy on batteries which is a super nice feature.
We love to re-live our summer truck camper travels through the long days of winter.  We take pictures of most everything from tourist stuff to where we camp to communities we travel through; anything that reminds us of our travels.  Thankfully, the digital technology is here allowing us to take many, many shots.  Not that many years ago it may not have been possible because of the cost associated with film developing." – Wes Hargreaves, 2016 F450, 2006 Snowbird 108DS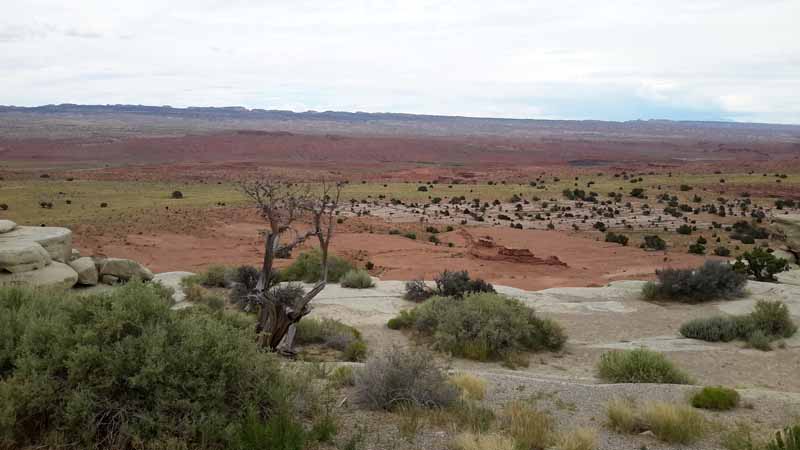 "I have four cameras that we take with us on the road (five if I count my wife's phone). I have a Canon Rebel T5 with a 18-55mm lens and 75-300mm lens, Canon Powershot A570, Samsung Tablet, and Samsung Galaxy 3 phone.
The main camera I like to use is the Canon Rebel T5.  It has so many features and settings which I'm still trying to figure out.  I love the rapid fire shots in sports mode.
The Powershot A570 is a great compact size and easy to stuff into a cargo pants pocket.  I have both a wide angle and telephoto lens for this camera.  I've taken thousands of pictures with this camera and still find it very useful while on the road.
My Galaxy 3 phone takes okay pictures.  I just prefer a regular camera for shooting photos.  Plus, of all the photos on my phone in the last five years I have yet to upload to my computer.
My tablet takes good photos but it's awkward to hold.  It really gives a good wide view of whatever I'm shooting.  I should try to find a holder that will attach it to my tripod.  The photo attached (somewhere in Utah) was using my Galaxy tablet.
My interest now is leaning toward a drone with a camera.  Add that to the Christmas wish list!  I'll take photos of just about anything; sunrise, sunsets, ocean waves crashing, and lizards sunning on rocks along a trail." – Roger Odahl, 2008 Dodge Ram 3500, 2004 Eagle Cap 950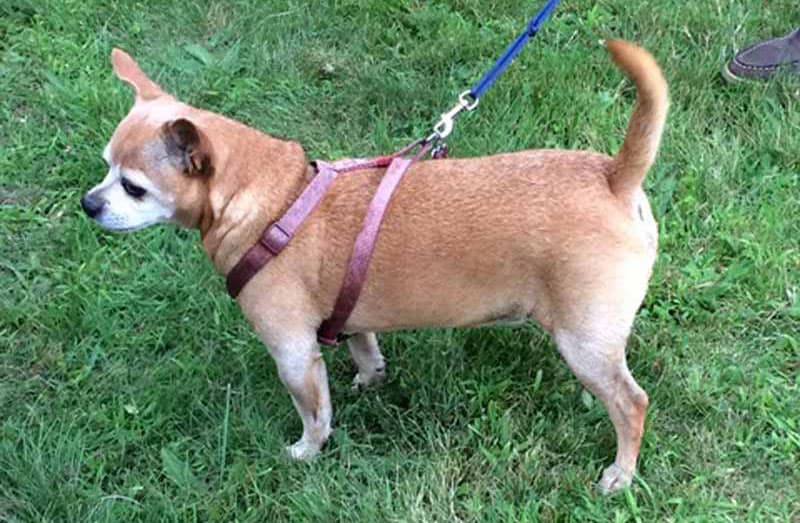 "I use my iPhone 5s and love that is is lightweight and easy to use.  I take photos of animals and scenery as well as cute pets that other truck campers own, like Hank.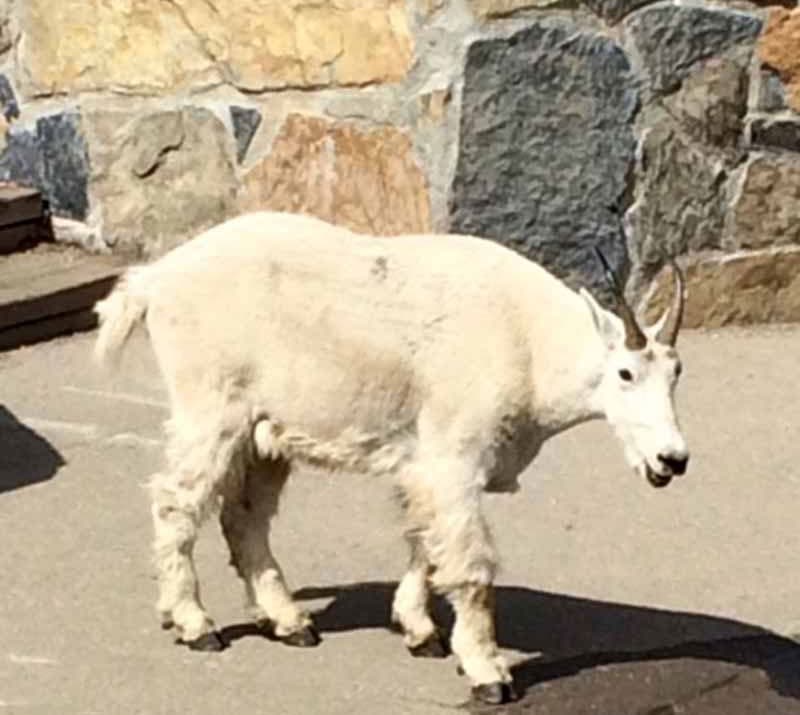 I've also taken photos of wild mountain goats in Glacier National Park." – Susan Visconti, 2015 GMC, 2016 Arctic Fox 990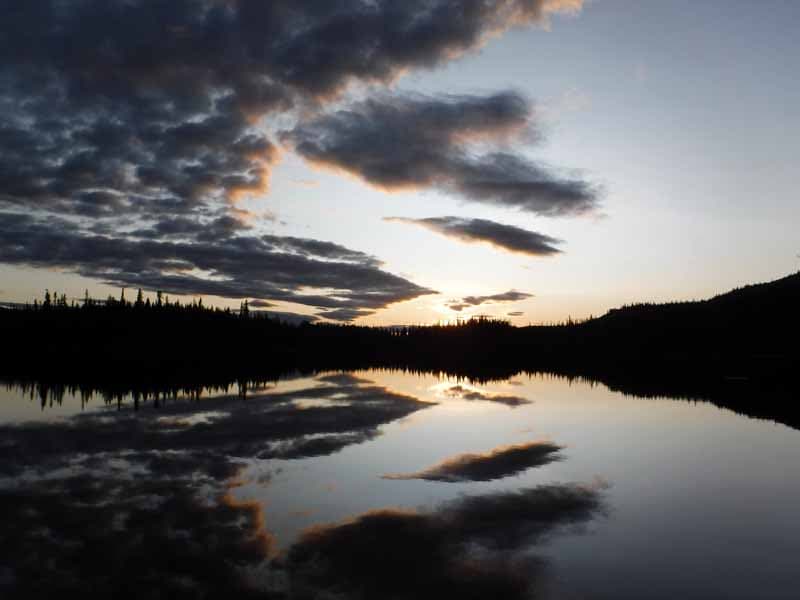 "I use a Fujifilm XP point-and-shoot camera.  It is quick to take a shot, easy to use, and small so that I can put it in my chest pocket while driving.  I am always ready to shoot some wildlife or a great sky with funky clouds.  I like taking pictures of landscape, wildlife, the sky, and people." – Roch Nadon, 2007, Toyota Tundra, 2007 Okanagan, 89Ws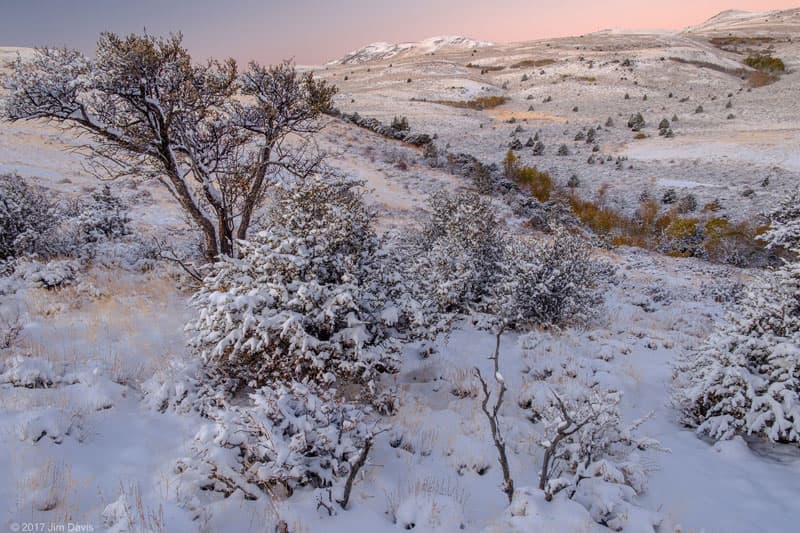 "I have a Nikon D600 and Fuji XT-2.  The combination of my Toyota four wheel drive truck and the Four Wheel camper are a perfect setup to give me access to remote locations.  I have never been attracted to the iconic and relatively easily accessed classic views in the western United States.
I love the challenge of finding a landscape that has never be photographically explored and hopefully coming away with an interesting take on this relatively unknown landscape.  This approach to photography and mode of travel work very well together for the conservation based images that I am most intrigued." – Jim Davis, 2009 Toyota Tacoma, 2016 Four Wheel Fleet
"We each have our own Olympus OM mirrorless kits.  I use the E M1 and Pen.F and Sandee has the E M10.  All use any of our Micro four-thirds (MFT) interchangeable zoom (5) or fixed focal length (4) lenses that vary from 14mm to 200mm (equivalents).  Olympus and Panasonic lenses work with either maker's bodies.  MFT gear is roughly 1/3rd the weight and cost of full frame comparable Canon, Nikon, and Sony DSLRs.
We take pictures of just about anything.  We have different interests.  Mostly it's scenic,  landscape, and street photography." – Joe Sesto, 2015 Silverado 3500, 2015 Bigfoot 2500 10.6e
"We have two cameras.  Both are Canons.  I use a Canon SX530HS with 50x optical zoom and 16 megapixels.  My wife uses a Canon SX610HS with 18x optical zoom and 20 megapixels.
We don't feel our Samsung smartphone takes anywhere the quality of pictures as the Canons do.  We do use the smartphone if we are out without the cameras for a quick picture.  We take mostly pictures of scenery and animals or interesting events." – Erwin Greven, 2002 Chevrolet 2500HD, 2002 Lance 921
"I use an iPhone 7.  I take pictures of nature in all its glory!  I also enjoy taking pictures of our camping rig at different sites.  The National Parks we have are so beautiful.  We enjoy sharing these pictures with our friends and family." – Dan Forry, 1996 Ford F250, 2006 Palomino Bronco 1251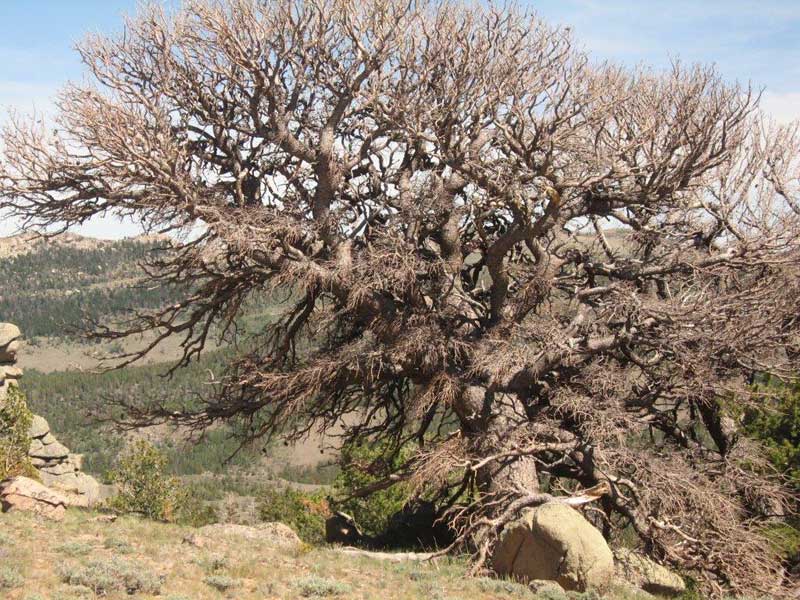 "I use my Phone the Kyocera DuraForce PRO with Sapphire Shield 32GB.  I like taking pictures of very cool dead trees." – Jerry Oakley, 2017 Dodge Ram 2500, 2016 Northstar TC650