For anyone who's even remotely interested in possibly taking a canoe, kayak, or inflatable boat, this two part series is an absolute must.  Here are twenty-seven more responses showing exactly how to mount these versatile watercraft, and where to paddle.
"I bring my canoe with me camping.  We have put our canoe on the roof of our camper, but it is tough to get it up there, even though we have a pop-up.  Also, we would have to carry a ladder.  Instead, I added a canoe rack to our Polaris 570 UTV and put the canoe on top of that. Also, we can put our generator in the UTV's bed.
Last year, when we went into remote country in a Big Horn National Forest in Wyoming, we left the trailer at a FS campground and Marcia drove the Polaris about twenty five miles back to Upper Medicine Lodge Campground and I followed in our rig.
We love to fish high mountain trout lakes in Wyoming.  Our favorites include Brooklyn Lake in the Snowy Range west of Laramie, Sibley Lake in Big Horn National Forest, and the best of all, Upper Medicine Lodge Lake in Big Horn National Forest, which is hard to get to, but worth it if you like to catch 18-inch Rainbows!" – Nick and Marcia Rukavina, 2006 Dodge Ram 2500, 2012 Northstar TC650, Radisson 16-foot pointed
"We attach a kayak to a roof rack.  We use a nylon rope with a clip on one end attached to the kayak.  To raise and lower the kayaks, one person is on the roof pulling it up, and another person is on the ground smoothly guiding the kayak.
We go to the Maine coast and lakes.  I only go downstream when paddling with the Androscoggin Trek to the Sea because they arrange a shuttle service back to your vehicle.  Otherwise, we paddle in the ocean, ponds, or lakes." – Carol Bourque, 2003 Ford F350, 1999 Lance 1110, two Dirigo 120 kayaks
"I bring my kayak with me camping.  I pull a 12-foot cargo trailer with 7-feet of inside height and the V-nose.  I built shelves into the V-nose so I can carry my Weber Little Smokey grill, the wheeled kayak carrier, tackle box, and other things you need for biking, kayaking, and fishing.
Along one side, I have a 12-foot V-bottom aluminum boat.  Up at the ceiling there is a 12-foot kayak hung on each side.  On the other wall are two bicycles, a 6-foot folding table, and our folding chairs.  We also carry a 10' x 13′ screen room that gives us more living space without being bothered by the bugs.
Down the middle of the ceiling I mounted a fishing rod holder.  And the outboard is secured to the floor under the bow of the boat.  As you can see, I am ready for everything we like to do!
We enjoy camping and kayaking in the north Georgia mountains.  We usually do more lake kayaking rather than on a river.  However, when we did the Buffalo River in Arkansas, we were camped at the pullout spot.  We had an outfitter take us upstream to drop us off and then they drove our vehicle back to our campsite.  That way we didn't need to worry about what time we got back to camp." – Larry Wiethop, 2007 Ford F250, 2002 Lance 920, Perception kayaks, aluminum V-hull 12-foot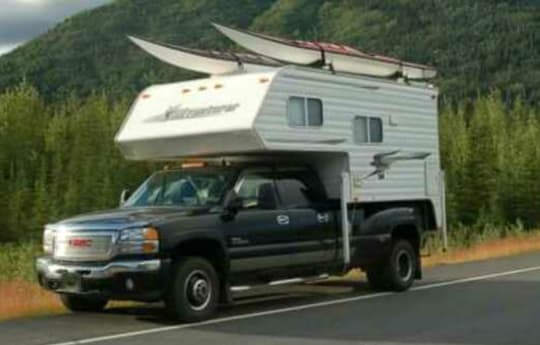 "I bring my kayak with me camping.  We have a rack on top of the camper that takes two people to load.  One person uses a pull rope to get the bow up while standing on the camper.  Another person lifts the the back up and pushes to the balance point and up it goes.
We kayak anywhere in the Yukon.  There are too many places to list.  We mostly do lakes and ocean paddling, so we always return to where we start.  When we do a river trip, we hide our mountain bikes and then just peddle back to the truck.  Then we drive back to pick up the kayaks." – Kirk, 2006 GMC 3500, 2006 Adventurer 8.6, 2007 Atlantis Titan Sea Kayak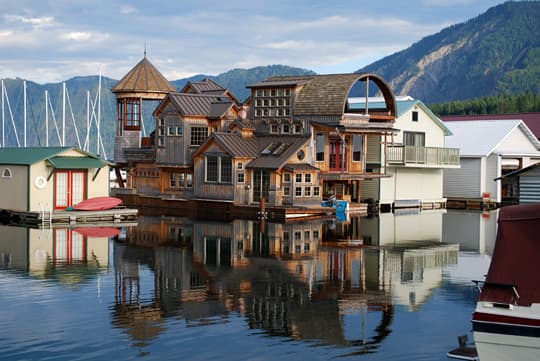 "Our inflatable Sea Eagle is great for our trips.  It fits easily in the camper or rear seat of the truck while traveling to a destination.  We strap it on a luggage/briefcase dolly and take it to the chosen launch spot.  Have yet to do a one-way down-stream trip.
Favorite spots so far have been out around the islands of Bar Harbor right from Mount Desert Narrows Campground.  We also enjoy out the floating neighborhood on Lake Pend Orielle, Idaho." – Kim and Larry Fine, 2012 Ford F450 , 2008 Host Everest, Sea Eagle Inflatable kayak 380
"I bring my kayak with me camping.  Kayak racks attached to the roof racks of the camper.  We carry an extra ladder which makes it much easier and safer to load the kayaks on to the roof.
Ontario Provencial Parks have great remote boating.  They're among our favorite places.  We go flat water paddling only." – Bruce Gamsby, 2008 Tundra, 2008 Lance 825, Old Town Dirigo
"I bring my canoe with me camping.  When I bought my camper I had the factory install tracks for a roof rack system.  I use a Thule system, but my tracks are Yakima and they work just fine.  I can carry my toys on the roof.  Fortunately, I have a pop-up camper which keeps the elevation within reason.