Thirty-one truck camper owners reveal their canoes, kayaks, and inflatable boats, hauling solutions, and favorite rivers, lakes, and open water opportunities.  Paddle on!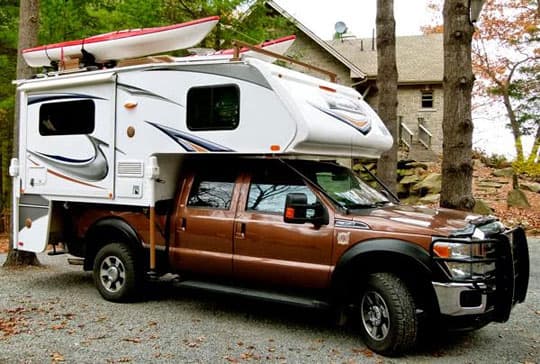 "Our camper roof is outfitted with a bar system and kayak rollers and saddles.  We had a custom roof bar installed on the roof to support our (longer) canoe.
The boats are leaned up against boat stops in the rear corners of the camper.  Lifting from the ground and pulling up onto the roof is easily handled.  Once the kayaks slip into their rollers they glide easily along to rest in the saddles.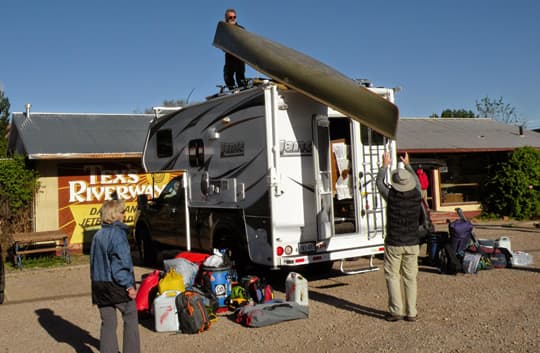 The canoe is lifted and pulled a little further forward where it can be secured to the front bar.  We use a selection of ratchet straps, roped truckers hitches, and cord to pin the bows.  All boats are secured with double tie-down systems in case of failure.
We paddle a lot in the Canadian north, Yukon, and Northwest Territories.  Rivers like the Thirty-Mile, Yukon, South Nahanni, Mountain, and Wind & Peel are favorites for wilderness whitewater canoe trips.  We canoed the Green in Utah a few years ago and enjoyed that too.
There are many options for lake paddling trips in our home province of Ontario.  For example Algonquin and Quetico Provincial Parks, river trips that terminate in James Bay, the Missinaibi, and Wakwayowkastic.  Kayak the Pukaskwa shoreline of Lake Superior for a true big water trip on the world's largest freshwater lake." – Dann and Helen O'Kane, 2011 Ford F350 Lariat, 2013 Lance 855S, Langford Nahanni Canoe & Delta Kayaks
"I fit two 10-foot kayaks on top of each other inside the camper.  I protect walls with a blanket when I slip them in.  I take em out when we get to our destination.  I only do this when we are going somewhere for a short trip (three day) where there is water.  Anything longer than 10-feet will not fit.
We go to the Delaware River.  Getting back is a problem unless we bring another vehicle.  I've been thinking about mounting a light scooter on a versa haul on front of my rig." – Bill Dobbins, 2014 F350 DRW, 2003 Lance 1130, 2 10′ kayaks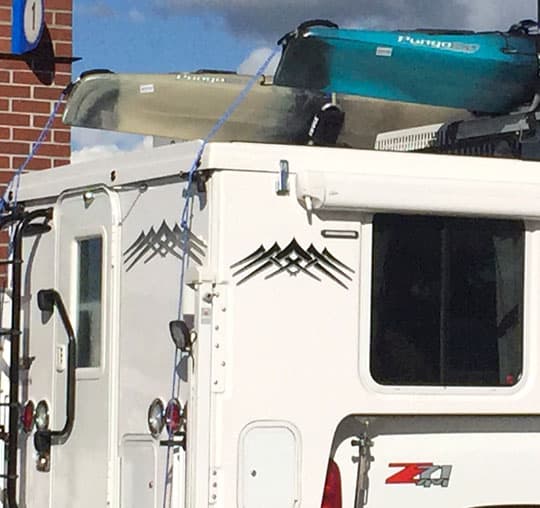 "We put Hullavators on our Hallmark pop-up and love them.  A Yakima 86-inch bar with 1.75″ cut off fits the roof perfectly with a side awning.
We used to have inflatables (Advanced Elements are great), but we're happier with the solid boats.  We like Lakes Basin north of Truckee California.  Also Gualala state park is a nice small spot on the Sonoma Coast.  The Malone Nomad has turned out to be indispensable (a small kayak dolly)" – Rob Harris, 2007 Silverado HD, 2015 Hallmark K2, Wilderness Systems Pungo 120
"We started out with a truck camper but switched to a travel trailer when we bought our canoes.  We have a TracRac on our truck that we use to carry our canoes.  We are considering another truck camper and will tow a canoe trailer for transporting our canoes.
In the Adirondacks, the Fish Pond area is great.  The Green River Reservoir in Stowe, Vermont is a loon refuse and great for paddling.  In Teton National Park we paddled on String Lake and portaged to Leigh Lake, nice paddle.  We always paddle back." – George Visconti, 2005 Silverado 3500, Arctic Fox 22G TT, Placid Boatworks Spitfire 12′
"We have a kayak trailer that's just like a regular boat trailer, but holds two kayaks side by side.  We can drive it straight into the water to launch.  While I can carry one end of one of the kayaks a short distance, I find it difficult and much prefer direct launching into the water when possible.
We live in central Arkansas, pretty much everywhere you look is a lake and a campground.  We are the natural state after all!  We mostly paddle lakes as we have "pedal" kayaks and can go quite a long distance peddling, versus paddling.  The pedals are removable in shallow water, but I'm too old to pedal upstream." – Jim and CJ Tinkle, 2008 Ford F450, 2014 Lance 992, 2 Native Slayer Propels 10-foot
"We carry our inflatable kayak in the back seat area of the truck.  As it is inflatable, it fits into a carrying bag.  The truck seats are folded down to provide a sizable cargo area where we put tool boxes and other items that we use.
We are just getting started in kayaking and plan to use ours on local lakes and on rivers and lakes in Florida.  We spend several weeks there in January and February.  We will not be taking overly long trips, so we will paddle back to the launch site." – Dewey Lackey, 2003 Silverado diesel dually, Lance 2014 model 1172, Sea Eagle 380x tandem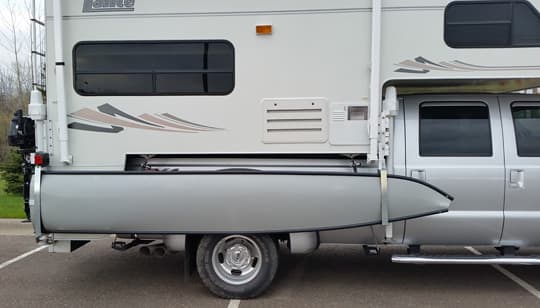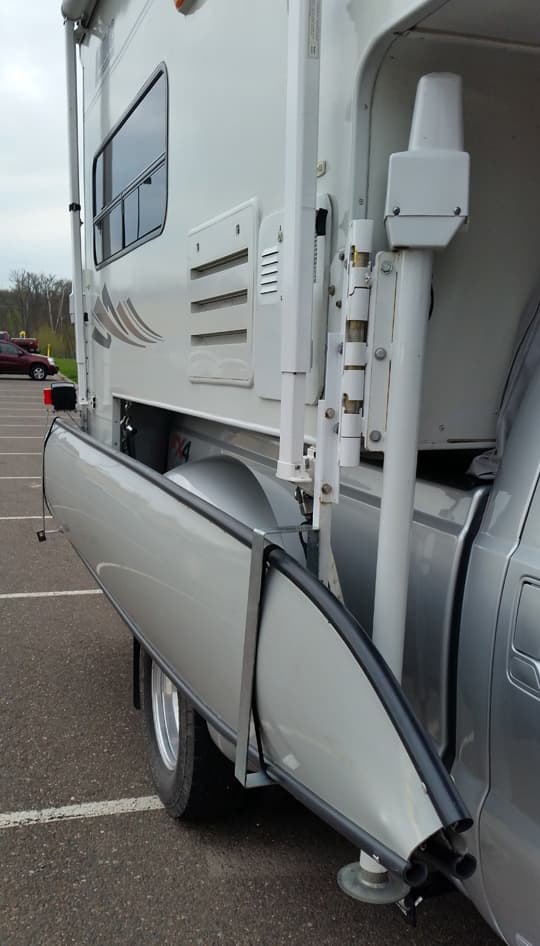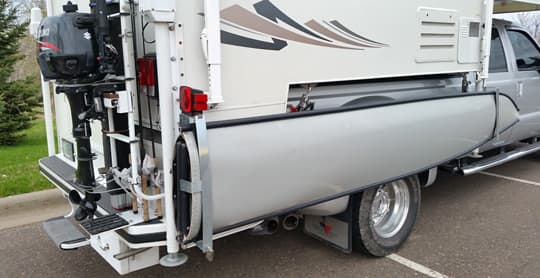 "We don't tow our boat on a trailer, we carry it on the side of our truck camper.  We mostly enjoy fishing and joy riding in the boat." – Glenn Blount, 2012 Ford F350, 2004 Lance 1010, 2012 Porta-Bote 12-foot
"I use a self-made heavy-duty cargo carrier." – Glenn Martin, 2011 Ford F350 diesel, 2011 Alaskan 8.5, Hobie 12i mirage, Achilles inflatable 14 w/30 HP kicker, NRS 14 raft self bail expedition
"The Sea Eagle deflates and folds up into a bag that fits behind the seats of out truck. The bag holds the boat, two inflatable seats, two multi-piece kayak paddles, and the inflator." – Michael Voldahl-Corliss, 2012 Chevy 1500 Silverado, 2012 Northstar 650TC, 12-foot two-person Sea Eagle inflatable
"Prior to my current camper, we had an Outfitter with a Yakima roof rack on top.  I literally pulled the kayak onto the roof.  Now, with our new hard side Adventurer 86FB, we are heading in a new direction.  I bought a Jeep to flat tow behind the truck camper, and I will put the kayak on top of the Jeep.
I go to Willow Beach on the Colorado River up to the Hoover Dam.  I overnight tent camp along the way." – Mike Wolf, 2005 Dodge 2500 4×4, 2014 Adventurer 86FB, Kayak, Hobie Revolution 11 and Oasis tandem
"We take a kayak towed on a trailer.  I use it to fish or explore the body of water I'm on.  I love to go up little streams and close to shore.  However, fun as it is, getting in and out of the kayak is getting harder each year.  My kayak days are numbered.  I will switch to my 1968 Cadorett [Canadian] canoe and reconfigure the small trailer to haul it." – Jim and Genie Dailey, 2005 Dodge RAM 2500 HD, "97" shadow Cruiser HS, 2004 Old Town Dirigo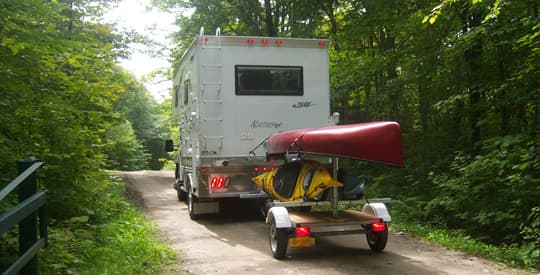 "We tow our canoe and kayaks with a Magenta Canoe and Kayak Trailer.  We often take our canoe and kayaks when camping for site seeing and fishing." – Richard and Karen Parsons, 2012 Chevy 3500 Silverado, 2012 Northstar American Hero, homemade canoe and Perception kayaks
"I have both a 2004 Bass Buggy (patio boat) and 2014 Hobi 14′ kayak.  Needless to say, I only tow the patio boat.  The Hobi is put on a small flat bed trailer.  I use a 24-inch hitch extension.
With both the patio boat and kayak, I'm in it for the pleasure of being on the water and fishing.  The kayak is built for two and is great because it doesn't take much water to float.  I can use it in many bodies of water that preclude any type of gasoline engines." – Steven Cilenti, 1999 Ford F350, 2012 Arctic Fox 990, 2004 Bass Buggy (patio boat) and 2014 Hobi 14′ kayak
"Each of our sailboats has a dedicated trailer.  I turned a utility trailer into a custom rig that will haul two kayaks and/or a canoe.  We sail and kayak for fun." – Don Norris, 2003 Chevrolet Silverado K2500HD, 2005 Travel Lite 800SB, Hobie 16, or Hobie Wave, or two kayaks on a trailer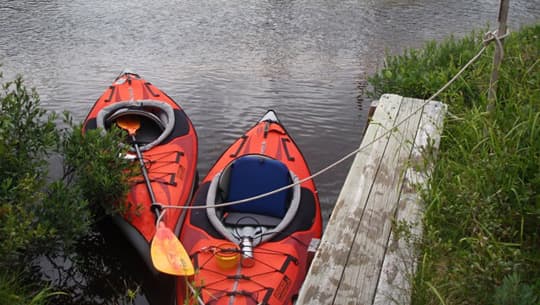 "For the ten years we've been truck camping, there has not been a satisfactory way to bring our regular kayaks with us.  So, we carry two inflatables.  They are not particularly comfortable, and require a good bit of care to properly stow them after use.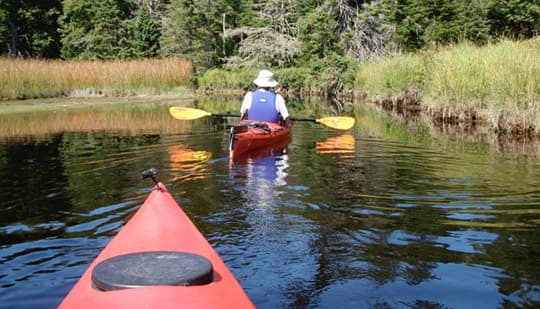 We also tried a two-person modular kayak.  It was not a very good boat and we discovered we didn't like kayaking in the same boat!  We really want to take the "real" kayaks with us and considered a trailer made to do that.  Instead, we've decided to tow a car around with us and the car plus roof racks will become our "boat trailer".
We love taking our kayaks out on lakes, streams, rivers, and especially, salt water.  We paddle around exploring, looking at wildlife, plants, and interesting shore geology." – Sue and Don Graf, 2008 Ford F350, 2013 Arctic Fox 865, two 1999 Perception sea kayaks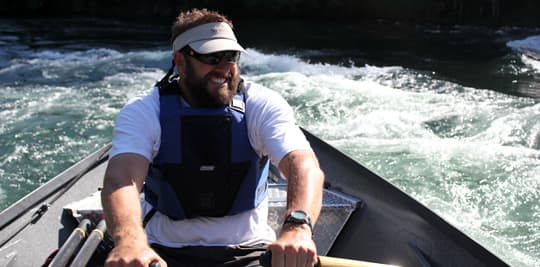 "I built a custom box on the front of my truck to hold the outboard motor I use for my drift boat.

Sometimes I don't want the motor on the boat (drifting rivers) and I need a good place to lock the motor up.  The box has worked like a dream." – Kevin Eliseo, 2006 Ford F350, 2006 Lance 1055, Honda 9.9 horsepower outboard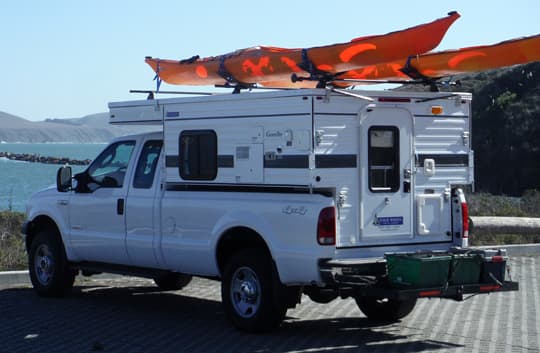 "In my case, the question would be reversed to, "Do you bring your truck camper when you go kayaking?"  My answer is sometimes, if the camping logistics and shuttle logistics allow for it.  Shuttle refers to the arrangement of vehicles that allow one to paddle down river and have all boats/gear/people at the top (put in) and collected adequately at the bottom (take out).
I have 78-inch Yakima Bars on 10-foot Yakima tracks on the roof of my camper.  The rear bar has a pair of boat loaders inside.  These extend out for loading.  Place the rear of the kayak on the extended boat loader, lift the front onto the camper, and secure the kayak.
Lifting is assisted by a 5-foot stepladder that is carried either behind the truck seat or on top of the firewood rack if it is in use.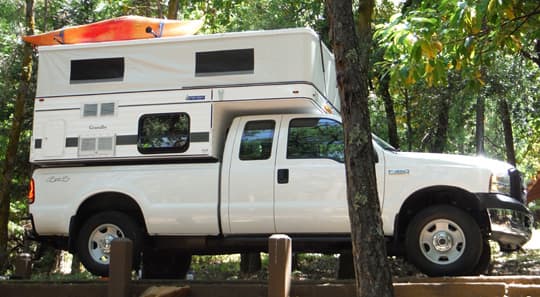 Sea kayaking: Mendocino coast in California is the best with lots of rock gardens and caves to explore, and flat rivers nearby if the coastal conditions are too gnarly for the skill set.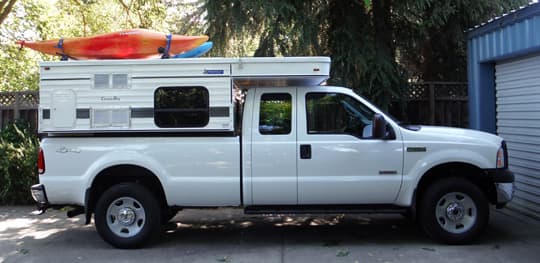 BLM Campgrounds on Merced River off Highway 140 west of Yosemite are a great location for white water kayaking.  The river has constant roadside access for ease of run selection.
BLM Campgrounds along Kings River east of Fresno are great basecamp locations for Kings River trips.  Kirch Flat Campground is takeout for a Banzai class 2-3 run.
Camp Lotus is the natural camp spot for any South Fork American trips.  It's too busy from June through August for a truck camper unless you go mid-week.
You set shuttle before the trip with your paddling partners.  Or, if you are a daring dirtbag paddler, you hang around the put in or takeout on popular stretches and try and finagle a ride.  This works best if you are at the takeout and have stashed your boar/gear at the put in.  Thus you are a dry minimal extra load for other boaters to drive back to the put in." – David Schmitt, 2007 Ford F350, 2014 Four Wheel Camper Grandby, Seriously too many to list – 9-10 right now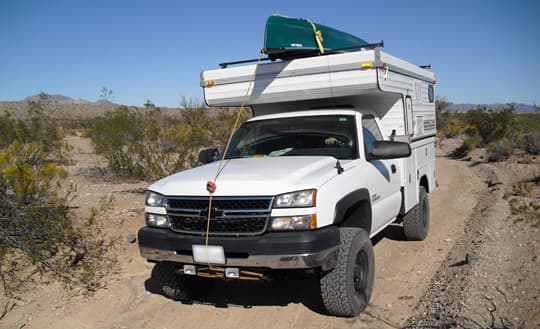 "We installed Yakima racks on the top of the camper and utilize Yakima "boat loaders" to facilitate loading.  Due to having a lift on the truck, the camper roof is pretty high.  We carry a folding ladder between the camper and the back of the cab.
One of our favorite places to canoe is located in the Picacho State Recreation Area, California, along the Colorado River.  A twenty-four mile road, most of it unpaved, leads to the park north of Winterhaven, California, which has a large campground with showers and water along the Colorado River.
However, we prefer to camp at Taylor Lake, about a mile or so North of the main campground.  There are only four campsites at Taylor on a first come first serve basis. Coyotes, wild burros, bobcats, numerous water birds, and pristine desert views, along with a shallow, fish-filled lake make it a great spot to spend time at.  Just not in the summer!
Another good spot that we've enjoyed is Antelope Lake in the Plumas National Forest near Taylorsville, California.  On those rare occasions that we find ourselves on a river, we paddle upstream instead." – Cliff and Susie Kellogg, 2006 Chevrolet 2500HD, 1999 Apache popup, Pelican 16
"We have had four kayaks at one time.  We've had two Necky sea kayaks for lakes and ocean, and two Necky manitou sports for rivers.  The manitous would fit in our old Adventurer camper, but not in our Chalet.
We sold the sea kayaks as they were getting too heavy for us and have not replaced them with lighter ones.  We probably won't.  We are looking at how to mount the manitou's, but on top makes the camper too high.
I looked at the rear mounted vertical brackets but they're kind of expensive.  We may just drive two vehicles when we don't go too far.  We live in the northeast with plenty of water close by.
We don't rent because kayaks are such a personal fit.  Bringing two vehicles would help with the stream paddling.  Some places will pick you up and bring you back." – Chip Collin, 2002 Ford F350, Chalet DS116RB, Necky manitou sport (2)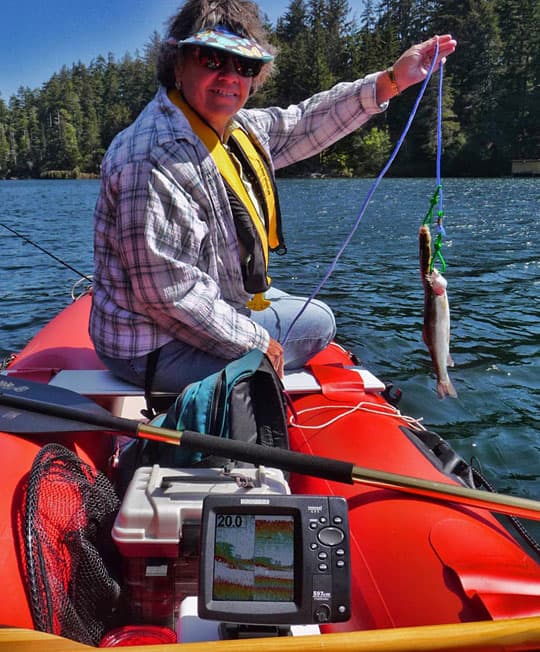 "The 15-foot Kaboat is the most versatile of our three boats.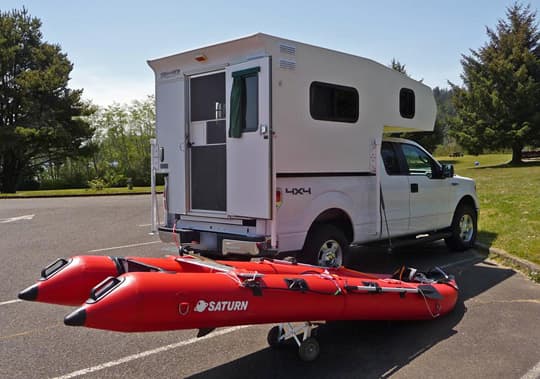 It's pretty much an inflatable square stern canoe.  It can accept up to a 10 motor, or be paddled or rowed.  Very stable.   Good boat." – Vince Kurpan, 2014 Promaster 2500, 2015 Custom, Kaboat 15, Zodiac 310 Air Floor, Sea Eagle Fast Track 465 (15-foot)
"Our lightweight inflatable Alpacka Packrafts are carried in the crew cab allowing us to avoid pulling a trailer most of the time.
We like Fallen Leaf Lake just south of Lake Tahoe, California.  In Sacramento, California, we have the American River which flows through the city and is paralleled for over twenty-two miles by a light rail line. There are several takeout points along the river that are less than one mile from light rail stations.
With pack rafts, we can float down the river which includes mild rapids, lots of wild life, and some nice remote stretches which is unique for an urban river.  When we want to return, we simply deflate our lightweight rafts and walk to the light rail line and return to our rig." – Greg Chambers, 2015 GMC Sierra 3500, 2015 Lance 855S, one aluminum canoe, three plastic kayaks, three inflatable packrafts
"I bring my inflatable boat with me camping.  We carry it in a military duffle bag and put it in a roof pod.  My Lance has a rear ladder, so that's how I get it up into the pod.  We usually do lakes and go out the same place we went in." – Erwin Greven, 2002 Chevrolet Silverado 2500HD, 2002 Lance 921, Sea Eagle two-person inflatable kayak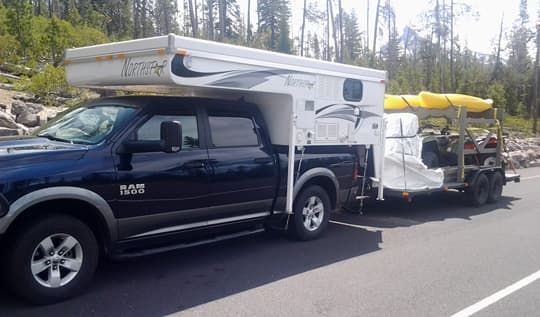 "I bring my kayak with me camping in a trailer that hauls my toys.  I go to mountain lakes around Bend, Oregon." – John Gobershock , 2013 Dodge Ram 1500, 2013 Northstar TC650, Equinox 10.4
"I bring my canoe with me camping.  I'm building a canoe trailer.  If I trailer my Jeep, then I'll mount the canoe onto the Jeep roof.
In Colorado, I go to the Arkansas River and Blue Mesa Lake.  In New Mexico, I go to any state park with water, and the Rio Grande, Elephant Butter, and Capello Lake." – Harry Palmer, 2008 Dodge, 2008 Lance 915, Coleman 15-foot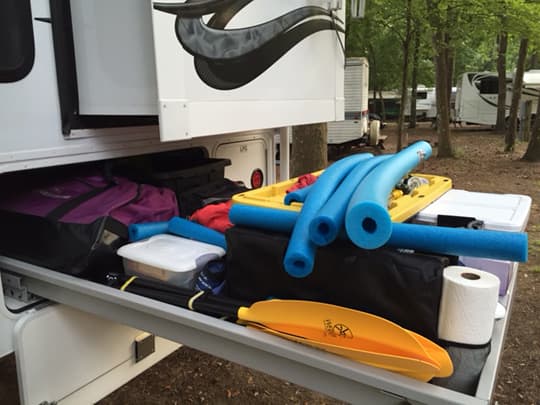 "I bring my kayak with me camping.  Our Pakboat assembles and disassembles for storage.  It originally fit in one bag, but we carry it in two bags; one for the skin and accessories, and one for the frame members.
We carry these in the pull out cargo tray in the bottom (back) of our Host Mammoth.  The tray is wide enough to carry the bags at the front positioning the weight (~60 lbs) as far forward as possible.  We considered alternate kayaks and rooftop mounts before choosing this option.  It seems to work well for our needs and, as tourist class kayakers, provides a good compromise.
While perhaps not the destination type you were looking for, I highly recommend Canoecopia as a destination for those interested in canoe, kayak, and SUP in general. It is an annual convention hosted by Rutabaga water sports in Madison, Wisconsin each March and well worth the trip if you're so inclined.  There's information online.  Just search for canoecopia." – Steve Pane and Teresa Gomez, 2014 Ford F350, 2015 Host Mammoth, Pakboat XT-17 Tandem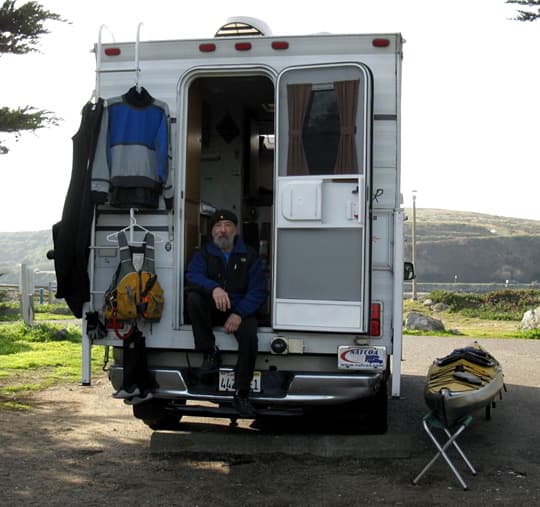 "Our kayak travels in its bag, a large backpack, inside on the dinette cushions.  When parked, it can be moved to the cab to get it out of the way.  I can assemble the boat right out of the bag at the camper door.  An extension to the outside shower allows a post voyage fresh water rinse.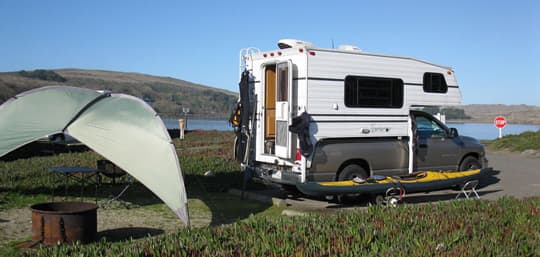 I recommend Doran Park in Bodega Bay, California. The campground is on a narrow jetty with Bodega Bay on one side and El Pacifico a short distance on the other.
I also recommend Albion River, near Mendocino, California.  There are two campgrounds available under the Highway 1 bridge at the mouth of the river.
For fresh water paddling, any of the many alpine lakes along Hwy 395 are great.  I rarely do rivers and much prefer open waters." – Larry Bluhm, 2004 Dodge 2500, 2011 Northstar Laredo, Fujita 480 16-foot skin on frame folding kayak
"I put my inflatable boats in my bike trailer.  I go to the Red Deer River in Alberta, Canada.  I deflate the inflatable boat into a bike trailer.  I stay within the bike path system and I have floated twice in one day." – Kevin Wilton, 2007 Chrysler Pacifica, 2007 SUV Tentz, 2008 Advanced Elements Convertible, 2008 Tiger Shark Inflatables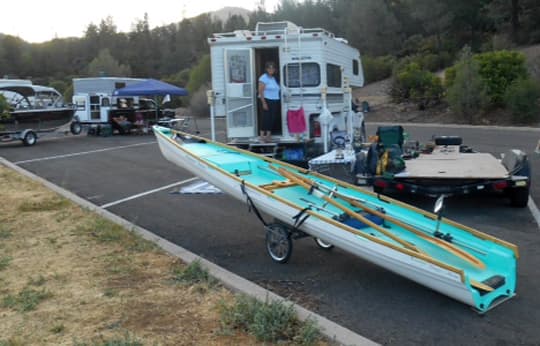 "Our boats are 18-foot sliding-seat rowing sculls.  They are custom built to be wider and more stable then ones used for competitive rowing.  The boats are transported on a flatbed trailer.  Our trailer was once a bass boat trailer.

After thirty-five years in the boat business, we are naturally drawn to water.  My wife Jennifer and I row around the lakes we visit, take pictures, and fish.  They also help to keep us fit and limber.  We also spend some time answering the question, "What the heck kind of boat is that?" – Bob Bragg, 2007 Ford F250, 1996 Lance Squire, Custom Built recreational rowing
"I bring my inflatable boat with me camping and have it inside my truck in a bag.  I go in British Columbia." – Bill Morrison, 1999 Snowbird, Advanced Elements inflatable kayak, Fishcat 4 inflatable
"I currently have my canoe on top of my truck bed with a Leer top." – Lloyd Wetzel, 2000 Chevy Silverado 2500, no truck camper yet, 16-foot canoe
Click here to continue to, "Canoes, Kayaks, and Inflatable Boats: Part 2".