Thirty-one truck camper owners reveal their canoes, kayaks, and inflatable boats, hauling solutions, and favorite rivers, lakes, and open water opportunities.  Paddle on!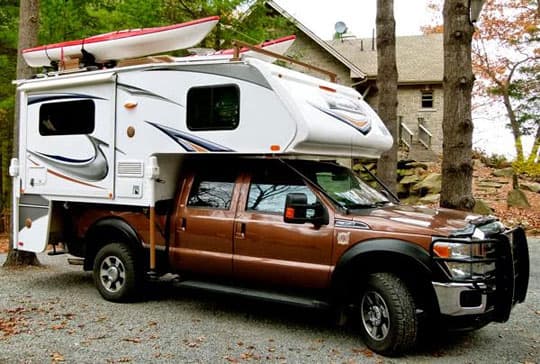 "Our camper roof is outfitted with a bar system and kayak rollers and saddles.  We had a custom roof bar installed on the roof to support our (longer) canoe.
The boats are leaned up against boat stops in the rear corners of the camper.  Lifting from the ground and pulling up onto the roof is easily handled.  Once the kayaks slip into their rollers they glide easily along to rest in the saddles.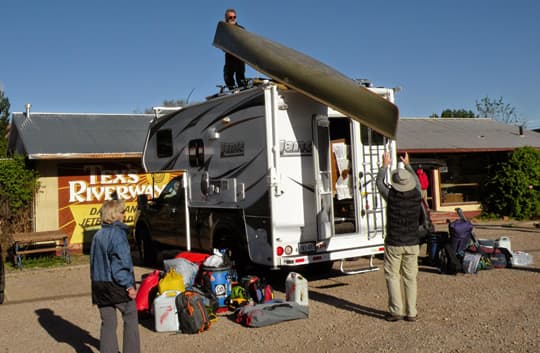 The canoe is lifted and pulled a little further forward where it can be secured to the front bar.  We use a selection of ratchet straps, roped truckers hitches, and cord to pin the bows.  All boats are secured with double tie-down systems in case of failure.
We paddle a lot in the Canadian north, Yukon, and Northwest Territories.  Rivers like the Thirty-Mile, Yukon, South Nahanni, Mountain, and Wind & Peel are favorites for wilderness whitewater canoe trips.  We canoed the Green in Utah a few years ago and enjoyed that too.
There are many options for lake paddling trips in our home province of Ontario.  For example Algonquin and Quetico Provincial Parks, river trips that terminate in James Bay, the Missinaibi, and Wakwayowkastic.  Kayak the Pukaskwa shoreline of Lake Superior for a true big water trip on the world's largest freshwater lake." – Dann and Helen O'Kane, 2011 Ford F350 Lariat, 2013 Lance 855S, Langford Nahanni Canoe & Delta Kayaks
"I fit two 10-foot kayaks on top of each other inside the camper.  I protect walls with a blanket when I slip them in.  I take em out when we get to our destination.  I only do this when we are going somewhere for a short trip (three day) where there is water.  Anything longer than 10-feet will not fit.
We go to the Delaware River.  Getting back is a problem unless we bring another vehicle.  I've been thinking about mounting a light scooter on a versa haul on front of my rig." – Bill Dobbins, 2014 F350 DRW, 2003 Lance 1130, 2 10′ kayaks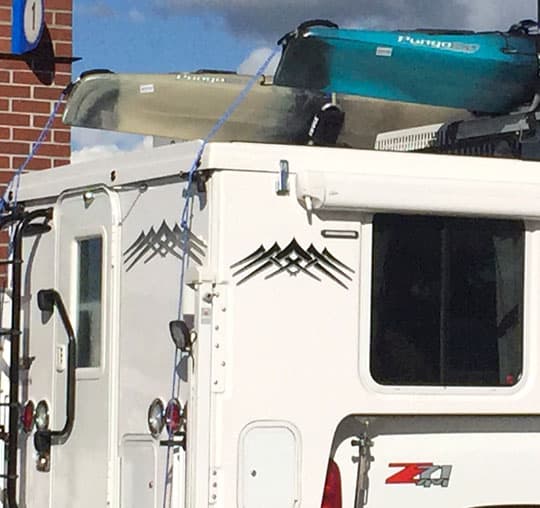 "We put Hullavators on our Hallmark pop-up and love them.  A Yakima 86-inch bar with 1.75″ cut off fits the roof perfectly with a side awning.
We used to have inflatables (Advanced Elements are great), but we're happier with the solid boats.  We like Lakes Basin north of Truckee California.  Also Gualala state park is a nice small spot on the Sonoma Coast.  The Malone Nomad has turned out to be indispensable (a small kayak dolly)" – Rob Harris, 2007 Silverado HD, 2015 Hallmark K2, Wilderness Systems Pungo 120
"We started out with a truck camper but switched to a travel trailer when we bought our canoes.  We have a TracRac on our truck that we use to carry our canoes.  We are considering another truck camper and will tow a canoe trailer for transporting our canoes.
In the Adirondacks, the Fish Pond area is great.  The Green River Reservoir in Stowe, Vermont is a loon refuse and great for paddling.  In Teton National Park we paddled on String Lake and portaged to Leigh Lake, nice paddle.  We always paddle back." – George Visconti, 2005 Silverado 3500, Arctic Fox 22G TT, Placid Boatworks Spitfire 12′
"We have a kayak trailer that's just like a regular boat trailer, but holds two kayaks side by side.  We can drive it straight into the water to launch.  While I can carry one end of one of the kayaks a short distance, I find it difficult and much prefer direct launching into the water when possible.
We live in central Arkansas, pretty much everywhere you look is a lake and a campground.  We are the natural state after all!  We mostly paddle lakes as we have "pedal" kayaks and can go quite a long distance peddling, versus paddling.  The pedals are removable in shallow water, but I'm too old to pedal upstream." – Jim and CJ Tinkle, 2008 Ford F450, 2014 Lance 992, 2 Native Slayer Propels 10-foot
"We carry our inflatable kayak in the back seat area of the truck.  As it is inflatable, it fits into a carrying bag.  The truck seats are folded down to provide a sizable cargo area where we put tool boxes and other items that we use.
We are just getting started in kayaking and plan to use ours on local lakes and on rivers and lakes in Florida.  We spend several weeks there in January and February.  We will not be taking overly long trips, so we will paddle back to the launch site." – Dewey Lackey, 2003 Silverado diesel dually, Lance 2014 model 1172, Sea Eagle 380x tandem