Readers tell us how they bring bikes with them when they go truck camping.  Readers also share their bike storage solutions.
"We have two Dahon folding bikes that fit behind the front seat and can be unfolded and ready for use in less than a minute." – Dave Neumann, 2010 Toyota Tundra, 2011 Adventurer 80GS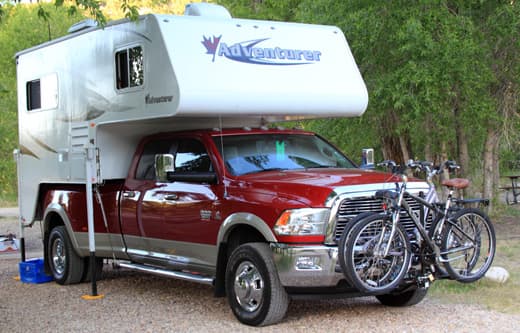 "We love to camp with our bikes!  We have a Swagman carrier that we first used when we took a 3,500 cross country trip.  Even when they closed the highway because of the wind, the Swagman kept our bikes secure and rock solid.  We like the set in for the tires and we mount ours on the front of the truck.  It's a great way to explore local areas without losing a campsite or dropping the camper." – John and Laurie Pedrick, 2010 Dodge 3500, 2012 Adventurer 86FB
"I installed a front mount receiver and use a bike rack made by Saris.  It is a single pole rack.  I cut approximately six inches off the bottom to lower all the bikes.  This gives us better visibility over the hood.  We carry up to four bikes up front and I pull the seats off of three.  This keeps them out of our sight line and also dry if it rains.  The only downside is headlight glare off the bike rims when we drive at night.  Otherwise this set-up works great!" – Mike Herring, 2010 Chevy Silverado 2500, 2003 Elkhorn 8R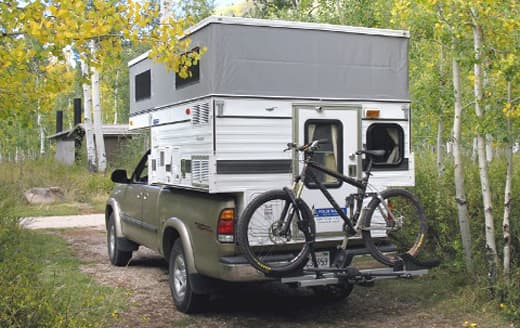 "Most of the Four Wheel Campers have a flush fit in the rear of the truck bed, so hanging the bikes on a rear hitch receiver rack seems to work well.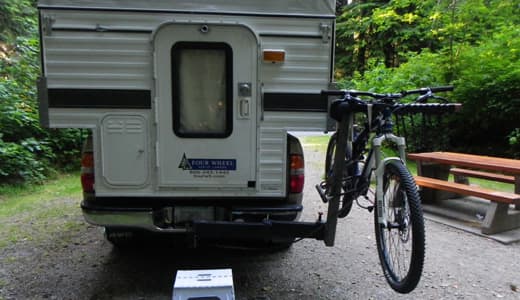 Bike racks are also available in a swing out version that will allow you to be able to swing the bike out of the way for easy entry in and out of the camper." – Stan Kennedy, Four Wheel Campers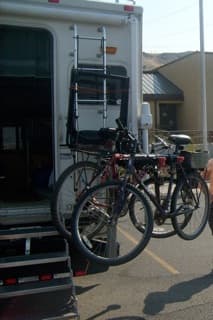 "I have a Yakima hitch rack.  After you pull a pin and undo a hand bolt, it swings away giving access to the door (with steps) without unloading the bikes or the rack.  It's very easy and convenient to use." – Bart Kelly, 2003 GMC 2500, Fleetwood Elkhorn
"We have a bike rack either attached to the front hitch or, if we are not pulling a trailer, at the back of our rig using the Torklift SuperHitch extension.  Sometimes we just throw the bikes in one of the trailers we might bring." – Elliot Geoeneveld, 2011 Dodge Ram 3500, 2011 Arctic Fox 1150
"We have a bike rack with an extension that is installed in the truck's receiver.  We measured the extension (and added a bit) in order to be sure that we could open the door when the bikes are loaded.  We move the step to the right hand location and are able to enter and exit without trouble." – Carol Bowman, 2005 Dodge 3500, 2003 Lance 1130
"We have a receiver mount with soft case wrap around the bike.  My wife has ridden road bikes for about thirty years, so where she goes, her bike goes." – Bill Peters, 2013 Chevy Silverado 1500, 2013 Four Wheel Hawk
"We have folding bikes.  We put pads around them and they go in the camper isle.  It's the only way to go." – Patrick Seals, 2002 Dodge Ram, 2014 Jayco 154
"We have two Rocky Mounts on the back of the camper; one on each side of the door." – Chuck Pearson, 2008 Chevrolet Silverado, 2013 Hallmark K2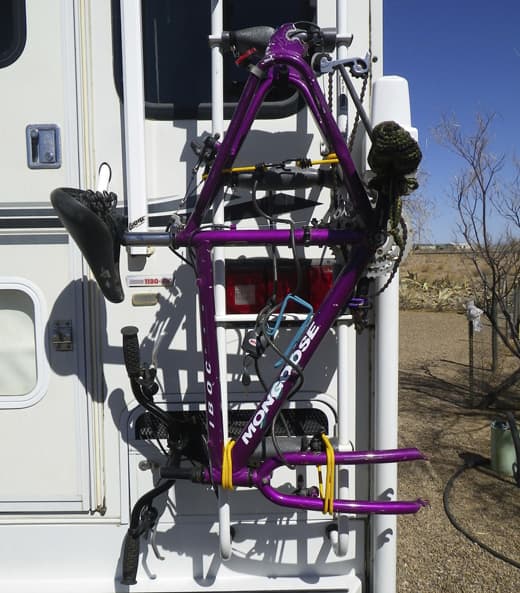 "The first trip with my bike I attached the bike frame to the ladder on the back of the Lance.  I had to remove both wheels and lower the seat so nothing would extend beyond the side of the rig, or hamper access to the door.  The wheels were then stored in the back seat of the truck.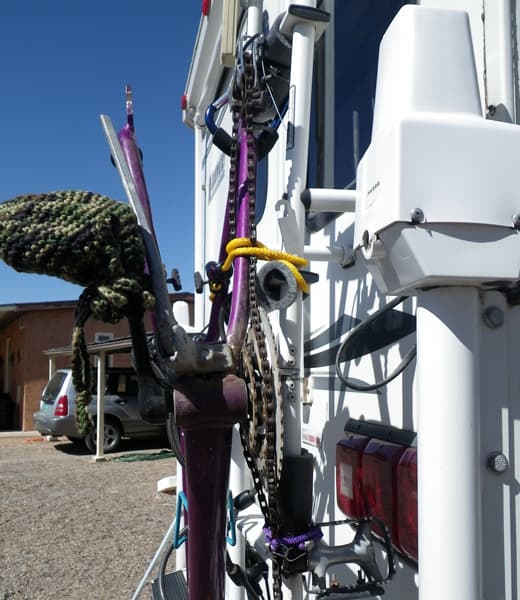 Cushioning material (pipe insulation tubing) was secured to the lowest step, and the third and fourth steps.  Then the bicycle frame was secured with the rear dropouts to the fourth padded step, with the seat facing the door.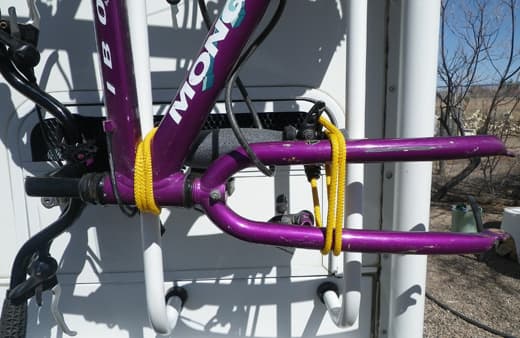 The handle bars were turned so they were flush to the camper, and secured with bungee cords across the front tires.  The peddles were covered and secured.  Any and all possible ways to further secure the frame to the ladder with bungee cords were employed.
I have since learned of a ladder mount bicycle rack that I just ordered from Camping World.  It is item #42248, at a cost of $39.99 pus $9 shipping.  I tried this bike rack (a fellow RVer had one) and I will only have to remove the front wheel instead of the rear (more difficult of the two for one person to reassemble).  This rack makes it a breeze to load, unload, and secure the bike.  I am looking forward to being able to get the bike down, even for a one or two day stop, due to the ease." – Maggie Karam, 2011 Dodge Ram 3500, 2002 Lance 1130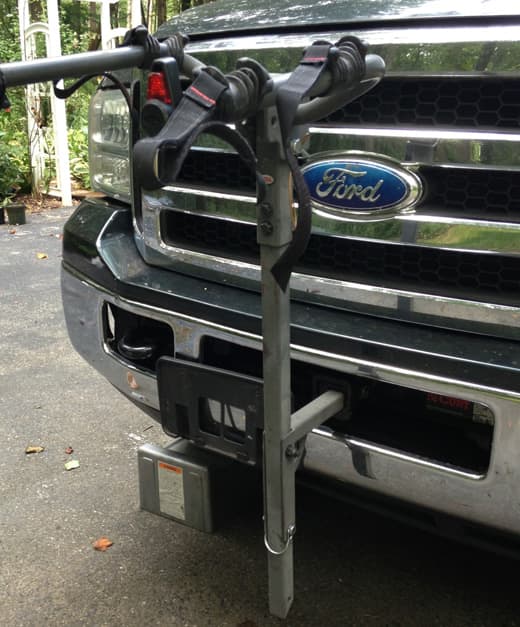 We bring our bikes for both exercise and access.  If we can find an intruiging trail, we'll ride it, if we go to a place where parking doesn't work so well for a truck camper, we'll park on the outskirts and bike to the attraction.  To make it work for us, I put a front hitch on our truck, purchased an inexpensive bike rack and modified it slightly to make it a good fit." – Greg and Luci Hollingsworth, 2005 Ford F350, 1996 Lance Legend 500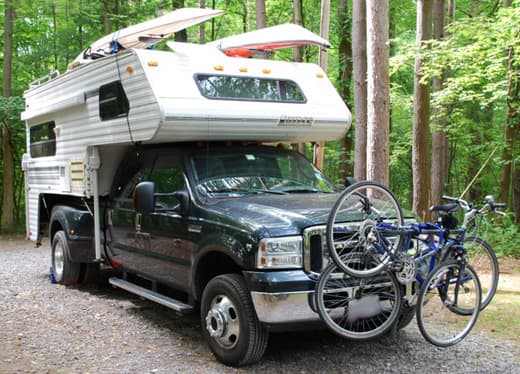 "We added a box hitch receiver on the front and use a bike rack that supports two bikes from the bottom.  It's very steady and only part of the handlebars and the seats are in our view.  They stay clean and the weight is better on the front." – Orian Hartviksen, 2011 Ford F350, 2010 Northern Lite 8-11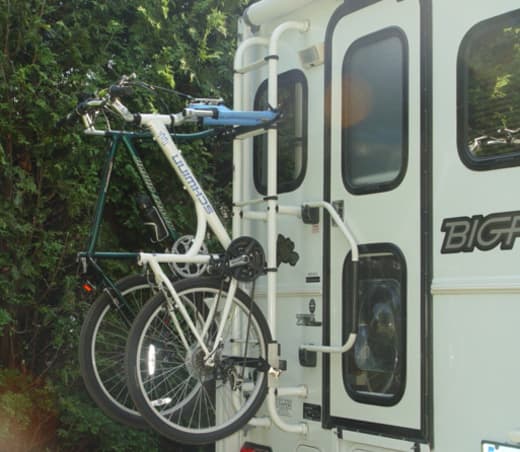 "We don't always bring our bikes with us, but when we do they are transported on the rear ladder.  The rack is constructed of aluminum cross bars, stainless steel U-bolts and fork blocks.  This design came from RV.Net Truck Camper University.  The bikes transport well on the ladder and still allow access to the camper." – Bob and Cathy Grey, 2011 Ford F-350, 2008 Bigfoot 25c10.4e
"After having a rear bumper on a fifth wheel trailer break loose and destroy brand new bikes (our camper prior to going truck camper) we had a receiver mounted on the front of the truck.  It accepts a bike rack just as a rear mount.  This way we can see the bikes.  It works great, and you don't have to attach them somehow in the rear where you cannot see them." – Dewey Lackey, 2003 Silverado 2500, Snow River 9.6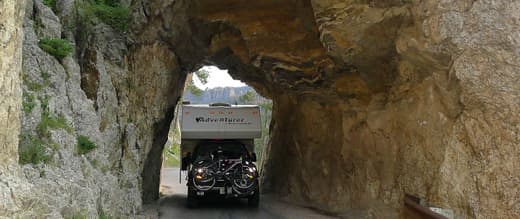 "We have bikes on the front rack.  It is so convenient.  We even use the front rack when towing our Airstream." – Bill Tex, 2006 Chevy Silverado 2500, 2003 Adventurer 810WS
"I keep my bike in the back seat area." – John Strasser, 2012 Chevrolet Silverado 2500, 2012 Lance 855S
"I installed a front hitch." – Richard C.Raymond, 2005 Chevy 3500, 2007 Palomino Winter Creek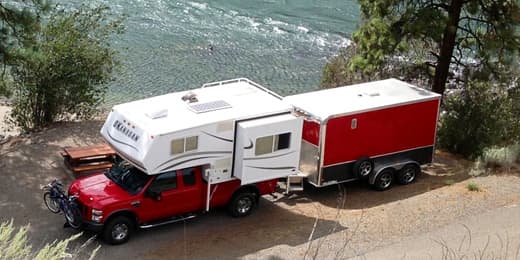 "We have a front mounted bike rack.  It holds up to four bikes but allows removal of that attachment jig if fewer bikes are mounted.  It has a tilt feature that allows you to open the hood of the truck.  I purchased it at Costco in Canada for $69.  It requires that you install a front trailer hitch draw bar.
There's a wee bit of view obstruction and some folks may wish to remove the bike seats.  I've also noticed some movement of the rack while changing lanes which could potentially be annoying to some but it didn't bother us during our month long road trip this year.  This was our first year using the rack and it was far easier than packing them into the trailer with our motor bike and sailing dingy.
The photo is of our rig with the front mount bike rack and two mountain bikes.  The photo was taken at BC Parks Gold Pan Campsite along the Thompson River in British Columbia." – Paul Kroeker, 2008 Ford F350, 2008 Okanagan 85SL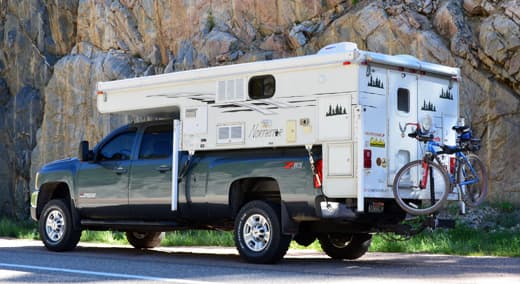 "I use a Yakima Swing-Away hitch mount rack." – Dave Ruane, 2008 Chevrolet Silverado 3500, 2006 Northstar TS1000
"I don't always bring bikes.  When I went to the 2011 Overland Expo I just threw my old Cannondale mountain bike in the camper since I was traveling solo and had plenty of space.  At night I did leave it outside on my ladder mounted chair/bicycle rack.
I got the rack cheaply years ago from Camping World (Catalog Item # 27584).  It is a single piece of bent steel rod with a rubberized coating of some sort and hooks over a rung of the exterior ladder without fasteners of any sort.  I have had up to three smaller bicycles on it, securing them with a cable lock and stabilizing them with bungee cord.  You must lift the bicycle over your head to position it.  Generally the bike rides on its seat tube rear wheel up which is probably not the best thing for a high-end bike or a frame of unconventional construction.  The standard Lance ladder seems no worse for wear from this usage.
I also have a heavy steel tilting receiver hitch model.  It holds up to three bicycles carrying them horizontally by the top tube.  Being carried in the front is simple once you get over the feeling that you've got a veritable cow-catcher out front.  I've never used it at night.  I can imagine some light blockage and/or reflection that might take some getting used to.  I've not traveled long distances where bugs or road debris might be an issue but, obviously, front mounted equipment would take the brunt of that.  Use on the rear complicates access to the camper.  A pivoting carrier would be better back there." – Mark Obert, 1999 Ford F250, 1999 Lance 920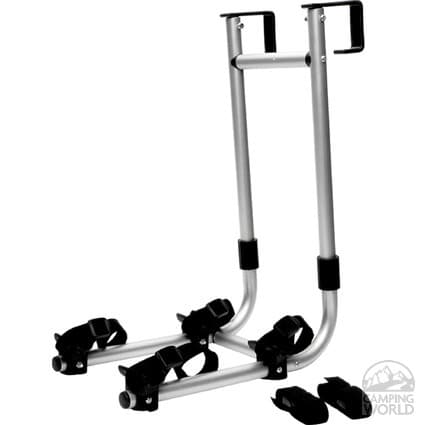 "At first, they were attached with five tie-wraps to the roof ladder but could bring only one bike.  Then we bought a bike ladder at Camping World that simply hooks on the roof ladder with velcro that comes with the kit.  But we replaced these with the tie-wraps because velcro and bumps on the road don't go together!" – Denise Hupé, 2010 Ford F250, 2004 Adventurer 810WS
"I have an aluminum hitch mount rack." – Frank Ross, 2006 Dodge Power Wagon, 2005 Hallmark Milner
"We carry our bikes in the truck itself.  We've removed the back seat and I have put fork mounts on two by eights and shimmed them level.  The bikes sit nose to tail crosswise and I tuck the front wheels in behind the bikes. The fork mounts are very secure and use quick release skewers just like the ones on the bikes themselves.  This approach keeps the bikes out of the weather and away from prying eyes and hands." – Ed and Donna Amato, 2000 Ford F350, 2012 Lance 1050S

"I installed a Curt front hitch with a Swagman bike rack that holds two bikes." – Ryan Salazar, 2011 Ford F350, 2012 Lance 850
"I take a folding aluminum/stainless red bike, that has a storage bag that I put on the cabover bed when traveling.  I attach it to the camper's jack leg, padlocked, when stopped and not in use.  I like to get out and explore the back streets of small country towns around Western Australia, cycling around rivers and parks across our state." – Douglas Packer, 2012 Dodge Ram 3500, 2011 Adventurer 910FBS
"On our 2006 Adventurer we used a ladder mounted bike rack.  On the 2013 the Phat ladder is too fat for that type of rack.  I have a hitch mounted Thule rack that we can use on the SuperTruss out the back of the camper." – Bob Holland, 2012 Dodge 3500, 2013 Adventurer 910FBS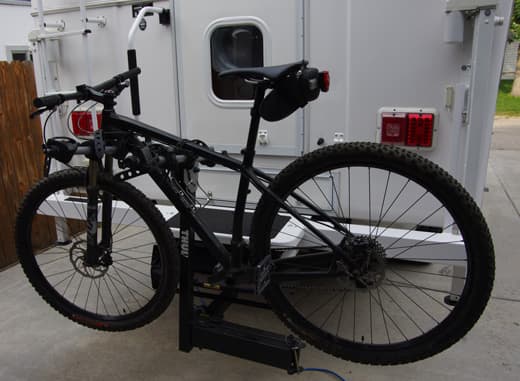 "I tried the front hitch method and didn't like it.  My wife had a hard time seeing over the bikes when she was driving and the bikes partially covered the headlights and made it difficult to see when driving at night.  I wanted to mount my bike rack to the rear receiver hitch but was concerned that I wouldn't be able to access the back door when the bike rack was installed.  I wasn't comfortable adding a three foot extension to the factory two inch receiver hitch.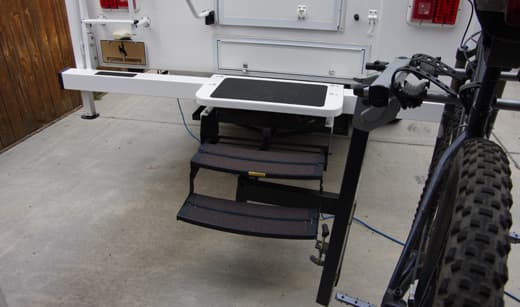 To solve this issue, I purchased a Thule bike rack that was hinged and would rotate out of the way so the steps could be unfolded and the door could be opened.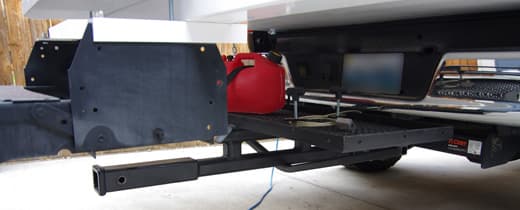 To alleviate my concerns with the extension, I added another two inch hitch directly below the factory hitch.  I welded an extension that used both hitches (similar to the SuperHitch).  I also added a cargo rack on top of the extension.  We carry four bikes using this method and we haven't had any issues.  The total cost was approximately $600.  The Thule bike rack was $400 and the Curt receiver hitch and steel tubing was $200." – Greg Milburn, 2003 Dodge 2500, 2011 Northern Lite 8-11
"I bought a cargo carrier from Camping World.  I have a front receiver hitch and put the bikes in front of the truck.  The kit came with three hoops.  You put the tires in and straps to hold them down.  For thirty dollars, I bought some extra hoops for the tires that I had to order them from the company. It's easy to put the bikes in the racks and tie them down.  I don't trust the carriers you hang from the rear ladder.  It seems too much for the ladder plus the potential scratching of the camper." – Donald Vance, 2003 Dodge Ram 3500, 2012 Northern Lite 10-2 CDSE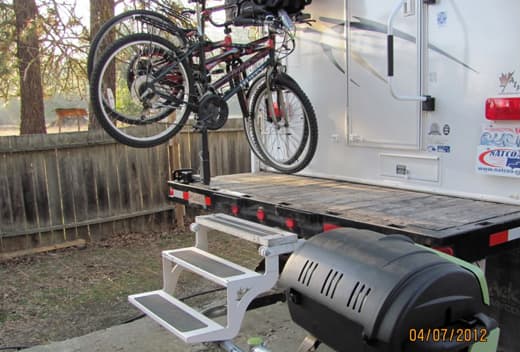 "We don't always bring our three bikes, but it is great to have them when we do.  It is pretty easy for us to take them." – Rich Bain, 1999 Chevy 3500, 2010 Adventurer 810WS
"We have a homemade front mount for our two bikes." – Clyde King, 2013 GMC, 2004 Palomino 1000SL
"Since our camper is smaller and doesn't hang past the rear bumper, we use a hitch mounted Thule bike rack that drops down with a pull of a pin.  We are still able to access the camper while the bike rack is on the truck." – Stu and Karla Dekkenga, 2008 Chevy Silverado 2500, 2010 Northstar TC650
"My bike rides in the camper." – Dan Gerous, 2013 Toyota Tacoma, 2012 Four Wheel Camper
"I have a Master Haul carrier with bike wheel holders.  I put the rack on the rear receiver and put my camper step to the side so I can still enter the camper.  Also with the Master Haul there is room for chairs.  The master Haul is at Walmart for less than sixty dollars and the wheel holder is about twenty dollars." – Guy Cornell, 1995 Ford F350, 2002 Lance 1025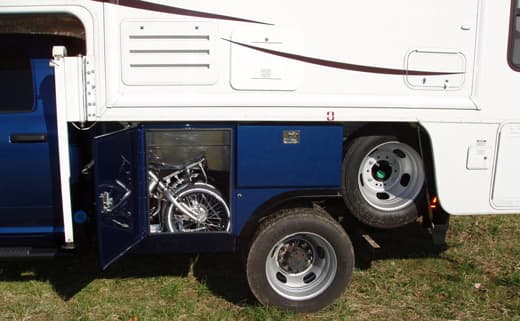 "We have a bike rack in the front for our grandson's bikes.  But if they are not traveling with us and there is room in the storage bed, I keep my folding bike in the bed.  I used to put it in the back seat.  Folding bikes work great for occasional use.  However, I found the seat tube to be a little short, and the small tires do tend to ride a little more rough.  I have considered buying a Thudbuster which has a device to soften the ride and can have a longer seat tube, but I haven't bought one yet." – Charles Phy, 2011 Dodge 5500, 2010 Eagle Cap 1160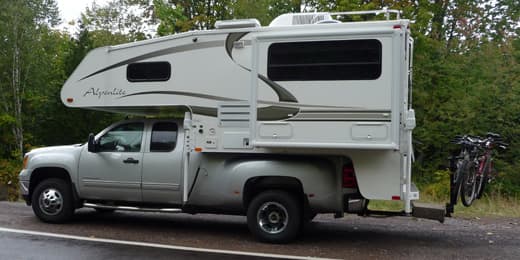 "We looked at a front mount rack but it blocked too much of the headlights.  For long trips, when we are staying in one location, we take the front wheels off and put them in the back seat.  For trips when we're using the bikes a lot and moving around we use a hitch extension with a rear bike carrier." – Bob Sage, 2011 GMC Sierra 3500, 2006 Alpenlite Cheyenne
"I purchased a bike rack that attaches to my camper's rear ladder.  It's lightweight aluminum is sturdy enough for two bikes.  I secure it and the bike to the ladder with a flexible bike lock.  I purchased the bike rack from Camping World for $39." – Mike Cianci, 2004 Ford F-350, 2010 Eagle Cap 850
"I have used the top rack, which is way too high, and a hitch mount with an extension to clear the camper." – Steve Hannan, 2013 Chevy 2500, 2013 Hallmark Everest
"We had a two inch hitch receiver installed on the front of our truck.  Our existing Yakima bike rack, when installed, happens to clear the opening hood, so I don't have to tilt the bike rack out of the way or remove it to check under the hood.  The 1172 has a side-mounted ladder, rather than a rear-mounted one, so hanging them off the ladder was a no-starter.  Plus, because of the weight of this large truck camper, I like the weight of the bikes as far forward as possible." – Bob Branson, 2008 Ford F350, 2014 Lance 1172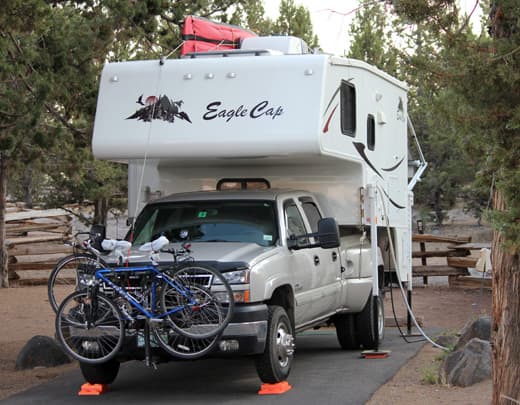 "We have traveled with the bikes on the back with a standard bike rack that folds down for easy entrance into the camper.  We have also traveled with bikes on the front with the same hitch and rack.  The only problem with the front is that it only works in daylight hours.  These setups work with our hybrid bikes or with one hybrid and one recumbent.  With the bikes uncovered you get bugs when on the front and dirt with bikes on the back.  It all depends on how much riding you plan to do." – Janet Bromley, 2007 Chevy Silverado 2500, 2010 Eagle Cap 850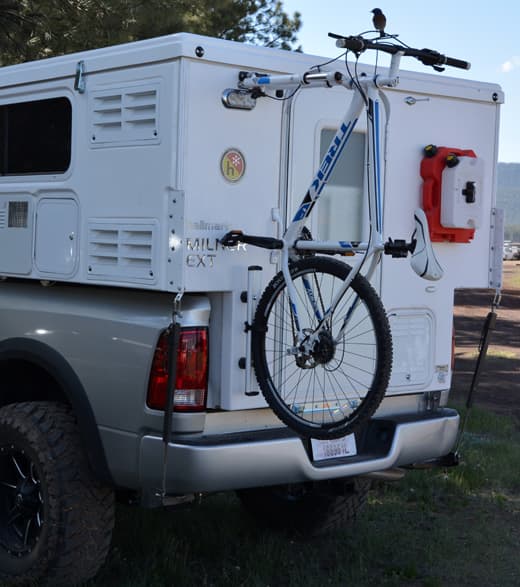 "We always seem to bring along at least one bike.  We use them for local transportation around campgrounds and campsites.  At the Overland Expo my father, Bill Ward, depends on a bike to save his ailing knees.  It is really the only thing that keeps him mobile in large areas.  Sometimes we simply pack the bikes inside the camper or use hitch mounted bike carriers off of our 4×4 tube bumpers.  Our favorite way to carry carry bikes is with modified Rocky Mount bike racks we mount to our campers as seen in the picture." – Matt Ward, Hallmark Manufacturing
"For quite some time, I have been researching what is the best method of integrating bike and truck camper.  While I have not yet taken a trip with a bike, this is my method (hope it works).  I liked the concept of folding bikes, however I wanted standard size bike wheels and a more reasonable cost for a quality bike.  I just purchased a standard hybrid bike (700cc wheels).  I will remove the front and rear wheels (both have a quick release, taking only a minute to remove and put back on).  The bike will be placed in a bike bag (42x32x10) and placed on the back seat of the truck.  I will be carrying two bikes in this way."  – John and Lorrie, 2012 Ford F350, 2013 Lance 992
"I sometimes bring a bike, and use a rear hitch-mounted rack; the 1 Up USA Quik Rack.  This rack is excellent quality, light weight and really easy to use.  It has worked out really well on my small rig." – Highz, 1999 Ford Ranger, 2008 Four Wheel Camper Eagle
"I have a rear hitch bike rack.  Some seasons when I travel from Pine, Colorado to Moab, Utah, I stow my bike in the camper to protect it from "liquid Mag Chloride" that D.O.T. puts on the roads for snow and ice.  The mag is horribly corrosive and in a short time it rusts and begins to seize my bike parts.  It's also nasty on what it does to chassis parts as far as seizing bolts and nuts and causing electrolysis on different metals." – James McCoy, 2003 Dodge Ram 2500, 1991 Hallmark LaVeta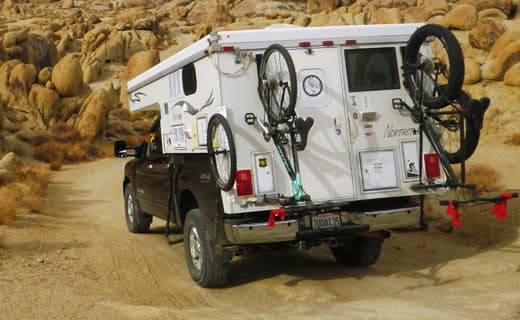 "I was using a hitch-rack for a while, but it was a pain getting into the camper.  So I made up a system with some old Yakima rails and fork-mounts.  I had to get creative and modify my standard fork-mounts to handle three different styles of forks; standard, 115mm thru-axle, and 135mm wide Fat-Bike forks.  It works very well, and we can still get into the camper easily with the bikes mounted." – Aaron Summers, 2005 Nissan Titan, 2003 Northstar TC650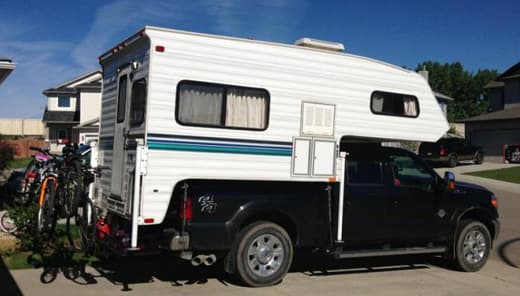 "I have a SuperHitch on the truck with the dual barrel receiver.  When not towing I have a hitch basket in the top receiver and an extension with a bike rack in the lower receiver.  I use a Yakima swingdaddy rack that swings completely out of the way.  I had a front receiver on the previous truck and may go that route again, but I didn't like how the bikes got covered in bug remnants." – Mike Getson, 2012 Ford F350, 1999 Adventurer 810WS
"We have a Thule hitch mount dual folding rack.  It is mounted on the front hitch." – Scott and Sylvia Mitcheltree, 2002 Cherolet 3500, 2002 Lance 1121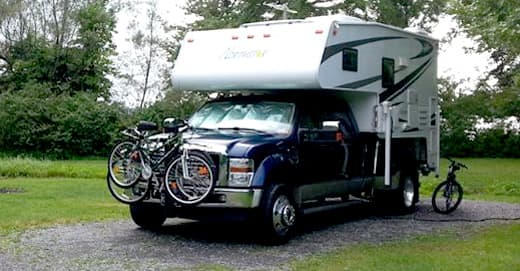 "I have a hitch mounted bike carrier on the front of my truck." – Todd Fairhurst, 2009 Ford F450, 2010 Northstar Igloo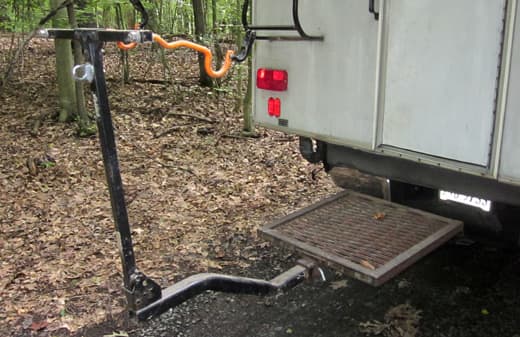 "I have an older camper without a rear bumper/step so I had one made that goes into my hitch. It has steel welded on sides for strength, so it acts as a bumper, step, and hitch extension. On those occasions when we take our bikes, I put my standard hitch mounted bike rack on my step." – Fred Patterson, 2013 Ford F350, 1977 Mobil Traveler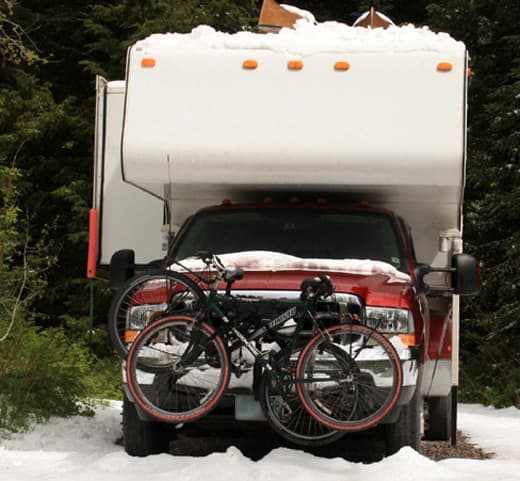 "We have a front hitch with bike rack" – Cheryl White, 2003 Ford 350, 2005 Arctic Fox 1150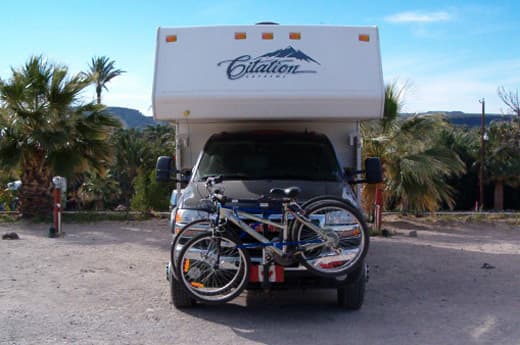 "We have spent the last seven winters in Mexico.  We always take our bikes with us and use them quite often.  It makes it easy to skip into town if you need a few things or go exploring without taking the camper off.  We have a Reese 2 bike rack and I also purchased an adapter bar for Paula's bike so that it rides level.  We also had a set screw installed on the receiver to stop the movement of the bikes when driving.  They are very secure now.  Ten thousand miles each winter and no problems so far!" – Paula and Jerry Gale, 2006 GMC Sierra 3500, 2007 Citation Supreme 10'8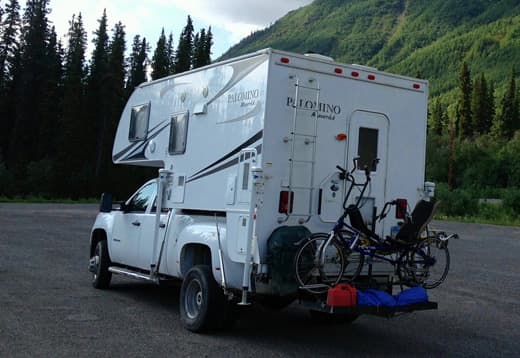 "We just use a back rack off the rear of the truck." – Jerry Glenn Hartwig, 2012 GMC 3500, 2013 Palomino Maverick 2902
"We have two Brompton foldable bikes inside the truck in bags." – Frode Stiansen, 2006 Ford Ranger, 2011 4WP Fleet/Wildcat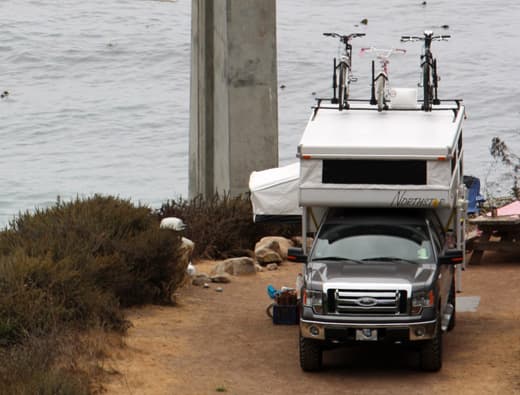 "We have a Thule system on the top of our Northstar TC650 XB.  The total height is about 12′ with the bikes.  We added three folding steps on the back of the camper to climb up top." – Kristin Copeland, 2009 Ford F150, 2010 Northstar TC650 XB