Mud, snow, ice, sand, water ways, tree craters and more impossible off-road situations than you can shake a tow strap at.  Want proof truck campers go where others wouldn't dare?  Dig in.
Get ready to put your brain into four-lobe low and enjoy some remarkable (and sometimes harrowing) off-road truck camping stories.  Here's proof that truck campers not only go anywhere, but get themselves back too.
This week's Question of the Week was, "When have you engaged four-wheel drive while truck camping?"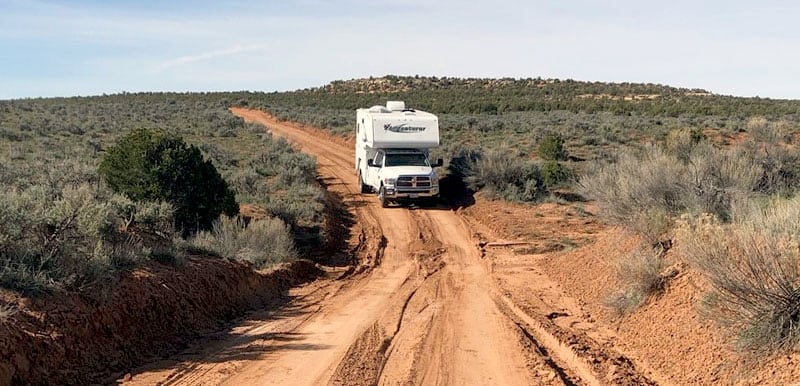 "Our crew cab dually and full-size truck camper aren't meant for serious off-roading, but with four-wheel drive we have the confidence to boondock off of dirt roads that could quickly turn into quagmires during rain or snow.
We also carry a serious air compressor that I purchased at a 4×4 shop just in case we need to air down, and back up for additional traction." – Bruce Allison, 2017 Ram 3500, 2012 Adventurer 910 FBS
"I use four-wheel drive mostly when muddy areas are present, or if I am moving onto leveling blocks so as to not over shoot. More than once I have used our tow strap to help other campers through muddy sections of road.
If I know that an area is questionable, I will put on my snow chains as they help to stop spinning of the wheels. I just have to wash the grain sack with the chains in it and let them dry for a day. It's just part of the trip!" – Eric Devolin, 2007 GMC Sierra 3500, 2006 Adventurer 106DBS

"I use four-wheel drive pretty much every time I leave pavement or improved gravel roads. Normally I am not to my destination until I have traversed a four-wheel drive high ground clearance trail. The fun is getting to the beautiful location, and having four-wheel drive makes that possible without beating on my equipment.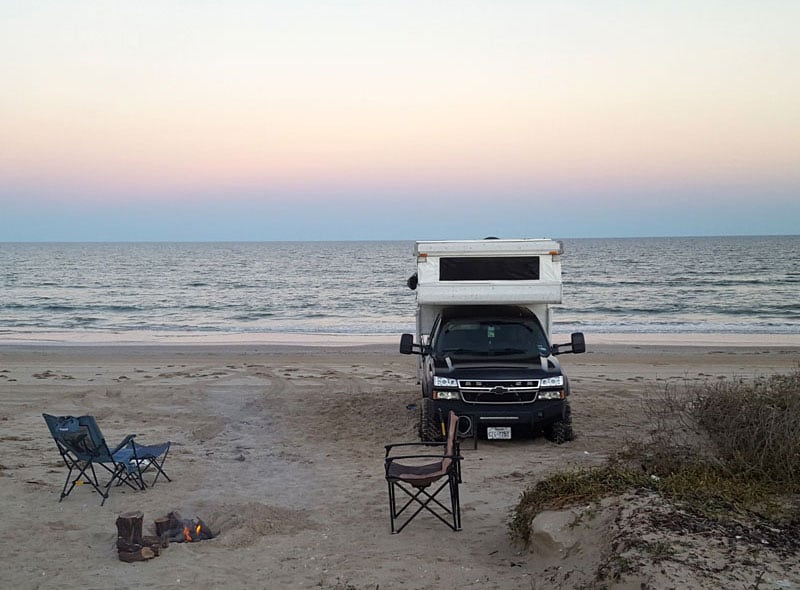 In the picture above I dug my front axles into the sand to help level my rig. We regularly do this at the beach. It is no issue climbing out when we are ready to leave. I use foldable sand tracks to lift the rig back up." – Tim Ray-Tahtinen, 2007 Silverado HD2500, 2003 Northstar TC650
"After going hunting, fishing, and camping in Wyoming in all four seasons for over 50 years, I have used four-wheel drive (and at times chained up all four wheels) more times than I can remember.
I don't remember ever getting into a situation that I couldn't get myself out. Use a little common sense and go prepared for the (unexpected) elements. Take care of your vehicle and it will take care of you. Don't believe that four-wheel drive will get you out of or through every situation." – Jerry Smith, 2012 Chevy Silverado 3500, 2013 Arctic Fox 992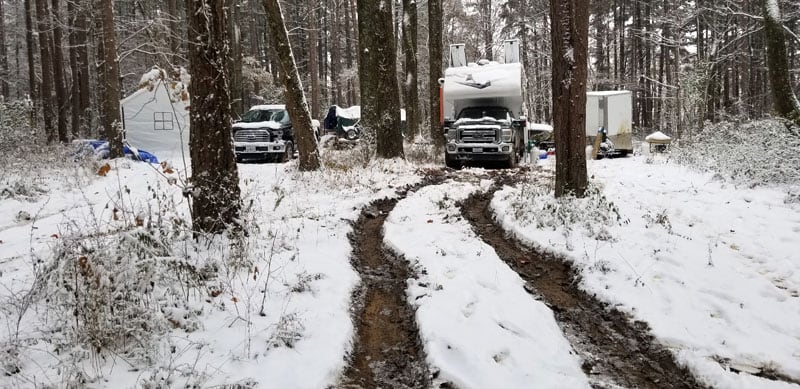 "In southern Illinois, I used four-wheel drive in the Shawnee National Forrest at a deer camp." – Bill Richcreek, 2013 Ford F-350, 2016 Lance 855S
"Last fall Kathy and I volunteered for a long weekend of trail building on the Ice Age National Scenic trail near Antigo, Wisconsin. It had snowed wet and heavy the day before we arrived to camp in the group campsite, which was an open area full of tents and campers.
The snow had melted, but left puddles of mud in any depression. I'm sure we could have made it through the mud without putting it into four-wheel drive, but the prudent thing was to put it into four-wheel drive to prevent spinning the tires and making the ruts worse." – Bob Claycomb, 2007 Dodge 2500, 2019 Northstar Laredo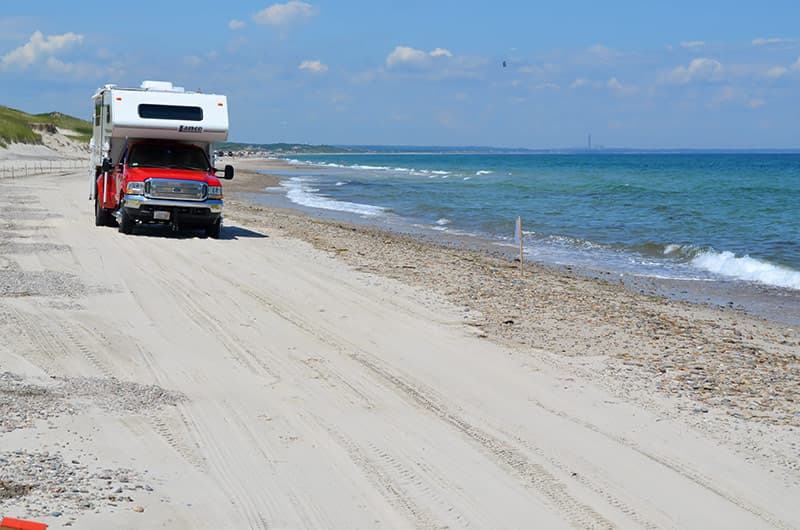 "I did a lot of beach RVing where four-wheel drive is pretty much needed (my Lance 1121 pictured above). Once you have aired down your tires to around 25 PSI and engaged the transfer caste to 4×4 low range, you can pretty much drive safely on the beach.
One year the Florida Flywheelers event had a lot of rain. The entrance to the camping field (where our group was) was a sea of Florida mud.
As I watched, the person in front of me struggled to drive the 200 to 300-feet of mud. They barely made it. Once your tire threads fill with mud you are basically driving with zero traction.
I just knew I was not going to be the, "show stopper" and bury my truck deep in that mud pit. I threw the truck into four-wheel drive and drove right though." – Mike Tassinari, 2002 Ford F350, 2016 Lance 1172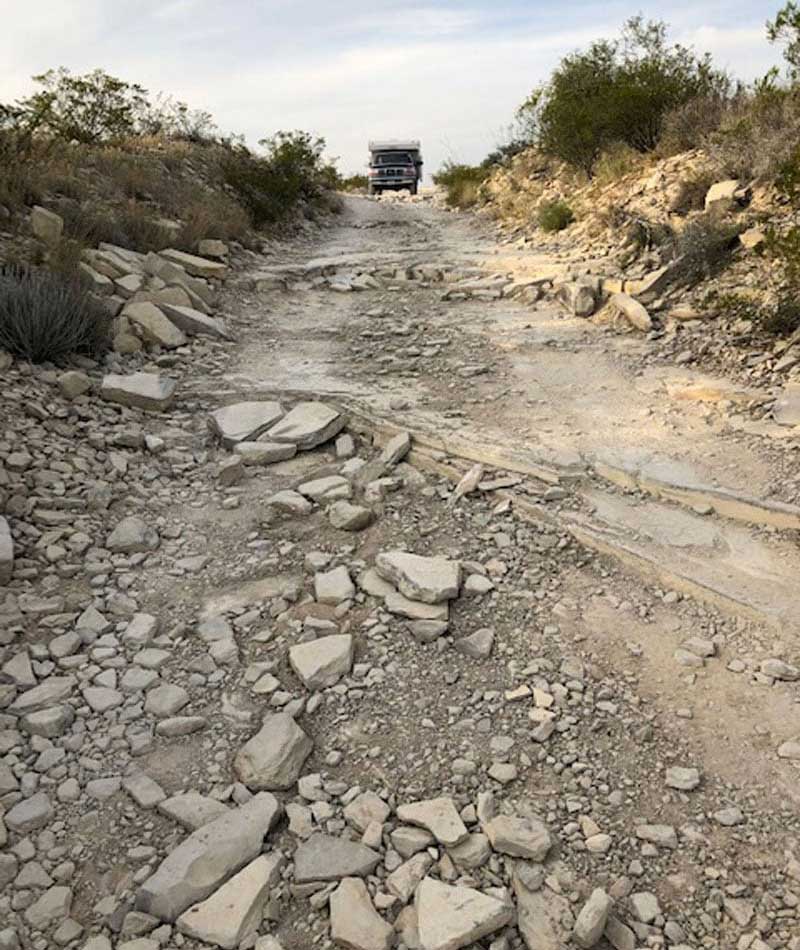 "This past March we were in Big Bend National Park and elected to use the back country campsites for four nights. The first campsite was new to us, but away we went driving for 2.5-hours covering ten miles.
The road was rough to really bad. With the truck in four-wheel drive low range, we made it with minimal damage to a few items inside the camper.
Several times we have engaged four-wheel drive when encountering muddy parking areas." – Dan Forry, 1996 Ford F250, 2006 Palomino Bronco 1251
"Yes! We camp in Wyoming, South Dakota, and Colorado for backcountry flat fender Jeep runs. Getting out to gravel or black top roads when it's slick or steep requires four-wheel drive. We live in Wyoming and all our vehicles are four-wheel drive." – Tom Ralls, 2009 Chevy Silverado 2500HD, 1994 Shadow Cruiser 800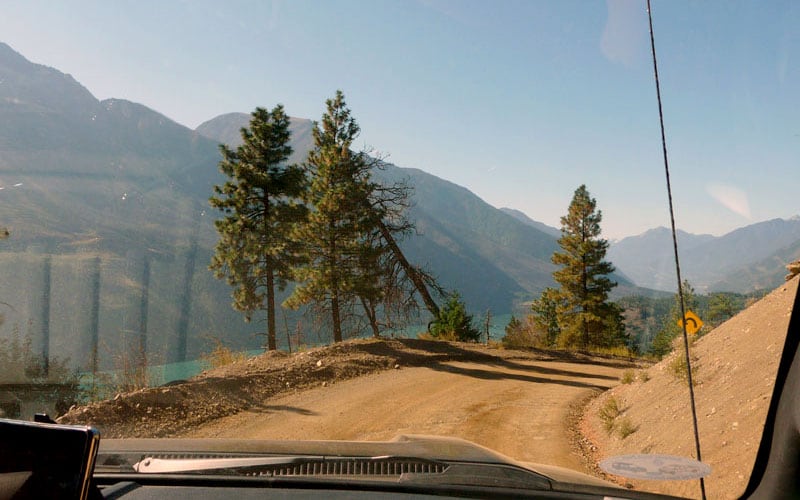 "We have used four-wheel drive lots of times when we are using forestry roads here in British Columbia. Many are two-track and rarely maintained. You never know until you get there.
The above picture shows only the hood of the truck, but we were so high up and it was so narrow that I didn't have room (and it was pretty scary) to get out to take a picture of the truck.
This is the Highline Road hugging the cliff above Carpenter Lake in British Columbia. It is 28-kilometers (17.4-miles), much of it very lumpy, with few pullouts for getting by oncoming traffic. The last 10-kilometers is extremely steep, zig-zagging down. Four-wheel drive low and engine braking! Fortunately we only met cars and no logging trucks, so we had the right of way." – Orian Hartviksen, 2011 Ford F350, 2010 Northern Lite 8-11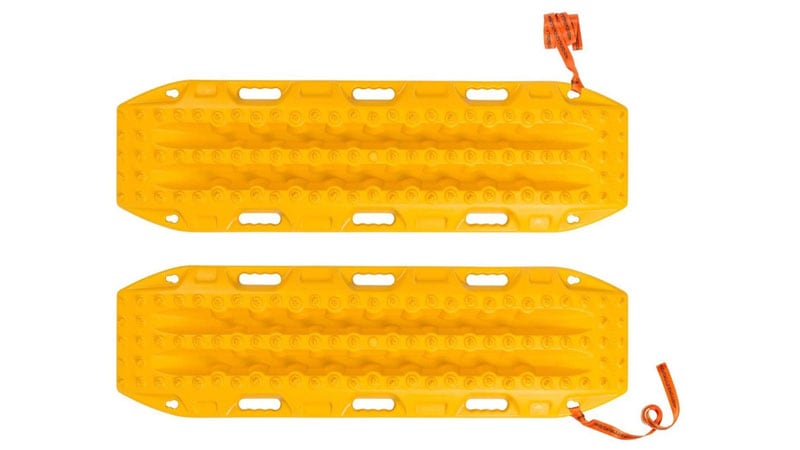 "You betcha! When in doubt, four-wheel it out – and sometimes it's a little too late. I plan with a winch, four Maxtrax/Tredpros extraction devices and a Pull-Pal (sand/dirt anchor).
I was lucky another truck camper offered to help pull us out. It looked fine to me, but five-minutes later it was down to the axle. You just never know." – Frank Poole, Ram 5500 HD, Arctic Fox 990
"I used four-wheel drive the beach on Portsmouth Island in North Carolina." – Nik Rende, 2011 Dodge Ram 3500, 2001 Lance 1121
"I engage four-wheel drive when going uphill on unpaved roads regardless of the road being wet or dry." – Peter Oswald, 2015 Ford F-150, Northstar 650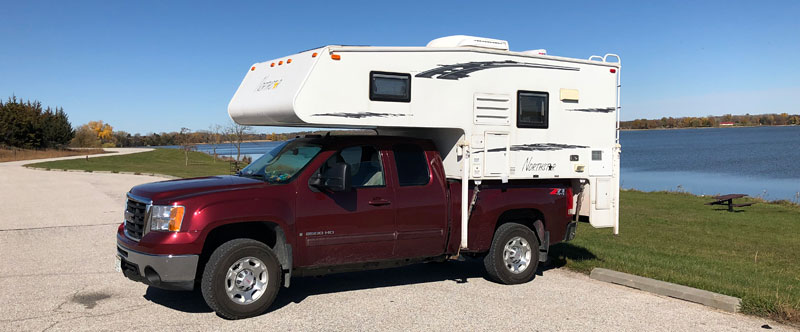 "I try to never get into a situation where four-wheel drive is needed. That said, I did get stuck on a level city street one winter without the camper.
Four-wheel drive isn't much help without several 75-pound bags of sand in the bed. I was about to call my neighbor with the 1991 Ford Tempo when along came a Jeep Rubicon." – Stan Johnson, 2009 GMC 2500, 2009 Northstar Laredo
Editor's Note: Ha! I'd have paid a $1.98 to see that '91 Ford Tempo try to pull you out. Where's the popcorn? Very funny, Stan.
"We recently purchased some property and spent almost a year camping on it primarily on weekends while we developed it.
The property was previously a walnut orchard. However, most of the trees had been removed. There was a rutted driveway that ran the length of the site. The rest, although fairly level, was badly overgrown hiding debris and deep holes.
After meeting with a well driller, I needed to get my full-size utility van out of his way. Instead of simply backing up 300-feet or so, I stupidly pulled off the gravel driveway. I drove into an area where a tree had been removed, sunk in and started spinning tires.
We mobilized our four-wheel drive truck and camper, kept it on the gravel driveway and (with a tow strap) easily pulled the van back onto the gravel. Four-wheel drive is amazing!" – Greg Chambers, 2015 GMC Sierra 3500, 2015 Lance 855S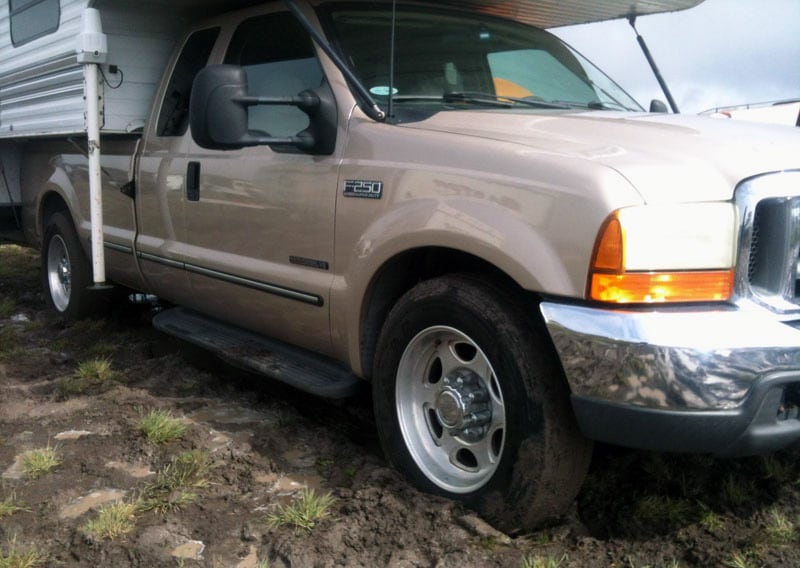 "Never. My truck is two-wheel drive. I thought about it during the 2015 Overland Expo – the year of the great deluge.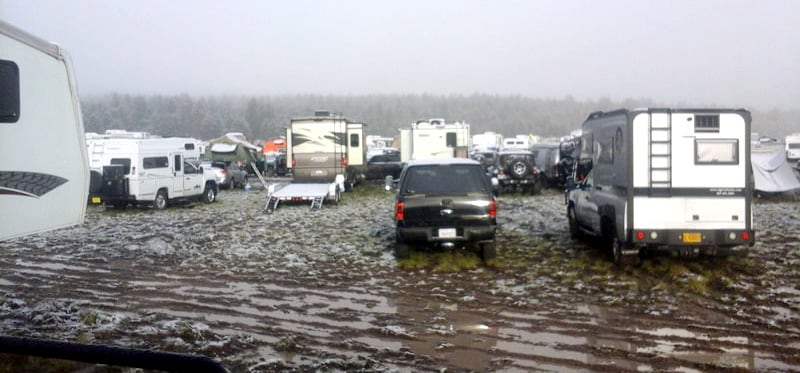 Fortunately, there was a 2.5-ton six-wheel drive trolling the swamp of the camping area; a nice guy who towed me to terra frima lickety-split.
By the way, even with "two-feet drive" I lost the heel of my boot due to the gumbo of that converted cow pasture!" – Mark Obert, 1999 Ford F250, 1999 Lance 920
"So far the only time I have engaged four-wheel drive is at the beach in the sand and on a boat launch when pulling my boat out of the water.
Some people say you don't need four-wheel drive because you don't use it very often. I say, "I would rather have it and not use it than need it and not have it". To me, a truck camper is not complete if it doesn't have four-wheel drive." – Dennis De Ville, 2018 Ford F350, 2018 Lance 1172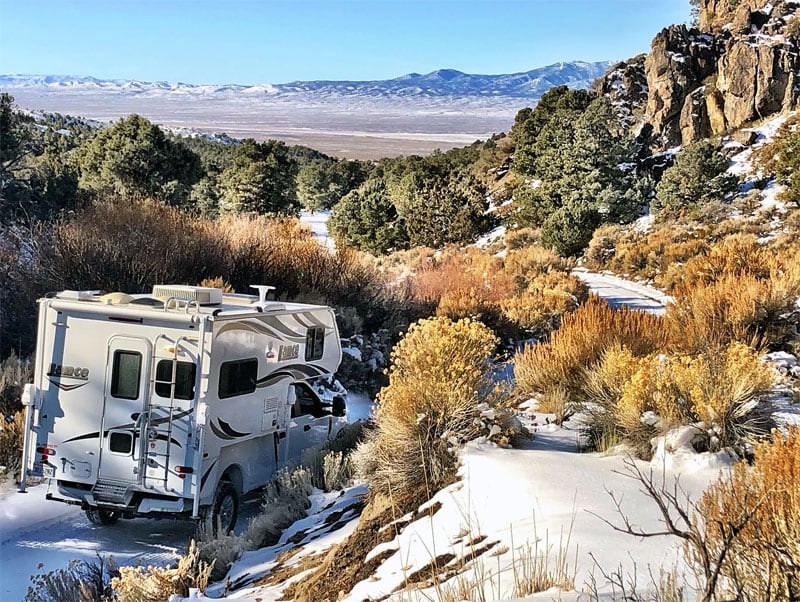 "Four wheel drive is both an added weight and expense for any rig, but without it, you are severely limiting the potential for utilizing your truck to its fullest potential. In my mind, it is what separates a truck and camper combination from the rest of the RV world. I specifically bought it so we can camp at those places where I get to lock the hubs, and go. Using my four wheel drive truck camper to access snowshoeing, mountain biking, hiking, and quad trails is everyday camping for us. In fact, if we camp somewhere where the hubs don't get locked, it's kind of a disappointment." – Vince Wall, 2018 Ford F350, 2016 Lance 850
"I use four-wheel drive when we leave in the winter to head south. We live in Pennsylvania and have a very steep 200-foot driveway. I also use it when backing on to my leveling blocks." – Randy Bunce, 2017 Ford F350, 2016 Wolf Creek 840
"When do I use four-wheel drive? Every time I return home. My property has a steep incline from the street. Using four-wheel drive low, the truck and camper easily crawl up without tearing up the yard." – Gary Usher, 2017 Ford F350, 2015 Lance 1172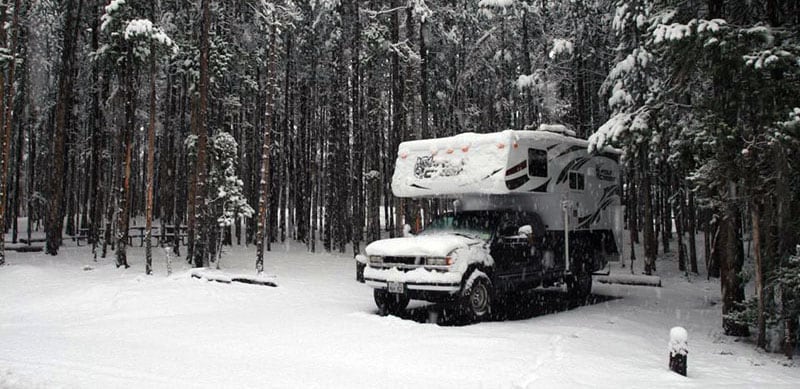 "My wife and I went to Yellowstone National Park for a week for our second anniversary. A fair bit of snow fell the second half of the week.
After watching motorhomes, camper vans, and all sorts of traction-controlled vehicles struggle to get out of the campground, I popped our truck into four-wheel drive and cruised right out of the campground without spinning the tires at all." – Ben Hutchings, 1998 Chevy K2500, 2017 Wolf Creek 850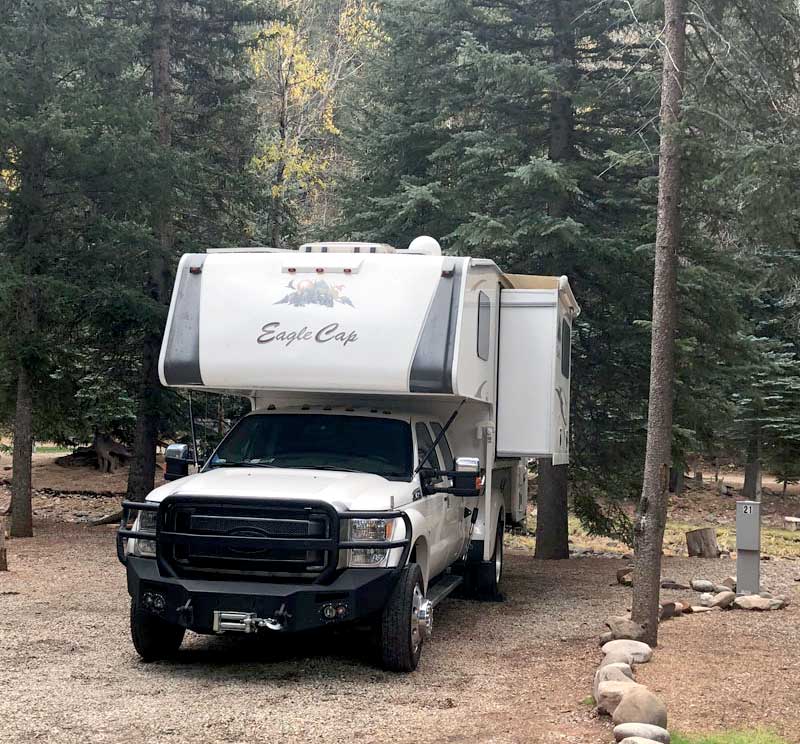 "We were up in the Yukon and Alaska early in May and came across some places with lots of mud. We were able to get out without the using four-wheel drive. We are so glad we have it, just in case." – John Fawcett, 2016 Ford F450, 2017 Eagle Cap 1165
"I was in unfamiliar territory in central Wisconsin with my ATV in tow. I believed my Google navigation that showed a short cut to our next trailhead. The road narrowed and turned to very soft sand a few miles in. There was no backing out.
Four-wheel drive was a must. I would never dream of doing the truck camper thing (getting off the beaten trail) without it." – Mike Hoppe, 2014 Chevy 2500 HD, 2009 Lance 845

"I engage four-wheel drive every time I get on a dirt road. That practice exercises the four-wheel drive unit. When going down the Moki Dugway, I put the truck into four-wheel drive low range and hardly touch the brakes on the way down. On a wet or dirt boat ramp, four-wheel drive provides great traction." – Bryce Dillree, 2007 GMC 2500HD, 2013 Wolf Creek 850
"I used four-wheel drive in the fall of 2016 camping in a farmer's field when deer hunting." – Ben Boulet, 2006 Ram, Lance 855S
"On any number of past skiing trips I've used four-wheel drive. Now I use it when coming up and out of a boat launch with the camper on the truck and pulling out the jet boat." – Dave Riddle, 2015 Chevrolet 3500, 2017 Host Mammoth
"I use four-wheel drive anytime the road looks dicey or the campsite looks slick. The Bigfoot has a higher center of gravity so I don't go on roads or in places that might cause an issue. However, when I go skiing, the truck is in four-wheel drive often." – Thomas Scholtens, 2010 Chevy 2500 HD, 2013 Bigfoot 25c10.4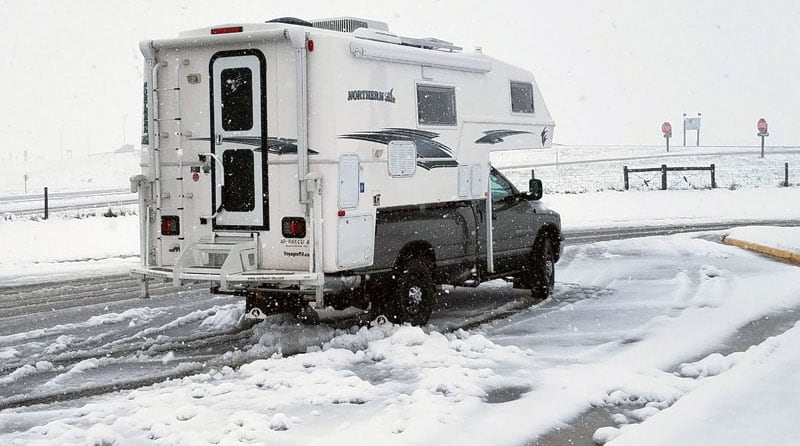 "In January 2019, when I traveled from Dubois, Wyoming to Denver, there were 425-miles of glare ice and solid snowpack roads with 40-plus mile-per-hour winds. With four-wheel drive, she is very surefooted.
Using only two-wheel drive gets very squirrelly on glare ice. It's amazing how well she does on ice and snow with all the weight on those 245/70 R19.5 Michelin traction tires." – Mark Harrison, 2005 Ram 2500, 2017 Northern Lite 10.2 EXCD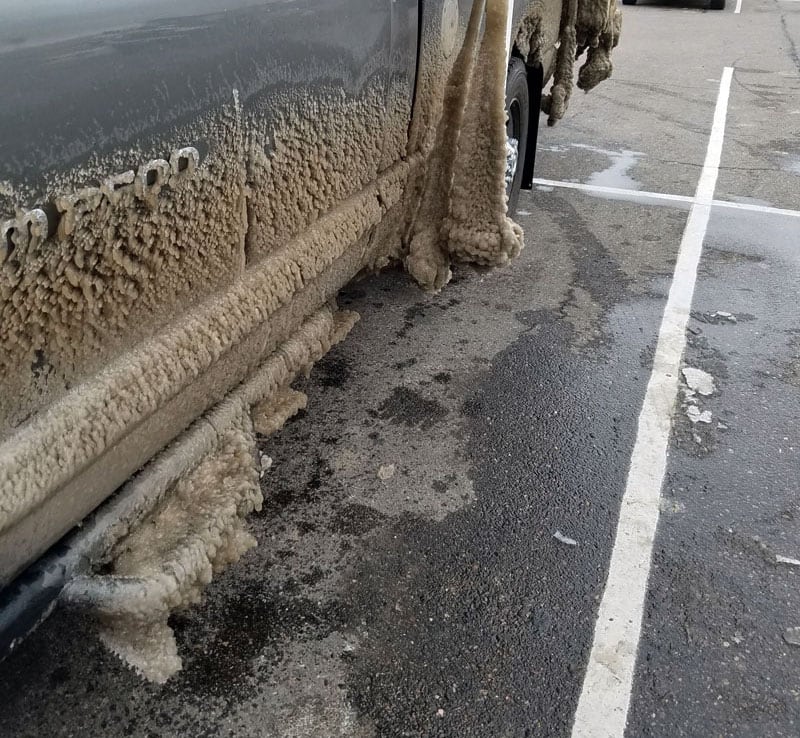 "I have only used four-wheel drive in deep snow while deer hunting. Always remember to go into trouble in two-wheel drive so you can back out in four-wheel drive.
My late father owned a 6X6 Army surplus dump truck when I was a tyke. He got that stuck by going into trouble with all three axles locked. Two bulldozers didn't free it. He had to wait for the mud to dry, and then simply drove it out." – Philip Tron, 2009 Chevy 3500, 2012 Lance 1050
"Whenever I am driving on a gravel or dirt road, I engage four-wheel drive, even if I do not need it at the moment. I feel the drive train gets less hard stress and use when trying to negotiate the uneven terrain of a dirt road.
The one time I can remember using four-wheel drive is when I pulled out on the beach on the Long Beach Peninsula in Washington in two-wheel drive. When my rear tires (235/85 R16 AT tires) started to spin, I put the truck in four-wheel drive low and pulled off the beach. The lesson was that heavy trucks in two-wheel drive sink like a stone on sand. Happy trails!" – Skip Stein, 2001 Ford F350, 2003 Lance 1010
"Last summer we overnighted at a very rustic campground in Montana, alongside a creek. It was basically a pasture with a few designated campsites with water and electricity. It was a nice place, but we never saw the owner or anyone else.
It had rained the night before and everything was still a little wet, so I put the truck in four-wheel drive, but didn't really need it. Sorry, no drama, but that's the way I like it!
I use four-wheel drive low when I creep up on leveling blocks to level the camper. Four-wheel drive is something I'd rather have and not need, than need and not have!" – Ira Allen, 2016 Ford F350, 2002 Lance 821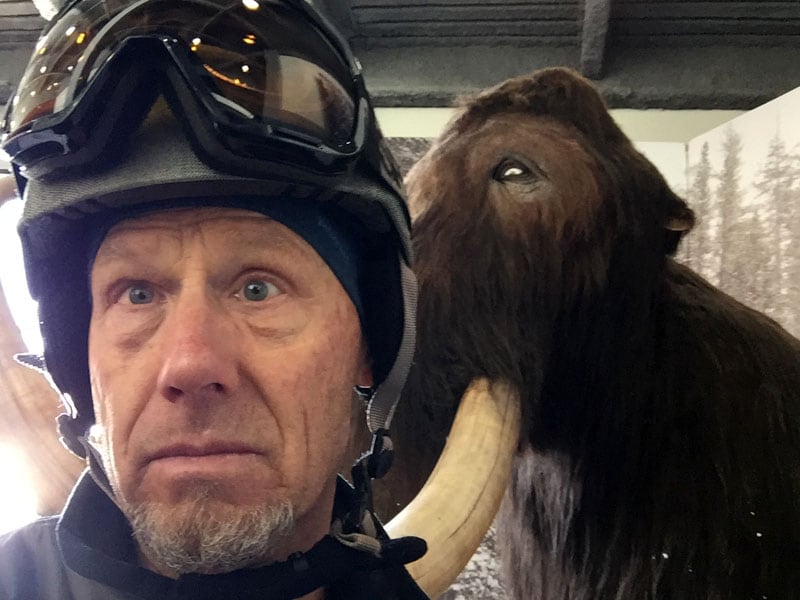 "We are snowboarders and use our camper year round. In the winter we are often at elevation chasing powder in snowy and icy conditions.
Four-wheel drive and good tires are essential, as is cautious slow driving. Four-wheel drive has also helped us escape from dicey situations when unexpectedly encountering wooly mammoths." – Marc Wilde, 2017 Ford F250, 2017 Adventurer 89RBS
"We use four-wheel drive when we dune camp at Oceano California State Beach, camp in a muddy field like last year's Strawberry Music festival, or generally when traveling on tough roads.
I got stuck awhile back (pre-four wheel drive) on a muddy steep mountain road. I was rescued by small Toyota 4X4, and vowed I would not get stuck again. Four-wheel drive is a must for truck camping off the asphalt." – Jot McDonald, 2018 Chevrolet Silverado 3500, 2018 Adventurer 89RB
"I have not used four-wheel drive yet but, after reading your article, I'm about to load in a 20-foot by 3-inch tow strap, assorted recovery hardware and shackle hitch for my rear receiver.
Thanks for the kick in the pants to get going on something I should have done a while ago!" – Michael Cooley, 2016 Ford F350, 2016 Lance 1172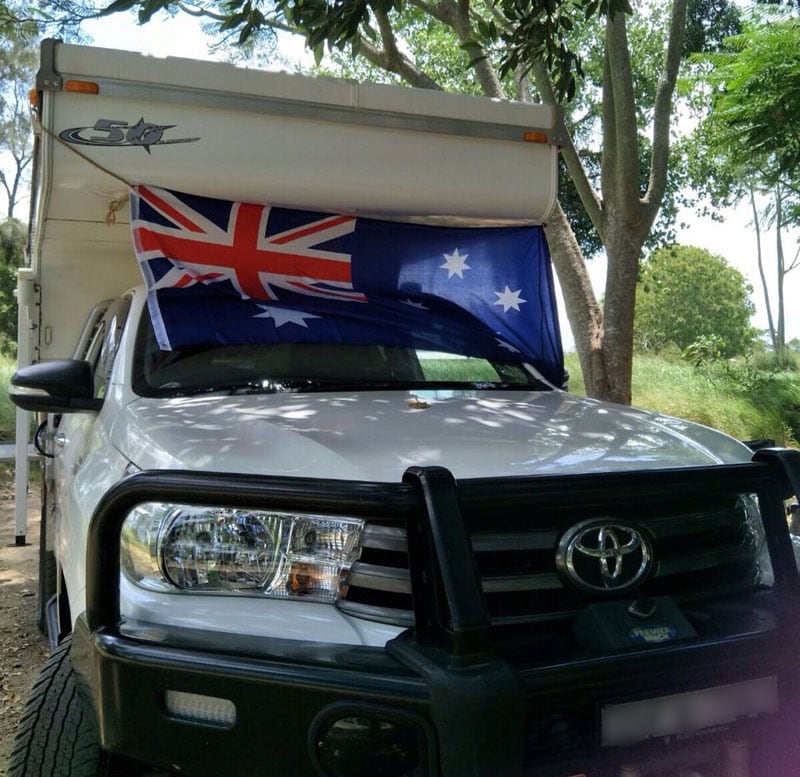 "I use four-wheel drive every time I drive the 70-mile beach and up to Indian Head on Fraser Island in Queensland, Australia." – Gary Massie, 2016 Toyota Hilux, Northstar 700SS
"I use four-wheel drive most of the time when I am on forest service roads, in mud or snow/ice. I tend to start in four-wheel drive to prevent problems, rather than get stuck and rely on it to get me out.
In winter snow and ice, I may use my chains on all four tires. When forest service roads are dry but have loose gravel, I will use four-wheel drive." – Bill Peters, 2017 Chevy Silverado 1500, 2013 Four Wheel Camper Hawk
"We use four-wheel drive-low to get into tight camping spots on gravel or pine needles. We also use it to get onto our leveling blocks or to get the truck back under the camper if we've unloaded it (which is rare).
We've also used four-wheel drive when we got bad directions and were on a crazy Jeep trail that turned into an ATV trail; it was dry but rutted and rocky. Turning around was something like a 15-step process once the Jeep trail ended." – Melissa Malejko, 2002 Chevy Silverado 2500HD, 1981 Okanagan
"Every time we drive on the sand at Assateague National Seashore we use four-wheel drive." – Kim Brinn, 1999 Ford F-250, Lance 981
"I have used four-wheel drive all over the United States including Fort Smith, Florida after a rain storm. In Palo Alto Canyon, Texas I used it to get out of the worst hail storm we've ever been in. On North Padre Island in Texas and Carolina Beach in North Carolina it was helpful to get about 25-miles down the beach. And, of course, all over the Rocky Mountain west." – Steve Hannan, 2016 Chevy 2500HD Silverado, 2013 Hallmark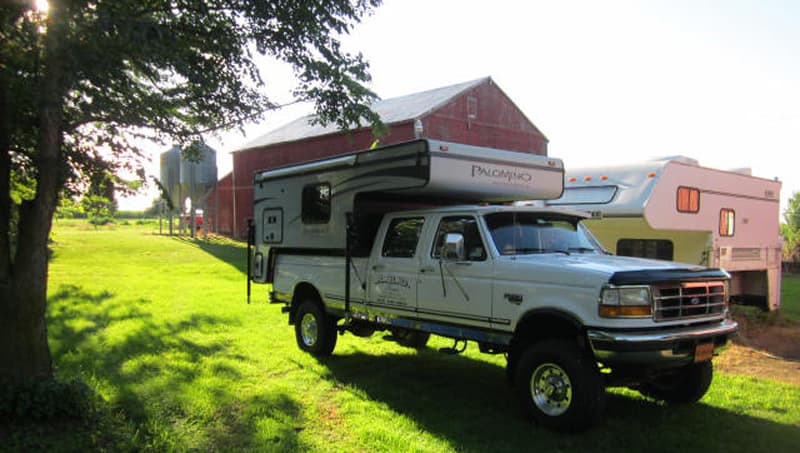 "We own and camp on our land in northwest Michigan. The only access is via a seasonal two-track with a stream crossing and washboard hills.
As soon as I leave the pavement and before venturing into the woods, I lock in my front hubs (manual), shift the transfer case to four-wheel drive low and put the transmission in low (automatic) to take advantage of engine braking when descending the steep hills. The truck stays in four-wheel drive low the whole time we are there.
Two-wheel drive would be insane. If I got stuck back there, I dread thinking what a wrecker would cost. I do carry a Lewis Winch, snatch straps, and shovel and axe just in case.
I love the Lewis winch. It allows me to have a portable gas driven (chainsaw) winch and have the saw for cutting firewood. They aren't cheap, but one time using it for emergency use and it's paid for." – Daryl Davis, 1997 Ford F350, 2015 Palomino SS-1500
"I like to go out in the backwoods camping whenever possible. A couple years back I went into a lake that I heard about in the mountains. It was a good two-hour drive on some very rough roads. A couple of times I had to lock in four-wheel drive.
When I got to where I was heading, I was really surprised to see a two-wheel drive half-ton with a small tow trailer. I didn't even get stopped when a couple of guys came running over.
It turns out they were stuck there for the past couple days. Their truck couldn't make it up the first hill, even with the trailer unhooked.
Long story short, they had a good tow strap. I was able to pull both the truck and trailer up the hill together. Other then that, we would have had to leave the trailer behind as I didn't have a long enough tow bar to hook up to the trailer." – Jeff Mawbey, 2010 GMC 350, 2010 Northern Lite 9.6 Q SE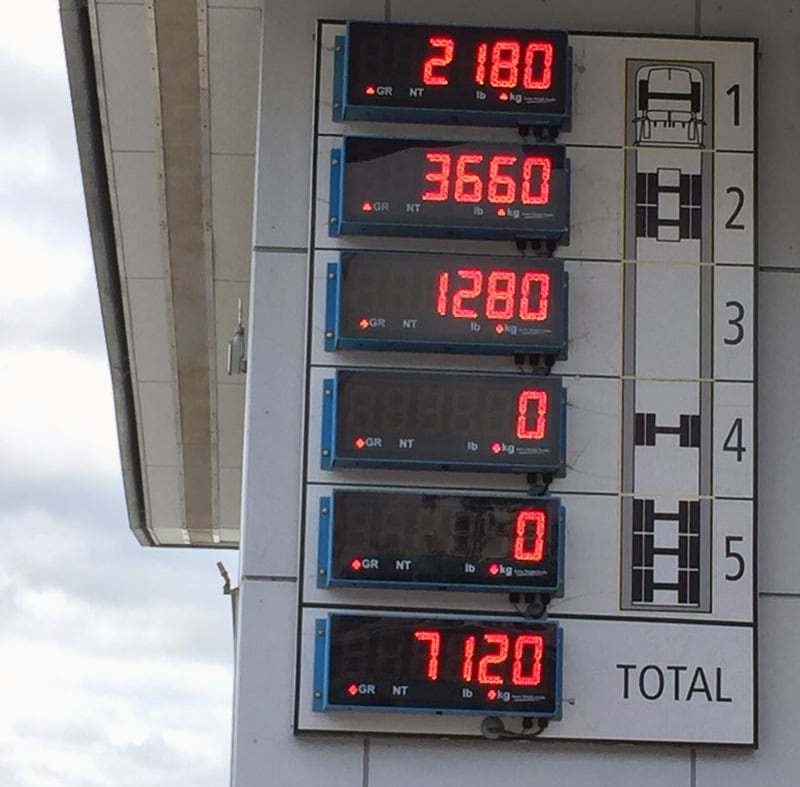 "Each time I go camping, I bring my boat. When my truck is placed the right way on the boat ramp, I put my pickup in four-wheel drive just to help the joints of the drive shaft.
My truck with the camper fully wet and loaded has a weight of 12,200 pounds. Then I need to consider the towed weight of my boat and trailer; approximately 3,000 pounds.
To prevent damage to the drive train, I always use the four-wheel drive. If the ramp is slippery, being in four-wheel drive helps to avoid a bad story." – Marco Rivard, 2003 Dodge Ram 3500, 1996 Shasta 11.5SD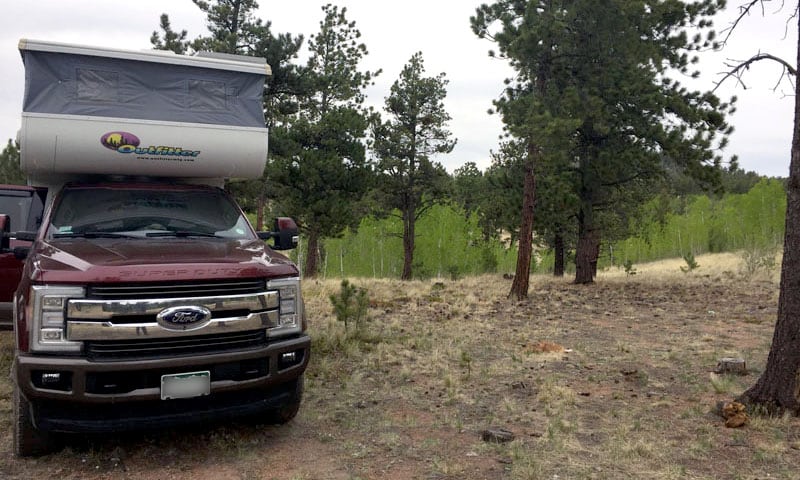 "I usually start with just locking the rear axle. This is usually enough to get me over a sandy incline or through a trouble spot.
When I'm maneuvering for a favored spot in the trees, I will put the truck into four-wheel drive low to exercise the gears and transfer case, and to make it easier to move around." – Thom Price, 2017 Ford F-350, 2008 Outfitter Apex 8
"We used four-wheel drive when my wife and I drove from New Mexico to Fairbanks, Alaska with our pop-up camper and the sleeper on the truck.
We were near Destruction Bay in the Yukon and decided to camp. Most everything was frozen, but I noticed the lake was starting to defrost. I put the truck into four-wheel drive and turned around.
I had to go through a small puddle (I thought) but it turned out to be a stream which was about 18-inches deep. We got through with no problem. If we didn't have four-wheel drive, we would have been stuck for sure!" – Harry Palmer, 2008 Dodge Ram 2500, 2008 Lance 915
"Since I was 20 (I am 70 years young) all my trucks have been four-wheel drive. I have had Power Wagons, Chevy and GMC 1500s, 2500s and 3500s. Presently I have a 1500 (DD) and a Chevy 3500 dually.
In almost 40-years of truck camping I have been to two, that is TWO, actual campgrounds to camp. Otherwise I was/am boondocking in places where the roads end, but the trails don't.
That is where most others fear to tread without four-wheel drive and a front mounted winch. The present heavy truck has a front receiver and I have an 8,000 pound Ramsey on a cradle. Four-wheel drive isn't a luxury option. It is a necessity to get the most out of the wilds." – Gary Theunick, 1994 Chevy 3500, Between campers right now
"I have engaged four-wheel drive on many slippery surfaces while camping; snow, gravel, ice, mud and wet grass. At home I have a paved, but steep driveway. If it's wet, or has wet leaves, I need four-wheel drive to back our truck camper up the driveway." – Stephen Paushter, 2016 Ram 3500, 2016 Northstar Arrow 8.5 U
"We have been several places that the only way in was four-wheel drive. The first was near Slide Lake, north of Jackson, Wyoming. We crawled down and back up a 30-plus degree grade to our campsite.
The next was in and out of mountain lakes in Alaska through creek crossings to the bottom of the doors. There was no choice because the fish were biting." – Tom Elliott, 2007 Ram 2500, 2018 Adventurer 80RB
"I always engage four-wheel drive when driving the front wheels up on to leveling blocks. It greatly reduces the tendency to push the blocks forward. I also use four-wheel drive in some state and county parks when it is muddy." – Ed Kuivinen, 2009 F250, 2016 Lance 850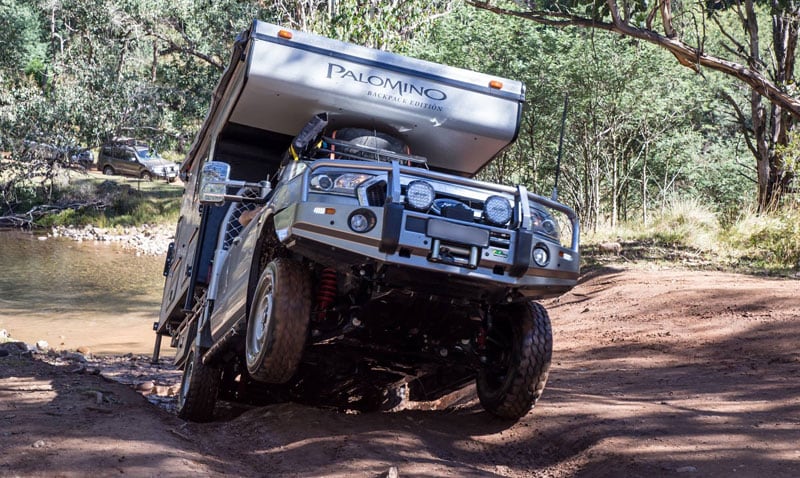 "Most trips. I spend a lot of time in the mountains off road. Even on loose dirt tracks the stability is considerably increased." – Walter Nolan, 2016 Ford Ranger GXL, 2016 Palomino SS-1200
"When I was younger, before my truck camper days, my first truck was a four-wheel drive Nissan. My neighbor got his two-wheel drive F-250 truck stuck in a bad place. I suggested that I might be able to help. He was appreciative, but looked doubtful that my little Nissan could get him out. We hooked a strap to his truck. Then, I pulled him out of the muck and then another 200-feet up the hill." – Fred Patterson
"I have a simple rule. Engage four-wheel drive whenever leaving the pavement, which I do as often as possible.
It was primarily because of four-wheel drive that I went to a truck camper. I have no desire to camp near pavement, campgrounds, RV parks or resorts. That means I am one less camper competing for the choice spots with those who truly enjoy those places.
Years ago I got a 1977 Jeep Cherokee with Quadra-Trac stuck in a rather large mud hole because I forgot to turn the knob until it was too late. Those systems, like many vacuum or electric systems, require a bit of movement of the vehicle for the four-wheel drive system to engage.
Serious mud or snow can result in a seriously embarrassing situation or worse, depending on how far you are from civilization. Anticipating what can go wrong sure helps things from going wrong." – Wayne Hoffert, 2018 GMC Sierra 3500HD, 2016 Northstar Laredo SC
"Our truck camper basically goes to Homestead, Florida for the Nascar race. The tolls there with our fifth wheel are crazy. We also take our truck camper and boat to our friend's lake house in Arkansas.
Last fall we put our truck camper in garage storage at the end of our old driveway. Then the rains came. To get the camper out and onto our new driveway, we had to use four-wheel drive. It was all mud.
As a teenager trail riding all over New England I learned about the importance of four-wheel drive. You never knew what the terrain would be like when you needed to drive out of an area. I can't tell you how many times my dad had to yank out fellow rigs that didn't have four-wheel drive." – Tracy Quoka, 2014 Ram 3500, 2012 Travel Lite
"I use it when dry camping at Ocotillo Wells SVRA in the Southern California desert. After a five day stay with three days of rain showers, and some really great Jeeping, four wheel drive made getting the few miles back to a paved road really easy." – Larry Brennan, 2018 Ram 3500, 2017 Lance 995
"I use it on the beach in the sand, as well as some back roads during hunting season. I have never been stuck with the camper." – Michael Walker, 2016 GMC 3500, 2017 Northern Lite 10-2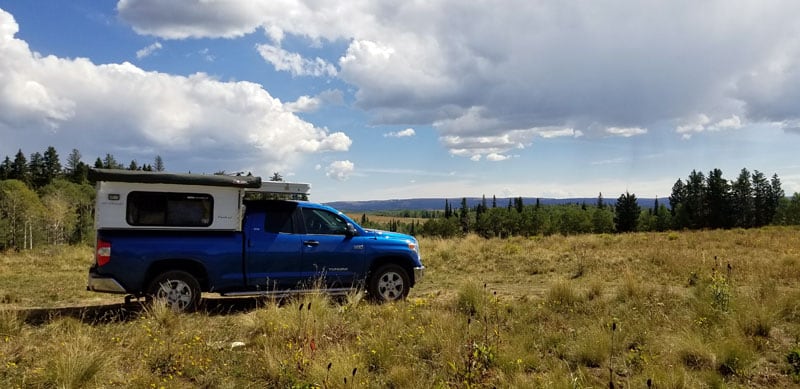 "Just about anytime we are exploring in the mountains on forest service roads we use four wheel drive. We will also use it on dirt roads that are rutted or wash boarded just to make driving safer. It will get us to that just right backcountry campsite." – Jim Jackson, 2017 Toyota Tundra, 2017 All Terrain Campers Panther
We had 46 comments on our Facebook page about how people use four wheel drive. Continue the conversation there!