Truck Camper Magazine reveals a truck camping story that shows exactly why most truck camper owners need four wheel drive.  Don't get stuck in the mud.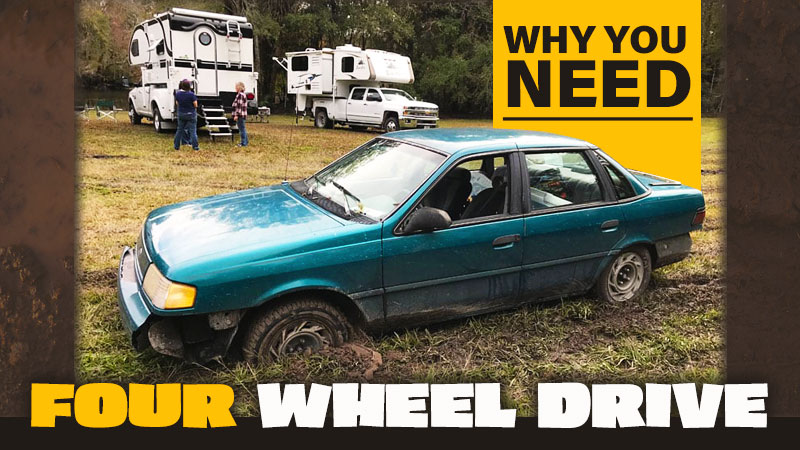 Back around 1989, I began my research for my very first car.  I had begged, borrowed, and bummed rides from everybody I knew – and a few folks I didn't.  At the tender age of 17, it was time to get my first car.
As any young adult might do (ahem), I started my research with the Consumer Reports Used Car Buying Guide.  For weeks I geeked out on that guide and absorbed every chart, rank, and red, black, and half-circle.
One thing I clearly remember from that guide was the Ford Tempo.  That poor car was at or near the top of their infamous worst cars list seemingly every year.  How Ford sold 2.7 million of them is anyone's guess.
For folks who think I'm picking on Ford, I later owned (and loved) a 1992 Mercury Tracer LTS, 1996 Ford Escort LX, 2005 Ford Focus ST, and a 2008 Ford Focus SE.  That's four fabulous Fords between 1998 and 2013.  All were great automobiles!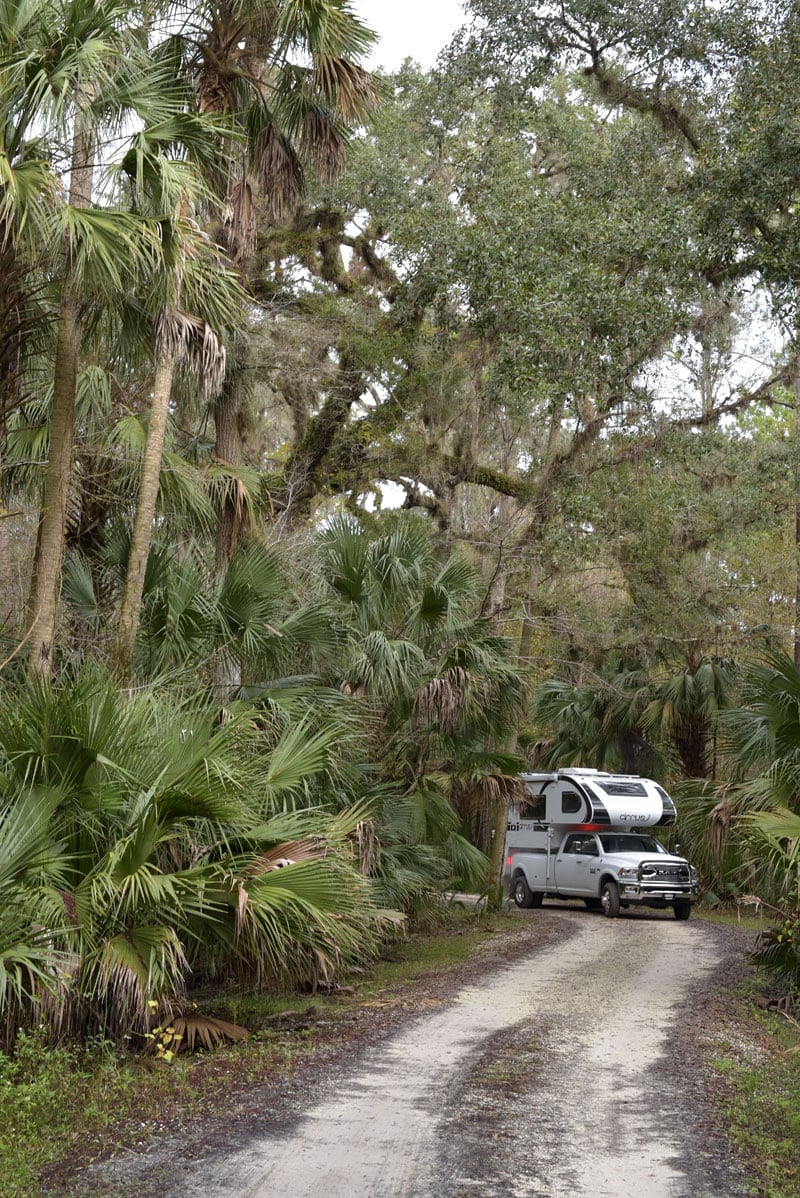 Anyway, all of this came back to me during one unbelievable camping trip this past winter.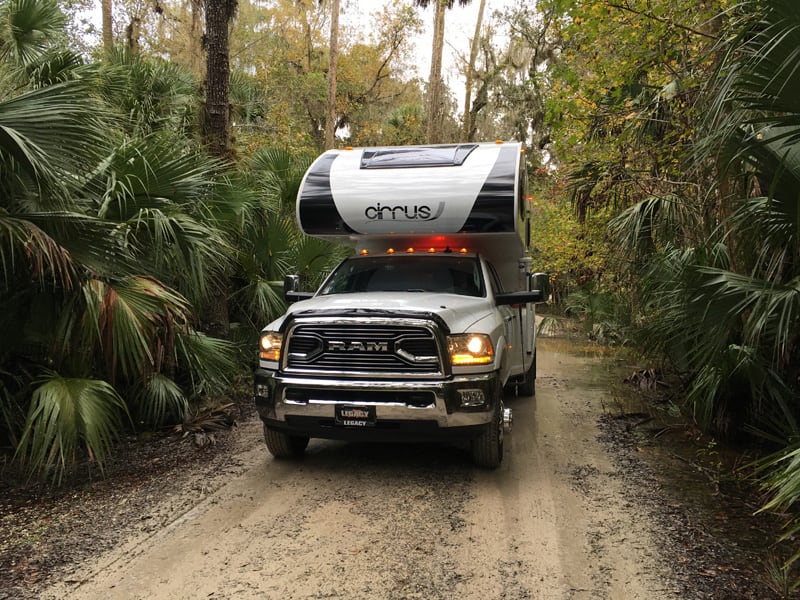 We were dry camping in a Florida field with fellow truck campers.  The field was saturated from multiple days of heavy rain creating deep and muddy ruts.  Naturally, the truck camper rigs avoided these ruts on the way in, and engaged four-wheel drive.
On the first night, we heard a vehicle approaching around 11:00pm followed by the unmistakable sound of spinning tires.  A small car was stuck smack-dab in the middle of the mud ruts.  It was as if the driver had purposefully charged straight into the deepest and muddiest part of the field.
In near-total darkness, the driver attempted to escape only to dig himself deeper and deeper.  Finally, the driver quit and walked out to a tent at the other end of the clearing.  Good night.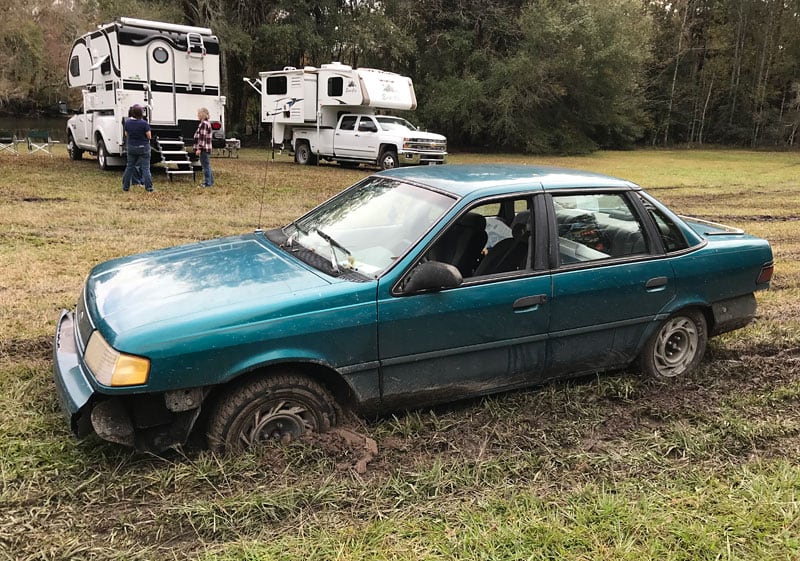 The next morning revealed an early 90s Green Metallic Ford Tempo.  It was buried clear up to its doors with a shredded front driver's side tire.  It was also missing window glass and had other issues not generally sought after.  If this car was getting out, it would need some serious help.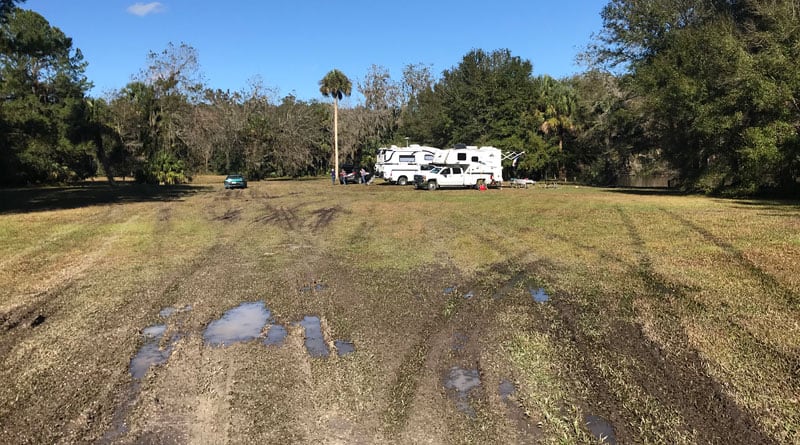 When the driver eventually surfaced, we asked if he wanted assistance.  He didn't.  He had contacted a local friend who would pull him out later that day.
Long after dark that evening, a mini-van pulled into the field.  The mini-van driver was clever enough to avoid the mud and ruts and positioned his vehicle in front of the interred Tempo.  Then these two knuckleheads did one of the most inconceivable things I've ever seen.
First, they attached a tow strap to the front of the Tempo.  Then they ran the strap through the open rear hatch of the mini-van.  My only guess is that they attached the strap to the seat pillars.  I kid you not.
Next, they floored both vehicles for the better part of an hour.  Despite a lot of revving and smoke, the Tempo didn't budge.
When we awoke the next morning, the Tempo was in even worse shape.  Now the front bumper was off along with an assortment of other broken Ford components.  When the owner walked over from his tent, he said another friend was on the way – with a Ford F-150.  Hope springs eternal.
That afternoon the Ford F-150 friend arrived.  He positioned his truck on the opposite side from where the mini-van attempted, attached a tow strap to his rear tow hooks, and pulled the Tempo out in about 30-seconds.
Now you might think the Ford Tempo guy would have celebrated his vehicular emancipation, packed up his campsite, and driven that automobile halfway to Texas – but that's not what happened.  After thanking his F-150 buddy, he drove his car back to his campsite.  It was forecast to rain that night.
Four-wheel drive is essential for traversing wet grass, mud, and ruts.  And you never know when you'll be in a situation with wet grass, mud, and ruts.  Unless you never leave pavement, you need four-wheel drive.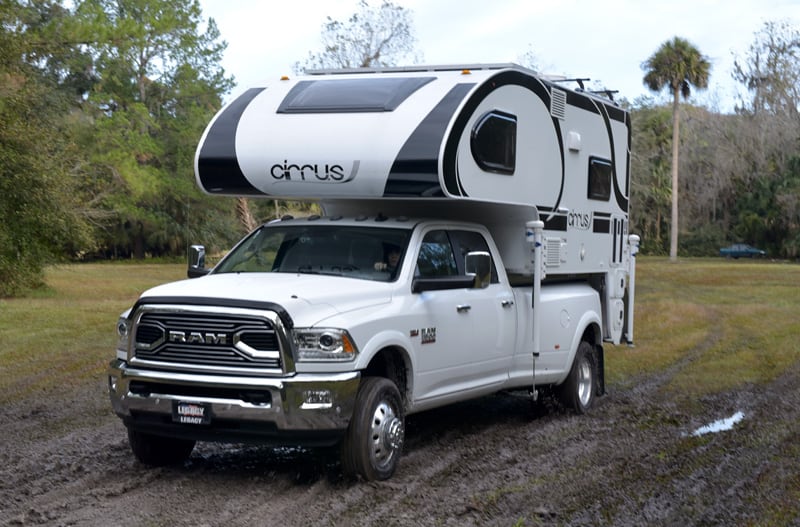 Above: Our Ram 3500 and borrowed Cirrus 920
With four-wheel drive and common sense, all of the truck campers in that field got out with zero issues.  Where possible, we drove around the deep mud ruts and made sure to not stop if things got a little slippery.  No big deal.  That's what having a truck camper with four-wheel drive is all about.  Go anywhere!