Russ and Gretchen Berquam sent in a Question of the Week asking, "What do you do with your travel photographs?" and showed their truck camper photo walls and placemats.  Here are over two dozen more photo ideas from fellow truck campers.
"I download the best photos to a thumb drive, plug the thumb drive into our home flat screen TV, and bore house guests who bring photos to show us.  I should print more and hang them." – Philip Tron, 2009 Chevy 3500, 2012 Lance 1050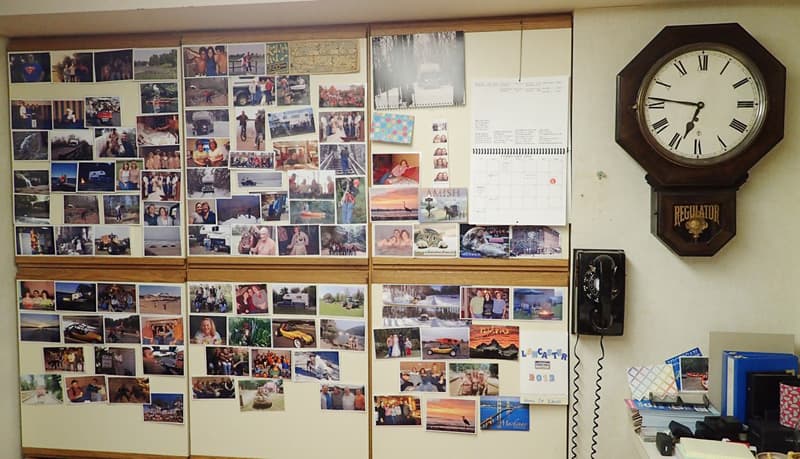 "Bruce laminates some of our favorite pictures from our trips and we decorate our kitchen cabinets.  That way we can look at them often and remember the fun times we had on our trips!" – Kim Scott, 2005 Ford F350, 2006 Northern Lite 10-2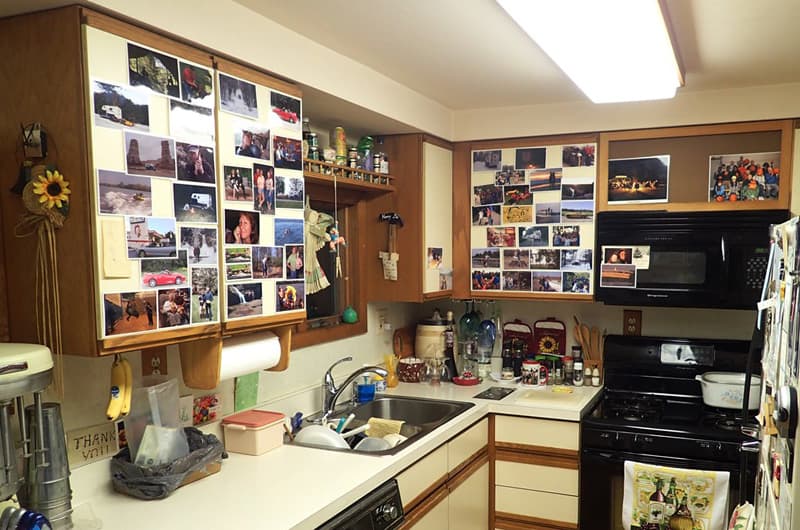 "I post all of my travel photos in albums on Facebook.  I can send a link to my friends who are not on Facebook that will enable them to view the photos.  I use Facebook because it is free, and uploading is very quick and easy." – Phil Cohen, 2015 Ram 3500, 2016 Northstar 950SC
"I always try to get my pictures printed and into an aerial photo album.  Not sure if this is old school – I'm 49 – or the fact that I was raised with many, many photo albums.  I love to be able to bring them out and hand them to guests for some good fun conversations." – Ben Hansen, 2002 Ford F250, 2005 Lance 986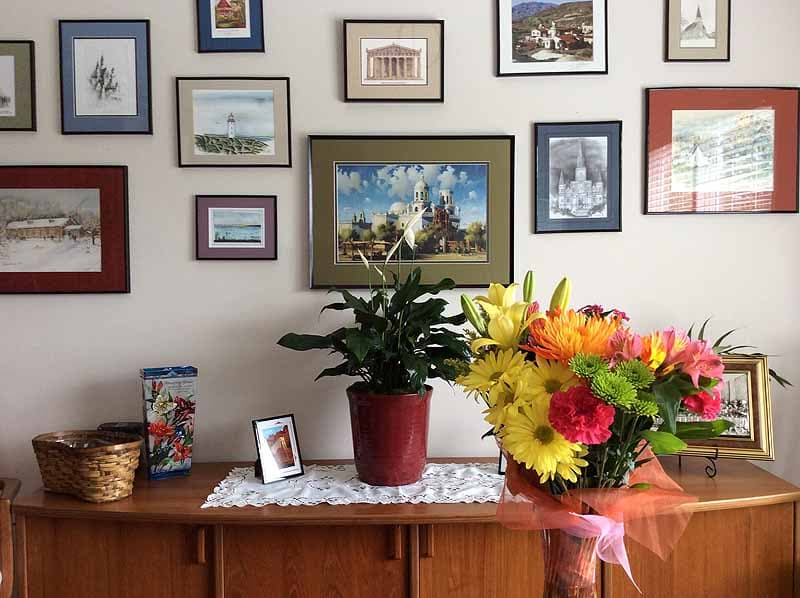 "We have albums with some of our trips and lots of DVDs with our adventures on them.  During our travels, my wife looks for pictures showing something we saw during the trip.  We have mounted them on the wall in our dining area.  When I am sitting at the table I am looking right them and thinking about all the good times we had." – John Bull, 2004 Dodge 3500, 2015 Arctic Fox 990
"Mine are all downloaded on to my computer, of course.  When we are at home, my laptop is attached to a good sized, 12 by 18-inch monitor placed where it can be seen in our family room.  I have a slideshow running on the computer.
It is wonderful to see the pictures go by in no particular order, and challenging to identify and remember them all.  It keeps the memories of our travels fresh and our wonderful experiences are always there for us to see." – Audrey Ruccio, 2008 Ford F450, 2008 Host Everest
"The digital age is here and we have taken full advantage of it.  We have a Cannon camera, two iPhones, and an iPad ready to go at all times.  During our travels, we snap, and snap, and get everything of interest.  Upon our return, the pictures are downloaded to our laptop, edited, and placed in appropriate folders.  Special pictures of people, places and things may be printed and displayed around our home.
Folders that are of interest to others are copied onto a flash drive and projected on one of our televisions, and our camper TV.  Projecting photos in this manner creates an interesting show.  We then backup all the pictures to the Apple Cloud for future use and retention.
The remaining dilemma is what to do with the many older photo albums of our travels which are stored in boxes, take up space, and haven't been viewed in years.  Guess we will figure that out some day when we wipe the dust off the boxes." – Warne Todd, 2000 Ford F250, 2005 Lance 981
"We use the hundreds of photos we take to make our non-traveling friends and family jealous!  No one has seemed bored yet when we show them our travels on our 46 inch flat screen TV when we return home from our truck camper travels." – Gary Gadwa, 2012 Ford F350, 2010 Eagle Cap 950
"We try to make some enlargements of the special pictures from each year and display them on a wall of our family room.  I also enjoy taking the time on cold winter nights to look at our past trips.  We usually make up a photo album of each year that we can share with others." – Dan Forry, 2004 Ford F250, 2006 Palomino 1251
"We take thousands of digital images and videos of the places we travel, from Florida to Alaska!  We then make a four to five minute video of each outing and post it to You Tube (because the file is so large).  Then, we put that link into our online trip journal at Mytripjournal.com.  In this way, all our friends and family can follow our trip across the country and enjoy the sights with us.
We find that videos are much better at conveying the sight and sound than a still image.  Even though a video takes quite a bit of time to put together and edit, it makes a fantastic way to document and re-live whenever we watch again!  Visit our journal below to see our trip so far." – Charles Coushaine, 2001 Ford F350, 2012 Chalet DS116RB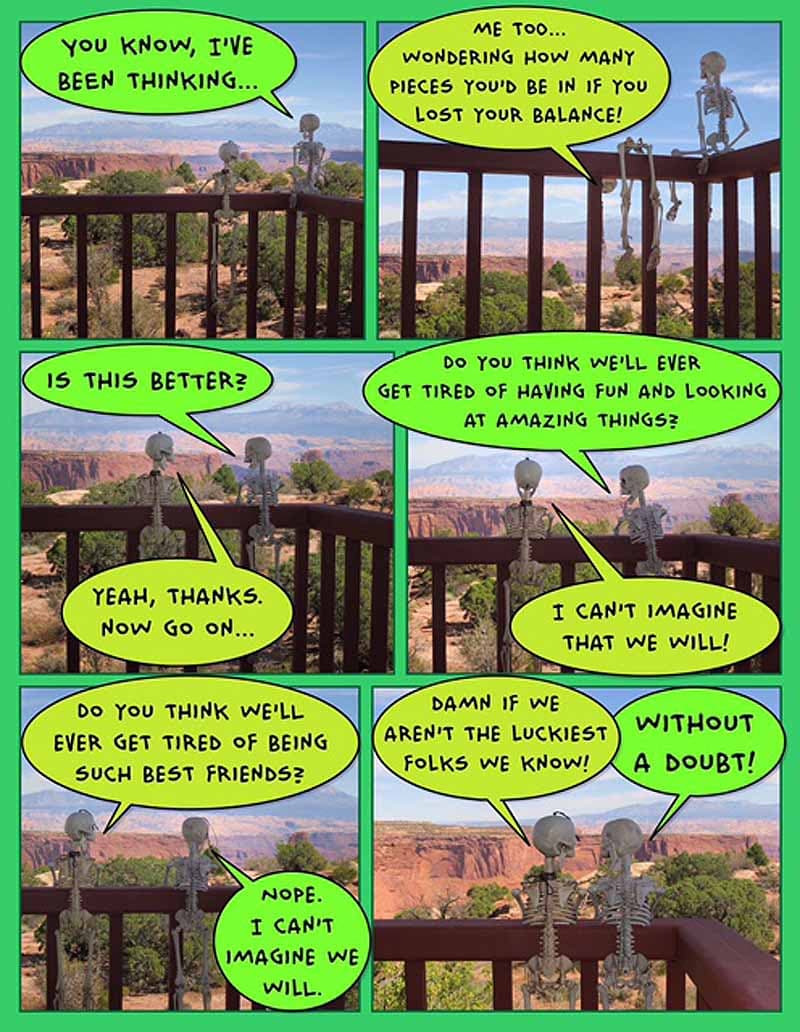 "We take many of our photos with our plastic skeleton, Heinrich, caught up in the action. I then produce a daily episode (or series of episodes if the day is full of activity) featuring Heinrich going through what we do each day and send it out to my subscribers – currently about 40 people/friends we know through work or through activities such as Racing Camp or UTV events.