Russ and Gretchen Berquam sent in a Question of the Week asking, "What do you do with your travel photographs?" and showed their truck camper photo walls and placemats.  Here are over two dozen more photo ideas from fellow truck campers.
"I download the best photos to a thumb drive, plug the thumb drive into our home flat screen TV, and bore house guests who bring photos to show us.  I should print more and hang them." – Philip Tron, 2009 Chevy 3500, 2012 Lance 1050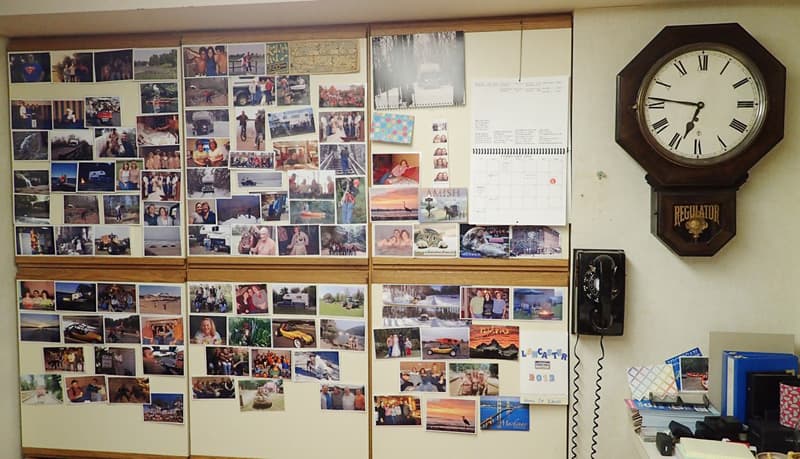 "Bruce laminates some of our favorite pictures from our trips and we decorate our kitchen cabinets.  That way we can look at them often and remember the fun times we had on our trips!" – Kim Scott, 2005 Ford F350, 2006 Northern Lite 10-2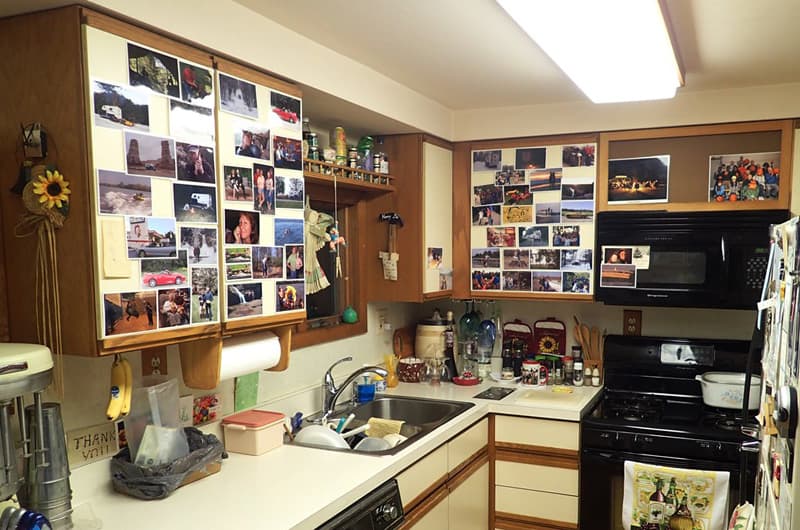 "I post all of my travel photos in albums on Facebook.  I can send a link to my friends who are not on Facebook that will enable them to view the photos.  I use Facebook because it is free, and uploading is very quick and easy." – Phil Cohen, 2015 Ram 3500, 2016 Northstar 950SC
"I always try to get my pictures printed and into an aerial photo album.  Not sure if this is old school – I'm 49 – or the fact that I was raised with many, many photo albums.  I love to be able to bring them out and hand them to guests for some good fun conversations." – Ben Hansen, 2002 Ford F250, 2005 Lance 986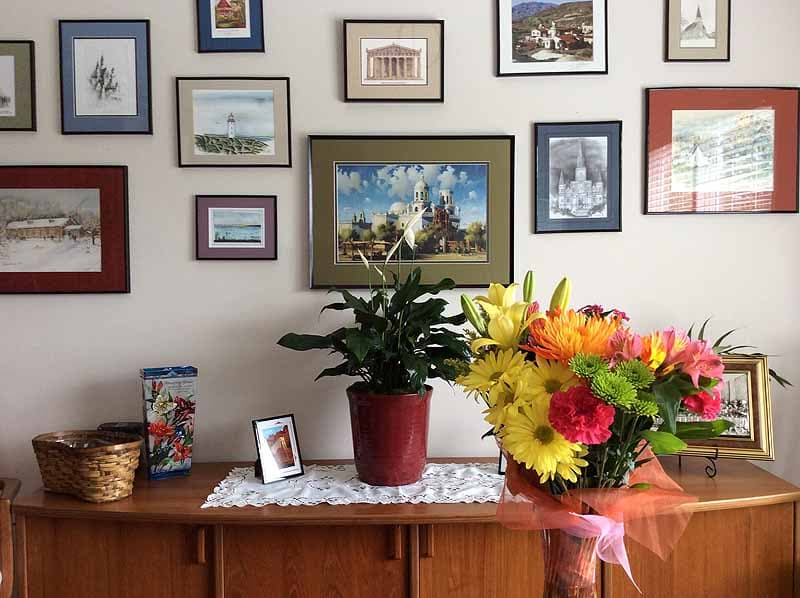 "We have albums with some of our trips and lots of DVDs with our adventures on them.  During our travels, my wife looks for pictures showing something we saw during the trip.  We have mounted them on the wall in our dining area.  When I am sitting at the table I am looking right them and thinking about all the good times we had." – John Bull, 2004 Dodge 3500, 2015 Arctic Fox 990
"Mine are all downloaded on to my computer, of course.  When we are at home, my laptop is attached to a good sized, 12 by 18-inch monitor placed where it can be seen in our family room.  I have a slideshow running on the computer.
It is wonderful to see the pictures go by in no particular order, and challenging to identify and remember them all.  It keeps the memories of our travels fresh and our wonderful experiences are always there for us to see." – Audrey Ruccio, 2008 Ford F450, 2008 Host Everest
"The digital age is here and we have taken full advantage of it.  We have a Cannon camera, two iPhones, and an iPad ready to go at all times.  During our travels, we snap, and snap, and get everything of interest.  Upon our return, the pictures are downloaded to our laptop, edited, and placed in appropriate folders.  Special pictures of people, places and things may be printed and displayed around our home.
Folders that are of interest to others are copied onto a flash drive and projected on one of our televisions, and our camper TV.  Projecting photos in this manner creates an interesting show.  We then backup all the pictures to the Apple Cloud for future use and retention.
The remaining dilemma is what to do with the many older photo albums of our travels which are stored in boxes, take up space, and haven't been viewed in years.  Guess we will figure that out some day when we wipe the dust off the boxes." – Warne Todd, 2000 Ford F250, 2005 Lance 981
"We use the hundreds of photos we take to make our non-traveling friends and family jealous!  No one has seemed bored yet when we show them our travels on our 46 inch flat screen TV when we return home from our truck camper travels." – Gary Gadwa, 2012 Ford F350, 2010 Eagle Cap 950
"We try to make some enlargements of the special pictures from each year and display them on a wall of our family room.  I also enjoy taking the time on cold winter nights to look at our past trips.  We usually make up a photo album of each year that we can share with others." – Dan Forry, 2004 Ford F250, 2006 Palomino 1251
"We take thousands of digital images and videos of the places we travel, from Florida to Alaska!  We then make a four to five minute video of each outing and post it to You Tube (because the file is so large).  Then, we put that link into our online trip journal at Mytripjournal.com.  In this way, all our friends and family can follow our trip across the country and enjoy the sights with us.
We find that videos are much better at conveying the sight and sound than a still image.  Even though a video takes quite a bit of time to put together and edit, it makes a fantastic way to document and re-live whenever we watch again!  Visit our journal below to see our trip so far." – Charles Coushaine, 2001 Ford F350, 2012 Chalet DS116RB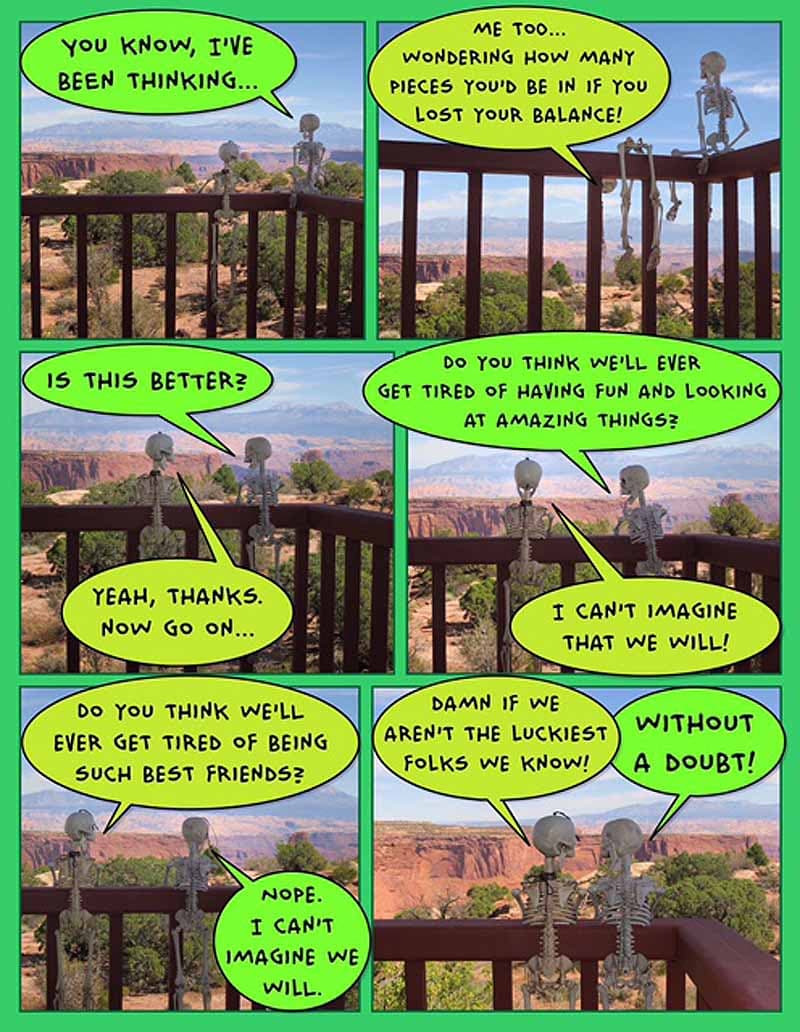 "We take many of our photos with our plastic skeleton, Heinrich, caught up in the action. I then produce a daily episode (or series of episodes if the day is full of activity) featuring Heinrich going through what we do each day and send it out to my subscribers – currently about 40 people/friends we know through work or through activities such as Racing Camp or UTV events.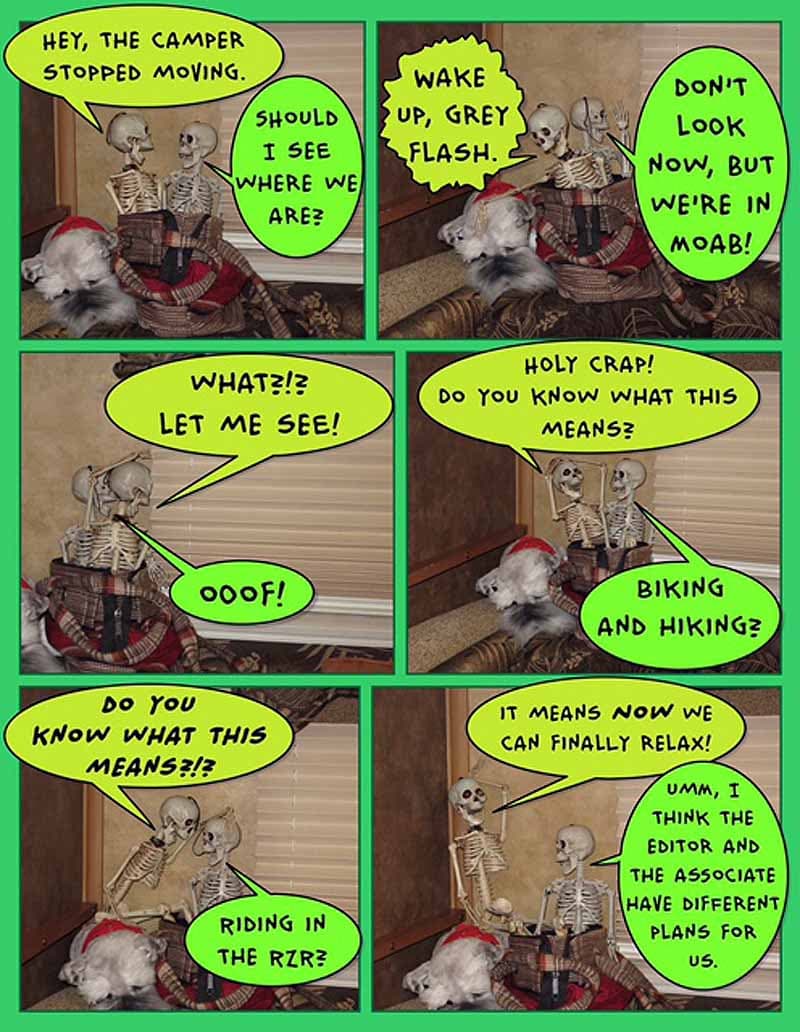 These episodes are then stored with a blog entry in an app called Day One on our iPads.  That way we can go back and visit what we were up to any day of the year.  It's really fun to just randomly pick a day in the past and see what Heinrich (I mean we) were up to." – Tracy Schuster, 2015 GMC 3500, 2012 Lance 992
"We make slideshows on our computer to show friends.  We are currently making books on an online website with our best photos, and poems to go with some of them.  It is fun to design the book how we want – backgrounds, photo sizes, etc.  We are sending our first book to be printed today!" – Kris Cassidy, Tacoma 2006, 2013 Northstar 600SS
"I process many photographs daily (most of the time) using LightRoom and Photoshop Elements.  They are placed in a Facebook pictures folder on my laptop desktop with a file for each day.  Then I write a mini travelogue that accompanies the pictures in the file and describes our travel for the day.  When we are at a location with internet service, I post the daily pictures and travelogue to Facebook." – Randall Rice, 2012 GMC Sierra 3500HD, 2015 Bigfoot 2500 10.4
"I put them on my Flickr photo sharing site." – Mark Larson, 2014 Ram 3500, 2016 Arctic Fox 811
"I post my photos on my blog and share them on Facebook.  I love the placemat idea from Russ and Gretchen.  I plan on doing that after our big Alaska adventure this year." – Sally Stomberg, 2006 Ford F550, 2006 Lance 1191, 2008 Surveyor 260BH fifth wheel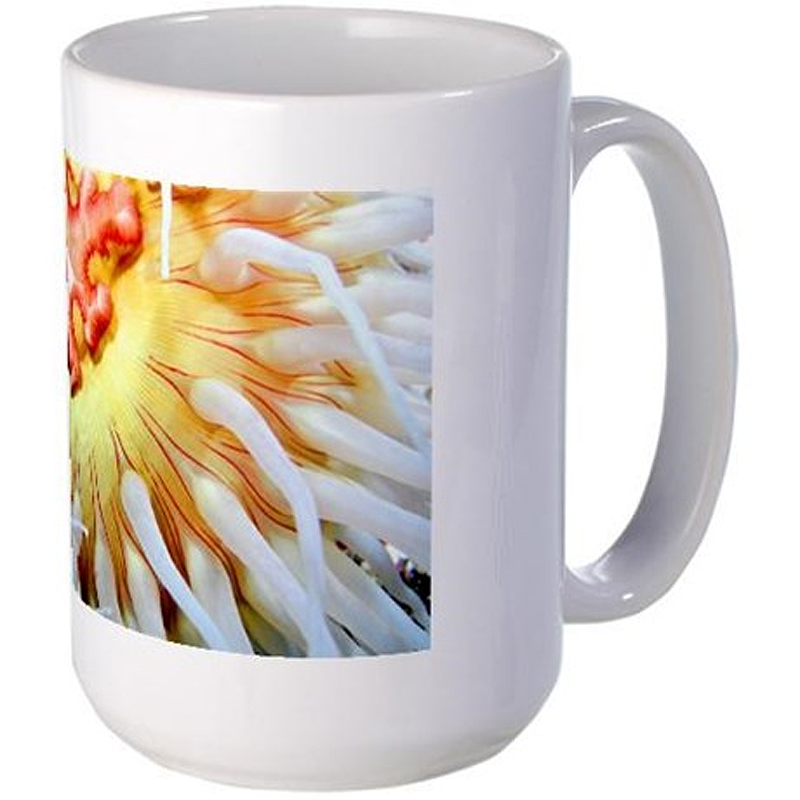 "I just take them and post them on a website like a trip journal of sorts.  I used to do underwater photos on trivets, tiles, and wooden boxes, but I ran out of people to send them to.
So it's a good question; what to do with the photos?  I just post them when I can, which  is limited to Verizon Data limits.  I like the idea of the placemats with pictures, and route maps with CafePress.  Thanks." – Frank Poole, 2016 Ram 5500HD, 2016 Arctic Fox 990
"Linda makes an iBook for each of our holidays, choosing some of our better pictures to go in.  I use Mac journal to keep a log of our journeys and some of our pictures." – Eckhart Franz, 2006 Chevy Silverado 3500, 2005 Adventurer 90 FWS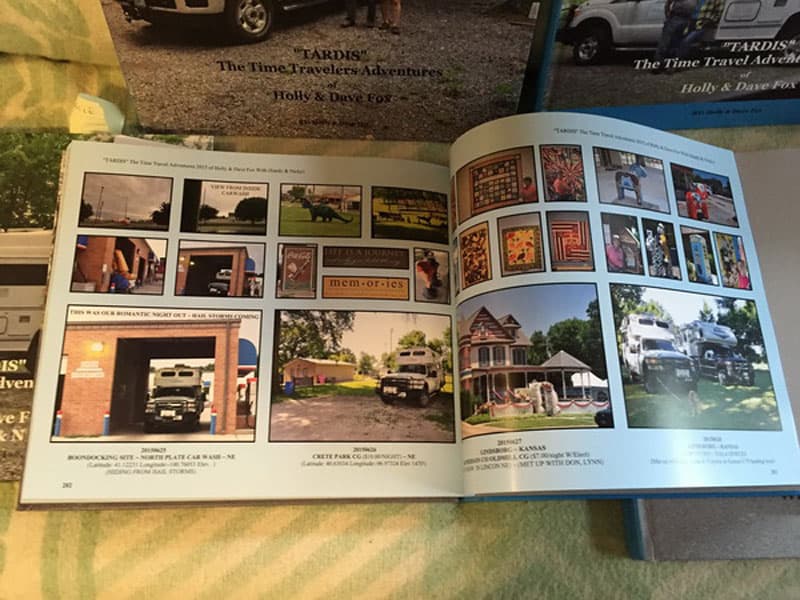 "Each year, we spend around 90 continuous days on the road, in addition to week-long and weekend camping.  We spend a lot of time out west touring the national parks and lots of oddities along the way.  In those 90 days, we take approximately 30,000 photos.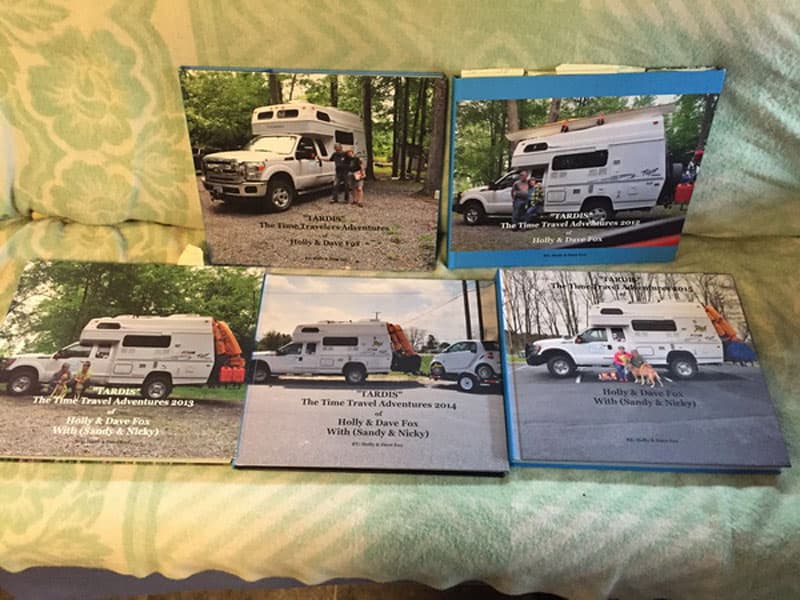 At the end of our yearly travels I put together a book of the best photos into a book of our Tardis Time Travel Adventures, along with a slide show video of the photos.  It's a great way to share your trip with family and friends." – Dave Fox
"I use Lightroom to organize my photos on five external hard drives.  I select some to enlarge and print.  I use some for how-to pictures.  I also enjoy looking back at past travel adventures.  They come up real easy in Lightroom!  I must congratulate Russ and Gretchen for their wonderful idea!" – Lucien Langlois, 2012 Ford F250, 2004 Lance 1025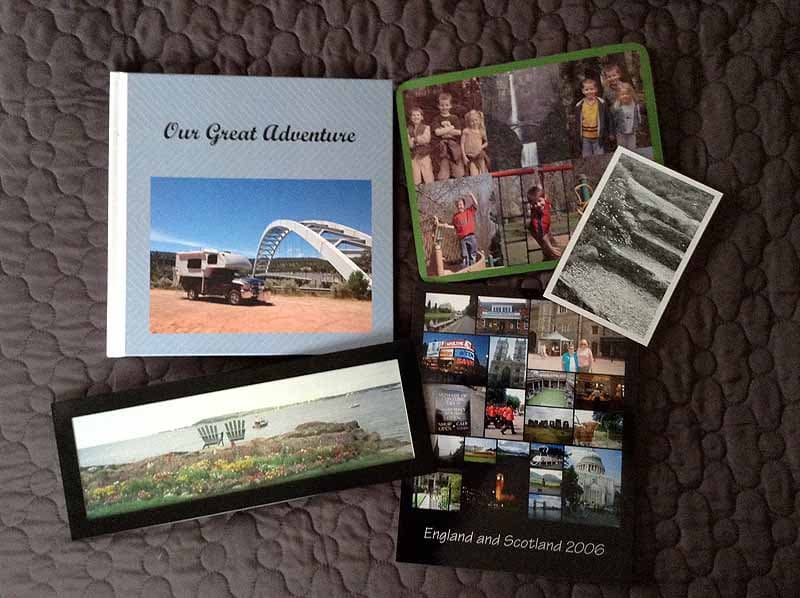 "I make photo projects like hard side photo books, mousepads, postcards, collages, and framed photos.  I also do wall art like matted and framed photos." – Janet Manis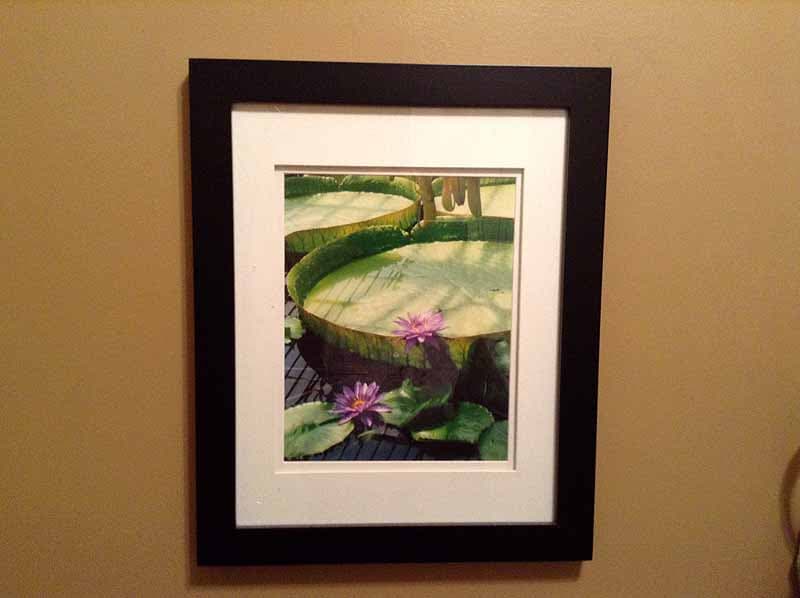 "We take a lot of photos and have accumulated thousands over the years. When we're home, we like to look through the pictures, but find it easier to do so using a DVD.  I use a slideshow software program to set the photos to music appropriate to the location.  Our trip to Nova Scotia is set to Celtic music.
We use Photo Movie Maker Pro.  We carry copies of all of the disks with us in the camper and will often lend them out to other campers wanting to see where we've been." – Anne and Joe Brown, 2013 Ford F450, 2013 Chalet TS
"A lot of my photos get uploaded to Smugmug.com for use in my trip reports that I post on the RV.net truck camper forum.  I've done a couple of truck camper related interviews featuring my photos.  I frame some of my photos and use others to make animated gifs." – Alex Blasingame, 2007 Ford F250, 2002 Lance 815
"They are stored in my computer.  Some we enlarge and frame." – Frank Niehus, Ford F350, Arctic Fox
"I keep my photos on SD cards and on the computer.  Then I set the computer screensaver to cycle through my pictures.  That way I see my pictures when my screensaver kicks in." – Erwin Greven, 2002 Chevrolet 2500HD, 2002 Lance 921
"We categorize them in files, so they are nice and organized when we need to find them on the computer.  We make a lot of slideshows to music.  That way when we show family and friends, it makes it more interesting.
We also started doing this with the Midwest Truck Camper and Friends.  It has become popular for rally attendees to come and look back at fun memories that were created.  We have a DVD projector and project the slideshows on the wall." – Doug Baughman, 2011 Ford F350, Lance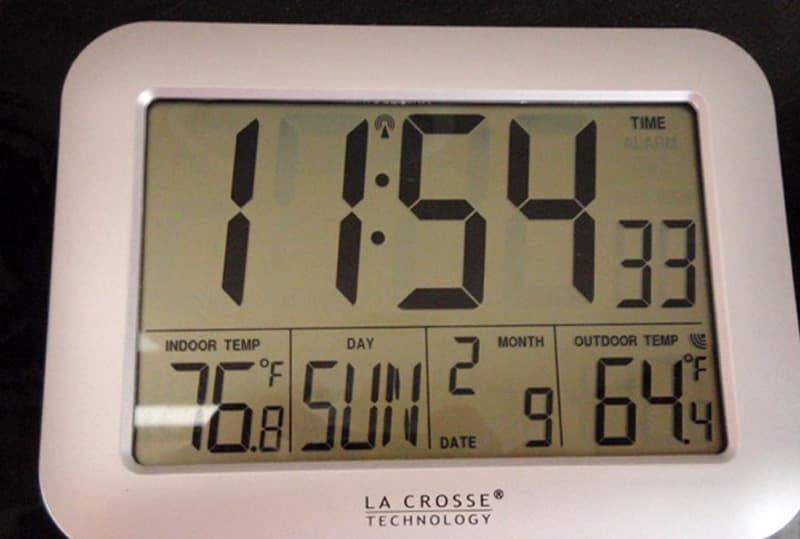 "We have many, many digital pictures, which are stored in iPhoto libraries.  We keep our events well labeled.  Every day we're traveling we take a picture of our clock, which includes the outside temperature and day of the week.  It becomes the first photo in an event.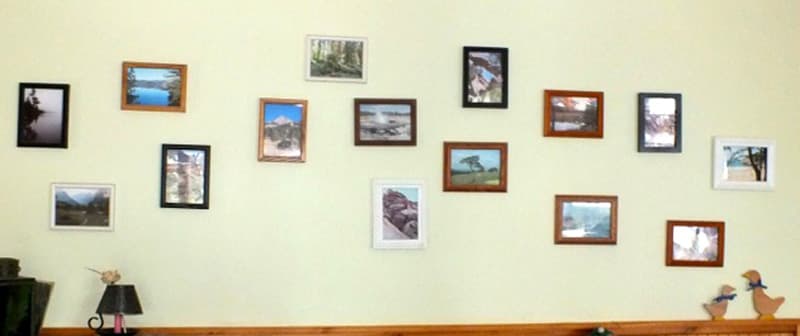 We have a spreadsheet of daily information to refer to for locations.  If we take any pictures with our new iPhones, the GPS data will be stored in the photo data.  We have a wall of photos, and we had always planned to buy more frames and swap them around periodically – still working on that part." – Sue and Don Graf, 2008 Ford F350, 2013 Arctic Fox 865
"We take a lot of photographs to document our experiences of the trip.  We like to share the trip with family and friends, but find it would be difficult and boring to have them sit through picture after picture after picture (you get the idea).  So we create a multimedia slideshow that we hope they find interesting and entertaining.  Here is a slideshow of a recent trip documenting our East Coast to West Coast adventure." – John and Lorrie Sipos, 2012 Ford F350, 2013 Lance 992
"I download them onto my work computer and use them a screen savers.  You really feel like you get a break when you remember the good time you had on that trip." – Glenn Johannessen, 1979 Ford f250, 1993 Lance 880