This week's Question of the Week was, "What are your 2015 truck camping plans?"  Over sixty readers responded with their routes, destinations, and overall truck camping vision for 2015.  Get a pen and paper ready, and prepare to be inspired.
"So far, we are planning many one and two night trips to Maine, Cape Cod, New Hampshire, and the coastal towns of Connecticut and Rhode Island.  We need to keep the trips short due to my work schedule and the fact we will be traveling with three dogs." – Daniel Lowney, 2004 Dodge Ram 2500, 2004 S&S Ponderosa
"Now that our rig is setup with larger battery banks, solar panels, and additional storage – front hitch rack and roof storage pod – there's no reason to hang out in RV parks.  This is especially true with campground rates averaging $40 and $50 dollars a night.  Some parks now approach $70 a night.  This season we are focusing on boondocking with minimal stops at campgrounds (mainly to empty tanks and fill other tanks).
We have an early spring boondocking trip working our way through Gettysburg and Hershey to Skyline Drive along Shenandoah National Park.  Later in July, we are going to boondock our way to and on Price Edward Island." – Michael Lallier, 2011 Ford F350, 2013 Arctic Fox 996
"Well, funny you ask!  We are getting ready to hit the beach of South Texas.  Our plan is to stay out until the end of April, when I fly home to visit with my family and friends.
Our dog is turning fourteen, and she can't travel as much as we will like.  Nevertheless, she has slept in each province of Canada and almost every state of the United States, including Alaska, but not Hawaii.  We are giving her a break and giving her freedom on the beach.  Thank you guys.  Hope to see you soon." – Charlee, Jake, and Sylvie Mathis, 1994 Dodge Ram 2500, 2003 Northern Lite 9'6"Q
"I will be going to Bass Fishing Tournaments with my camper and bass boat.  All totaled, six to seven trips.  Also, there will be a trip to South Padre Island on the beach.  I will go on other trips with the wife, grandson, and Lab this summer.  I'm undecided on the locations at this time." – Jerry Dolezal, 2008 Chevy 2500, 2006 Lance 881
"I am planning our annual trip from Tucson, Arizona to Moab and Green River, Utah in May to go four-wheeling for a couple of weeks." – Erwin Greven, 2002 Chevrolet Silverado 2500HD, 2002 Lance 921
"I'm sitting in the truck camper as I write this.  We are on a two-week trip to Arizona to participate in four skeet tournaments.  The rest of the year has been roughed in and will include at least four more out-of-state trips to more shoots, and one trip to St George, Utah for the Senior Games in October.
Fishing trips planned so far include six trips of four to six days each; all in-state.  There may be a trip back to Michigan for a Class Reunion (55 years) but I haven't gotten any dates for that yet.  I think it's going to be a busy year for us." – Robert Hicks, 2010 Chevrolet 2500HD, 2011 Lance 992
"After spending two months driving to and in Alaska last year, this year we'll spend lots of time touring the Dakotas, Minnesota, Wisconsin, and even Iowa.  We'll go on more local and shorter trips." – Phil Tron, 2009 Chevy 3500, 2012 Lance 1050
"I'm not sure we'll ever get the camper dug out of this snow.  We haven't had time to think about there even being a season!" – Jim and Patti Duarte, 2015 Ford F350, 2013 Eagle Cap 850
"From home in Calgary, Alberta, we're planning to go, somewhere!  We were actually trying to figure it out last night but couldn't decide.  Perhaps the Okanagan, perhaps Montana, perhaps Vancouver, British Columbia, or interior British Columbia.  Or maybe we'll stay a little closer to home and spend some time in Banff, Kananaskis, or Waterton. There will hopefully be quite a few short, weekend-length trips, not always on the weekend.  It's the bigger vacation that we haven't figured out quite yet." – Melissa Malejko, 2003 Chevy Silverado, 1981 Okanagan
"We are going to shake down the new truck on a couple of short trips in Washington at the end of March and another in June.  Then we are headed to Wallowa Lake, Oregon for a big family reunion in July.  The big trip of the year will be from late July through the middle of September when we head to Fairbanks, Alaska, our former home, to visit the grandkids." – Robert and Janice Spencer, 2015 Chevy Silverado 3500HD, 2003 Lance 915
"Our first trip will be to pick up our camper.  That happens tomorrow at Hallmark.  Then we camp our way home to northern Arizona.  After that, it's go somewhere once a month.  Pretty vague so far, I know, but being newbies…." – Mike Cash, 2014 Ram 2500, Hallmark K2
"Originally, I was planning to explore the Midwest and then head down to Los Angeles to visit friends.  However, given that the Canadian dollar has dropped to just $.80 to the American dollar, I have decided to wait a year or two for that trip.  Instead, I will travel to my favorite province – Newfoundland and Labrador – while working to fulfill my five-year travel goal to ride every single ferry in Canada.
There are quite a number of ferries between small remote communities throughout the Canadian Maritimes and it's my intention to spend this coming summer riding as many as possible in a six week trip.  I love traveling two lane roads and staying in small communities.  I will also head back into Northern Ontario and Quebec on shorter trips to continue to explore my family roots." – Michele McLeod, 2013 F150 HD, 2002 Northstar TC800
"We just got our new-to-us truck and camper.  It is an extended cab, three-quarter ton pickup with a hard-side non-slide camper.
After de-winterizing the camper and shaking down all the systems, we'll be traveling from Denver to Arkansas for my daughter's college graduation in May.  We'll probably camp in Eureka Springs, which is a quaint little town in the Ozarks.
Next up is a trip to the Pacific Northwest in the summer.  We'll visit Crater Lake and the Oregon coast before heading to Portland and Seattle to visit relatives.  Can't wait!" – Steve Hiss, 2004 GMC Sierra 2500HD, 1999 Lance Lite 835
"I hope to start in a few weeks with a trout fishing trip to Arkansas to evaluate some of our new Trout Magnet lures for fly fishing.  This trip will last only for a short period.  Note: I never put a time period on my trips since I am retired.
We are planning on leaving around the first of June with our two teenage granddaughters to visit the places we worked with in Moore, Oklahoma and see how they are doing.  Then we plan on heading west where we eventually hope to visit the Grand Canyon with the girls.  If we have time, we will visit some other places in Arizona before putting the girls on a plane to return home.
After the girls are gone, we will get up each morning and decide which way to go that day.  I am hoping that some of those days will include a trout stream where I can let folks know about our trout lures.  This could all change if there are disasters that will need us.  But I pray that 2015 will be as quiet as 2014 was." – Ed Krech, 2006 Dodge 3500, 2011 Northern Lite 8-11
"Spring will find us traveling around the Olympics in Washington, then to the Willamette Valley, Oregon to end up in La Grande, Oregon for the Northwood Owners Association Rally.  In August we'll head towards Williamsburg, Virginia for the East Coast Northwood Owners Association Rally, followed by a visit to the upper east area.  We should be able to return to northeast Oregon in time for Elk Camp." – Bob Nelson, 2015 GMC Sierra 3500, 2013 Arctic Fox 1140
"Our big trip to the East Coast starts next Sunday, March 8th.  More or less, we'll take Highway 40 to Tennessee, and turn north to Baltimore.  Our daughter is presenting her Phd thesis.  After our Baltimore visit, we'll go south to Key West, and cross that off the bucket list.  Returning across I-10, we'll turn northwest at Houston, and go up to Utah and return to California.  We'll be back in time for the Four Wheel Camper Rally in Napa Valley.  Later in the summer, we'll go to Glacier National Park.  It's going to be a good year." – Bill Harr, 2005 Toyota Tundra, 2013 Four Wheel Camper Hawk
"We will be leaving our home in Blairsville, Georgia in July with our Jeep Wrangler Unlimited in tow for the San Juan Mountains in southwestern Colorado.  We will be visiting Durango, Silverton, Telluride, Ridgeway, and Ouray.  We will be camping in Ouray for two months to enjoy the Hot Springs, and the world class Jeep/off-road trails. The many beautiful trails include: Imogene Pass, Engineer Pass, Black Bear and more. These scenic trails are many places that are unbelievably beautiful and will not be seen by those who do not own a four-wheel drive vehicle.  A recent article in Truck Camper Magazine showcased a Dodge pickup, 4X4 with a camper enjoying many of these trails. Just spectacular!" – Warne Todd, 2000 Ford F250, 2005 Lance 981
"We're going to Disney World for our 25th wedding anniversary and staying at Fort Wilderness.  Then we'll be off to Fort Desoto campground by Saint Pete for another week of fun in the sun and kayaking!
We are gearing up to retire spring of 2016 when we'll leave the mountains of western North Carolina and head up the East Coast into Canada and head across to Alaska.  Guess we'll head home sometime after that – maybe!" – Laurie Brokaw, 2006 Ford F250, 2010 Lance 850
"There are several plans this year, but the one we are really looking forward to is going to the Kentucky Derby in May.  It should be a three or four week trip, with five days at the derby.  It is a long trip to take for two minutes of racing, but the celebration that goes on with it should be a lot of fun.
Some side trips this year will be to the Oregon coast for crab fishing, and McCall, Idaho for the 4th of July celebration.  We have already spent the months of January and February in Lake Havasu, Arizona for a little winter warmth.  And then there are the usual hunting trips in Idaho in the fall." – David Donovan, 2007 Chevy 3500, 2012 Chalet TS116
"I'll be doing ten to twelve race weekends with my Boxster race car at venues such as Laguna Seca, Sonoma, and Thunderhill Raceways.  I plan to do a ten day fly fishing trip with a friend to Montana.  My wife and I are considering an East Coast fall color trip as we did about forty years ago!" – Chuck Krause, 2011 Ford F250, Adventurer 89FB
"We don't usually make plans.  Our truck camping trips start at the end of the street with a simple question, "Left or right?"  The wife picks a starting direction and off we go to discover something new." – Bill Gage, 2003 Ram 2500, 2007 Northstar TC650
"Since we live in Maine, our first trip will probably be in April to Acadia National Park and Blackwood's Campground.  It's a two hour trip for us from Jefferson, Maine.  Acadia is really wonderful and there is easy access to the ocean.
Our second trip is already reserved with a group of camping friends at Cathedral Pines campground in Eustice, Maine over Memorial weekend time.  It's a wonderful campground with nicely separated sites and facilities.  It sits on the shore of the Dead River, which feeds Flagstaff Lake.  If conditions allow, we will go early and boondock on Flagstaff Lake for at least one night.
Our favored style of camping is off-the-grid as much as we can, and we do find many opportunities here in Maine.  If we were able, we would love to go to Newfoundland again as well as Labrador where we have not been.  The wonderful stories on TCM really get us wanting to go, for sure.  A big problem for many of us this year is, will the snow melt enough to get our rigs out?" – Jim and Genie Dailey, 2005 Dodge Ram 2500HD, 1997 Shadow Cruiser
"To answer the easy 'why' question is – pick one: 1. never been there, or 2. been there, and want to go back.  I like quiet, solitude and peaceful reflections with my favorite adult beverage, feeling like I am the last person on Earth.  I tend to look for places less visited by my fellow BDBs (boondocking buddies).  I tend to use interstate roads but, once I cross the Mississippi River, I earnestly start looking for the old U.S. routes, state, county and dirt roads – the roads less traveled.
My first major stop will be in the Black Hills of South Dakota, specifically boondocking south of Wall, just outside Badlands Park, on route 240.  Then I'll go cross country to French Creek Campground in Buffalo Gap National Grasslands through the southern half of Black Hills National Forest into Wyoming and the Thunder Basin National Grasslands for more boondocking along route 450.  West of Buffalo Wyoming is Bighorn National Forest.  I will cross it on U.S.16 in the south and then re-enter in the north and make a loop on U.S.14 and 14A.
I will take U.S. 310 northward to U.S.212 and head south on the Beartooth National Scenic Highway into Yellowstone National Park.  We then go east on U.S. 26 to an intersection just before Dubois.  We will take forestry and township roads (240, 263 and 352) cross Bridger Teton National Forest to U.S. 189 north.  After a short visit to the Granite Creek hot springs, we will boondock in Bridger Teton National Forest overlooking the town of Jackson and the Teton Mountains, and head into Idaho on U.S. 26.
We'll travel north of Arco on U.S. 93 to an unnamed road and cross the mountains to Sun Valley/Ketchum to visit friends.  Then, we'll travel through Sawtooth National Forest to Stanley, west on 21 to Hells Canyon and get a jet boat ride.  From there, I'll go north on U.S. 95, then 12 and State 11 to Headquarters and through Clearwater National Forest and into Montana at Superior on I-90.
We want to see northwestern Montana and the Kootenai National Forest using gravel forestry roads before skirting Glacier to the south (a later trip) and, by way of Flathead, Lewis and Clark, Gallatin and Custer National Forests, we will start to head home.  Total trip time, three months, give or take a week or three.
If, by chance, you are interested in more information, I should be at campsite #31 at the 2015 Mid-Atlantic Truck Camper Rally." – Jesse Taylor, 2006 GMC 2500HD, 2005 Lance 815
"Well, my wife retires on March 31st.  We will finally be able to take longer trips without a serous time restriction!  We'll be leaving northern California for Washington state, and then head east through northern Idaho, Montana, South Dakota and Mount Rushmore.
Then we'll be heading home from there through Wyoming, Utah, Nevada, and back to California.  We will try and take our time, as we won't have work schedules anymore. Mind you, I said try to take our time.  This retirement will take some getting used to!" – Mike Kolinski, 2012 GMC 2500HD, 2012 FWC Hawk
"Our big trip this year is to Moab, Utah for the Easter Jeep Safari.  It is March 28th to April 5th.  This will be the 49th year the Red Rock Four-Wheelers have hosted this event.  We will pull our Jeep, on our trailer, to Moab.
We are stopping in Pleasant Grove, Utah to spend time with our grandkids, on our way down from Eastern Washington.  We are staying at the Slickrock Campgrounds in Moab.  We will be traveling southeast from Washington on I-82 and I-84 then on 6/191 in southeast Utah.  We are excited to make this trip.  It's one of our bucket list trips." – Bruce Moses, 2006 Chevy 3500, 2008 Lance 1191
"Now retired, my house will soon be on the market, sending me off as a forever wanderer.  Starting in California, with no particular route, the destination will be Florida, by way of America's South.  Whether or not I make it that far, I don't know.  My truck and camper will go into storage after about six months while I take off to roam around Southeast Asia.  My future is alternating six-month adventures around North and Central America by camper and the rest of the world with a backpack.
One of my main projects when traveling through the United States is to talk with locals, young and old, to understand why people think the way they think.  I don't plan on changing anyone's ideologies, I just want to convey that we are all Americans, and we are all better off if we can learn to live with each other and get along." – Steve Cordis, 2000 Ford F250, 1996 Weekender 1010
"We started 2015 camping the Pacific Coast from Port Townsend to San Francisco.  We then worked our way back toward Pennsylvania traveling the southern deserts and a bit of the Gulf Coast before heading back north to the cold and snow.  We stayed in many very nice federal and state parks.  We plan on finishing 2015 in the Florida Keys parked in one spot." – Robert and Pat Adams, 2011 Chevy 3500, 2013 Lance 1191
"We will be taking the camper on the ferry to Homer, Alaska, then on up the Kenai Peninsula to Anchorage for a work conference, then we'll go back to the Rock of Kodiak.  We plan to do some weekend camping this spring and summer as weather cooperates.
We are also seeing if funds will allow a second trip off the island at the end of summer before school.  We'll see how things go.  If we do that trip, we will try to get all the way up to Fairbanks, Delta Junction, Tok, and maybe even Chicken!" – Garry Kernan, 2002 Ford F350, 1966 Avion C10
"June 20th through the 30th, we'll go to Big Bend National Park, introducing the grandkids to the park.  The route is to be determined.  At the end of August, and first part of September, I'll travel to southwestern United States because I can.  Route to be determined." – John Walicek, 2014 Ram 3500, 2009 Lance 815
"Since we just got our new to us truck camper, we are really excited about this year.  I have been out there almost every day doing some little things to get it ready.  Our maiden voyage is planned for mid-April.
We have an awesome little campground just ten miles away called Arrowhead Point.  It would be a great stop over for anyone traveling through western Missouri.  It's on US 54 Highway about 50 miles from the Kansas line.  Bill and Ann Carpenter are the owners and they are great people.  You can't see much from the highway but, when you drive over the hill, you see a little oasis in the woods.  It's a nice well taken care of place with clean bathrooms and two nice buildings for laundry, get togethers, etc.  I highly recommend it for a stop over.
In May, we are headed down to Arkansas for a nice four or five day trip.  They have some awesome state parks in Arkansas.  We are going to head to Mount Magazine State Park first.  It's only four hours away.  Then we'll head to Petit Jean State Park, and finally to Crater of Diamonds State Park to dig for some diamonds.  We are just going to fly by the seat of our pants and see what happens on this trip.
In July, we have a two week vacation planned and we want to go somewhere it's cool in the evenings, but nice in the day time.  It will probably be Colorado, but a final decision hasn't been made on the location.  We also want to get back in time to attend the Midwest Truck Camper and Friends Rally in Eureka Springs, Arkansas if possible.  It's only a few hours away from our house.
Finally, we plan on doing something in September or October for our final trip of the year.  We will probably be gone for a week or so.  No destination is set yet.
Then back to work, and preparing for 2016!  The winter will be filled with mods and new items for our truck camper life!  We are pumped to get started!" – Mitch and Tonya Bush, 2009 Chevrolet 2500, 2001 Lance 820
"We will be leaving the frozen tundra of Cape Cod in April, even if we have to blast our new camper free from its frozen prison.  This will be our maiden voyage with our new camper.
Our final destination is Fort Wilderness Campground in Disney for twelve days.  We went last year same time with our Eagle Cap, but the New Seven Dwarfs coaster wasn't finished and we are also looking forward to the all-new Word of Harry Potter at Universal Studios.  After twelve days at Disney, we will head to the Pan Handle to stay at our favorite campground on the beach, Camp Gulf in Destin, Florida.
Weather permitting, we will take the inland route on 81.  The first night of travel we are going to stay at the KOA in Jonesboro, Pennsylvania near the intersection of 78/81. Night two we hope to find space at the Pooler, Georgia Camping World off 95.  Then finish up at Disney the third morning for check in at 11.
On our travels home, we plan on going to Pooler, Georgia again for night one.  Night two we will stay at a gem of a campground we found last year, Misty Mountain Campground on Walton's Mountain, which is right off Rt 64 just prior to 81.  The third day we will stay on the road until we get home.
For our other big trip of the year, so far, will be Papoose Pond Campground in Maine for the fairs over Columbus Day weekend.
We are officially on the thirty day countdown to shove off.  Screw you Old Man Winter!  You can never break us!  Can't say the same for three snow shovels though." – Keith Lincoln, 2012 GMC 3500, 2015 Host Mammoth
"I'm headed to Alaska from Florida.  I may go through Alabama, depending on the traffic, and will wind up in Sweet Grass, Montana to do the rest of the 2,000 miles to North Pole, Alaska.  The biggest problem I will have is getting my pet pigeon through customs. There is not enough room to explain the insanity on the paper work.
The other inconvenience is carrying a weapon through the border.  Now you need to get the paperwork from Canada prior to entering the border.  Have a great summer." – Jerry Tapscott, 2014 Chevy Silverado 1500, 2014 Lance 825
"Well, we've executed our big plan for the year already.  It started December 31st.  We left home and went to Seattle for New Year's fireworks at the Space Needle.  From there we started our adventure to the east; destination Key West, Florida.  Our first stop was the Great Salt Lake in Utah.  It was bitter cold at 8 degrees Fahrenheit.  We were snug as a bug in July in the big Lance.
From there we headed to Moab for some adventure in Arches and Canyonlands National Parks.  After a couple days of solo adventure, we were off to Vail, Colorado for some skiing and snowboarding.  Upon arrival, Stephanie was not feeling it, so we headed east across the mountains on US 24 across the mountains in search of Bigfoot. We didn't find him (or her) but found snowmobiling at Nova Guides just east of Vail. What a great group of folks, friendly and helpful!  After a wonderful stop in Leadville, Colorado at Quincy's for dinner, back on the road east bound.
Next stop was Capulin Volcano National Monument in New Mexico; a dead cinder cone volcano open all year with a drive to the top and a look inside.  It's a nice park!  Next stop was Mammoth Cave National Park in Kentucky.  We got there late and caught the last tour of the day.  What a beautiful place.
We stopped in Locust Grove, Georgia to visit family for five days then off again to the Atlantic coast and the city of Savahana, Georgia.  The Spanish Moss and old town charm woo'ed us as we traversed through.  Heading to Jacksonville, Florida, to A1A for a leisurely trip down the eastern seaboard, we stopped at Saint Augustine, Florida for some touring and tasting the flavors of Florida.  Next stop was Daytona Beach, Florida and all the grander of this popular spot.  From there we headed to Orlando and to Disney World for four days of fun and more fun.
After our Disney experience (my first time there WOO HOO!), we set off to Cape Canaveral and the John F. Kennedy Space Center (great experience) and then continued on A1A; destination Miami Beach.  Progress on the A1A was slower than we anticipated, so we jumped over to I-95 and the Florida Turnpike and headed to Key West!  We made it to the Sugarloaf Key KOA and spent two wonderful days exploring Key West and the sun and fresh almost-tropical breezes there.
Leaving Sugarloaf, our next destination was the Everglades and an airboat ride across it.  We stopped at the Everglades Safari Park and hooked up with the last tour of the day.  There were just eight of us tourists on the boat, and the captain gave us the treatment!  After we returned, we got a private tour from one of the handlers with a bonus opportunity to handle one of the baby alligators.  From there, off we went to our next destination, Crystal River, Florida, to kayak with the manatees.
We set off in our kayaks to Three Sisters Springs where there was a large gathering of the manatees.  So large in fact that the area was roped off to give the population peace and quiet from the visitors.  Such gentle and peaceful beasts.  After our four hour time was up, we headed off to Panama City and I-10 for New Orleans, Louisiana.  We were a little early for Mardi Gras, but we drove through French Quarter for a look.  Peaceful at it seemed at the time, we knew a party was brewing.
From New Orleans, it was off across Texas to New Mexico and Carlsbad Caverns National Park.  875 feet into the belly of the earth lays one of the most decorated cavern systems in the world; definitely a sight to be seen by all adventurers.  From there we went on to Roswell, New Mexico to watch the Super Bowl with all the other aliens. Although our team didn't win, it was a good game and a relaxing time at Applebee's in good company.
From Roswell, it was on to the Grand Canyon National Park, another beauty of a place with spectacular scenery and serenity.  Breakfast on the canyon rim in our Lance was marvelous and unique with a great view from the dining window!
Next stop was Las Vegas, Nevada, and a birthday celebration for Stephanie.  Three nights there cured our nightlife desire and off we went again for Lake Tahoe and the Sierra Mountains.  Once in South Lake Tahoe, we got word of a big storm brewing with high winds and lots of snow in the mountains.  We headed up highway 89 toward Truckee and adventure.  No snow developed by the time we got to Truckee, but the winds and rain came with a vengeance.  All settled in for the night, we relaxed inside with a great dinner and entertainment.
The following day we headed across Donner Pass and on to Napa, California.  Driving through the vineyards and countryside was sure a pretty sight.  It was refreshing to see so much foliage starting to pop for an early Spring. We stayed at China Camp State Park on our way to San Francisco to celebrate my birthday.  What a great city and friendly bunch of people.  On our way out of the city, we stopped and walked the Golden Gate Bridge; majestic and exciting with so much vehicle and marine traffic to distract you.
We drove up the California Highway 1, up the Pacific shores to US 101; a beautiful but busy highway.  Not too many straight stretches on that road.  Those boys and girls in the fifth wheel and Class A motor coaches wouldn't fair well on this highway.  The winding twists and turns are just suited for us truck campers!  From 101 we came through the Redwoods and on to the Oregon and Washington coast via US 101.  We jumped on I-5 in Olympia and headed to the house for an uneventful arrival.
We were on the road for six weeks and three days.  While all the rest of the country seemed socked in by the weather, our trip was met with only one day of rain and no snow or ice.  We were prepared for it all, but all we saw was single digit temperatures and some gusty winds.  The Lance/Dodge combo was wonderful.  Big enough for the two of us to be exceptionally comfortable on and off the road, yet small enough to go anywhere and see everything we wanted.
I love my Lance and the wide open road!  Happy Trails!" – Bud Betz, 2005 Dodge 3500 Extended Cab Dually, 2006 Lance 1191
"Technically, I'm not an owner yet but baring Force Majeure – a chance occurrence – I will be next week.  Obviously, I will pick up the truck and camper, get the truck mods done, and practice truck camping.  I've never camped, LOL.  I don't have any wives, pets, or kids.  I'm hoping the Four Wheel Camper will be sufficient, and maneuverable.
The plan is to launch at Overland Expo 2015 West and go North.  I'm finishing up an article on the decision criteria for my truck camper build.  I will also write an article on my 2015 trip.  I do landscape and night photography and will branch-out to time-lapse video, aerial, and long exposure daylight photography.  Hopefully you'll see a photo for the TCM 2016 calendar.
The planed stops are Overland Expo, Mormon Lake, Arizona, Marble Canyon/Vermilion Cliffs area, and Sublime point – North Rim Grand Canyon.  In Utah, Goosenecks State Park and Muley point.  Then, who knows; just go north.  I've been all over the USA, Canada, and a little in Mexico.  We have some of the prettiest areas right here in the United States.  Let's start there!" – Mitch Johnson, 2015 Toyota Tacoma, 2015 Four Wheel Camper Fleet SC Pop-Up
"This will be my 10th year to travel in my truck camper for about six months.  I will take off in early May.  I've been in every Western state (eleven in total), so far.  I might try to hit every one again this year.  Or, the Dakotas have been on my radar for the last couple of years, so I might visit them. I usually do 9K to 10K miles a year.
This year will get me to 100,000 total camper miles, or close to it.  Hopefully, my nearly trouble free travels will continue for this year.  My website, RamblinRalph.com, will tell you exactly where I ended up going.  Honk if you see my Ramblin' Ralph bumper sticker!" – Ralph Goff aka Ramblin' Ralph, 2006 GMC 2500HD, 2001 Lance 845
"Since gas prices are lower, I plan on taking a few more trips to the Smokies, and maybe to the coast of North Carolina or South Carolina.  I also want to try to make the Mid Atlantic Truck Camper rally in April.  I have a couple of years until retirement and then I'll have more time." – Jeff Hagberg, 2002 Ford F250, 2006 Travel Lite 800 SBX
"I'm going to the NRA Whittington Center near Raton, New Mexico in June.  Then I'll go on to Reno to visit my son.  I will pick up US 50 in southern Utah and take it to Reno since  I have never been that way.  I will come back down 395 through the Sierras, through Death Valley, Las Vegas, and back to Tucson." – Tom Waters, 2003 Dodge 2500, 2014 Four Wheel Camper Grandby Shell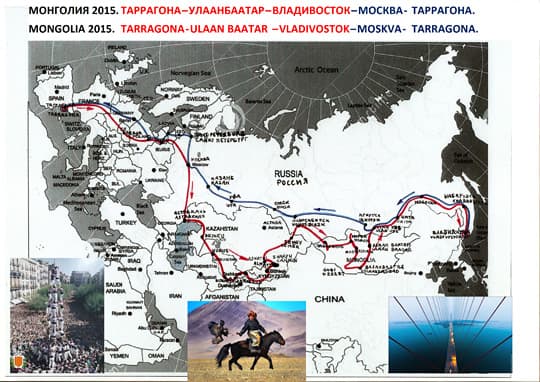 "2015 is our adventure year.  My wife and I said, "Let's make it to Mongolia in 2015".  From Tarragona (Catalonia – Spain) we'll go to Ulaan Baator (Mongolia) and Vladivostok (Russian Federation), and back via Moscow, Tarragona.  We will make a part of the Silk Road, visiting also, Kazakhstan (Sharyn Canyon, Almaty), Uzbekistan (Nukus, Bukhara, Samarqand) and Kyrgyzstan (Bishkek, Karakol). The total will be 36,500 kilometers in 130 days." – Frederic Amorós, 2011 Toyota 2011 Fixe Cell PSI – Azalaï
"We're starting off our 2015 year with a trip to Lake Fork, Texas to enjoy a stay at Pope's Landing Marina with a guided fishing experience on the lake.  To be fair, this is our first outing in our recently purchased truck camper.  We're making our lists and checking them twice, oops wrong season." – Scott and Stephenie Vallie, 2008 Dodge 2500, 2005 Sun Lite
"We started with a mid-February trip to Panama City Beach, Saint George Island, Navarre, and Mexico Beach, Florida.  Late February found us in Savannah, Georgia, and Hilton Head, South Carolina.  Next is the Mid-Atlantic Truck Camper Rally in Virginia in April, followed by our big trip of the year from Bethlehem, Georgia to Crater Lake in Oregon!
Since our first attempt at Crater Lake in 2001, we have been thwarted by bad weather twice.  Maybe the third time will be the charm!  This destination has been on Terri's bucket list her whole life, so we are determined to eventually get there!
Following our usual summer outings to state parks around Georgia, we will camp in the infield at the Darlington, South Carolina speedway Labor Day weekend. I cannot wait for that one!  Who knows what the fall season will bring?" – Roy Parker, 2012 Ram 3500, 2013 Lance 1172
"We plan on camping all year.  We plan to leave Texas the third week of March and work our way to Michigan and the Upper Peninsula to visit family by the 1st of April.  Next we leave Michigan around the end of April and take two weeks to travel to Billings, Montana to visit family.
Then we will head north to Glacier National Park, and then continue north to Canada.  We are hoping to cross into Canada by the first week of June.  We plan on taking two to three weeks working our way through Canada.
From Canada we head to Anchorage, Alaska to visit family.  We hope to be in Alaska from July to mid-August. We'll leave Alaska and return through Canada taking a completely different route to Washington.  We would like to spend September through December traveling from Washington to Oregon to Arizona and winter in Arizona." – Glenn and Caite Blount, 2012 Ford F350, 2004 Lance 1010
"My spring trip is to San Antonio, Texas – never been there – and then up to Hot Springs, Arkansas to visit my wife's cousin.  Then we'll go to Kansas City, Missouri to visit my cousin, then home to the central coast of California visiting the National Parks in Utah.
My fall trip plan is up through Idaho, Yellowstone, the Rockies, and hopefully home via Banff, Lake Louise, Vancouver and back down the Pacific Coast through Vancouver Island.  I tried to make most of this trip last fall, but the weather closed in earlier than expected." – Joe Sesto, 2015 Silverado 3500, 2015 Bigfoot C 2500 10.6E
"This year I'll travel to Vermont – Grand Isle, Smugglers Notch, and Branbury State Parks – and then to Cooperstown, New York for the Major League Baseball Hall-of-Fame, and Niagara Falls, Ontario, Canada." – John Dorrer, 2013 Ford F-250, 2014 Four Wheel Camper Grandby
"We are headed to Glacier National Park and north in to the Canadian Rockies.  We are planning to head north from Omaha head to Roosevelt National Park and come back through Yellowstone and the Tetons.  We hope to have ten to twelve days, but it's always time and money." – Matt Wiegand, 2014 Ford F150, 2013 Palomino Bronco B1225
"A cross country trip is planned.  There are no plans to camp anywhere special.  That is the nice thing about the camper.  I can go where the truck takes me, and camp there.
I am leaving Granby, Massachusetts late in June.  My first stop will be Niagara Falls, then Hartford, Michigan, and on to Sun Prairie, Wisconsin to visit a cousin I have not seen in 53 years.
From there, I plan to go to White Shield, North Dakota for a 4th of July celebration with some Native American friends.  Once there, I will consider getting the Alcan Highway and head towards Alaska.
I am in no hurry to come back.  My return date will be determined by running out of money, or clean clothes.
I look forward to meeting and visiting with other campers along the way.  There's lots to see and do.  I want to see all I can and do what I can, when I want.  So much to see and do along the way.  And I will finally have time.  Thirty-five days left to retirement." – George Randall, 2012 Ford F-350, 2000 Lance 915
"Excited to do a Roadside America Road Trip from Colorado to Minnesota and back.  I am also hoping to get to Glacier National Park." – Alex Golebiewski, 2006 Ford F-350, 2005 Lance 1030
"I'm going to Nacogdoches, Texas, Galveston Island State Park, Kerrville, Texas, Fredericksburg, Texas, Big Bend National Park, Marfa, Texas, Terlingua, Texas, Balanger, Texas, Dallas, Texas, and then back home to Indiana." – John Dorrer, 2013 Ford F-250, 2014 Four Wheel Camper Grandby
"We have lots of plans, and only some are firmed up at this point.  Our first trip of the year will be in about two weeks when we'll head south to visit the Methow Valley and Yakima Valley for friends and steelhead.  Then we will loop back up to the Okanagan via Vancouver to see family.  Throughout the rest of the year we'll do more trips to various lakes for flyfishing in the British Columbia Interior." – Ken and Wendy Woodward, 2012 Ford F150, 1994 Trav-L-Mate 8'
"My retired friends and I use our campers and motorhomes as base camps – usually boondocking – for our ATV outings.  We like to plan our trips from Monday to Friday.  Weekends are too busy.  We will camp out at least one week per month from May to November." – DK McColl, 2013 Ram 1500, 2010 Travel Lite 690 modified to fit truck
"In April, I'll go to Virginia's Eastern Shore to meet up with the bunch.  In July, I'll go to Minnesota for the National Senior Games.  It's not firmed up yet." – George Hughes, 1999 Ford F350, 2004 Arctic Fox 940
"We have two old Jeep runs planned for this summer – one in June out of Whitewood, South Dakota – the other in September out of Buena Vista, Colorado.  These are week long gatherings of old Jeeps from the 1940s, 1950s, and 1960s.  We take our 1964 CJ5 on a trailer.  The week is full of trail rides, suppers, and Jeep talk.  Not long trips, but lots of fun." – Tom Ralls, 2005 GMC Sierra, 1994 Shadow Cruiser 800
"We're hoping to do Yellowstone this year, but scheduling may not allow it.  We will definitely do most or all of the Virginia Tech home football games!  This is the best way to tailgate!" – Wade and Becky Johnson, 2004 Ford F-350, 2003 Lance 1130
"We just got home from a trip to Patrick's Point State Park.  We camped for four days with two other couples.  The sun was shining and the beach was deserted, except for us.  I had a dinner party and cooked everything in the new camper; asparagus soup, cheese balls, and roasted rainbow arrows and potatoes.  We grilled steak over the camp fire.  I love the sink in this camper.  It handled dishes galore!
This Saturday we will camp in Grant's Pass Oregon to visit a Lance dealership because we have a leak in the grey water line.  Next Wednesday we leave for Angel's Camp for our BCHC Rendezvous. We will be pulling the horse trailer for that with a horse and mule inside.
In April, we travel to Tennessee for Columbia Mule days.  On the way we plan to visit the Quarter Horse museum in Amarillo, Texas, and the Western Heritage Museum in Oklahoma City.  We have a family camping trip planned for June at Casini Ranch in Duncan Mills in Sonoma County.  It is seven miles from the ocean, on the Russian River, and absolutely beautiful.
There are no plans yet past June.  Retirement is a glorious thing with a truck camper!" – George and Claudia Lawrence, 2013 Ford F350, 2015 Lance 1052
"Our plans got changed after a buy out of the company where I work.  My vacation time for 2015 is pretty much shot.  That won't stop us from getting out as much as we can but, our plans to attend the national NATCOA rally in Colorado had to be cancelled.
Our new plans are to stay closer to home since I have very little vacation days to use this year.  If it's only thirty miles away, so be it.  The point is to be out enjoying the camper and spending time with family and friends.
That being said, we look forward to the Spring Barrel Wine Tour in Prosser, Washington, the Fall Festival in Sandpoint, Idaho on Labor day weekend, the Fall Colors Rally/Caravan in Winthrop, Washington.  And we have a few other outings scheduled.
One specific trip this month is a trip without the camper.  However, it is to scout out a location for a truck camper rally in 2016.  Now where could that be?  I guess you will have to find out late summer/fall this year when it is announced." – Rich Bain, 1999 Chevy C3500, 2010 Adventurer 810-WS
"We couldn't wait until summer, so our first trip will be in April.  We have reservations at the historic Fort Pickens campground in the Gulf Islands National Seashore, in the Florida panhandle.  We will relax on the beach soaking up some warm Florida sunshine for several days.  Then we'll travel a short distance to Panama City Beach where we will camp and attend the 10th Annual Panama City Parrot Head Club Rendezvous – a three day party on the beach with tropical bands, tropical drinks, and cheeseburgers!  What a way to start our 2015 summer of camping in our truck camper!" – David Miller, 2012 GMC 2500HD, 2012 Travel Lite 890-SBRX
"As I type this, I am in route to Moab.  I left Florida last Saturday and will be riding in the Skinny Tire bicycle event.  It is a four day charity bike ride for cancer.  Each day it starts in Moab and heads out to a different park; Arches, Canyonlands and two other routes in the area.
I rode last year and found it such an inspirational event.  The scenery is breathtaking as is the mountain riding.  The people are fantastic that put on the event.  If you are a bike rider, I would put this on your bucket list as a must do.  I will then stay in the area for about a month and explore the other parks; Zion, Bryce, etc.
I have a summer trip heading up to the Carolinas that is not all planned out yet.  And I have family reunion at Emeral Island that I will be working around." – Keith Callahan, 2014 Ford F350, 2014 Northern Lite 10-2 RD
"I'm retiring from my job May 31, 2015 and we're headed for Alaska the first part of June.  We'll be on the road the entire summer seeing the sights of Alaska, and visiting family and friends across the U.S.A." – Alex Blasingame, 2007 Ford F250, 2002 Lance 815
"Plans!  Wow, we have a lot of plans – and we are excited about all of them.  You asked for them, so here we go.  Not sure if we will get them all in, but we will try.  We have already started off 2015 with a trip to Illinois and Wisconsin in January.  We visited friends and family.
Since we are the Wagon Masters for the Midwest Truck Campers, we are constantly looking for places to check out for potential gathering spots.  We thoroughly check places out online, and through phone calls.  When we narrow places down that might fit our needs, we go check them out in person.  We love doing this and, every time we check out a new campground, we always find an adventure along the way.
We consider this part of our vacation.  These adventures brings us along some beautiful country, and sites to see, plus it can be educational too.  Sometimes we stop and see museums and historical sites along our path.  This is and can be very educational for us and our homeschooled daughter.
In March, we are headed to Minnesota to check out Flying Goose Campground, which could be possible rally or gathering site for the Midwest Truck Campers in the future. We also hope to visit Big Spirit Lake, and camp at Marble Beach near Spirit Lake, Iowa with a buddy of ours that we've meet through the Midwest Truck Campers.
In April, we are hopeful to have a truck camper gathering at Prairie Rose State Park here in Iowa.  Another potential campground that we plan to check out is Lake Rathburn State Park in Iowa.
If you've never caravanned with a group of truck campers,  you're missing out.  We are trying to organize a north, south, east, and west group of truck campers to caravan from their respective regions and slowly verge into Eureka Springs for a rally.  Of course the Midwest Truck Camper Rally is in Arkansas July 13th-17th, 2015.
After the gathering, we plan to rest awhile at Treasure Lake Resort, the site of the Branson gathering.  We've made a lot of friends there, and there is so much to do at the park, and in Branson.  I learned to wood carve there last summer, and there should be a big wood carving fair at the park when we are there.
It's amazing how the counties throughout the midwest offer such wonderful facilities and represent the history of the United States, and the sacrifices of the people to build this great nation of ours.  Life's short, go truck camping." – Doug, Tammie, and Katie Baughman, 2011 Ford F-350, 1994 Lance 990
"We are planning a six-week trip around Lake Huron and Lake Superior.  We will start at Niagara Falls and head north to go along the east coast of Georgian Bay, making several one-night stops at Provincial Parks like Kill Bear and Killarney.
We'll spend a couple of days in Sault Saint Marie watching the ore boats go through the locks.  We plan on taking three or four days going north of Superior to Thunder Bay.  From there we go to the Boundary Waters Canoe Area where we will take a four-day/three-night guided canoe trip.  That has been on our bucket list for many years.
The other highlight of the trip will be three days on Isle Royale, another long time bucket list place.  After Isle Royale we will meet our daughter and her family at Pictured Rocks in Michigan, spend several days there on Mackinac Island and at Sleeping Bear Dunes.  We will end our trip in the Detroit area for Carolyn's 50th High School Class Reunion." – Dave and Carolyn Thalman, 2013 Dodge Ram 2500, 2013 Northstar 850SC
"Having driven to Alaska twice, out West numerous times, new England twice, Father Time is catching up with me.  We plan on staying in Tennessee, hooking the pontoon boat behind the camper, and fishing as many Tennessee lakes as we can.  Tennessee has gorgeous spring weather, great lakes, great fishing, and great campgrounds all at a reasonable price.  Why go anywhere else?" – Kenneth and Evelyn Wright, 2005 Dodge 2500, 2011 Travel Lite 860
"We had amazing trips to the southwest the last two years.  This year we decided to see a different area so we're heading north.  We'll take our four week trip in September beginning with five days in Washington for a family wedding and then off to Jackson Hole and Yellowstone National Park, Wyoming, Mt. Rushmore, Badlands National Park, Custer State Park and Wind Cave National Park, South Dakota on the way home to California we'll stop at Dinosaur National Monument in Utah.  As you can tell our bucket list includes national parks and national monuments.  We love the freedom our truck camper gives us.  We can spend as much time as we like in beautiful areas and it's easy to take unplanned side trips.  Can't wait to see what adventures and amazing sights are in store for us." – Tony and Linda Perez, 2014 Chevy Silverado 2500HD, 2013 Wolf Creek 850