David and Gaye Ruble worked with Phoenix Campers to build a custom flatbed truck camper and integrated flatbed with diesel appliances, a compressor refrigerator and nothing they didn't need or want.  Keep It Simple Stupid.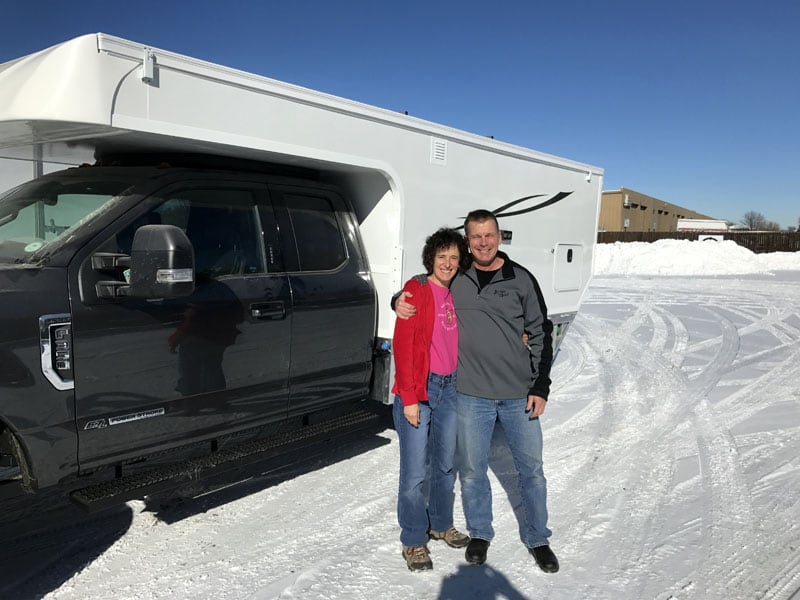 Above: Gaye and David Ruble picking up their camper at Phoenix Campers in Commerce City, Colorado
Put your hands up if you can relate to this. You come home from a truck camping adventure, walk into your house and think, "What are we doing with all this space – and stuff?" You just lived happily in something under 100-square feet with a fraction of the accumulated items in your house – and you were absolutely fine.
Then you succumb to the siren call of endless 110-volt electric, fresh water, residential showers, laundry, dishwashers, internet, television and that dangerously comfortable chair/sofa. Oh that sofa. And the remote finds its way into your hand…
No matter how passionate we are about travel and adventure, we have felt the inescapable power of this seduction. It's the softest landing, and a very real threat to future truck camping adventures. Don't get too comfortable!
While you mentally tie yourself to Odysseus's mast, imagine simplifying your home to the space and things you actually need and use. Every unused room and object is eliminated. Anything complicated gets shaved to the required core.
With a quick switch of Occam's Razor, your life is cut down to only that which gives you the most utility, the most joy, the deepest reward and satisfaction. Everything else is trashed, dumped, donated, Craigslisted, eBayed or passed onto others.
Just thinking about that kind of unbridled freedom can be intoxicating. And terrifying. The best things are always both.
All of the above ran through my mind as I edited David and Gaye Ruble's remarkable story. They started with an incredible truck and camper rig, and discovered it wasn't the best tool for their very specific truck camping requirements. With a firm grasp on what they wanted, they worked with Phoenix Custom Campers to design the exact truck and camper that fit their dreams.
As a team, they developed a rig that would give David and Gaye the most utility, the most joy, the deepest reward and satisfaction. Anything that didn't meet those requirements was cut or simplified to the core.
While the Rubles aren't living full-time on the road, they have fully embraced the, "Keep It Simple Stupid" philosophy to efficient and meaningful living. What follows is the story of two people with a rig designed to give them the unbridled freedom to do exactly what they want to do; explore, eat, sleep and repeat.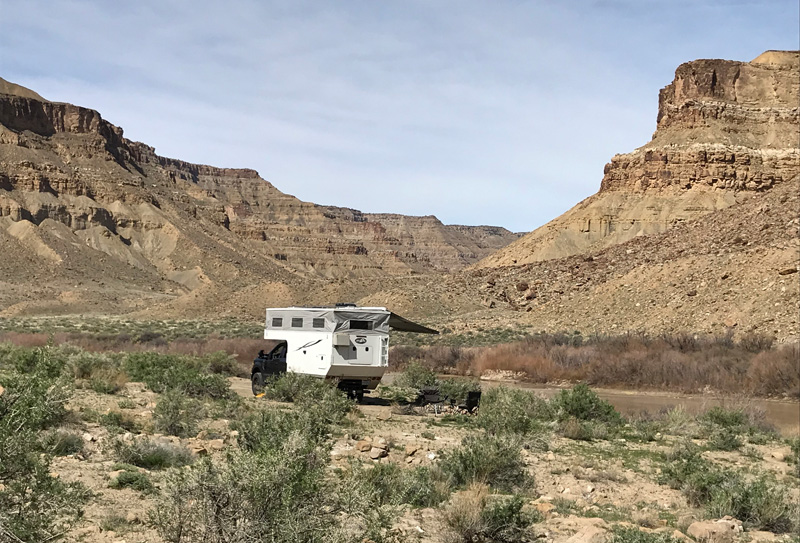 Above: Camping along the Green River in Utah
Tell us the story of how you were introduced to truck campers and camping.
Gaye: We retired about five years ago and started thinking about getting an RV. Until that time, we had always car camped or backpacked. We were both tired of sleeping on the ground and wanted a few more creature comforts.
David: There was an RV show a couple of hours away from home that we thought we would check out. In our minds we thought an Airstream was the most likely RV for us.
Gaye: On the way to the RV show, David said, "Let's stop by Truck Camper Warehouse and take a look at truck campers. I think they will be too small and limited for what you want, but it would be a good place to start." We had a Ford F-150 at the time.
David: I had grown-up with truck campers. My father had built one in the early 1960s. Our family of five camped in it most summers.
When we saw the selection and features of modern campers at Truck Camper Warehouse, we were very impressed. The campers that we liked wouldn't fit on our F-150, so we left scratching our heads and considering our options.
We elected to purchase a F-350 and bought a Northern Lite. We used that rig for a couple of years and liked it a lot, but kept running up against limitations and started thinking about a new rig.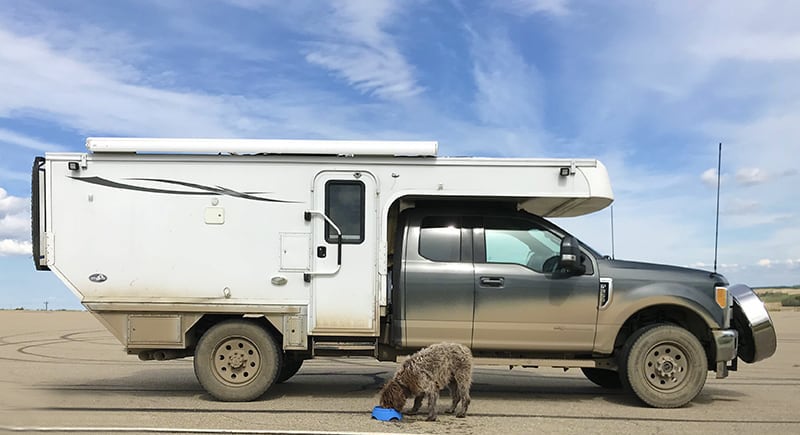 Above: The Phoenix Statement Camper is a side-entry flatbed model
That's interesting because the Northern Lite is often an end-game truck camper for many. What was missing?
David: We enjoy camping during the quieter, shoulder seasons when there are fewer crowds. That often means camping in inclement weather. We also prefer to disperse camp whenever possible. With this type of camping in mind, we developed a list of things that we wanted in a new camper and prioritized those desires.
We were giving serious consideration to a Tiger or EarthRoamer motorhome when we saw the article in Truck Camper Magazine about the Phoenix Statement Camper. Rob and Cari Rowe, Co-Owners of Phoenix Campers, built the Statement as their personal rig. After reading the article, we contacted them and started to design our dream camper.
We were a little nervous about buying something this costly sight unseen. We also weren't sure that we would like a pop-up camper. It seemed a bit tent-like and we were used to a well-insulated hard-side camper. However, Rob and Cari have a great reputation and the TCM article gave us the confidence to move forward.
We started by identifying our criteria and ranking them in order. Most importantly, we wanted the camper to be mounted on a flatbed truck with a low point of entry. Rob said, "We can do that. I'll get back with you on preliminary designs and specifications. Realize that this could take six to eight-months to finalize and build."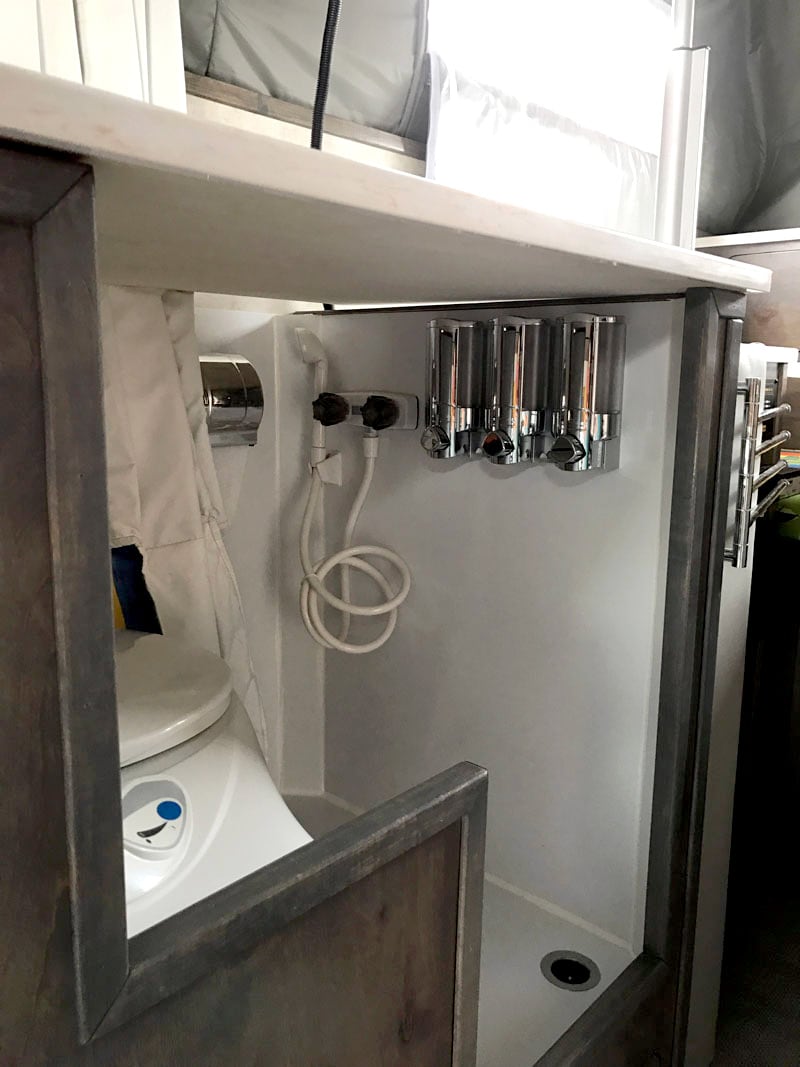 Above: Their pop-up camper has a wet bath with a cassette toilet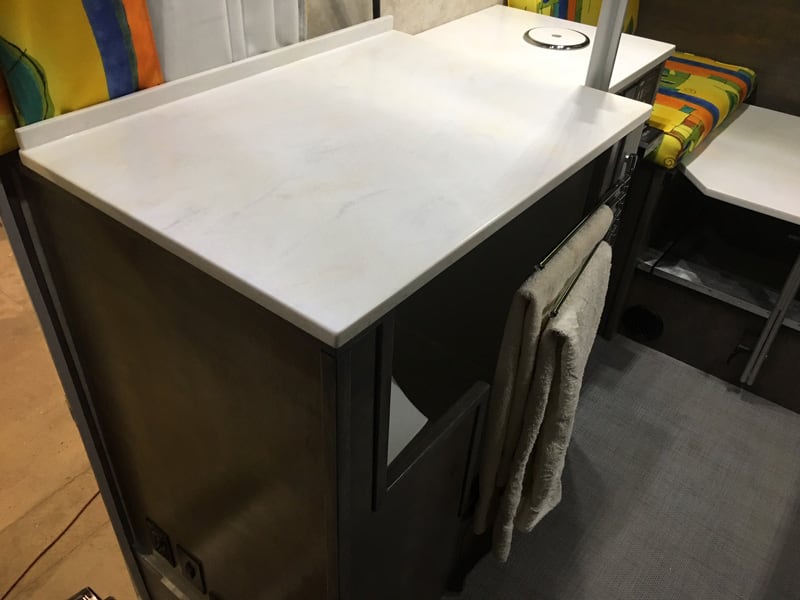 Above: The bathroom is under the countertop when it is closed up
We reviewed the floor plan and specifications that he developed; 75-gallons of fresh water, diesel and electric hot water heaters, diesel cooktop and heater, four on-board 6-volt batteries with an inverter and roof mounted solar panels, a 7-cubic foot refrigerator, a microwave/convection oven, and a wet bath with a cassette toilet.
We ordered a new F-350 chassis body truck to be delivered directly to Phoenix Campers so that Rob could build the flatbed. That would allow the low point of ingress and egress.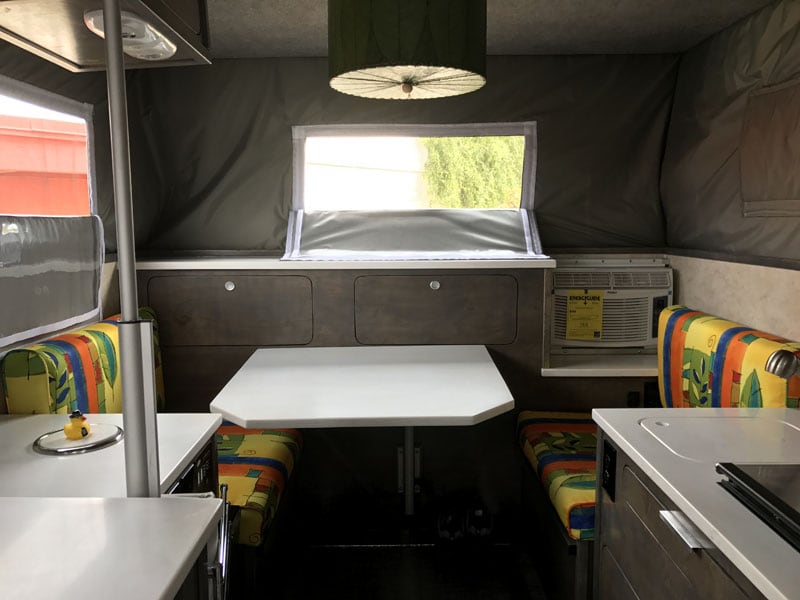 Gaye was super excited to design the aesthetics of the interior. She and Cari worked together to create a bright and airy look and feel to the rig.
Why did you want diesel appliances?
David: I use the KISS principal a lot – Keep It Simple Stupid. For example, if you only have one propane tank, you will run out an inconvenient time. And two propane tanks take up too much space.
To keep it simple, our truck has a large diesel tank and many of our camper's appliances run off of our truck's diesel tank.
Gaye: The cook stove takes a bit of getting used to. It takes longer than it did with propane to get hot and is slower to respond to changes. Unlike a propane burner, it doesn't immediately turn down. There's a learning curve, but I have gotten used to it.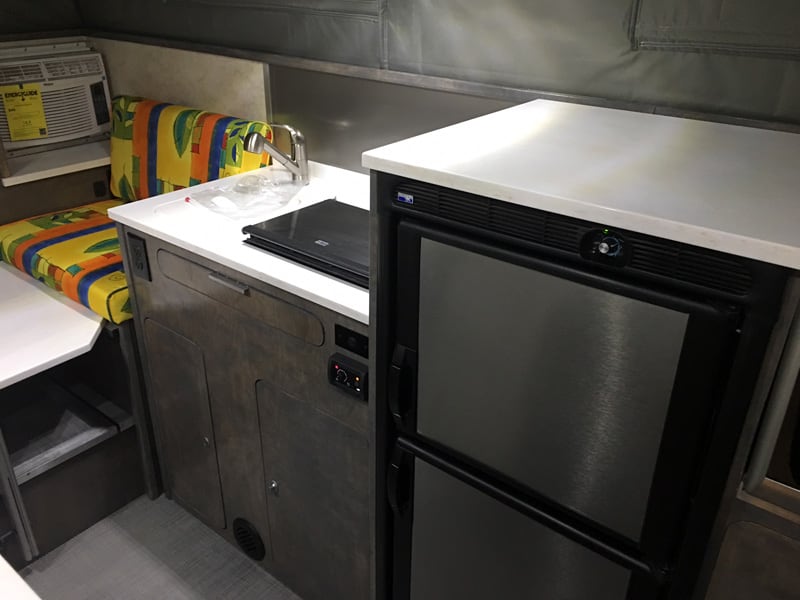 Which appliances are running off diesel?
David: The hot water tank and stove/heater combo unit run off diesel. The Wallas XC Duo is actually a dual-purpose heater and cook stove. When it fires-up you can heat your camper and/or cook. It's really efficient. If it's cold, it keeps the camper toasty. We have used it all night long at zero or below. After two days of running the heater, it barely moved the needle on my truck's fuel gauge.
The Wallas has a lid that lifts up to reveal the single burner ceramic cook-top with a second keep warm surface. When the burner is on and the lid is lowered, a fan blows warm air into the camper.
Gaye: It took us time to learn how to use the Wallas. We picked up the camper in January and headed to Arizona to visit David's sister. We crossed the mountains in northern New Mexico where we wanted to stop for the night. It was -20 degrees, dark and we were tired. Every year round campground was closed because there was several feet of snow.
We stopped for fuel and advice at a small convenience store. As the gentleman was closing, he said we could spend the night in his parking lot if we desired. We popped the top, but couldn't get the Wallas heater to work. That night we let the truck idle and used our truck's heater to blow some warm air through the rear window into the camper. We got a cool few hours of much needed sleep. In the end, the problem was operator error. Once you learn how it works, the Wallas runs great and keeps the camper warm.
You mentioned your fresh tank was 75-gallons. What are your grey tank and cassette toilet capacities?
David: We left the tank capacity up to Robby based on the design constraints. We wound up with 20 or so gallons of grey under the sink and a 10-gallon grey tank under the shower. We have two grey dump valves. The tanks are translucent so I can see how much we have in each one.
We have a 5-gallon cassette toilet. We specifically ordered that after dealing with black tanks and having to find a dump station. We boondock 90-percent of the time. The beauty of a cassette is that you can dump it in any toilet or dump station. The cassette has a three to four day capacity for two of us and is much more convenient than a black tank because we don't require a dump station.
We simplified this camper by design. There is no entertainment system. It has a manual non-electric Heki sunroof/vent above the cabover. The awning is also a manual crank out. I wanted things simple because they're more reliable and easier to fix.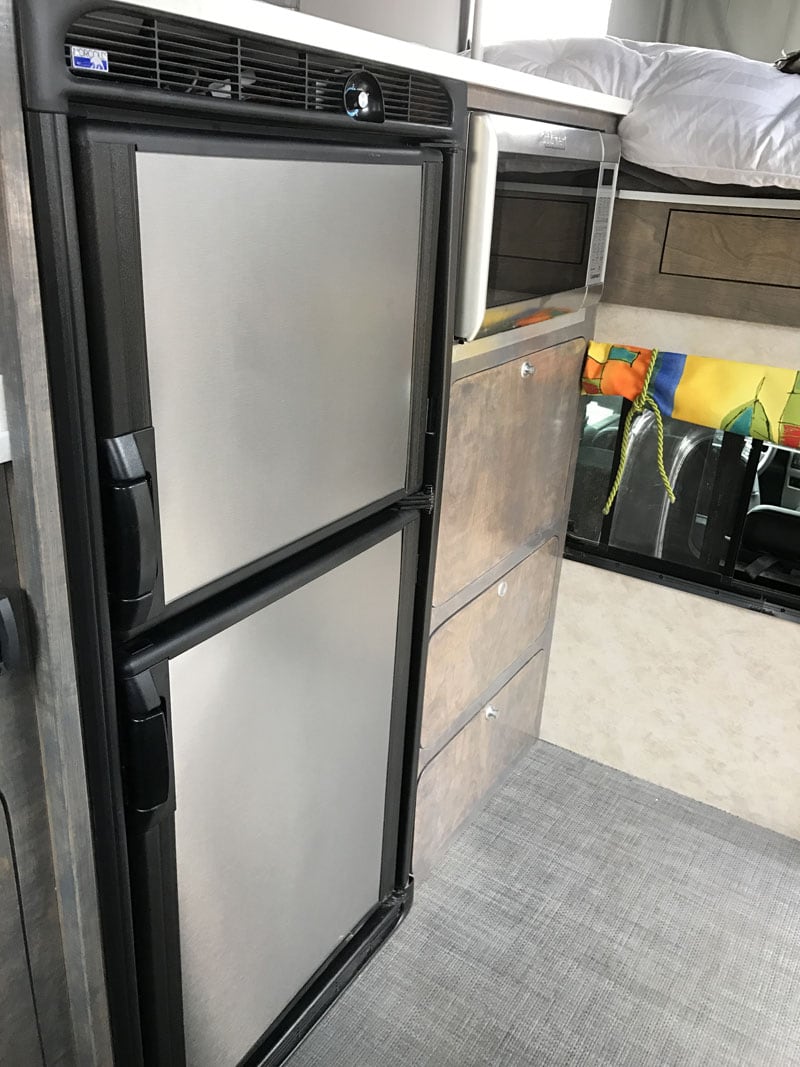 What will you be doing with your rig that you need four 6-volt batteries?
David: A big part of why we wanted four 6-volt batteries is to power the inverter for AC power. With the inverter we can use a conventional coffee pot, the microwave/convection oven or even the air-conditioner. They also power our 12-volt compressor refrigerator, all the LED lights, and the blower for the stove/heater. By design, the battery capacity is a bit overkill. The truck has dual alternators and charges them when the engine is running and the roof-mounted solar panels charge them when the sun is shining.
Gaye: We like to explore remote areas. I like to know that we will not run out of power, water or heat.
On the trip to Utah we camped on the bed of Lake Powell, which was down about 140', and we got stuck in the sand. A ranger came by and said, "It looks like you're stuck and I can't help you". David said, "We'll get out eventually". We're self-sufficient and knew we'd be okay.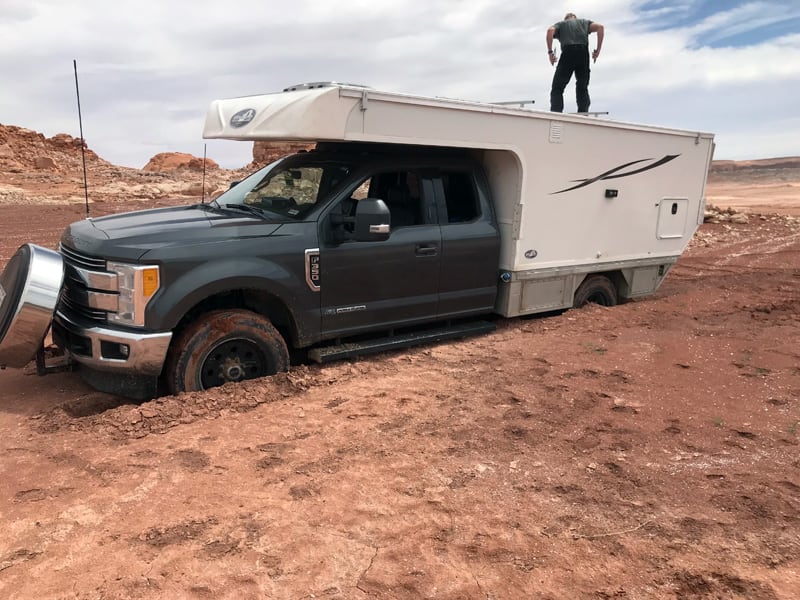 When you travel to the places we like to explore, you don't always know what you're getting into. If something happens, we are fine for a few days.
David: To get out at Lake Powell, I grabbed the MaxTrax that we keep stored on the roof, threw them under the tires and drove out. We were out in 15 minutes. It's all part of the adventure. Let's see what's out here.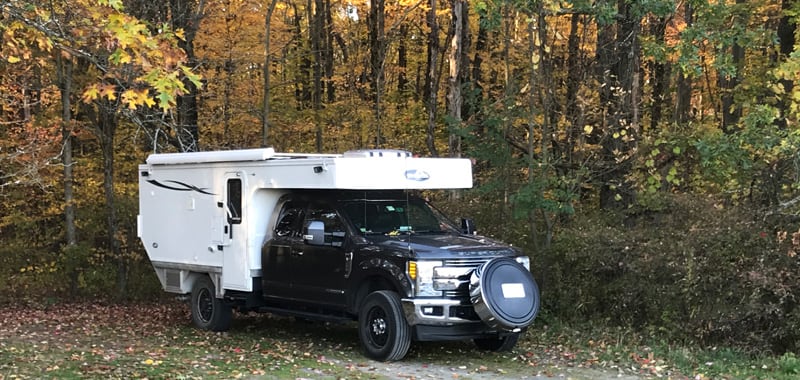 Above: Spare tire mounted on front mounted hitch receiver
That's quite an audacious and freeing attitude. Beyond the MaxTrax, what have you done to the rig to maximize your off-road capabilities?
David: Chassis-body trucks don't come with a spare or a place to carry one. We placed a front-mounted hitch receiver so that we could mount a spare tire.
We removed the rear seats on the super cab truck, and built a storage box and dog platform. The platform gives our dogs plenty of room to stretch out. The box carries tools and most of our recovery equipment, including a 6-T Wyeth-Scott.
We added SuperSprings to the rear spring pack and upgraded to 19.5-inch G-rated tires and wheels. Our rig drives and handles like a dream. However, the tires are highway biased, so they do not have the off-road prowess of more aggressive tires. This was a conscience trade-off that we were willing to accept.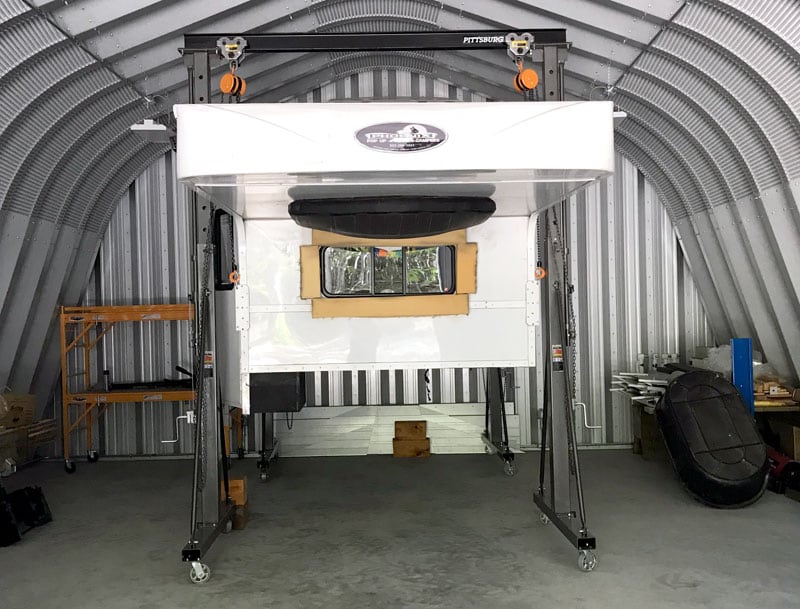 We had 19.5-inch wheels and tires from Rickson and found the same highway preference. They worked well off-road, but they loved the highway. How is loading and unloading the flatbed camper?
David: When we load or unload the camper, the camper needs to be much higher off the ground than a standard pickup bed camper due to the entrance steps, which drop into a space between the wheels. The camper has four 5/8-inch studs that must go into ¾" holes in the bed. This doesn't allow for much leeway. As a result, this camper was originally a pain to load and unload.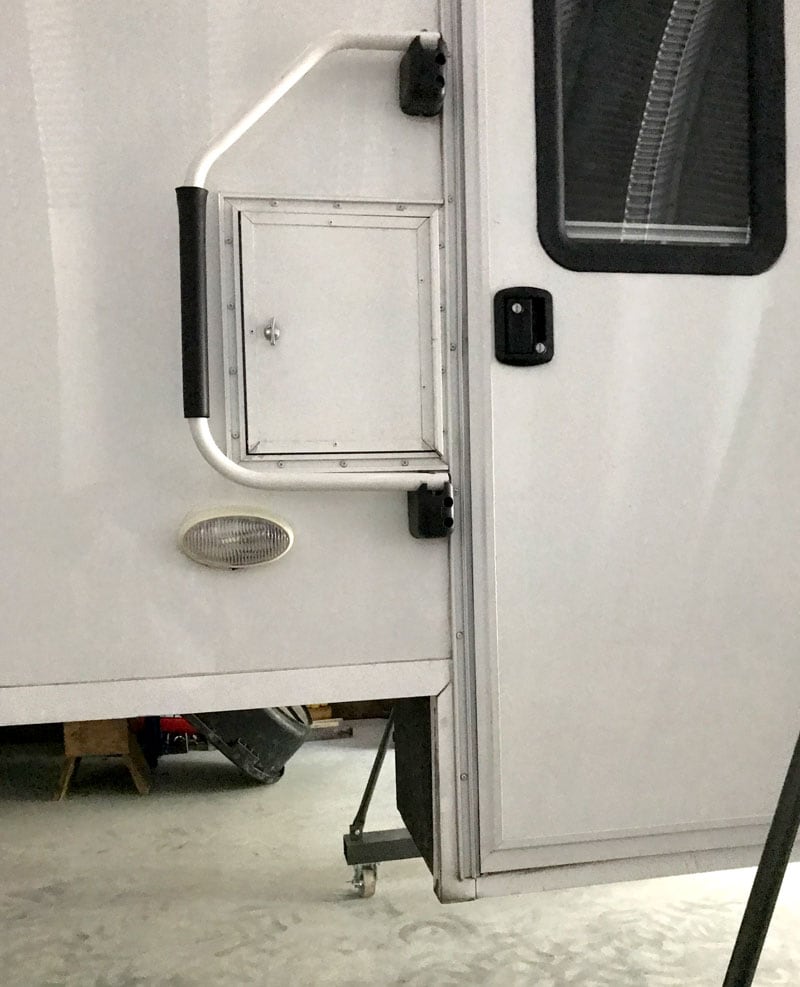 Above: The entrance steps drop into the space between the wheels
After 18 months of struggling, I came up with a solution. I built two gantry cranes with chain hoists. I maneuver the truck to line-up the steps and stairwell slot. Then I can swing the camper a bit to line up the studs with the holes in the bed.
Now that I have the crane and hoists, it's a breeze to load and unload. That was part of the learning curve. A flatbed can add a bit of complexity to loading and unloading a camper, depending upon the design and method of attachment.
That's a very clever solution to your loading situation. Can you use the camper off the truck?
David: It is possible, but I've removed the jack-stands, Titan (manual, of course). We've never encountered a situation where we wanted to unload the camper while camping.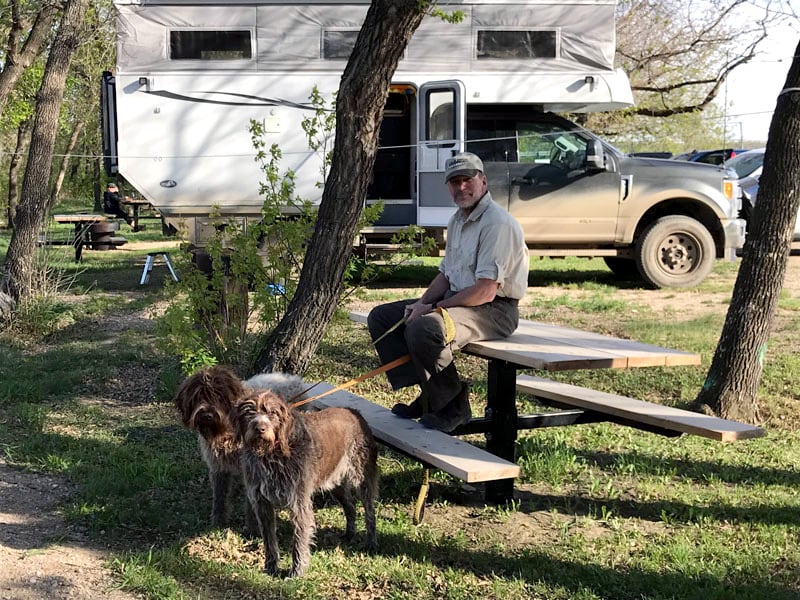 You told us about off-road and off-grid camping. What else do you use your truck camper to do?
Gaye: We have two large dogs that are part of our family, so we use our camper essentially whenever we travel anywhere overnight. They can be short trips to visit family or longer road trip adventures.
Our camper is essentially our home on wheels that we can park almost anywhere. We've probably spent 80 to 90-nights in it since we picked it up.
David: I am retired from the Army, so campgrounds on military bases make nice places to stop when we need to do laundry, dump the cassette, get water, or otherwise resupply. We've also visited family and friends in Alabama, Arizona, Georgia, Ohio, Pennsylvania, Virginia and West Virginia.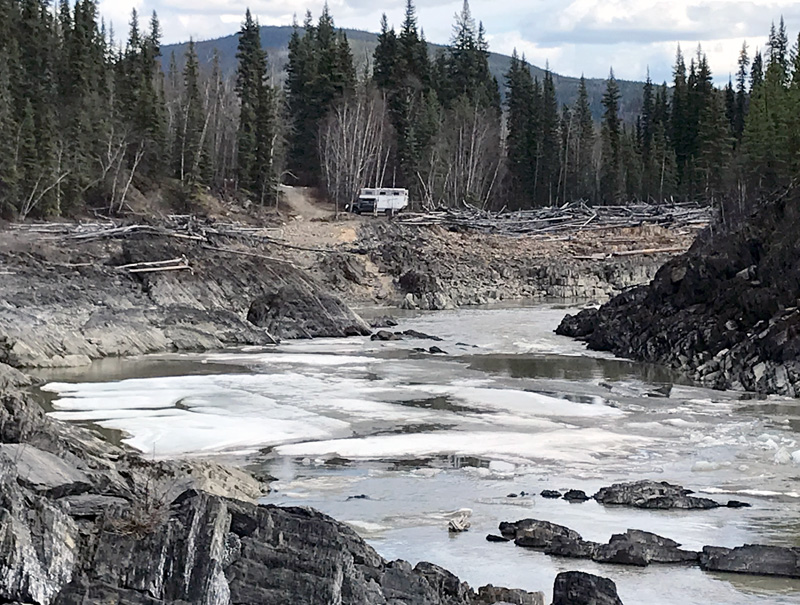 Above: Whirlpool Canyon, British Columbia along The Alaska Highway
Where have you been with your camper so far?
David: We've taken the camper on trips to Alaska, the Ozarks, the coast of Maine, and southern Utah.
British Columbia, the Yukon, and Alaska were breathtaking. It is incredibly easy to disperse camp in that area. While the drive was quite long from New Hampshire it was one of those trips that was as much about the journey as the destination.
We recently returned from exploring southern Utah. We thoroughly enjoyed that adventure despite getting the truck hung up three times and enduring a wicked wind storm that left everything in the camper covered in a layer of fine red dust.
There were so many opportunities to take scenic back ways that led to absolutely spectacular and very remote locations. The scenery is uniquely beautiful, and far different than New Hampshire!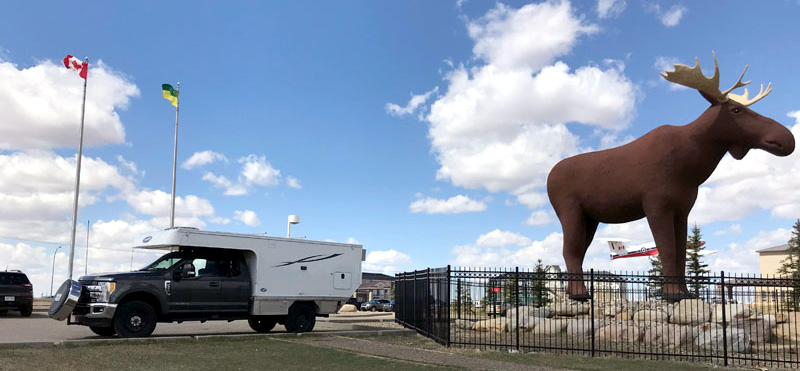 Above: Moose Jaw in Saskatchewan
Wow, you've done a lot with your camper since picking it up. How often do you go out?
David: It varies. We were gone a month when we went on our Utah trip, and a bit longer when we went to Alaska.
It's our home away from home, whether we visit family in Virginia, southern Alabama or Arizona. We were both veterinarians and we don't want to kennel our dogs. We load up our truck camper, our dogs and we go. Our trips are typically anywhere from two or three-days to four or five-weeks.
Gaye: We are not on the road all the time. We like to go explore and then come home. We're not ones to spend days and days in one place. We explore and usually move the next day. We do a lot without being gone for a long time. That's our style.
David: Why go to a campground with neighbors right outside your window when you can boondock and not see or hear anyone at all? We always search your website for places to visit, routes and boondocking opportunities before leaving home.
The Utah national parks aren't dog friendly, so we went to the San Rafael Swell. That area is fantastic. We spent ten-days in the area along the Green River. There were miles and miles of dirt roads. In the desert it was in the high 60s-low 70s. There was snow in the Henry Mountains. You can go to these places with truck campers, but not many other RV types.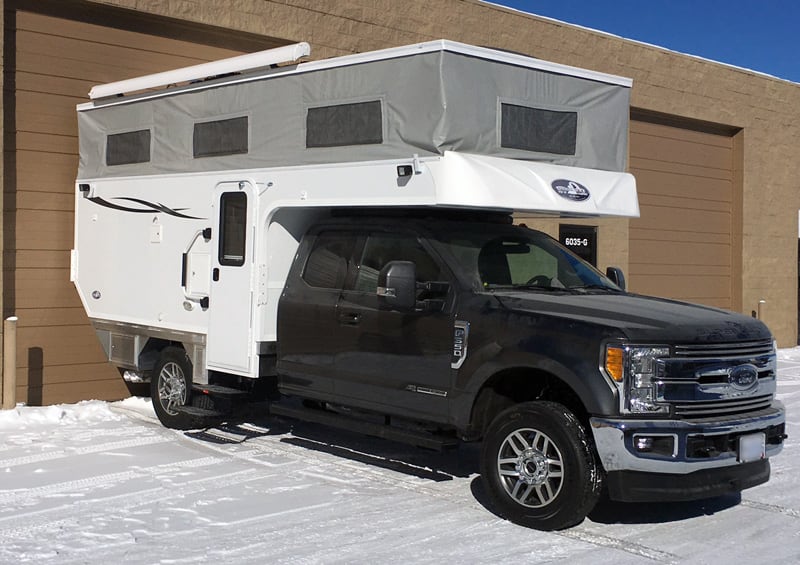 What do you think about the pop-up now that you've had it for over two-years?
David: There is a slight learning curve. Set-up and break-down takes a few extra minutes. We have refined the process over time and can now set-up or break camp in about two-minutes.
The best thing about the pop-up is the way it drives. Our truck truly drives better with the camper mounted than it does empty. That's pretty interesting considering that our fully-loaded wet weight is close to 4,000 pounds.
Crosswinds or passing trucks that made us put a death grip on the steering wheel of the hard-sided rig don't even phase the pop-up. It is truly amazing.
The tent-like feel isn't at all a detractor like we thought it might be. We actually enjoy being able to hear the wind and rain. It makes us feel like we are camping.
It is also better insulated than we would have imagined. We've been comfortable in temperatures well below zero and have not had a problem with frozen water lines. The diesel stove/heater sips diesel fuel and keeps the camper toasty.
Are there any future changes planned for the rig?
David: I've identified one more modification that I'd like to make; installing a cell signal booster. Because we boondock camp in remote locations, we are frequently beyond cell range, or have a very weak signal. I'd like to address that.
We have long thought about adding a cell booster ourselves. How about travel plans?
David: Our bucket list covers most of North America. Our next trip will likely be to the Eastern Canadian provinces; Nova Scotia, Prince Edward Island, Newfoundland and Labrador. One of the things that we love about truck camping, and being retired, is that we don't have to plan in too much detail. We just explore, eat, sleep and repeat.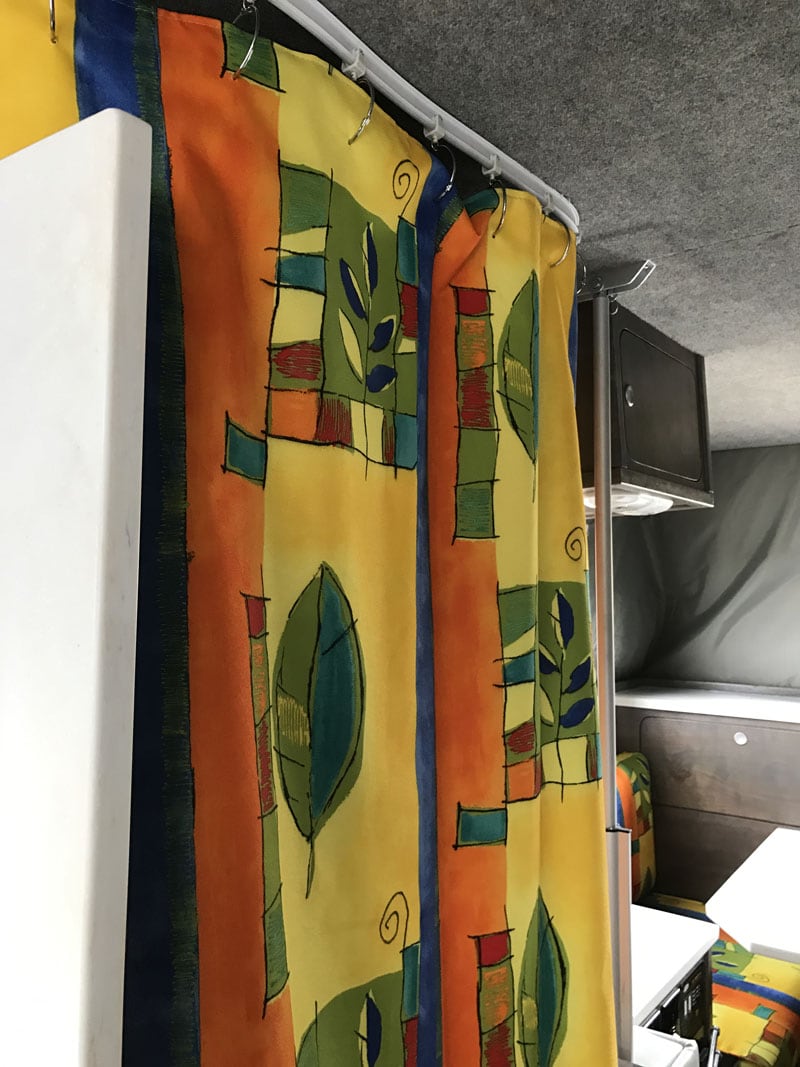 Above: With a Phoenix Camper you can design your camper however you like – fabrics, countertops, floors, etc. – it's all custom
That sounds perfect. Any other thoughts about your rig or lifestyle?
Gaye: I like our Phoenix Camper because it feels homey. I like that I picked the fabric for my shower curtain and dinette seats. I liked picking out the countertops and the light above the dinette. Every time I walk in the camper I smile because it makes me feel happy. I love that about this camper.
David: When you are in a hard side you might pass a bus or a truck, and you put a death grip on the steering wheel. It may push you away and then you get sucked in. With this rig, my truck drives like it's empty. The low center of gravity with a pop-up is great. I also love the fact that Robby built our camper to our specifications with simplicity in mind.
David and Gaye's Rig
Truck: 2017 Ford F350, super cab, 4X4, single rear wheel, diesel, flatbed
Camper: 2017 Phoenix pop-up
Suspension: SuperSprings and 19.5" wheels with G rated tires
Tie-downs and Turnbuckles: Camper bolts through the bed to the frame