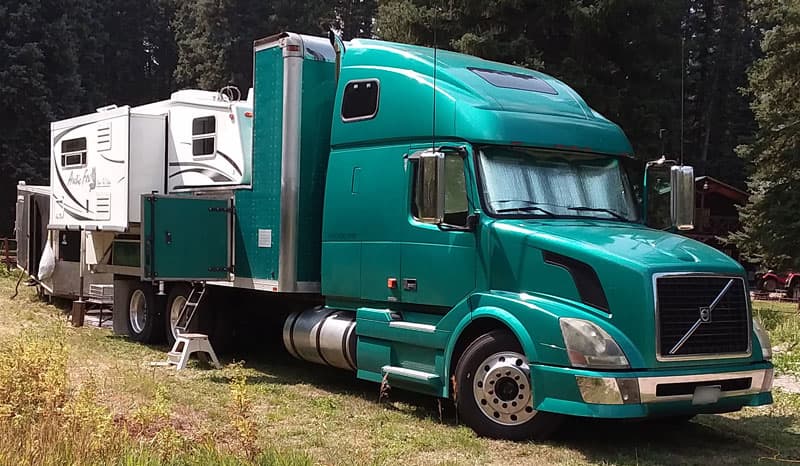 TCM: We have interviewed folks with Freightliners, Unimogs, Fusos, and even a fire truck – but never a Volvo semi.  Why was a Volvo the best choice for you?
Dennis: RVers who want to use semis lean towards Volvos because of the creature comforts.  Volvos are also reliable, easy to drive, safe, comfortable, ergonomically laid out, and quiet.  Volvos also maneuver well.  They drive like a limo and you have a good view of the road.
There's a big following out there with Volvo semis in the Escapees Club.  I'm definitely the exception hauling a truck camper.  Most of the Volvos are towing 40-foot fifth wheels.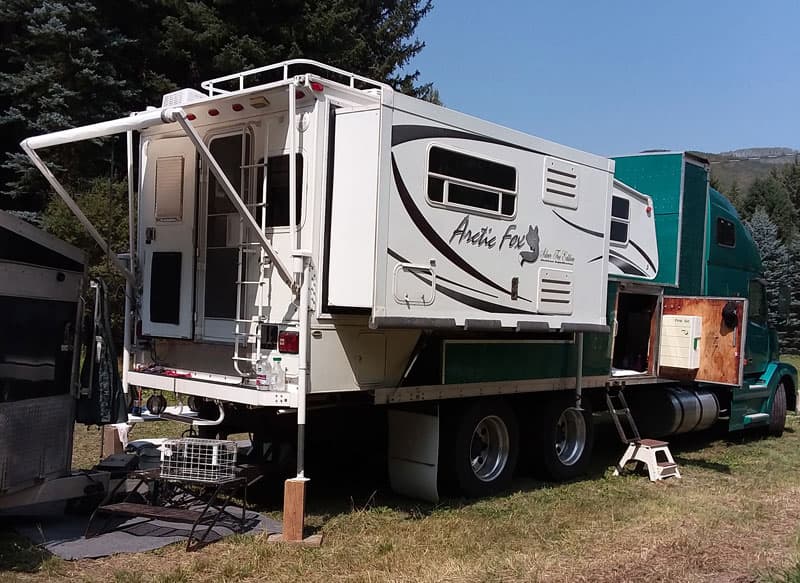 TCM: We've encountered less than a half dozen semi rigs in over a decade of publishing Truck Camper Magazine.  What's it like to drive?
Dennis: There is a big difference in driving a manual semi versus a manual pickup truck.  The difference is between synchronized vs non-synchronized gearing.  With the Volvo, when you change gears you don't push the clutch to the floor.  You depress the clutch only two to three inches.  You only push it to the floor to come to a complete stop or to put it in forward and reverse.  When pushing in the clutch to the floor it is actually engaging a clutch brake stopping the spinning of the drive line so that the gears can mesh.  When shifting gears you can float the gears from one gear to the next or slightly depress the clutch only a few inches to move the gears.  This is called double clutching.
When shifting gears, you have to be at the right speed for that gear.  Your brain and body are the synchronizers to go forward.  A normal car will let you shift at all kinds of different speeds, but the semi won't.  Once you know the speed you need to be in for each gear, it's easier.
I'm still a rookie.  I have a manual pickup truck and had to break myself of my manual driving habits to drive the Volvo.  Once I sell the pickup truck and only drive the Volvo, I will be better off.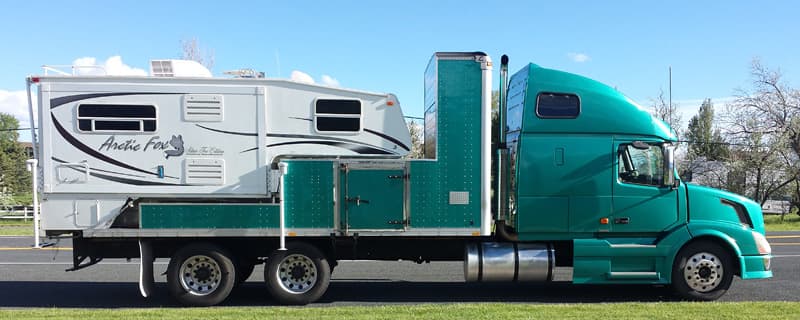 TCM: Did you need to do anything to the Volvo to prepare it for your Arctic Fox camper and utility trailer?
Dennis: Nothing.  It worked beautifully out of the box.  I put my Arctic Fox 1150 on my Volvo and it didn't even go down an inch.  I had a custom hitch welded to the tractor's frame for the trailer.
On my way back from picking up the truck in Dallas, Texas, I ran it across a CAT scale.  Just the truck weighed 22,500 pounds.  Once I cut the box off the box and made the smaller storage box, I weighed it again and it lost about 1,000 pounds.
TCM: How does a private citizen who is not a professional truck driver legally own and drive a semi?
Dennis: I registered the truck and insured it as a motorhome.  In Colorado's eyes, it's as if I am driving a diesel pusher motorhome.  The Escapees Club has many people who do this.  Some states may cause you to have an endorsement, but not Colorado.
The Volvo has no DOT sticker.  I also have added a "Not For Hire" sticker on the truck.  It's obvious to law enforcement that I am an RV because there's a camper on it.  They can see I'm not a commercial vehicle.
Above: The Volvo 670 without the camper
TCM: How about getting the Volvo serviced?  For example, an oil change.
Dennis: For an oil change, I take it to Speedco.  Speedco is a truck service center that does all kinds of makes and models of trucks.  The Volvo took nine gallons of oil.  Fortunately the Volvo only needs an oil change every year or two because I'm not yet retired, and I'm only driving the truck about 5,000 miles a year.