When Dennis Lynton saw an article in TCM featuring a truck camper on a big rig, he made a phone call, bought a Volvo 670 semi, borrowed a plasma cutter, and got to work.

Truck camping appeals to some of the most determined and tenacious folks you could ever hope to meet.  When these inspired individuals get a unique truck and camper combination stuck in their minds, they focus like a laser and make it happen; come heck or high water.
The results of these visionary efforts are some of the most incredible rigs ever published in Truck Camper Magazine.  From Fusos to Class 5s, Raptors to goosenecks, Freightliners to Unimogs, and semis to fire trucks, if there's a way to load a camper on it, someone eventually will.
Fellow truck camper owner, Dennis Lynton, always wanted a semi.  When he came across an article that put these two seemingly disparate interests into one package, an inextinguishable fuse was lit.
With a single call, Dennis unleashed his no-holds-barred drive and researched, designed, and constructed a Volvo semi truck camper.  To the best of our knowledge, it's the only Volvo semi truck camper on the planet.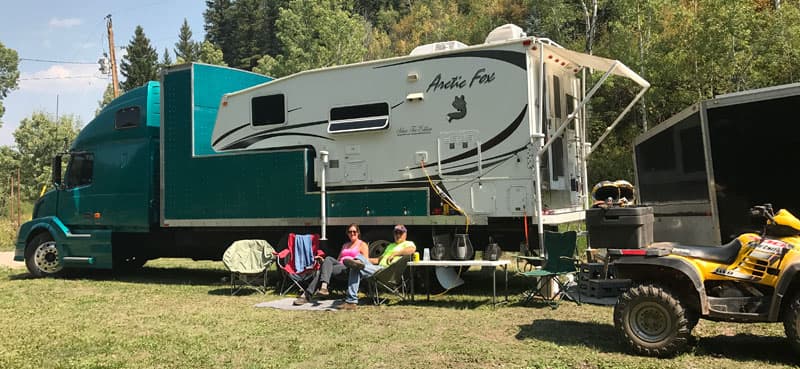 Above: Dennis and Sheri's 2006 Volvo 670 and 2007 Arctic Fox 1150
TCM: What led you to put an Arctic Fox 1150 on a Volvo semi?
Dennis: The idea actually came from reading, "Big Rig Truck Camper Build" in Truck Camper Magazine.  In that article, Ernie Buchanan and Julie Greenwood mounted a Lance truck camper on a Peterbilt semi.  Having always wanted to drive a semi, I looked at their rig and said, "Wow!  Someone has actually done it."
After I read the article, I Googled Ernie's name and found his trucking business.  On the very first phone call I made, Ernie picked up the phone.  Now we talk four to five times a month.  He was open and honest about trucking and his rig.  We can't wait to meet Ernie and Julie in person.
TCM: Did you ever consider just purchasing a pickup truck?
Dennis: I have an older Ford F350, but I needed a newer F350 with more payload for my Arctic Fox 1150 and 26-foot trailer.  New Ford F350 diesel pickups with the features I wanted go for about $70,000.
Compare that to used Volvo semis which sell for $25,000 to $35,000.  At roughly half the price, it made sense to go with the semi.  The semi also offered better safety, braking, ride quality, amenities, and power.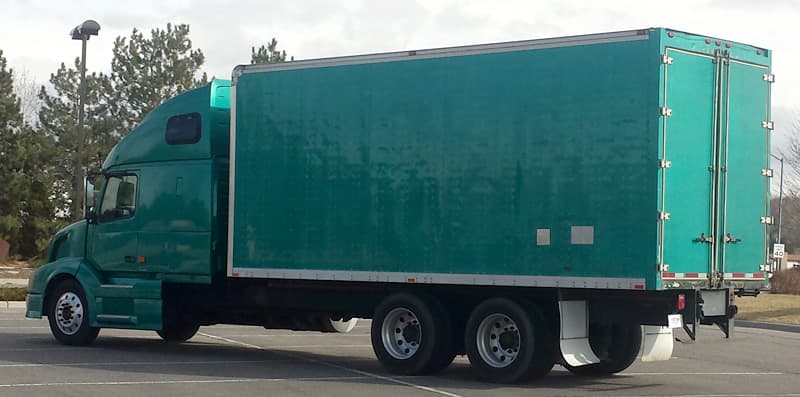 Above: The 2006 Volvo Dennis found had 270,000 miles on the odometer
TCM: What advice did Ernie offer for choosing a semi?
Dennis: Ernie told me to concentrate my search on the 300-inch wheel base and he was right.  That's when I started thinking, "I'll go look for box trucks and cut one down".  Why build a truck camper rig from a traditional semi when you can go with a box truck?
The year of the truck was also important because of emission control devices that can fail and otherwise cause problems.  To avoid these potential issues, I didn't want anything newer than 2007.
Eventually I found a 300-inch wheel base Volvo box truck with good sleeper on it.  With only 270,000 miles (considered low for a 2006 Volvo) it was perfect.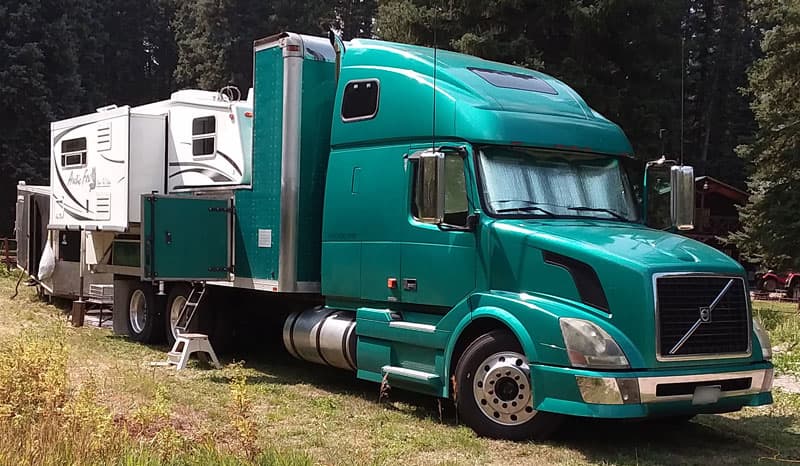 TCM: We have interviewed folks with Freightliners, Unimogs, Fusos, and even a fire truck – but never a Volvo semi.  Why was a Volvo the best choice for you?
Dennis: RVers who want to use semis lean towards Volvos because of the creature comforts.  Volvos are also reliable, easy to drive, safe, comfortable, ergonomically laid out, and quiet.  Volvos also maneuver well.  They drive like a limo and you have a good view of the road.
There's a big following out there with Volvo semis in the Escapees Club.  I'm definitely the exception hauling a truck camper.  Most of the Volvos are towing 40-foot fifth wheels.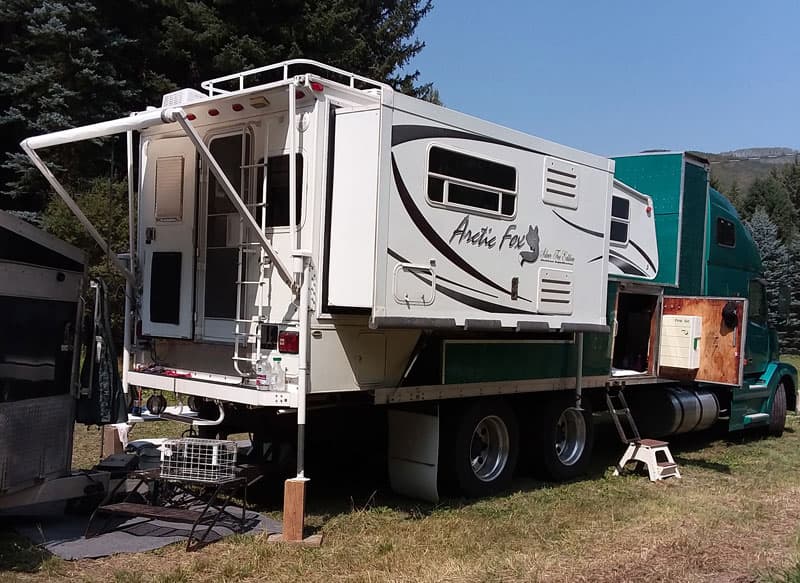 TCM: We've encountered less than a half dozen semi rigs in over a decade of publishing Truck Camper Magazine.  What's it like to drive?
Dennis: There is a big difference in driving a manual semi versus a manual pickup truck.  The difference is between synchronized vs non-synchronized gearing.  With the Volvo, when you change gears you don't push the clutch to the floor.  You depress the clutch only two to three inches.  You only push it to the floor to come to a complete stop or to put it in forward and reverse.  When pushing in the clutch to the floor it is actually engaging a clutch brake stopping the spinning of the drive line so that the gears can mesh.  When shifting gears you can float the gears from one gear to the next or slightly depress the clutch only a few inches to move the gears.  This is called double clutching.
When shifting gears, you have to be at the right speed for that gear.  Your brain and body are the synchronizers to go forward.  A normal car will let you shift at all kinds of different speeds, but the semi won't.  Once you know the speed you need to be in for each gear, it's easier.
I'm still a rookie.  I have a manual pickup truck and had to break myself of my manual driving habits to drive the Volvo.  Once I sell the pickup truck and only drive the Volvo, I will be better off.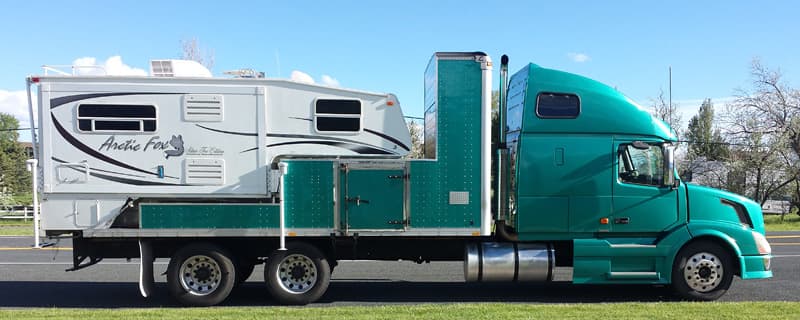 TCM: Did you need to do anything to the Volvo to prepare it for your Arctic Fox camper and utility trailer?
Dennis: Nothing.  It worked beautifully out of the box.  I put my Arctic Fox 1150 on my Volvo and it didn't even go down an inch.  I had a custom hitch welded to the tractor's frame for the trailer.
On my way back from picking up the truck in Dallas, Texas, I ran it across a CAT scale.  Just the truck weighed 22,500 pounds.  Once I cut the box off the box and made the smaller storage box, I weighed it again and it lost about 1,000 pounds.
TCM: How does a private citizen who is not a professional truck driver legally own and drive a semi?
Dennis: I registered the truck and insured it as a motorhome.  In Colorado's eyes, it's as if I am driving a diesel pusher motorhome.  The Escapees Club has many people who do this.  Some states may cause you to have an endorsement, but not Colorado.
The Volvo has no DOT sticker.  I also have added a "Not For Hire" sticker on the truck.  It's obvious to law enforcement that I am an RV because there's a camper on it.  They can see I'm not a commercial vehicle.
Above: The Volvo 670 without the camper
TCM: How about getting the Volvo serviced?  For example, an oil change.
Dennis: For an oil change, I take it to Speedco.  Speedco is a truck service center that does all kinds of makes and models of trucks.  The Volvo took nine gallons of oil.  Fortunately the Volvo only needs an oil change every year or two because I'm not yet retired, and I'm only driving the truck about 5,000 miles a year.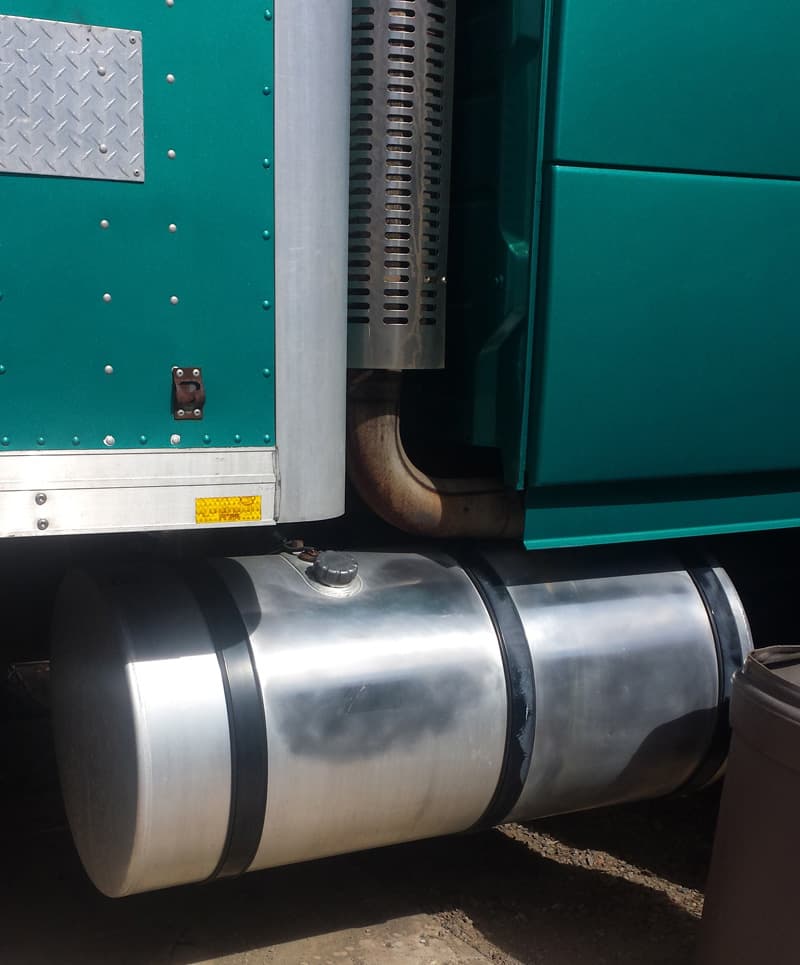 Above: The Volvo 670 has a 150 gallon fuel tank
TCM: What's the fuel mileage like with the Volvo?
Dennis: The Volvo has a single 150 gallon fuel tank.  On my most recent trip I got around eight to nine miles per gallon.  That was mountain driving and towing a trailer.  I was getting eleven miles per gallon with my F350 and Arctic Fox.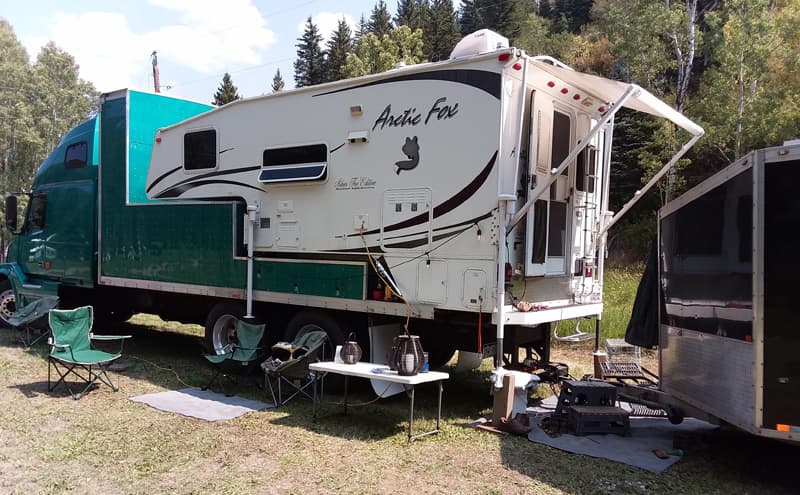 TCM: Looking at the photographs of your rig, it sure looks very high off the ground.  How do you load and unload the Arctic Fox?
Dennis: I had to make special 6-inch by 6-inch blocks of wood to extend the jacks and get the camper on and off the truck.  To load the camper on the Volvo, it needs to be 52-inches off the ground.
I also added jack extensions that pivot out further than I needed for my dually truck.  They are 102-inches wide.
The Arctic Fox loaded quickly and easily the first time.  I have only loaded the camper once.  Other than selling it, needing it to help someone move, or buying something big, I do not have plans to take the camper off.  The camper remains fully demountable, but it will stay on the Volvo.
TCM: How big is the truck?
Dennis: The Volvo is 36-feet long bumper-to-bumper.  The rig is 13'3" tall to the top of the tall storage box.  The deck is 48-inches off the ground and 102-inches wide, which is standard for a semi.
TCM: Is there a living space inside the Volvo?
Dennis: Yes, there is.  As we're going down the road, my wife can stand up to grab a snack or stretch her legs.  She can sit down at the work station, which is like a truck camper's dinette with seat belts.
Some semis have amenities such as a refrigerator, microwave, and television.   Because we have our Arctic Fox 1150 I chose not to install the extra amenities.
We have two dogs, so we keep their kennels in the cab.  There's also a top bunk where we keep blankets and dog supplies.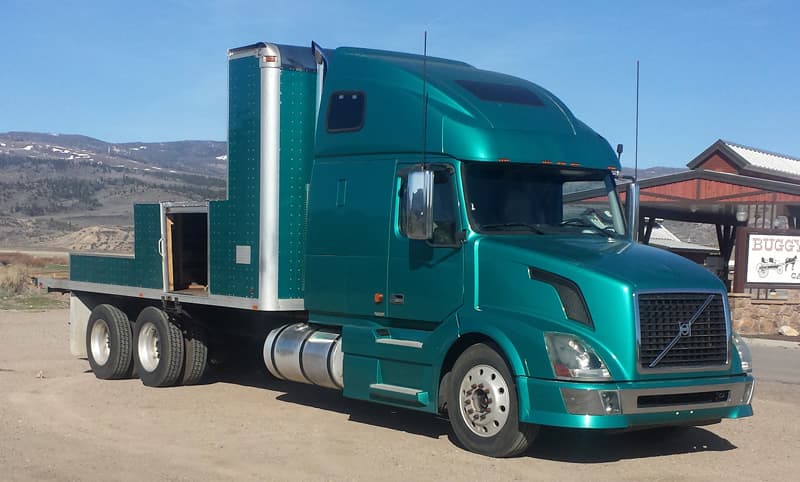 TCM: How did you go about converting the Volvo for the Arctic Fox?
Dennis: The Volvo started out as a commercial semi with a 22-foot enclosed box on the back with an oak wood floor.  The camper needed to slide onto the oak floor and the camper's overhang needed to clear the storage box.
Since I had the Arctic Fox 1150 on hand, I was able to take measurement after measurement, and adjustment after adjustment.
It was a little overwhelming at first.  I'm a driven individual, so I came up with a vision and a plan.  Before I cut things out, I measured many times.  I drew the lines out where I was going to cut the box and probably moved them two to three times until I came up with the final lines.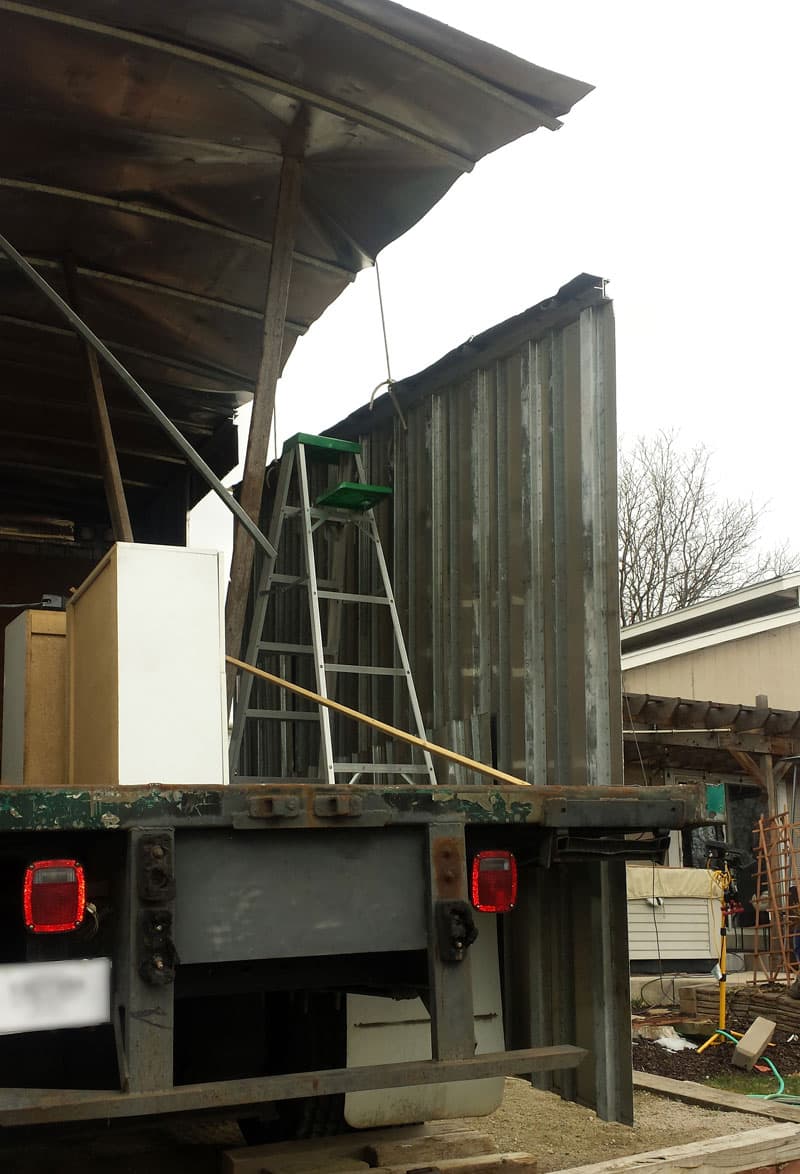 Above: The back and roof removed
TCM: How did you make the metal cuts?
Dennis: My good friend, John Sundquist, loaned me his plasma cutter.  It's a cool tool which made for fast cutting of the aluminum siding and steel beams.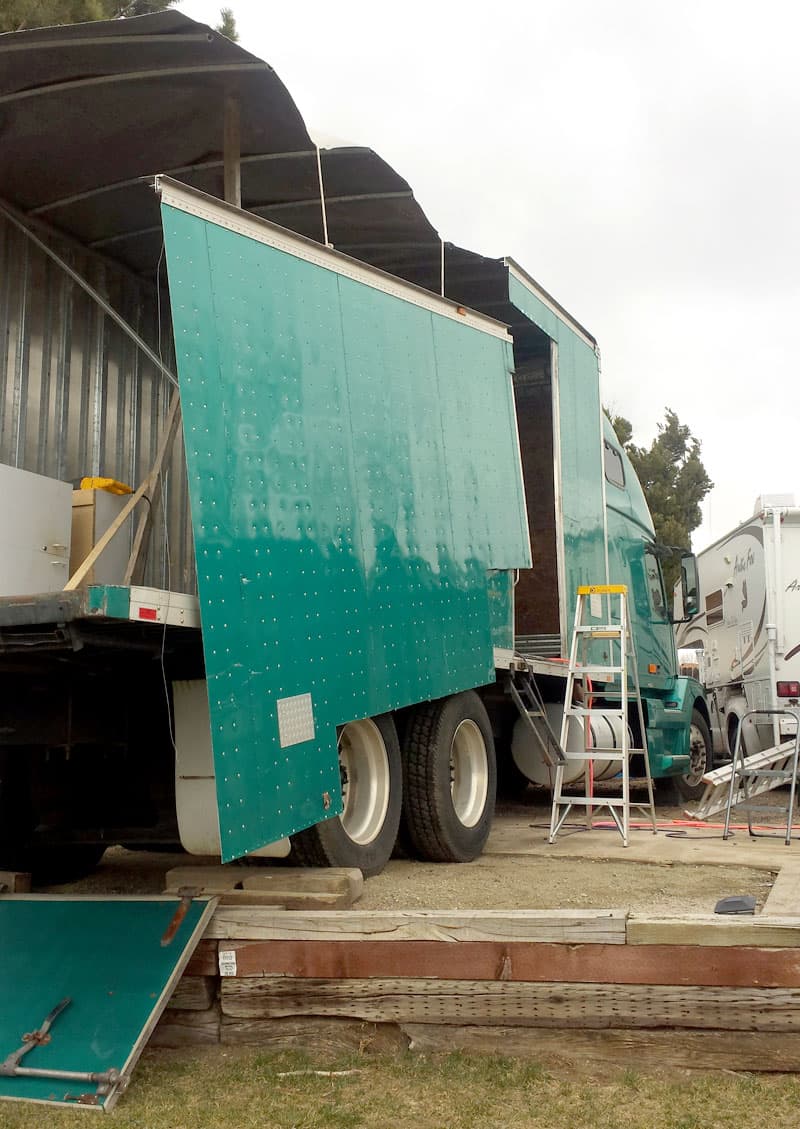 First, we cut the back door and roof with the plasma cutter.  Unfortunately, the 25-year old plasma cutter stopped working three-quarters of the way through the project and we didn't know how to fix it.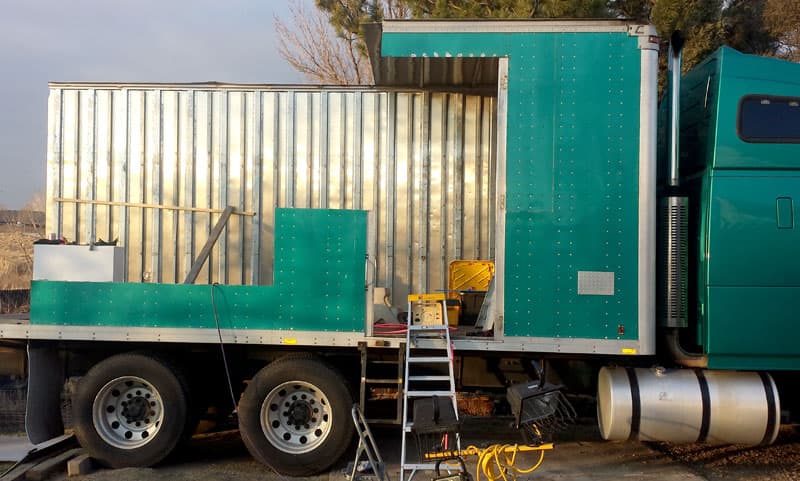 I had to finish with a sawzall, grinder, and a jig saw.  We went through many blades.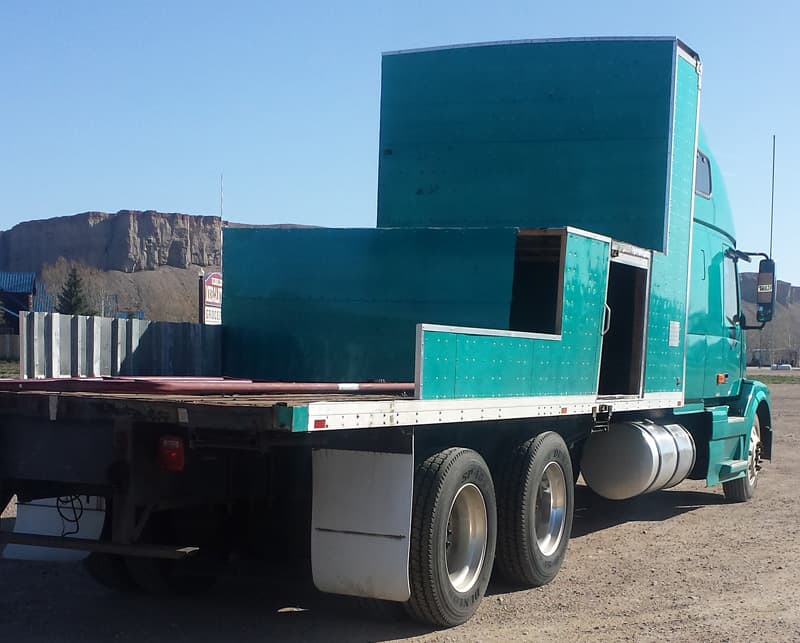 TCM: I bet you did.  What did you build in the area behind the cab, and in front of the camper?
Dennis: I designed a beautiful storage space that's water tight and clean.  In that tall storage area I can store a 55-gallon fresh water tank that slides in that four-foot tall side door.  If I wanted to, I could put nine 55-gallon drums in that storage box.
I also store my ATV tires in there, a spare semi tire, tools, a cooler, and extra food.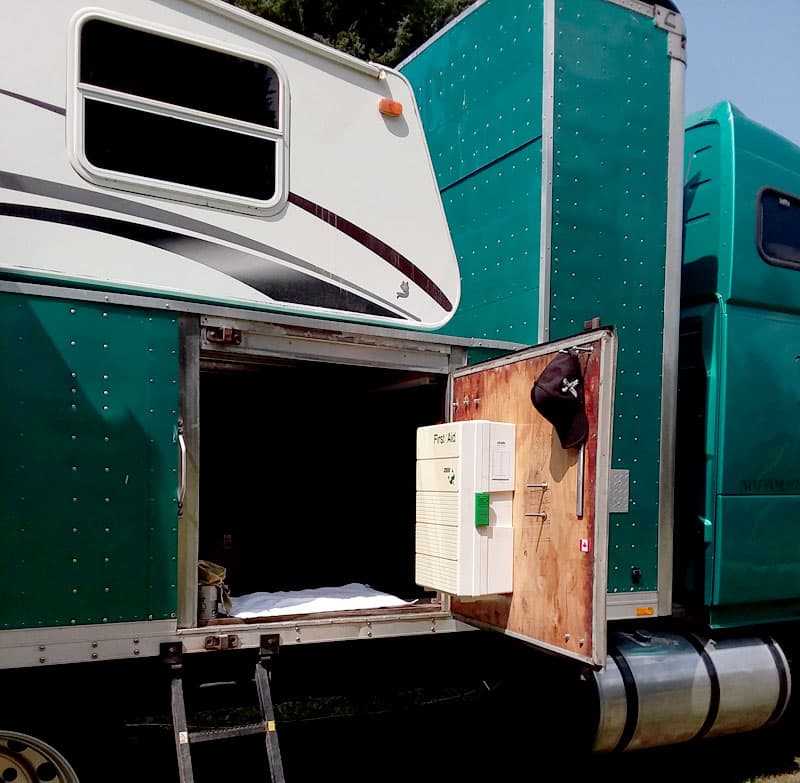 That side door used to be a 6-foot door and now it's a 4-foot door in the same place.  I cut it down and welded it back together.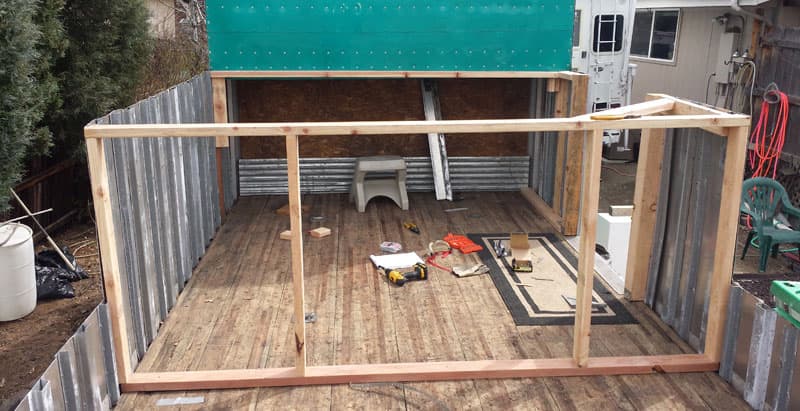 Then, I built a wood frame and cut the aluminum sheeting and treated it like plywood, even though it was aluminum.  Then, I stuck it on the wood framing.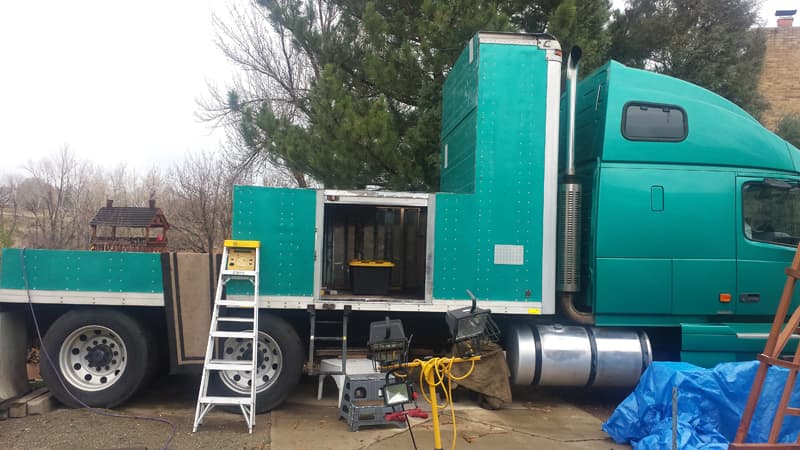 I did have to cut the length of the truck's deck because of the camper's plumbing and generator in the back.  I cut 12 to 18-inches of the back decking away.  I would have had to cut more of the deck to get the camper even more forward.
TCM: How much time did the Volvo conversion take?
Dennis: The conversion was a labor of love.  I worked twelve hour days on Saturdays and Sundays to make it happen.  Instead of snowmobiling last winter, I was working on the rig.  Luckily, it was a poor winter for snowmobiling, but a great winter for a Volvo conversion.  The build took about three to four months this past winter, but only cost about $500.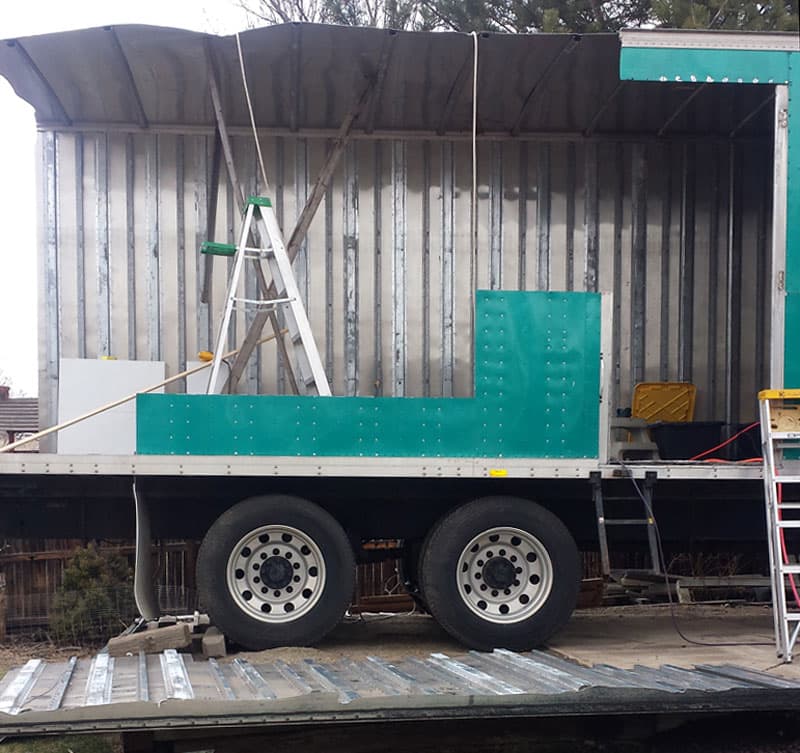 Above: The aluminum material that is cut out of the truck was used for the storage box and door
TCM: Wow!  Only $500?  That sounds impossible.
Dennis: You would be surprised how little it cost because I repurposed the materials.  I was able to reuse much of the aluminum material to make the storage box and door.  That saved me a lot of money because I didn't need to purchase raw aluminum.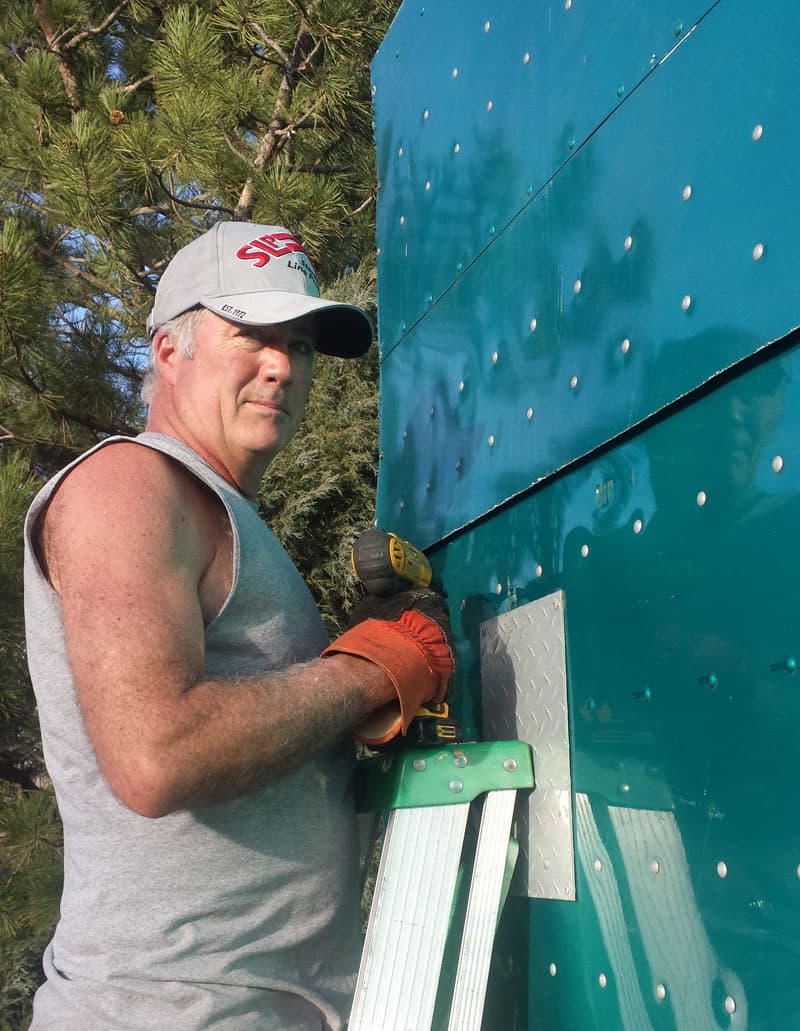 Above: Dennis working on the conversion
My truck was also painted all the same color.  That saved me more money because I didn't need to paint the truck when it was competed.  I just had to cut the aluminum to the right size and put it back on the truck.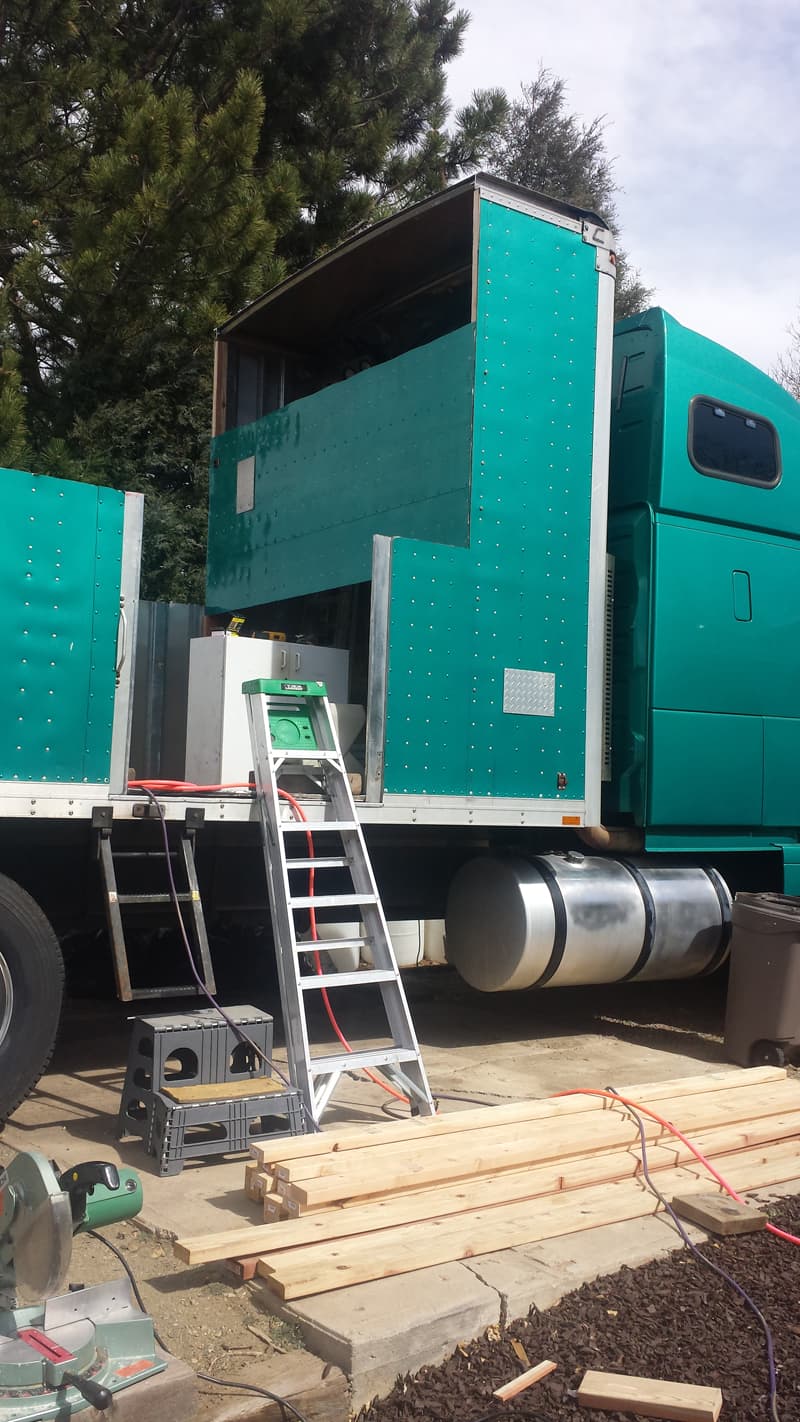 When I finally went to the junk yard with the scraps, I had the back door, back frame, and some aluminum panels.  There was not much to throw away.
The screws I used were a lot of the same screws that came off the original aluminum side panels.  I did have to buy about 100 screws, but I would have had to buy 200 to 300 if I didn't reuse them.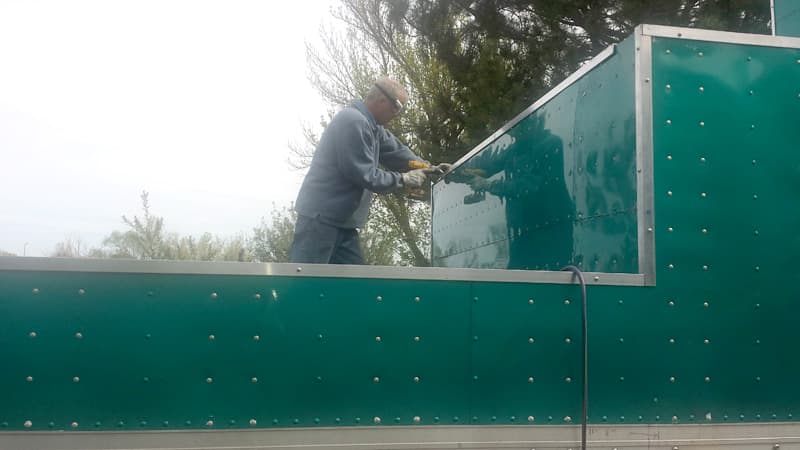 TCM: How did you create tie-down points for the camper's turnbuckles?
Dennis: The rear tie-downs worked out well.  They are the same Torklift tie-downs that I had on my Ford F350.  The front points are tied-down with heavy duty straps going through the eye bolts on the deck.  They are very short, like 12-inches.  On the deck of the Volvo I mounted 2x4s where I wanted the camper to land with 1-inch on each side.
The rails on the sides are there for aesthetics.  I keep leveling blocks in that area.  If I want to release the Torklifts, I can to fine tune the leveling of the camper.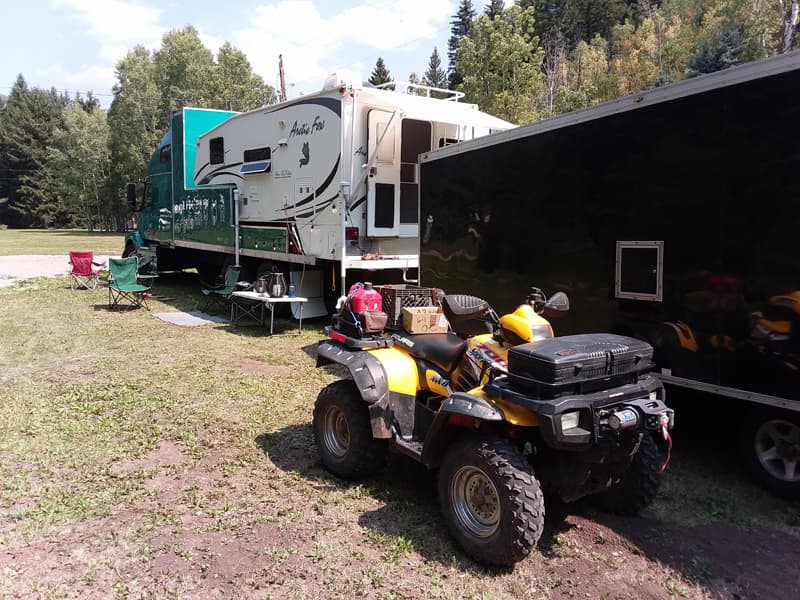 TCM: How do you see your truck camping lifestyle?
Dennis: We dry camp over 90-percent of the time.  I carry a 3,000 watt generator in the trailer for power.  I rarely go to a campground.  We are planning to go to more campgrounds during longer road trips in the future to Alaska, Canada, and throughout the United States.
You already know that I am big into snowmobiling and ATVing.  We went ATVing recently and I couldn't even feel the trailer was back there.  I think I want to install a rear back up camera to see the trailer.
TCM: Is there anything you would do differently if you were to build your rig again?
Dennis: If I had to do it again, I would have taken space out of the front tall storage area.  That way I could have moved the camper forward more.
I put the receiver hitch on two months ago and it worked out well.  I'm glad I don't need an extension to pull the boat or snowmobile trailer.  If you have to put an extension on, you weaken the ability to pull a 17,000 pound boat.
I didn't know I had a Canadian spread, which is the tandem rear axle distance.  When I went to get my diesel's emission testing done, my truck didn't fit on the rack.  That was one of the gotchas.  I had to go to a different shop where it would fit.  I think I'm 4-inches further apart on the back axles.  That gives me increased load carrying capacity.
TCM: Now that the rig is built and paid for, has it worked out as you originally hoped?
Dennis: The semi and camper together are working out really well!  We get lots of folks giving us thumbs up and taking pictures.
I could buy three Volvos for the cost of a brand new Ford F350 diesel.  If something goes wrong and I have to drop $5,000 into it, it doesn't sting so much.
Dennis Lynton's Rig
Truck: 2006 Volvo 670, diesel
Camper: 2007 Arctic Fox 1150
Tie-Downs: Torklift Fastguns