When Dennis Lynton saw an article in TCM featuring a truck camper on a big rig, he made a phone call, bought a Volvo 670 semi, borrowed a plasma cutter, and got to work.

Truck camping appeals to some of the most determined and tenacious folks you could ever hope to meet.  When these inspired individuals get a unique truck and camper combination stuck in their minds, they focus like a laser and make it happen; come heck or high water.
The results of these visionary efforts are some of the most incredible rigs ever published in Truck Camper Magazine.  From Fusos to Class 5s, Raptors to goosenecks, Freightliners to Unimogs, and semis to fire trucks, if there's a way to load a camper on it, someone eventually will.
Fellow truck camper owner, Dennis Lynton, always wanted a semi.  When he came across an article that put these two seemingly disparate interests into one package, an inextinguishable fuse was lit.
With a single call, Dennis unleashed his no-holds-barred drive and researched, designed, and constructed a Volvo semi truck camper.  To the best of our knowledge, it's the only Volvo semi truck camper on the planet.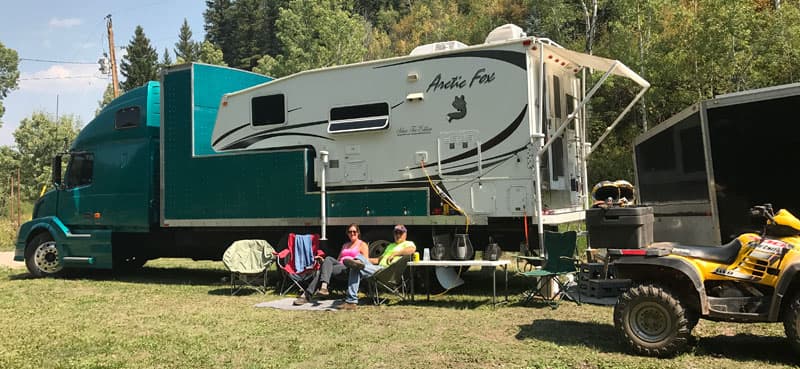 Above: Dennis and Sheri's 2006 Volvo 670 and 2007 Arctic Fox 1150
TCM: What led you to put an Arctic Fox 1150 on a Volvo semi?
Dennis: The idea actually came from reading, "Big Rig Truck Camper Build" in Truck Camper Magazine.  In that article, Ernie Buchanan and Julie Greenwood mounted a Lance truck camper on a Peterbilt semi.  Having always wanted to drive a semi, I looked at their rig and said, "Wow!  Someone has actually done it."
After I read the article, I Googled Ernie's name and found his trucking business.  On the very first phone call I made, Ernie picked up the phone.  Now we talk four to five times a month.  He was open and honest about trucking and his rig.  We can't wait to meet Ernie and Julie in person.
TCM: Did you ever consider just purchasing a pickup truck?
Dennis: I have an older Ford F350, but I needed a newer F350 with more payload for my Arctic Fox 1150 and 26-foot trailer.  New Ford F350 diesel pickups with the features I wanted go for about $70,000.
Compare that to used Volvo semis which sell for $25,000 to $35,000.  At roughly half the price, it made sense to go with the semi.  The semi also offered better safety, braking, ride quality, amenities, and power.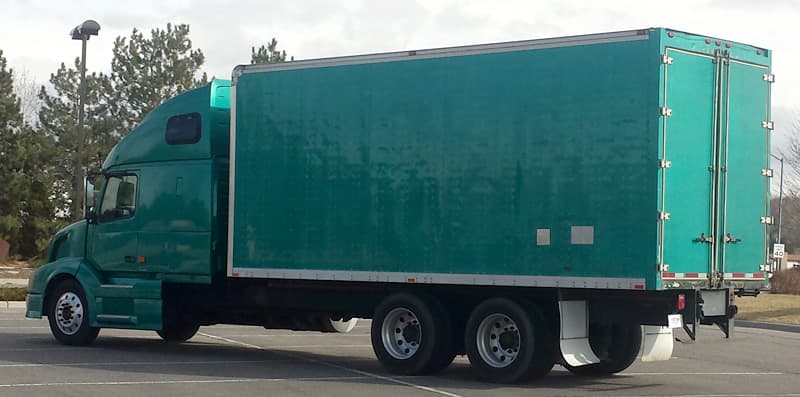 Above: The 2006 Volvo Dennis found had 270,000 miles on the odometer
TCM: What advice did Ernie offer for choosing a semi?
Dennis: Ernie told me to concentrate my search on the 300-inch wheel base and he was right.  That's when I started thinking, "I'll go look for box trucks and cut one down".  Why build a truck camper rig from a traditional semi when you can go with a box truck?
The year of the truck was also important because of emission control devices that can fail and otherwise cause problems.  To avoid these potential issues, I didn't want anything newer than 2007.
Eventually I found a 300-inch wheel base Volvo box truck with good sleeper on it.  With only 270,000 miles (considered low for a 2006 Volvo) it was perfect.