Avi Meyers set out to design and build a state-of-the-art overland rig for world travel.  The result is likely the most ambitious, capable, and expensive truck and camper rig we have ever seen.  Get ready to redefine what's possible.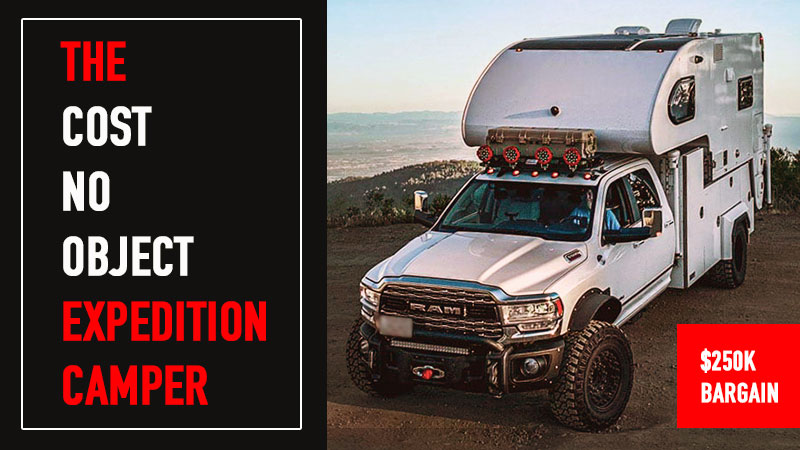 Imagine you have your heart set on a Porsche 911 Carrera.  For everyone who's not a car geek, the Carrera is essentially an entry-level Porsche 911.  And that entry-level 2020 Porsche 911 retails for a cool $107,000.  Opt for an option or two and the total starts pushing $115K, and higher.  Ouch.
Contemplating the marital detonation such a purchase would bring, you start talking to yourself.  "I just want a drop-dead sexy roadster that accelerates fast enough to physically rearrange my vital organs.  That's all I want.  That's the experience I'm after."
As you hear yourself, the universe puts another possibility in your cranium.  "If that's what you really want," says the universe, "Get a Mazda MX-5.  Even the top-of-the-line model with all the trimmings is under $37,000.  When your bride hears how much you were going to spend on the Porsche, she'll practically celebrate."
That afternoon you walk into a Mazda dealership and buy a 2020 Mazda MX-5 Miata RF.  Driving it off the lot, you can't believe the unbelievable bargain you got – as your kidneys move to Kansas.  And you saved $70,000 over the Porsche?  And the insurance and maintenance are considerably cheaper?  And it goes like stink on sale?  Oh yes!
It's so much more fun to get what you really want – or better – without spending a fortune.
With what is undoubtedly one of the most audacious and expensive truck and camper builds in Truck Camper Magazine history, Avi's tricked to-the-nines Ram 5500 and Cirrus 920 might leave some heads scratching.  How in the world could that possibly be a bargain or anything remotely resembling a down-to-earth decision?
Once again, it's about perspective and relativity.  When you learn that Avi was originally considering overland rigs that start at $500,000, suddenly the $250,000 price of his rig sounds quite reasonable.
Everything he really wanted for half the price?  And it fits in a shipping container, offers more off-grid capabilities, and is exactly what Avi desired for his dream rig?  Oh yes!
If that's not enough to whet your appetite, how about a truly 12-volt air conditioning system from Cruise N Comfort, an onboard fresh water-from-air system from Watergen, 1,200 amp-hour lithium battery bank from Relion, 1,200-watt semi-flexible solar panel system from Solara, 37-inch tires from Fury, air suspension system from Kelderman, and a 360-degree camera system from MobileMule.  Avi's rig has us reevaluating what's possible.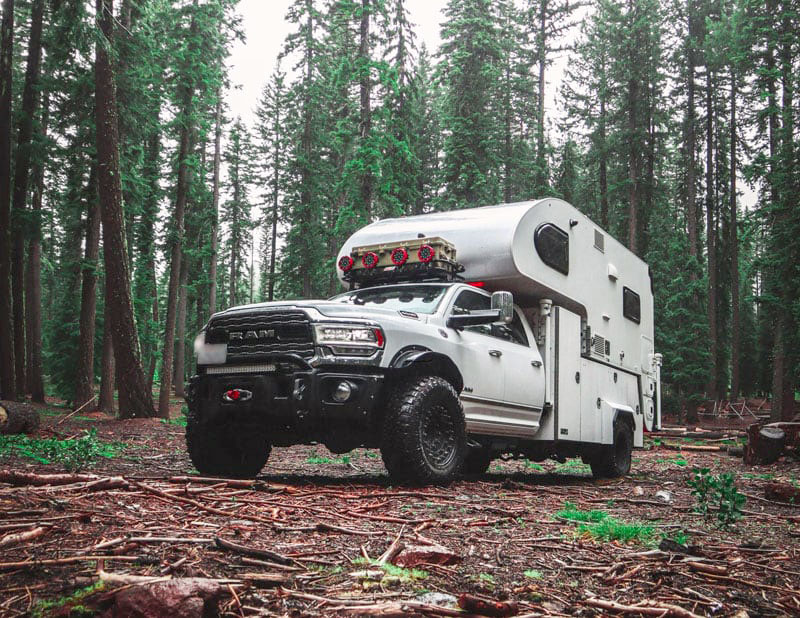 Please share how you got into truck camping.
I've always been drawn to natural wonders, mostly off the beaten path.  This necessitated being able to get there and to stay as long as desired.
Along the way, I have utilized a tent, van, truck camper, Class C, Unicat expedition vehicle, and lastly, a Cirrus 920.  After all of those experiences, I realized I could have the best of each option in a highly customized compact truck camper.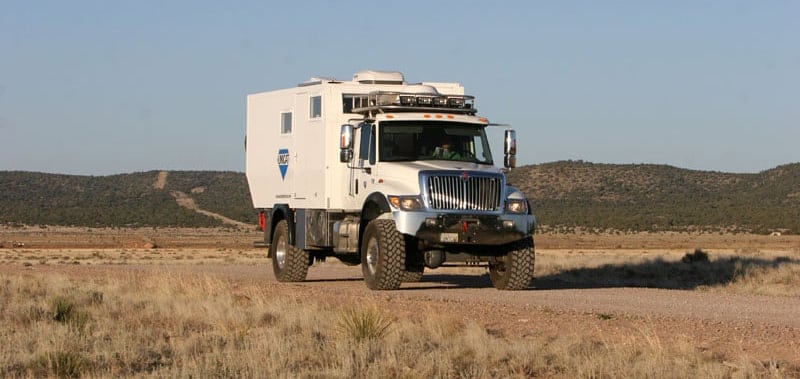 Above: Avi's Unicat traveled the world
It seems counterintuitive to go from a Unicat expedition vehicle to a truck and camper. What took you in this direction?
After ten years of owning a Unicat expedition vehicle based on a Navistar International 7400 four-wheel drive chassis, I came to the realization that I no longer wanted something that big.
With the Unicat I traveled through Europe, North Africa, Canada, the United States, and Mexico.  There's nothing as rewarding as traveling to remote locations and staying as long as desired in safety and comfort.
In 2018 I traveled to Bliss Mobile in the Netherlands and Alrad Abenteur in Baad Kissingen, Germany.  After drooling over gorgeous vehicles in the $600,000 to $1M range, I came to the conclusion that I could build just as capable a vehicle that would meet all my needs – at a significantly lower cost.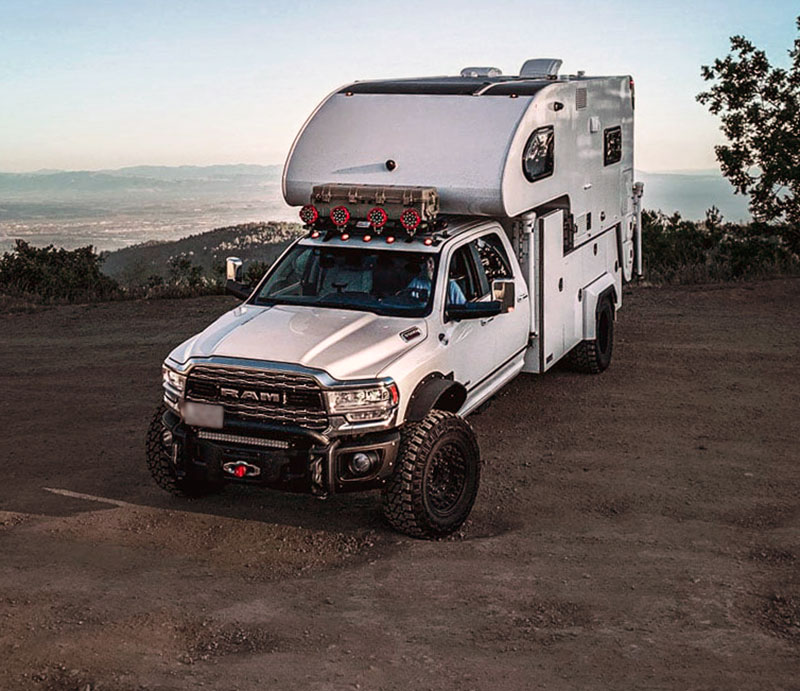 That makes sense. Why did you choose a Cirrus 920 for your build?
My selection of the Cirrus 920 truck camper was based upon its narrow width and ability to accommodate the significant alterations I had in mind.  I chose a hard side camper because of the extra interior storage capacity, insulation, and zero set-up.
After researching several hard side slide-in campers I settled on the Cirrus 920.  It has the right dimensions, weight, and I felt it was the most amenable to the modifications I had in mind.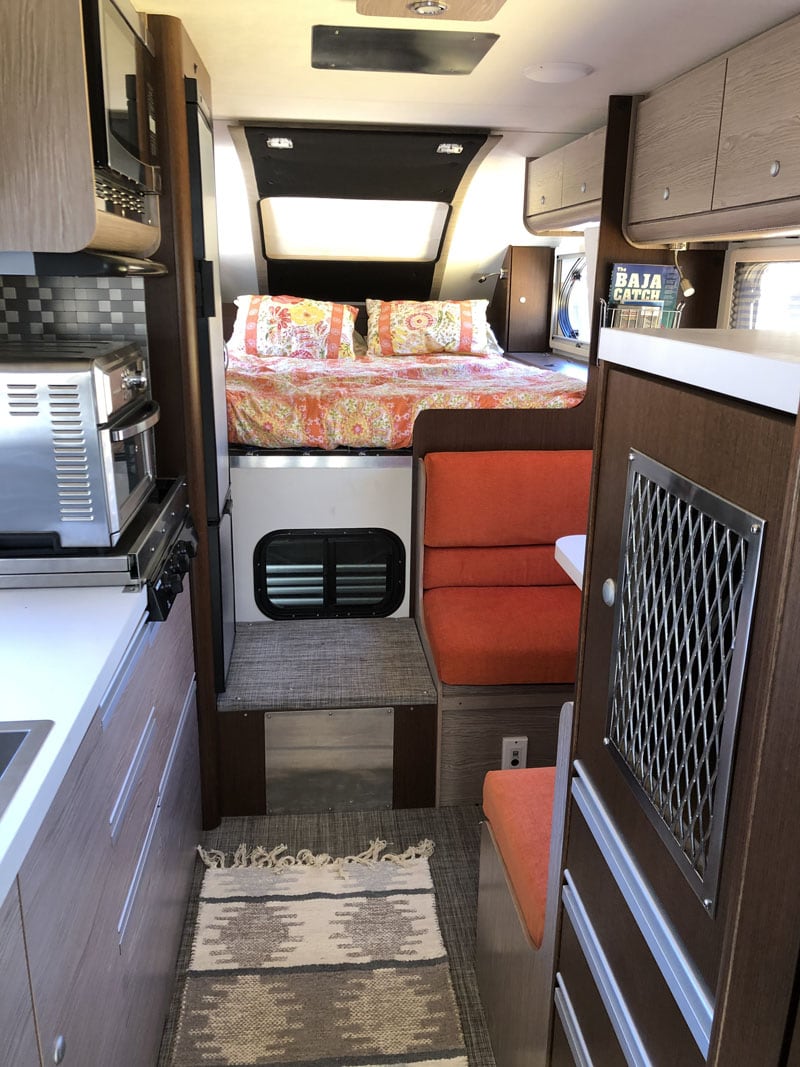 Above: The interior of Avi's Cirrus 920
What were you looking to do with your completed rig?
As I put my rig together I continually kept in mind its purpose; reliability, safety, range, comfort, environmental friendliness, no set-up, and indefinite off-grid capability.  I wanted the capacity to carry and sustain supplies, as well as equipment, tools, toys, and hobbies.
If you've ever been to Baja during the summer, you know how uncomfortably hot and humid it can get. I wanted a system that could easily run 24/7 in that environment – if desired.
I covered the entire roof with Solara semi-flexible solar panels.  I also carry a 1,200 amp-hour bank of lithium-ion batteries.  With this set-up, I can power my air conditioner for eight hours.  Actually, my rig is configured to never need hook-ups, so all I do is boondock.  I can stay off-grid indefinitely.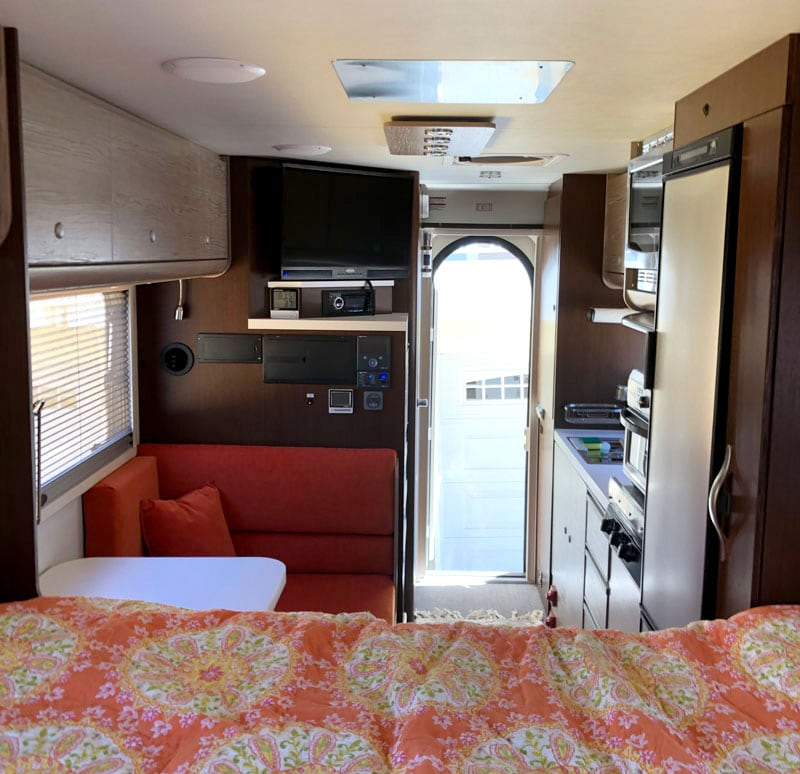 In addition to the normal dry goods, frozen and refrigerated items, I carry a three-month supply of freeze-dried food.  I also rely substantially on fishing.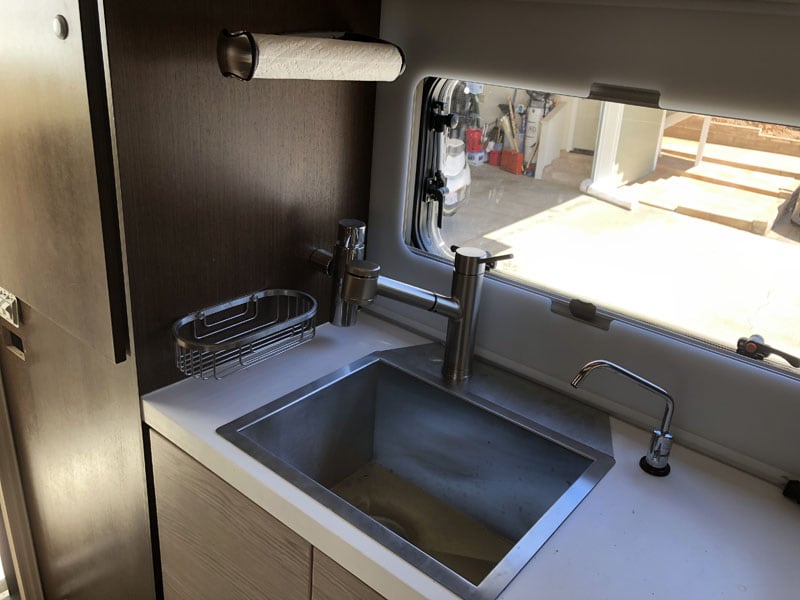 Above: A new sink, soap dispenser and paper towel rack were added
As for water, I'm installing a Watergen water maker which makes eight gallons per day from the air, enough to sustain two people in perpetuity.
That's a stunning concept – making fresh water from the air as you travel.  So many times we've had challenges finding fresh water.  How does it work?
The Watergen water maker makes eight gallons of water per day from the humidity in the air.
In my Unicat I had a reverse osmosis Aquifer by Spectra Watermakers.  Designed for the marine industry, it would desalinate as much saltwater from the ocean as I wanted.  The system was big and bulky.  It also didn't meet my needs if I wasn't near the ocean.
Watergen is out of North Carolina.  As long as there is 30 to 40-percent humidity, it will make water.  Of course, less humidity means less water.  It requires power to run but, because of my huge solar and battery systems, I can provide it the power it needs to produce water.
There is actually a wait for this product since it is so popular.  They should be shipping my unit out in August or September.
The number one thing I worry about when traveling off-grid is fresh water.  We have enough food and enough fuel to get us there and back.  But, if we don't have enough water to stay for a while, what's the point?  I believe the Watergen technology is the wave of the future.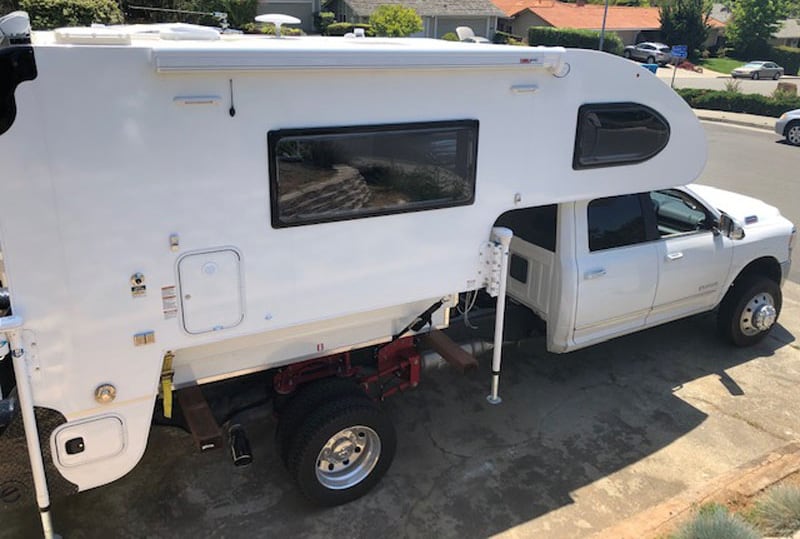 Above: The Ram 5500 with the Cirrus 920 before the utility bed was installed
It's certainly an amazing concept. Tell us about your truck.
My truck is a 2019 Ram 5500 Limited, four-wheel drive, crew-cab with a 6.7L Cummins diesel.  It has an 84-inch cab to axle wheelbase.
There are dual alternators (440-amps) charging camper batteries at 68-amps.  There is also an AFE Power cold air intake system and a transmission oil cooler kit.  An AEV front bumper with a Warn 16.5 winch is also on the truck.
There were 22-gallon and 52-gallon twin fuel tanks installed at the factory.  I also carry two additional 5-gallon Nato fuel tanks so that I have a total of 84-gallons of diesel, which is good for about 1,000-miles.  A water separator and fuel pre-filter kit was installed as well.
It was well worth the drive from California to Iowa for the Kelderman air suspension install.  I specifically want to thank Jeff Kelderman for his time and good work.  I absolutely love the resulting ride.
I originally purchased 41-inch tires.  Then I changed to Fury 37-inch tires that have a 4,200-pound load rating each with Hutchinson military 20-inch split rim aluminum bead locks and Centramatic wheel balancers.
It also needed a front fender modification to accommodate the 20-inch Hutchinson rims.  I have an Oasis XD4000 with air distribution for inflating all tires at once.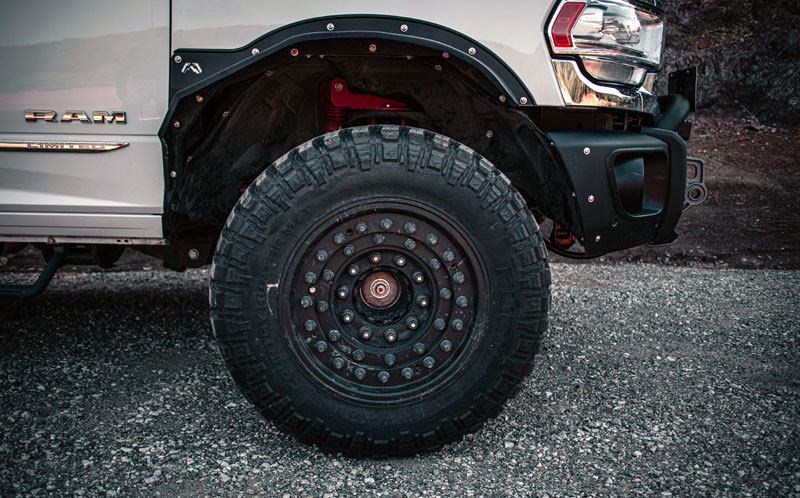 Why did you go from 41-inch to 37-inch tires?
I wanted 41-inch tires.  I actually purchased 41-inch tires and had to sell them.  The problem was that with my Kelderman air suspension system I needed a lift for the 41-inch tires, which could not be achieved.
As I put this rig together there were several occasions when I needed to adjust plans to make things fit and work together properly.  Just like the situation with the tires not fitting, I had to try different outside freezers, grills, and sinks.  Building a rig of this magnitude requires experimenting with different products to get everything to work together.
A Cirrus 920 to a Ram 5500 gives you lots of extra payload. Did you really need that much truck?
From previous experience, you can never have a strong enough rig.  From research, I realized that a common problem with truck campers is that people overload their trucks.
Yes, the Cirrus is a relatively small and lightweight camper.  However, I have added a considerable amount of weight with the way I set it up.  The Ram 5500 gives me a margin of safety.  I also tow a 21-foot Boston Whaler boat behind the truck.  I need power and torque.
I only use the camper to go to sleep or to stay in during inclement weather.  The rest of the time I am outdoors.  Why do I want to invest in slide-outs and more space?  I would rather have the capability of the vehicle.  With this set-up, I can have my cake and eat it too.
I looked at all of the truck camper brands when I was shopping.  What brought me to the Cirrus 920 was that it had a place for everything I wanted to put on the camper.
For example, I knew where I was going to mount my Cruise and Comfort air conditioner and 1200-amp hour batteries.  This particular camper enabled me to do all that I wanted to do.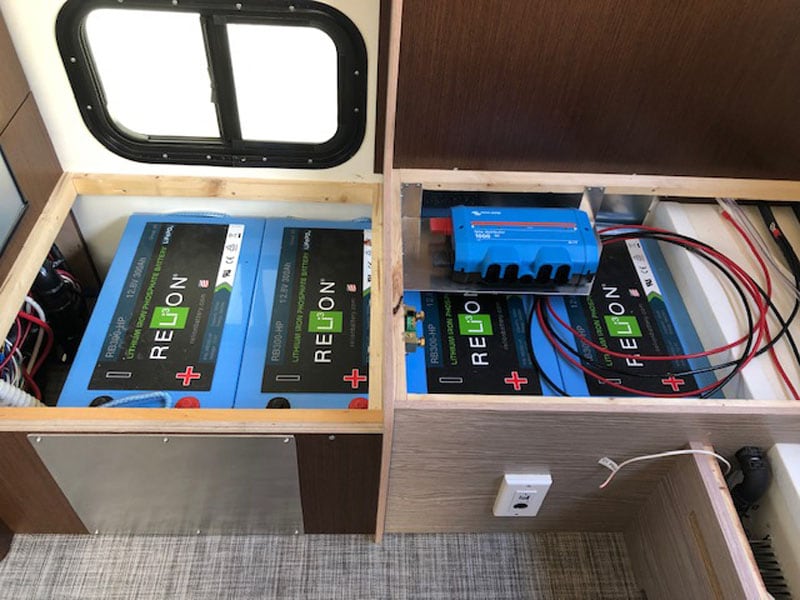 Most truck campers have maybe 200-amp hours. Why did you decide to purchase and install a 1200-amp hour battery bank?
The Watergen water making system and Cruise and Comfort air conditioning system require a considerable amount of power.  I want to be able to run both systems for at least eight hours at a time.
Since I have lithium-ion batteries, I needed to keep them inside the unit where it will be warm.  Lithium-ion batteries do not like the cold.  The lithium-ion batteries I purchased cost $12,000, but I believe they were the best option for what I want to do.
I store the batteries in the space where NuCamp has the two AGM batteries, the water pump, and the plumbing. I had to rewire and re-plumb the camper to accommodate all of the batteries.
Safety was a critical consideration for everything I planned and built.  The Relion batteries have a proven track record with zero reports of failure.  I am depending on the science behind lithium-ion batteries that they are safe to keep inside my living space.  Also, keep in mind that they are one-third the weight of traditional wet cell batteries.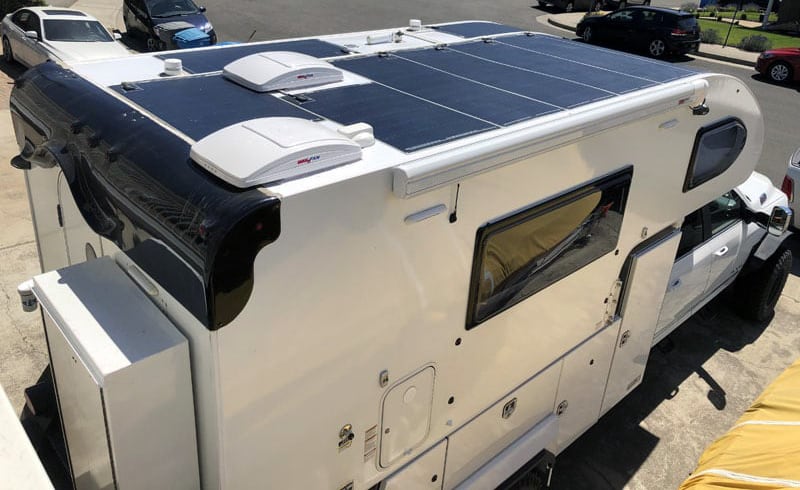 You also have 1200-watts of solar to charge your four Relion lithium-ion batteries. Why did you choose flexible solar panels?
Solara are top of the line German-made, marine-grade semi-flexible solar panels.  They are extremely robust.  You can physically run on them if you want.  If a tree branch drops on the panels, nothing will happen.
I chose to not have a generator because I have so much solar.  With the seven Solara panels, I have 1,200-watts.  There is no need for a generator.
The Solara solar system and Victron controls are the heart and brain of this rig.  To make sure it was done right I brought Dan Reshatoff of Quality RV Solar on board.  I couldn't have chosen better.  Just look at the meticulous installation and top-of-the-line components.  Thank you, Dan, for your great contribution to my dream machine.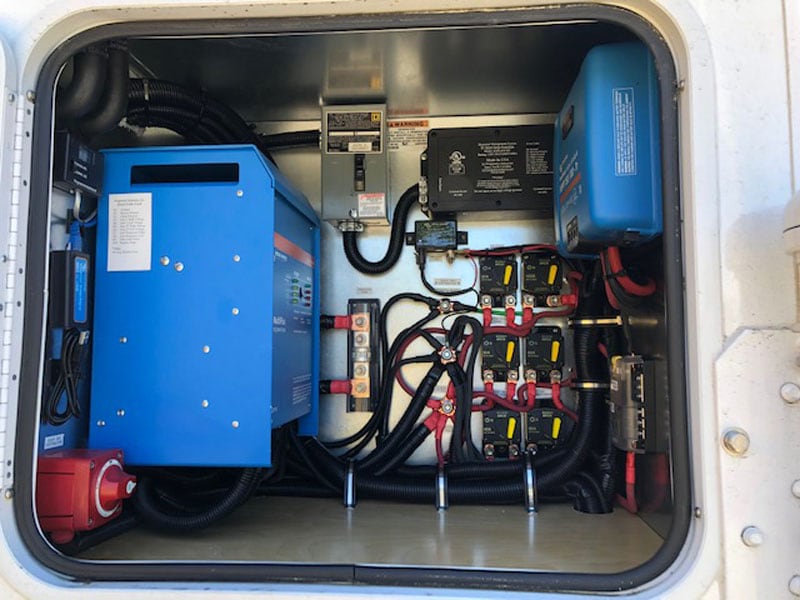 Above: The exterior compartment with the inverter and wiring
The solar panels were also expensive at $12,000 for the complete system.  I did not allow cost to be an issue when designing and building this rig.  I wanted to see how far I could take a truck camper.  I purchased and installed the best components that money could buy.  For me, this was meant to be my retirement hobby.
Where did you move the water pump and plumbing?
The water pump was moved next to the Alde hydronic heating system under the other dinette seat.  I used the same hose that came with the pump.  Fortunately, I was able to do that work myself.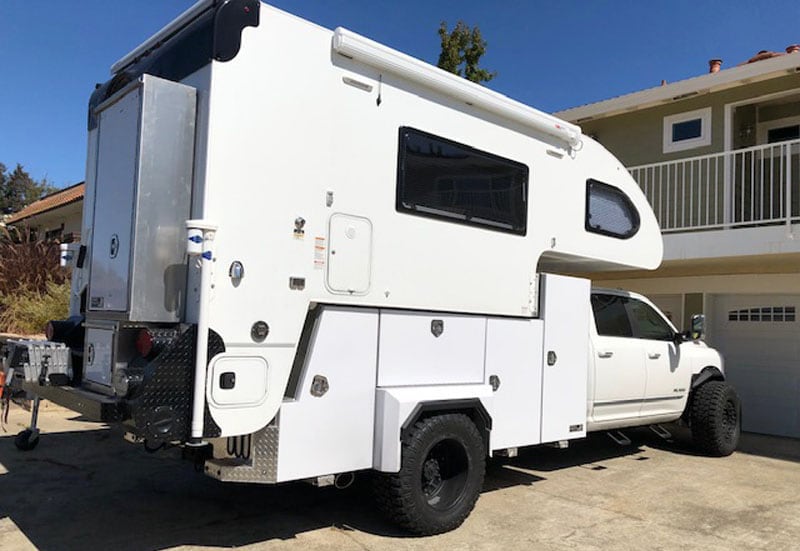 Other than the spare tire, what do you store in the compartment in the front of the truck's bed?
The custom bed was built and installed by Highway Products in Oregon.  To get the bed installed, I had to strap the camper onto the bare truck chassis and drive to their facility in White City, Oregon.
There were some significant issues with the initial bed build.  To the company's credit, they responded with integrity and accepted full responsibility.  They made everything right.  I especially want to thank Shayne Hill for doing an outstanding job of shepherding me through the process.
I love the resulting quality, design, utility, and appearance of the utility bed.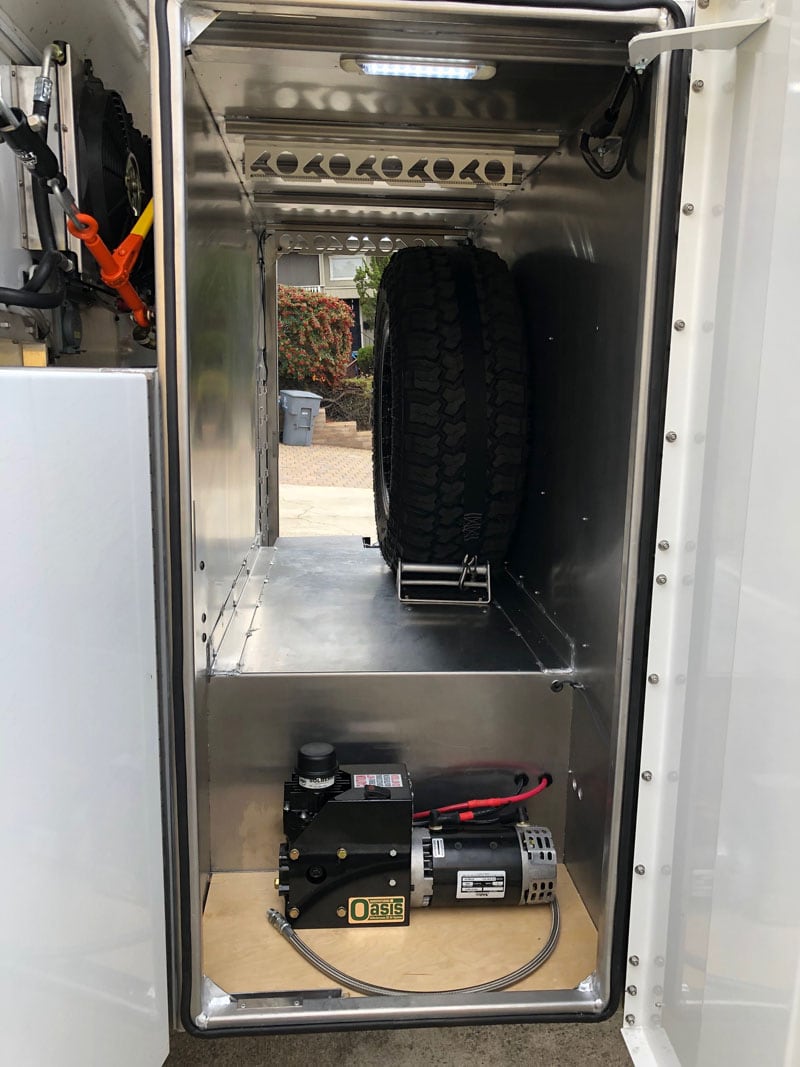 In the large compartment with the spare wheel (pictured above and below), I have a stand-up paddleboard and windsurfer, a two-person inflatable kayak, 20 fishing reels and rods, a huge tackle box, an electric folding eBike, two chaise lounges, two self-supporting hammocks, four chairs and a table.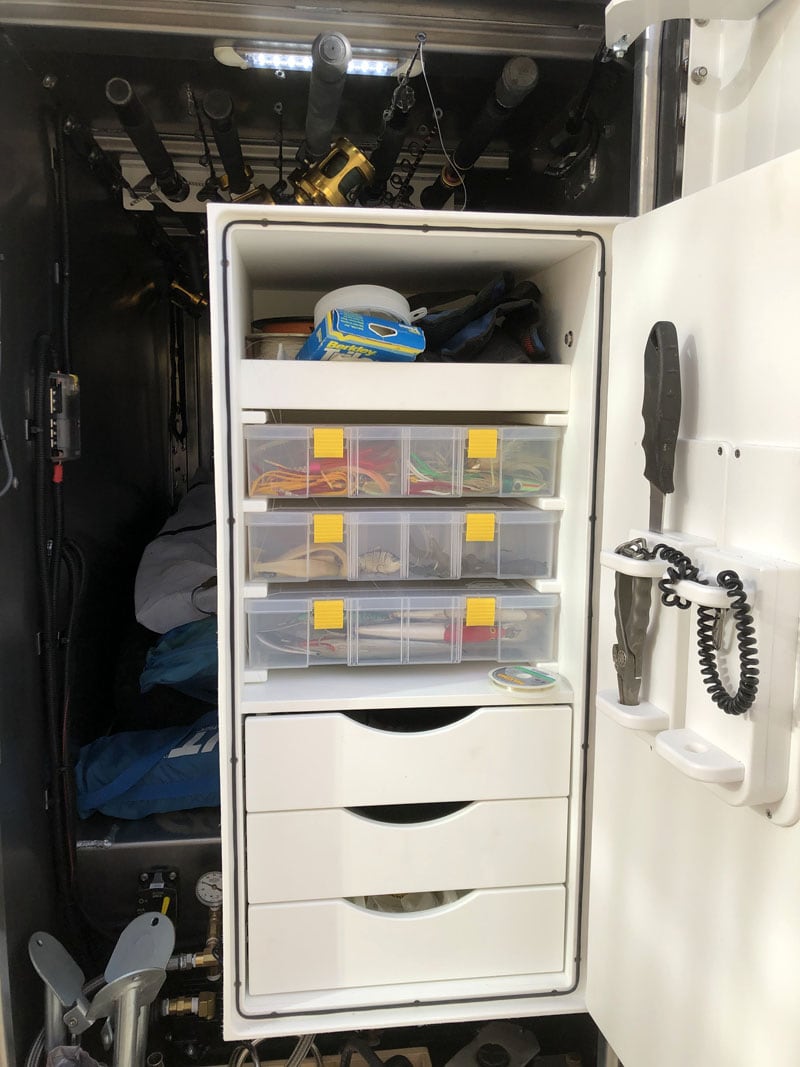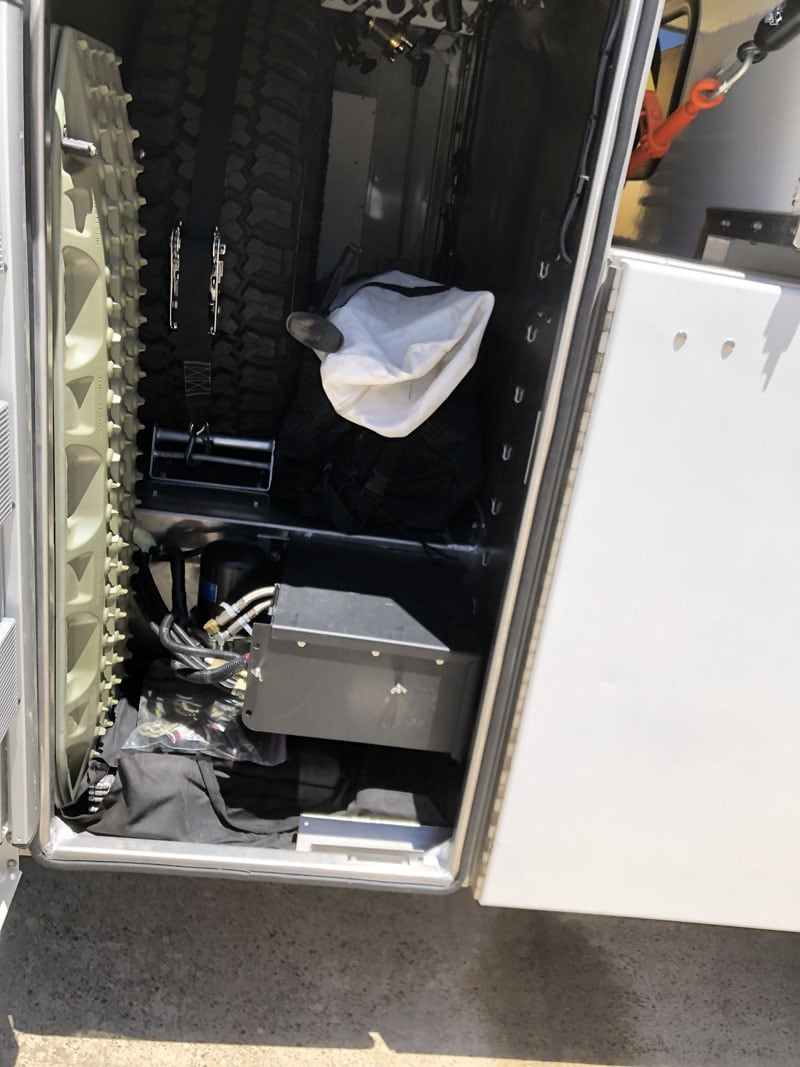 I also store MaxTrax in that area.  Another lesson I learned through my extensive traveling is to not store anything outside of the vehicle.  It will get grabbed and stolen.  You will notice that my vehicle is clean of anything on the outside.  There is nothing to steal.  That's intentional.  If it's there to be ripped off, it will be ripped off.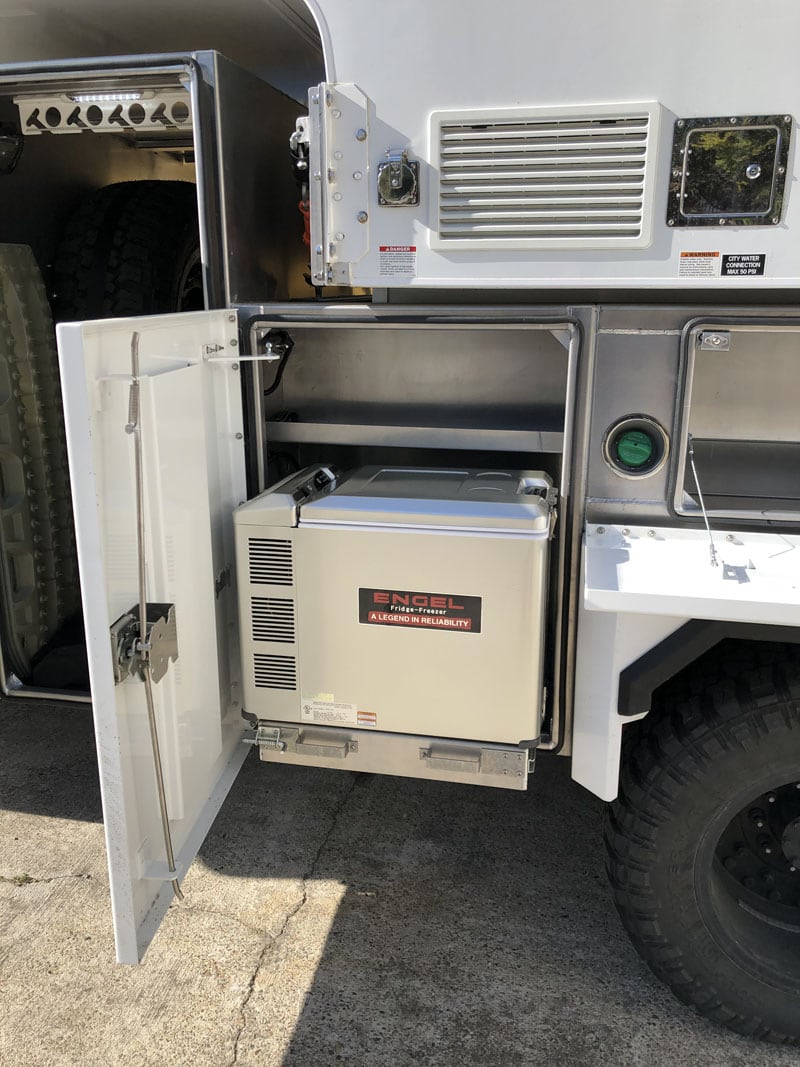 What's contained in the driver's side exterior compartments?
In the front compartment, I store a 45-quart slide-in and slide-out freezer (pictured above).  That's my fish prep box.  I also have a vacuum packing machine there.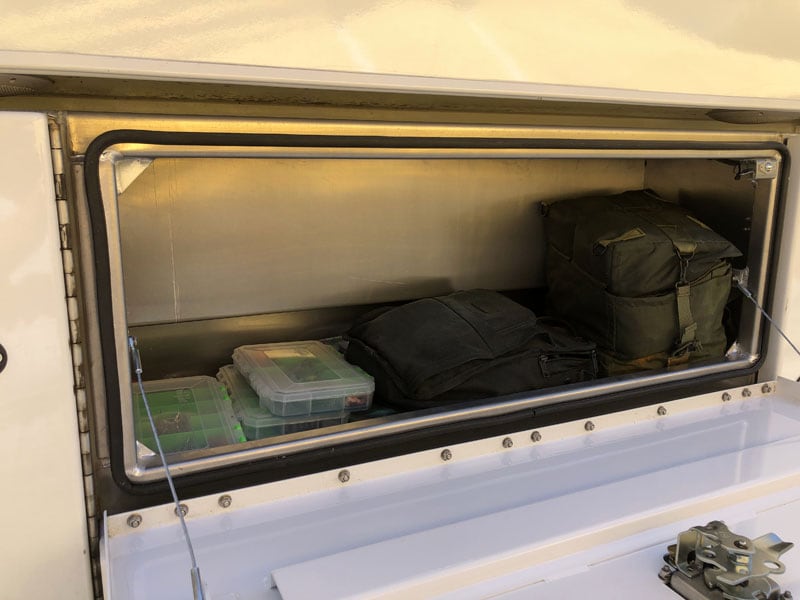 In the middle on the driver's side, along with my fuel fills, are my military-grade first aid kit and tools.  One of the things I learned during my experiences is that you need a vice.  If anything breaks a vice serves as an extra pair of hands. I installed a vice that can fit on a stand and can be taken off when it's not in use.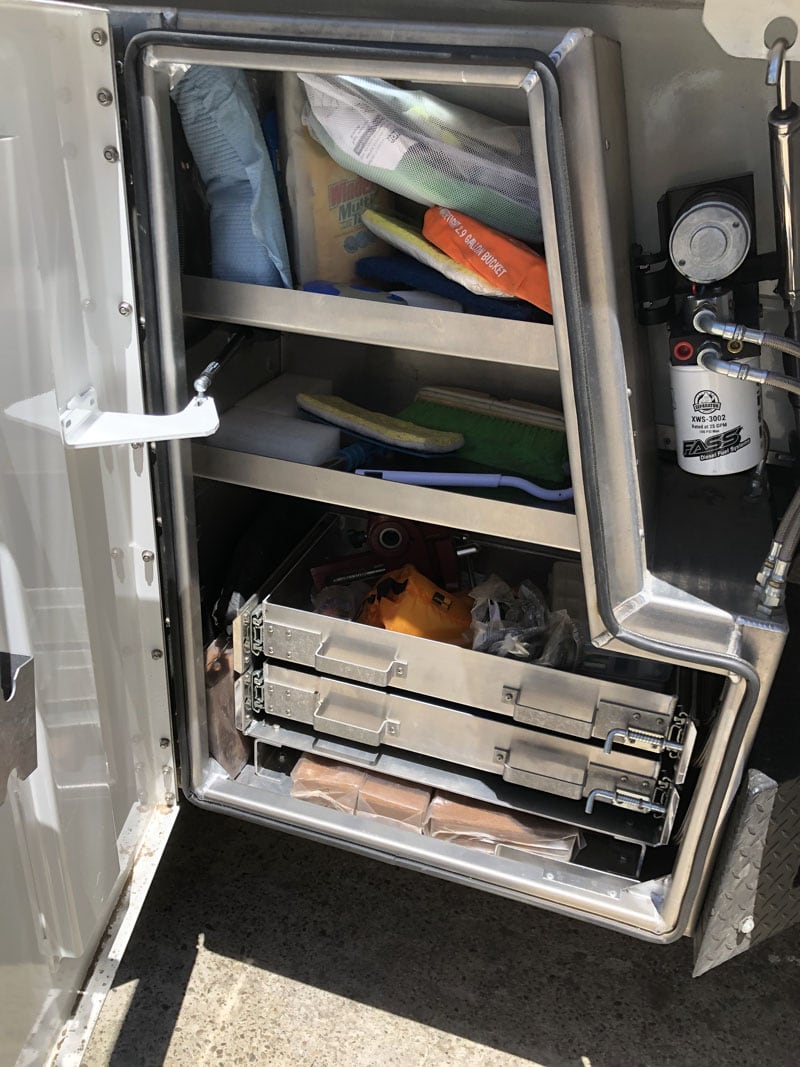 On the rear driver's side are drawers with various parts, pieces, and cleaning supplies.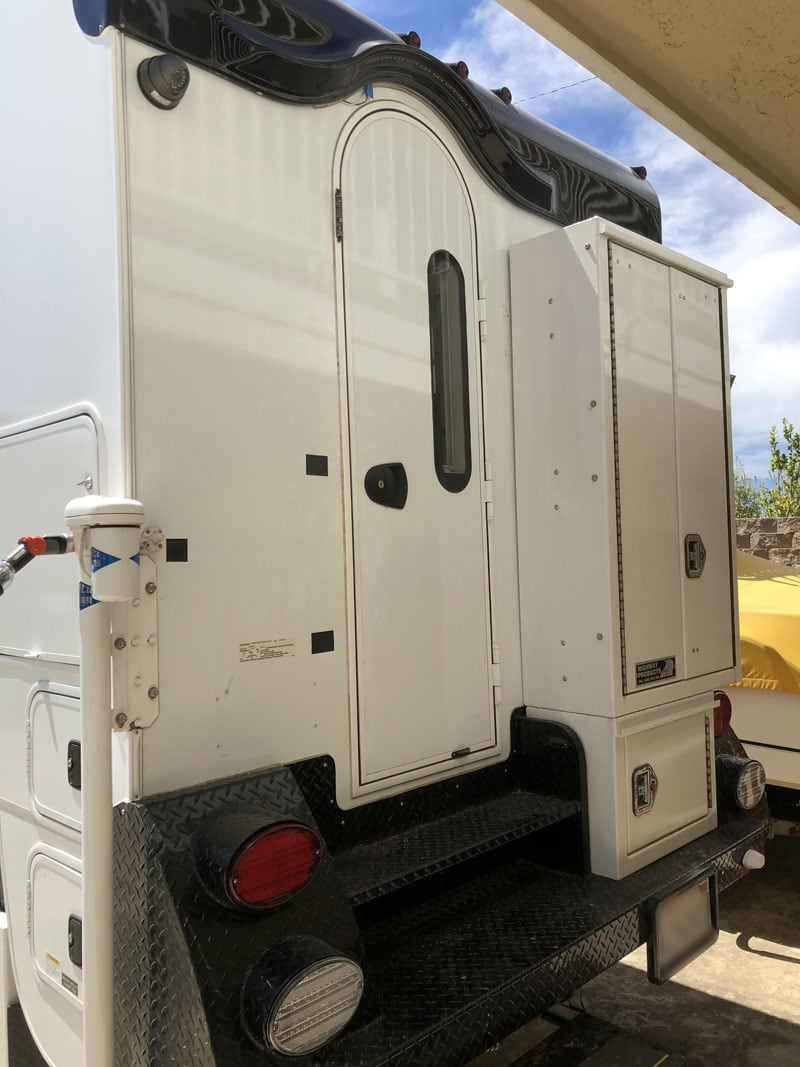 Tell us about the storage on the bumper.
Yes, there are two separate boxes there.  The bottom area has extra straps and items I might need if I get stuck in the mud.  In the top box, I keep long term supplies like freeze-dried food and spare parts.  I like to have more room than I need.  When you travel you usually run out of space.  I don't.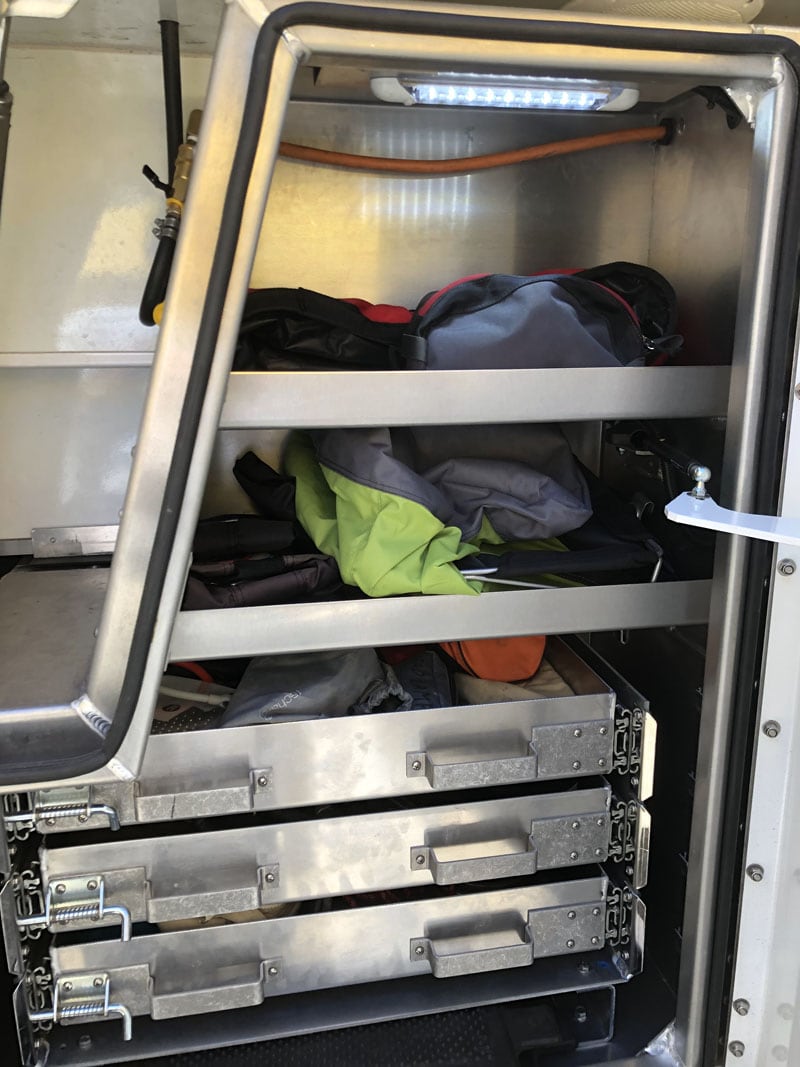 On the passenger's side in the back, I store various tools, spare parts, and supplies.  That's the part under the awning.  The middle part is for entertaining supplies and for outdoor stuff.  The large front compartment is for my top burning infrared pull-out grill and all its supplies.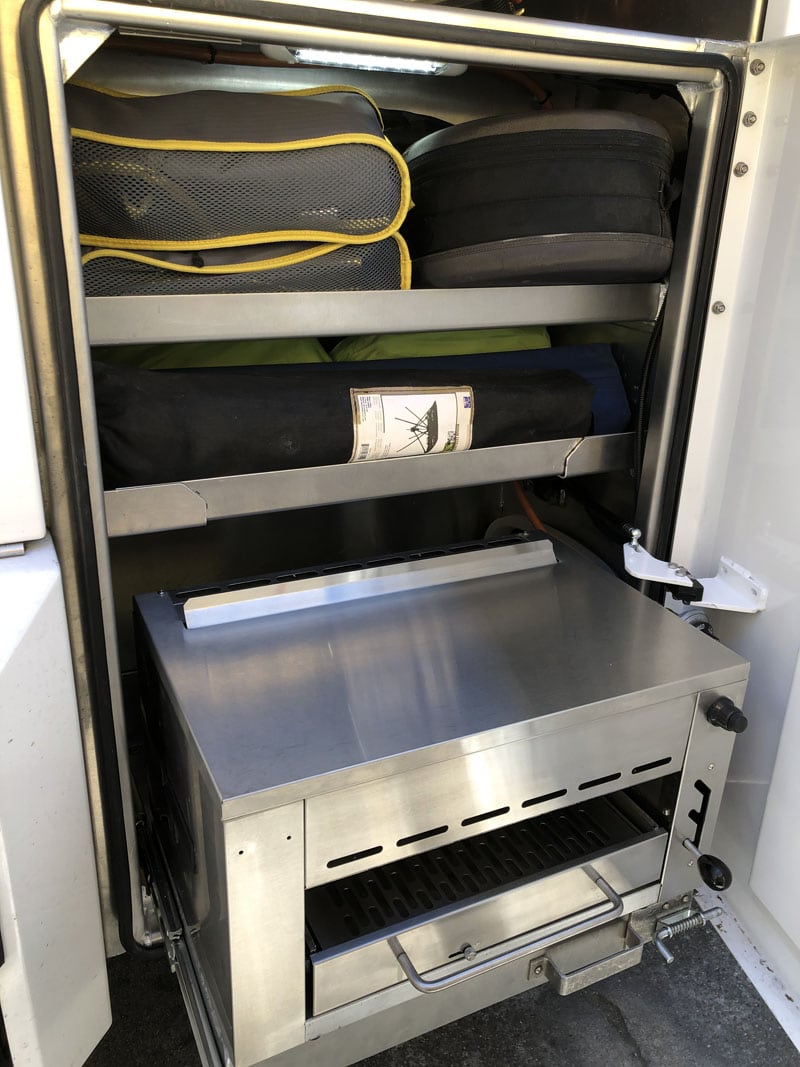 I also store things in the back of my truck's cab.  I can keep the single-seat down and then there's a longer seat.  When I collapse the longer seat, I can fit six plastic boxes which provide enough room to carry as much food and supplies as I could want for three to four months at a time.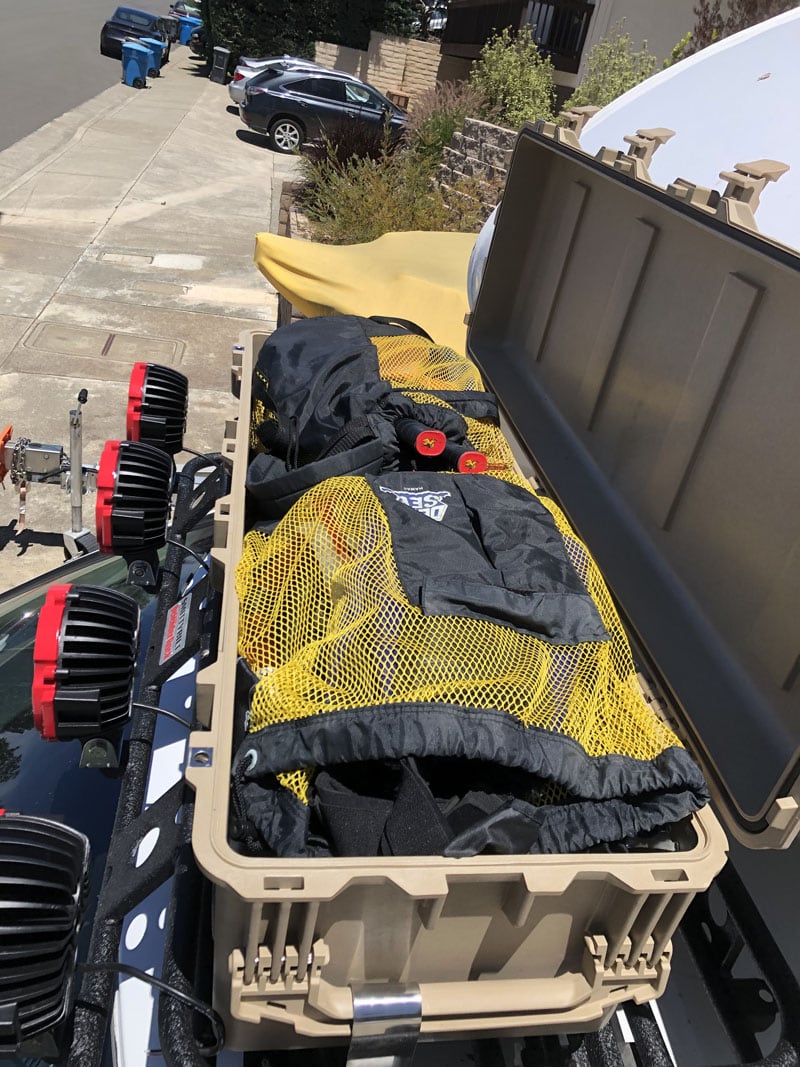 The Pelican Box above the cab is for my snorkeling, spearfishing, and scuba diving gear.
Is everything that you've put on the truck something you needed while traveling in the Unicat and other overlanding vehicles?
Yes.  First, it is important to be aware that the Cummins diesel in the Ram is the best engine to have for global travel.  Once you get out of North America it is hard to find mechanics for the Ford V8 and GM V8.  They are problematic because people don't know how to work on them.  The Cummins is ubiquitous.  That's why I went with Ram.
I really loved my Unicat.  It had absolutely everything.  And I loved traveling in it.  The thing that bothered me is that it drove like a huge truck because it was a huge truck.
Most of the time on the road, even if your final destination is off-road, you are driving a lot on pavement.  I'm 72 and I wanted more comfort.  My wife can no longer travel so I will be by myself most of the time.  I wanted this vehicle to do everything the Unicat could do, only with more driving comfort.
I eventually realized I could have that capability and comfort with a highly-modified truck and camper set-up.  The final rig has nearly all the functionality of a Unicat in a more compact unit.
The biggest negative about a truck camper is the angle of departure.  I wish there was something I could do to make that better, but that was a compromise I was willing to live with.  Other than the angle of departure, the truck camper rig should be able to perform as well as the Unicat.
Does the final Ram 5500 and Cirrus 920 rig fit into a container?
It can fit in a container.  The camper is narrower than my rear wheelbase.  I can take the camper off and put the truck and camper, front-to-back, into a 40-foot container.
In contrast, shipping the Unicat was a negative experience.  I had twin hydraulic winches front and rear, and one was stolen aboard ship.  That is why I have nothing on the outside of my rig, and it is why I wanted a set-up that could fit in a container.
I plan on putting the rig into a container when I go to Australia.  I will ship it there and leave it there for a year.  I can fly back and forth.  I also hope to take it to South America.  That was going to be my next trip but, with Covid-19 and the drug cartel problems, I'm not sure I am going to be able to make that trip.  I also want to go back to eastern Europe and the Scandinavian countries.  North Africa is another questionable destination at this time.
I was in Morocco in the Atlas mountains and went through a small village with four Unicats.  The last Unicat was the biggest.  As it went through town it knocked down the wall of a house.  Having a short and narrow vehicle is essential if you are going to take it through many parts of the old world.
Above: The Cruise N Comfort on the front wall of the camper
Tell us about the Cruise N Comfort air conditioner.  It really works on 12-volts?
Yes.  I took off the air conditioner from the factory and replaced it with a 12-volt Cruise N Comfort marine air conditioner system.
I love Baja and really this rig is designed and built to accommodate my love of Baja.  I need air conditioning there all the time in the summer.  You want to have it on at night while sleeping.
The Cruise N Comfort runs on 12-volts and draws only 45-amps.  It was an easy choice to make.  The unit is small at 800 BTUs, but so is the camper.
This unit keeps me comfortable all night.  I've got 1200-amp hours of batteries, so it will run easily all night.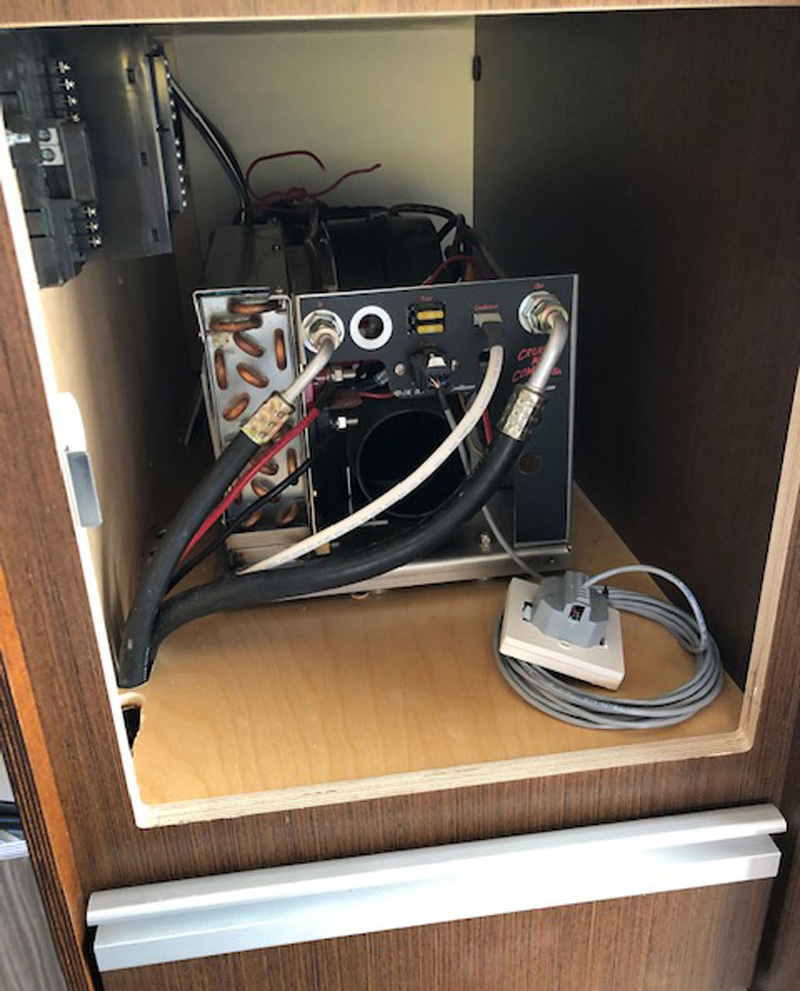 There is a big compartment (pictured above) inside the 920 that looks like it was custom made for the Cruise N Comfort.  The outside part of the unit is on the front wall of the Cirrus.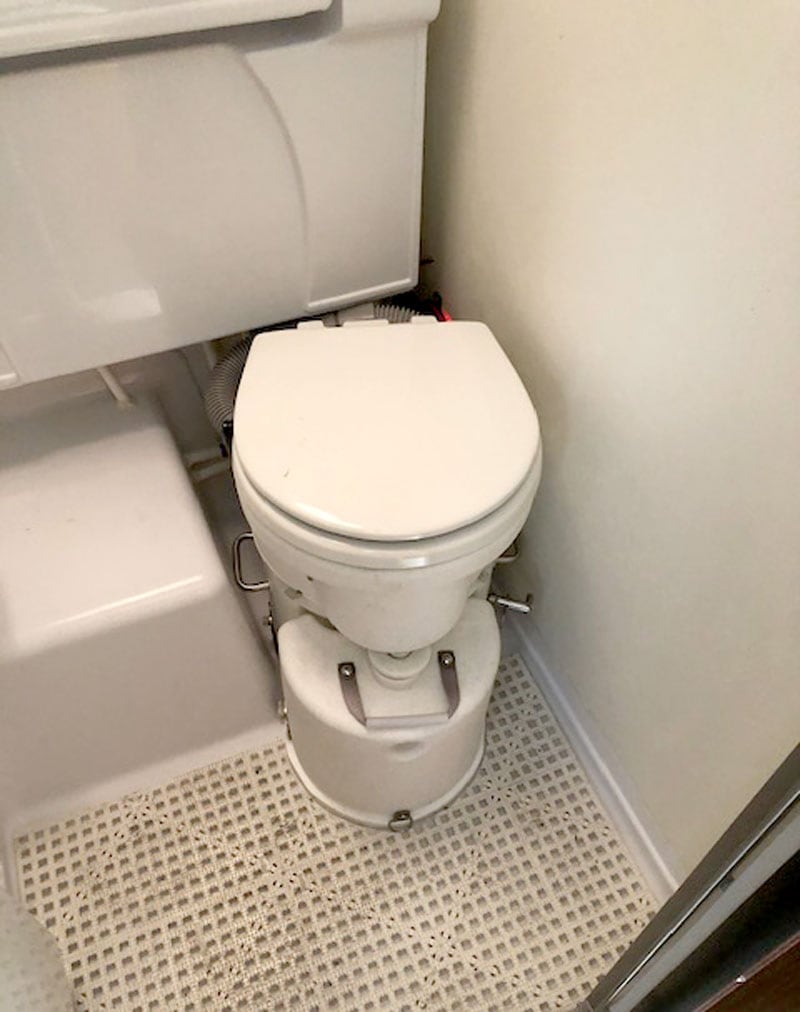 You also replaced the flush toilet in the Cirrus 920 with a composting toilet.  Why did you make this change?
From travel experience dumping black water in certain places is impossible.  There are areas where you can't find a dump on the east coast of the United States, much less when you're traveling Australia, South America, or Africa.  Even when I was in New Jersey and New York I sometimes had to travel an hour to dump.  That's crazy.
A compost toilet is the best solution for off-grid living.  If I am traveling by myself, I don't have to empty the compost toilet for a month.  There is no smell and hardly any cleaning.  Some people think it's going to be a mess, but I think it's much more tolerable than dealing with black water systems.
I don't know why people wouldn't get it.  It's environmentally friendly.  I like it a lot.  And there's no black tank!
I chose the Airhead compost toilet because it was the only one that fit into the wet bath of the Cirrus 920.  The base is made of starboard which is easy to work with and it's impervious to water.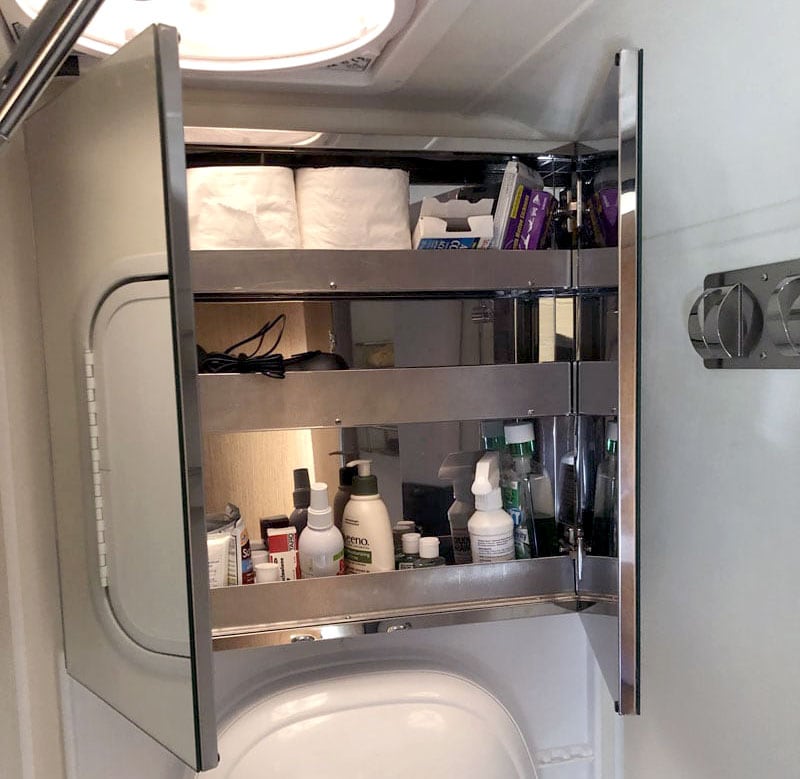 Above: Avi added more bathroom storage
I also converted the 920's black tank into a grey tank.  I pulled the toilet out and converted the drain part to be a shower drain.  Then, I installed the platform toilet and perforated it so water could go down into the tank.  I now effectively have 50-gallons of grey water.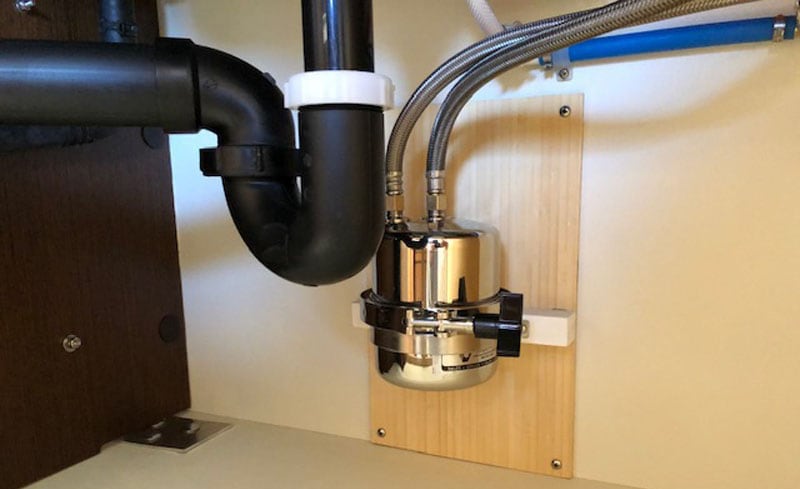 Above: Seagull IV Water Filtration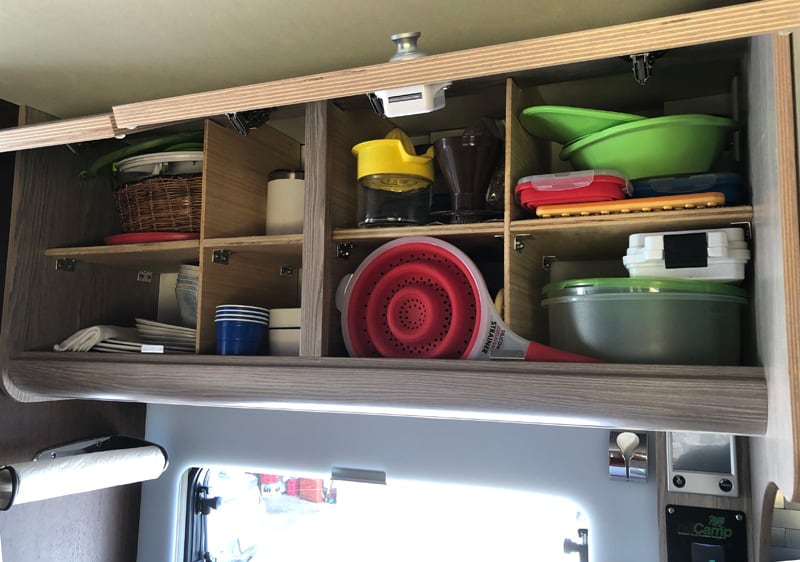 Above: Organization above the kitchen sink
It seems there's no feature or appliance on your Cirrus that you didn't reconsider.  Is there anything on the Cirrus 920 that's essentially stock from the factory?
Yes, quite a bit actually.  I kept the 38-gallon fresh tank, refrigerator and freezer, Lagun table, queen mattress with Froli sleep system, two-burner cooktop, microwave oven, and two 20-pound propane tanks.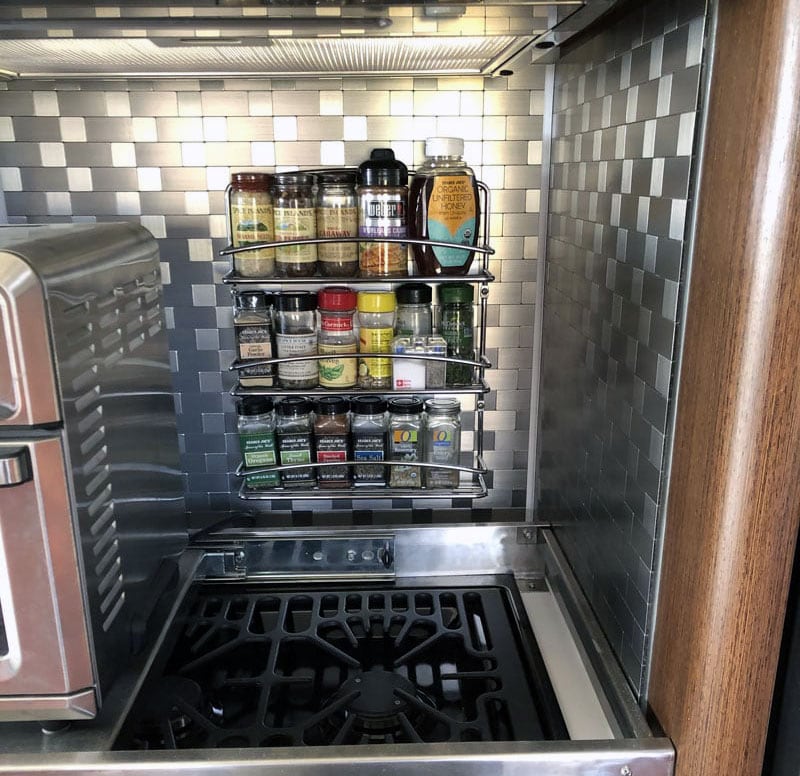 I also kept the Alde hydronic water heater and radiant space heating system.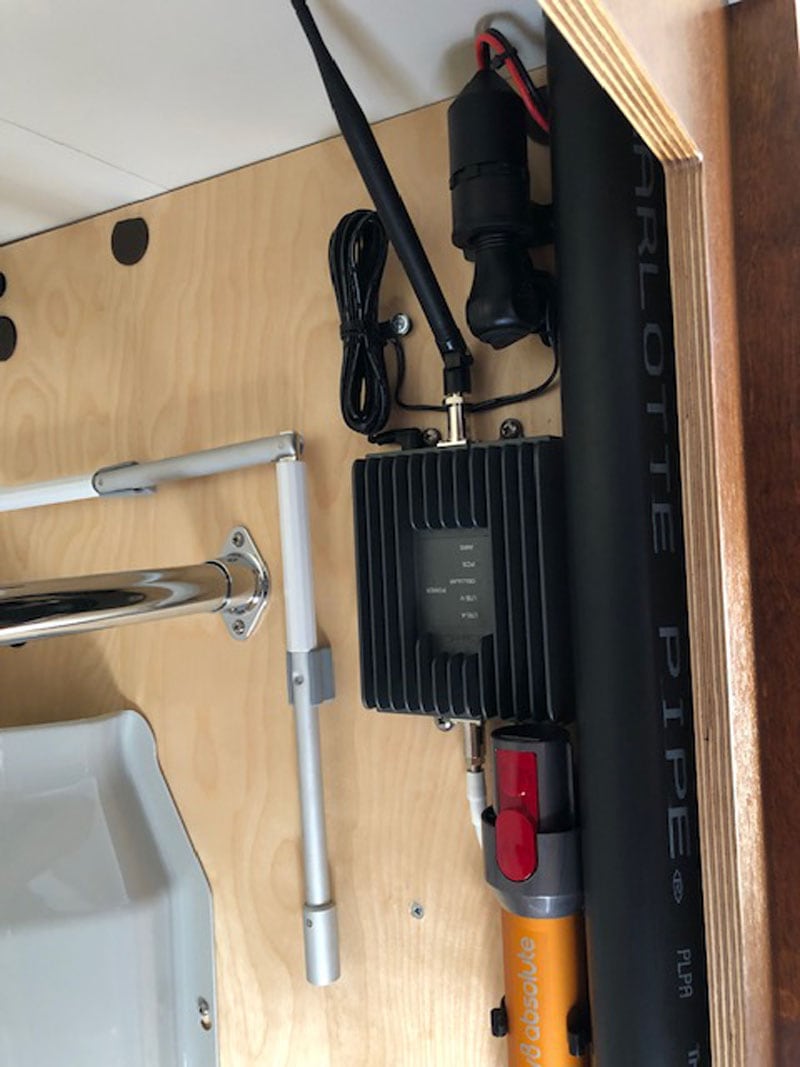 We spent several months in a Cirrus 920 and can confirm without reservation that the Alde hydronic heating system is spectacular.  Tell us about the camera system on your camper.
For communication, I have a cell phone booster (pictured above).  I installed a remote 360-degree MobileMule 6403 8-channel mobile DVR with GPS, WiFi, and 4G (1TB HDD).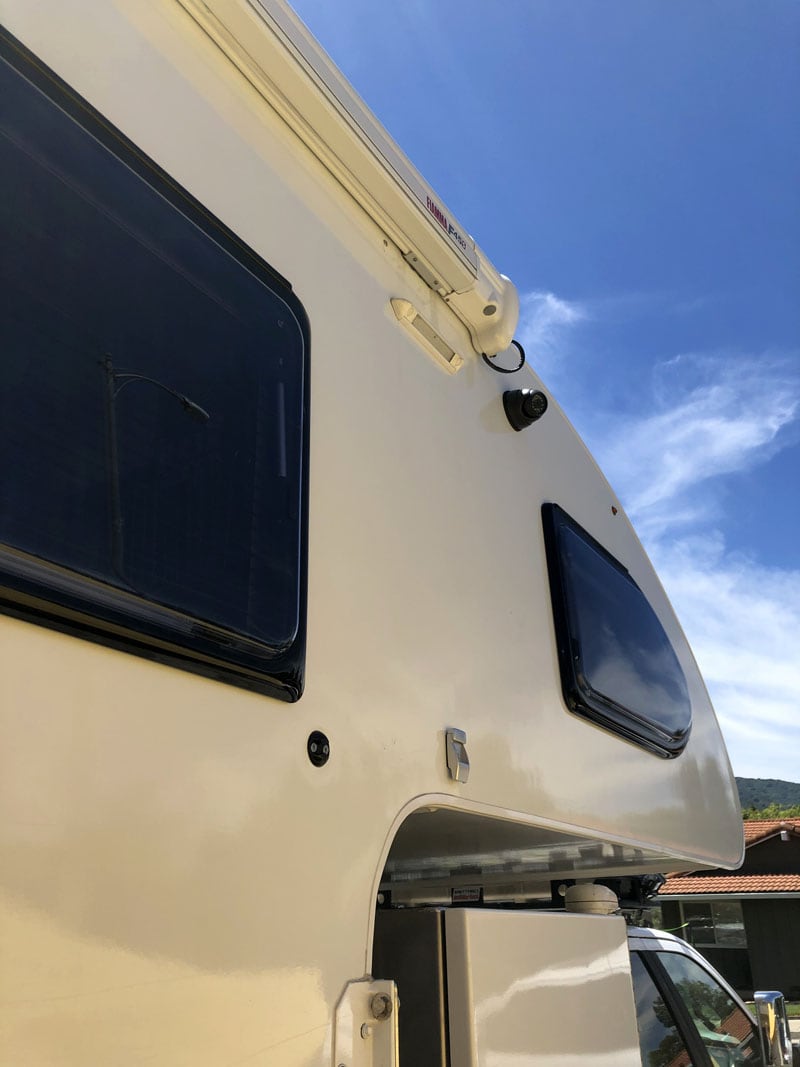 I can work the MobileMule 360-degree surveillance system through my television and iPhone.  I can monitor my vehicle from anywhere in the world.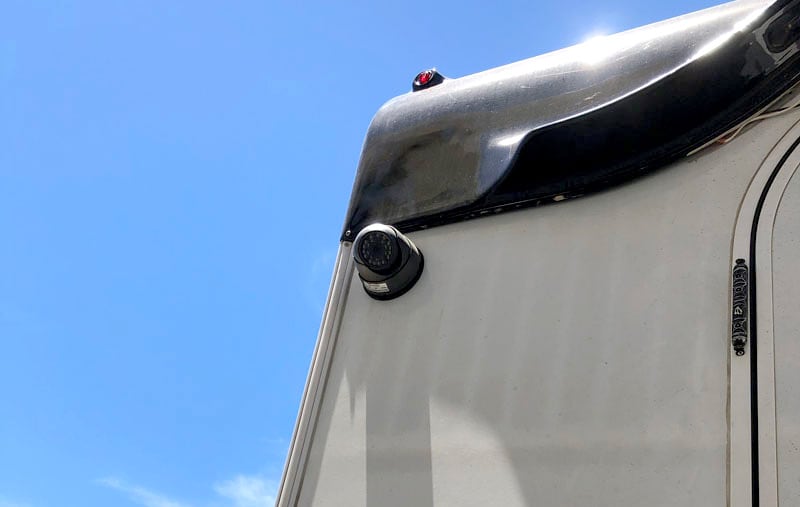 One camera is mounted over the front rack, one on each side, and one in the back (pictured above).  Those are on a constant recording in a loop.
How long did it take to assemble the rig from start to finish?
Obviously, Covid-19 interfered with the project.  Realistically it took a year and a half to put it together.  As far as cost, I budgeted $200,000 and I'm about $250,000 into it.
That might make your truck and camper the most expensive we have ever encountered. At that cost level, why not get something like an Earthroamer?
An Earthroamer would be twice as expensive, and would not have all the capabilities of my rig.  Earthroamers are more luxurious, but there are definitely compromises.
Another company I considered was Global Expedition Vehicles.  They are well made and impressive, but don't offer the storage capacity I have.  That's the real beauty of a truck and camper.  With my custom bed, I have way more storage than an Earthroamer or Global Expedition Vehicle – and at a fraction of the cost.
I want to take my hobbies along with me.  If I can't do that, what's the point?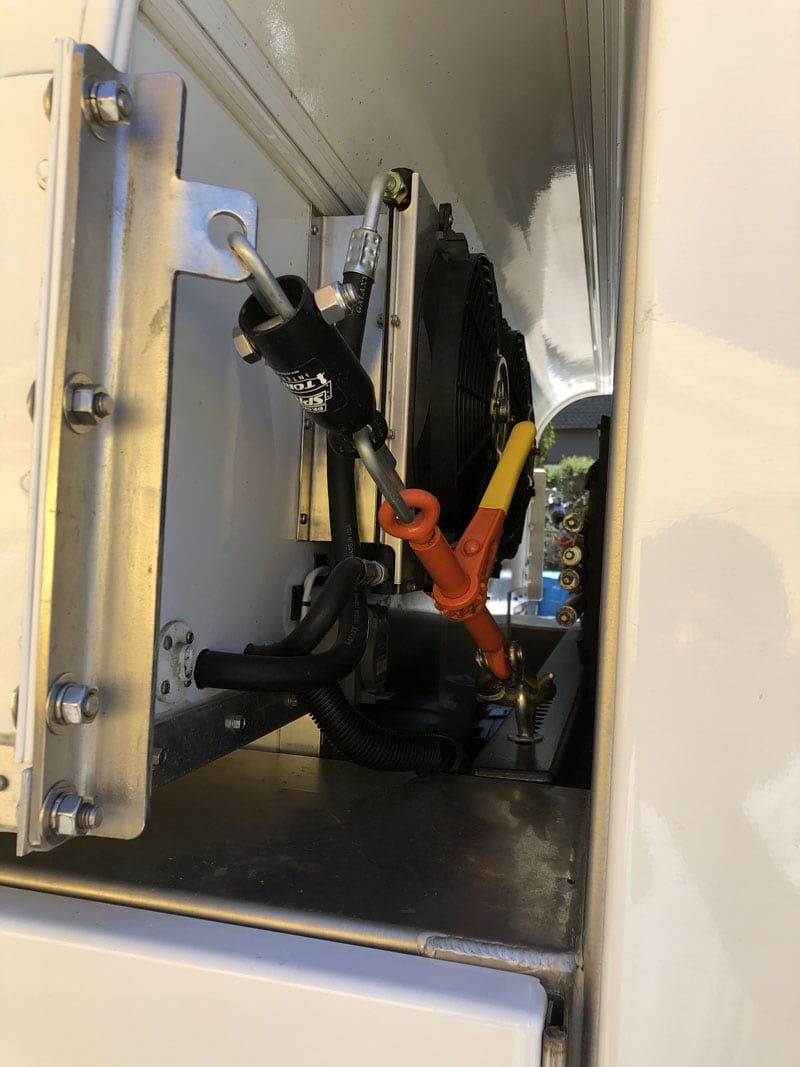 What's going on with your front jacks?
I can't open the compartment doors on the utility bed with the front jacks in position, so they are mounted forward and out of the way.  I also use the front jack brackets (pictured above) for the hold-downs of the camper.  The rear jacks (pictured below) are permanently mounted on the camper.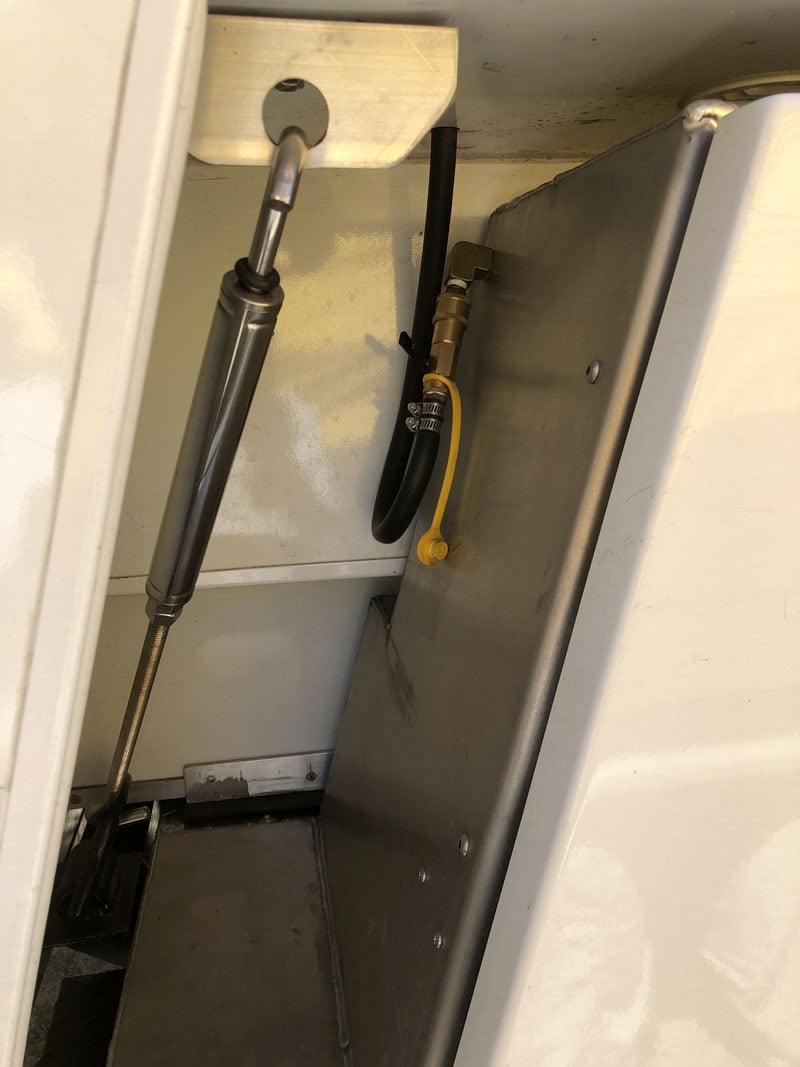 If I need to unload, I unbolt the turnbuckles and put the jack bracket back on.  It adds 10 to 15-minutes to the unloading process.
There was a lot of thinking behind the integration between the truck and camper in order to do everything I wanted.  There are actually five disconnects; the rear view camera, the camper's umbilical cord, charging from the engine compartment, the connection for the propane grill, and the turnbuckles.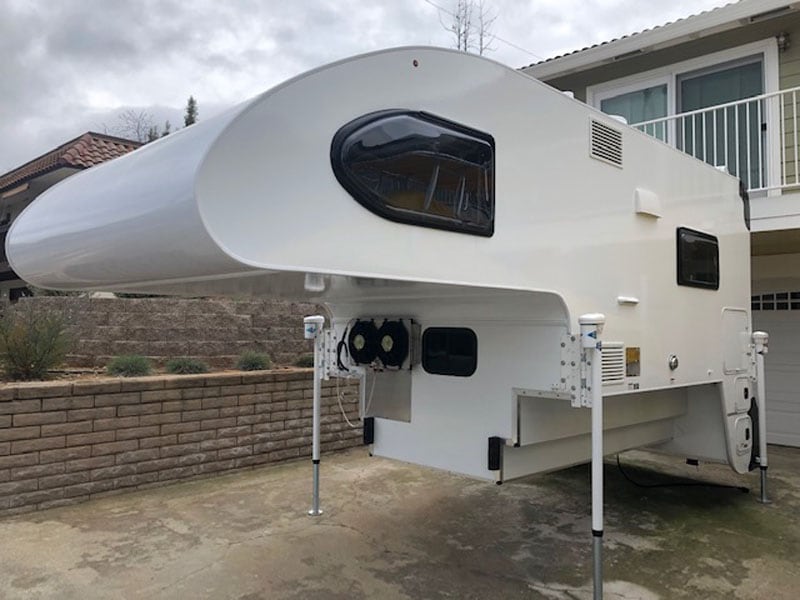 Why did you have nuCamp leave the Cirrus logo and decals off?
I like visual simplicity.  I know that sounds weird looking at this huge and complex rig.  I don't like decals and things like that.  I like it plain.  I would have chosen desert tan if the truck came in that color.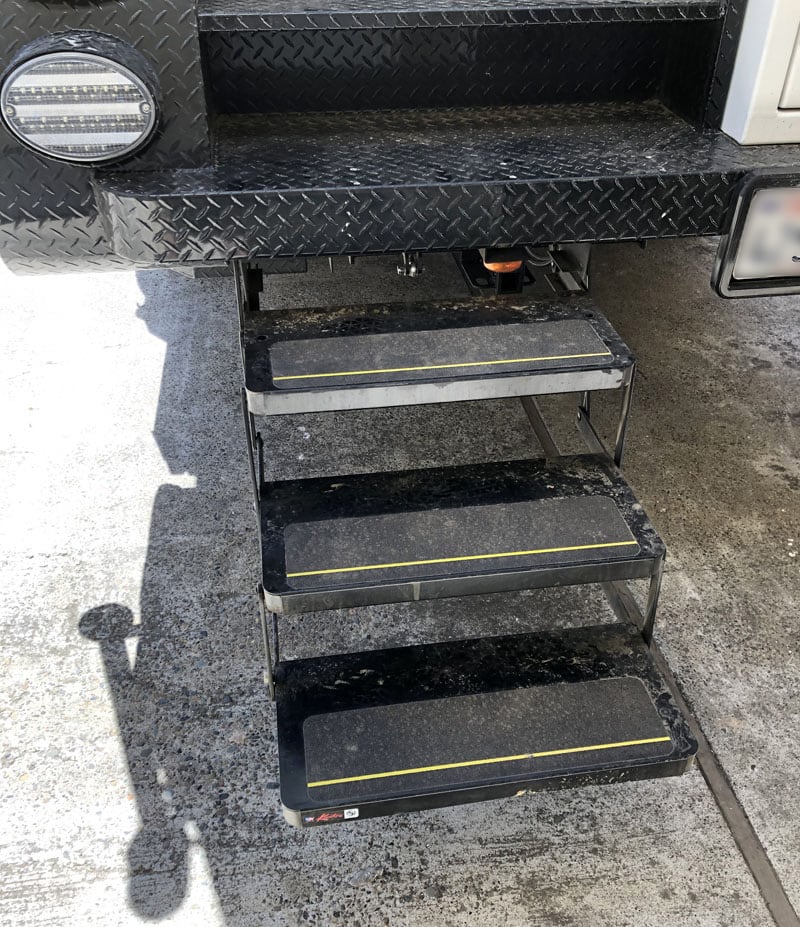 What would you do differently if you started all over again?
I had everything carefully planned out and I feel it came out as well as it possibly could.  That said, one major challenge that I'm still not happy with are my front wheel wells and fenders.
I haven't been able to find the right shop to do the right job.  It works, but I'm not happy with it.  I don't know what I could have done differently.  It's still a problem that hopefully someone reading this article will be able to help with.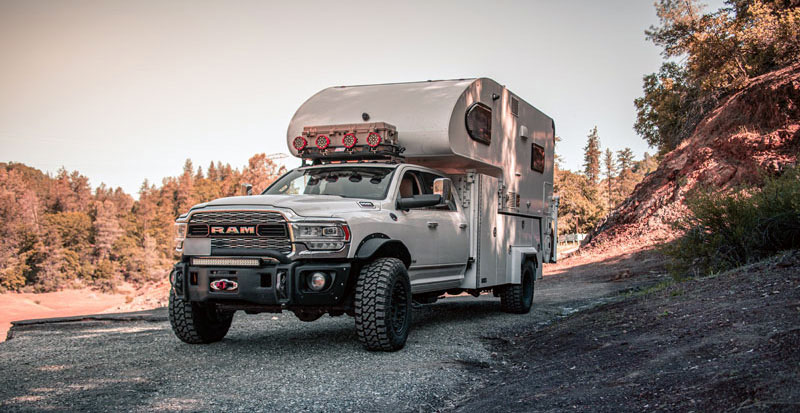 Is there anything you still need to do with your rig?
There are two things.  I have a transmission air cooler that I want to install.  The shop that had the vehicle shut down because of Covid.  I have the components, but they are not installed.
My back up camera is the one that came with the chassis, and it's tiny on the bumper.  The camera's view is not wide enough, so I'm looking for an upgrade.  Also, the camera with the camper can't be integrated with the Ram Infotainment system.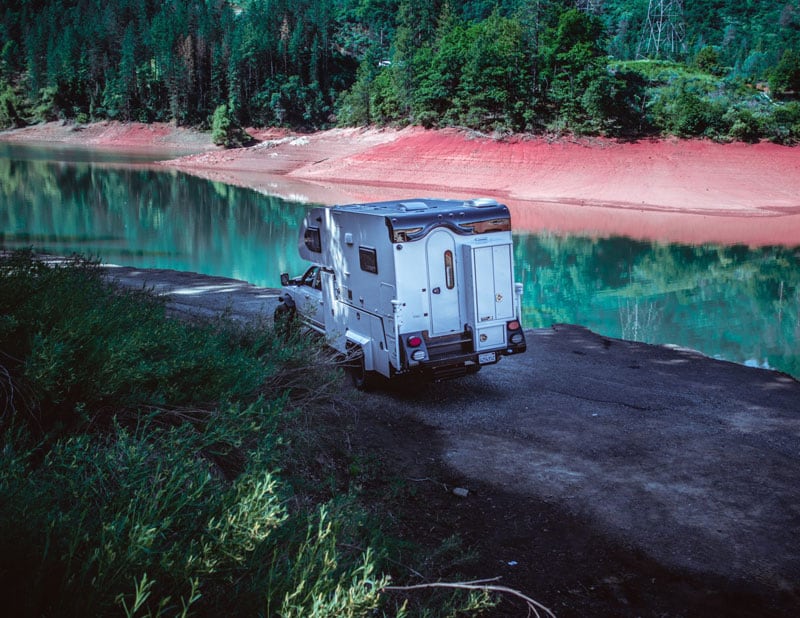 What will you be doing when you go out camping?
I enjoy all aspects of the outdoors; mountains, deserts, forests, and – most of all – beaches.  I fish, spearfish, SCUBA, kayak, SUP, windsurf, and go boating.
As I stated earlier, it will be used primarily for beach camping along both Baja coasts.  I'm also planning some international travel to Australia, Eastern Europe, and possibly Asia.
Is there anything else that you would like to add?
I took my time with this build and didn't hold back.  I'm thrilled with the final product.  It's the cat's meow for me.
Avi Meyers' Rig
Truck: 2019 Ram 5500, 4X4, long bed, diesel, crew cab with super singles
Camper: 2018 Cirrus 920
Tie-Downs and Turnbuckles: Torklift
Suspension: Kelderman single front bags and double bags on the rear