We once saw a clam shell fiberglass truck camper literally crawl out of a truck.  With removable wheels and a permanently-mounted loading and unloading contraption, the Sport-Cam remains one of the craziest truck campers we've ever seen.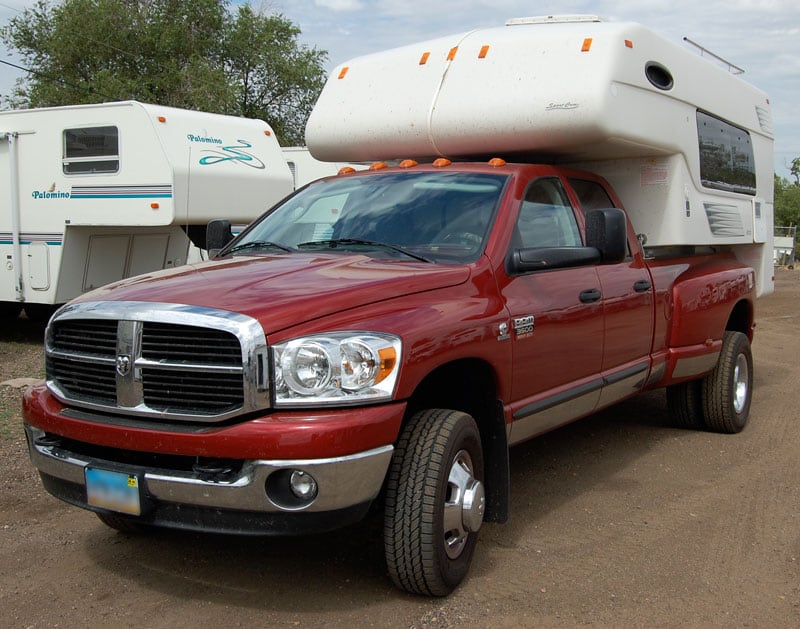 Who would believe this without pictures?  A crawling truck camper?  Meet the Sport-Cam 1158Z and get ready to believe!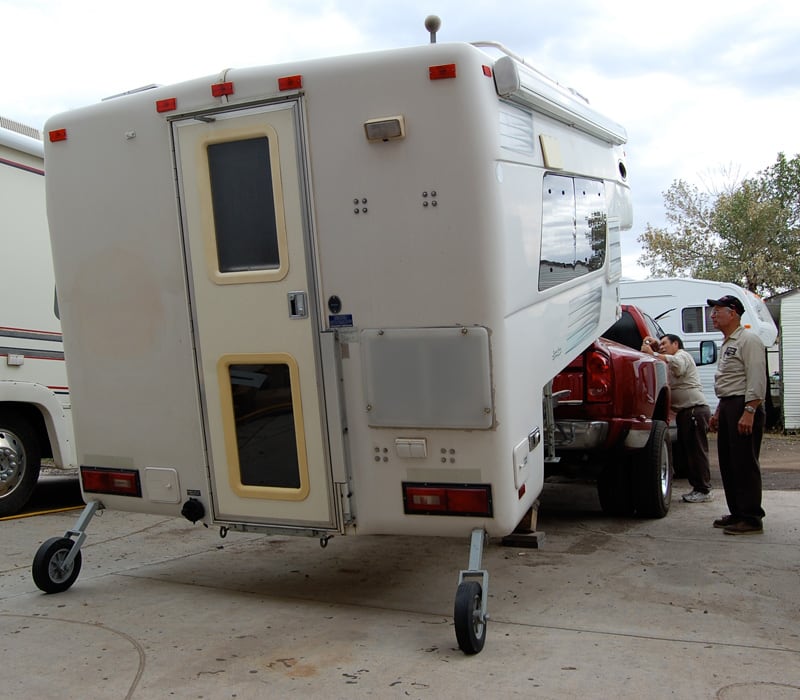 Above: The Sport-Cam halfway out of the truck.  Yes, this camper has wheels.
The Sport-Cam is a two-piece fiberglass shell design joined not with top-and-bottom-halves as with Northern Lite and Bigfoot truck campers, but left-and-right-halves, like the also extinct Roamer Campers!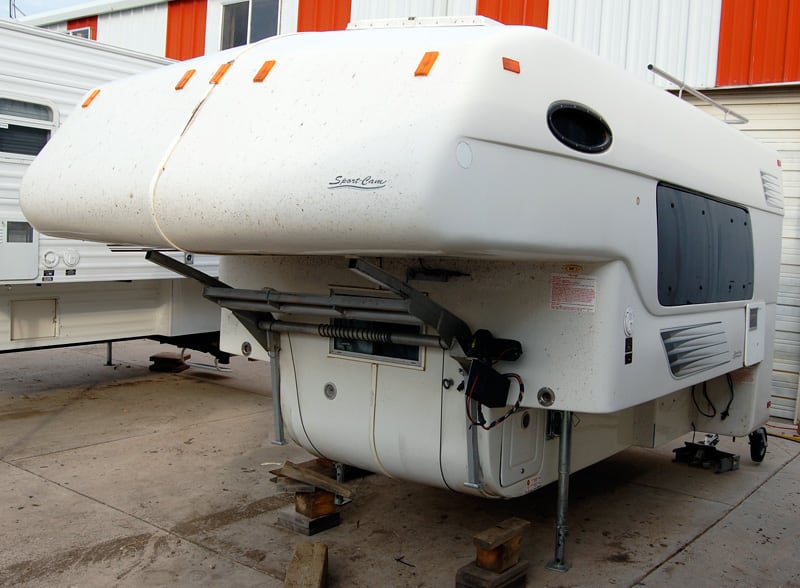 Note the vertical fiberglass seam.  The contraption under the nose is part of the unique loading and unloading mechanism.  The Sport-Cam designers were either ingenious or nuts.
Inside the Sport-Cam was a brochure.  There we discovered what has to be the craziest truck camper option ever; two optional ice fishing holes!  Ice fishing holes?  Two?  We can't make this stuff up.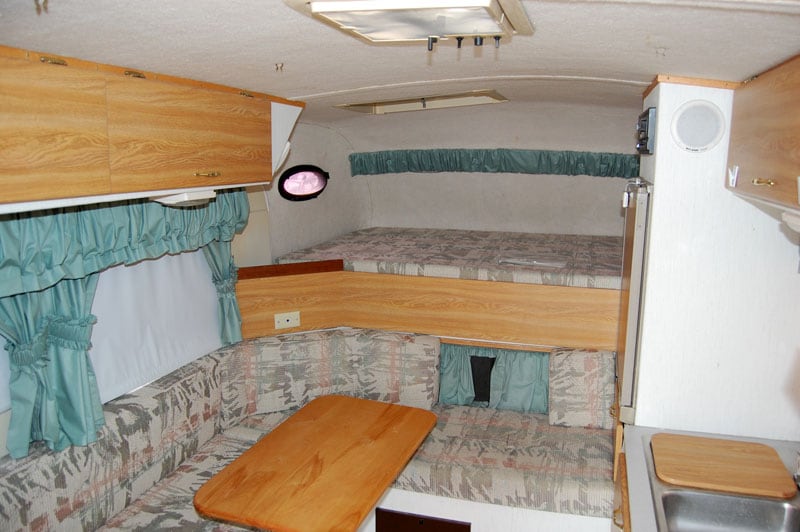 Above: Check out the marine-style port holes in the cabover bedroom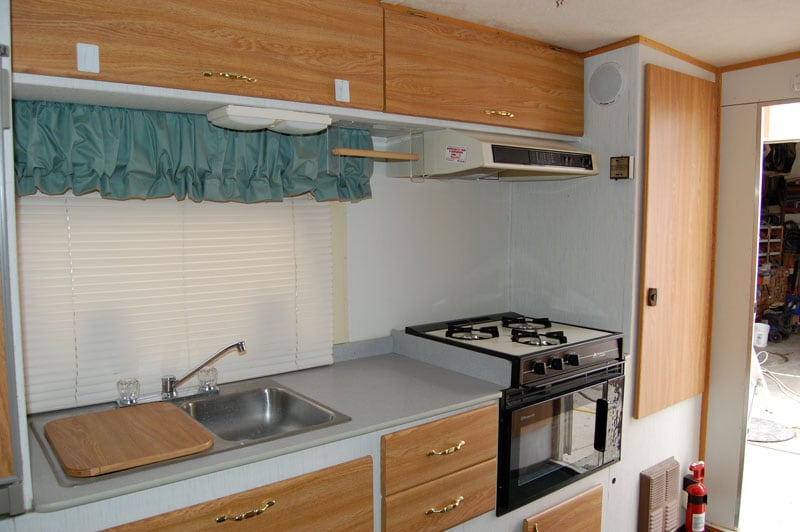 Above: The rear passenger's side featured a straight kitchen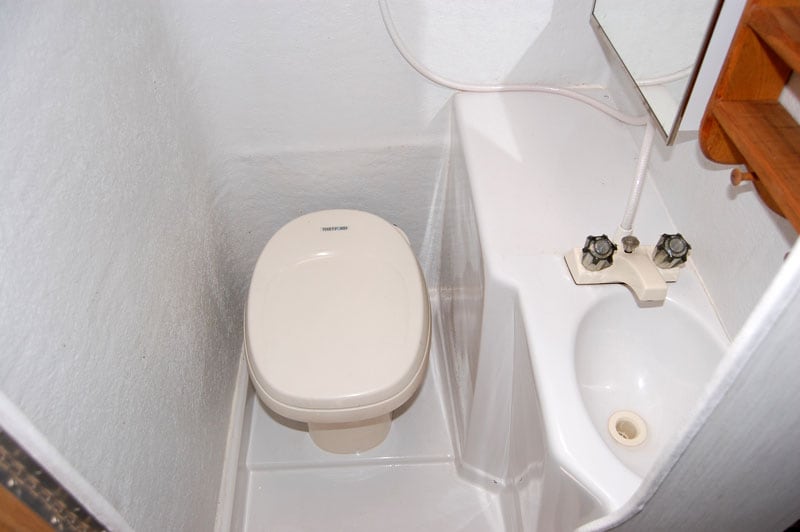 Above: The Sport-Cam had a small molded fiberglass wet bath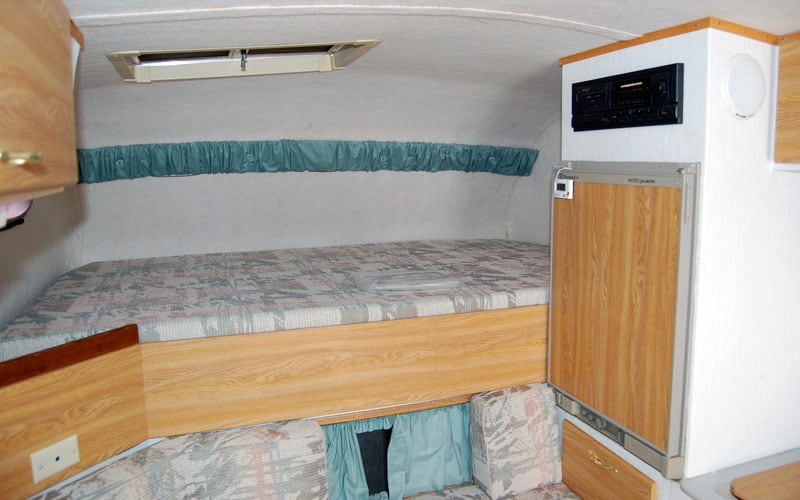 The cabover is sparse with no storage.  With the port hold windows, this space would not be for everyone.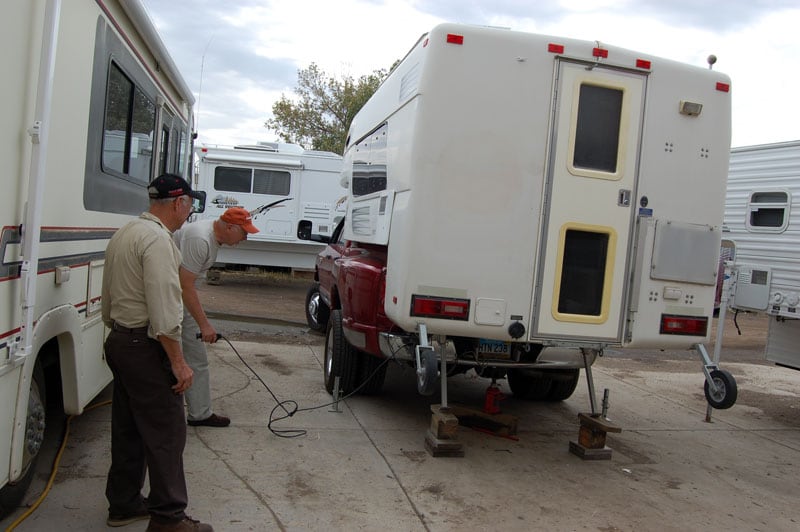 Five Star RV unloaded the Sport-Cam from the truck during our visit.  Rather than try to explain how the Sport-Cam 1158Z crawls in and out of a truck, we have included the following description from the Sport-Cam brochure:
Start by disconnecting the running lights and connecting the remote control unit.  Make sure the rear tie downs are disconnected.  Attach the wheels and insert the locking pins.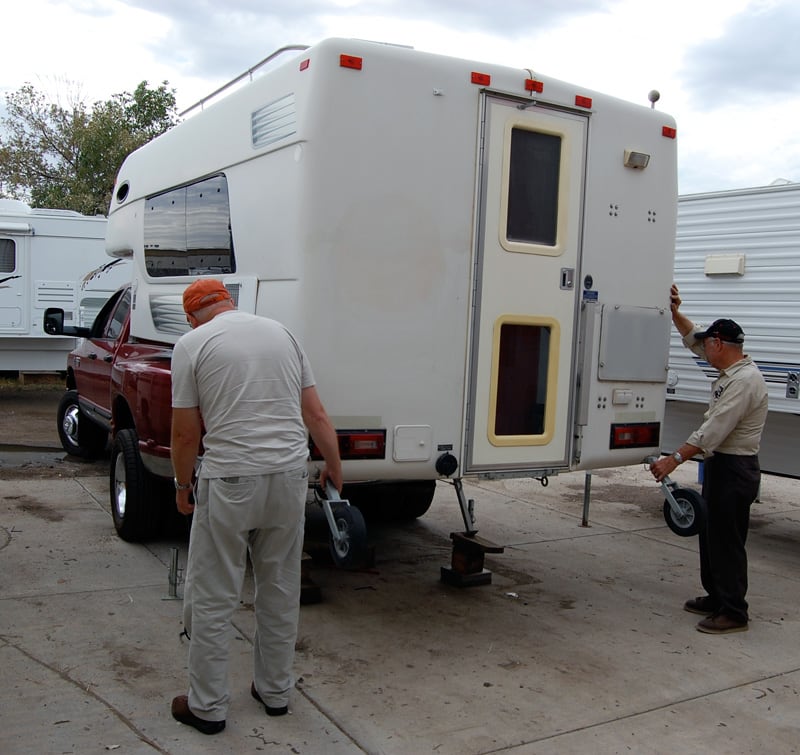 Then attach the support legs and insert the locking pins.  Step back, move the remote control to the 'R' position and press the red button to begin unloading the Sport-Cam.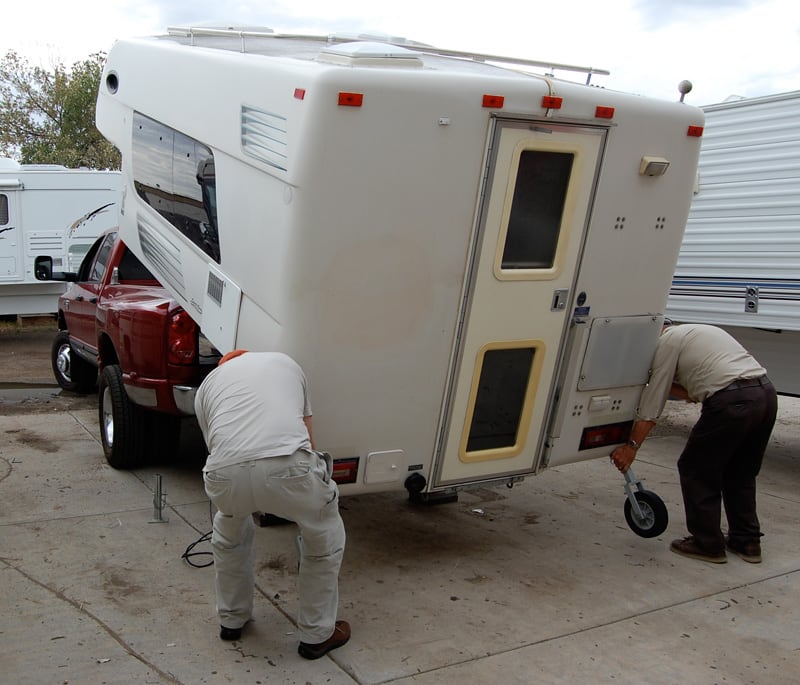 At the halfway point, stop the process and turn the leveling jacks to the vertical position.  Continue unloading.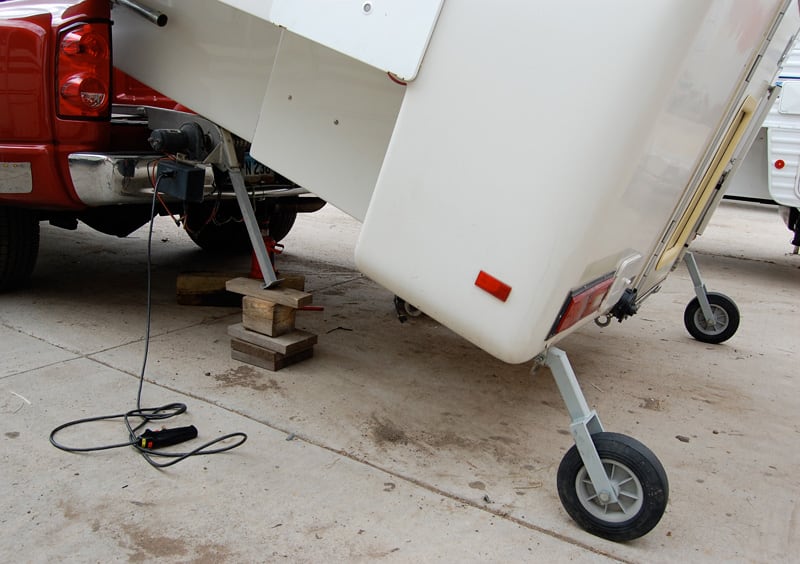 The Sport Cam will automatically unhook from the truck.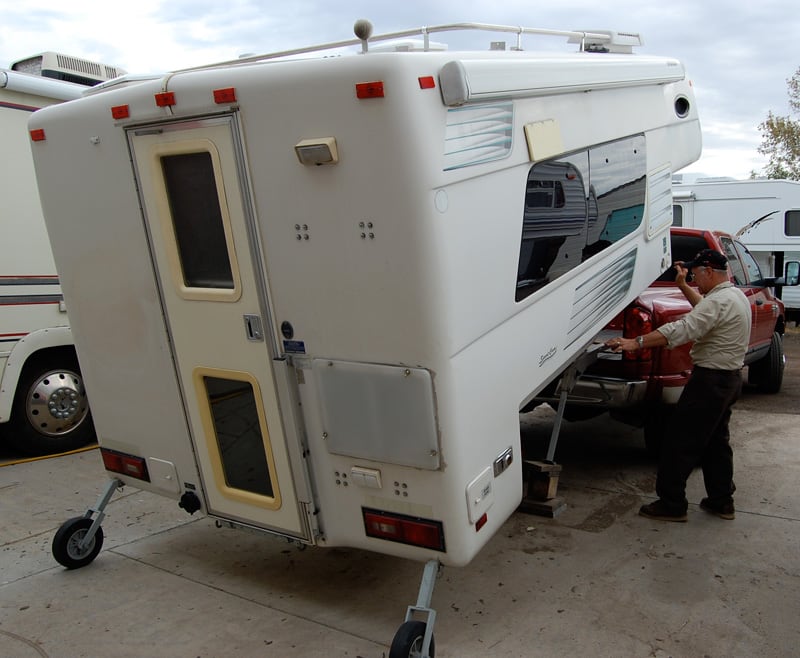 When the Sport Cam is completely lowered, disconnect the remote control unit and your truck is free to drive away!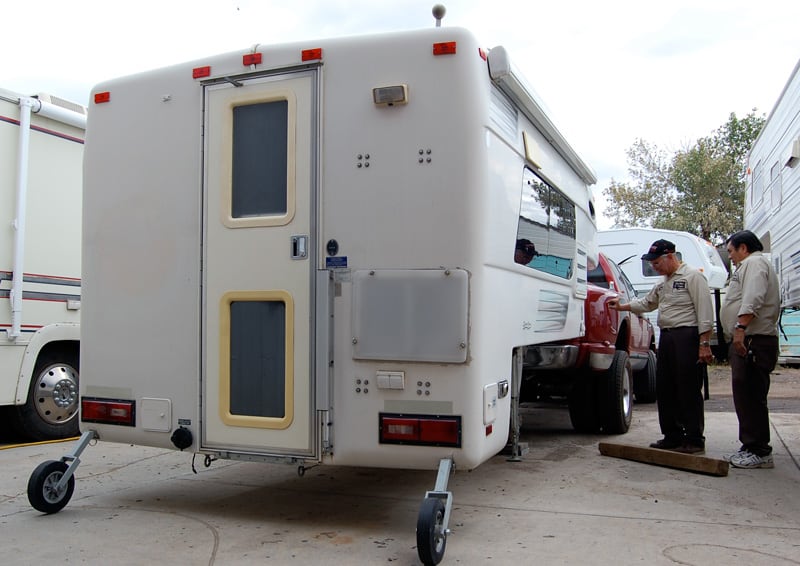 To reload the Sport-Cam, simply reverse the process.  So fast and easy too!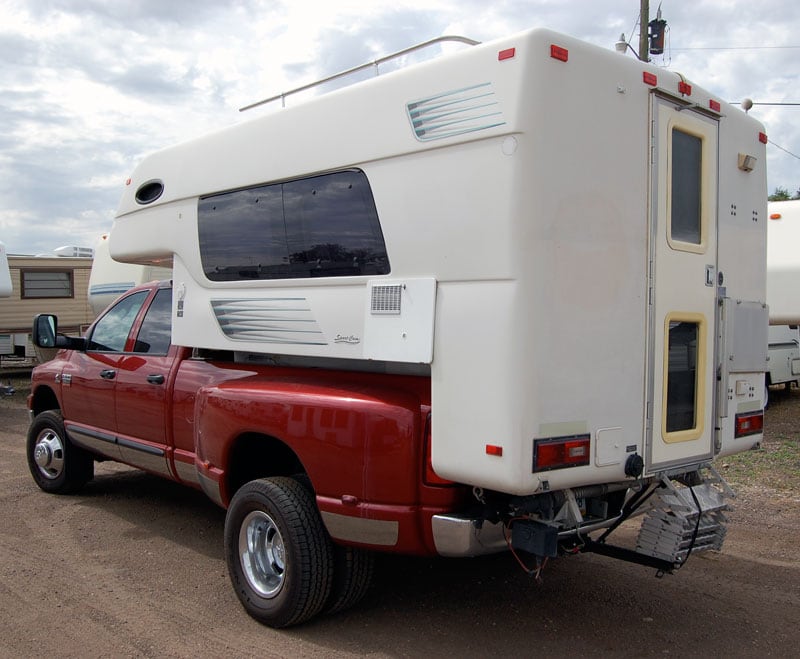 Ken and Barbara Neechiporenko of Bismark, North Dakota traded in the Sport-Cam for a brand new Northern Lite.  They told us that Sport-Cam was out of Schofield, Wisconsin and was no longer in business.
As the Neechiporenkos moved their stuff from the Sport-Cam to the new Northern Lite, you could see the excitement in their eyes.  They were a bit sad to see their Sport-Cam go, but they were really looking forward to a new beginning with the Northern Lite.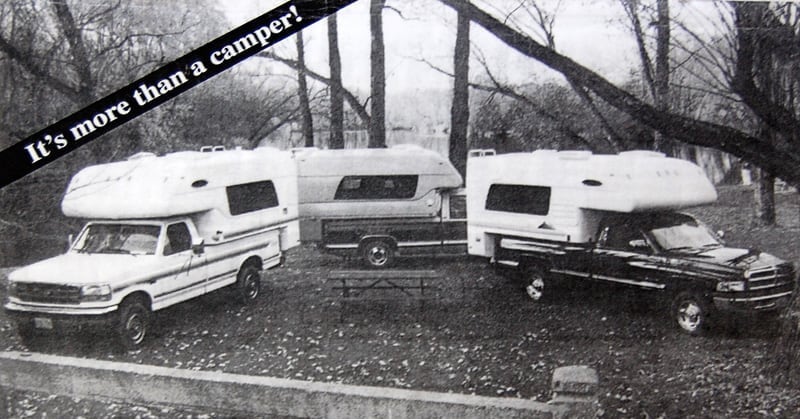 For other unique and interesting truck camper rigs, check out our extreme rigs section.